A British arbitration court has fined the National Accountability Bureau (NAB) heavily for breaching an agreement with Broadsheet, a company that was supposed to track down foreign assets of allegedly corrupt Pakistanis. The fine has been debited from the bank account of Pakistan's high commission in London.
The hearing of NAB-Broadsheet case began in the arbitration court in 2012 and the case was decided in August 2016. Their actual dispute, however, began about 18 years ago, in 2003, when NAB unilaterally terminated its agreement with Broadsheet LLC registered in the British territory, Isle of Man.
Under the agreement signed in June 2000, NAB gave the names of 200 allegedly corrupt people to Broadsheet at various times. These included politicians, military officers, bureaucrats and businessmen. According to the provisions of the agreement, the money recovered from these people was to be divided between NAB and Broadsheet at the rate of 80 percent and 20 percent respectively.
In October 2003, NAB revoked the agreement saying that Broadsheet had failed to meet its obligations under it. In response to this, Jerry James, an American businessman who owned Broadsheet, sent a notice to the government of Pakistan/NAB, stating that he would take legal action against Pakistan/NAB if the agreement was not restored.
Meanwhile, a former lawyer of Broadsheet sued it in an Isle of Man court, claiming that it had failed to pay him for the legal services he had rendered for it. He said the company owed him 19,000 US dollars. After reviewing the company's financial situation, the court declared it bankrupt in 2005 and ordered the selling of its assets in order to return the money of its creditors.
NAB, in the meanwhile, had begun negotiations for a settlement with another foreign company called International Asses Recovery (IAR) which, like Broadsheet, was tasked with finding the assets Pakistanis had illegally stashed abroad. The agreement with IAR, too, was terminated by NAB in 2003.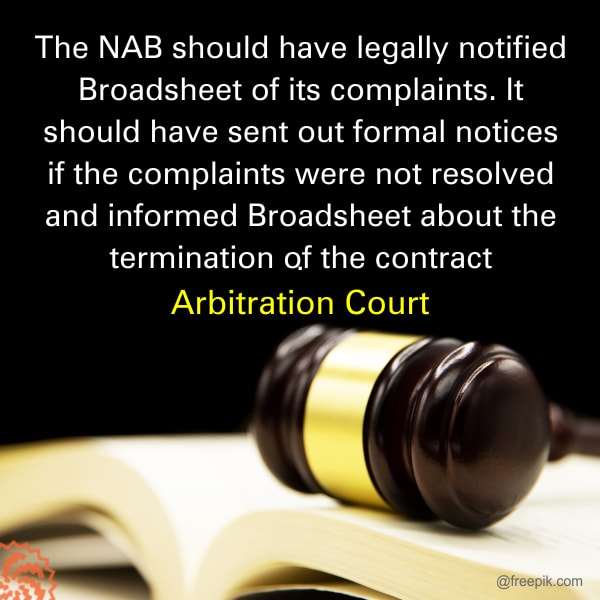 It was also during this time that Kaveh Moussavi, an Iran-born British lawyer and IAR's co-owner, offered Broadsheet's owner Jerry James that he could bear all the legal costs if Broadsheet would want to sue NAB for damages. The two agreed that the money received as a result of the legal action would be shared between them.
James, however, set up another company with the name of Broadsheet in the US state of Colorado without informing Moussavi. He subsequently received 1.5 million US dollars from Pakistan as a settlement amount on 20th May 2008 through NAB's lawyer Ahmar Bilal Sufi.
When Moussavi learned about the settlement, he offered the original Broadsheet's creditors that he could return their money if they withdrew their claims against the company so that the process of its dissolution was reversed. After convincing the creditors, he and his colleague Dr William Pepper took over the administrative, financial and legal control of Broadsheet. They then sent a second notice to NAB in September 2009, intimating it about the legal action being initiated by them for the breach of its agreement with Broadsheet.
This was a very timely move. On 28th October 2009, Broadsheet would have lost its right to sue NAB due to the law of limitations which stipulated that any arbitration over the breach of the agreement could take place only within six years of the breach.
What was the dispute between NAB and Broadsheet?
A letter sent by NAB to Broadsheet on 28th October 2003 stated that Broadsheet had not complied with the terms of the agreement and had made claims in the run up to the agreement which were materially false. The most important of these claims was about the experience required to locate and return the assets stashed abroad. NAB claimed that Broadsheet had presented the experience of another company, Trovens LLC, as its own even though Broadsheet itself had come into being only a few weeks before it signed its agreement with NAB.
Broadsheet, on the other hand, contended that the unilateral termination of its agreement with NAB was itself a breach of that very agreement. It also claimed that the agreement was revoked to harm it deliberately and deprive it of its due share in NAB's recoveries.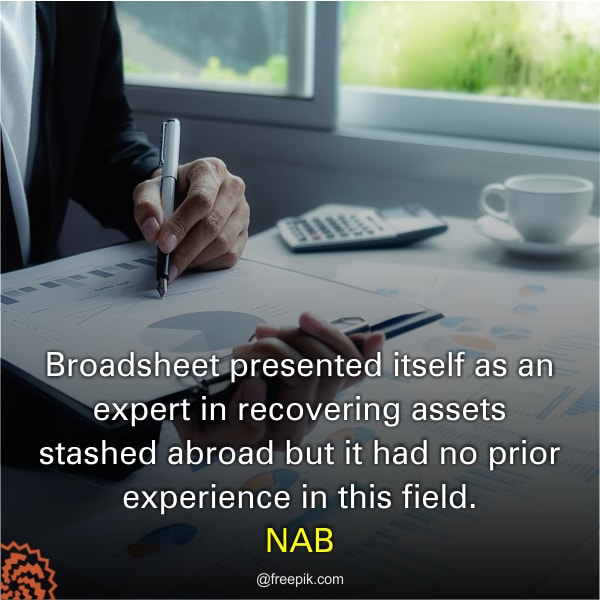 A closer look at the issue reveals that the major differences between the two sides revolved around the following questions:
1-Should Broadsheet be paid a share from the assets recovered within Pakistan?
2-Did NAB have the authority to withdraw some of the names from the list of targets assigned to Broadsheet for the recovery of assets?
3-What was the 'scope' of the information to be provided by NAB to Broadsheet?
Nearly 13 years after the termination of the agreement, when the arbitration court began hearing Broadsheet claims against NAB, it was dealing with the same questions. What follows, therefore, looks at a similar set of questions: What was Broadsheet's claim against NAB; what did NAB say in its defence and on what basis did the court rule against NAB?
What was Broadsheet's claim against NAB?
Broadsheet claimed that the letter written by NAB to terminate the agreement violated various provisions of the agreement itself. The company contented that, as per the agreement, no party could take any unilateral action against the other party.
Broadsheet also said that NAB made several amendments to the list of individuals and entities whose assets were to be traced. The people whose names were removed from this list included businessmen such as Sultan Lakhani and Sadruddin Hashwani and the entire family of former prime minister Nawaz Sharif. The company added that the necessary information about many of the people on those lists was either not provided to it or was provided so late that it could not carry out its work effectively.
The arbitration court held that the problems between NAB and Broadsheet first came to light in December 2000 when Nawaz Sharif and his family paid a hefty amount of money to the government as fines. In this case, however, it was not clear whether these fines could be called a "recovery" made by NAB.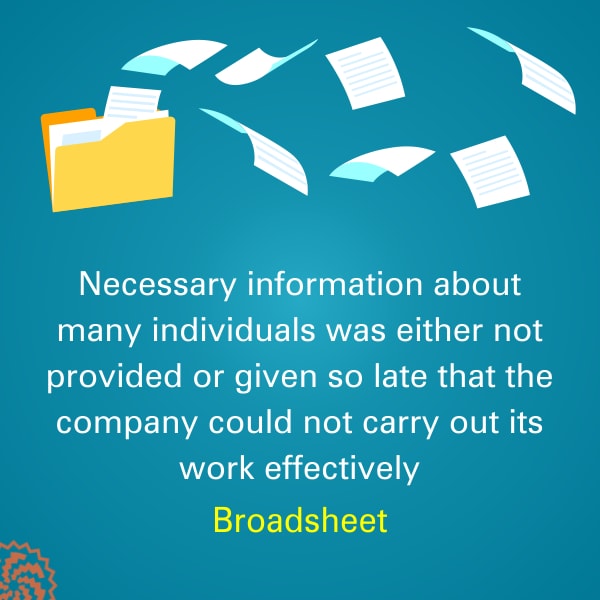 The payment, in fact, was made as a part of an agreement under which General Pervez Musharraf's government released Nawaz Sharif and his family from prison and sent them to Saudi Arabia as they paid fines imposed on them by various courts.
According to Broadsheet, when it demanded its share from the payment made by Sharif family, the then NAB chairman Lieutenant General Khalid Maqbool agreed to pay it 500,000 US dollars. Later, when Lieutenant General Munir Hafeez took over as NAB chairman, he refused to pay the amount.
Broadsheet also claimed that if it had difficulty in performing its duties as per the agreement, it was because it had not received the money NAB owed to it.
NAB's stance against Broadsheet
In response to Broadsheet's claims in the arbitration court, NAB's lawyers said that Broadsheet's breach of the agreement was of a fundamental nature and, therefore, NAB was entitled to terminate it in 2003. They said that Broadsheet presented itself as an expert entity in tracing and recovering assets even though it had no experience in this field.
NAB told the court that Broadsheet also did not do as much work as it should have done under the agreement. According to its lawyers, Broadsheet's performance was disappointing as it provided information on overseas assets of only six or seven people out of the 200 targets assigned to it.
NAB's lawyers also said that Broadsheet did not have financial resources to carry out its activities which explains why, in 2003, it could not pay a British company, Matrix, which was working for it. As a result of that nonpayment, Matrix had to stop its work on tracing illegal assets Pakistanis had stashed abroad. Thus, according to them, Broadsheet had become a 'shelf company'.
NAB also contended in the court that it was given legal assurances by Broadsheet's owner, Jerry James, that he would never take any legal action in any court about the termination of the agreement. These assurances were given after NAB had paid him 1.5 million US dollars a result of an out-of-court settlement. Moreover, it argued that it was simply because of an 'anonymity error' that its settlement could not take place with the Isle of Man-based Broadsheet LLC. They contended to have deemed Colorado-based Broadsheet as a successor of the original company.
The court's ruling
Arbitration judge Sir Anthony Evans ruled that NAB did not provide any details in support of the allegations it had made against Broadsheet while terminating the agreement. In fact, NAB's first chairman Lieutenant General Syed Amjad Hussain testified in the court that he did not care whether Broadsheet was an inexperienced company. He stated that James and Dr Pepper, the two main characters in NAB-Broadsheet deal, were more important to him than any other entity or individual as far as the agreement was concerned. The fact that they owned a company called Trovens LLC, which had a vast experience in asset recovery, was enough assurance for him that their new company, Broadsheet, had the same expertise and experience at its disposal, he said. It, therefore, did not matter to him if the agreement was signed between NAB and Broadsheet and not between NAB and Trovens LLC as long as James and Pepper were part of it.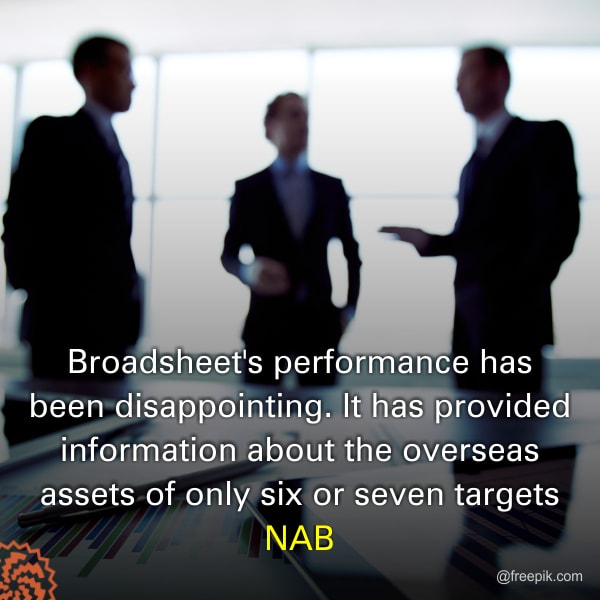 The court also ruled that the main and the most important point in this case was the interpretation of Article 4 of the agreement. This article determined Broadsheet's share in the money to be recovered from NAB targets. The two sides had agreed under this article that the amount recovered from any target as a result of Broadsheet's efforts or under a settlement between a target and NAB would entail a 20 percent share for Broadsheet. They, however, disagreed over whether this provision also applied to the recoveries made within Pakistan.
The court observed that the agreement did not explicitly state that Broadsheet would get a 20 percent share only from the money returned from abroad. In the absence of such an explanation, the court held that Article 4 also applied to all actual and potential recoveries within Pakistan from NAB's targets.
Most importantly, the court ruled that NAB should have sent formal notices to Broadsheet to register its complaints over its non-compliance with the agreement. These notices should have included warnings that the agreement would be terminated if Broadsheet's performance did not improve. On the contrary, NAB terminated the agreement by writing a single letter which the court did not consider a legally correct procedure.
According to the court's verdict, NAB was also required under the agreement to provide information to Broadsheet in case of any recovery of assets owned by the targets given to it. During the time when the agreement was in place, however, NAB kept Broadsheet in the dark about several such recoveries.
The arbitration court also ruled that NAB's payment of 1.5 million US dollars to Colorado-based Broadsheet was a financial fraud instead of being a "mistake". According to the court, the NAB's settlement with that company was a reckless move aimed at intentionally causing financial harm to the original Broadsheet.
The court similarly said that Broadsheet registered in the Isle of Man was in the process of dissolution when NAB made a settlement with Colorado-based Broadsheet -- but it still existed as a legal entity. The latter company, according to the court, also did have the legal authority to act as a representative of or successor to the former. NAB and its lawyer Ahmar Bilal Sufi were aware of this situation but still they went ahead with the settlement, the court said.
It, however, did not accept Broadsheet's claim for a share from the money recovered by NAB from several corrupt individuals including Admiral (retired) Mansoorul Haq and Lieutenant General (retired) Zahid Ali Akbar. In two other cases (of Aftab Sherpao and Jamil Ansari), however, the court ruled that Broadsheet was entitled to have a share in potential recoveries from them. The judge reasoned that Broadsheet was able to prove that it had traced the assets of these two targets but NAB did not take any action to recover assets from them due to political expediency.
The court similarly ruled that Broadsheet was entitled to 20 per cent share in the money recovered or likely to be recovered from all those whose assets were identified by it. The court also held that the company was entitled to damages for the financial harm it had sustained as a result of a termination of the agreement by NAB.
This report was first published by Lok Sujag on 2 Mar 2021, on its old website.