A middle-aged Afghan, Muhammad Ewuz, accompanied by two women and a child from his family, is sitting in the open near Pak-Afghan border. He does not have a clue as to when he can cross into his homeland.
Eight months back, he travelled from Herat (in Afghanistan) to Karachi for the treatment of his ailing son but, since October 5th, 2021, he has been living in a camp in Pakistan's western border city, Chaman. The camp has been set up by local residents for the Afghans stranded on this side of the border.
"[Exposed to cold weather] without proper bedding, we shiver throughout the night. We don't have enough money to buy even a cup of tea," Ewuz says.
Hoping that they might find a chance to cross the border, he and his family members walk every morning at 8:00 toward the border crossing located next to Chaman city. Every evening, they return disappointed.
On October 14th, Ewuz and his family are sitting only a few hundred meters away from the border crossing -- in an open space earmarked for parking vehicles -- along with hundreds of other Afghans. Some of them ask Pakistani border guards every now and then as to when they would be allowed to cross the border.
Throughout the day rumours keep doing the rounds among them that the crossing has been opened. Each time they hear these rumours, they briskly move toward Bab-e-Dosti – as the crossing is called officially -- but each time they are pushed back by border guards. When they insist on moving forward, they face a baton charge.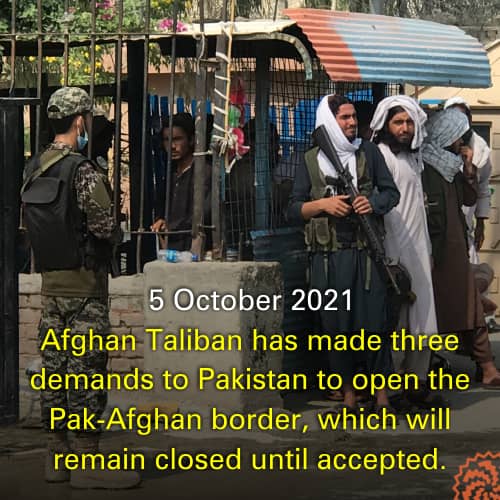 Muhammad Janaan, 40, who hails from Kochi village on the other side of the border, is also among them. The tribe he belongs to lives on both sides of Pak-Afghan border. He came to Pakistan in the previous month to condole the death of a relative. Now he has no idea how to get back home even though his residence is hardly 10 kilometre from the border crossing.
He remains in touch with his family back in Afghanistan through his cell-phone and complains that his wife and children are running out of food. Whenever he calls his children, they ask him when he will return home. "If the border stays closed for a few more days, my children would be starving," he says.
Occasionally, the Afghans stranded on this side of the border have also clashed with border guards.
One such incident occurred on August 12th this year when an elderly Afghan died and others accompanying him carried his body to Bab-e-Dosti so as to transport it to his hometown in Afghanistan. When the dead body was not allowed to go across the border, the irate Afghans started pelting stones on border guards. The guards retaliated by firing teargas on them and beating them up with batons.
Four people were killed in a similar clash in July last year.
Pakistani officials, however, say they are not responsible for this situation at the border. Talking to Voice of America, Jumadad Khan Mandokhel, deputy commissioner of Qilla Abdullah district which has its headquarters in Chaman, claimed recently that it was the Afghan authorities which have closed the border.
But Haji Imran Kakar, former president of the Chaman Chamber of Commerce and Industry and a director of the Pak-Afghan Chamber of Commerce and Industry, believes both Kabul and Islamabad are equally responsible for the mayhem at the border. Several days before the fall of Kabul to Afghan Taliban on August 15th, 2021, Pakistan shifted the responsibility of security at Chaman border crossing from the Frontier Constabulary (FC), a paramilitary force, to the Pakistan Army, he says. The change was aimed at stopping the influx of Afghan refugees and curbing the infiltration of militants associated with Tehreek-e-Taliban Pakistan (TTP), a proscribed militant organization, from the other side of the border.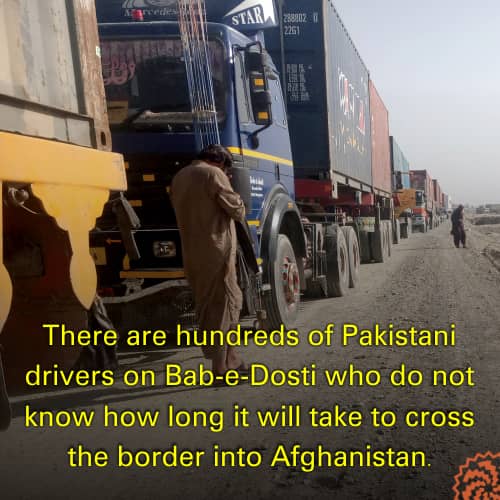 Kakar believes the newly-deputed army personnel took some time to familiarise themselves with mechanisms governing the movement of goods and human beings across the border. All this while the border crossing remained closed for all kinds of traffic. Though it was opened later in September, it was closed again on October 5th – now by the Taliban administration. They said the border will remain closed as long as Pakistan did not meet their three demands.
Their first demand, according to Kakar, is that timing for cross-border movement of the residents of Spin Boldak (in Afghanistan) and Chaman (in Pakistan) through Bab-e-Dosti be extended from eight hours – between 8:00 am and 4:00 pm -- to 12 hours a day. Hundreds of people from both the cities cross the border on daily basis in order to meet
their cross-border relatives, attend their family events, seek work and get medical treatment.
Secondly, Kakar says, Afghan Taliban want Pakistan to allow all Afghans to cross the border by using their identity cards (called tazkira) or their Proof of Registration (PoR) as refuges. They demand that all Afghans be allowed to travel across the Pak-Afghan border without a passport and a visa – just like people living in Spin Boldak and Chaman do.
Their third demand relates to keeping Bab-e-Dsoti open round the clock for bilateral trade. They also want an end to what they call the mistreatment of Afghan traders during the processing of their visas and the imposition of customs duty on their goods.
The Taliban administration has categorically told Pakistan that it will not open the border until these three demands are met, says Kakar.
Obstacles in bilateral trade
It took Zeenat Afridi two weeks to drive his goods-laden container from Karachi to Chaman border. On October 4th, surrounded by a few fellow drivers, he is sitting in the shadow of a truck and has no idea how long it will take him to cross the border to Afghanistan.
"It took me 15 days to reach Chaman but now I am awaiting the opening of the border having already spent another 15 days sitting amid dust and cold," he says.
Hundreds of other truckers are also stranded on this side of the same border crossing. This is because the movement of goods between Pakistan and Afghanistan has slowed down a lot as compared to what it was under the previous Afghan regime.
Afridi blames Afghan Taliban for the situation. "We are bearing the brunt of their incompetence to manage the border effectively," he says.
Haji Saeed Jan has similar complaints. He lives in the centre of Chaman city and has been dealing in fruits and vegetables for the last two decades.
On an early October afternoon, wearing a Sindhi cap and surrounded by his three business partners, Jan is sitting in his office located next to the local fruit and vegetable market. The four of them are together looking into their business accounts.
They have imported a shipment of pomegranate and grapes, loaded on 10 trucks, from Afghanistan. "It is now rotting on the other side of Chaman border," says Jan.
Like Afridi, he also blames the administrative inexperience of Afghan Taliban for the problems in cross-border trade. After taking control of the border, they initially charged only 500 rupees from every truck that was entering Afghanistan from Pakistan, he says. Now they are demanding 35,000 rupees customs duty on each truck, he adds.
Jan, a 47-year-old medium-sized man with a fair complexion, says that, in normal circumstances, traders from across Pakistan used to send him food items which he would then export to Afghanistan through Chaman border. Owing to the border closure and the political and economic uncertainty in Afghanistan, these traders have stopped sending their consignments to him. "It has not only affected my business adversely but also put a bearish effect on commercial activities in entire Chaman city, endangering the livelihood of many of its citizens," he says.
Also Read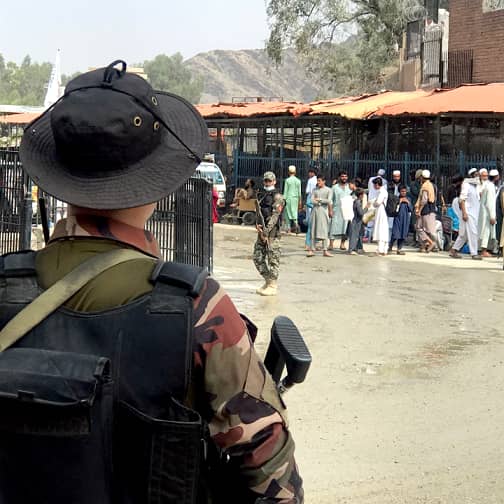 Torkham border: Taliban takeover in Afghanistan is hampering cross-border movement of people and goods
Haji Siddique Khan Achakzai, president of the local traders' association, points out another problem the traders on both the sides are faced with. "Hundreds of containers are queued up on the road between Wesh Mandi and Spin Boldak in Afghanistan, waiting to get into Pakistan. The goods these containers transported to Afghanistan have been offloaded but Afghan officials are not letting them return to Pakistan, obliging traders to pay heavy demurrage charges on them on a daily basis," he says.
During the government of former Afghan president Ashraf Ghani, he says, 400 to 500 trucks carrying food, cement and iron bars would cross from Pakistan to Afghanistan every day. The same number of trucks would enter Pakistan from Afghanistan, carrying fresh fruits, dry fruits and timber.
But, he says,uncertain border situation over the last two-and-a-half months has decreased this two-way trade activity. "On the one hand, this is creating many financial difficulties for daily-wage labourers, drivers and shopkeepers in Chaman and, on the other, local traders are sustaining losses of tens of millions of rupees because of this," he adds.