Muhammad Hussain Khan, a small-scale farmer, lives in the village Ahmed Khan Wala, located approximately 10 kilometres from Mianwali city. This time, he had cultivated cotton on eight acres of land. He intended to sell cotton to purchase DAP fertiliser for the next wheat crop. However, he is now in a difficult situation.
He explains that two months ago, the price of DAP fertiliser was 8,500 rupees per sack. He now believes that he should have purchased fertiliser for the Rabi season at that time, but he didn't have the funds available due to the expense of cultivating the entire cotton crop.
"I have harvested half of the cotton crop, but I'm not getting a good price for it. On the other hand, the cost of fertiliser is increasing. Fifteen days ago, a sack of DAP fertiliser was being sold for around 11,000 rupees, but now the dealers have raised the price to 14,000 rupees."
Belonging to a middle-class family, Muhammad Sadiq Shahbaz, a 38-year-old, lives in a village located five kilometres north of Mianwali city. He has a one-acre of land and intends to cultivate wheat, for which he will require DAP fertiliser.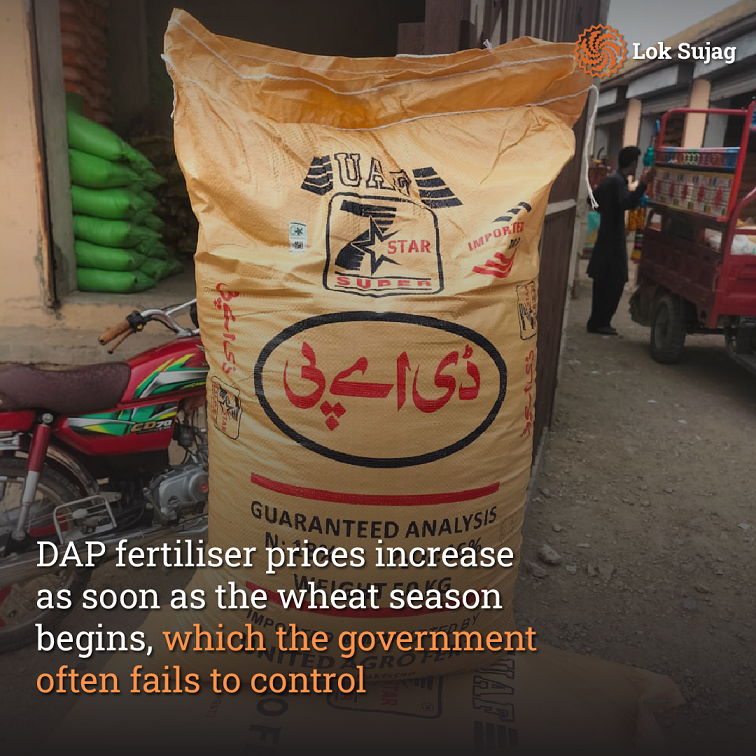 He says, "When it's time to harvest wheat, government officials go door to door and put pressure on farmers to sell wheat at government rates, but now dealers are selling fertiliser to farmers at a price much higher than the government rates, and the administration remains silent, like spectators."
According to him, in cases of complaint, the Assistant Commissioner and Deputy Commissioner take some pretentious actions, but it doesn't result in any relief for the farmers.
The use of DAP fertiliser is essential for a good wheat harvest. Every year, during the Rabi season, a significant amount of fertiliser is required for wheat cultivation. At the start of the season, the price of DAP usually increases, and the government often fails to prevent this price hike.
In Mianwali, the total cultivated area is approximately 7,55,315 acres, of which nearly 5,20,000 acres are used for wheat cultivation yearly.
In mid-October, there was a significant increase in the price of fertiliser in Mianwali. To address this issue, the Department of Agriculture in Mianwali recently issued a notification setting a new price for fertilisers. According to the notification, the price per sack has been fixed at 12,798 rupees.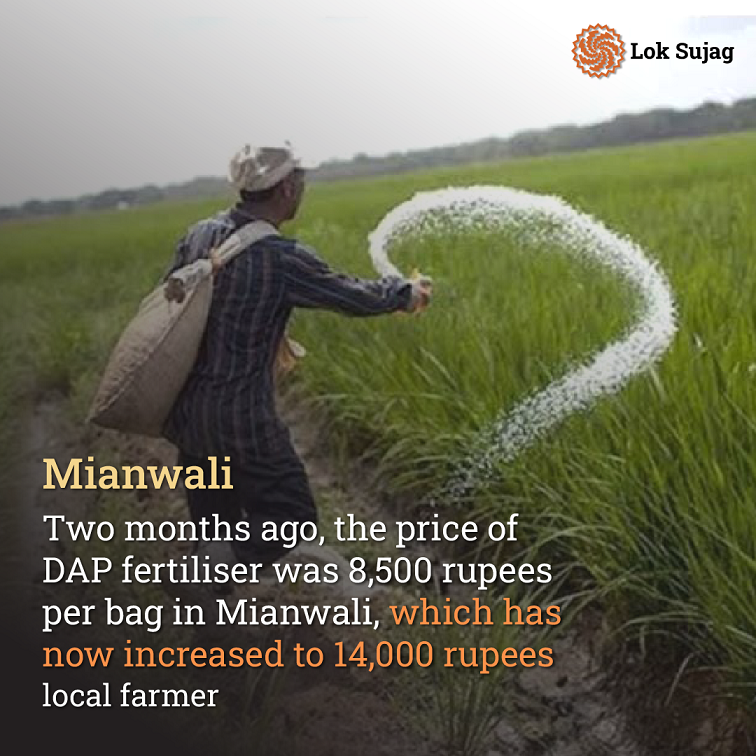 Irfanullah Khan cultivates nearly 200 acres of land and holds a high-level education in business administration. During a recent meeting with the Deputy Commissioner, he mentions that there are primarily three major fertiliser dealers in Mianwali, including himself, who were strong advocates of selling fertiliser at government rates. However, two days later, they changed their stance and started selling at their own prices.
"They bought cheap fertiliser, stockpiled it, and are now exploiting poor farmers collectively, while the district administration is powerless against these major dealers."
While talking to the Lok Sujag, Assistant Commissioner Nauman Mahmood Rana mentioned that he had taken action against several dealers and shopkeepers in the past week. Shopkeepers have been directed to display government price lists, and farmers are advised to report dealers and shopkeepers selling fertiliser at higher prices than government rates. According to him, action against those who sell expensive fertilisers would be made possible without any discrimination.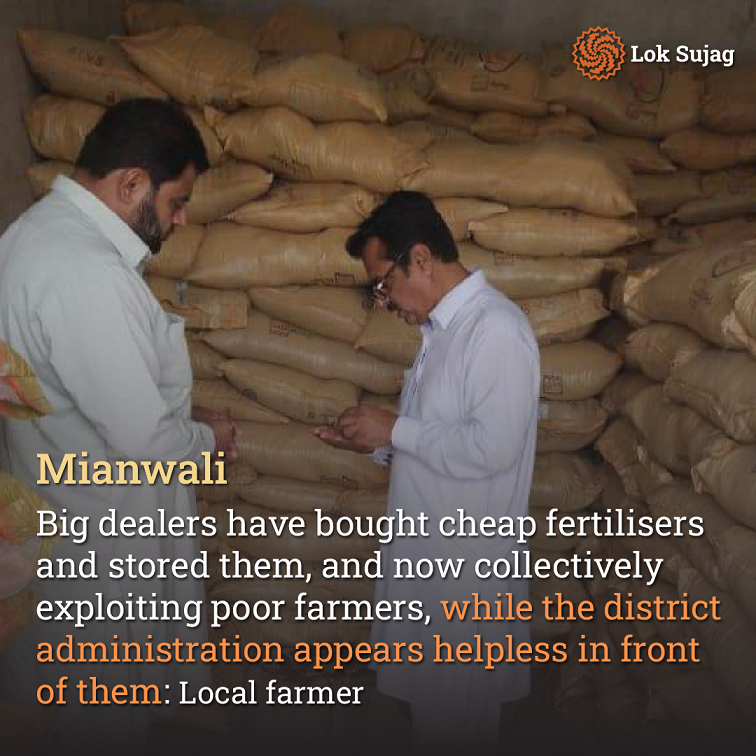 Maulvi Azmatullah Khan, a leader of the Mianwali Farmers Union, is not satisfied with the government's actions. He says that the district government's failure to take decisive actions against corrupt fertiliser dealers is why they continue exploiting poor farmers every year.
"These people earn millions of rupees; a mere fine of a few thousand rupees doesn't make a difference to them. The situation might change if the government files criminal cases against hoarders and sends them to jail."
The position of fertiliser dealers is different. The owner of Adnan and Brothers Fertilizers, Malik Muhammad Khan, states that price fluctuation is directly related to demand and supply; when demand is high, supply decreases, and prices naturally increase.
"The recent increase in fertiliser prices is based on the same principle."
He says fertiliser stock is available in limited quantities and at high prices. How can fertilisers be sold to farmers at lower prices in this situation?
Also Read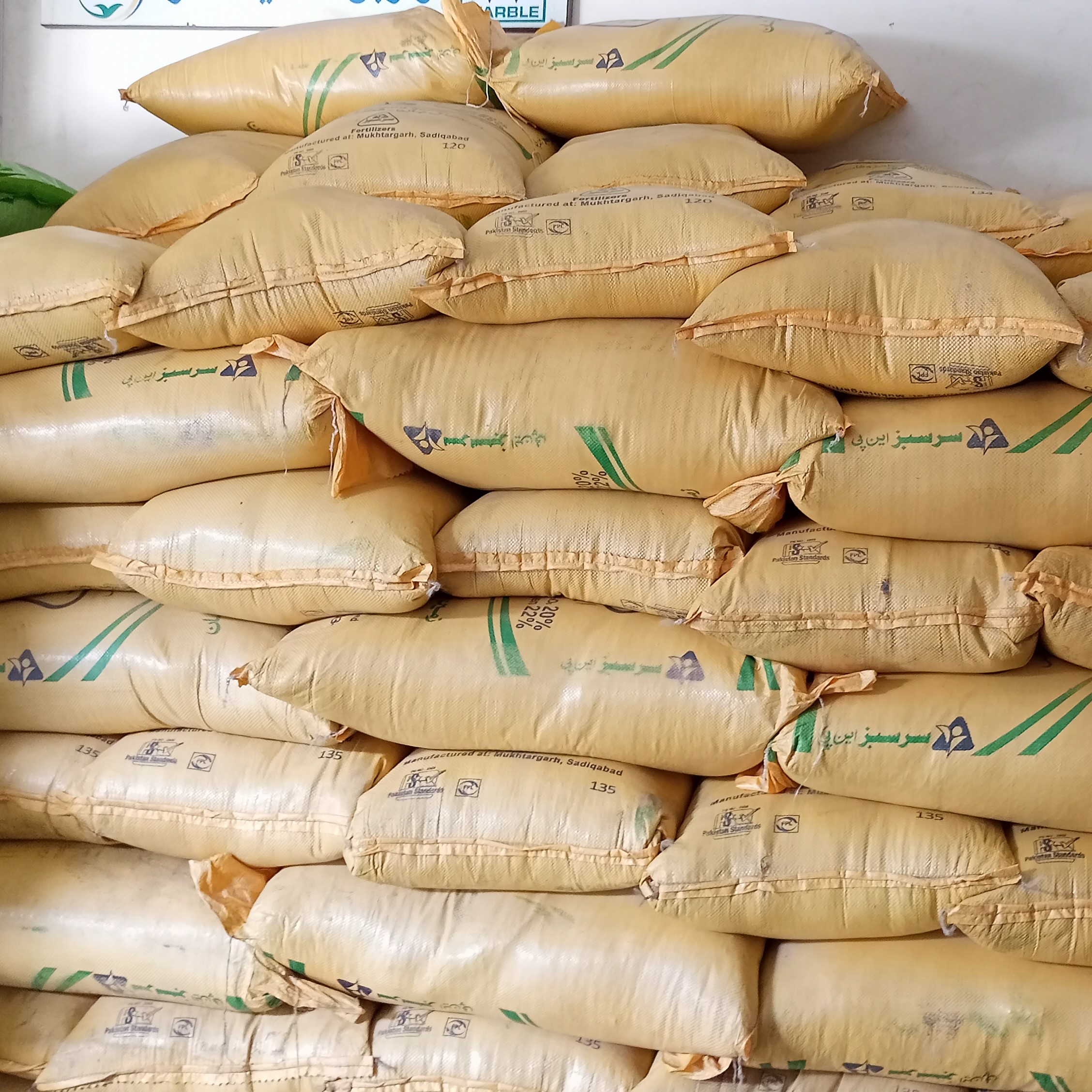 Unregulated fertiliser price surge sparks food crisis concerns in Gujranwala division ahead of Rabi season
However, the official statistics contradict the complaints about the shortage of fertiliser stocks.
The National Fertilizer Development Center is a federal agency responsible for controlling and managing the country's demand and supply of fertiliser.
According to the agency's report regarding the Rabi season, in November, when wheat cultivation begins across the country, 6,19,000 metric tons of urea fertiliser will be available for the entire country. In the same month, Pakistan's total demand is expected to be around 5,67,000 tons.
So, in November, Pakistan will have an excess of around 52,000 tons of urea fertiliser.
Similarly, for November, Pakistan requires approximately three lakh tons of ammonium phosphate fertiliser, while there will be around two lakh eighty-nine thousand tons of fertiliser available in the country, which is only 15,000 tons less than the requirement. However, according to an official from the agency, the government has ordered DAP from abroad, which will arrive at the Karachi port by November 15.
In his opinion, there is no shortage of urea or DAP fertiliser in the country now. Instead, it appears that a market-controlling mafia artificially creates a shortage to sell it at higher prices in the black market.