In Government Associate Degree College Kalabagh, located at the base of a mountain in the Esa Khel district of Mianwali, there has been a troubling situation in recent years. There is no lecturer appointed for any of the science subjects.
This is when nearly 70 per cent of the students at the college are enrolled in the F.Sc. program, and half of the academic year has already passed. This lack of teaching staff has resulted in numerous students abandoning their college studies.
The college, around 50 kilometres from the district headquarters of Mianwali, currently accommodates about 250 students and has only eight permanent faculty members. There are no Physics, Chemistry, Biology, Mathematics, and Computer Science professors. The college conducts classes for students from the First to the Fourth Year.
Muhammad Junaid Khan, a second-year student, highlights that this situation is causing significant educational setbacks for many students.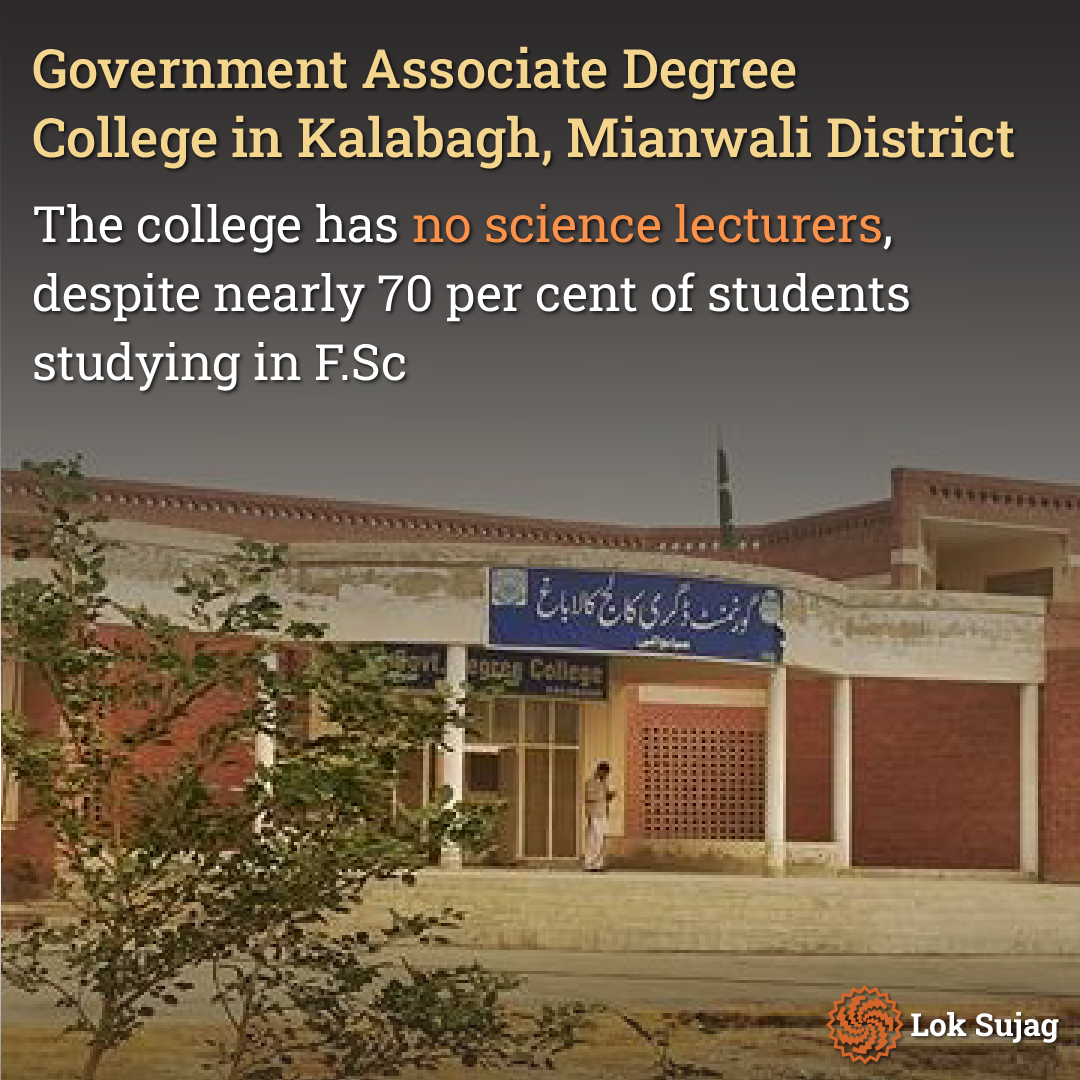 "We lack the means to attend city colleges and live in hostels. Private colleges are also not an option for us. We're compelled to enrol in nearby colleges. During the initial three months of the First Year, our classes were limited to arts subjects only. Since no science teachers were in the college, our days would conclude after English, Urdu, and Islamic Studies classes. After three months, temporary teachers were hired, and science classes resumed, but this doesn't fully compensate for what we missed out on."
Ziaullah Khan, the principal and associate professor at the college, shares that every year, requests are sent to the Higher Education Department Punjab to hire teachers on Special Teaching Intern (STI) appointments to address the temporary teacher shortage. However, the department often provides teachers months after the session starts, significantly affecting students' learning.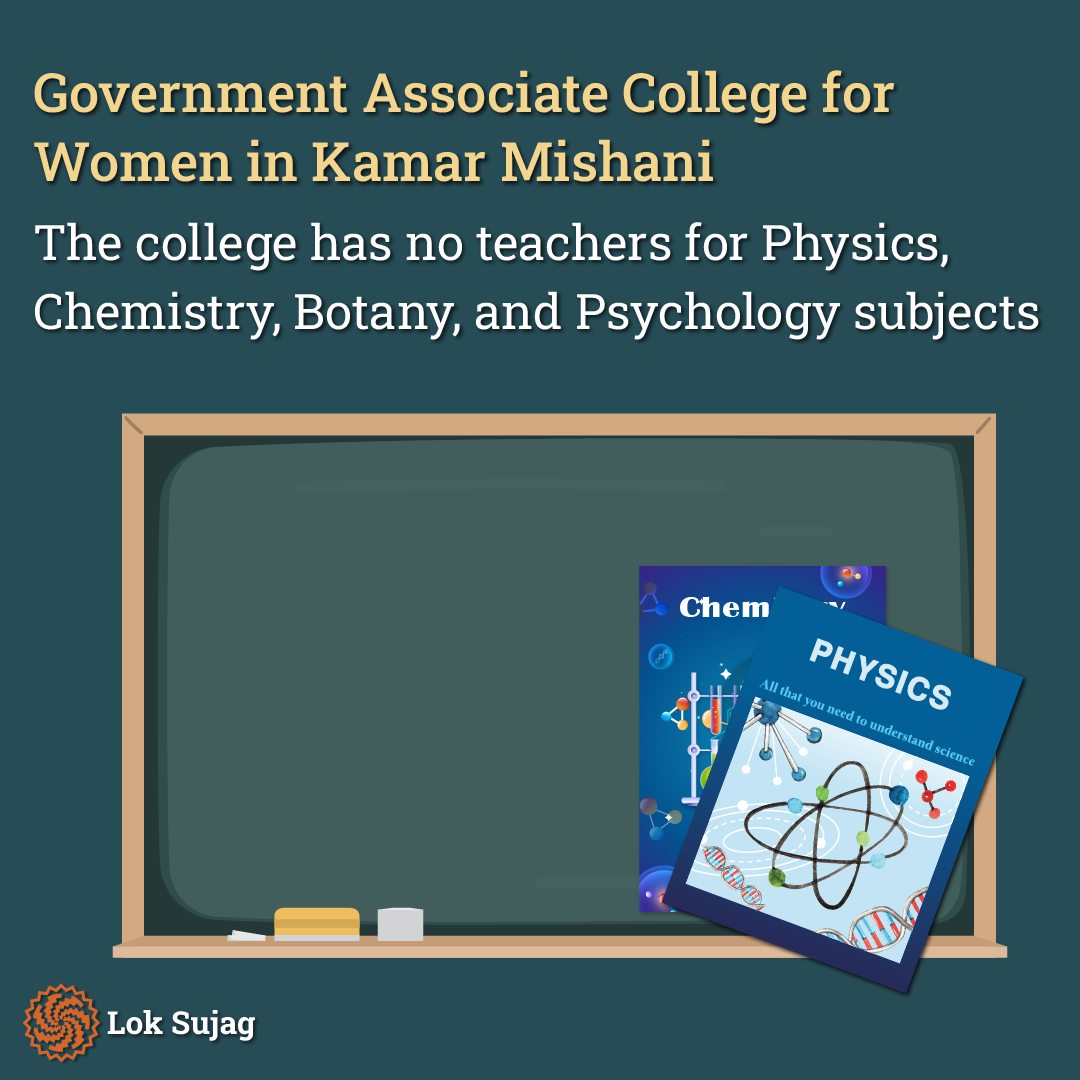 "Another significant issue is that only temporary teachers are assigned for a few subjects following the SCITE policy instead of filling all vacant positions. This results in a teacher of one subject being asked to teach another. For instance, a Chemistry teacher is tasked with teaching Biology or Computer Science. Some teachers agree, but many decline due to unavailability or contractual constraints preventing them from teaching a different subject," he says.
He further says that due to the lack of teachers, occasional assistance is provided by the local community, although finding willing individuals is challenging due to the college's remote location.
The situation in other government colleges across the district mirrors that of Government Associate Degree College Kalabagh. The shortage of educational facilities impacts a significant portion of the population in a district with approximately four lakh residents, prompting many to move to urban areas.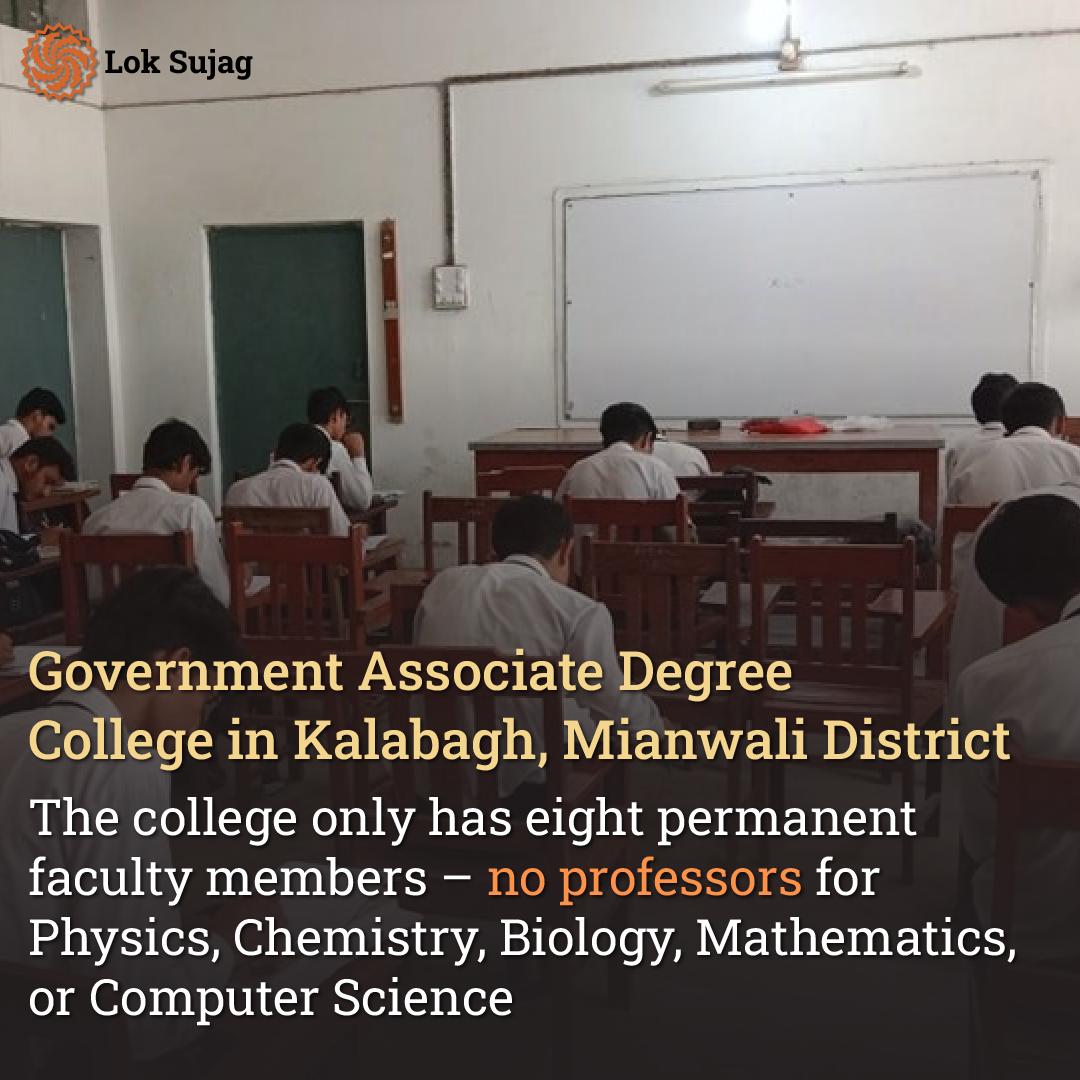 At Government Associate Degree College for Women in Machani, there are roughly 600 female students, but the college only has 22 approved teaching positions. Out of these, only eight are permanent faculty members – subjects like Physics, Chemistry, Botany, and Psychology lack professors.
Similarly, Government Associate Degree College for Women in Esa Khel has only eight permanent faculty members out of a total of 17 approved positions. The college caters to around 800 female students. Subjects such as Chemistry and Physical Education are without teachers.
Government Degree College for Boys in Esa Khel is facing a shortage of teachers, with 15 out of 23 sanctioned posts remaining vacant, including crucial subjects like Computer Science and Chemistry.
Azizullah Khan, the Deputy Director of Colleges, shares that the district has 18 government colleges, of which five are for boys and 13 for girls. The district's underdevelopment leads to fewer students from the area being selected for competitive exams than other districts. As a result, there is a limited number of appointments for lecturers.
Also Read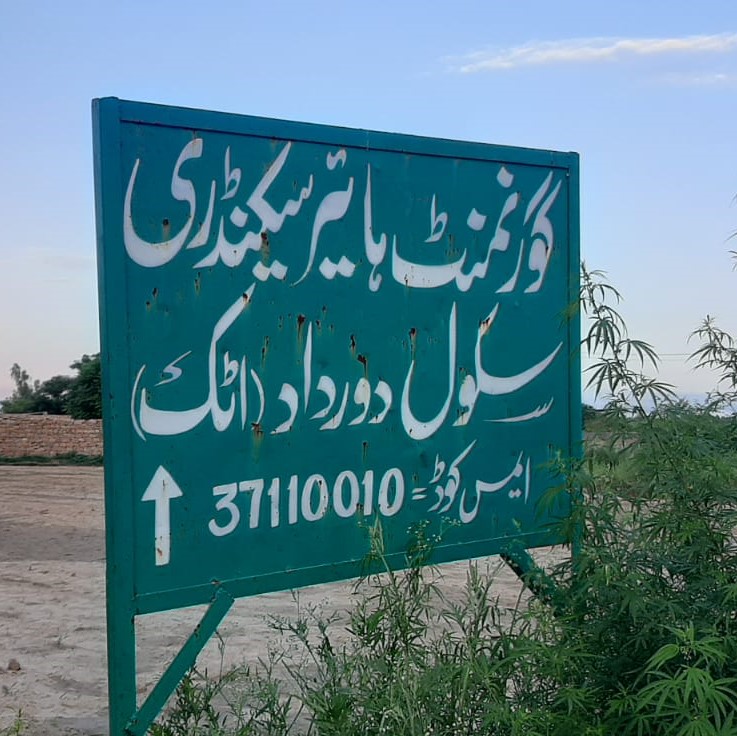 Education crisis in Attock: Lack of intermediate teachers leads to dropouts and challenges for students
"Our office consistently urges the Higher Education Department Punjab to recruit CTIs (College Teaching Interns) on time each year, but often, decisions take up half of the academic session," he explains.
Mohammad Hayat Khan, a professor in the Physics department at Government Graduate College Mianwali and the district president of the teachers' organisation PPLA (Punjab Professors and Lecturers Association), acknowledges that the permanent solution to this issue is hiring permanent teachers for the vacant positions. However, he also suggests a temporary approach to address the problem.
"Higher authorities should implement a policy where at least one lecturer is assigned to each college subject. Colleges located near urban areas with surplus teachers could be transferred to places where specific subjects lack teachers.
In addition to temporary teachers, timely educational provisions can significantly enhance the quality of education for youth in remote and disadvantaged regions."