Local governments in Punjab have been restored after they remained suspended for more than two and a half years. This has put an end to the powers being exercised by bureaucrats (designated as administrators) over these governments.
Their restoration has come about as a result of a Supreme Court judgment delivered on March 25th this year. The court struck down a Punjab government notification that had dissolved local governments in the province. But, after the provincial administration appeared hesitant to implement the court's verdict, representatives of several local governments approached the apex court afresh for the execution of its order.
The Supreme Court, thereafter, directed the provincial authorities to restore local governments by October 20th, 2021 or face contempt of court proceedings. Punjab government, consequently, restored them two days ahead of the deadline set by the court.
In retrospect, this controversy began in 2018. Soon after Pakistan Tehreek-e-Insaf (PTI) came into power that year, it announced an overhaul of the local government system in Punjab. With this objective in mind, the Punjab Assembly passed a law in April 2019, replacing the Punjab Local Government Act, 2013 enacted by Shahbaz Sharif-led Pakistan Muslim League-Nawaz (PMLN) government. By virtue of the newly-promulgated law, which came into force immediately after its enactment, local governments stood dissolved on May 4th, 2019.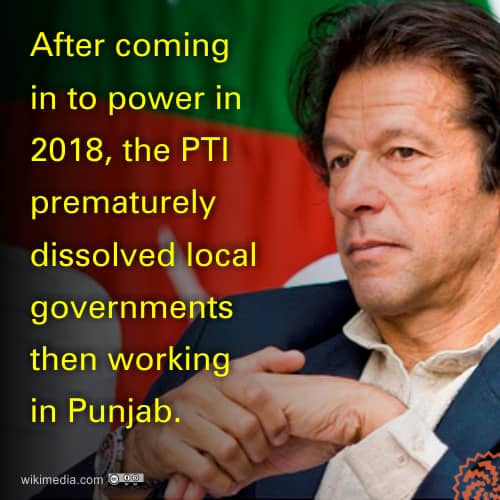 These governments were elected through a two-phased electoral process spread over 2015 and 2016. Under the Punjab Local Government Act, 2013, their term was set to end in December 2021. The Supreme Court, therefore, held their pre-mature dissolution as being a violation of the rights and powers conferred on them by the constitution.
The apex court's detailed judgment released in July this year stated that, by dissolving them, the provincial administration had usurped the political rights of the electorate which had chosen them. The court ruled that Section 3 of the Punjab Local Government Act, 2019 was particularly in violation of the constitution because it empowered the provincial authorities to dissolve local governments before the expiry of their tenure.
Not satisfied by the judgment, Punjab government filed a review petition before the Supreme Court in July 2021. It argued that the restoration of local governments would create many legal, administrative and financial problems in the province. It also contended that a new law has already been enacted to establish a better and more efficient local government system, giving local representatives more powers than ever before.
The representatives of the dissolved local governments, meanwhile, also filed a contempt of court petition against Punjab government. After hearing this petition, the Supreme Court not just ordered an immediate restoration of local governments but also ruled that an inquiry be initiated to find out why the provincial administration had taken so long to restore them.
Talking about the delay, Punjab government's spokesman Hassan Khawar admits that, subsequent to the Supreme Court, it took longer than it should have to issue an official notification for the restoration of local governments. He, however, claims the delay was caused by the fact that the implementation of the court's judgment in letter and spirit required a comprehensive district-level planning so that the restored local governments could resume their functions effectively.
New law, old questions
In 2019, the PTI-led coalition government in Punjab succeeded in enacting a new local government law in the face of strong reservations from the opposition. Upon its enactment, Punjab Chief Minister Usman Bazdar claimed the previous laws neither empowered local governments nor gave these governments any financial resources to address people's problems. The new law, he said, has resolved both these issues.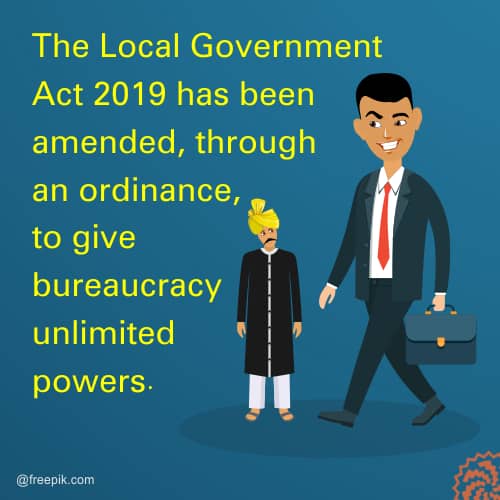 Following are the salient features of the new law:
• Fresh elections shall be held for local governments within a year of their dissolution.
• Administrators shall be appointed to run local governments until elections for them are held.
• Union council and district council system shall be abolished.
• Municipal councils and neighbourhood councils shall be established in cities while tehsil councils and village councils shall be established in rural areas.
• As many as 22,000 village councils and 138 tehsils councils shall be set up across Punjab.
• Elections for village councils and neighbourhood councils shall be held on non-party basis while elections at tehsil and municipal levels shall be conducted on party basis.
• Representatives for village councils and neighbourhood council shall be elected directly and the candidate who receives the maximum number of votes shall become their chairman.
• New local governments shall receive a 33 per cent share from Punjab's development budget.
• The tenure of the new local governments shall be four years and there will be no educational restrictions on those contesting elections for them.
• The election of professionals and technocrats in the new local governments shall also be ensured.
During the law's passage, the opposition submitted 11 objections to it. These were all rejected by the ruling party.
According to Hassan Murtaza, an opposition member of the Punjab Assembly belonging to Pakistan Peoples Party, the law does give many powers to public representatives but it sets no criteria to assess their eligibility and performance. He also says the abolition of union councils and district councils will make it difficult for rural population to have many of its administrative and developmental problems addressed.
But before local government elections could be held under the new law, the Supreme Court declared it partially unconstitutional on the one hand and, on the other, the provincial government introduced dozens of amendments in it through an ordinance promulgated in April 2021. This ordinance completely changed the basic structure of local governments as envisaged by the 2019 law.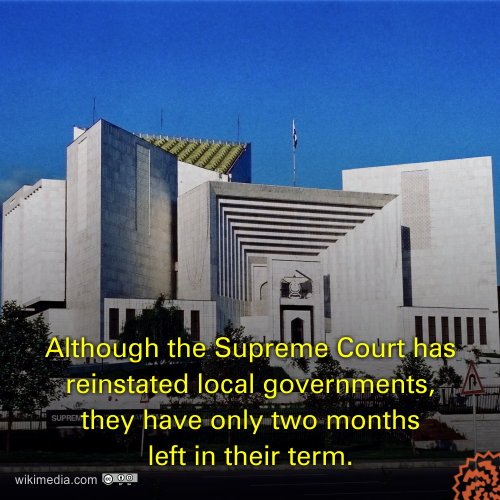 Kanwar Dilshad, a former secretary of the Election Commission of Pakistan, says the amendments have given sweeping powers to deputy commissioners and commissioners, leaving local governments entirely dependent upon the provincial administration and bureaucracy. He also says these changes do not specify as to who will be able to vie for the mayor of a municipal council, how his/her election will take place and what his/her powers will be.
Good for nothing?
When local governments were abolished in 2019, people expected an early election to put in place a new local government system in Punjab. This did not come about. The provincial government, instead, appointed administrators (picked up from bureaucracy) to fill the administrative vacuum at the local level.
Now that the dissolved local governments have been restored under the court order, this raises an important question: Can they be effective in resolving the administrative and developmental issues in their respective areas.
Ahmed Bilal Mehboob, head of the Pakistan Institute of Legislative Development and Transparency (PILDAT), a research organization focusing on democracy, governance and public policy, says it would have been great had the court verdict came out earlier. "At the time of their dissolution in 2019, local governments still had a little less than three years remaining in their tenure but now, after the process of their restoration has started, their term is just about to end in two months," he says. This certainly does not leave enough time for them to accomplish anything significant, he adds.
Also Read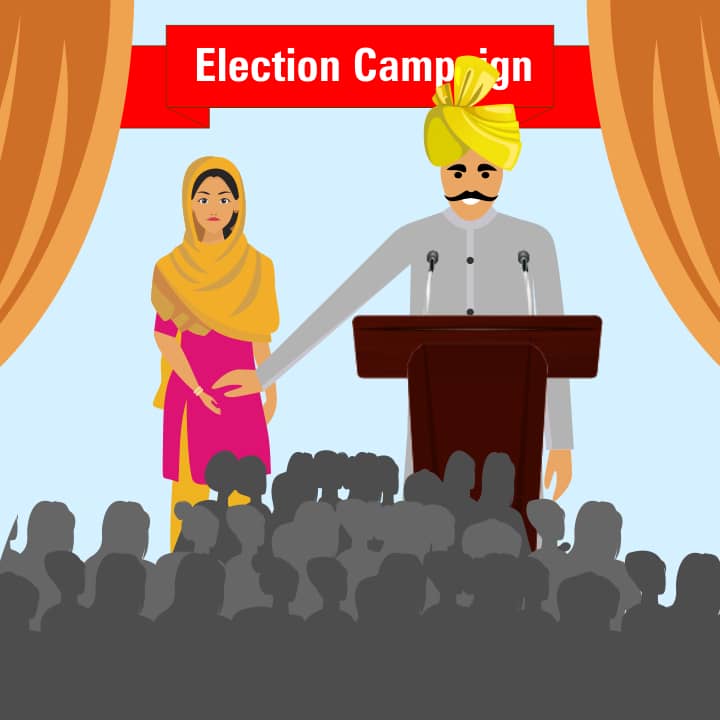 Women contesting National Assembly elections: A mountain to climb and then some more
Salman Abid, a journalist working on local governments, also says one cannot expect the restored local governments to be administratively effective and to play any significant role in development within the short span of time available to them. The real benefits of their restoration could have been realized only if the time lost in the legal battle over them was added to the rest of their tenure, he says. "Only the court, however, can do that."
Abid says the effectiveness of the restored governments also depends on whether the provincial government is ready to give them money for administrative and development projects and whether these governments are capable of ensuring the release of this money and use it properly.
Another important question, according to Abid, is whether the provincial government will allow them to exercise their powers freely given that it did not allow them to function for more than two and a half years.
Khawar responds to this question by saying the provincial government has no intention of creating any hurdles in the way of local governments. "All facilities, including offices and vehicles, have been provided to them. Steps are also being taken to plan various development projects and to provide financial resources required for them to local governments," he says.