The regions of Panjgur and Kech in the Makran Division are famous for their date palm cultivation. However, in the heavy rains and floods that occurred last year, the date palm orchards in these areas suffered significant damage, resulting in a much-reduced date palm harvest.
While the government announced compensation for farmers affected by seasonal disasters, the growers claim that no practical steps have been taken in this regard.
Shoaib Mian, an affected Kech farmer, explained that the floods devastated his date palm orchard. Officials from the Department of Agriculture visited the area to collect our names and details of the losses, but no practical compensation has been provided.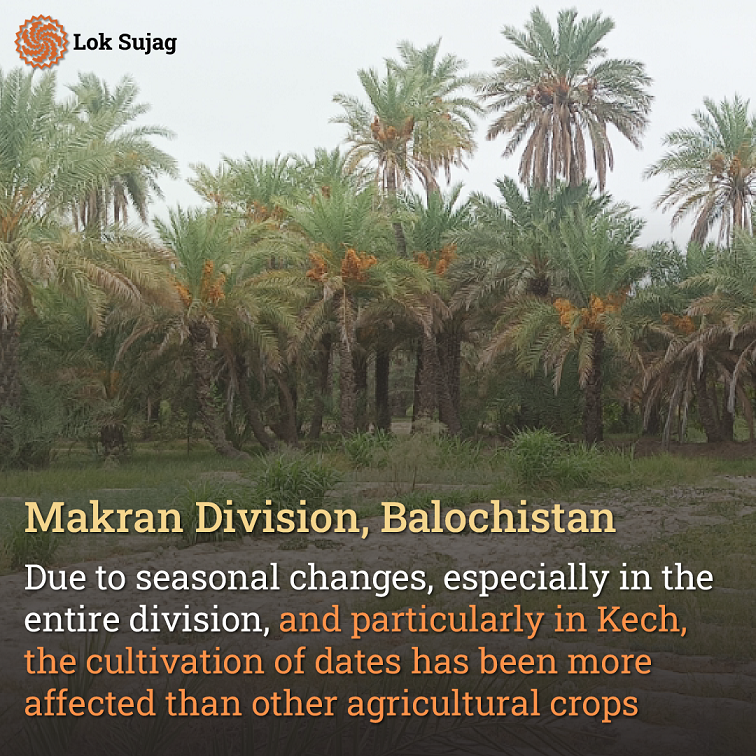 The CEO of a company engaged in date palm processing, Maqbool Alam Noori, is renowned globally for introducing date palms in the Makran Division. He mentioned that due to climatic changes, especially in Kech, date palm cultivation has been more severely affected than other crops.
In 2022, due to heavy rains and flooding in the district of Kech, 140,000 tons of dates were destroyed, including varieties like Awar and Begum Jangi dates. These are considered the highest quality, with a market price of US$ 800 to US$ 1,000 per ton in the international market.
He emphasised that the Balochistan government has not assisted local farmers.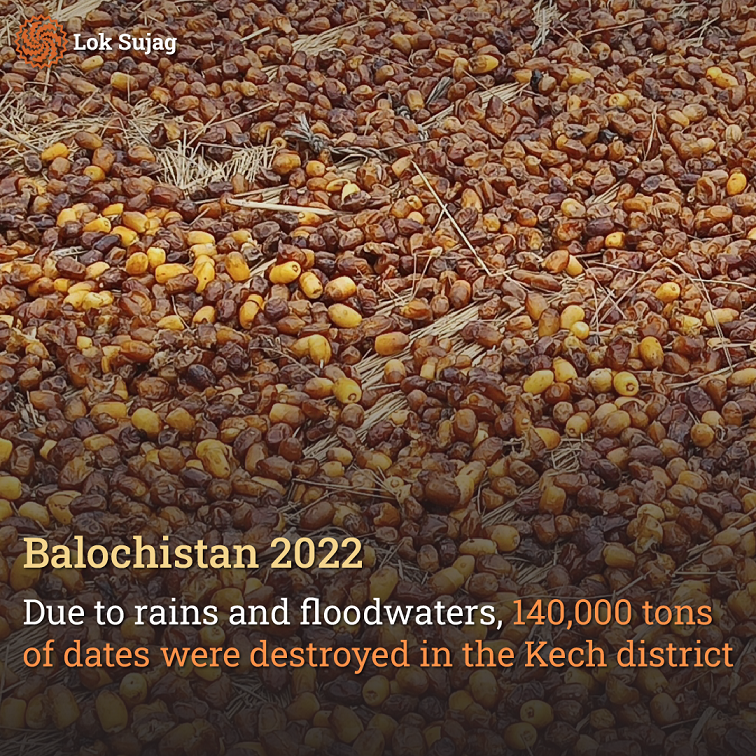 Irfan Munir, a 23-year-old from Turbat, is involved in date palm cultivation and sales. He explained that their entire orchards were destroyed due to heavy rains and floods. Farmers didn't even earn a single rupee during the entire season, which has worsened their financial conditions.
He mentioned that before the floods, they used to have good produce from their date palm orchards, which was sent to Karachi and other cities for sale. However, this year, their work came to a halt.
In the Kech district, officials from the Department of Agriculture, including Sohbat Khan, shared that last year, to compensate for the losses faced by farmers, they distributed 8,500 bags of wheat for free. Those who received this assistance included farmers from all four tehsils of Kech district. In the current year, during May, June, and July, farmers were given tractors for approximately 14,000 more hours to level their lands.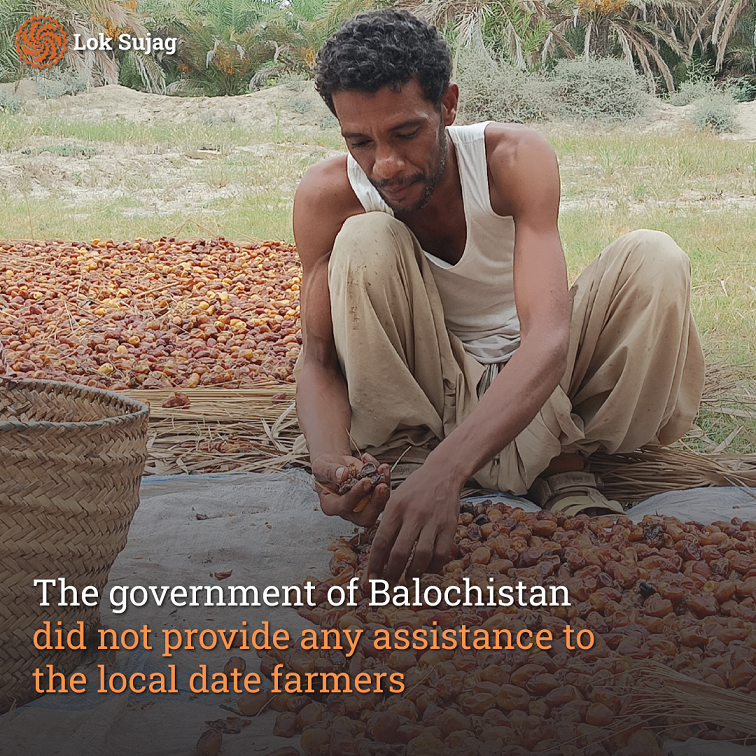 Fida Ahmed, a farmer from the Kalatak Naukahan area of the Kech district, stated that the heavy rains at the beginning of the previous year did not cause much damage to date palm production. This year's harvest is better, but due to the lack of compensation for last year's heavy losses, farmers face financial difficulties, affecting the date palm sales process.
Dr. Nadil Shah, an official from the Department of Agriculture, explained that Kech district has approximately 24,800 hectares of date palm orchards, which generally yield more than 150,000 tons of dates. However, this year, there has been an improvement in date palm production.
Also Read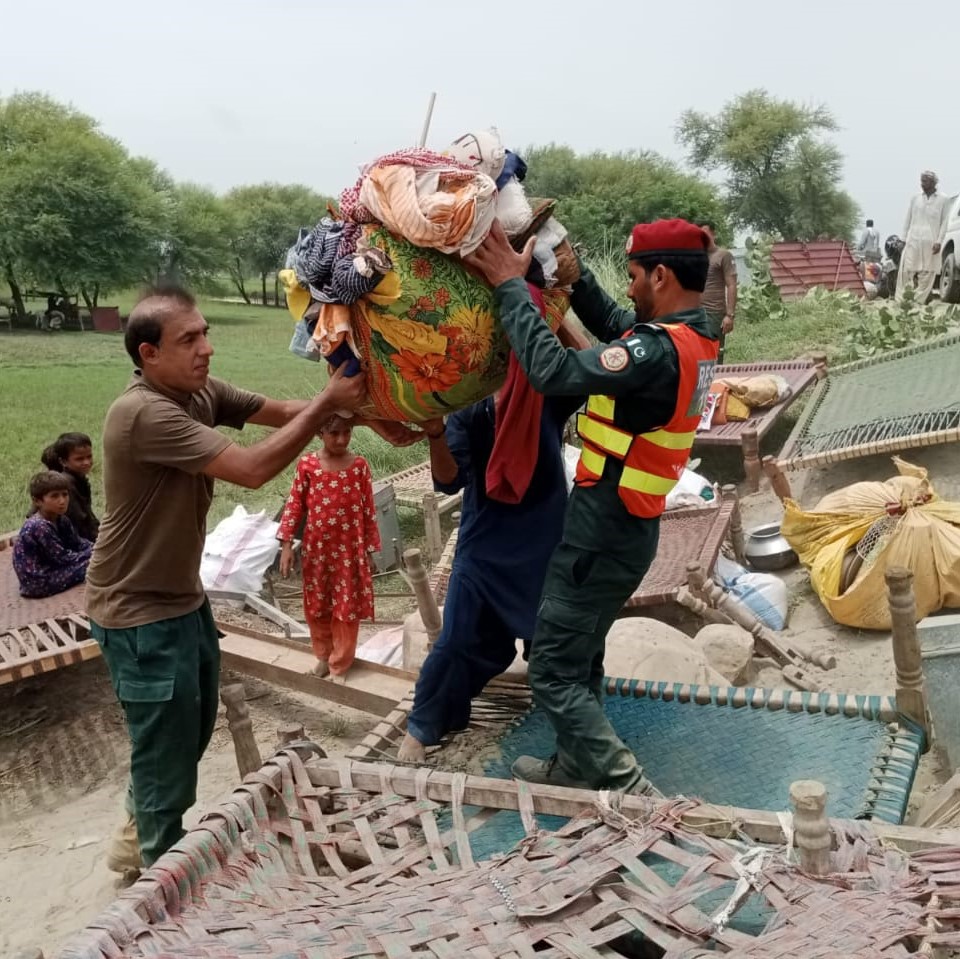 Rising waters, vanishing hope: The ongoing tragedy of Rojhan's floods
He also mentioned that various stages of date palm production and sales involve different types of losses and risks for farmers and landowners. In the city, during date palm supply, transportation, and storage, there are losses of 5.7 per cent, 2.3 per cent, and 2.5 per cent, respectively, in the production.
In Kech and Panjgur, varieties of dates, including Mozati, Shakri, Peznah, Begum Jangi, Wash Shakar, Gok Nah, Pishpak, Eleni, Awar, and Jadgali are known for their distinct flavours and are sent in large quantities both domestically and internationally. Dates and lassi are a favourite meal for the local population in Kech.
Many of these areas' population depends on date palm cultivation and sales for their livelihood. Last year, due to flood-related disasters, while orchard owners suffered losses, many households relying on date palm cultivation, picking, cleaning, packaging, and transportation lost their source of income.