Gul Muhammad, 23, is squinting his eyes due to the intense afternoon heat of a mid-September day. Drenched in sweat, he is sitting in a single-room mud shelter which sizzles with high temperature. His clothes have a thin coat of fine black dust. A similar coat of dust is visible on the outer walls of his room.
Stacks of all kinds of firewood line the path that leads from a nearby highway to his shelter. At the end of the path stand five dome-shaped mud structures with small holes in their lower parts. These holes are constantly emitting smoke, giving the place a rusty, burnt odour.
Located 20 kilometers east of Layyah, a city in western Punjab, these structures – or kilns – turn wood into charcoal. They are visible from a highway that links Layyah with a local town called Chowk Azam. "They singe wood in a way that it does not turn into ash. Then this singed wood is cooled down and brought out in dark grey pieces [each the size of a toilet roll]," says Gul Muhammad as he explains the process of making charcoal which, in turn, is used for cooking, heating and running machinery.
Each of his kilns turns 6,000 kilograms of wood into 1,200 kilograms of charcoal every eight days. A kilogram of wood costs him around 10 rupees whereas he sells charcoal at roughly 63 rupees per kilogram. A kiln, thus, consumes wood worth 60,000 rupees in eight days to produce charcoal worth 75,600 rupees. After deducting the cost of wood from the total price of charcoal, each kiln helps Gul Muhammad make 15,000 rupees a week and 60,600 rupees a month.
His kilns also consume 1,368,750 kilograms of wood – or about 17 acres of forest assuming that an acre yields roughly 80,500 kilograms of wood – in 365 days. Kiln owners claim that they buy all this wood from individual tree growers, local landowners and timber merchants. "Selling trees and wood is a common business here," says a kiln worker in Karor Lal Esan, a local town.
Forest thieves
Nasir Hayat, a 33-year-old journalist based in Chowk Azam, claims that Layyah has around 1000 charcoal-making kilns which mostly, if not entirely, use wood stolen from the district's government forests. This is because this type of wood costs them much lower than the one purchased from individual sellers or the market and, thus, helps them earn more significant profits, he says.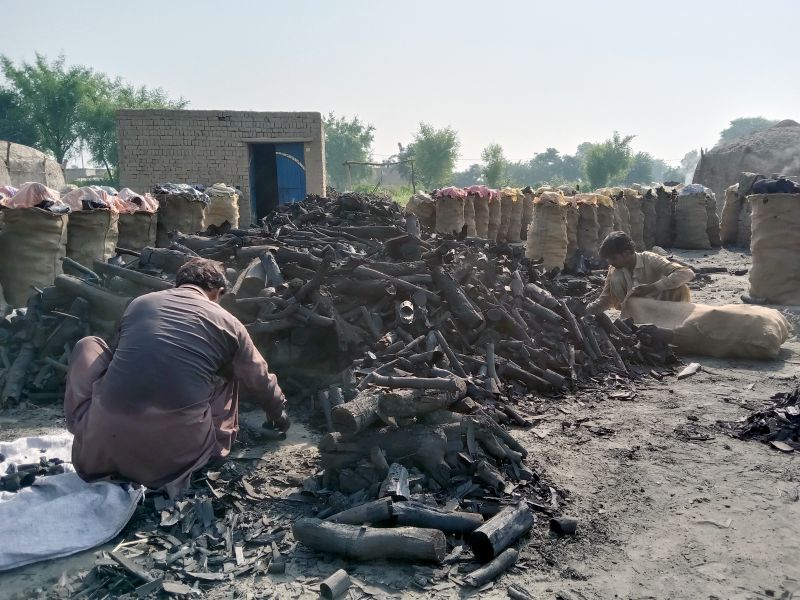 A coal kiln in Karor Lal Esan
He also alleges that no one can steal wood from these forests without help from the government officials responsible for their upkeep. The nexus between these officials and wood thieves, according to him, is so strong that the former helps the latter even when cases are lodged against them. "If they have stolen 1,000 trees, the case will mention only 200 of them, making them liable to pay only a small fine," he says.
This allegation seems to be true – at least partially – because Punjab Forest Department's officials based in Layyah also concede that wood is, indeed, stolen from the forests under their supervision. The worth of the wood stolen in 2021-22 alone was 15 million rupees, they say. Though they also claim to have filed 537 cases that year against those involved in this theft, they acknowledge that they could not recover even a single kilogram of the stolen wood.
Mahar Zahoor Alam, a college teacher and an environmentalist in Layyah, points to another problem in the government's handling of the problem. "District administration sometimes does take some charcoal kiln owners into custody for stealing forest wood but they are released as soon as they pay a tiny fine," he says. This fine, in his opinion, is too inconsequential to stop them from committing the same crime again.
He also alleges that some politicians support the kiln owners because, being the prominent members of the local Pakhtun community, they have a political sway over its members. He does not have any proof to substantiate his allegation but, according to the latest national census carried out in 2017, as many as 41,828 Pashto speakers – or 2.3 per cent of Layyah's total population of 1,823,995 – live here.
There are also allegations that charcoal kilns and deforestation in Layyah are closely linked. Many local residents say the kilns are set up close to the forests so as to make wood theft easier. This is despite the fact that a 2013 notification by Punjab's Forest Department prohibits the presence of kilns within eight kilometers of a government forest.
Naveed Baloch, a 22-year-old student living in tehsil Karor Lal Esan, testifies to an open violation of this notification. "Everyone in Layyah knows that these kilns are present very close to the forests in every part of the district," he says.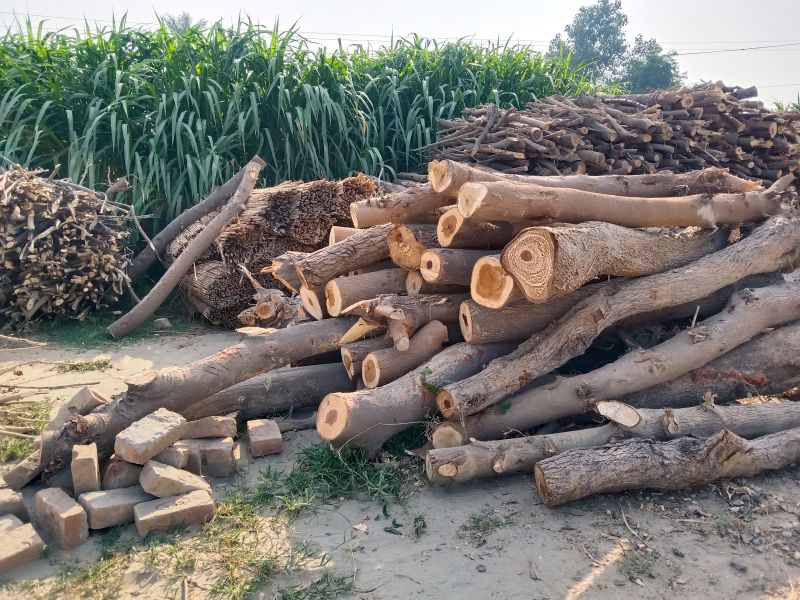 Wood selling point for coal on Layyah road
That this proximity is proving detrimental to the local tree cover is also well known to all and sundry.
Muhammad Aslam, a 40-year-old orange trader in a village near Karor Lal Esan, says every human settlement along canals in his area used to have a 60-acre patch of land reserved for a forest but this patch has been denuded of trees in the last 15 years or so. This, he says, is happening because both local people and the concerned government officials have turned a blind eye toward the activities of charcoal kiln owners.
Layyah's environment protection officer Muhammad Arshad Chughtai, on the other hand, claims that his department is doing whatever it can to check the theft of forest wood. "We regularly check the invoices of wood purchased and used by charcoal kilns and a strict action is taken against anyone found stealing the government wood," he says.
Life versus livelihood
A report published by the United Nations Programme on Reducing Emissions from Deforestation and Forest Degradation (UN-REDD+) about an African country, Zambia, states that charcoal production is one of the main drivers of deforestation in developing countries. Similarly, a report by the United Nations' Food and Agriculture Organization (FAO) reveals that an "estimated 50 per cent of the wood extracted from forests worldwide is used as fuelwood and charcoal".
FAO also believes that using wood to make charcoal is contributing immensely to climate change. Its report says that "unsustainable wood harvesting and charcoal production contributes to forest degradation and deforestation and to greenhouse gas emission" which is the main reason why climate is undergoing unprecedented changes these days.
Such negative effects of charcoal-making were exactly the reason why the government "has completely banned charcoal kilns in Layyah district", says Muhammad Junaid, the local disaster management officer. And to ensure that this ban is implemented effectively, he says, "last year we doused many of the operational kilns with water so as to render them non-operational".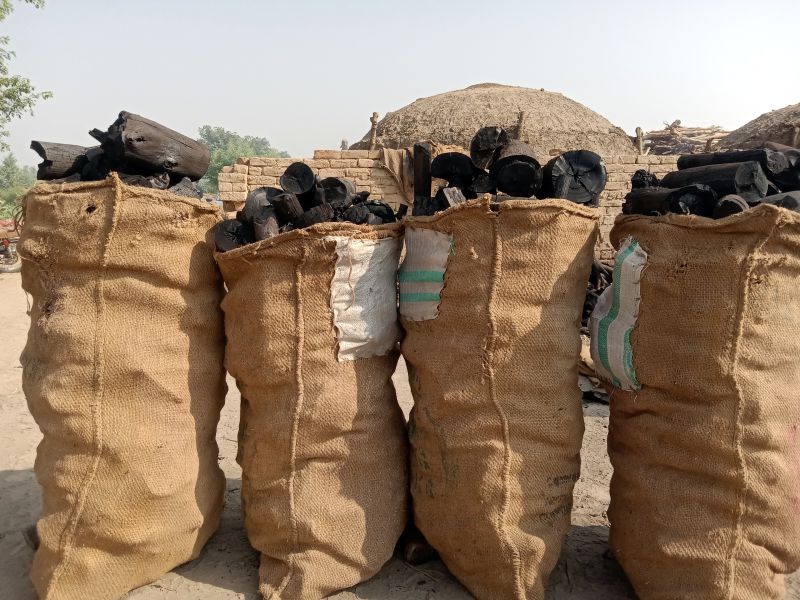 Coal packed to deliver across Pakistan
District environment officer Chughtai also says that, in 2019-20, his department, too, demolished 125 kilns which were all built near the government's forests in Karor Lal Esan.
Gul Muhammad, however, says that he does not know of any government ban on kilns. He, on the contrary, believes that "they are only temporarily closed in winter when smog takes over the area".
Another kiln owner, Naseer Khan, says he does not shut down his business even in winter. He operates five kilns outside Layyah city but is always worried that the government officials might raid and demolish them.
This explains why he rushes to them on the morning of September 16th, 2022 as soon as he hears that some strangers have come to visit them. "I have children to feed so it makes me really scared that someone has come to shut down my business," he says right after reaching his kilns on a motorcycle.