On 17th December 2018, a British arbitration court ordered Pakistan to pay 21.6 million US dollars in damages to Broadsheet, a British Isle of Man company that was supposed to track down the foreign assets of allegedly corrupt Pakistanis. Pakistan also had to pay a daily interest as long as it delayed the payment of this amount.
National Accountability Bureau (NAB) hired Broadsheet in 2000 to track down the alleged illicit foreign assets of Pakistanis. In 2003, however, NAB terminated its contract with Broadsheet. The company later alleged in arbitration court that NAB illegally breached the contract which resulted in financial loss to it so it should be compensated. The court ruled in favor of Broadsheet in 2016.
NAB had also contracted another company called Assets Recovery International (IAR) for the same purpose. That contract, too, was terminated in 2003. Subsequently, both companies had decided to take legal action against NAB.
After some years of legal disputes, NAB finally decided to settle its issues with these companies and, after negotiations, paid 1.5 million US dollar to IAR and 1.5 million British pounds to Broadsheet in 2008. Although Broadsheet's legal status had changed at the time and an Isle of Man court had ordered its dissolution, NAB paid the settlement amount to Jerry James, the owner of an American company of the same name. Meanwhile the original Broadsheet was purchased by IAR's owners Kaveh Moussavi and Dr. William Paper. They finally approached the arbitration court in 2009 to seek damages from NAB.
It is worth mentioning here that the amount paid by NAB to IAR for settlement was never disclosed in Pakistan. It became known only when the judge of the arbitration court, Sir Anthony Evans, made it a part of the case record during the arbitration proceedings between NAB and Broadsheet. But since the case was not related directly to IAR, he, however did not elaborate on this matter.
The court declared that the value of the assets to be recovered from Sharif family cannot be determined definitively and the government of Pakistan does not have the legal capacity to fully recover all of these.
At the arbitration court, Broadsheet claimed that it was entitled to receive a share of money retrieved or to be retrieved from the following types of people.
Those from whom their corruption money had been retrieved by NAB;
Those from whom the corruption money was recovered through the efforts of Broadsheet;
Those who were included in the 'registered targets' assigned to Broadsheet and NAB could potentially retrieve their illegal assets from them. These included 'registered targets' whose alleged corrupt assets were taken over by NAB as a result of a settlement with them;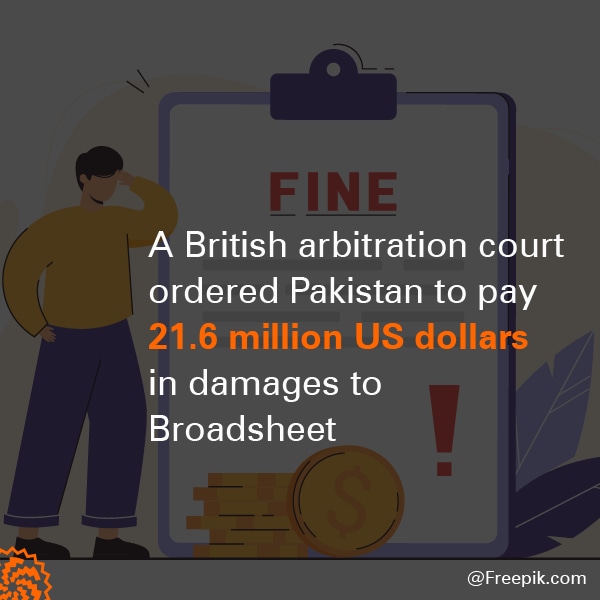 These 'registered targets' included all those people whose illegal assets the NAB wanted to find through Broadsheet.
They could be divided into two parts, essentially based on the grounds on which Broadsheet has been deemed entitled to receive the damages.
The first part deals with individuals who were among the 'registered targets' but NAB retrieved money from them only after the termination of its agreement with Broadsheet. In these cases, the arbitration court found Broadsheet to be entitled to the following amounts:
Schon group: 48,760 US dollar, Lakhani group: 25,000 US dollar
This amount does not include 4,758 US dollars that have accrued as interest on a daily basis from the time of the decision of the arbitration Court (November 2018) to the date of the payment of the amount by Pakistan/NAB (November 17, 2020). If this money is also included in the compensation then the total amount reaches 28,706,533 US dollars which has been debited from the account of the High Commission of Pakistan in the United Kingdom.
Fouzi Ali Kazmi: 85,600 US dollar
Lieutenant General (retired) Zahid ali Akbar: 381,600 US dollar
The second part includes individuals about whom NAB had said that it could recover money from them in the future or whom NAB had stopped investigating in the early 2000s. In such cases, according to the arbitration court, the compensation that Broadsheet is entitled to is as follows:
Aftab Ahmad Sherpao: 210,000 US dollar
Jameel Ansari: 338,000 US dollar
Sharif Family-Avenfield apartments: 1,500,000 US dollar
Sharif Family-other assets: 19,000,000 US dollar
Total compensation: 21,589,460 US dollar
Since Pakistan/NAB has lost this case, the costs of court proceedings are also to be borne by them.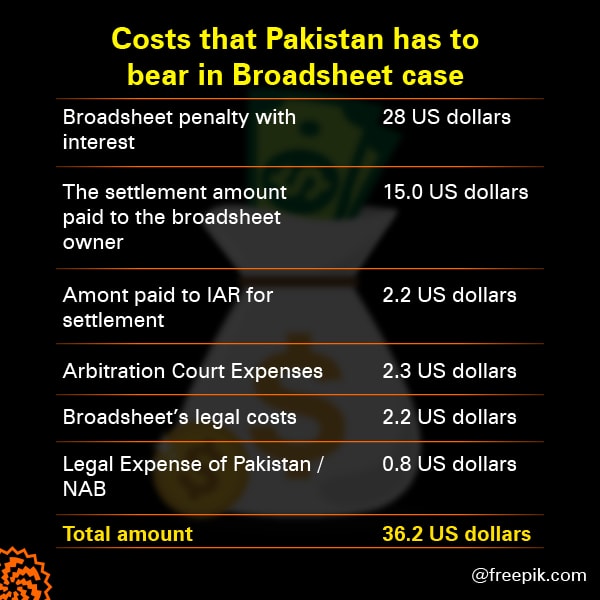 The court's decision, in particular, gives a detailed description of the assets owned by the family of former Prime Minister Nawaz Sharif and the NAB's action against them. Citing the Joint Investigation Team (JIT) formed in the Panama case against Nawaz Sharif, the arbitration judge stated that the total assets of the Sharif family were worth 82 million US dollars which does not includes the value of it London flats which is 13 million US dollars.
To determine Broadsheet's share in these assets, the arbitration court adopted a detailed procedure and stated that, given the value of these assets as determined by JIT, Broadsheet's share should come to 190 million US dollars. But the court also declared that the value of these assets cannot be determined definitively and the government of Pakistan does not have the legal capacity to fully recover all of these. The final damages in this regard, therefore, have been set at 19 million US dollars.
Since Pakistan/NAB has lost this case, the costs of court proceedings are also to be borne by them. These costs amount to about 2.2 million US dollars and are yet to be paid. In addition, Pakistan has to pay Broadsheet for its legal expenses which amount to 791,999 US dollars. The fee paid to the lawyers representing Pakistan at the arbitration court might be the same (at least) as the amount Broadsheet has paid its lawyers.
According to today's foreign currencies prices (dollar and pound), this amount equals to 5,798,228,960 rupees. In comparison, in the current financial year, the total development budget of public sector schools for all the 36 districts of Punjab has been set at only 3,380,000,000 rupees. In other words, this money could have run these schools for a year and nine months.
This report was first published by Lok Sujag on 27 Feb 2021, on its old website.