Drawing a major political conclusion from a by-election is like knowing an elephant by touching one of its tiny parts. In today's politics, however, 'narrative' has become a more powerful phenomenon than ground realities. That is why 'auspicious' signs are sought in messages 'hidden' in every election, every statement and every news report. Based on such wishful thinking, political actors build an entire edifice with the help of their respective media cells to suit their own narratives. This then is regarded as a 'political process.'
The latest manifestation of the narrative's importance in our political theatre came about during and after the by-election held on December 5th this year for NA-133, a National Assembly seat in Lahore. This seat had become vacant due to the death of Pervez Malik, a Pakistan Muslim League-Nawaz (PMLN) legislator.
Though political analysts consider NA-133 a PMLN stronghold, retaining it became a matter of life and death for this party given the current political situation. Winning the seat was necessary for it to prove its narrative that Punjab in general and Lahore, in particular are its invincible bastions and that, despite having been in the opposition for the last three and a half years, it has maintained its electoral strength in the country's largest province.
In the event, it received 47,000 votes in the by-election whereas it had polled around 90,000 votes in this constituency in the last general election held in 2018. Thus it has secured 43,000 less votes than it did in the general election.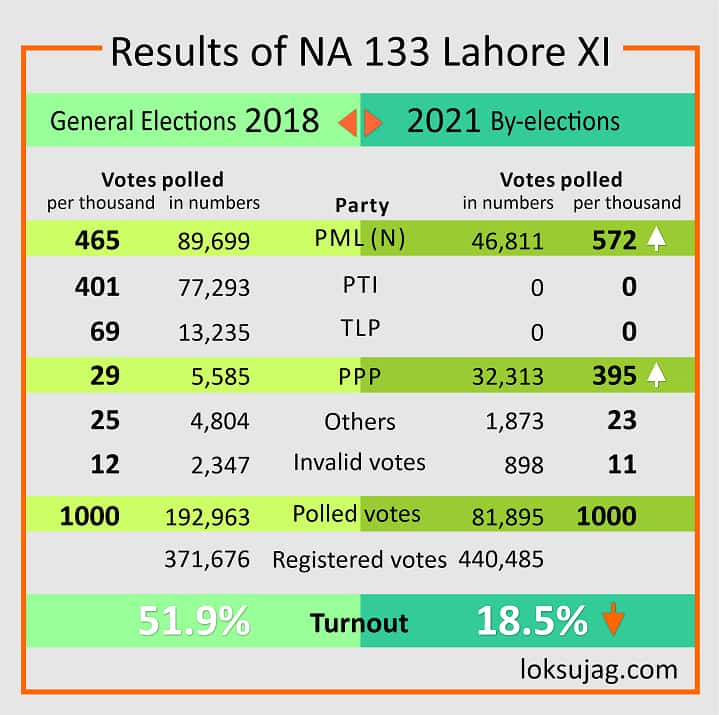 A comparison of voter turnout, on the other hand, shows a different picture. In the 2018 election, 52 per cent of the total registered voters in NA-133 had cast their votes; on the other hand, only 18.5 per cent of the total voters exercised their right to vote in the by-election. This makes the comparison between the two elections a bit difficult.
Even if this clear difference in voter turnout is ignored, PMLN had secured 465 votes out of every 1,000 polled votes in 2018 but its candidate secured 572 votes out of every 1,000 polled votes in the by-election. In other words, the party has increased its share in the total polled votes by 10.7 per cent which not only verifies its narrative but also strengthens it.
But this war of narratives does not end here.
A three-horse race
An important aspect of this by-election was the fact that the ruling Pakistan Tehreek-e-Insaf (PTI) — which, in the last two general elections, has proved itself to be the sole political force capable of challenging PMLN in Punjab — was not even taking part in it. The Election Commission of Pakistan had rejected the nomination papers of both its official nominee and his covering candidate due to a technical problem.
Even if we can overlook this problem, serious question marks hang over the performance of the ruling party which, to say the least, have made its electoral future uncertain. Even neutral observers feel that PTI is not only devoid of political acumen, it is also incapable of running the government affairs.
As a proof of this incompetence, they say the nomination papers of its candidates were rejected due to a mistake which one would not expect even from a union council candidate.
Pakistan Peoples Party (PPP), understandably, decided to take full advantage of this weakness to use it as a window of opportunity for staging a comeback in Punjab's political and electoral arena. In 2018, its candidate got only 5,500 votes in NA-133. These were not even half of the votes received by the candidate of Tehreek-e-Labbaik Pakistan who came third in those polls. PPP's performance in Punjab's other constituencies during that election was, more or less, same. It, in fact, bagged only six per cent of the total votes polled for all the National Assembly seats in the province.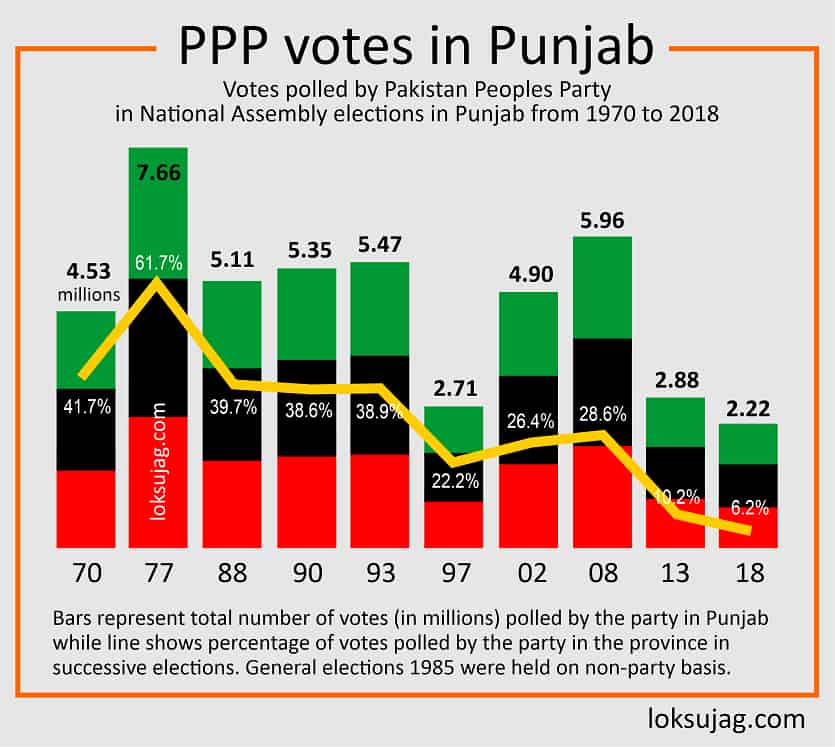 The party's losses in Punjab were first made evident by the results of the 2013 general elections which relegated it to the status of a silent observer in provincial politics. Those results also made it clear that the real electoral competition in Punjab has been restricted to PMLN and PTI.
It is, however, pertinent to recall here that PPP won about 39 per cent of the polled votes in Punjab in 1988 and in the two subsequent elections. It suffered its first major setback in the province in the general elections of 1997 when its share in the polled votes here dropped to 22 per cent. Although it performed comparatively better in the two elections that followed (in 2002 and 2008), it never regained its provincial popularity level of 1988.
A glimpse into the future?
These circumstances have made it obvious to PPP that it can never be able to form the federal government merely by winning a majority of the National Assembly seats in Sindh. The reason is simple: Punjab has 141 of the 272 general seats in the National Assembly whereas Sindh has only 62 of them. And 21 out of those 62 seats are in Karachi while three others are in Hyderabad. PPP never wins big in both these cities.
The party, therefore, aimed at proving through its performance in NA-133 that the narrative of its irrelevance in Punjab is false. It wanted to convey a message to both the voters and its political opponents that its electoral decline in the province has been transient.
The by-election results show that PPP has been largely successful in this endeavour. Its candidate in the 2018 general election received only 29 votes out of every 1,000 polled votes in this constituency but its same candidate got 395 votes out of every 1,000 polled votes in the by-election.
It, thus, effectively filled the vacuum created by the absence of PTI even though its performance was not enough for it to carry the day.
Also Read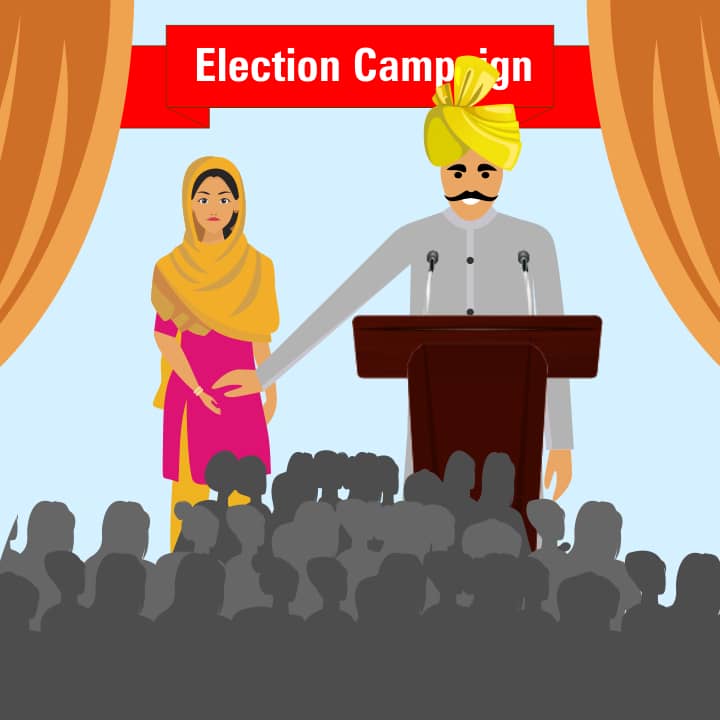 Women contesting National Assembly elections: A mountain to climb and then some more
The question is: will PPP be able to repeat this performance throughout Punjab in the next general election?
It is next to impossible to make a prediction about an entire upcoming general election merely on the basis of a by-election's outcome. This is because there is no clarity so far about the political alignments for the next polls. So, we do not yet know which party will compete with which party and in which constituency.
Another pertinent – and so far unanswered -- question in this regard is: will PTI become so insignificant in Punjab in the next general election that PPP will re-emerge as PMLN's sole competitor in the province?
So far as NA-133 is concerned, the presence of sizeable Christian votes in it can be a positive element for PPP in the next general election too. A rough estimate suggests that every tenth voter here is a Christian. There is also a general perception that these voters have been historically affiliated with PPP.
Even though most Christian voters had drifted towards PTI in the last two general elections but PPP focused on them in NA-133 and apparently got a good number of votes from them. (A final analysis of these votes, however, can be done only after a thorough probe of the polling station level results which are not yet available.)
Yet, to sum up, it can be said that the NA-133 by-election has given PPP an opportunity to substantiate its narrative that it is no longer just a spectator in Punjab's electoral politics.