50-year-old Ameer Muhammad was born in Chaman City and runs a business here. He and his brothers own 150 acres of land but must go to Afghanistan to cultivate 100 acres.
Ameer Muhammad is leading the ongoing protest in Chaman against immigration restrictions on 'Bab Dosti'. He explains that his family's land was divided by the border fence, leaving more than a hundred acres in Afghan territory.
He says he was assured at the time of fencing that he would have no problem accessing the lands, but now the passport condition is being enforced.
"Our loved ones live across the border, the cemetery and the graves of our ancestors are there, and the jobs are there too. Shall we go to the passport to sow or harvest wheat?"
From the Chaman-Pak-Afghan border (Bab Dosti), the local people previously travelled on the Killa Abdullah ID Card and the Tazkra (Afghan Identity Document) of Spin Boldak. When Chaman became a separate district in 2021, passports were made mandatory for the residents of Kila Abdullah, and the traffic on Chaman's identity card was still ongoing.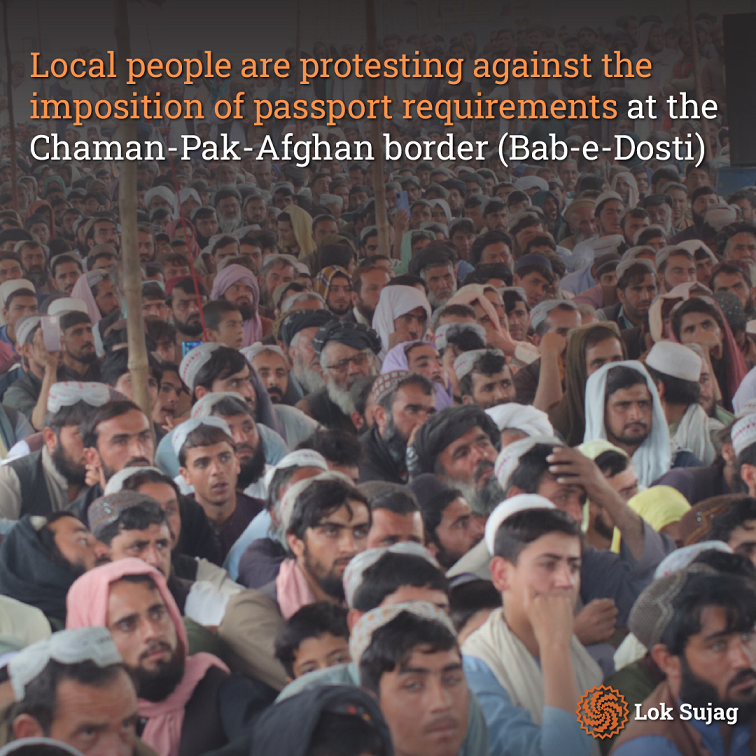 This procedure on Bab Dosti has been going on for many decades. According to a security official, "Before the war on terror, no ID card was asked here". Two months ago, the federal government decided to regulate traffic on the Afghan border.
Caretaker Chief Minister Balochistan Ali Mardan Domki addressed the Tribal Jirga in Chaman on October 8 and revealed that the passport condition will be applicable on Bab Dosti from November 1. The leaders of the Jirga opposed it and appealed for revision. However, the Chief Minister said that the decision of the apex committee is final.
When there was no flexibility in the government's decision, the people of Chaman became worried. The protest started on October 20, Friday and on the evening of the same day, a sit-in began on the Pak-Afghan highway between Bab Dosti and Chaman City.
Pakhtunkhwa Milli Awami Party, Awami National Party, Jamiat Ulema-e-Islam, Balochistan Awami Party, Jamaat-e-Islami, Pashtun Protection Movement, National Democratic Movement, Ahlus Sunnah Wal Jamaah and others also joined in the sit-in. This sit-in continues on the 15th day.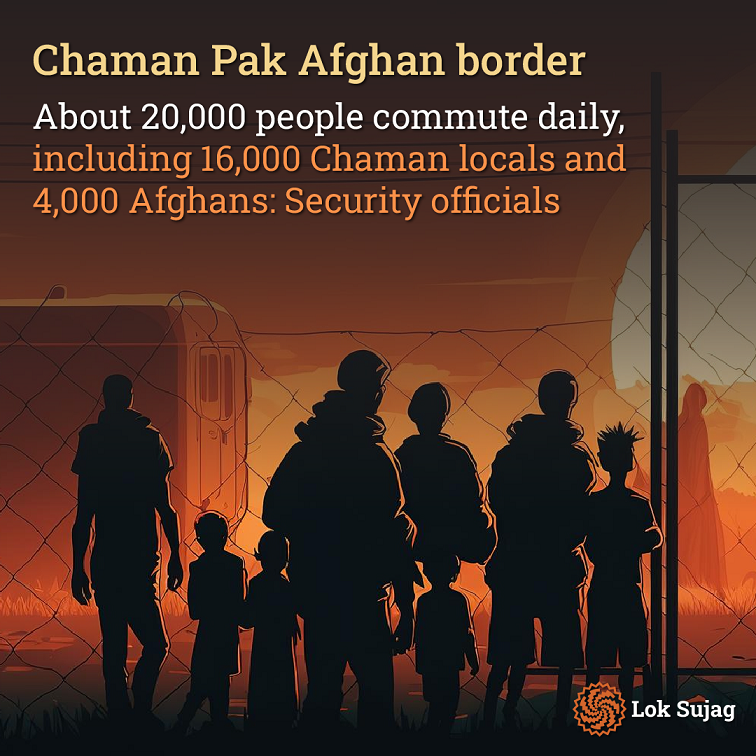 On the seventh day, October 26, talks were held twice between caretaker provincial minister Jan Achakzai and the dharna committee in Chaman but failed. The committee had made three demands, including stopping the crackdown on Afghan refugees, removing the passport requirement for Chaman locals, and reinstating the Lughari package.
After the talks, Jan Achakzai said it is the state's responsibility to employ the citizens, and the government will not take away anyone's employment. As the trade with Iran continues, so will it continue with Afghanistan.
"Of course, we don't want those items hurting our economy. Day by day, we are carrying young funerals. It is our right to regulate our border and movement."
He says that there have been 20 suicide attacks this year, in which 14 attackers belonged to Afghanistan. Afghan refugees are also involved in seven hundred criminal cases across the country. No one will be exempted from a passport and visa on Bab Dosti, but a mechanism will be made to come and go to the border villages.
Thousands of people demonstrated against the government's decisions in Chaman that day, and a rally was taken out to the Deputy Commissioner's office.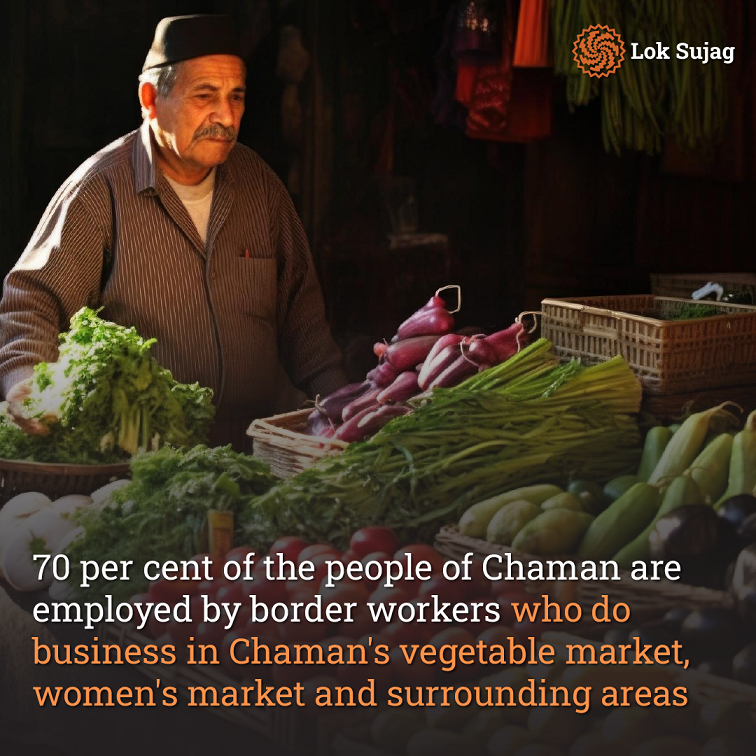 There is no factory in the border district of Chaman, which has a population of 466,218 people. 70% of the people here are employed along the border and do business in Chaman's vegetable market, women's market, and surrounding areas.
The area also hosts temporary markets and markets where showrooms sell vehicles, spare parts, used tires, and dry fruits. Some Afghans also come here to sell various goods on the move. This includes clothes, used shoes, slippers, cosmetics, etc. These people go back to Spin Boldak in the evening.
A security official stationed at Bab Dosti said on the condition of anonymity that around 20,000 people pass through Dosti Gate daily, including around 16,000 local people from Chaman and around 4,000 Afghans.
He says that the number of local traders coming from here daily is 5 to 6 thousand, while 10 to 11 thousand are small traders or lughris (wheelers). A 'Lughari Package' was also introduced for them.
Under this package, these local people carry some items (in hand) from Chaman and bring items from Spin Boldak. They were allowed to work from 7 am to 11 am. Now, all these people are protesting by leaving work.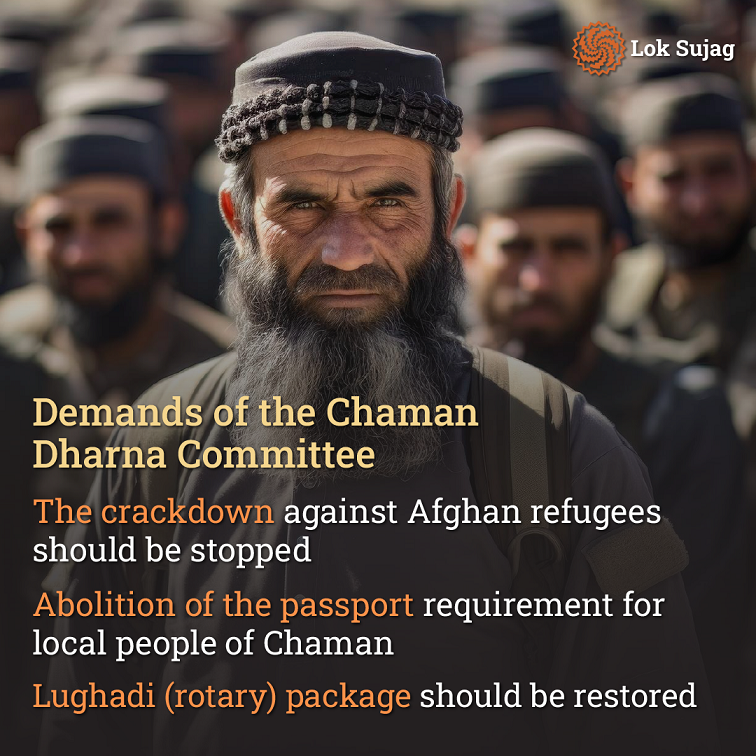 Khan Achakzai, senior vice-president of the Chaman Chamber of Commerce, says that all the goods of around two hundred cosmetics and electronics shops in Chaman's Afghan Street come from the Afghan border. Similarly, around a hundred blanket shops are also run by cross-border merchandise.
He says that more than 150 spare parts shops and around 50 dry fruit shops in Kandahari Bazaar depend on the border. Here, people get everything from seasonal vegetables and fruits to retail goods from Afghanistan.
Khan Achakzai says that Lughris also plays an important role in this business. Hundreds of educated unemployed youths here work as clerks in Spin Boldak companies and return in the evening with something in their hands.
They believe it will be a very complicated process to have visa, entry or exit stops on the passports of thousands of businessmen daily. If this system is implemented, the people here will not be able to reach the market in the morning and neither will the drivers be able to reach their trucks.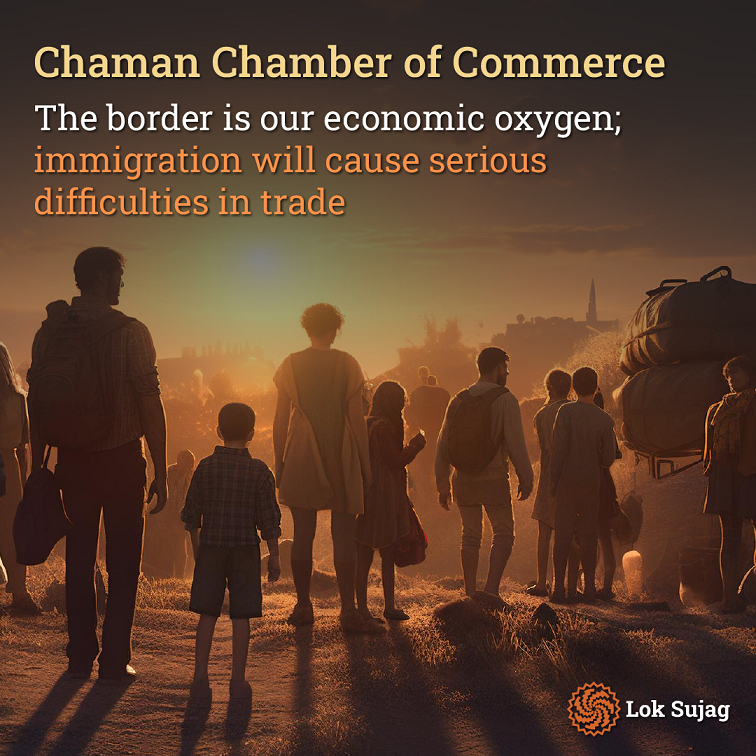 "The border is our economic oxygen; immigration will cause severe trade difficulties. Business will stand a standstill in Chaman, and people will be starved."
Dharna Committee spokesperson Olus Yar Achakzai says that the passport condition is not acceptable, nor does the caretaker government have the mandate to take such a big decision. Restrictions will cause a lot of difficulties for the people here, so the government should maintain the old system.
He says that the small traders or vagrants bring or take five or six kilos of sugar, flour, cloth, etc., and legal goods to Chaman. They earn five or six hundred rupees daily and run their house with that. How will they survive if this employment also ends?
Ameer Muhammad is the Secretary of the Leghri Union. He says that the entire city is in full protest. If the government does not revise the decisions, there is a fear of intensifying the protest.
Juma Khan, who participated in the sit-in, is a resident of Roghani Road and deals in spare parts at the border. He says there is no agriculture, factories, or other employment opportunities. Now, the border gates will also be closed.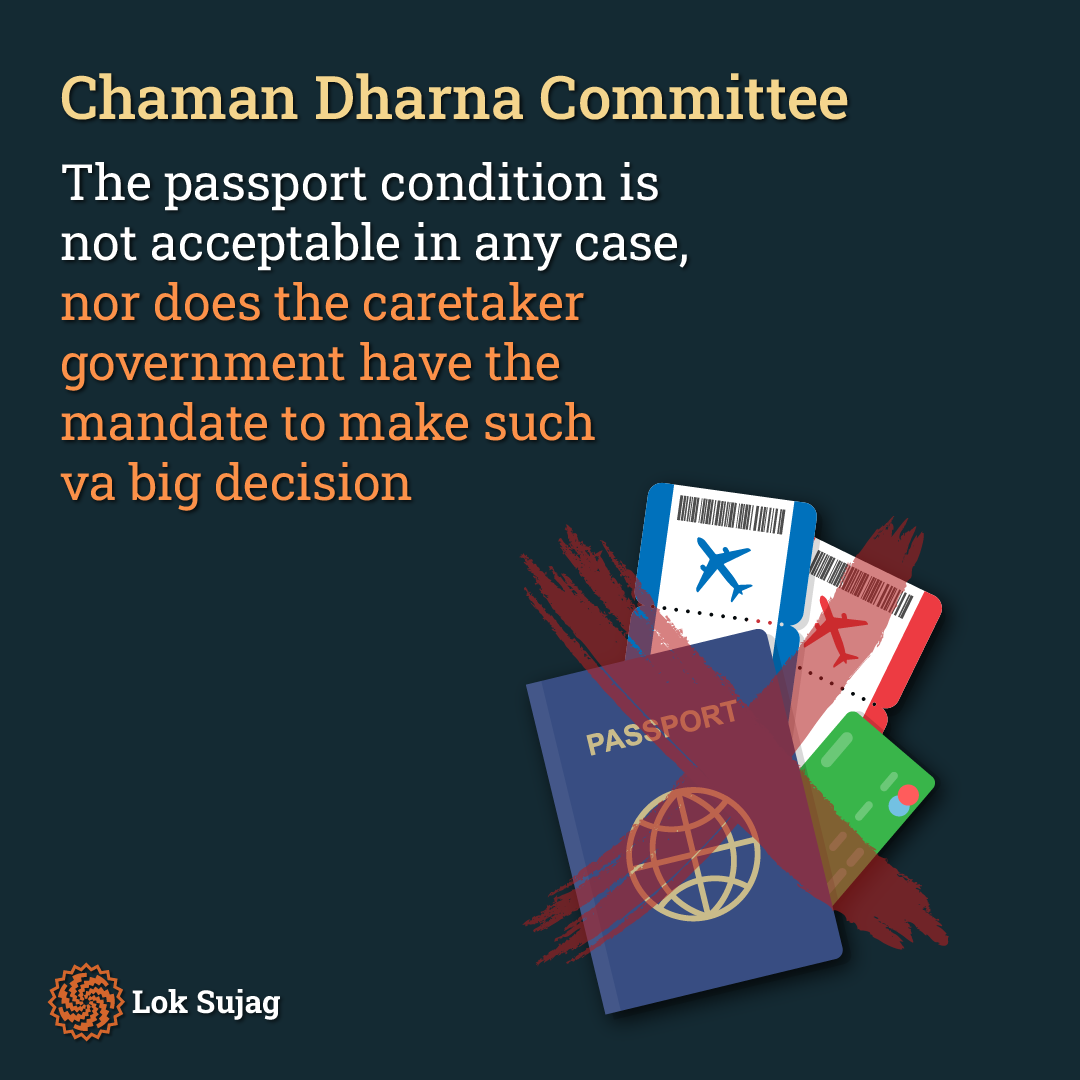 "I am an educated man but have not got a job anywhere. Restrictions are being imposed on starting a business."
Haji Jamal, the central leader of the Pashtun Khwa Map participating in the sit-in, says that the caretaker government has ordered the Afghan refugees to leave the country under the name of 'immigrants'. These people did not come by themselves, but the government of General Ziaul Haq invited them.
He says that if Afghan citizens want to go back to their country of their own free will, it is fine; they should not be subjected to coercive and insulting treatment. Similarly, there are Pashtun tribes on both sides of the border; it is excessive to separate families and relatives by passport condition.
Also Read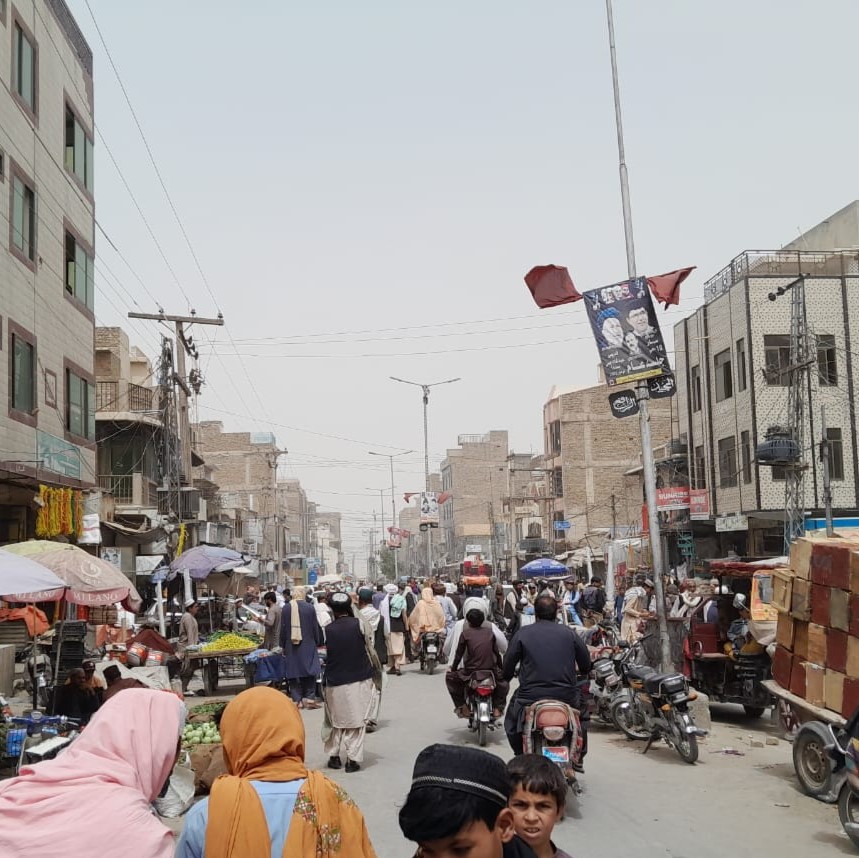 Inside Chaman's smuggling conundrum: Struggles, survival and calls for reform at the border
Sahbat Khan Achakzai, a member of the Dharna Committee, says that on October 26, Corps Commander Asif Ghafoor met the Jirga and the Dharna Committee in Chaman FC Fort, in which the committee presented its demands.
According to Sahbat Khan, "Corps Commander Asif Ghafoor said that the state has decided that from November 1, no Afghan or foreigner will be allowed to enter Pakistan without a passport and visa. However, he will recommend a specific mechanism for the people of Chaman."
"He said that peaceful protest is the right of citizens, but we will not allow anyone to take the law into their hands. It is also decided that Afghan refugees living here without documents will be deported."
On the other hand, the Afghan authorities have already said that if Pakistan removes the exemption for the residents of Chaman and Spin Boldak, then they, too, will not be allowed to enter Afghanistan without a passport. However, they are also willing to run on older systems.
When contacted by Lok Sajag across the border, an Afghan businessman, on condition of anonymity, said that Chaman-style protest is not possible here under the Taliban government, but there is a serious concern among the people of Spin Boldak over this decision.