Mukhtar Ahmed is first farmer in his village to shun conventional garlic seeds and plant a new government-approved variety.
He lives in 14/9-L, a village on the outskirts of Chichawatni town, which has a population of 6,200 and a total agricultural area of 1,000 acres. Most of the local residents, just like Ahmed, own small pieces of agricultural land.
For many decades, they have been cultivating garlic and sweet potato using seeds that they themselves prepare. Ahmed defied this tradition last year by cultivating a new garlic seed that doubled his per acre yield.
This year, some other farmers in his village are also trying to get their hands on the new seed. So far, only one of them, Shakeel Ahmed, has succeeded in doing that and has obtained 20 kilograms of it paying 48,000 rupees.
He says he will cultivate this seed in a four-marla (1089 square feet) plot of land which will yield 640 kilograms of garlic. He expects to sell it at its current price and earn 1,536,000 rupees – making a huge profit in the process.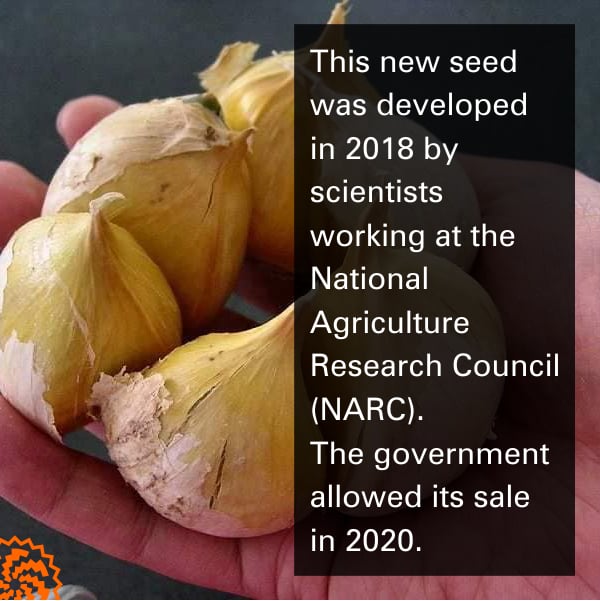 Thousands of garlic growers in Punjab have similar dreams. Sapna Kavita Oberoi, a resident of Bosal village in Mandi Bahauddin district, also wants to plant the new seed so that she can make some quick profit from her garlic crop. Despite making many efforts to contact other farmers and seed traders, she, however, has not been able to get hold of it.
Garlic is not a popular crop in and around her village, she says, but many local farmers want to plant this new variety this year considering its heavy yield and high price. A farmer in her village has procured a limited amount of the new seed from Swabi district in Khyber Pakhtunkhwa at the rate of 2,500 rupees per kilogram, she says, but now the price is rising even further.
What is so special in the new seed?
Named NARCG-1, this seed was developed in 2018 by scientists working at the National Agriculture Research Council (NARC). After it was tested for two years, the government allowed its sale in 2020.
Initially, NARC set its price at 500 rupees per kilogram, prepared it in limited quantity and offered it for sale. In the first year, its price remained quite stable but when its crop ripened in April and May this year and gave a very good per acre yield, its demand and price both started going up sharply. It is now being sold at 2,000 rupees to 3,000 rupees per kilogram.
The main reason for an increase in its price is a claim by Dr Humayun Khan, one of its inventors, that it can yield 10,000 kilograms of garlic from just one acre. In comparison, the maximum per acre yield of other seeds is 3,600 kilograms per acre.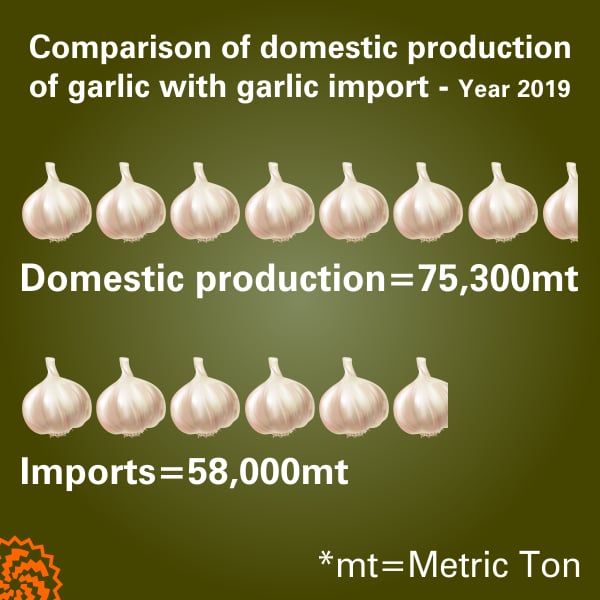 Verifying this claim, Ahmed of Chichawatni says he bought one kilogram of the seed at 500 rupees last year and planted it on a five-marla (1361 square feet) plot of land, getting 228 kilogram of garlic out of it. He sold just 28 kilograms of his produce and earned as much as 67,200 rupees.
Imran Feroze, a farmer in Rahim Yar Khan, and Amir Nawaz Khan, a landowner in Mianwali, each planted the same seed on one acre of land last year and got 8,000 kilogram and 7,600 kilogram of garlic respectively.
These farmers say the main reason why NARCG-1 has a very high yield is that its clumps are much bigger than those of ordinary garlic. Its cloves are also much larger than those of conventional varieties -- each weighing as much as a hundred grams or even more.
Some farmers, however, also believe that NARCG-1 is not a new seed but a variant of an old seed called elephant garlic. They say Pakistani scientists have tinkered a bit with the composition of that seed and given it a new name.
Elephant garlic was discovered in 1941 by Jim Nichols, an American gardener. For the next 12 years, he worked hard on it in his garden and finally started selling it in 1953. He claimed that garlic crop would become very profitable with its cultivation because the size of its clumps is six times larger than that of ordinary garlic clumps.
Dr Hidayatullah, a member of the group of scientists which has developed NARCG-1, does not agree. He says the seed produced by him and his associates is not elephant garlic but has resulted from hard work over many years by Pakistani scientists.
Self-sufficiency in garlic production
Pakistan's government research institutes did not introduce a single new garlic seed for Punjab until last year. Although the Ayub Agricultural Research Institute in Faisalabad claims to have developed a variety called Garlic Pink in 1976, there is no mention of it in the records of the Federal Seed Certification and Registration Department which oversees the development and sale of seeds.
Though two new seeds, Aglioblanco and Pakhal Giant, were introduced in 1996 and 2018, their cultivation has remained limited to Khyber Pakhtunkhwa.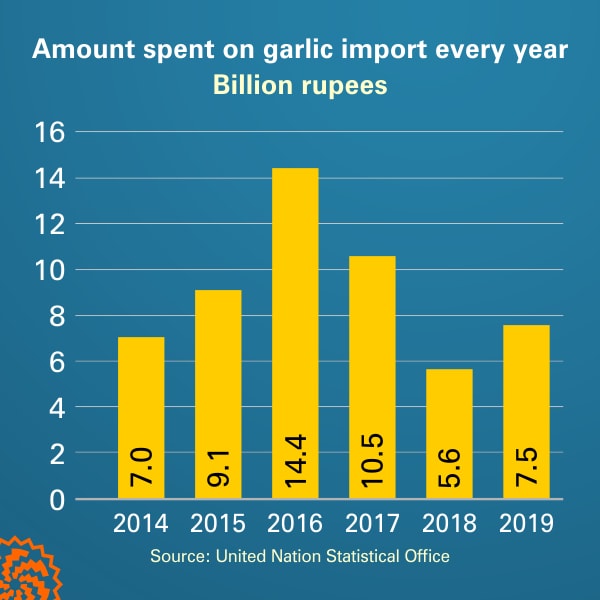 In the absence of officially produced seeds, Punjab's farmers have been cultivating some unapproved varieties including Desi White, Golden Farmi, China Garlic, Iranian Garlic and Italian Garlic but their produce has never been enough to fulfil Pakistan's needs. Official figures state that Pakistan had to import 40 to 50 per cent of its required garlic from other countries, including China and India, in the last few years.
According to the United Nations Food and Agriculture Organization, Pakistan produced 75,343 tons of garlic in 2019 and imported 58,040 tons of it at a cost of 9.7 billion rupees. The same organization reports that both the use and import of garlic have been steadily increasing in Pakistan since 2014.
Scientists who have invented NARCG-1 also believe that this seed will double Pakistan's production of garlic and will, thus, make the country self-sufficient in this crop.
Is new garlic like broiler chicken?
Farmers have some complaints, too, about NARCG-1. The most significant of these is that 800 kilograms of new seed are required for an acre of land – costing 1,600,000 rupees to 2,000,000 rupees. Compared to this, only 320 kilograms to 400 kilograms of conventional seeds are required for an acre. They say the additional cost of cultivating the new variety is beyond the means of most small landowners in the country.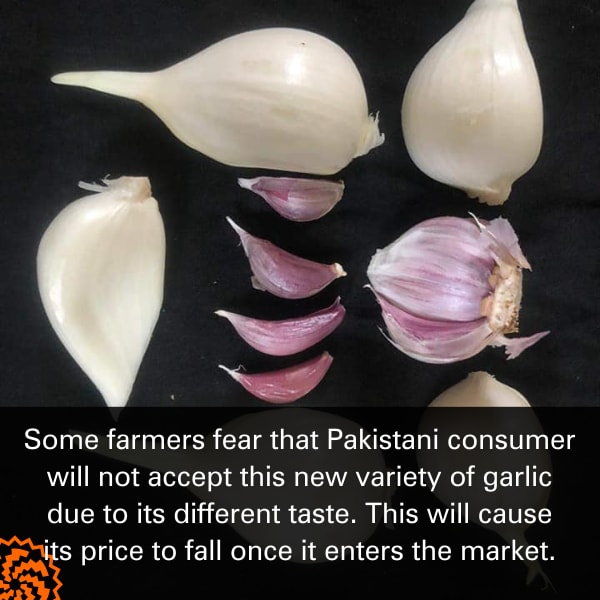 They also says the crop grown with this seed requires twice as much artificial and natural fertilizer as the conventional seed crop and it also takes two to three months more to ripen than the conventional crop does.
They also worry that this seed may increase their yield but its produce will not be used in cooking. This is because its taste is very different from the taste of native and Chinese garlic. It exudes a lot of water vapors during cooking, they complain.
For many of them, the new garlic is actually a type of onion which can be eaten as salad but cannot be added to curries. Imran Feroze, the farmer from Rahim Yar Khan, fears that Pakistani consumers will not accept it. This will cause its price to fall once it enters the market and farmers who are now growing it with great enthusiasm will suffer big losses, he says.
NARC scientist Dr Hidayatullah admits that this garlic may not be a suitable addition to curries yet but he says the government should export it and earn foreign exchange from it by selling it to companies that make various garlic products.
He, however, says the new seed was thoroughly analyzed in laboratories before it was approved for selling and it was found to have the same ingredients as the native garlic and Chinese garlic. "The difference in its taste is due to its high water content," he says.
Hidayatullah believes that people will gradually become accustomed to its taste as well. "It's like the difference between an organic chicken and a broiler. Over time, people will accept this garlic in the same way that they have accepted broiler chickens," he says.
This report was first published by Lok Sujag on 8 Jul 2021, on its old website.