Following the disappearance of Jamila Bibi during the month of Ramadan this year, her husband filed a report with the police, expressing suspicions about her brothers. Jamila's three brothers were arrested based on suspicion in May of this year. These brothers, residing in the Bajaur district, confessed to the murder of their sister. Their identification led to the recovery of the deceased's body, which had been buried in a field. Three years ago, after getting divorced from her husband, Jamila Bibi married Noor Khan, with whom she also had a daughter. She was the mother of six children.
According to the police, the brothers killed their sister for marrying again "without their consent."
According to police records, six cases of murder 'in the name of honour' have been reported in the Bajaur district of Khyber Pakhtunkhwa since 2019. In this context, two FIRs were registered in 2019, three in 2020, six in 2021, two in 2022, and three FIRs so far this year. Four such incidents have had FIRs registered in the Khyber district this year.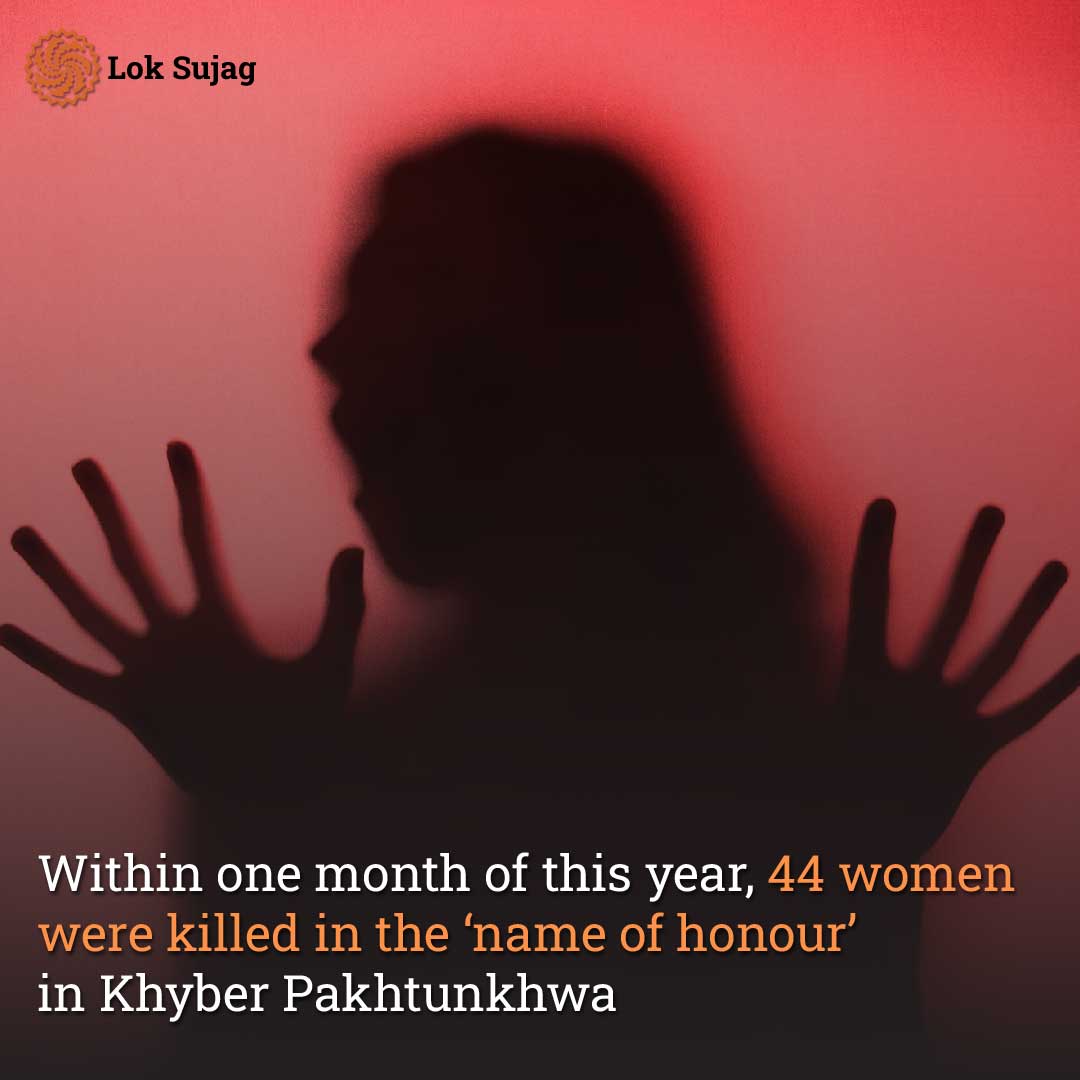 Within the North Waziristan district, 21 FRs (First Information Reports) related to the 'honour killing' of women have been documented over the past four years. According to the police, six cases were reported in 2020, three in 2021, seven in 2022, and five in 2023. Local sources suggest that due to the North Waziristan community's reluctance to report such killings to the police, the actual number of incidents could be higher.
According to the Mohmand district police, after the incorporation of Federal Administered Tribal Areas (FATA) into Khyber Pakhtunkhwa, only two cases related to murder 'in the name of honour' were reported in 2022.
Bilal Yasir, a journalist from Bajaur, clarifies that there hasn't necessarily been an increase in the number of murders, but rather these cases have come to light more frequently in recent years.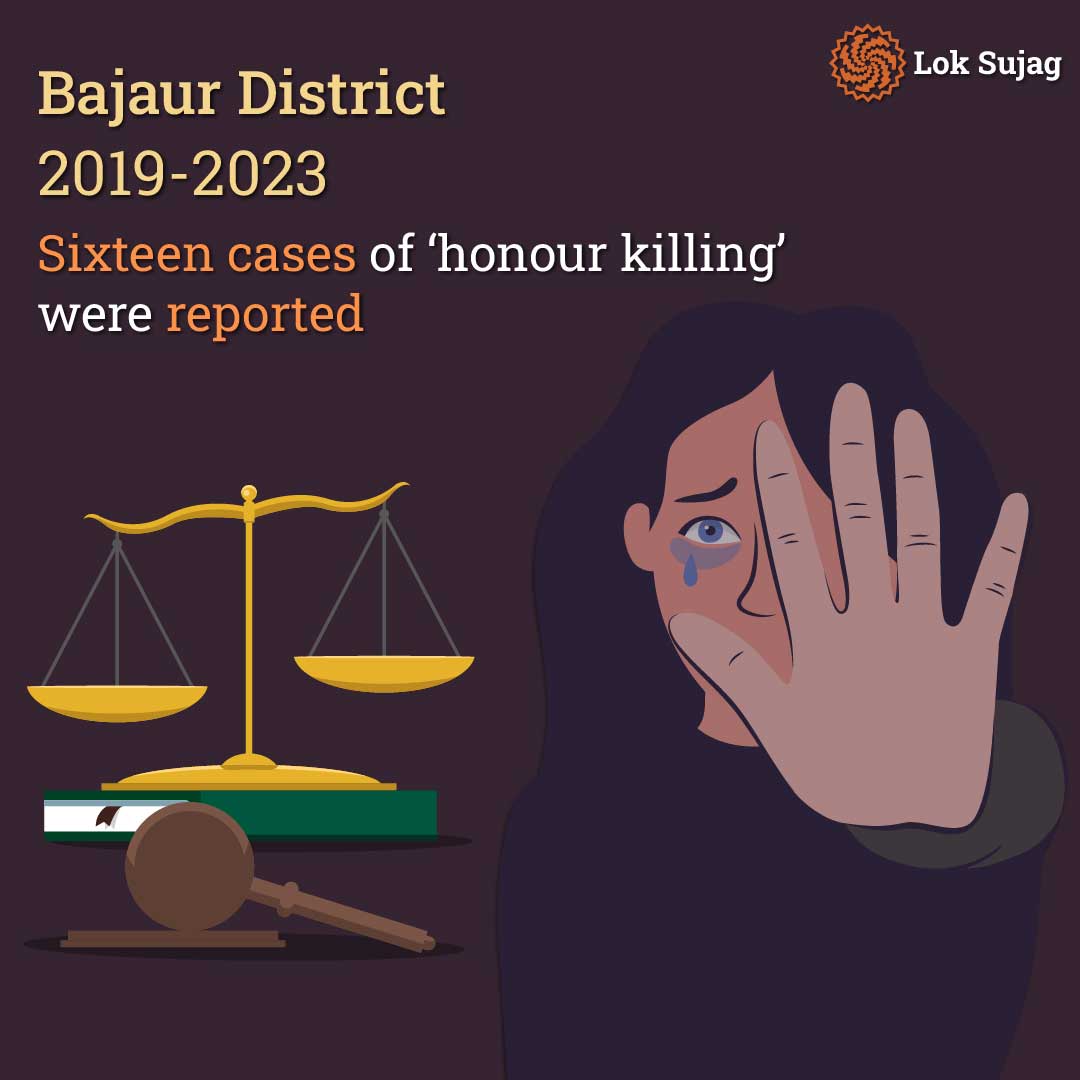 He states that issues concerning women in tribal societies are not perceived as matters pertaining to an individual family only but rather as matters relating to the 'honour' of the entire tribe. Therefore, extreme measures are taken after reaching a consensus, and the responsibility for its consequences is collectively understood. Historically, due to the absence of police and judicial systems and the influence of tribal affiliations with Khasadars and Levies, such incidents rarely came to public attention.
Following the merger with Khyber Pakhtunkhwa, such incidents have begun to be reported in the tribal districts as the police and court systems' reach has expanded to these regions. Regular FIRs are now filed for cases involving violence against women and 'honour killings.'
The first FIR of this nature in the Khyber district was recorded in Wadi Tirah in 2021, entailing the murders of five individuals, including two women.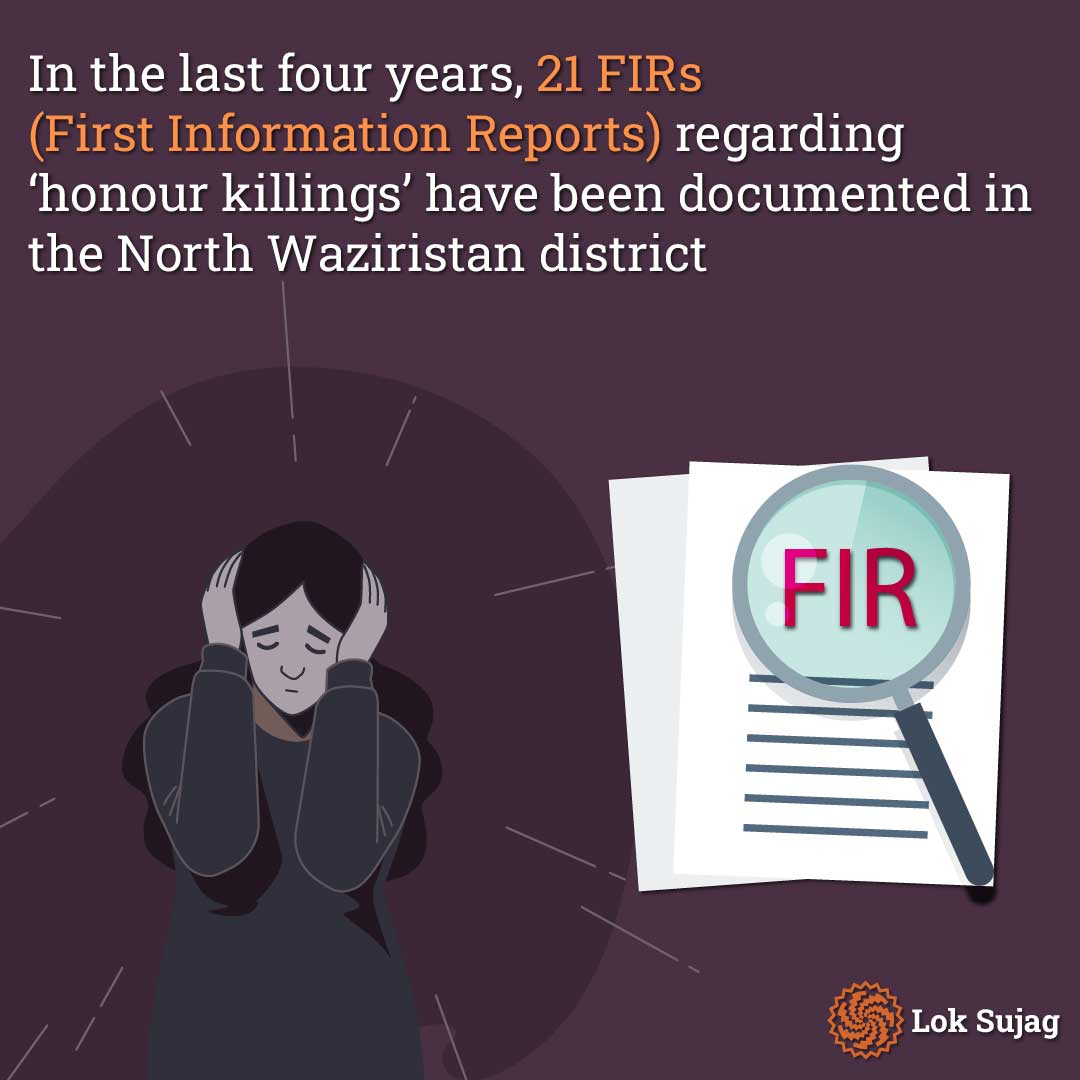 Mehwish Mohib Kakakhel, a lawyer at the Peshawar High Court and a women's rights activist, says that merely expanding the police presence and implementing criminal laws in these districts won't suffice to suppress all such incidents. She says that 'honour killing' is no longer solely a family or tribal concern; it is recognised as a crime against the state, enabling anyone to report it.
She further notes that girls are targeted in the 'name of honour' even for marrying out of their choice. Women who leave their homes risk being killed in the 'name of honour'. Even when a woman refuses marriage with a cousin, she fears being harmed or killed.
"It has also happened that when a woman demands her share of the inheritance, she is murdered, and her killing is labelled as an act of honour or natural death."
New methods of killing
Nausheen Fatima, a social activist from the Orakzai district, reveals that in tribal districts, killing a woman for being seen with a man who isn't related to her is sanctioned by the local jirga (assembly of elders). She points out that even if pictures or videos of a woman with a man are shared, it might lead to her potential killing.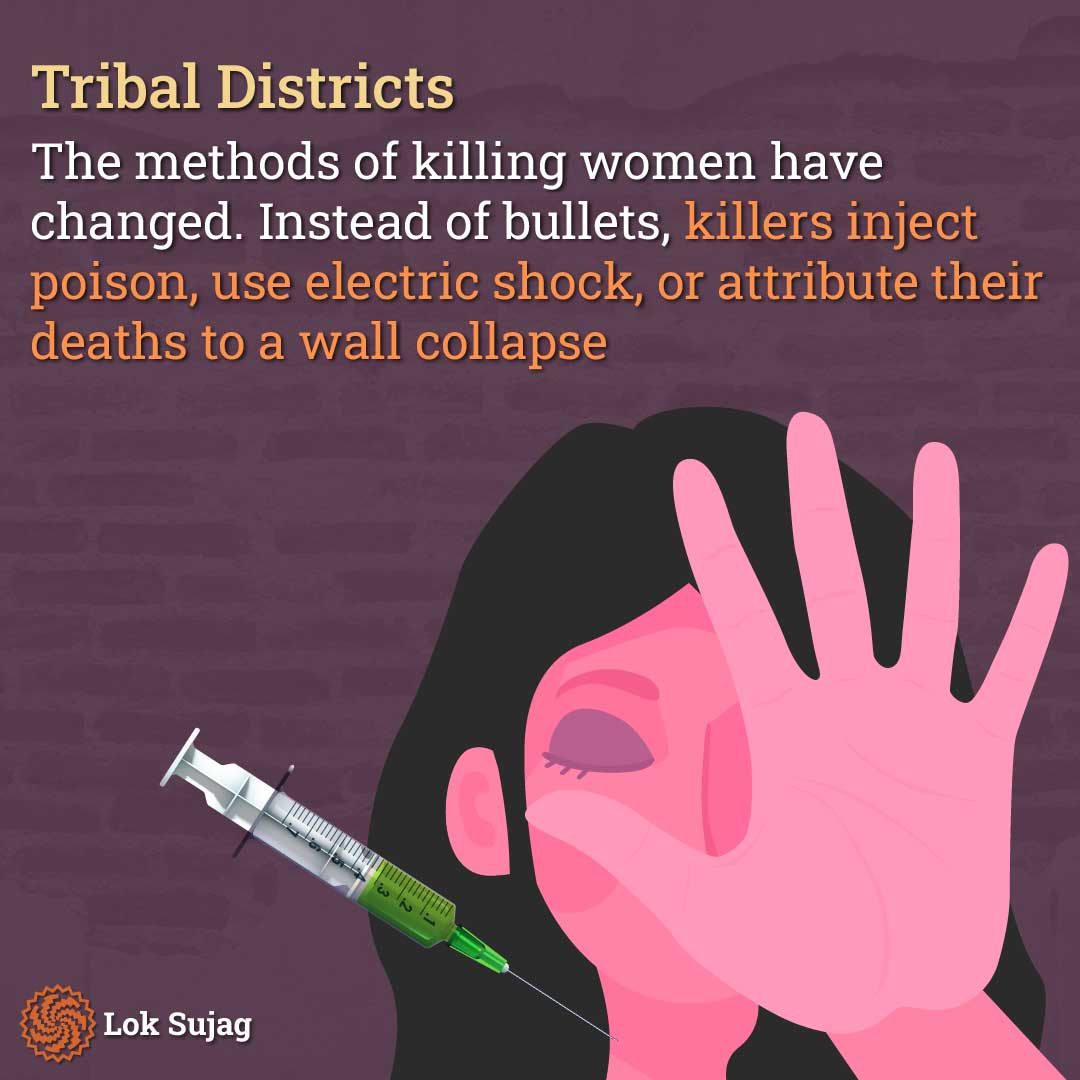 "A student from a tribal area shared with me that she fears going out because someone might capture her image or video, especially considering that most women in her home and surroundings don't wear veils."
According to Noshin, the methods of murdering women have changed. Instead of bullets, killers inject poison, use electric shock, or attribute their deaths to a wall collapse.
"Three years ago, in North Waziristan, two girls were murdered. The reason given for their deaths was the collapse of the roof of their house. Upon investigation, it was discovered that they were seen with a young man in a video circulating on social media. The police arrested the girls' father, a cousin, and the young man seen in the video. After the trial, one received an eight-year sentence and is serving time in Bannu Jail, while the others were released."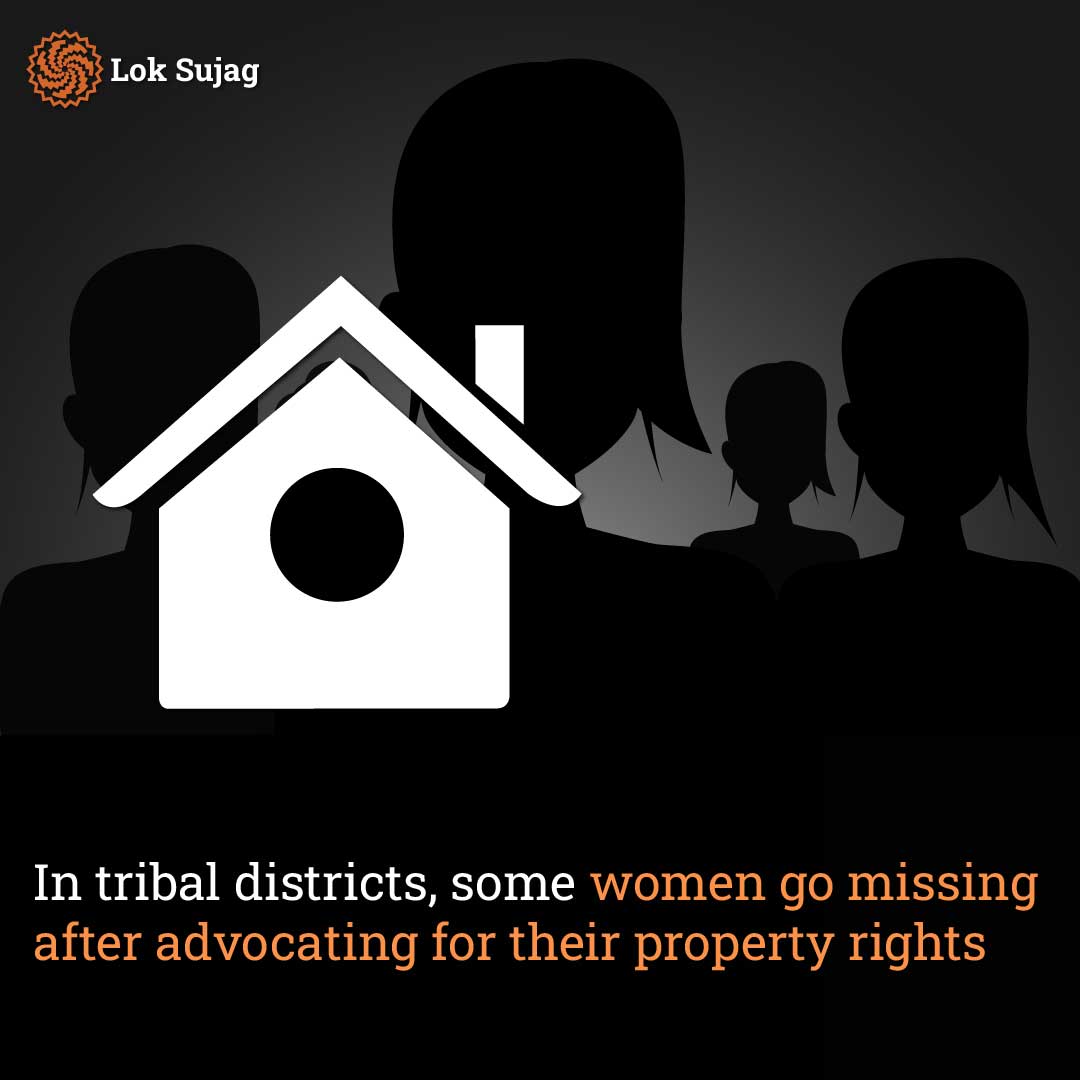 Similarly, in the Khyber district last year, a local court sentenced one Zaur Shah to death and imposed a fine of Rs 10 lakh for killing two individuals, including his wife, under the banner of 'honour'.
Khursheed Bano, the administrative officer of "Di Hawa Lor" (Daughter of Hawa), a non-governmental organisation championing women's rights, discloses that a staggering 44 women were killed in the 'name of honour' within just a single month this year in Khyber Pakhtunkhwa.
Bano states that certain women in tribal districts went missing after advocating for their property rights. Their families attribute their deaths to heart attacks or electrocution without substantial evidence.
Also Read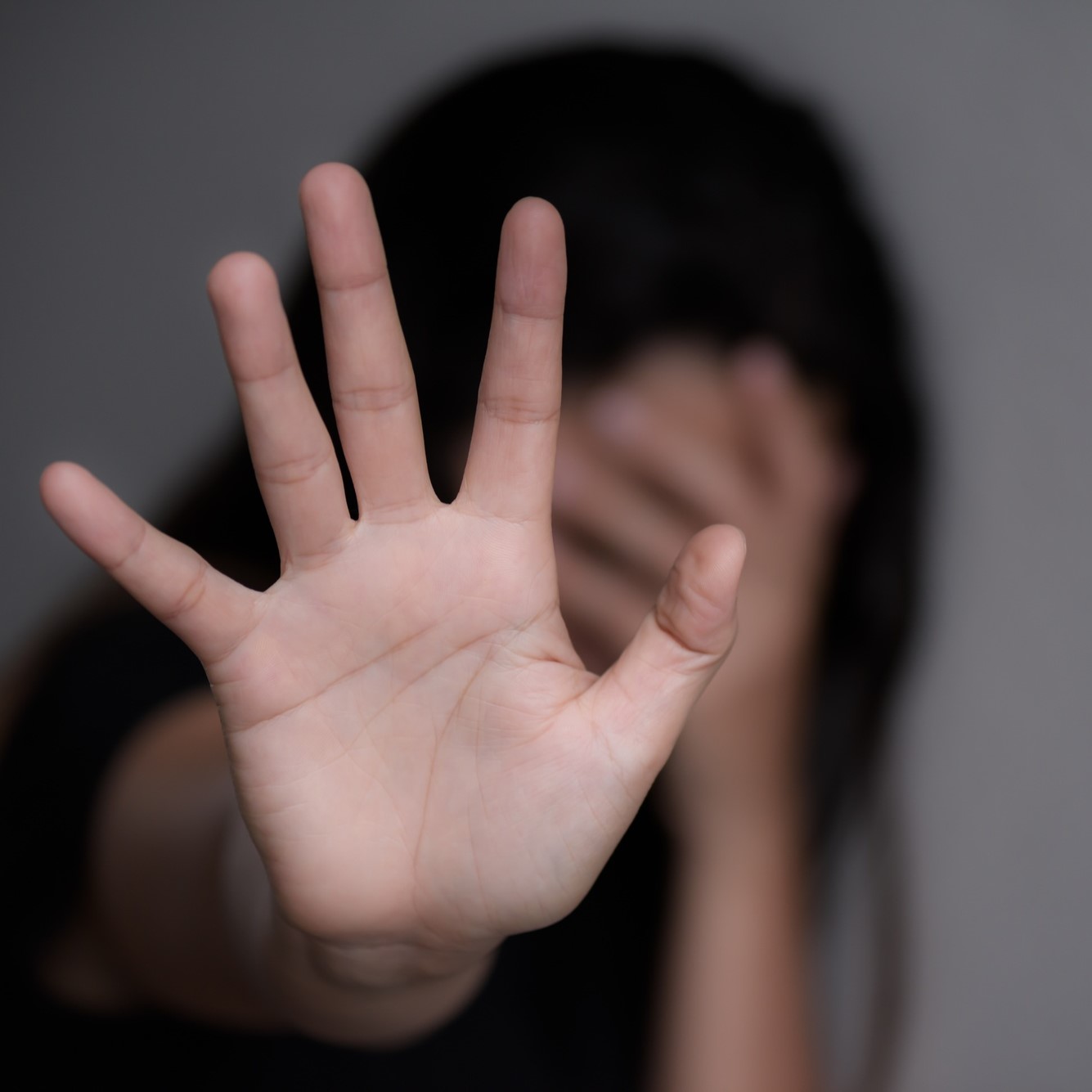 Rising domestic violence in Balochistan: Impact of floods on women and families
"In police stations where FIRs for such incidents are registered, male witnesses are present. The accused often tarnishes the victim's image in front of these witnesses, garnering their support and strengthening their case."
Khurshid Bano further says that 'honour killings' frequently involve male members of the household or family who seek to shield the perpetrator.
Naila Altaf, Chairperson of the Provincial Commission for Dignity of Women in the Kurram district, emphasises that the government needs to undertake significant efforts to prevent people from resorting to extrajudicial measures in tribal districts.
Mehwish Kakakhel adds that merely filing an FIR is insufficient. She says that "honour killings can only be reduced through law enforcement, thorough investigation, and effective action taken by concerned agencies regarding each incident."