Young and talented artists of Balochistan use social media to approach a broader audience and show their love and artistic expertise by depicting different portrayals in the sand around the coastal areas of Balochistan, particularly the Pasni area of Gwader, where artists have already received much love for their talents.
Pasni is famous for artists, poets, and musicians like Noor Khan Bizenjo. The legendary poet of Balochistan, Mubarak Qazi, who passed away a couple of weeks ago, was also from Pasni. Balochistan's love for its artists and poets is tremendous. Its people do their best to own their artists and take pride in their talents.
Sajid Mossa Baloch is another micro-artist from Pasni, Gwadar. Sajid completed his primary education at Government Boys High School Rakposht and intermediate from higher secondary school, Pasni. Sajid's father is a retired drawing teacher and he learned the basics of art from his father. Sajid tells Lok Sujag that he loves to make micro art, smok art, burnt art, wood art, and paper art.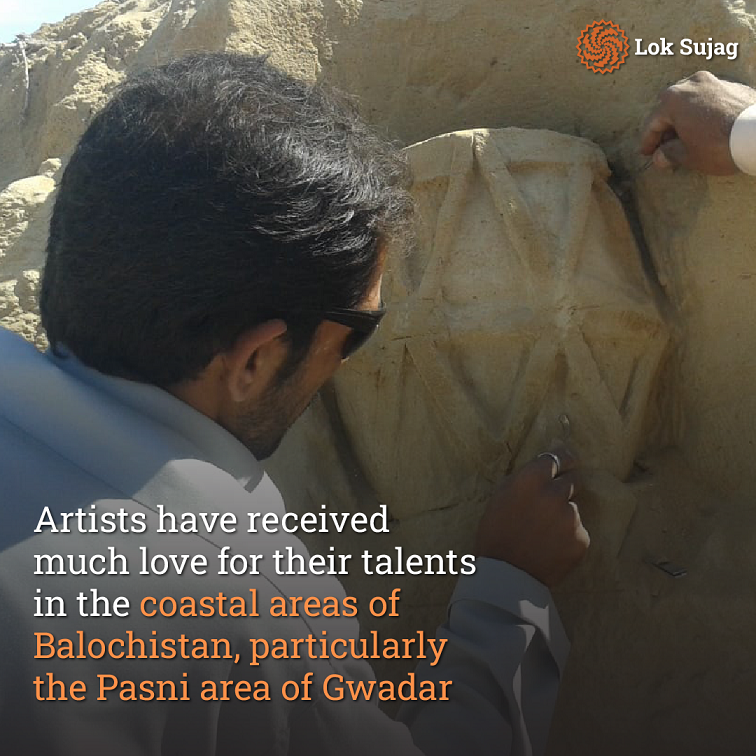 He acknowledges that people appreciate and admire his unique art, but he also points out that society often fails to recognise the value of artists as they should in a progressive community. He goes on to mention that these very individuals who admire his art also request portraits from artists without compensating them for their hard work. This has led him to create numerous artworks, yet he has refrained from publicising them.
"There is no respect for art; it's a waste of time," Sajid continues. He mentions, "I have spent hundreds of thousands on equipment." He explains that his father is a retired teacher, responsible for providing for the family's needs, including food.
Speaking about his art, he says that he created the world's tiniest micro-art, but due to financial constraints, he couldn't afford to register this achievement in the International Book of Records and Guinness World Records. According to Sajid, an Indian artist had previously held the record for the world's most miniature micro art, with a length of 0.5cm. However, Sajid surpassed this record by creating a piece measuring only 0.4cm, classified as nano art.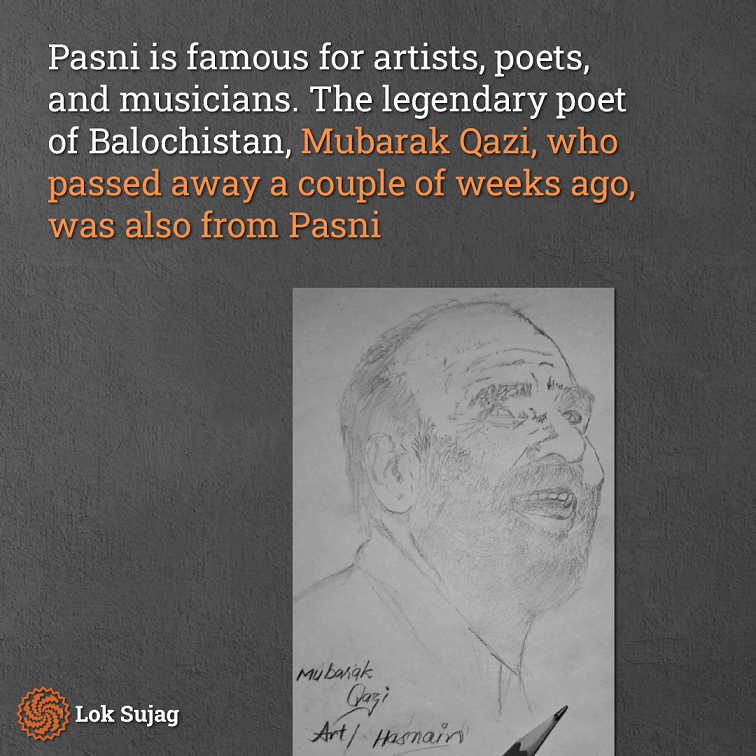 Sajid points out that some of his artworks are delicate and require immediate framing to prevent damage. He says his primary art objective is to promote Baloch culture worldwide.
The deep appreciation for artists in Balochistan motivates many talented individuals to nurture their skills. Just a month ago, Sajjan Baloch, a photographer, and Faraz Naseem Baloch, a police employee from the Washuk district of Balochistan's Rakshan division, came into the spotlight. Washuk is a district well-known for poverty globally, characterised by its vast deserts, plains, and mountainous terrain. Nevertheless, its resilient people, especially its exceptional artists, have never succumbed to adversity. A few months ago, Faraz and Sajjan made their mark by introducing stone art through their depictions of Noor Khan Bizenjo and Karima Baloch.
Faraz Baloch, a 22-year-old hailing from the Washuk district in Balochistan, joined the Levies forces in 2019. He is currently stationed in Kharan. According to Faraz, he earned his Bachelor of Arts (BA) degree from Degree College Panjgur through private examinations.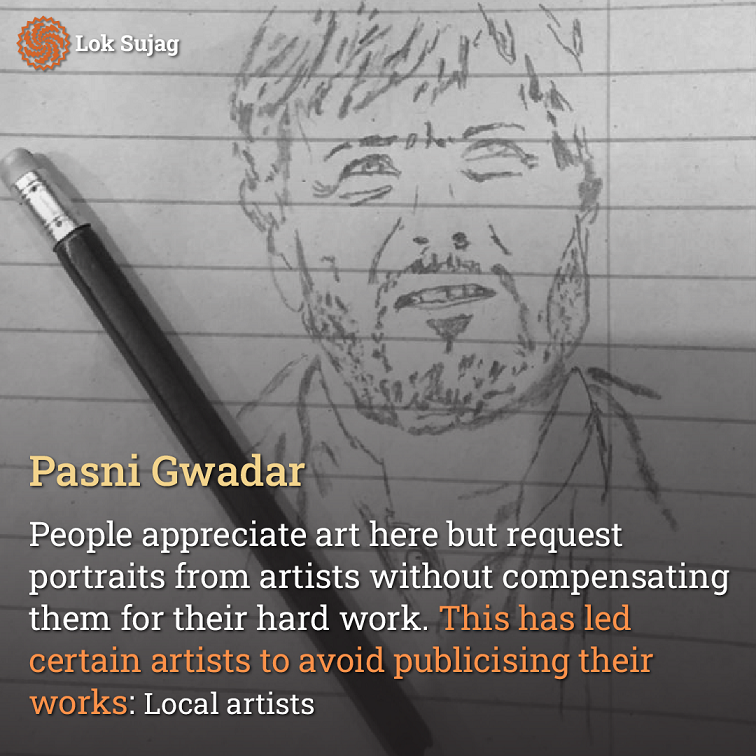 Recently, Faraz completed yet another masterpiece, creating an iron nail art piece that portrays the world-renowned Indian cricketer Virat Kohli. Faraz says that crafting a human portrait with iron nails is a departure from his typical art. He says that his motivation to create Kohli's portrait came from being a big fan of the cricketer, just like many other young cricket enthusiasts in his district.
Hasnain Baloch Loraja, a 13-year-old boy with a disability from the Kharan district, has a unique way of expressing his thoughts and observations about his society. Although he faces challenges with speech and hearing, he skillfully conveys his emotions through pencil and oil art. Recently, he created a portrait of Hafeez Loraja, who was abducted last month in a case related to extortion, as well as a depiction of Mubarak Qazi, reflecting his perception of the events in his surroundings.
Also Read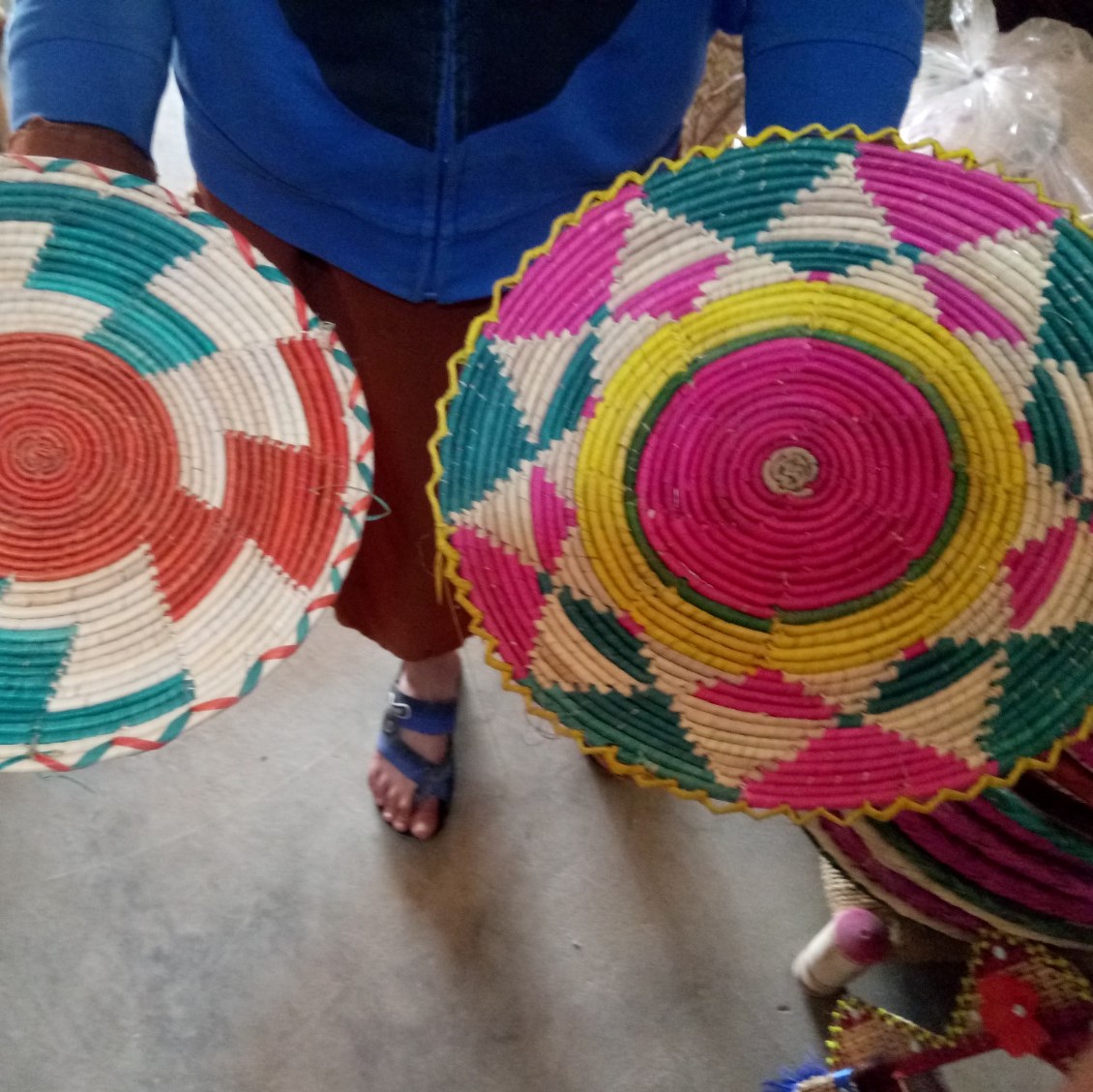 Threads of tradition: The fading craft of Mazri weaving and the changing landscape for Pakistani artisans
According to Hasnain's parents, they relocated to Quetta to enrol him in a special school and hired an art teacher to help refine his sole means of expression.
Hasnain's father says that his son often focuses on creating portraits of marginalised individuals within their society. He explained that when a local trader, Hafeez Loraja, was abducted in Kharan, the traders' unions organised a shutdown protest in the district. This event deeply moved Hasnain, leading him to capture the prevailing sense of hopelessness through his pencil art.
The previous Friday, the Cultural Department of Kech hosted a 3-day art exhibition, showcasing a wide array of art from numerous artists. Assistant Director Ayaz Hashim, speaking to the media, explained that these art exhibitions aim to promote and support local artists, offering them a platform to showcase their talents. He emphasised that the Cultural Department organised this exhibition independently, without external assistance. Notably, at least RS: 180,000 worth of paintings from local artists found buyers during the event.
Furthermore, supporting and encouraging emerging artists at the national and international levels is essential. The Cultural Department and other arts-related departments nationwide must step up to safeguard these valuable talents. Without such support, many artists, like Sajad, may become disheartened and potentially abandon their creative gifts.