In Multan's residential scheme, WAPDA Employees' Co-operative Housing Society, people involved in real estate and politics actively engage in campaigns to elect office bearers who will handle administrative affairs.
The society is situated along the road from Northern Bypass or Saidanwala Bypass to New Judicial Complex. While its first two phases have been completed, the third phase's development work, which began in 2015, faced a halt.
However, this pause did not disrupt the sale and purchase of plot files.
The management of Wapda Town operates under the Co-operative Societies Act. Some years ago, government officials and employees were prohibited from participating in society elections due to an amendment in election rules and regulations. Under this provision, President Chaudhry Khalid Mehmood, General Secretary Amjad Nawaz Bhatti, and an executive member elected the previous year were disqualified through court action initiated by the opposition group Wapda Town Bachao Tehreek (Volunteer Group). Subsequently, following the society registrar's directive, by-elections were conducted on June 4, 2023, to fill the vacant posts. WAPDA Town Bachao Tehreek (Volunteer Group) contested against WAPDA and its residents.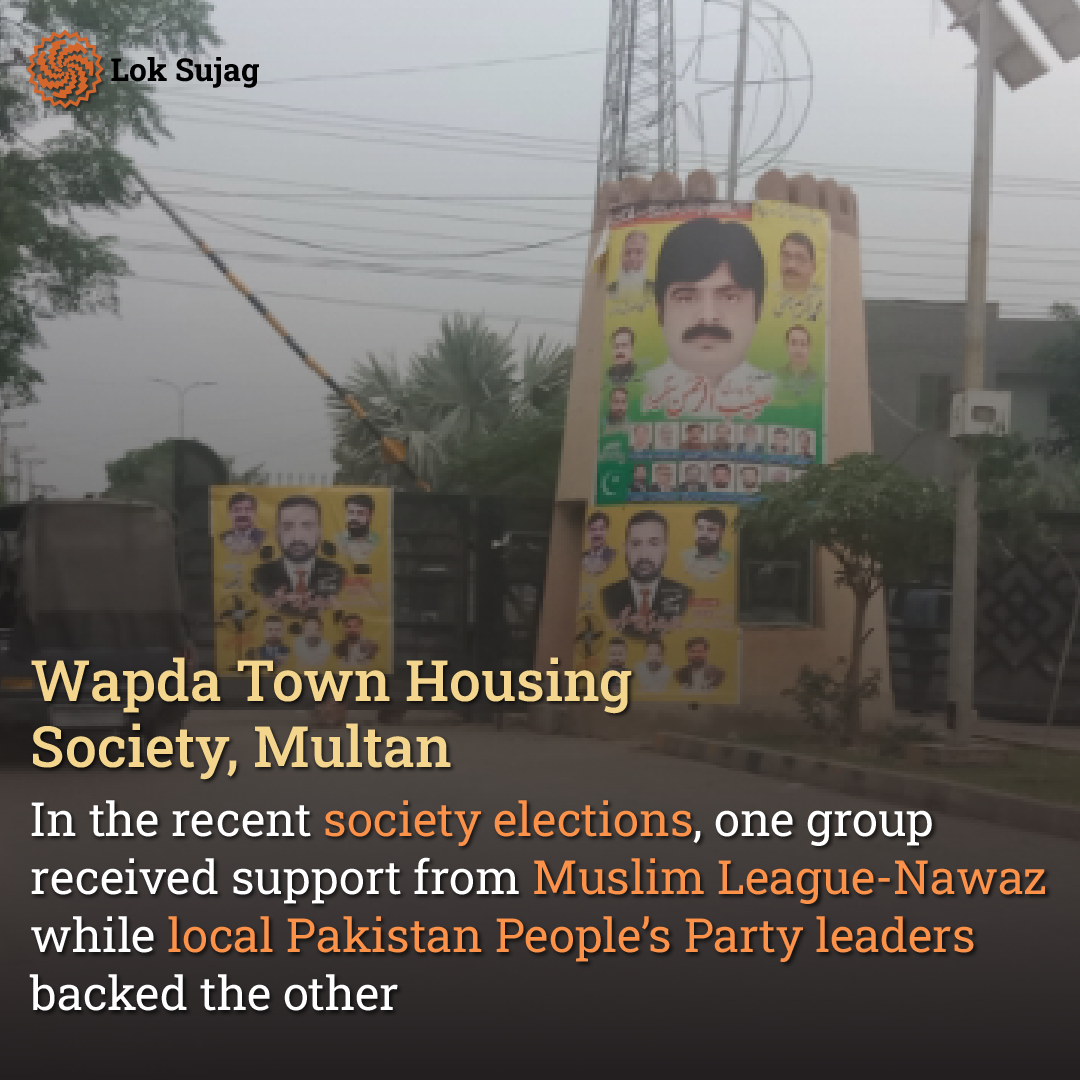 As per the rules, each household holds one vote, and only individuals who pay community charges are eligible to vote. Tenants do not have the right to cast a vote. In the recent by-elections, the count of eligible voters stood at 4,239. Wapda Town Bachao Tehreek (Volunteer Group) won the elections by a significant margin among the two competing groups.
Advocate and President of the High Court Bar Association, Rana Asif Saeed, who represented the losing side in the recent society by-elections, says, "The by-elections of the WAPDA society were illegal. When there was no provision for by-elections in the Society Act, how could the elections be held? Instead of a by-election, some other option could have been used to run the society arrangements and a provisional body could have been formed by consensus".
Nawab Ahmed Khan Khakwani, a society resident and voter, points out that ordinary residents are now excluded from participating in these elections as substantial financial resources are required for this purpose.
During the by-elections, banners from both electoral groups were prominently displayed at society entrances, exits, intersections, streets, parks, filter plants, shops, and residences. Extensive door-to-door campaigning took place, resulting in a significant expenditure of funds. A 65-member team from the Co-operative Department travelled from Lahore to Multan to oversee the elections. Reportedly, the candidates covered their accommodation, travel, and meal expenses.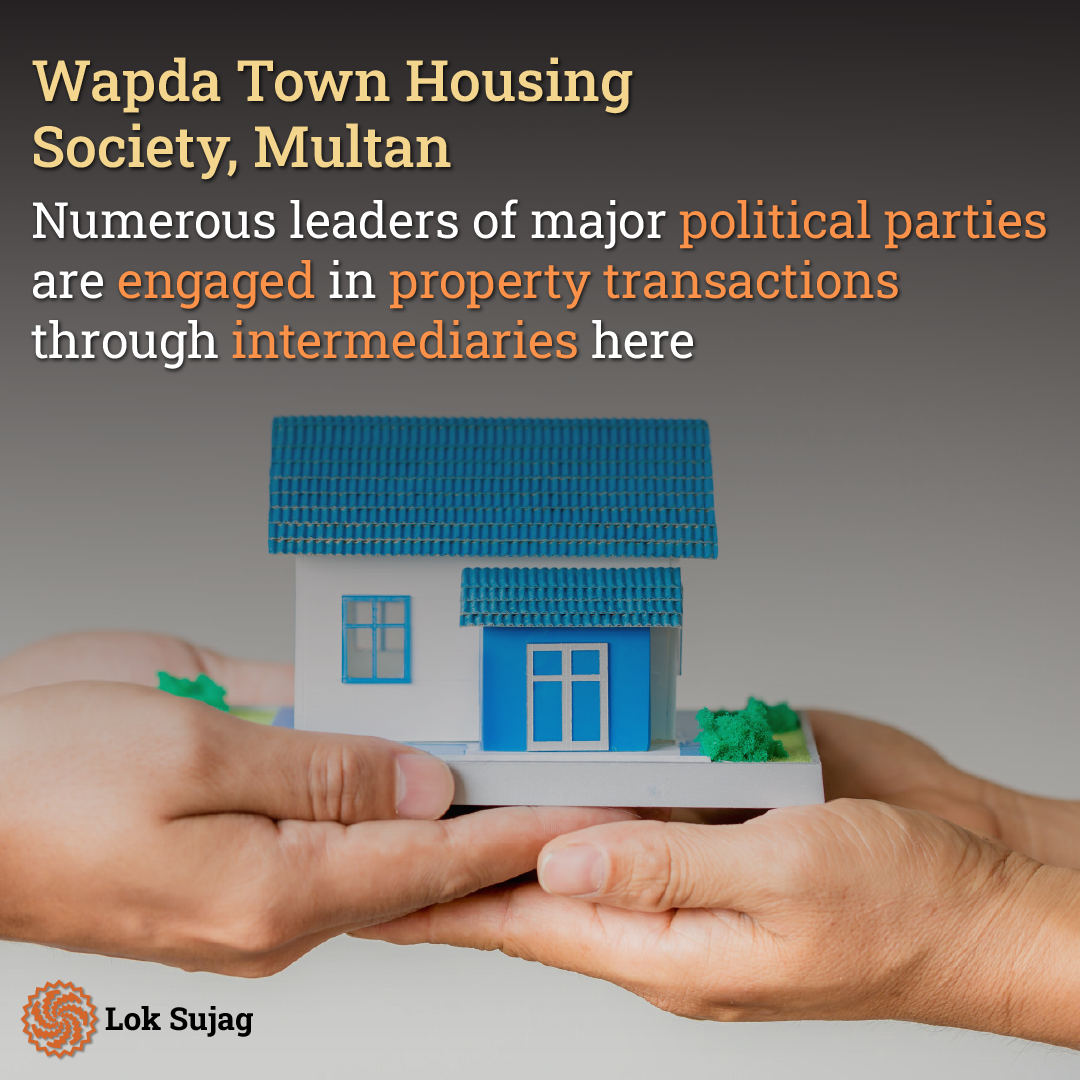 The current member of the executive body, Arshad Lothar, explains the reasons behind the staggering election expenses, mentioning that this is a large, densely populated, and well-equipped society in Multan. It accommodates landlords, doctors, lawyers, traders, aristocrats, and affluent individuals. Many invest substantial sums to uphold their status and prestige, yet these costs remain significantly lower compared to the High Court and Supreme Court Bar Association elections.
The chief executive of Al-Baraq real estate disagrees, asserting that the idea of spending millions on elections is unfounded. He states that the banners and posters for his support group were produced for five to six lakh rupees.
Speaking anonymously, an individual involved in real estate within Wapda Town reveals that the society has seven billion rupees in its bank account. However, due to the absence of an elected body, this amount has been frozen under court orders. Only the newly elected officials can utilise this fund for development projects.
Several property dealers have noted that the transfer of plots and houses within the society remains restricted, as the formation process of the town's management body is still going on.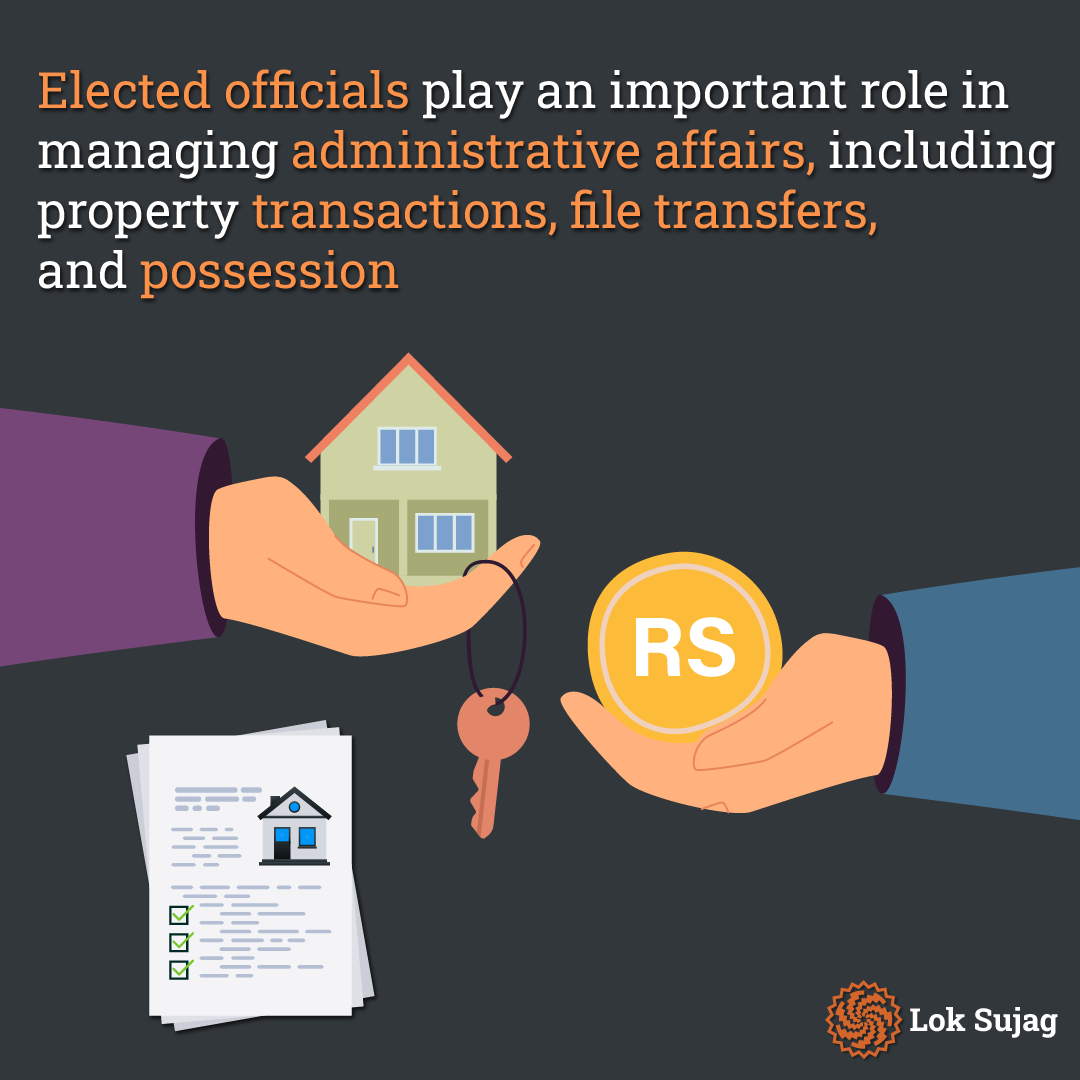 He mentions that elected officials play an important role in overseeing various administrative matters, including property purchases, sales, file transfers, and possessions. Their support is essential for the smooth operation of these processes. "If they don't support us, how will we transfer the files?"
He mentions that people who have purchased plots in Wapda Town also encounter difficulties obtaining possession. Sometimes, society officials create obstacles by raising different objections. This situation breeds mistrust among people towards property dealers, negatively impacting the business.
Addressing the particular interests of those involved in real estate within the society elections, property dealer Mansoor Qureshi explains that the WAPDA Residents Group has gained control. This group provides authorised property dealers engaged in property transactions with an annual payment of 50 thousand rupees. This fee imposition raised concerns among all property dealers. The society's political dynamics heightened worries among property dealers, as they feared higher taxes if this group returned to power. Given property dealers' substantial investments in WAPDA Town Phase 3, their interest in society elections surged.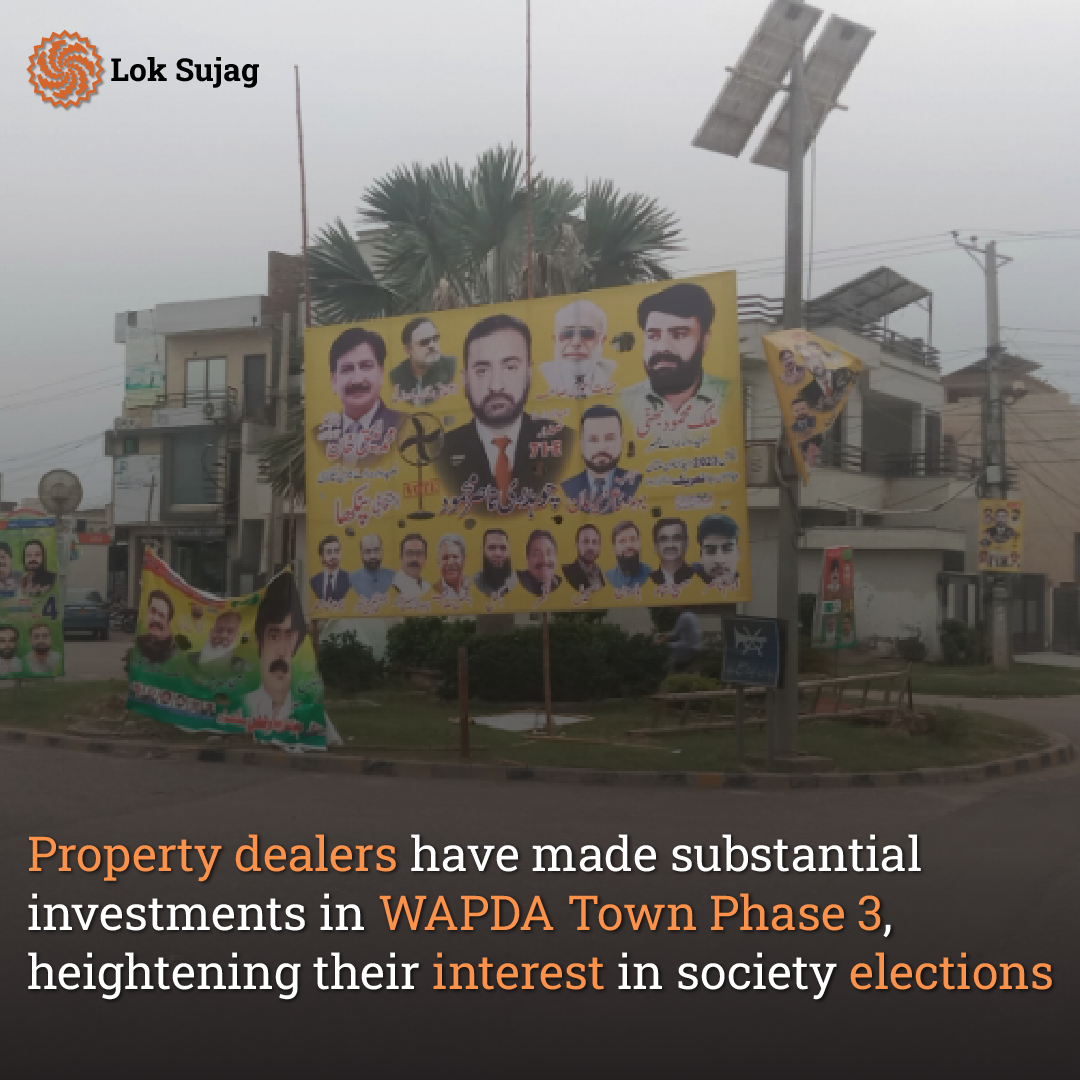 Regarding the commercialisation of the residential area, resident Salman shares that society officials prepare maps and submit them to the MDA. Upon reviewing these maps, MDA approves them in accordance with rules and regulations.
Sometimes, minor modifications are made to the maps. However, it has been observed that MDA consistently approves the maps sent by the society. However, the expansion project of Phase E in WAPDA Town Multan Colony is still awaiting approval from MDA. MDA had previously declared it illegal, but buying and selling have been permitted after resolving the issues.
Sohail Saleem, a resident of Wapda Town involved in real estate, has purchased numerous plots and sold them to the society. He notes, "Many political leaders are also involved in buying and selling property here through their frontmen."
The chief executive of Al Baraq Real Estate is a supporter of the WAPDA and Residents Group. Al-Baraq and the main election office of this group shared the same location. Conversely, the election office of the volunteer group was established in the office of a property dealer named Chaudhry Uzair Jat.
Also Read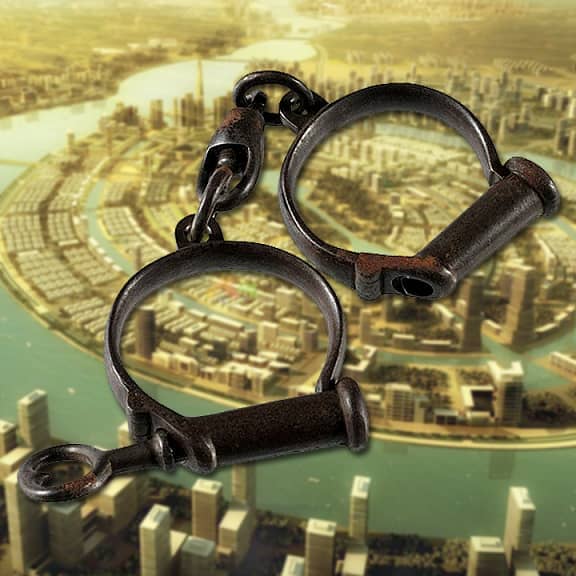 Opposition to Ravi river front housing project: Government arrests farmers to take over their land
Arshad Lothar mentions that candidates also received support from political parties during the elections. Abdul Rehman, District Vice President of Muslim League (N), consistently supported the WAPDA and Residents Group. Outside the society, the banner of Syed Musa Gilani, a member of the National Assembly of the Pakistan People's Party, who endorsed the winning volunteer group in the recent by-elections, was prominently displayed.
Former Member of the National Assembly of Muslim League (N), Malik Abdul Ghaffar Dogar, was present at the WAPDA and Residents Group camp on election day to boost their morale. Malik Anwar Ali from the same party is also a property dealer who is aligned with the same group.
Chaudhry Muhammad Nasir, the newly elected president of the Volunteer Group, states that WAPDA Employees Co-operative Housing Society has faced scrutiny for financial irregularities in recent years.
In 2016, the Society's Secretary General, Saeed Khan, was investigated by NAB for allegations of illegal plot transactions and irregularities amounting to billions of rupees. Despite Saeed Khan passing away in custody, nothing was conclusively proven against him in this case.
Nevertheless, the incident significantly tarnished the society's reputation.