Residents of Faisalabad's neighbourhood, Feroz Shah, are witnessing the disappearance of greenery in the city of factories. Nazeera, a sixty-five-year-old resident of the area, lived in the rural village of Shireenwala before relocating to the city with her only son, daughter-in-law, and grandchildren a decade ago.
Nazeera often reminisces about her village, where she used to sit in her ancestral home surrounded by lush greenery and enchanted by the melodious chirping of birds. She shares that her decision to move to the city with her children and grandchildren was driven by her son's desire for better education opportunities for the younger generation. The village's courtyard was quite spacious, where she used to cultivate flowers, plants, and vegetables. However, after moving to the city, she found breathing in the open air difficult, as the nearest park is more than five kilometres from her home.
Many residents of Faisalabad wish to spend their time in a lush and open environment. However, in this city, the third largest in the country with a population of nearly 3.7 million people, numerous factories of various sizes are quite visible, but parks and green spaces are scarce.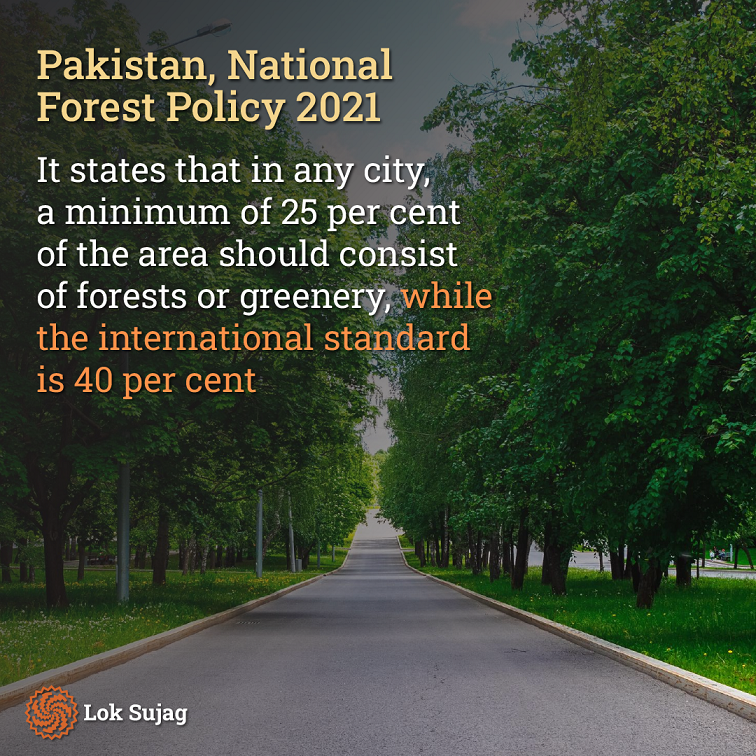 According to Pakistan's National Forest Policy of 2021, any city must have at least 25 per cent of its area covered with forests or greenery (green cover). In contrast, the international standard is set at 40 per cent.
According to the Faisalabad Development Authority's (FDA) Master Plan 41-2021, the city's total area of green spaces (green areas) is 683 acres. This includes 481 acres of parks and 60 acres of areas under the Parks and Horticulture Authority. There are 143 acres of green spaces under private institutions or individuals' supervision. This means that the overall green area of the city accounts for 1.92 per cent of its total area.
The initiative to increase green areas in Faisalabad city began in March 2020 by planting the first 'Urban Forest' on a four-acre plot. This plantation took place in Mauza Moweshi Mandi with several government officials, including the Deputy Commissioner of that time, Muhammad Ali, and others. They simultaneously planted two thousand (2,000) trees on that occasion.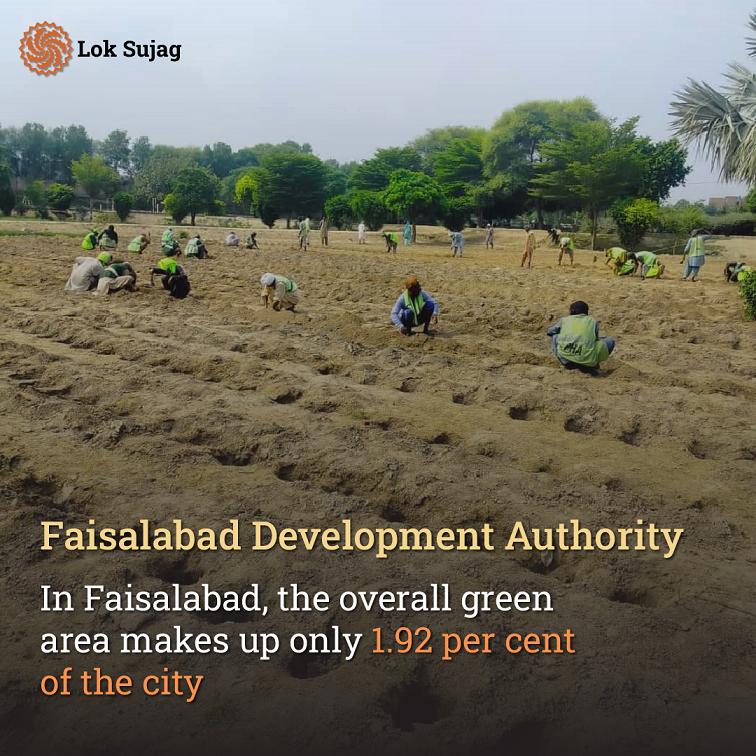 However, this Urban Forest turned into a barren land just a few months later. Local resident Muhammad Arshad explains that government officials had planted trees for show, but they dried up due to improper watering arrangements.
Before February 2020, the district administration had established an Urban Forest on approximately three hundred acres of land near Mamoon Kanjan in Faisalabad. Landowners acquired these lands, and around three hundred thousand trees were planted. However, now there is no trace of any forest in this area.
Assistant Commissioner Tandlianwala, Rana Aurangzeb, acknowledges that the lack of proper care for the trees led to their demise. The Forest Department did not provide support, and this area is also far from the district forest headquarters. Therefore, the Urban Forest project in that area has been terminated.
Local journalist Muhammad Zubair reveals that just one year later, the same individuals had reoccupied the government land from which the land had been acquired.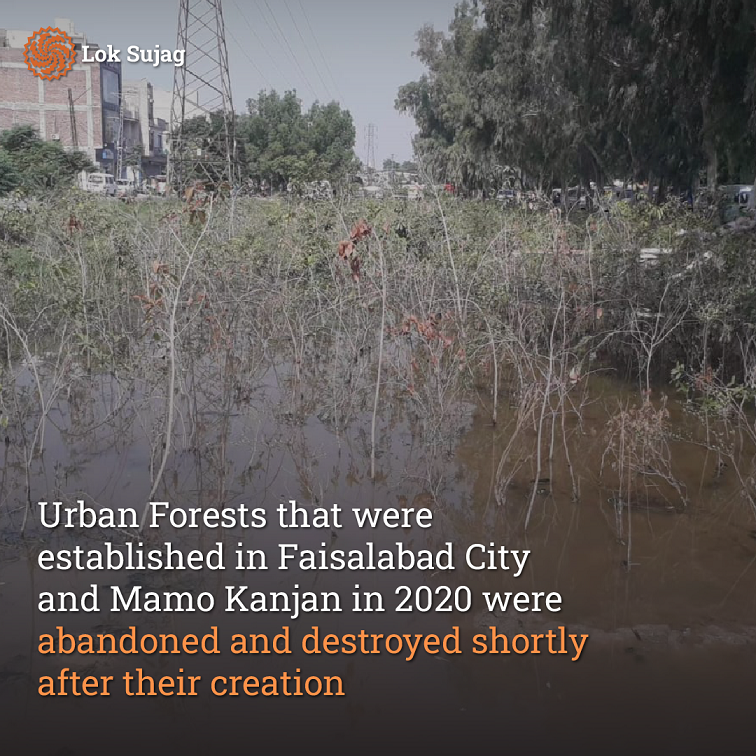 The Assistant Commissioner has claimed that last month, these lands have been vacated, and the crops of the occupiers have been auctioned, resulting in the collection of a sum of 1.3 million rupees for the treasury. These lands will soon be leased out for cultivation.
The series of "showpiece" forests under the name of Urban Forest did not end here in Faisalabad. On August 27, 2021, just one day before the exchange of Deputy Commissioner Muhammad Ali, a ceremony was held to set a record by planting one hundred thousand trees in Kaleem Shaheed Park on Nara Road.
However, when questions were raised about this tree plantation, Director General Horticulture Asima Ijaz had to clarify that only seven and half thousand trees had been planted in the park, not one lakh.
During this time, the PHA Faisalabad announced a project to plant Miyawaki forests at 20 locations in the city within one year. 'Miyawaki' is a tree planting technique discovered by Japanese botanist Akira Miyawaki, and it is now famous under his name.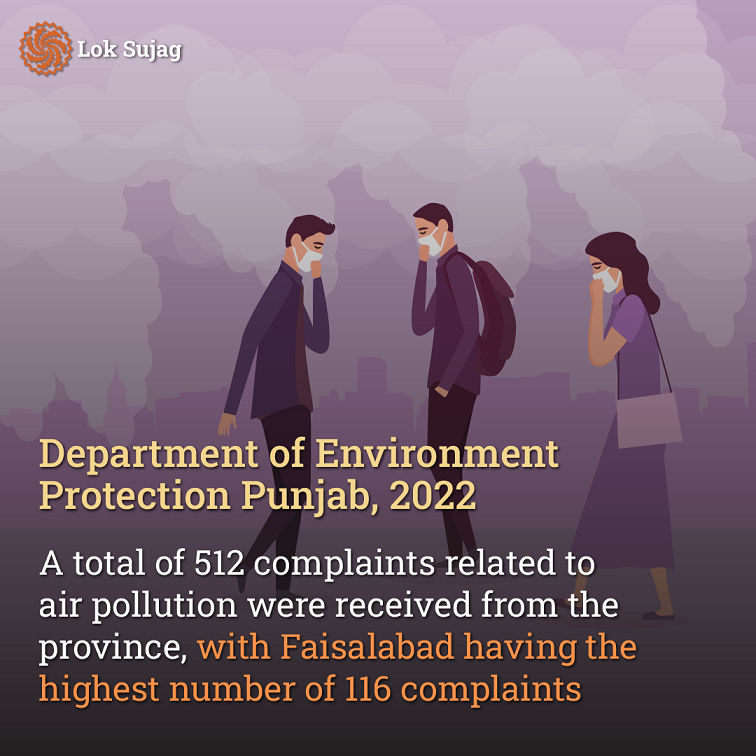 In Miyawaki forests, local plants are planted in a way that mimics the natural requirements of the soil. Dense vegetation grows rapidly, and within a few years, these forests appear like a natural jungle due to the competitive dynamics among the thick vegetation.
To inaugurate the Miyawaki Forest project in Faisalabad, the Federal Minister for Climate Change had specially visited Faisalabad. However, this project is still incomplete. In the areas where Miyawaki forests were planted, the nutritional requirements of the soil were not adequately addressed. Therefore, the growth of the trees is exceptionally slow due to this deficiency.
In response to a request for information about Miyawaki Forests, it has been informed by the Director General of the PHA that in Faisalabad, approximately three crore rupees have been spent on planting Miyawaki Forests at 15 locations from January 2021 to August 2023.
A total of approximately 53,000 trees of various types, including Pine, Amaltas, Kachnar, Guava, Mulberry, Jamun, Sukh Chain, Pilkhan, Neem, Bakain, Bougainvillea, and Ficus, have been planted in the city as part of the Miyawaki Forest project, covering an overall area of about eight acres.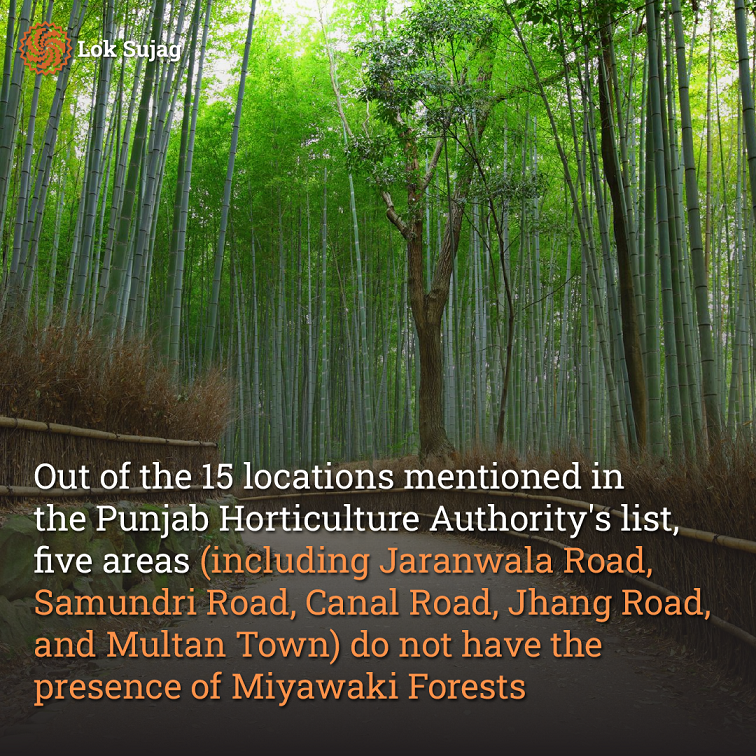 However, out of the 15 locations listed by the PHA, five locations (Jaranwala Road, Samundri Road, Canal Road, Jhang Road, and Multan Town) do not have Miyawaki Forests.
Interestingly, the PHA has reported an approximate cost of one thousand rupees per tree. In comparison, the Punjab government has set a cost of three and a half hundred rupees per tree for environmental development projects in the next five years.
The PHA has also claimed that it has not received any support or financial assistance from any social organiSation for planting Miyawaki Forests. However, Fiazan Relief Global Foundation claims they have incurred the expenses for obtaining and planting trees for four locations.
Foundation's Divisional Coordinator, Muhammad Wasim, explains that these Miyawaki Forests were deteriorating due to the negligence of the PHA. They have taken measures for their irrigation and protection.
However, Deputy Director Muhammad Zaheer does not agree with this. He says that the PHA staff is still carrying out the majority of the maintenance work for the Miyawaki Forests.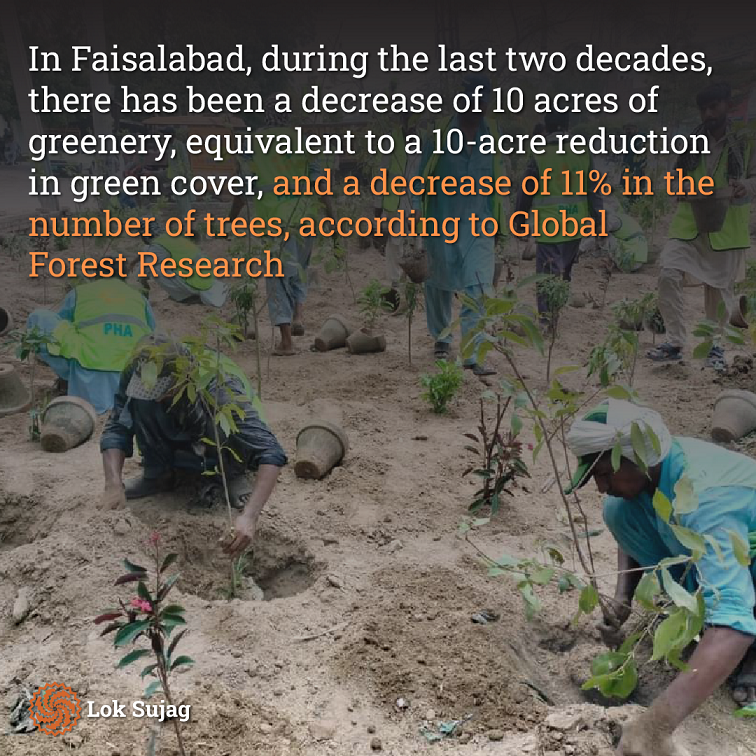 The Faisalabad administration and the PHA have spent millions of rupees on programs like 'Clean and Green Punjab' and 'Billion Tree Tsunami'. Similarly, substantial amounts from the government treasury have been allocated yearly for tree plantation during the monsoon and spring seasons. However, there has been no significant improvement in the city's "Vegetation Core."
According to M.Phil student Muhammad Azim Sabir from the Department of Forestry at the Agricultural University, there is a lack of new tree plantations in the densely populated areas of Faisalabad city. Existing trees are also being cut down for construction or other purposes.
According to Global Forest Research, an international organisation that monitors forests and green cover worldwide using satellite technology, Faisalabad city has seen a decrease in green cover equivalent to ten acres during the past two decades. Additionally, there has been an 11 per cent decrease in trees during this period.
Also Read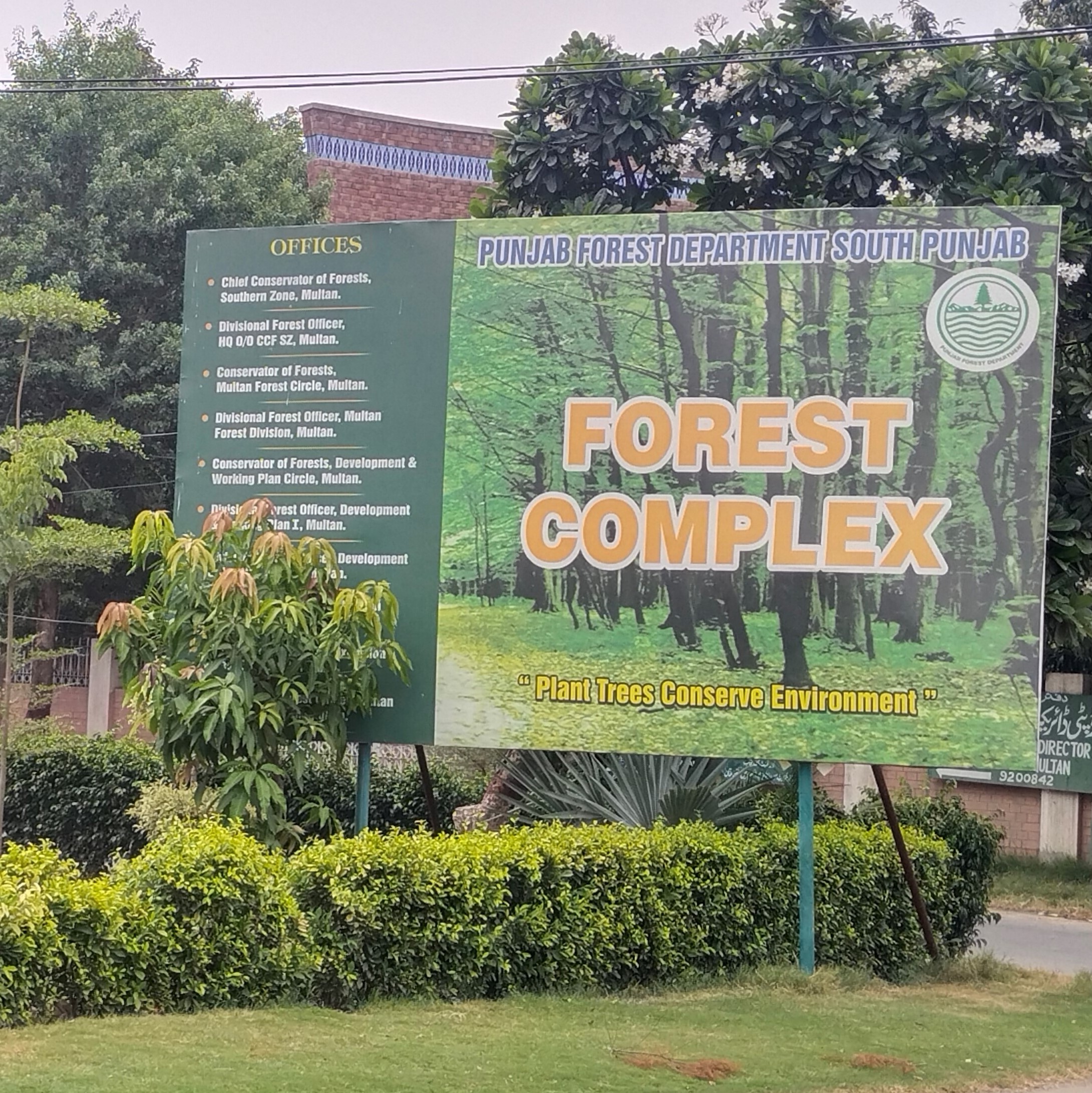 Environmental crisis in Multan: Deforestation, wood theft, and rising temperatures threaten ecosystem
According to the report issued by the Punjab Environmental Protection Department in June 2023, in 2022, the province received 1,191 complaints regarding environmental pollution from 36 districts. Among these, 512 complaints were related to air pollution; the highest number of 116 complaints came from Faisalabad.
Dr Amara Habib, a member of the Urban Planning Unit for Environmental Development, emphasises that due to being an industrial city, Faisalabad has a strong need for tree plantation. Under a five-year project, efforts are being made to improve the condition of 142 parks in the city.
She says that during the five years, a recommendation has been made to plant seven lakh new trees on nine hundred acres of land in various city areas.
PHA Faisalabad's Director-General, Zameer Hussain, has claimed that the city's tree plantation situation has improved. However, the statistics from the city's Master Plan 41-2021 refute these claims.
According to this document, in 1985, the city's designated area for parks and green spaces was 944 acres. However, during the past 40 years, there has been a decrease of 128 acres in this area, and in 44 per cent of the city, no park or green space is available.
The Master Plan has designated an area of 1,436 acres to construct parks in eight different locations in the city.
GC University Faisalabad geography department students Ayesha Saleem and Sadiya Ijaz have conducted research on the accessibility of parks by city residents. They explain that in their survey, 55 per cent of the city's residents have expressed dissatisfaction with the condition of parks.