The 'Cattle Colonies' were constructed 16 years ago in the Umarkot and Thar districts of Sindh to breed cattle. Despite the substantial funds allocated from the government treasury for their establishment, these colonies have not achieved full operational status, resulting in a practical waste of money.
These colonies were established in Umarkot's village, Janhan Juneju and Kaloi in Tharparkar at a combined cost of approximately Rs 1.44 billion. One of their primary objectives was encouraging people to relocate their cattle from settlements to these colonies, enabling collective care at the government level.
The Umarkot Cattle Colony, situated on 200 acres of land along Ratanur Road, five kilometres east of the city, reached completion in August 2016. The project cost amounted to Rs 44 crore. Subsequently, the Works Department transferred the colony to the Livestock Department. Despite these efforts, the colony has yet to achieve full functionality.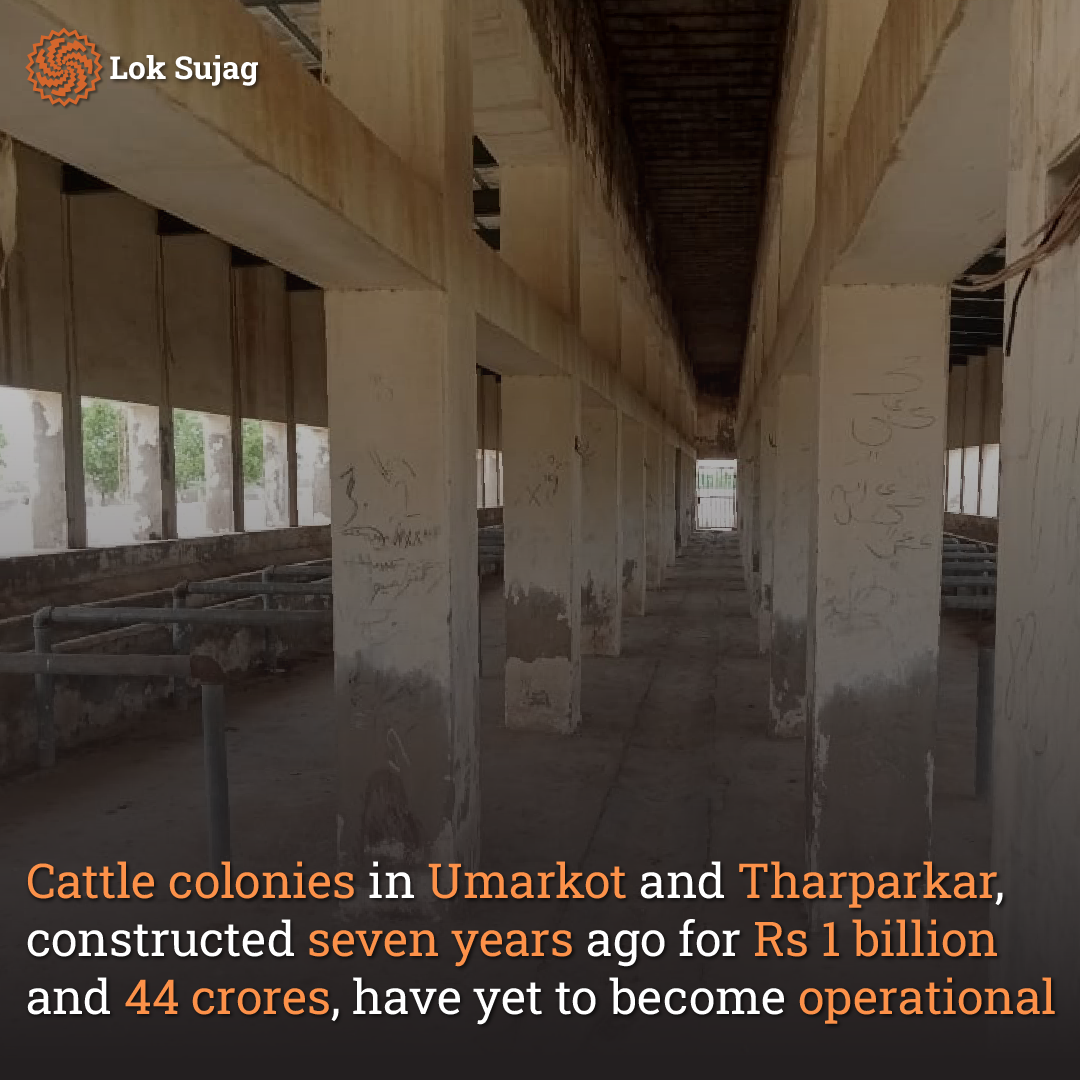 There are now rundown buildings of a cattle colony in Jinhan Junejo village near Nokot Fort in Tharparkar, and a similar situation is observed in another colony near Kaloi.
Ghulam Akbar Daras has been raising cattle for the last 25 years. He lives in Tehsil Kunari of Umarkot and has established a cattle farm in his village, Nabisar. He mentions that the Sindh government constructed three cattle colonies for dairy development in Thar and Umarkot, but none are operational.
Vast amounts of the government's funds were wasted, and local people did not receive any benefits.
Menhil Soomro from Mahalla Soomro in Umarkot shelters around 35 cows and buffaloes in a shed beside his house. He sells their milk in the city.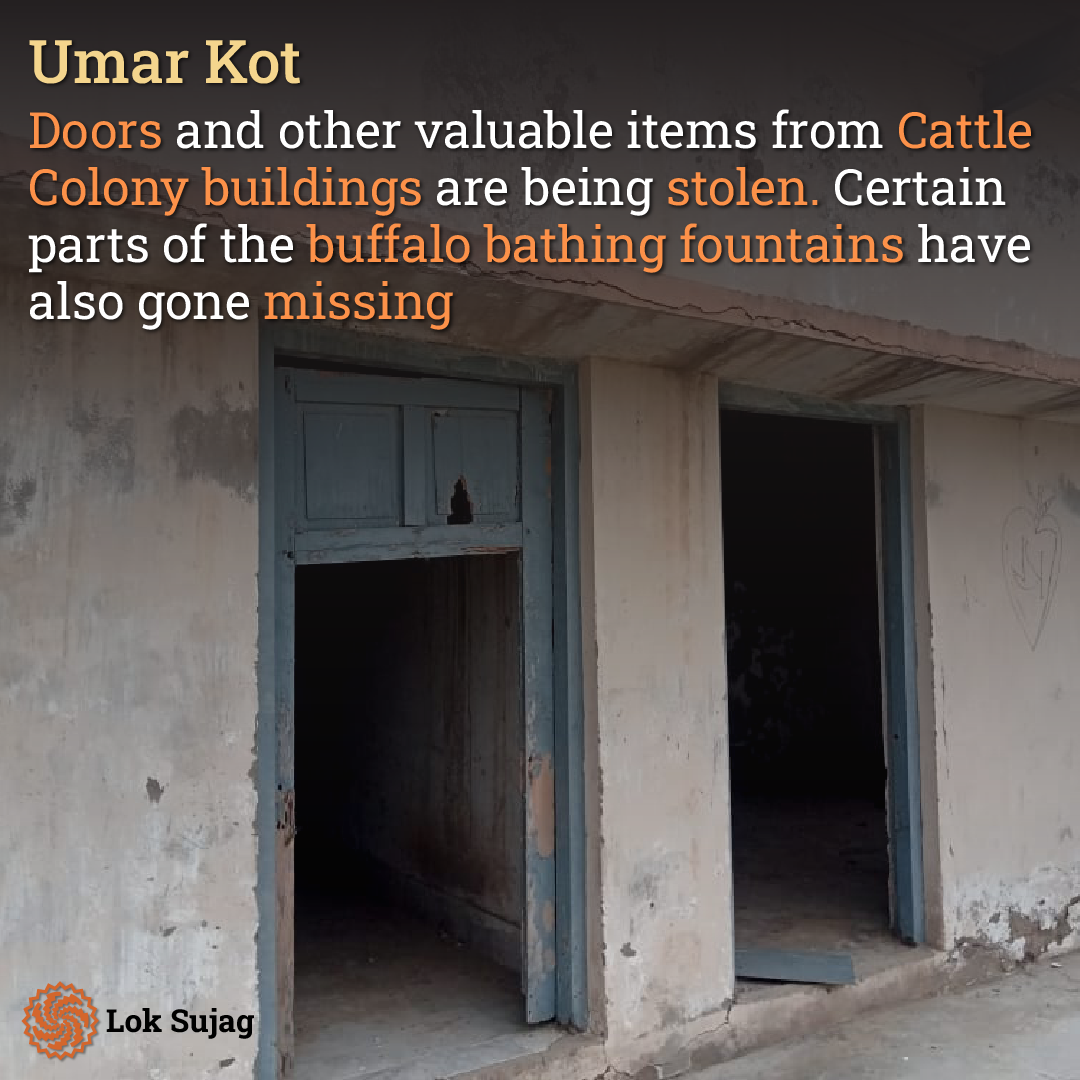 Menhal adds that Umarkot's cattle colony is close to his area, but lacks a water supply. If the Livestock Department could provide water and lower the shed allotment fee, they would consider relocating their cattle to the Cattle Colony.
The monthly fee for the cattle colony is Rs 7,600, which cattle owners find too expensive.
Harchand Sagar, a social activist from Umarkot, points out that the water ponds in the Cattle Colony have been dry for years, leading to their deterioration. The same fate applies to a large freshwater tank, the roof of which is used by young people for taking selfies.
He mentions that this colony hasn't been effective for dairy farmers, but it has found use for the beneficiaries of the Benazir Income Support Program. The colony building is temporarily utilised for this program. When women come to collect money, there's a temporary buzz. A tent city was also established in the same colony to accommodate flood victims.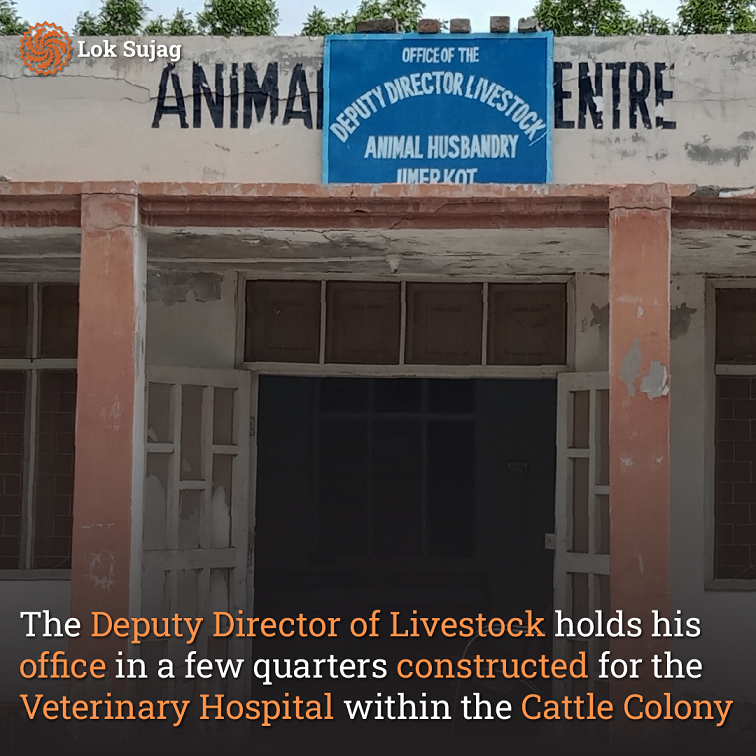 For a few years, the Deputy Director of Livestock has had his office built for the Veterinary Hospital within the Cattle Colony in a few quarters. Doors and valuable items have been stolen from the structures of this abandoned cattle colony. Parts of the water fountains used for bathing buffaloes have also vanished.
The Deputy Director of Livestock acknowledges that there have been instances of theft in the colony but states that no such incidents have occurred since he took over the position.
In July 2020, the former Umarkot Deputy Commissioner, Nadeem Rehman Memon, convened a meeting to discuss the colony's rehabilitation. During this meeting, he instructed the allotment of sheds to cattle farmers within fifteen days. He also directed the drafting of a letter to Axion Inhar Thar Division, requesting water supply from Kot Wah. However, there has been no progress on these matters.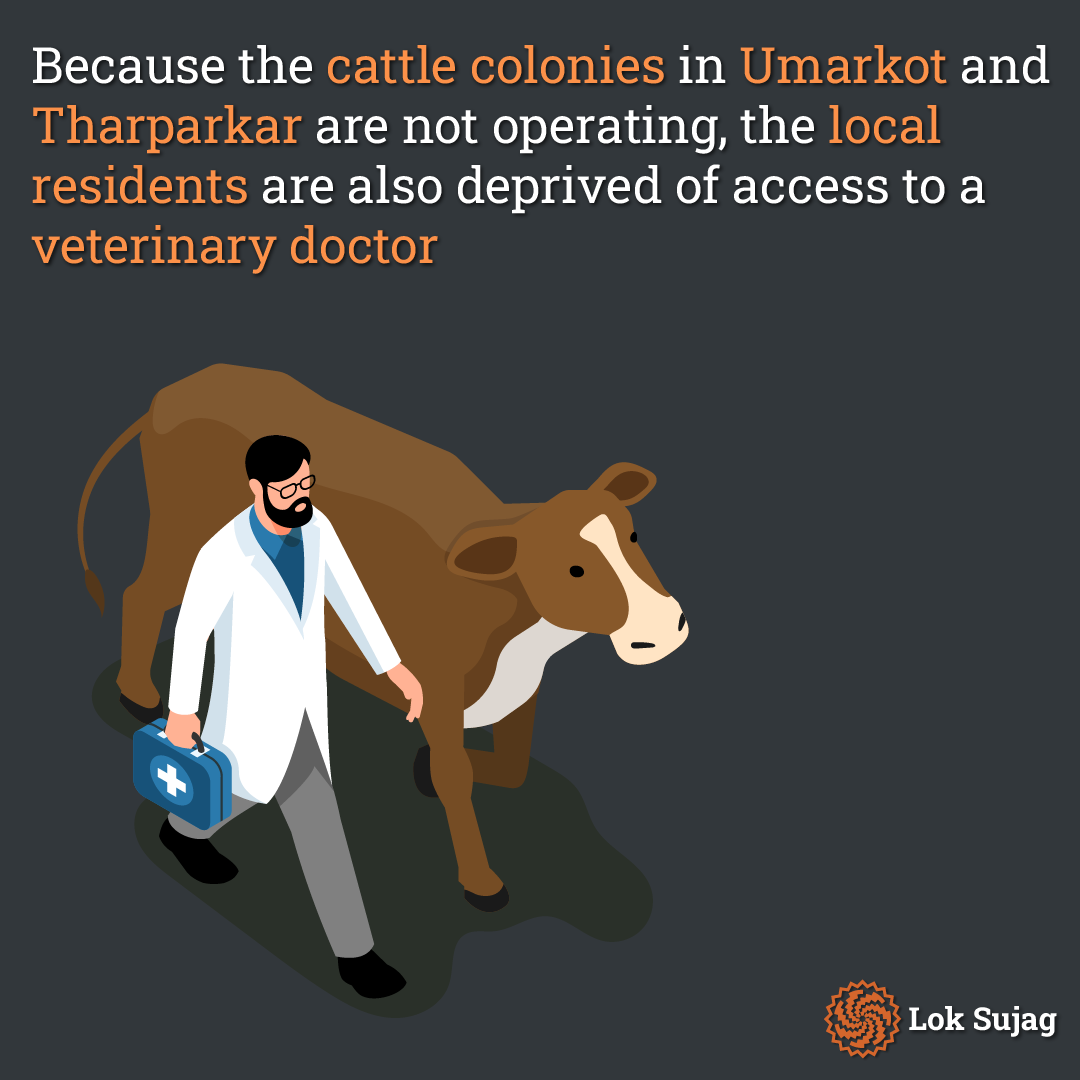 At that time, the Deputy Director of Livestock, Dr Ganesh Kumar, explained that the cattle colony's area relies on rainfall for water, making water management difficult. The government had asked for 30 lakh rupees to bring water from Kot Wah, but this endeavour didn't succeed.
On the other hand, Xen Irrigation Thar Division refutes having received any summaries or proposals for supplying water to Akhtar Khaskheli Colony. According to them, no such plan is being considered. However, if they receive orders from the district administration, they are prepared to create a feasibility report and submit it to the relevant authorities.
The current Deputy Commissioner of Umarkot, Naveed Rehman Larak, assures that resolving the Cattle Colony issue is a top priority. He believes that by relocating the tenants, the city's environment will improve, benefiting both the city and the farmers through economic gains.
Also read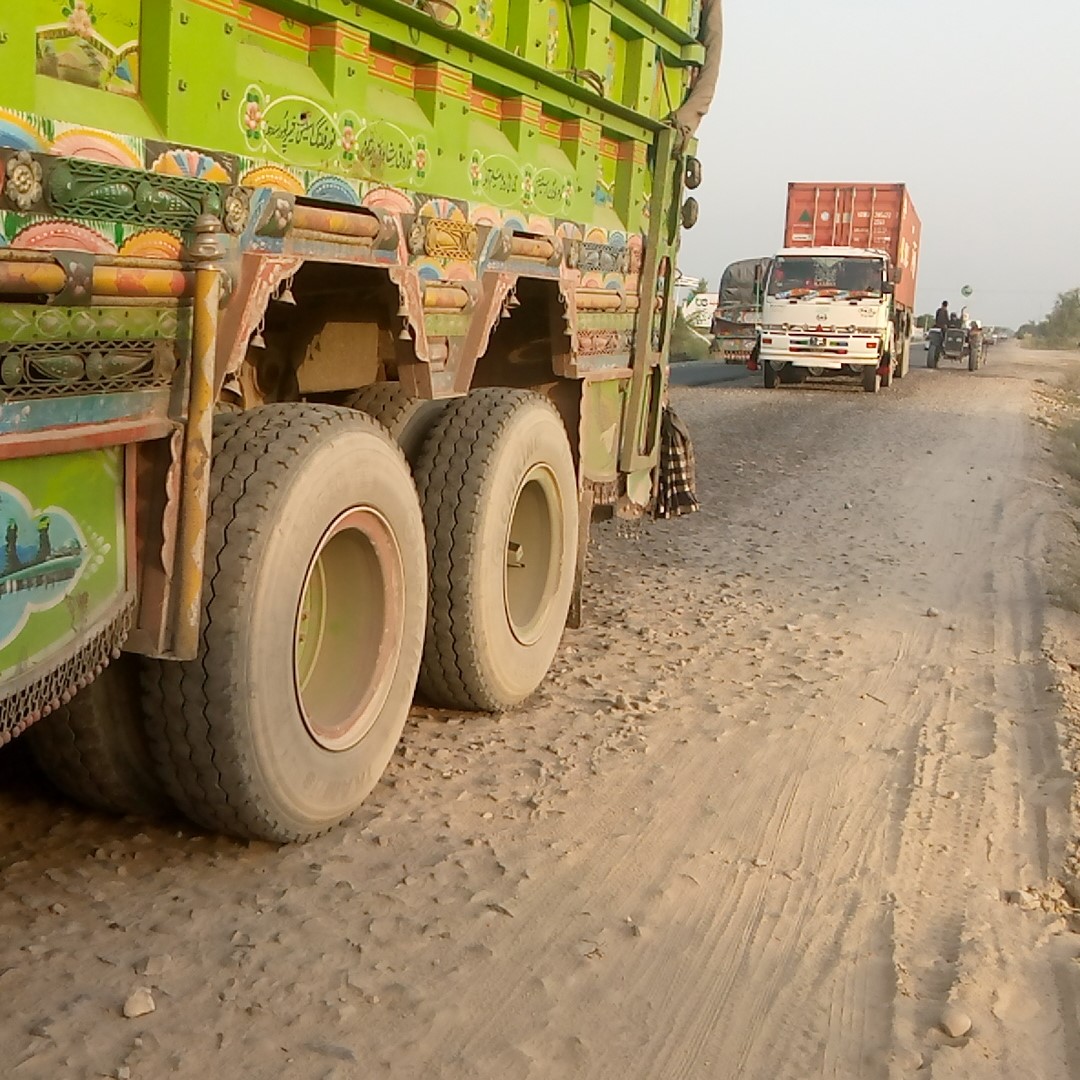 The perilous journey: Challenges and delays in reconstruction of MM Road leading to increased accidents
Usman Juneju, who belongs to the Manjhi Dahani village in Tharparkar, takes care of 17 buffaloes. For the past 20 years, he has been selling milk in Nokot. Usman highlights that when his cattle become ill, he has to summon doctors from Nokot or Mithi. Numerous cattle-related issues could have been resolved if the Janhan Juneju Cattle Colony in Tharpakar had been operational.
Regarding these cattle colonies, Dr Ehtishamul Haque, the Director of Animal Husbandry in Sindh, acknowledges the problems with inactive cattle colonies. He mentions that his department is actively working to address these issues. He also states that he will soon meet with the Deputy Commissioner of Umar Kot to discuss this matter.