Tahira Parveen, a resident of Chok Bahadur Pur in the Rahim Yar Khan district, is the mother of three children. She has a machine at home used for chopping fodder, commonly known as a "toka machine." Her husband, Arshad Ali, uses this machine to cut fodder for their livestock. One day, while he was away and the fodder had run out, Tahira Parveen attempted to operate the machine herself. However, her hand got caught in it, and she screamed in pain. Upon hearing her cries, her mother-in-law, Amina Bibi, rushed out of the room and turned off the power supply to the machine. During this incident, Tahira had sustained severe injuries to her hand.
She was taken to the emergency room at Sheikh Zayed Medical College Hospital, where doctors had to perform surgery on her hand. It will take several months for her wounds to heal.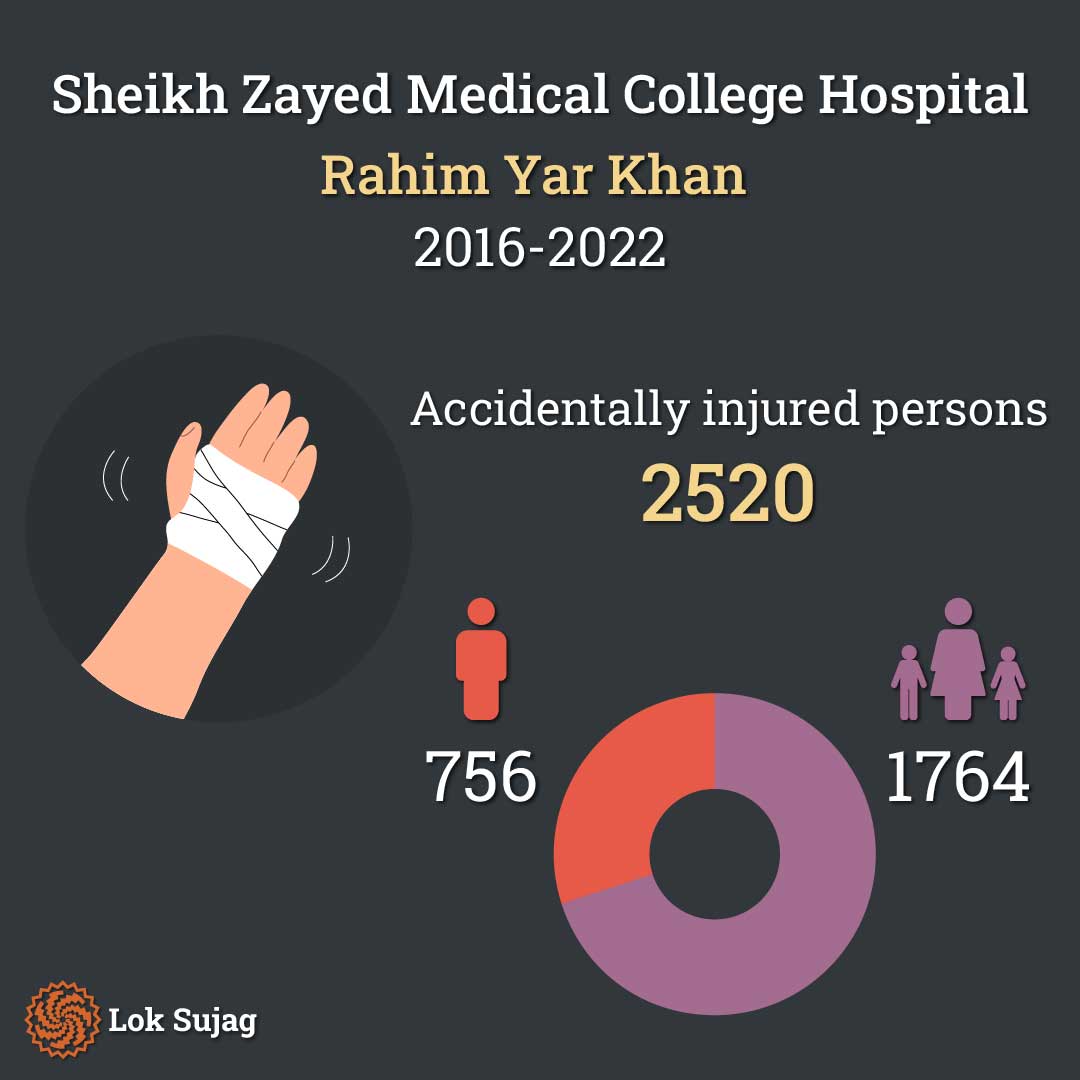 Dr Nasir Ahmed Chaudhry, a specialist in bone and joint injuries at the hospital, mentions that they receive many patients with injuries caused by these machines. Between 2016 and 2022, over two thousand such patients sought treatment at the hospital. Among them, there were 756 men, 1764 women and children.
Dr. Nasir explains that many patients come to them from Punjab, Sindh, and Balochistan with injuries caused by these machines. Most of the affected individuals are women and children who are involved in operating these machines for preparing animal fodder. They haven't received proper training for using these machines, leading to frequent accidents. Five to six such patients are admitted to the hospital almost every day.
"The distressing fact is that many of the patients we receive have lost fingers or entire hands, and they cannot be fitted with prosthetic limbs or receive joint replacements," Dr Nasir states.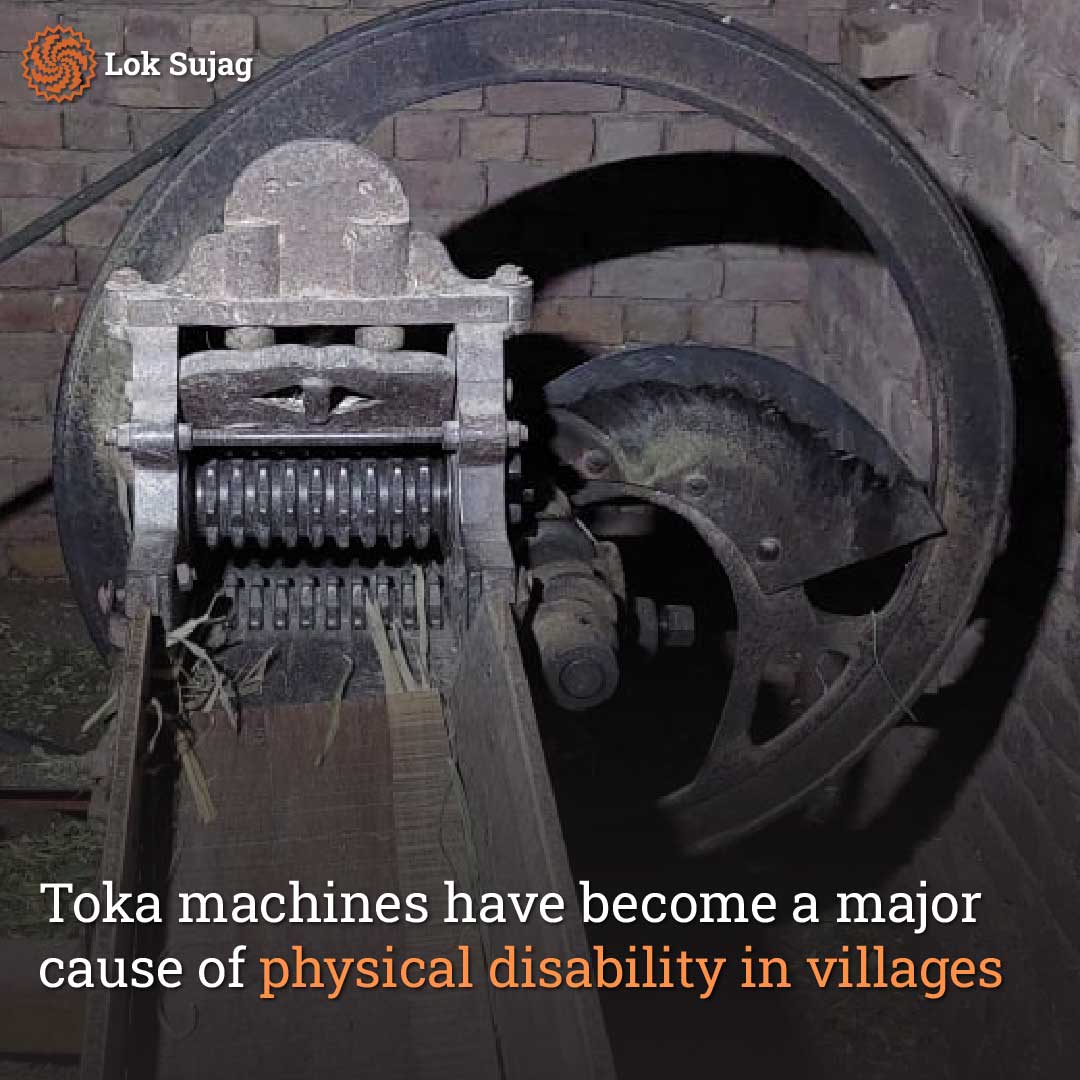 He believes planning and implementing measures to prevent these accidents is imperative. Either people should be trained in using these machines safely, or the design of the machines should be modified to make them safer.
Dr Mohsin Wark, Assistant Professor of Bone and Joint Diseases Department at Sheikh Zayed Medical College Hospital, says that if a patient's finger is amputated, he will be considered disabled. According to the rules, if the tips of the hands are amputated, it will be mild, i.e. early disability. Suppose the entire fingers or half of the hand are amputated. In that case, it will be considered moderate, i.e. medium disability, and if the whole hand is amputated, the patient will be severely disabled.
He said that if a patient's thumb gets cut off in the machine, he loses 40 per cent of his hand.
While saving one hand, the other can get stuck in the machine, so two out of 100 injured patients who come to the hospital have both hands amputated.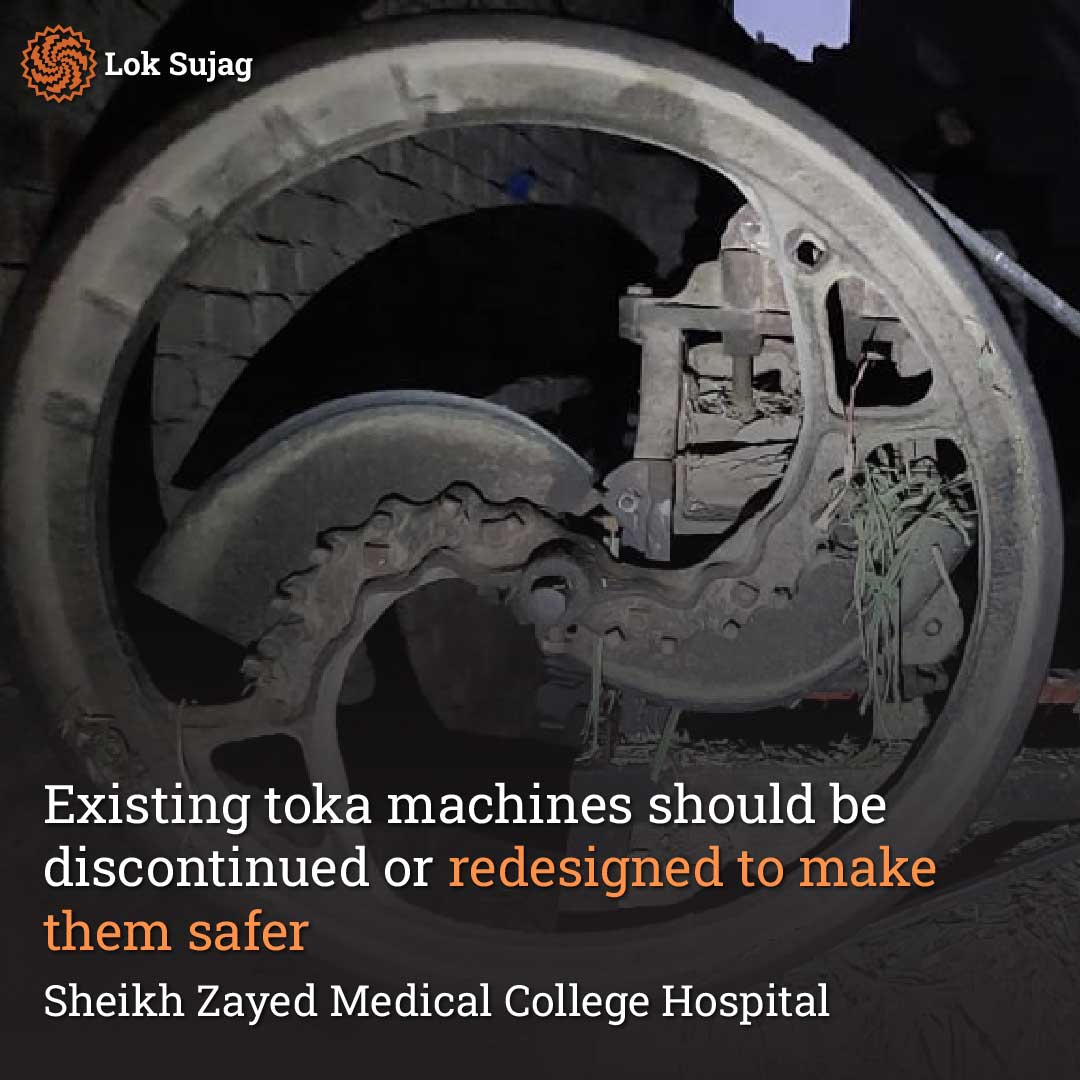 He says that toka machines are hazardous, and the government should legislate on them. Existing toka machines should be discontinued or redesigned to make them safer, as they are now the leading cause of physical disability in villages.
According to crime reporter Rizwan Akhtar, threshing machines have injured and maimed thousands of people in this area, but their use has not yet been banned. He says that he goes to the emergency every day to collect data for reporting, and at least five days a week, patients injured by the Toka machine are brought for treatment.
They say the government should immediately ban this machine and allow safe fodder-cutting devices to be used only.
Also Read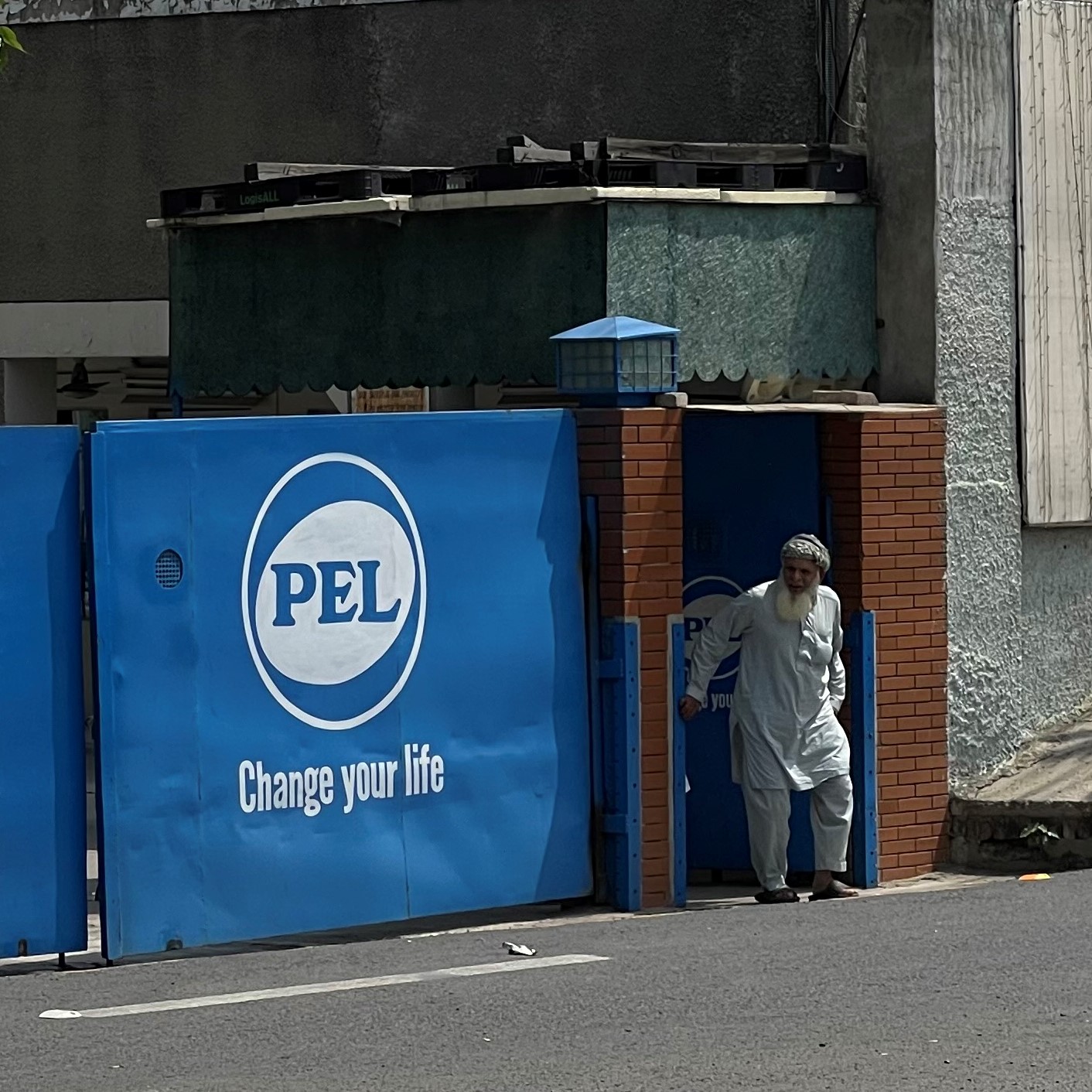 Workers fight for justice: Unjust dismissals and violations of labour rights
Rana Ashfaq Ahmed, a farmer of Tajgarh village, 15 km from the city, said that caution is necessary to avoid accidents on this machine. Haste leads to accidents. He also has this machine at home and has been using it daily for many years, but due to the precautions he has taken, he has never had an accident.
According to Saif Ali, a farmer of nearby Sardar Garh village, the garlic and bersem plants harvested with threshing machines are small and those of kamad, millet and maize are large. Small plants are fed quickly into the toka machine, which increases the chances of hands getting injured. He says that if Chinese model machines are used instead of old-design machines. They are designed so that only the feed can move forward in them, not the hand.
However, Mian Azhar Jameel, a shopkeeper involved in the business of toka machines, says that only locally-made traditional toka machines are available in the area and Chinese model machines are not available in the local market.