The project of laying rail tracks for coal transportation from Thar to Karachi has sparked new hopes among the residents of this desert. The government approved the project last year, and local people are now eagerly waiting for the work to commence.
The new 105-kilometre track from Newchhor City in the Umerkot district to Thar Coal Area is a joint project between the federal and Sindh governments. This track will facilitate the transportation of coal from Thar to Port Qasim in Karachi via train.
Dr Akram Imrani serves as the Vice Chairman of the Union Council in Newchhor. He is very enthusiastic about this project.
He feels that Newchhor will regain its former prosperity. This city used to have a major grain market for Tharparkar, with warehouses filled with wheat, jowar, guwar, and mung. After the war in 1971, many people migrated from here.
However, the population of this area is still more than 12,000.
According to the Central Development Working Party (CDWP), along with laying the Thar Coal track, the Bin Qasim Railway Station will be connected to Port Qasim. This entire project will cost approximately 58.24 billion Pakistani Rupees. However, the Working Party has already approved 55.97 billion Rupees for it. Both the federal and Sindh governments will contribute equally to these expenses.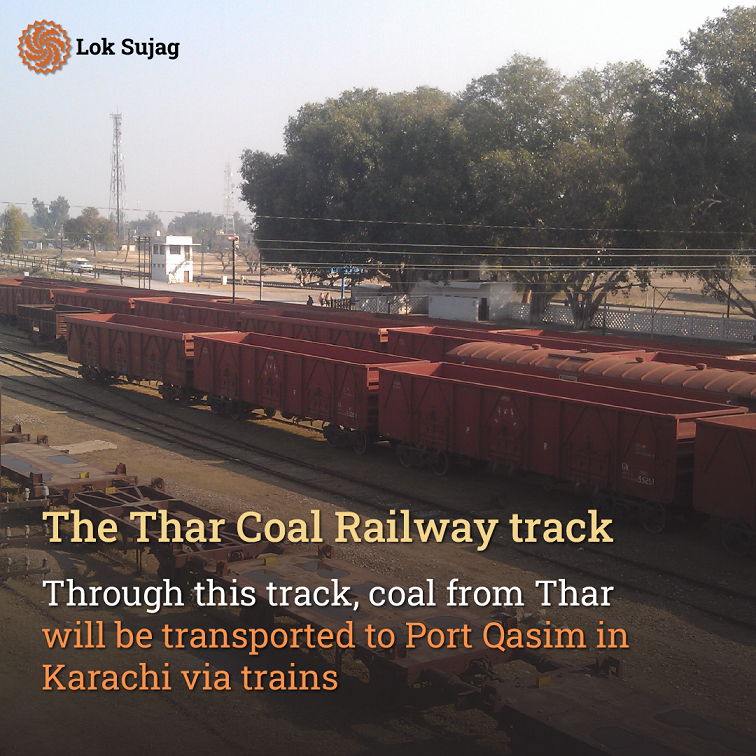 Nisar Memon retired from the position of GM Railways some time ago. During his employment, he supervised the engineering activities related to constructing the Thar Coal track. He believes that this project is fundamentally related to transportation (freight trains). It will help reduce the cost of delivering coal to power plants, cement factories, and other industries in Thar, providing a cost-effective transportation solution.
The track's feasibility study and survey work began in July 2019 and was completed in March 2020. During this period, it was revealed that a direct foreign investment of 170 million euros had been agreed upon through an MOU (Memorandum of Understanding) for this project.
However, an Assistant Engineer (AEN) at Hyderabad Railway refused to disclose his name but mentioned that laying the track from Newchhor to Islamkot would commence within five months. Instructions have been issued to prepare the Mirpur Khas Railway Rest House for officers coming from Karachi.
He explains that the Newchhor Railway Station is undergoing expansion. Five railway stations will be constructed from here to the Thar Coal area. A joint federal and Sindh government committee will oversee the Thar Coal Track Project.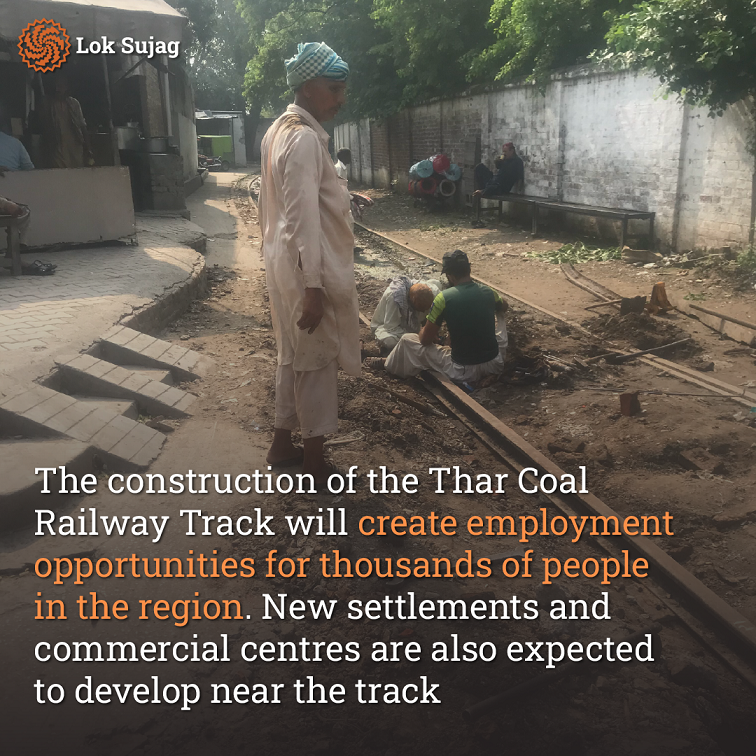 Fazal Mohammad Sumro, a resident of the rural area of "Jalo Jo Chunhro," retired as an Assistant Work Inspector (AWI) from here three years ago. He explains that railway experts have deemed the Thar Coal track project suitable.
He says the survey team included four retired DSs (Divisional Superintendents) and two retired GM Railways. The team also consisted of surveyors and hired landowners (patwari). In the survey, they placed poles at every half-kilometre interval to mark the approved track.
Fazal Muhammad stated that there would be at least five Station Masters and five ASM (Assistant Station Masters) appointments at a minimum of five railway stations along the Thar Coal area. Gate Man, Water Man, Fire Man, Points Man, and Sanitary Workers would also be employed. There are possibilities for appointments of around 300 people along the track.
He mentioned that a 'Project Director's Office' has been established at Mirpur Khass Railway Rest House. The construction of the Thar Coal railway track will generate employment opportunities for hundreds of people in the region. New settlements and business centres will also be established near the track.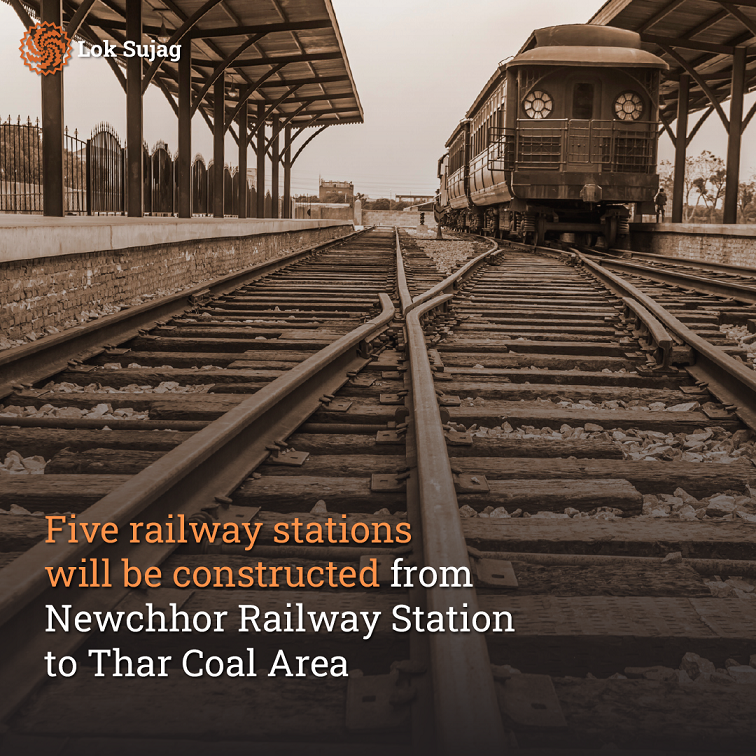 A member of the assessment team and a former D&S Railway employee, who chose not to reveal his name, stated that the federal government had issued advertisements for the appointment of the Project Director and other staff. This will be a significant project, and for its completion, international donors may need to be involved.
Social worker Shaukat Dhati mentioned that the approved railway track will benefit approximately 1.5 lac people on both sides of Tharparkar. This track will be located five kilometres from the Kantio Shahar but will pass very close to Ramser and Aik Wadhoo villages. Villages such as Thanisar, Gurrio, Varo Bhelo, Naukot, Patiari, Metaru Mangrio, Goth, and others will also benefit from it.
Islamkot-based journalist Ghazi Bajeer explains that the approved railway track will pass through 15 villages in the Islamkot taluka, including Ibn Ka Tarr, Sonal Boh, Batar, Bhojasar, and Menhil Bajeer villages. This will benefit around 20,000 people and may also provide local residents with access to water, education, and healthcare facilities.
Also read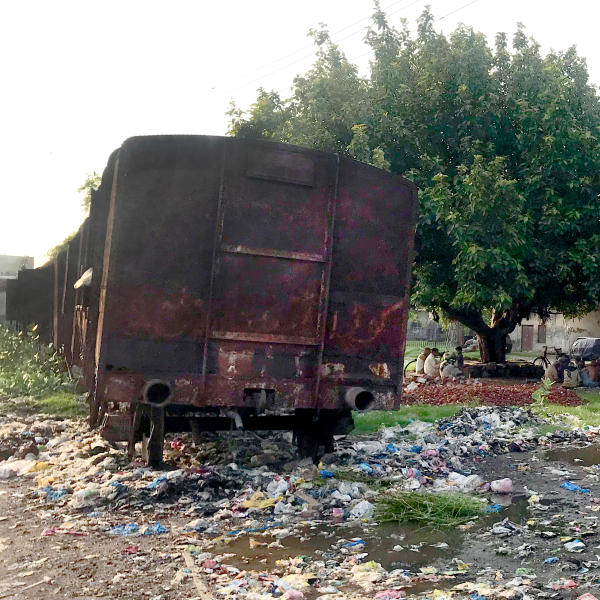 Pakistan Railways: Going off track
The railway track from Newchhor to Thar Coal Block-2 will benefit many small and large villages. This includes more than 100 villages in the vicinity of the Mirpur Khas-Khokhrapar section, and it will also create opportunities for social and economic activities to flourish in the region.
Sala Chandnu Halipto has retired from Pakistan as a janitor. He says that initially, freight trains will be operationalised on the track, but there may also be a need to run a passenger train, and its number would have to be increased.
Nisar Meemon acknowledges that while five railway stations are constructed along the Thar Coal Track, the recommendation to run a passenger train is still under consideration.
This project will not only benefit railway employees but also provide travel facilities to the residents. Additional train services can be considered with the potential for increased local demand.
He also points out that the project will create employment opportunities for local residents, providing water, electricity, road infrastructure, and government jobs. This will further stimulate economic activities in the area.
"For the people of Thar, the arrival of the railway is like realising a dream. Like many folk songs, the famous Marwari folk song "Train came, and with it brought Bombay scarf" mentions the train whistle and the driver. Now, it remains to be seen whether the dream of listening to the train whistle in Thar is fulfilled or not".