Sharjeel Ahmed wanted to secure a good job after completing his education. Therefore, he diligently focused on his studies while assisting his father in the fields and looking after the cattle. His hard work paid off, and he successfully passed the matriculation examination from the local higher secondary school.
However, when he tried enrolling in Class 11, the school management informed him that no teachers could teach intermediate subjects. As a result, admissions were closed.
Since there were no other higher education institutions in his area, he had no choice but to drop out. Now, he works at an agro-medicine shop in his village.
Sharjeel Ahmed lives in Durdad village of Attock district, which is 23 km away from the city. The Higher Secondary School was established in this area in 2005. Despite having 16 subject specialist teacher vacancies, the school has never had a full complement of teachers in the last 17 years.
Despite this, classes for 11th and 12th were being conducted here until 2022.
Last year, when the only subject specialist teacher left due to a transfer, the intermediate admissions were closed.
In 2021, around a hundred boys, including Sharjeel, took the matriculation exam at this village school. Out of them, about 70 passed the exam. However, most of them have stopped their further studies and left.
Students from affluent families could attend Attock to get admission to the intermediate program.
Sharjeel's elder brother, Aqeel Ahmed, completed his FSC from the same higher secondary school but couldn't continue his studies due to financial difficulties at home. Sharjeel's younger brother, Jalil Ahmed, is a matric student at the same school but has a negative outlook on his educational future.
According to Sharjeel Ahmed's father, Khalil Ahmed, the closure of the higher secondary department in this school has caused an educational loss in Durdad and dozens of nearby villages. These villages have a combined population of around 100,000.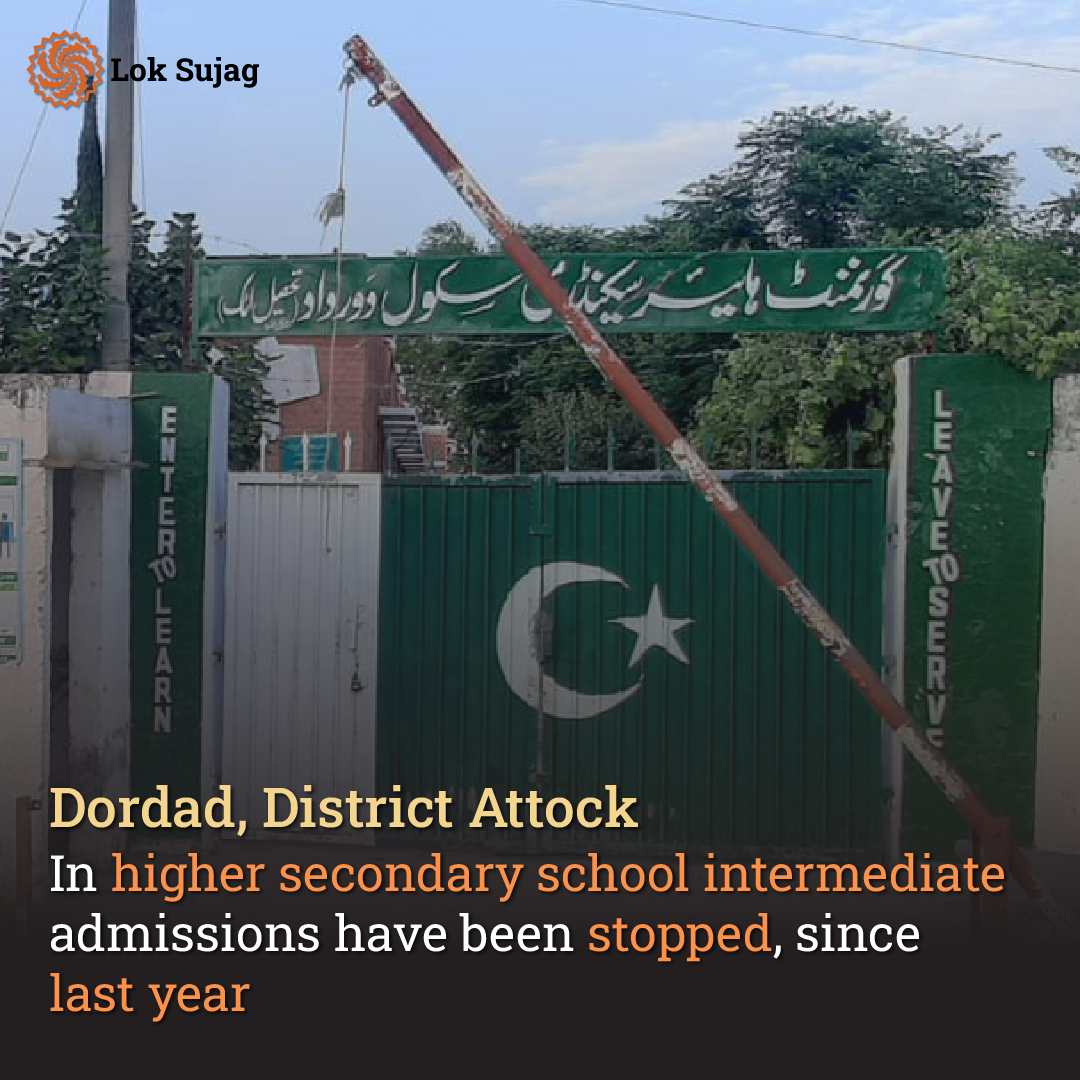 Durdad Higher Secondary School is important because it is closer to several villages in Hasan Abdal and Fateh Jang tehsils, including Attock than their respective tehsil headquarters.
According to the district education department, there are 22 higher secondary schools in Attock district. Among these, ten are for girls, and 12 are for boys.
Of 184 subject specialist teacher posts in boys' schools, 135 posts are vacant. Similarly, 120 out of 160 posts have not been filled in girls' schools.
In the district of Attock, which has a population of about 2.2 million, there are four higher secondary schools where intermediate classes are not being taught. These schools are located in Durdad, Kot Fateh Khan (boys' school), and Chhab and Shadi Khan towns (girls' schools).
At Boys Higher Secondary School in Kasbah Mallal, only one subject specialist teacher is left, and currently, only two students are pursuing intermediate education.
Muhammad Zubair, a teacher who teaches classes 9 and 10 in this school, says that due to the shortage of subject specialist teachers, the school management is considering closing the admissions for class 11 in the current session.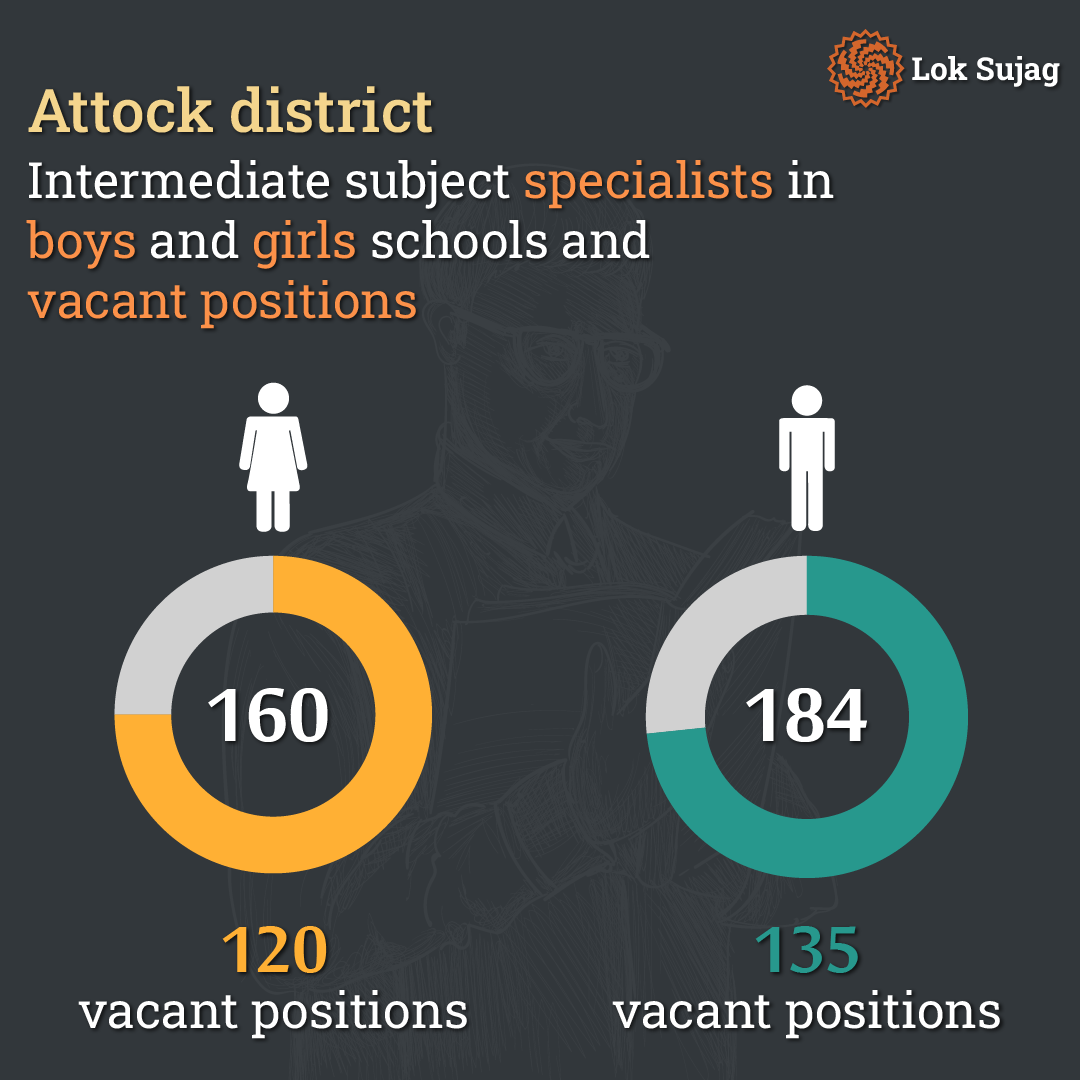 Similarly, in the Boys Higher Secondary School of Kunda town, only one teacher is posted for the intermediate classes.
The condition of most girls' higher secondary schools in Attock is quite similar. Except for Attock, Kamra Cantt, and Hasan Abdal Shahr, the number of intermediate teachers in schools across all areas is less than half of what is needed.
One subject specialist has been appointed in girls' higher secondary schools of Malho and Bisal towns. Additionally, there are three teachers each in girls' higher secondary schools of Malhowali and Kot Fateh Khan. Sixteen posts of intermediate subject specialists have been designated for these four schools.
According to a senior official of the district education department (who preferred to remain anonymous), there are 262 high and higher secondary schools in the district. Out of these, principals have not been permanently appointed in 197 schools.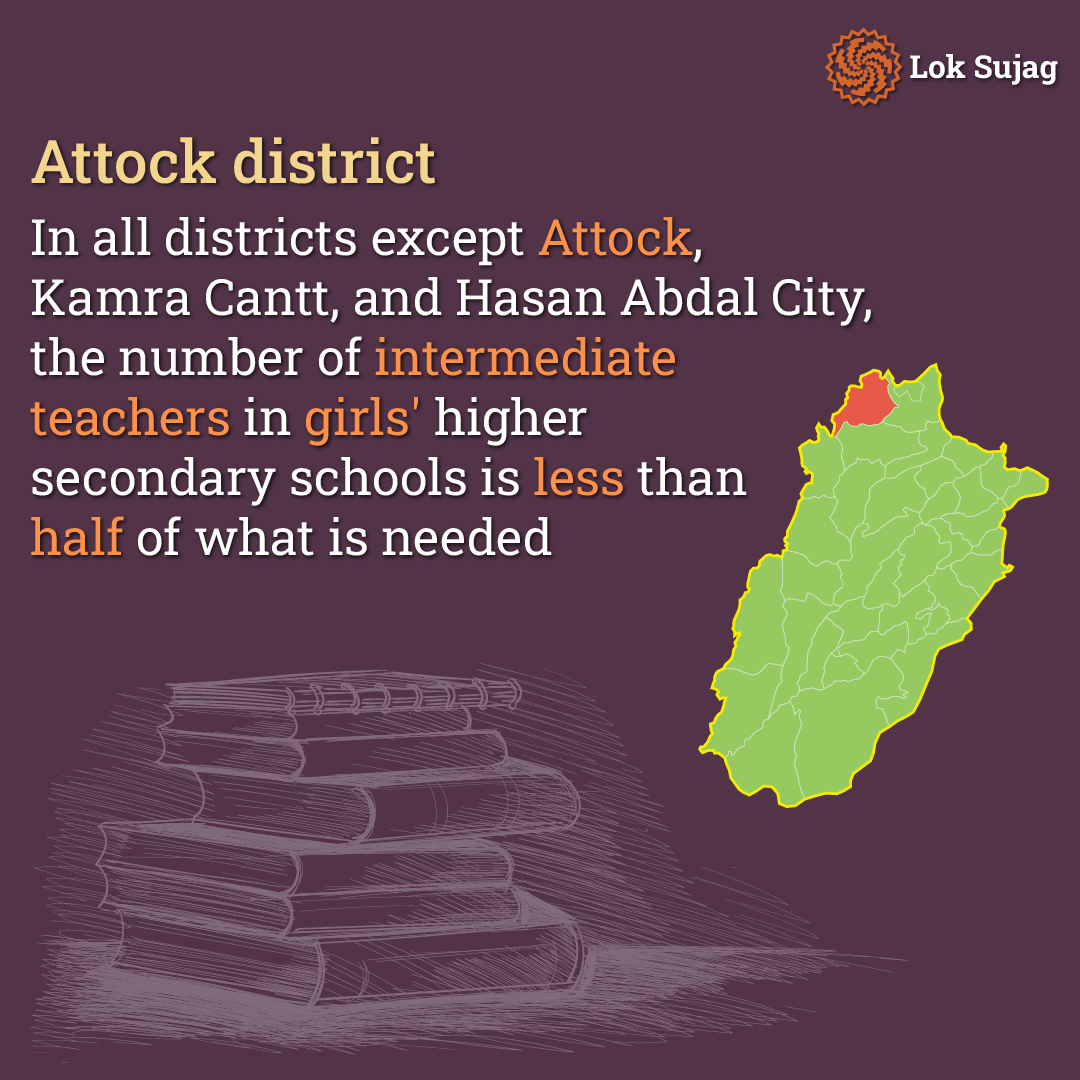 He says 39 middle schools were upgraded to high schools three years ago. However, qualified teachers have not been appointed here yet, and only middle school teachers teach 9th and 10th-grade classes.
Where did the teachers go?
Mumtaz Hussain, principal of Government Higher Secondary School Durdad, says that the education department has not made any new recruitments since last year. Moreover, existing teachers have not been promoted, and many have retired during this period.
But according to him, the main reason for this problem is the education department's online transfer facility for teachers. This system allows many teachers to transfer from remote villages to city schools. It's an automated system that moves teachers to their preferred school based on seat availability.
"If there is only one secondary school teacher in a school, he will need another teacher in the same school to replace him. On the other hand, the subject specialist can be transferred easily, even if he is the only one in a school."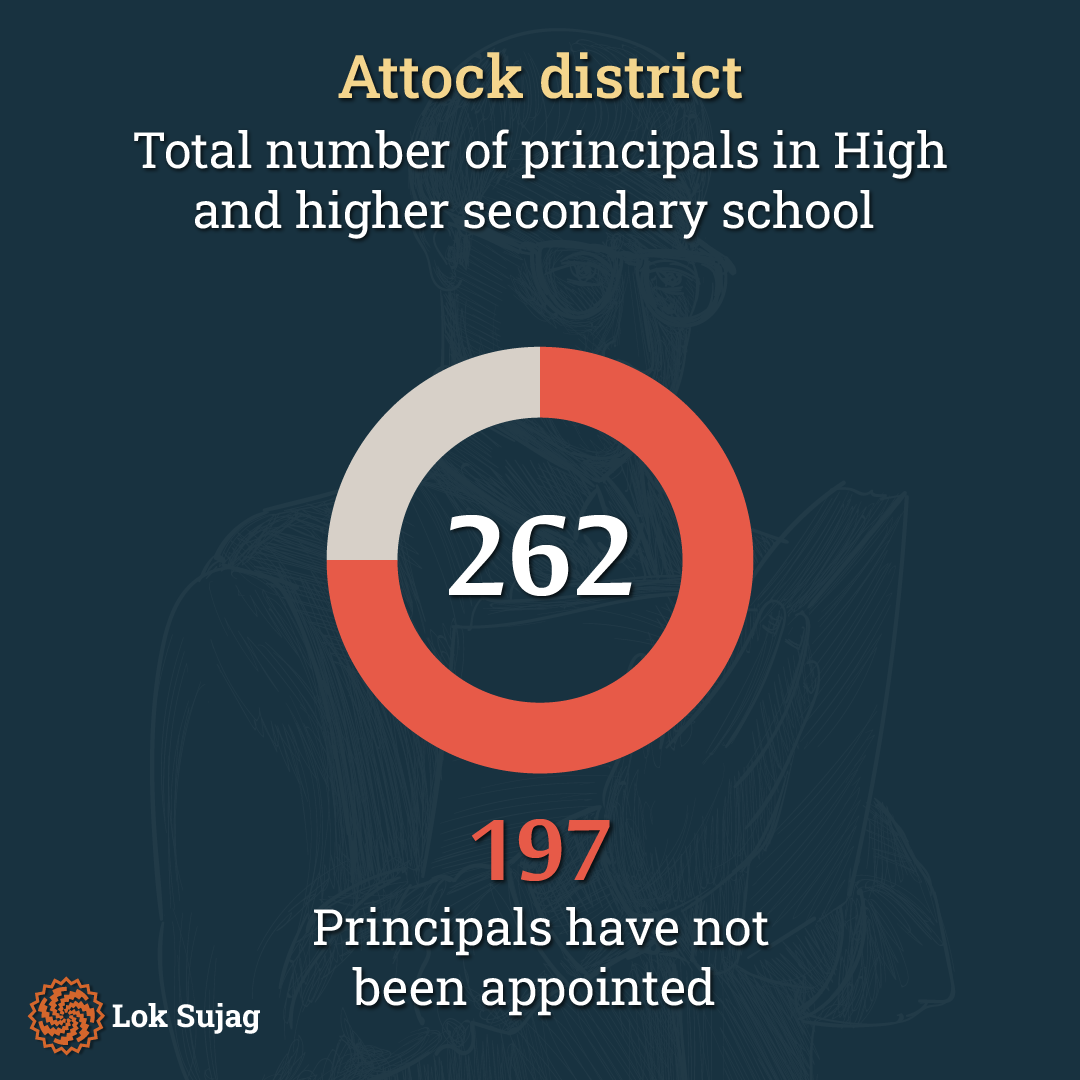 Earlier, departmental officers played a crucial role in transferring teachers. Since they controlled schools across the district, they kept track of the number of teachers in each school. As a result, they approved transfers while considering the need for teachers.
Mumtaz Hussain lives in Attock and travels 23 kilometres to Durdad daily for work.
He says the roads could be better, and no public transport is available in the area. As a result, he has to leave home two and a half hours before school opens every day, and it gets dark by the time he returns
Also Read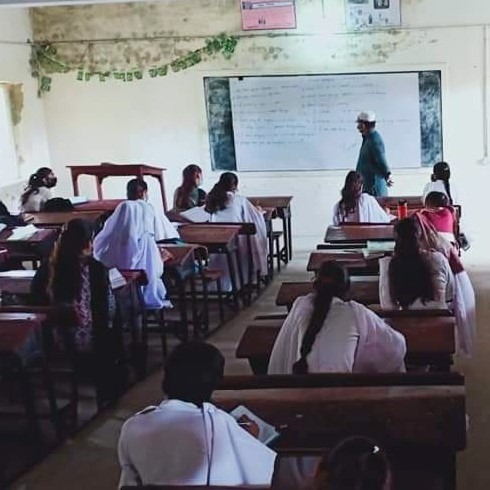 In Tharparkar, shortage of teaching staff hinders girls' pre-medical education
According to Mumtaz Hussain, teachers avoid teaching in such areas because of these problems. As a result, it is challenging for students in these areas to travel to the city every day for their studies.
Mumtaz Hussain explains that these problems are why teachers avoid teaching in such areas. Moreover, due to these difficulties, students find it challenging to travel to the city daily for their studies.
He believes that the situation will become very bad if more teachers are not recruited and old teachers are not promoted. This is because fifty per cent of the teachers will retire in three to four years.
According to the provincial education department's website, 'School Information System', in 2020, there were a total of 35,951 students studying in ninth and tenth classes in Attock. Meanwhile, this year, the number of intermediate students in higher secondary schools was 3,280.
Only nine per cent of matriculated students could continue their education at the intermediate level. Attock District is one of the prominent districts of Punjab in terms of literacy, with an education rate of 64.1%. However, the dropout rate after matriculation is even higher here than in relatively backward districts like Rajanpur, Bahawalnagar, Dera Ghazi Khan, and Muzaffargarh.
Asif Riaz, our reporter from Lahore, also contributed to this story.