Muhammad Sharif Junejo has been farming in Tharparkar for the past thirty-five years, but it rarely happens that he can sell his crops at good prices. When he buys seeds for the crop, the prices have risen, and when he brings his produce to the market, its value have decreased.
Sharif comes from the village of Dabharo in Tharparkar. Agriculture in this entire area depends on rainfall. If the rainfall is timely and sufficient, the crops flourish; otherwise, he does not yield any significant income. For this reason, Sharif keeps 25 goats to meet the household expenses.
He says that last year, he bought guar seeds at Rs7,000 per maund.
"When the crop was ready, the rate of guar per maund in the market ranged from 2,800 to 3,200 rupees."
This year, he obtained guar seeds at Rs8,000 per maund, which, he says, will become even more expensive after the onset of the rainy season.
The same is the case with bajra (pearl millet). Last year, Sharif bought millet seeds at Rs6,000 per maund, but his crop was sold at Rs2,900 per maund. He purchased moth seeds at Rs8,000 per maund, and the produce was sold at Rs3,800.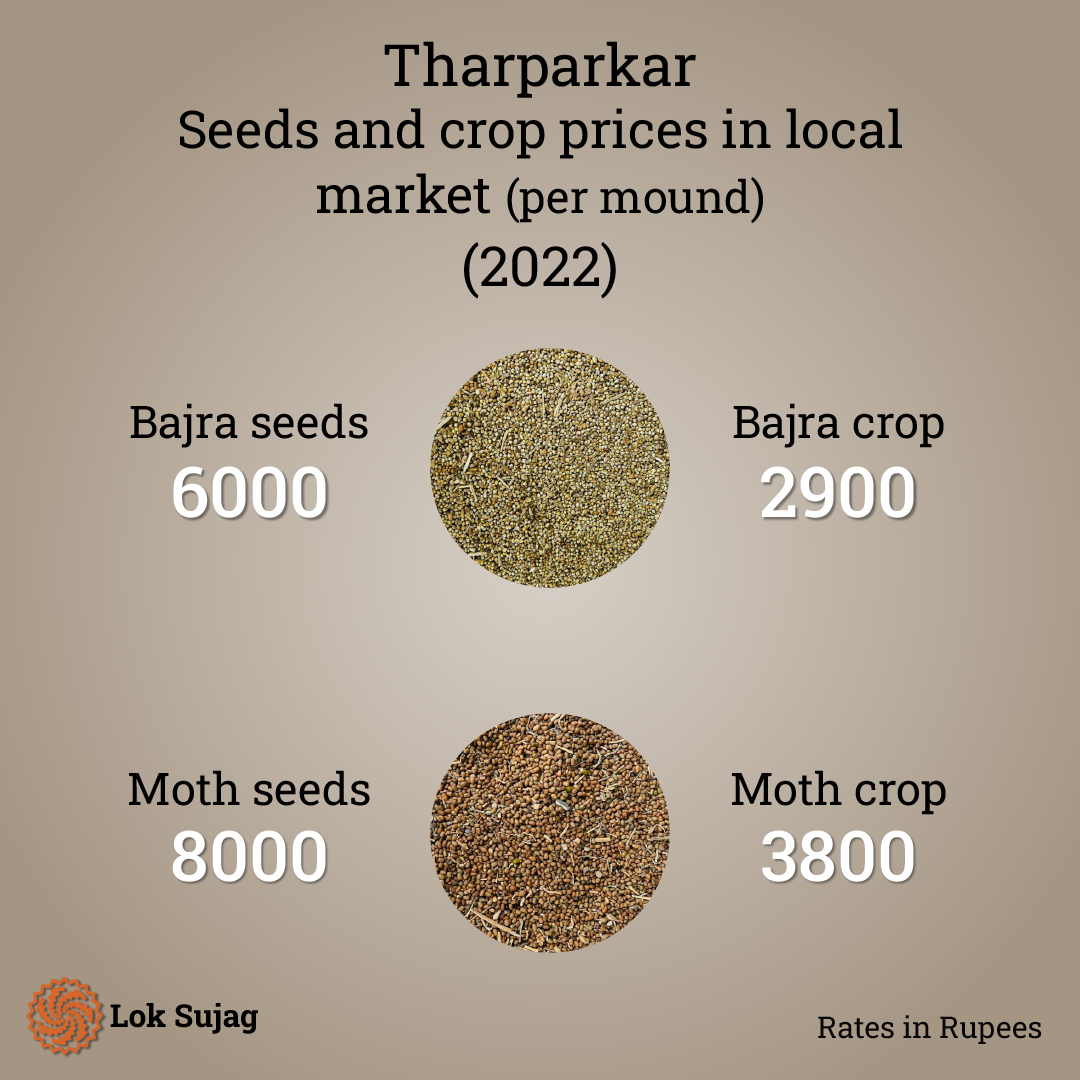 He says that the price of moth seeds has significantly increased this time, but he is concerned that four months later, when the crop is ready, its price will have fallen, as he has been observing this pattern for years.
"After four months of hard work, the income from the crop is not enough to sustain me for six to eight months. When the money runs out, I must sell my goats to manage household expenses. If there is a wedding or someone falls ill at home, I have to take a loan," says Sharif.
Gulab Ra, a farmer of the Chhachru tehsil of Tharparkar, says that farming in this area is insufficient to cover annual household expenses. Like Sharif Junejo, he has also started keeping a few sheep and goats, which are useful in difficult times.
Gulab believes that if the government sets a minimum support price for certain crops in this region every year, farming here will be more profitable.
"The government only announces support prices for wheat, sugarcane, and cotton. Although these are not fully implemented, they still provide some benefits."
He says most farmers in his region cultivate guar because the crop thrives despite the harsh heat and delayed rainfall.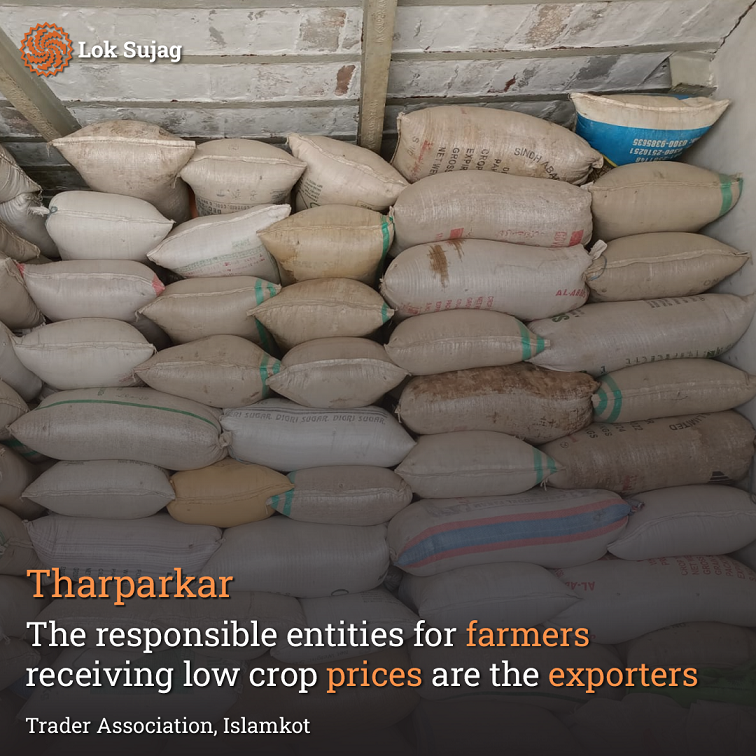 On the other hand, relatively fewer people cultivate bajra because it requires more labour. When its crop is nearing maturity, it requires careful monitoring for around two and a half months, especially to protect it from birds. However, its price is lower than other crops, and most people keep it for household consumption as food.
Baijal Kolhi, one of the guar farmers in Chhachroo, hires a seed drill tractor to sow his crops, the total cost of which is around Rs7,500 at Rs2,500 per hour.
Last year, he paid Rs5000 to have his crops sown, with a separate seed cost. His son, daughters, and wife also helped in the work.
When he took his produce to the market, he sold it for Rs21,000.
Bijal says that the income from guar is not sufficient. Therefore, he often keeps his own crop for household consumption as vegetables.
"If there is no hope of profit from agriculture, I go to the city and work as a labourer. If the situation remains the same, I will have to quit farming," he says.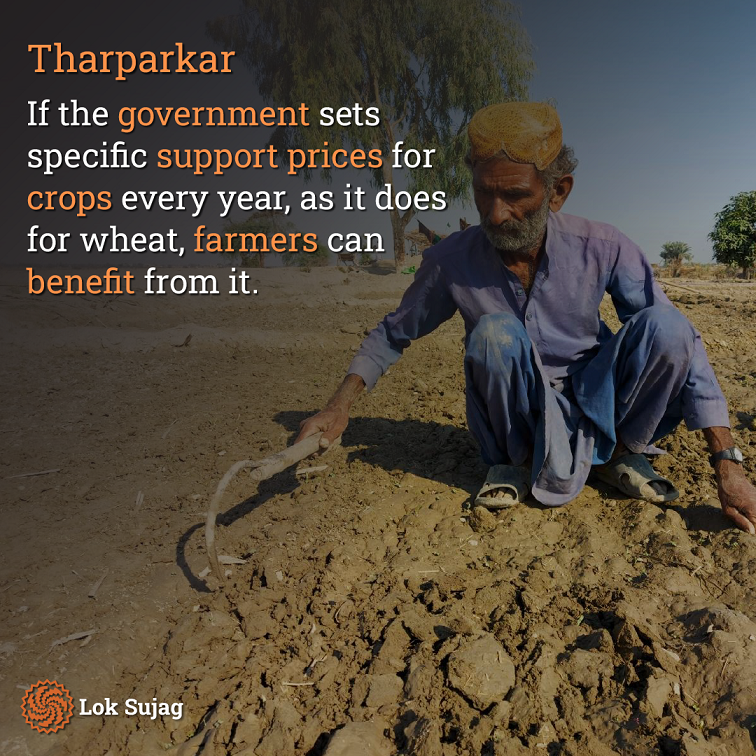 Currently, in Mithi, the guar is available at Rs.8,000 per maund, bajra at Rs.4,000 per maund, moong at Rs.6,500, moth at Rs.4,800, and sesame at Rs.500 per kg.
These specific crops of Tharparkar take three to four months to mature.
Kuldeep Parwani, President of a trader association in Tharparkar's Islamkot tehsil, holds exporters responsible for the low prices received by farmers for their crops.
He explains that most farmers in the region cultivate guar, exported abroad as its powder is utilised in various industries. Additionally, the detergent industry buys and uses guar in its products.
Kuldeep further says that once the crop is ready, exporters visit Tharparkar to assess the quality and quantity of the harvest for the current season.
If exporters perceive the crop to be of good quality, they decrease its price. If the crop is deemed subpar, farmers receive more reasonable prices.
"Moths and moongs are sold to dal mills in Hyderabad and Karachi, and these mills determine the prices for both. Bajra (millet) is sold in the general market, and traders in major cities play a significant role in setting its price."
Also Read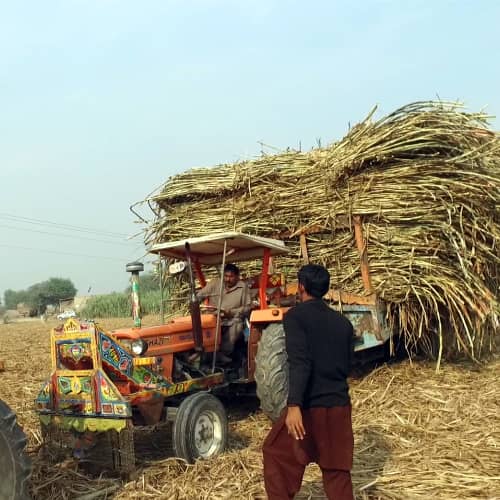 Growers await payment six months after selling their sugarcane crop to Pasrur Sugar Mill
The Deputy Commissioner of Tharparkar, Lal Dinu Mangi, acknowledges the significance of annually establishing an official price for local crops.
He says that relevant institutions are responsible for this task but fail to fulfil their duties effectively.
He assures to personally reach out to all relevant institutions this time and establish a committee dedicated to determining the official rates of crops, ensuring that the committee's decisions are enforced.
"The Price Control Committee will receive instructions to monitor the prices of these crops diligently."
Kuldeep proposes that farmers will receive fair prices if the government establishes procurement centres for local crops in Tharparkar, such as wheat, and purchases the crops at fixed rates.
He suggests that if the government establishes its storage facilities in Tharparkar and directly purchases guar and other crops from farmers, it would help regulate the prices of their seeds in the market and address the unjustified reduction in production prices.
"When the government takes the responsibility of selling these crops directly, it will not only benefit the farmers but also the local community and traders," Kuldeep concludes.