Muhammad Nabeel of Sialkot studies in Grade 12. In March of last year, he was riding a motorcycle when, on Khwaja Safdar Road, he lost balance while trying to avoid a pothole and fell onto the road.
Nabeel's sister, a grade 10 student, was also with him. In this accident, Nabeel's leg and his sister's arm bone were broken in two places.
After the accident, both had to undergo months of treatment, causing them to lose their academic year. While they have recovered physically, their mother remains anxious, fearing that Nabeel might have another accident whenever he rides a motorcycle.
A similar incident happened to Muhammad Salman, the brother of four sisters. Last year, while taking his younger sister to college, his motorcycle collided with a car on Kashmir Road. This accident resulted in a severe head injury to Salman. Since the hospitals in Sialkot couldn't provide the necessary treatment, he was referred to Lahore General Hospital. After three weeks of treatment, he physically recovered but continues to experience lingering pain in his head.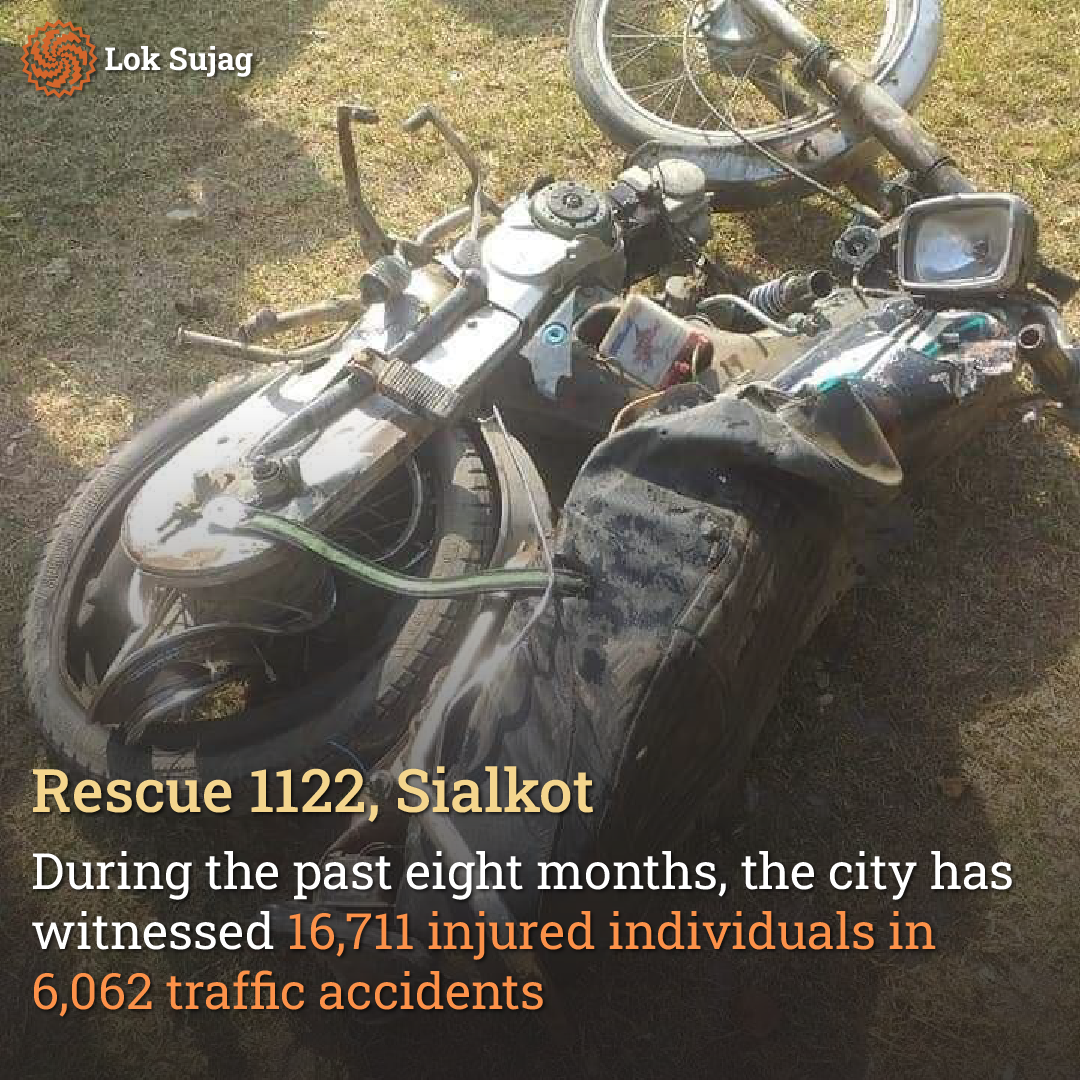 According to Salman's mother, doctors have informed them that at 25, their son will need another operation, and only then can he fully recover. She attributes this accident to the poor condition of the road where the accident happened. But this is not just the story of Khawaja Safdar Road or Kashmir Road, but most of the city's streets, where accidents occur daily.
During the past eight months, there have been 6,062 traffic accidents in the city, resulting in 16,711 individual injuries, according to Rescue 1122.
Dr Manzoor Ahmed, a neurosurgeon at the Allama Iqbal Memorial Hospital – the largest public medical centre in Sialkot – says the hospital receives 25 to 30 cases of traffic accidents daily.
According to the District Police Office, 87 traffic accidents have been reported in the past eight months, leading to the arrest of 88 individuals out of 123 suspects. Cases are being pursued against them in the courts.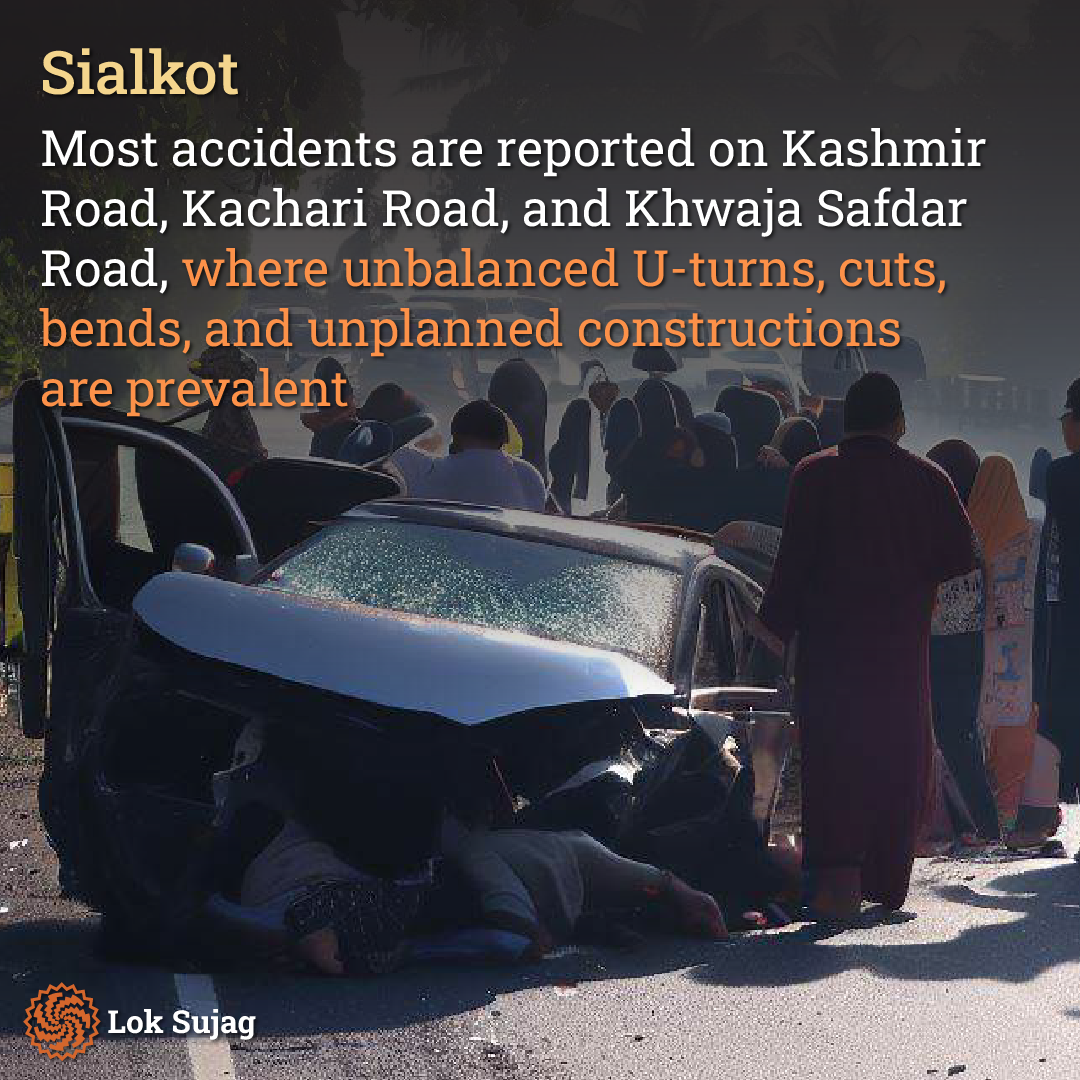 However, in Dr Ahmed's opinion, only 10 per cent of the accidents in the city are reported to his department, while the remaining 90 per cent are resolved privately among the parties involved.
In Sialkot last week, the Punjab government formed a District Accident Review Committee to investigate the causes of accidents within the district boundaries. The committee includes the Assistant Commissioner, District Police Officer (DPO), District Emergency Officer, District Superintendent of Traffic, and the Road and Transport Authority Secretary.
According to Muhammad Waseem, a rescuer from Rescue 1122, the deteriorating condition of the roads is a significant factor in these accidents. He states that in their department, most accidents are reported from Kashmir Road, Kacheri Road, and Khwaja Safdar Road, where unbalanced U-turns, intersections, bends, and small ditches are prevalent.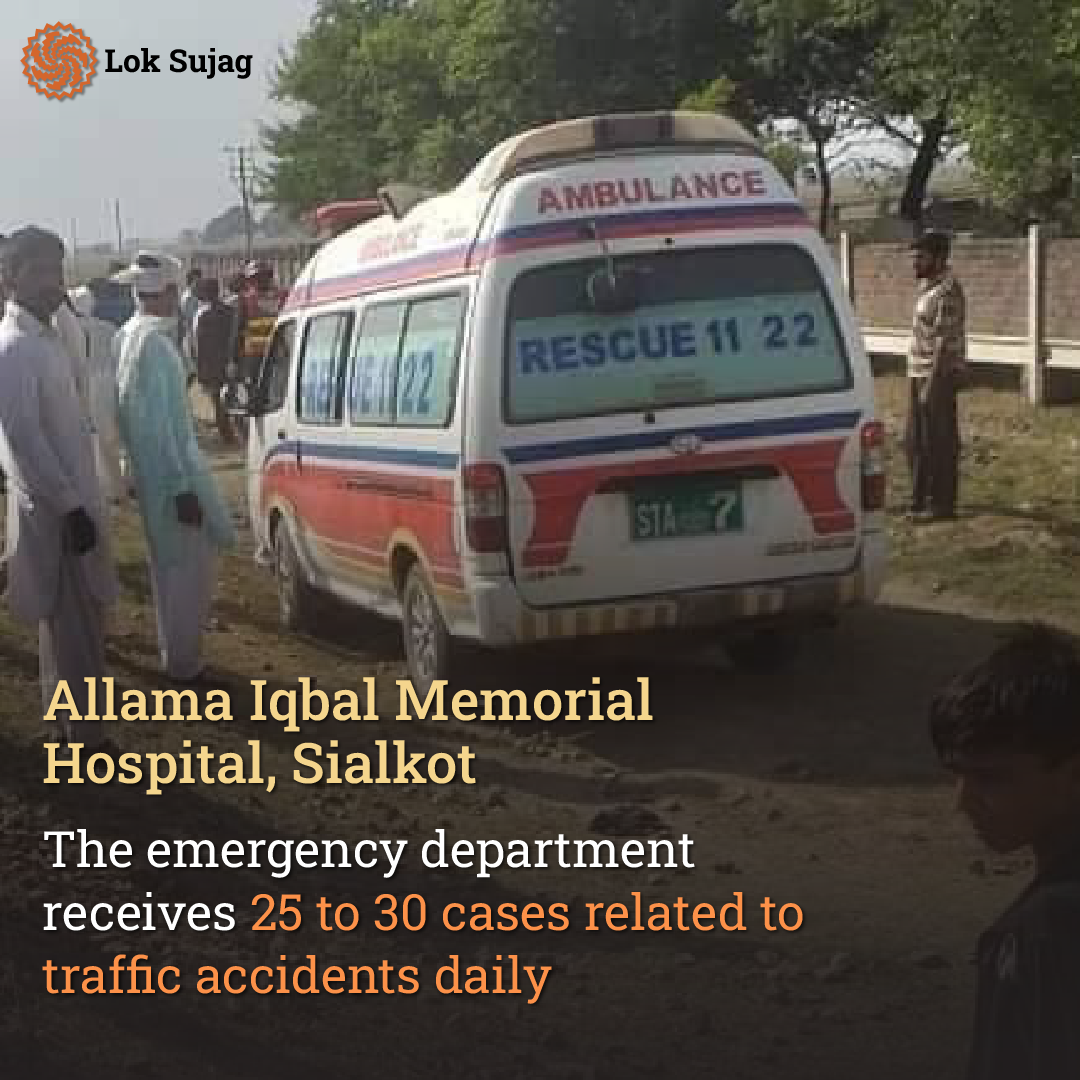 Car showroom owner Muhammad Aslam Rana, at Jail Road, confirms that most of the city's roads are either poorly developed or in disrepair. Jail Road is one of the busiest streets in the town, hosting Sialkot's largest university, courts, schools, and colleges.
Five years ago, the condition of this road was significantly deteriorated. It was restored later but dug up again to lay water supply pipelines after some time. For this purpose, a six-foot trench was dug, and after completing the work, the road was repaired. However, it was dug up once again, this time for gas pipeline installation. This situation is also prevalent on Kashmir Road and some other roads. While some of these roads have been repaired, most remain in poor condition.
In 2015, the Asian Development Bank researched traffic issues in Sialkot, identifying deficiencies in the design standards for the city's major roads.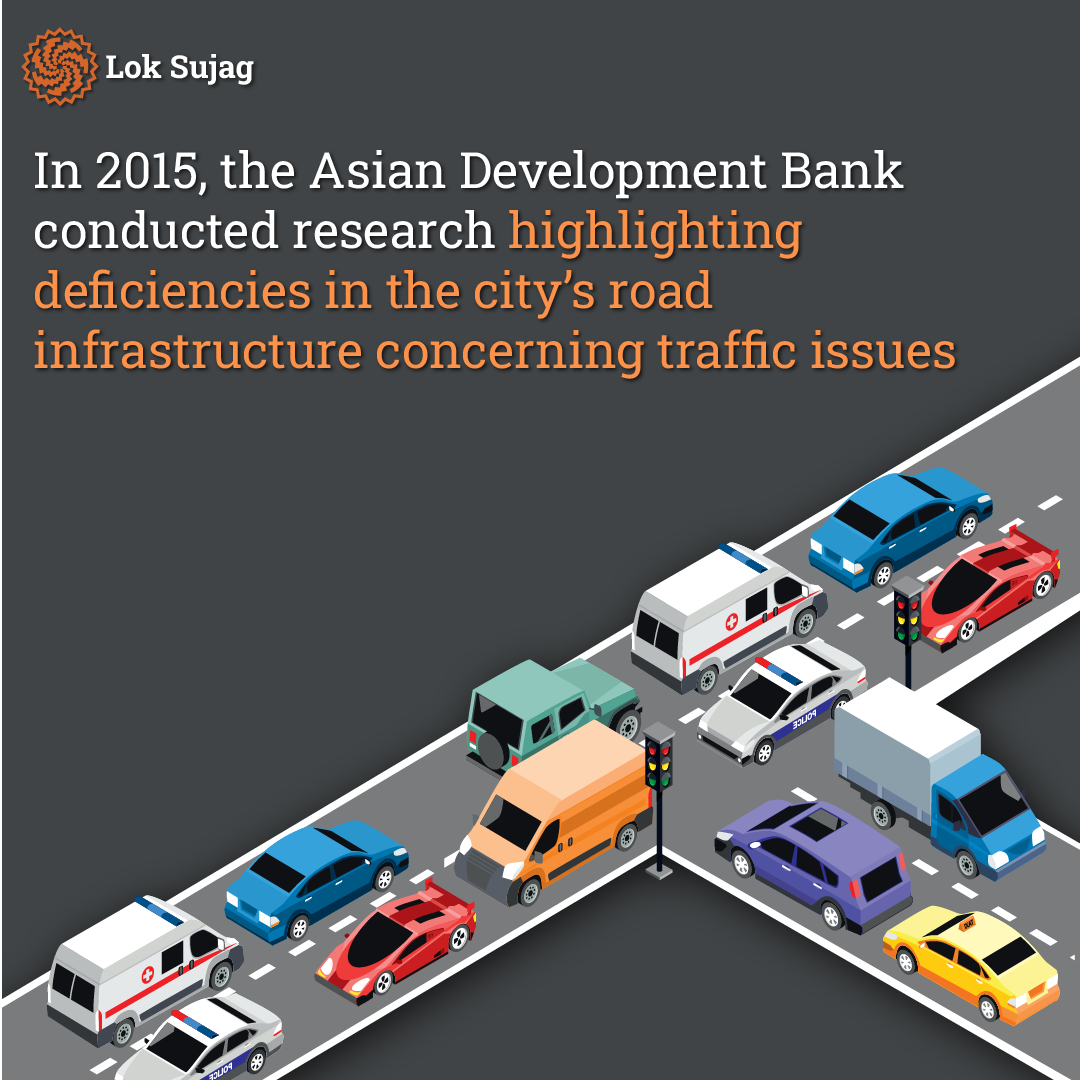 The report highlighted that standards for junction improvements were not considered during the construction of most roads. Pedestrian pathways and pedestrian crossing facilities need to be improved, footpath widths need to be more proper drainage systems from the roads, and unnecessary turns and U-turns on roads are causing problems.
The report also indicated that violations contribute to accidents, especially in parking and commercial activities along the roadside.
Noshad Park resident Muhammad Bilal Shahab Pura works in a factory in the area. He says that the number of cars and motorcycles in the city has increased so much that it has become risky for anyone to travel on foot.
"My factory is a fifteen-minute motorcycle ride from my house, but I have to leave home 40 minutes earlier due to the terrible traffic conditions. Despite that, I often get stuck in traffic somewhere," he said.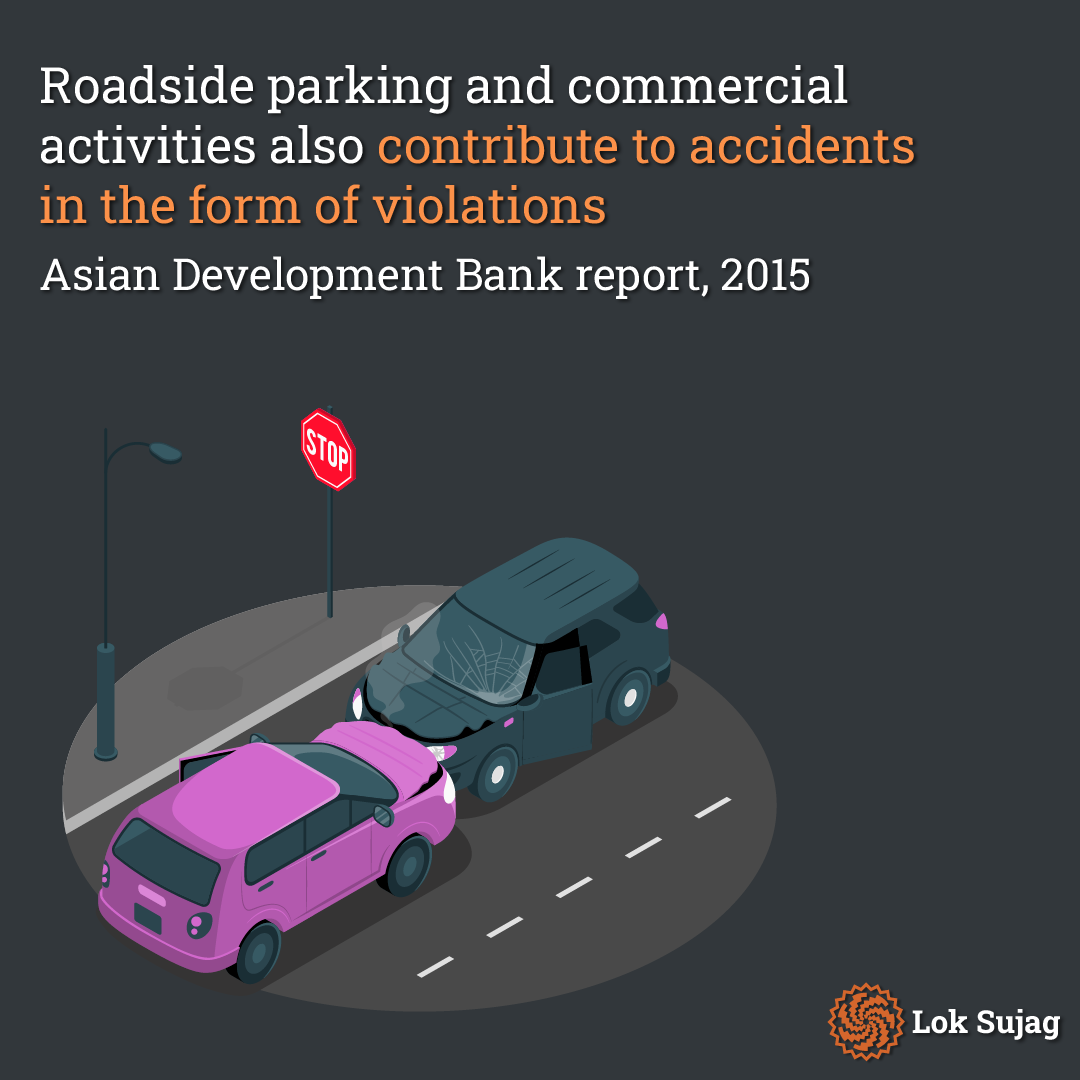 According to the Punjab Development Statistics Report 2022 by the Punjab Bureau of Statistics, as of June 30, 2021, there were a total of 7,87,663 registered vehicles (four-wheelers, three-wheelers, and two-wheelers) in Sialkot. There were 3,23,223 motorcycles, 33,709 auto-rickshaws, and 27,569 motorcars, jeeps, and station wagons. Other vehicles included pick-up delivery vans, buses, minibuses, trucks, and tractors.
According to a report issued by the Sialkot Excise and Taxation Department in 2022, there were 41,037 registered vehicles in the city in 2021. These figures are the highest in the province after Lahore and Faisalabad.
According to the Asian Development Bank's report, Sialkot has 1 million people travelling daily, of which 61 per cent use motorcycles, 13 per cent use cars or other small vehicles, and 24 per cent rely on public transport to get from one place to another.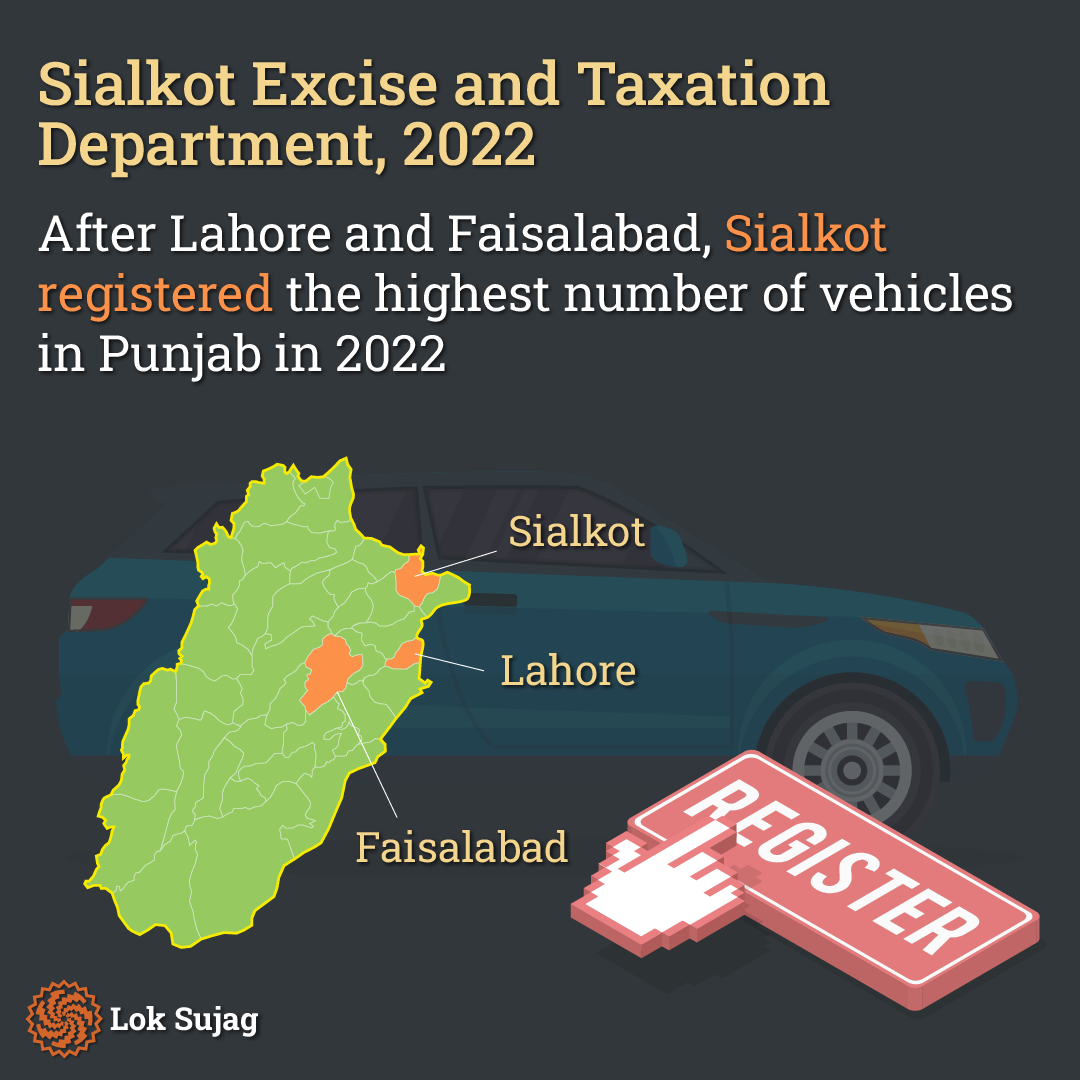 The lack of public transport in the city forces people to own private cars or motorcycles. The absence of facilities like an orange line and metro further contributes to the increase in the number of vehicles on the roads.
In Sialkot, Secretary of Road and Transport Authority Mazhar Hayat acknowledges all these issues, but he also hopes that the newly formed Accident Review Committee will help control these problems to a certain extent.
According to him, since all the departments involved in road geometry changes, infrastructure improvement, eliminating bottlenecks, and enforcing laws are part of this committee, there is hope for finding solutions to these problems.
Also Read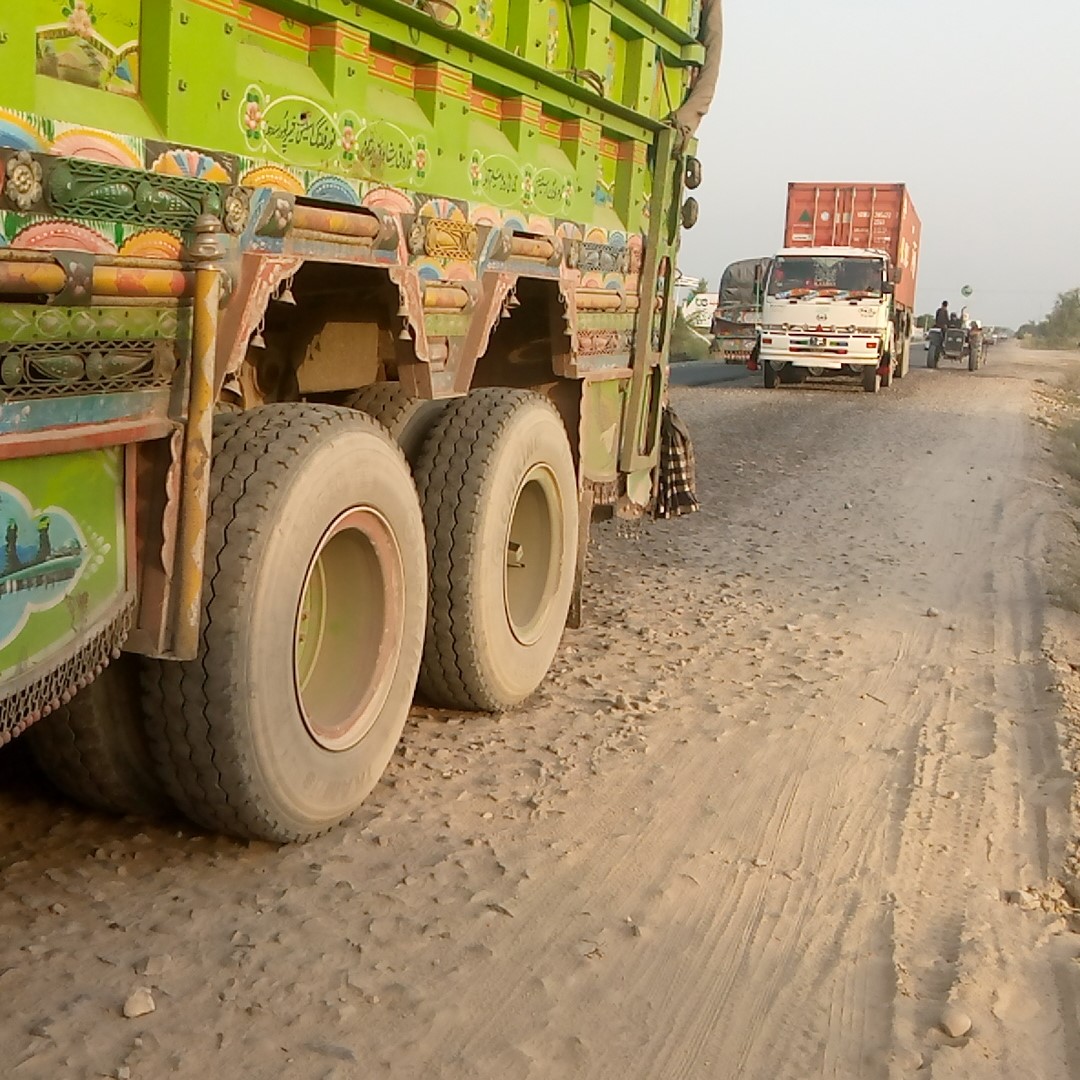 The perilous journey: Challenges and delays in reconstruction of MM Road leading to increased accidents
Muhammad Sarfraz is a traffic police warden currently on duty on Khwaja Safdar Road. He believes that one reason for accidents is the recklessness and negligence of drivers. Many accidents occur due to over-speeding. Motorcycle accidents are a significant issue because people give motorcycles and similar vehicles to their underage children. Additionally, violations of traffic laws, especially not wearing helmets, have worsened the situation.
Road safety expert Naseer Mahmood Sheikh has even written a book on this subject. According to him, Pakistan is the fourth worst country in the world regarding traffic accidents. Punjab province has an average of 1,000 accidents daily, resulting in 14 fatalities and 700 to 800 injuries.
He explains that about 90 per cent of these accidents involve motorcycles and motorcycle rickshaws. In his opinion, to reduce accidents in the entire country, the province, and Sialkot, in addition to improving road infrastructure and providing public transportation, the most critical need is strict enforcement of traffic laws.
According to Rescue 1122 worker Muhammad Waseem, the government should prioritise road safety. There is only one agency in Pakistan dedicated to road safety. The government must establish an organisation that works exclusively to prevent road accidents. Along with this, the government should also consider amending outdated traffic laws.