Badin's Usman Nadeh cultivates his eight-acre ancestral land in flood-affected Union Council Khanani Jat in Golarchi tehsil. Last year, after heavy rains, his entire village was submerged due to a breach in the Gongaru Seem drain and his paddy crop.
Like all the people of the village, Usman also left the house and came to a higher and safer place by the roadside. This year, when the rains gave a break, it was possible for him to cultivate again. He was very happy as the harvest this year was also good. But the sudden drop in paddy prices has once again worried them.
He says that, for one, the mills have dropped prices and are also deducting from above. It seems there will not be any savings this year; if there are no savings, how will the house that fell in the rain be repaired? He regrets that he will not be able to marry his daughter this year, too.
Golarchi Tehsil of Badin District in Lower Sindh is famous for its record paddy production and is considered the second-largest rice market in Sindh after Larkana District.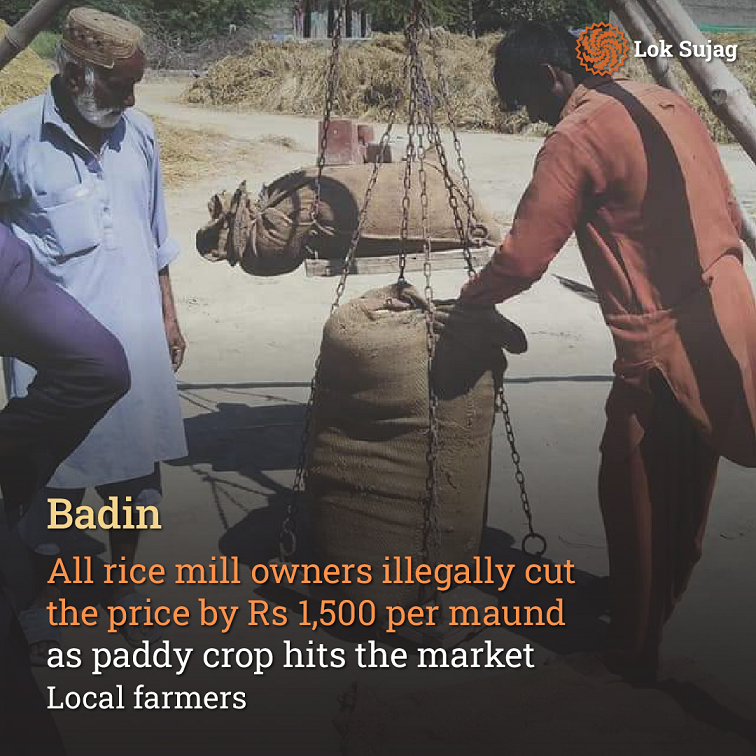 Usman says that due to the delay in the canal water supply this year, the sowing of the crop was also delayed, so the crop also ripened late. As a result, harvesting, which used to start in the first week of October, started with a delay of fifteen days in the last week of October. As soon as the process of paddy harvesting started, the rice mill owners here not only reduced the rates on one hand but also started cutting three kilos per maund of paddy, causing a loss of crores of rupees to the local farmers.
Not only Usman but many farmers here are worried about these unnecessary deductions and have started protesting against them. In this regard, on the call of Qaumi Awami Tehreek, on October 23, 2023, farmers took out a protest rally from Shaheed Fazil Rahu Chowk in Golarchi and later staged a dharna in front of the Press Club and blocked Ahmed Raju Road for an hour.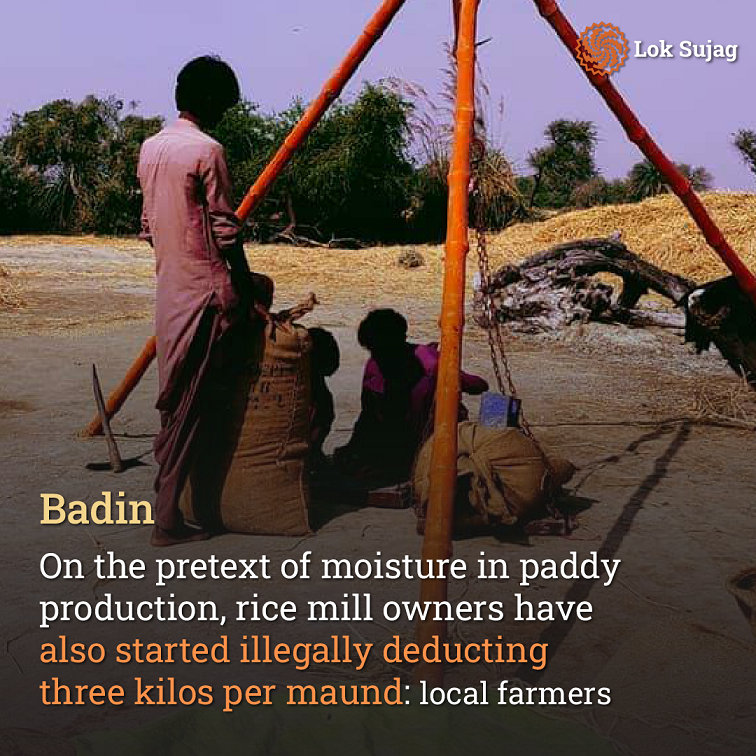 Asghar Notakani, a farmer leader participating in the protest, said that like every year, this year too, all the rice mill owners have illegally reduced the price by Rs 1,500 per maund. The rate of paddy was 4500 rupees per maund, which these people colluded with each other to 3000 per maund. In the market of Karachi, the rate is fixed at 5000 rupees per maund, and in the Larkana region, at 3200 rupees per maund.
He also said that these people have illegally started deducting three kilos per maund by using the pretext of moisture in paddy production. He also said that if action is not taken against the rice mills mafia, making illegal deductions and reducing prices, he will launch a protest movement in the lower Sindh.
In the four districts of Badin, Thatta, Tando Muhammad Khan, and Sajawal of Lower Sindh, which are often affected by the agricultural water crisis, a total of about 8 lakh acres of paddy is cultivated. Among them, the Badin district has the highest share.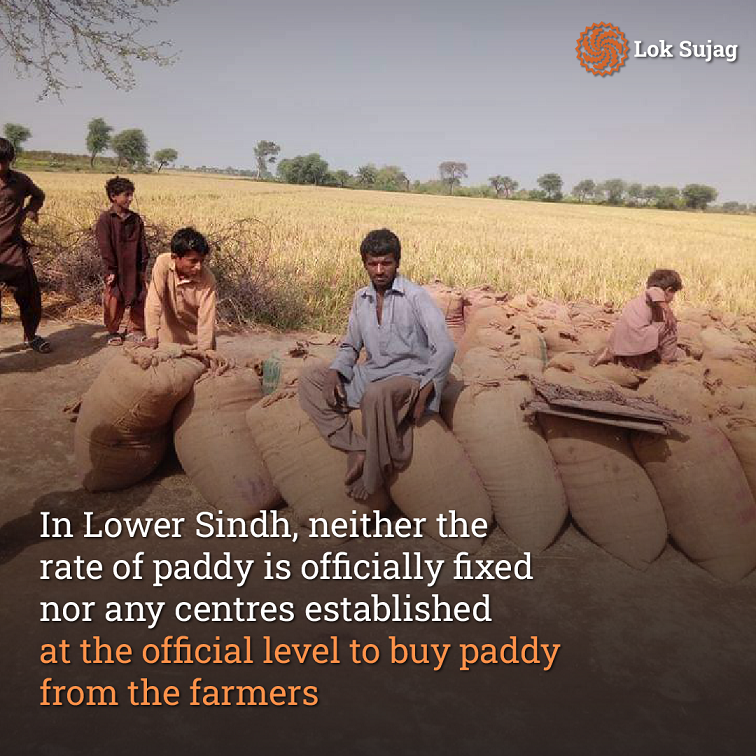 Last year, in the flood caused by heavy rains, paddy was harvested on lakhs of acres. In Lower Sindh, neither the rate of paddy is officially fixed, nor are any centres established at the official level to buy paddy from the farmers. Due to this, influential rice mill owners do all the buying and selling of paddy here. The mill owners collude to fix the rates and also take deductions, due to which the farmers suffer huge economic losses every year.
There are 240 rice mills in Badin, Tando Muhammad Khan, Thatta, and Sajawal districts of Lower Sindh, where paddy is purchased on a large scale yearly. There are 105 large rice mills in Golarchi tehsil alone, of which 80 are in Golarchi town, 20 in Kadio Ghanaur, and five in a small town called Khorwah. In total, each rice mill gets a target of procurement of 2 lakh maunds of paddy.
Muhammad Saeed Jat belongs to Khanani Jat village, 20 km from Golarchi. He is a small farmer who has grown paddy on their 80 acres of land.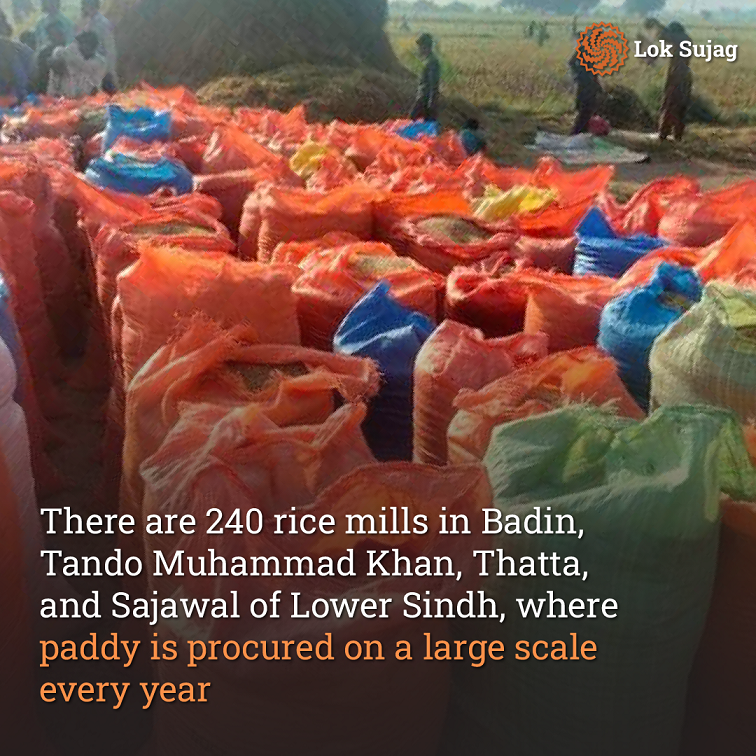 Saeed Jat said that due to the inflation caused by the increase in the dollar value compared to the past, the cost of the crop has doubled this year. He said that they do not grow crops on cash but take all the expenses from the rice millers who receive them with double interest when the crops are harvested; as a result, they take a large part of the production every year as expenses, and the farmer is left with nothing.
He said that due to inflation, oil, agricultural drugs, and fertilizers are not only being sold at twice the price, but interest is being paid separately. The total cost of paddy cultivation per acre is more than 1.5 lakh this year; now, it is known that the mill owners have reduced the price of paddy and are also deducting from it, causing a huge financial loss to the farmers.
On the other hand, the President of Rice Mills Association Golarchi, Seth Keshumal Akrani, believes that due to the sudden fall in the dollar value, rice prices in the international market have fallen, which has also affected the local market.
He said that Karachi exporters bought rice from him at Rs 160 per kg a month ago. At that time, paddy was up to Rs 4500 per maund. After that, the price of rice has abruptly fallen to Rs 125 per kg, due to which the rate of paddy has also come down.
He says that they are buying Rs 3000 per maund of paddy from the farmers, which is a reasonable rate and not a loss but a profit. He said that the farmers here bring the wet material to the market, which they dry and then extract the rice. Up to 20 per cent moisture is free, while at higher moisture, they deduct one to two kg per maund.
Also Read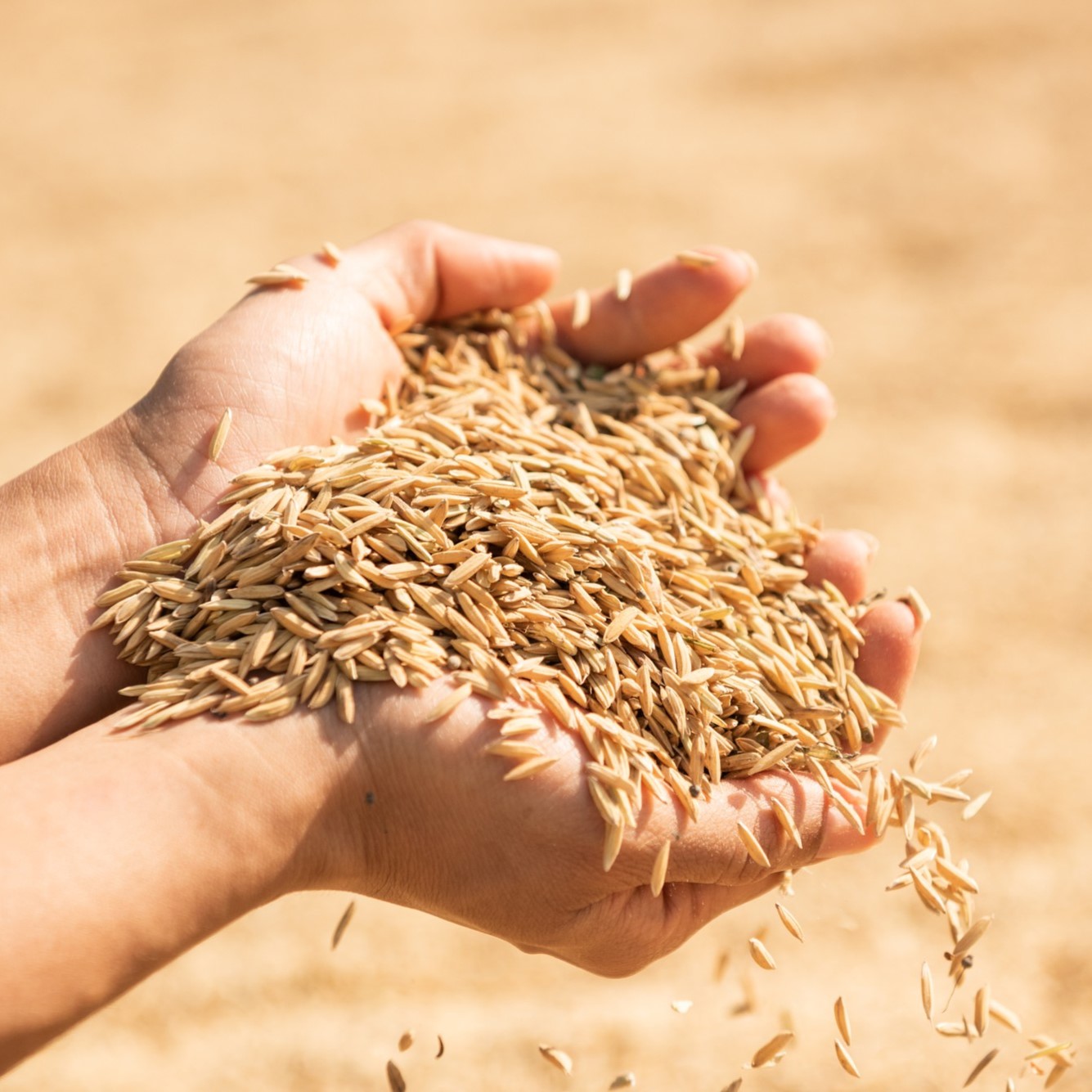 Rice farmers in Hafizabad suffer losses due to crop disease and low market prices
Imtiaz Ali Bhutto, Additional Director of Agriculture of Badin District Agriculture Department, said that it is not our job to set the rate of agricultural commodities, while the authority to take action against the mill owners who perform deductions in the market or reduce the rate is with the Revenue Department.
In this matter, Deputy Commissioner Badin Fattah Halio says that agriculture is the backbone of the economy, and the government will never want the farmer to suffer. He said that this year, with the consent of rice mill owners and farmers, it has been decided that no deduction will be made on 40 kg. Moisture will be 18 to 22 per cent free; if anyone does not comply, he will be fined, and other legal action will be taken.