In the village of Saire Tarar in the central district of Hafizabad, Punjab, a farmer named Abid Ali Phalrwan, in response to the increasing demand and prices of rice in local and international markets, decided to cultivate rice on three out of his four acres of farmland. He hoped to achieve a better income this time, enabling him to secure a brighter future for his son and possibly allowing him to enrol in a good university.
However, his hopes were dashed because, first, his yield was meagre, and second, he couldn't get the expected price in the market. Therefore, he had to abandon his plan to enrol his son, who had passed the intermediate exams, in a college or university.
Abid Ali explains why his crop yield was low. When the crops entered the stage of the seedling plantation, the leaves and branches of the crop had turned yellow, preventing the formation of the desired quantity and size of grains. As a result, his crop, which could have been around 60 maunds, only reached 35 maunds. Additionally, he only received a price of four thousand per maund in the market.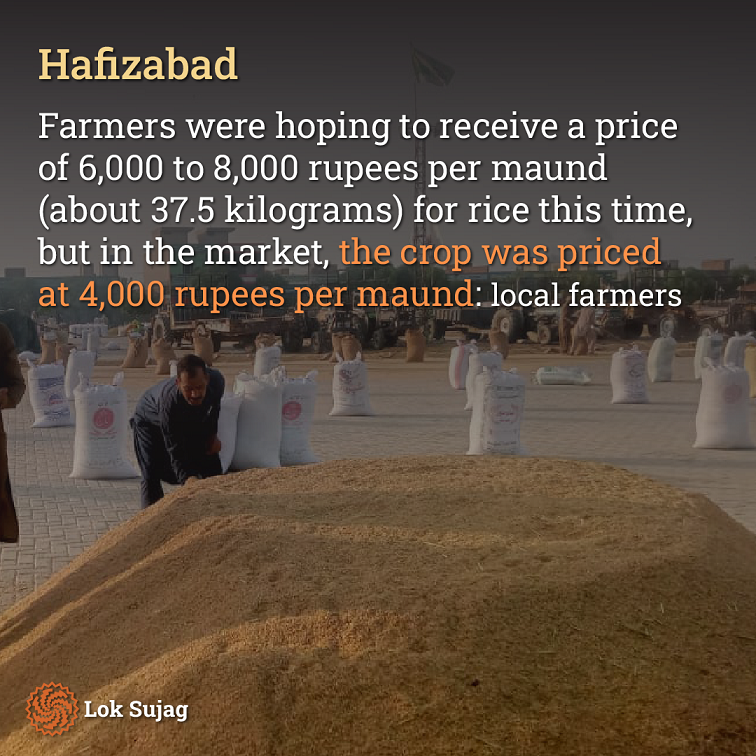 "Farmers had hoped to receive a price of six to eight thousand rupees per maund this time, but luck was not on their side. My crop was attacked by a disease known as "Threshing leaves," which could not be cured with any agricultural remedy, and at that time, there was no guidance from any agriculture department officer."
Abid Ali's household consists of five individuals. Apart from his eldest son, he has two more children who have not yet started school. He mentioned that his monthly expenses at home range from 60,000 to 70,000 rupees. From the rice crop, he used to earn 210,000 rupees in six months, and before that, they made 1.5 lac rupees from a three-acre wheat crop.
He says he needs 1 million rupees to cover his annual household expenses. This year, he earned 360,000 rupees from farming. Now, he is contemplating how to afford his children's education.
Abid Ali is considering sending his son to work in a factory to supplement their household income. This is because the rising prices of essential commodities have caused a significant increase in his domestic expenses, and his electricity bill has also risen to at least 15,000 rupees.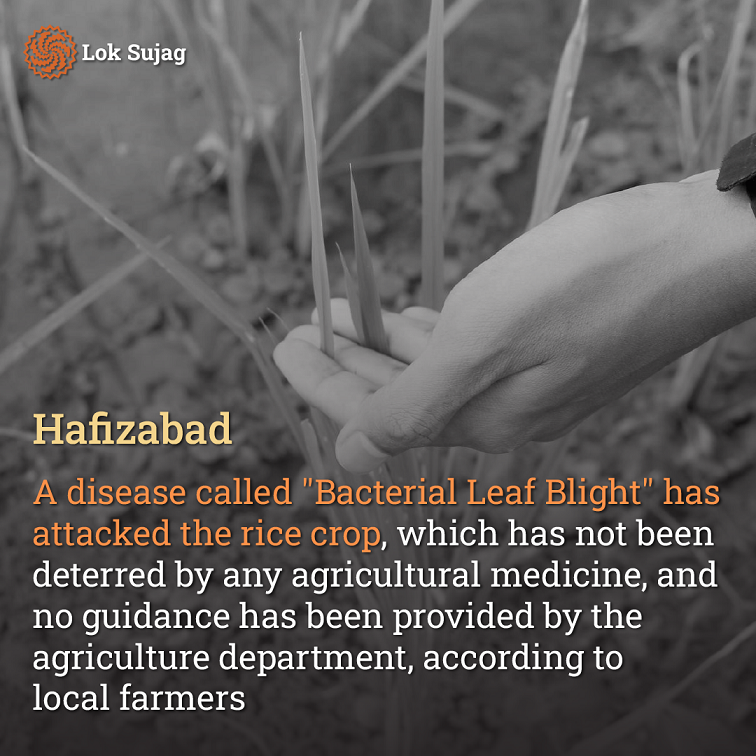 According to Dr Shahbaz Hussain, the Program Leader at the Rice Research Institute near Kala Shah Kaku, under the auspices of the Pakistan Agricultural Research Council in Lahore, the disease "Threshing leaves" is referred to in scientific terms as "Bacterial Leaf Blight," caused by a specific bacterium known as Xanthomonas oryzae pv. oryzae.
According to him, affected plants display small, blackish spots with yellow halos on the upper surface of the leaves. This disease can occur in different parts of the field rather than affecting the entire crop. If the attack happens when the plant is in its initial growth stage or flowering, it can cause significant damage, reducing the crop yield by up to ten per cent.
Dr. Shahbaz mentions that this disease has been occurring in previous years as well, but this time, it has become more prevalent, and there is concern about various types of rice being affected by this disease, including basmati varieties.
Asif Kamboh, a farmer in the Hafizabad district, is one of the innovative farmers in the region. This time he has cultivated rice on his 12 acres, and he is also worried that his crop yield will be disappointing.
He has not yet harvested the crop, but according to him, the blight disease has also affected his field to a great extent.
Asif Kamboh points out that this disease has spread throughout their entire region, affecting not only the farmers but also causing concern for agricultural workers and labourers who rely on this crop for their livelihoods. Additionally, the country will suffer because rice contributes significantly to international trade.
According to him, farmers are losing motivation due to the high input costs for rice cultivation and harvesting and the lack of a suitable market price. He feared that this year's crop, which has already incurred significant losses, he will grow less rice next year.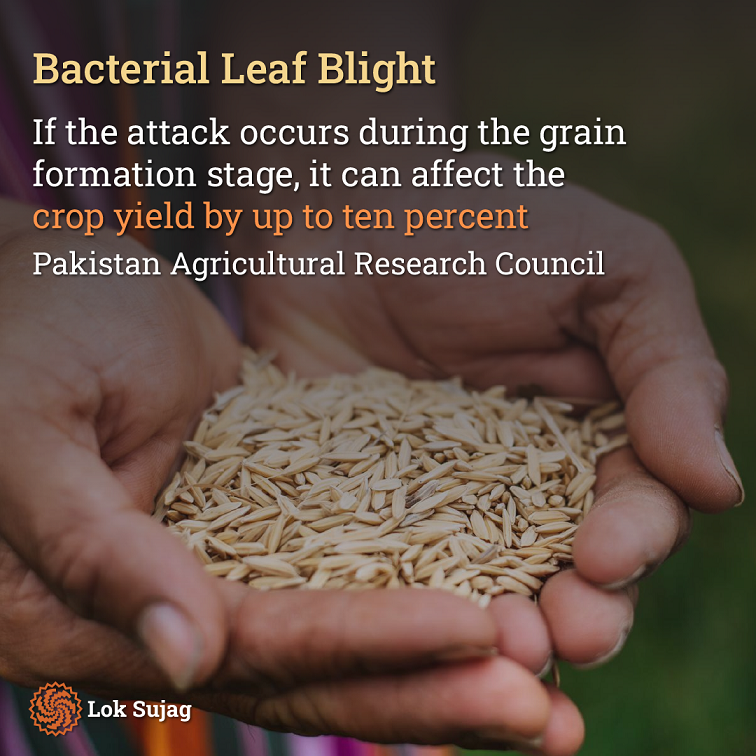 The rice sector in Pakistan is critically important in terms of income generation, domestic employment, rural development, and poverty alleviation. Rice is a staple food in Pakistan and a significant cash crop. According to the Trade Development Authority of Pakistan (TDAP) Annual Export-Import Report for 2023, rice is the second-largest export commodity in Pakistan after cotton. It contributes 0.4 per cent to the Gross Domestic Product (GDP).
Difficulties of the City of rice
While travelling from Lahore towards Islamabad via motorway, at 80 kilometres from Lahore, a prominent signboard displayed "THE CITY OF RICE." This immediately hints that Hafizabad is a major market for rice in the region.
Hafizabad was granted the status of a district in 1992, having previously been a tehsil (subdivision) of Gujranwala.
According to the Provincial Agriculture Department, during the autumn season, 94 per cent of the total area in Hafizabad district is dedicated to rice cultivation. The district covers a total cultivated area of 467,939 acres, and last year, rice was cultivated on 373,000 acres.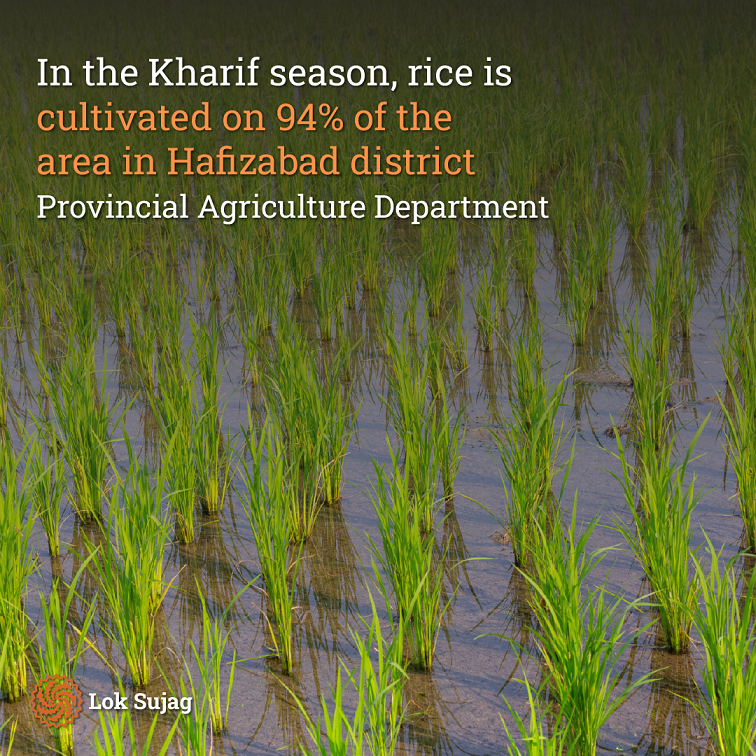 After gaining district status, Hafizabad has seen an almost twofold increase in rice cultivation. In 1992, 211,000 acres were dedicated to rice, now reaching 373,000 acres.
The district is renowned for its Basmati rice, famous worldwide for its taste and aroma.
According to the latest population census, Hafizabad has a population of 1.32 million. As per the Labor Force Survey 2020-21, the district has 377,400 labourers, of which 39 per cent are engaged in agriculture and 28 per cent are related to the industry. Most of the industrial activities in the district are related to rice.
Hafizabad is home to more than 40 large and small rice mills, employing thousands of workers.
The non-governmental organisation of farmers, "Kisan Board", is represented by Vice President Amanullah Chatha, who hails from Hafizabad. He is concerned that this disease will affect rice crops across the province, but the impact will be most significant for the farmers of his district and the majority of labourers who rely on this crop for their livelihood.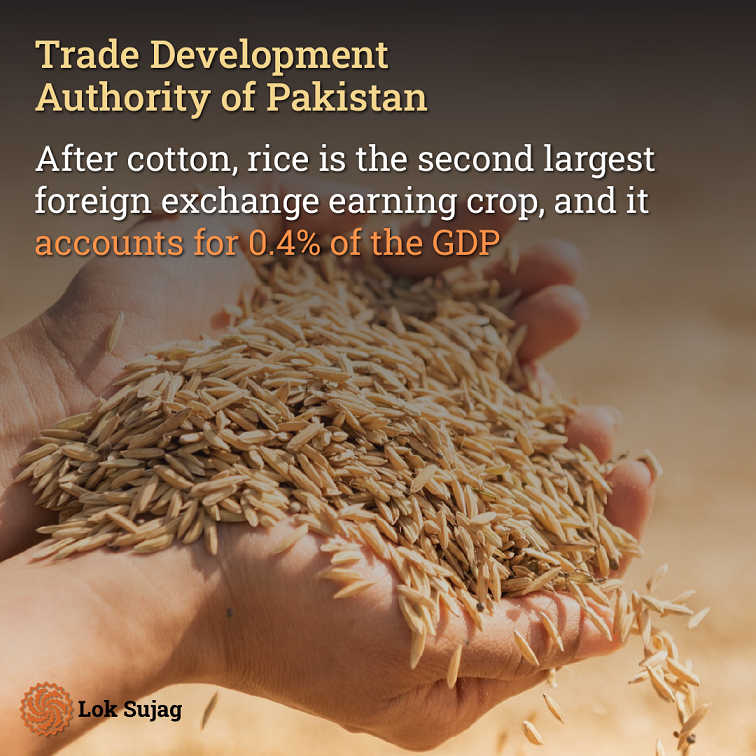 In his view, the Agriculture Department should have taken effective measures at the beginning of this disease, but during these challenging times, the department left the farmers to cope with it independently.
Amanullah says that when the crop wasn't ready, the prices for premium rice varieties were around 5,000 rupees per 40 kg. However, as soon as the crop arrives in the market, prices drop drastically, often to as low as 3,500 rupees per 40 kg.
He explains that rice is a crop that farmers cannot keep for an extended period in the hope of getting better prices. Rice must be dried before storage, and the drying machines are not readily available to most farmers.
Also Read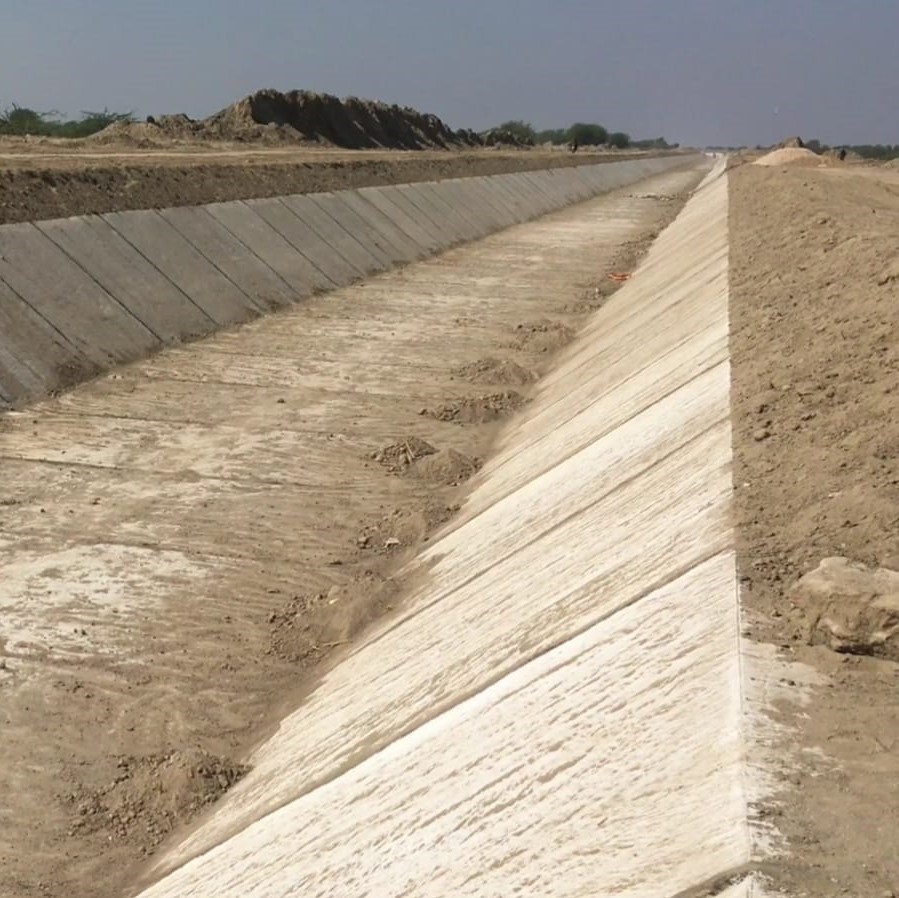 Rice cultivation at risk: Water struggles pose threat to farmers in lower Sindh
Additionally, the crop buyer, whether a local trader or an exporter, doesn't pay much attention to purchasing rice, forcing the farmer to sell it to wealthy investors and rice dealers within a few days. According to him, rice millers and exporters also delay payments for the crop.
He says that wealthy mill owners buy rice at suitable rates and then sell it in the market according to their preferences after a few months. This practice often exploits the hard work of the farmers, as they receive lower prices for their crops while the mill owners and traders make significant profits.
According to a report released by the US Department of Agriculture's Foreign Agricultural Service on September 28, 2023, the current crop season in Pakistan has begun, and an expected production of 9.0 million metric tons is anticipated for the upcoming year. Farmers can take some comfort in the fact that international markets offer good rice prices. Additionally, India has imposed restrictions on its exports, potentially providing Pakistan an advantage in exports.
The estimated rice exports from Pakistan for the next fiscal year are approximately 4.8 million metric tons, which is close to the levels in the 2021-22 season when the country had a record production of 9.3 million tons of rice.