Twenty-year-old Hafsa used to dream of becoming a lecturer just a few months ago. However, after completing her graduation, she had to abandon her education. Now, she works in a private school, earning 8,000 rupees per month, and provides tuition to children at home.
Hafsa is a resident of the Ilahi Abad area in Faisalabad. Her father works as a labourer in a textile mill, earning 30,000 rupees per month to support his household.
Hafsa shares that she used to commute to Government College Samandabad, which makes a daily 20-kilometre round trip. However, when petrol became expensive, the rickshaw driver doubled the fare. Paying a monthly cost of 18,000 rupees to commute was not feasible for her father.
As a result, she started using public transport. In the city, most public transport consists of "Chingchi" (motorcycle rickshaws). To commute to college, she had to switch rickshaws four times and sometimes walk several kilometres. Her father did not like this.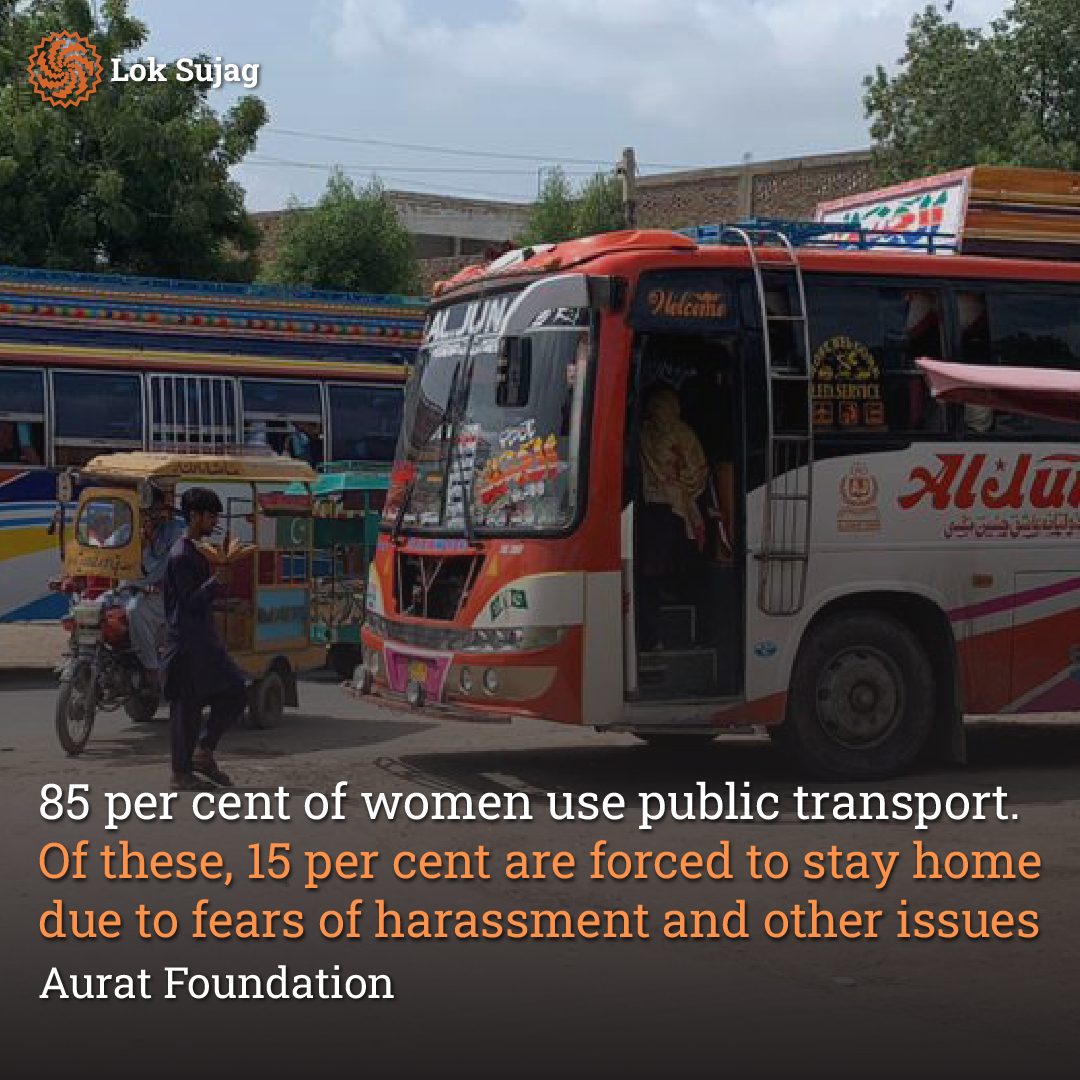 Hafsa says that travelling in motorcycle rickshaws is not easy for girls. She faces harassment from drivers, passengers, and sometimes even passersby. People stare, comment, and harass her to the extent that sometimes she feels disgusted even to leave home.
She admits that if there was proper public transport in the city, she could have completed her education with ease.
According to a study by the NGO Women's Foundation, 85 per cent of women use public transport, and 15 per cent are forced to stay home due to harassment and other issues. The absence of public transportation in Faisalabad is a problem for women, students, and working professionals. It doesn't only cause problems for women but also poses significant difficulties for students and working professionals.
Muhammad Irfan, a student from the rural area of Khanewal, is among those students who commute daily to college by sitting on the roof of a bus.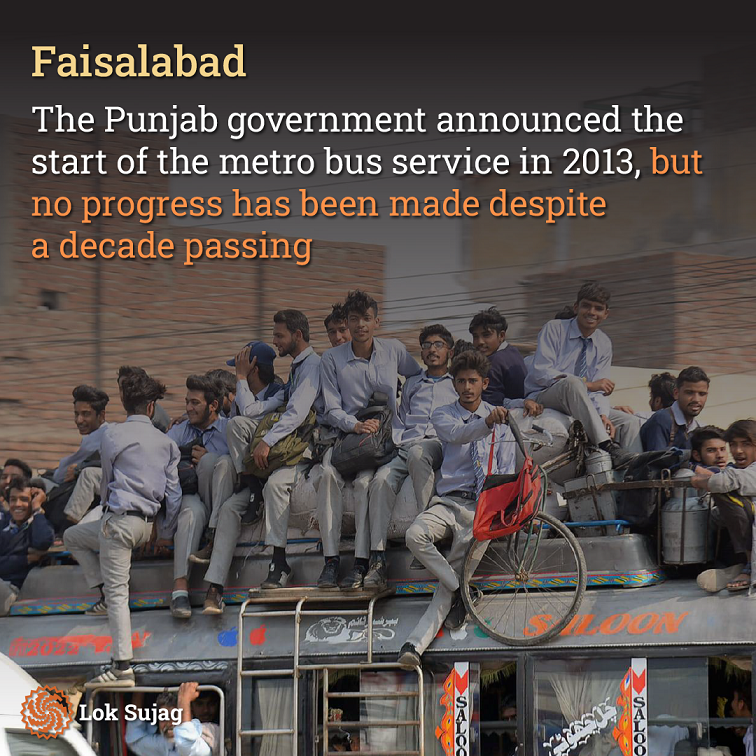 He mentions that there is usually no place to sit inside the bus. If he can find a seat, he must pay the full fare. If he can't find a seat, he spends 100 rupees on a motorcycle rickshaw. That's why he and other students prefer to travel by sitting on the bus roof.
60-year-old Muhammad Akbar is a deputy postman in the Katchery Bazaar area. Due to the lack of public transport, he has to travel 60 kilometres daily on his motorcycle. He says that at his age, such a long journey is not easy, but he has to do it due to the absence of other means of transport.
According to government records, Faisalabad (Lyalpur) city was designed in 1890 on 100 acres around the Clock Tower to accommodate the essential needs of 20,000 residents. At that time, public transport mainly consisted of horse carts.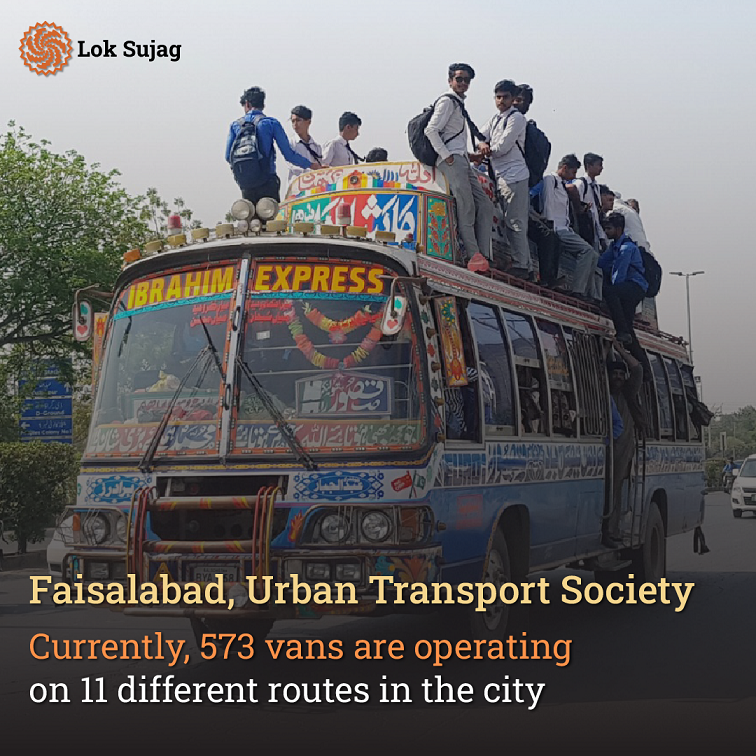 According to documents from the district administration, the first public transport service in Faisalabad was initiated in 1968. It consisted of six Mercedes buses. Ten years later, the number of buses increased to 113, including 38 double-decker buses.
Records indicate that after 1977, the Punjab Road Transport Corporation added 50 buses to the public transport system in Faisalabad. This service was operated under the "Punjab Road Transport Corporation" banner. However, due to a shortage of funds, permission to auction the buses was granted on September 14, 1991, marking the end of the Public Transport (or GTT) system.
Following the discontinuation of GTT, small transporters began operating pickup trucks in the city. However, due to the absence of regulations and a permit system, these vehicles were often overcrowded and posed safety hazards for passengers. This was a difficult time for women, children, and elderly citizens in the city.
Introducing new comfortable vehicles, reasonable fares, and improved service led to widespread acceptance of this transport system. Within five years, the number of vehicles operating under the society reached 1,800, with a daily passenger count of up to seven hundred thousand.
In 1998, a team from the Asian Development Bank arrived to assess the loan repayment situation in Pakistan. They were intrigued to find that the loan repayment rate in Faisalabad was over 97 per cent, while the rest of the country was at seven per cent.
Upon this discovery, the bank's team arrived in Faisalabad and prepared a study report for the Urban Transport Society. They offered a loan of 400 million dollars to enhance the system further. In addition to this financial support, they recommended the operation of larger buses.
However, Pakistan conducted nuclear tests on May 28, 1998, leading to international economic sanctions. The search for sources of income began, and the government became aware of the Asian Development Bank's offer of a 400-million-dollar loan.
At that time, the then Chief Minister, Shahbaz Sharif, initiated the immediate launch of a private franchise bus service to secure the loan. The permits for operating vehicles on these routes were revoked, severely impacting public transport services in Faisalabad.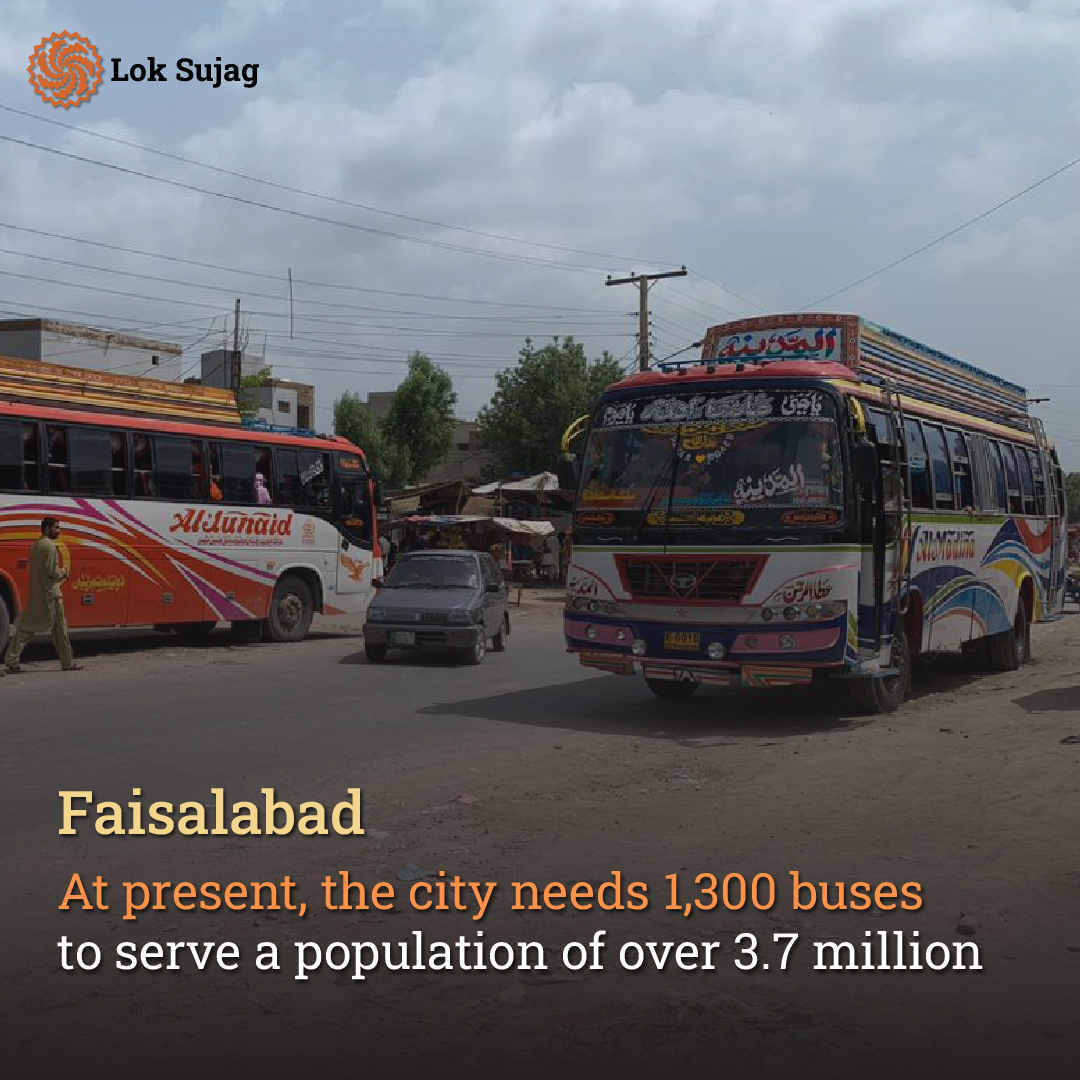 Under the franchise bus service, Bashir Sons, Manthar, and Kohistan Transport companies took low-interest loans from commercial banks to operate large buses. The government had also provided them with significantly reduced rates for bus station leasing in central areas of the city.
As per the agreement, nearly 40 buses operated on each route in Faisalabad, totalling approximately 400 buses. However, within a few years, the number of vehicles decreased. Initially, a ten-minute gap between the arrival of two buses was stipulated on each route, but this interval was extended to half an hour due to the decrease in the number of buses.
In 2005, the number of daily commuters within the city exceeded 1.5 million, but there were only 220 vans and 26 CNG buses operating in the city under public transport.
Seeing this situation, people began using motorcycle rickshaws for travel within the city. Today, after two decades, their numbers have reached the thousands, yet there is no system for registering motorcycle rickshaws.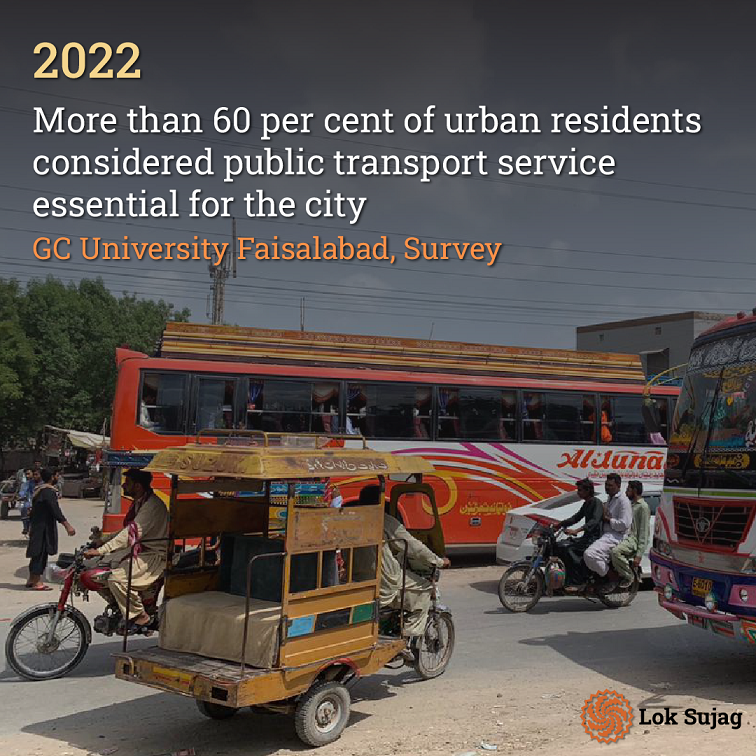 In 2015, the Supreme Court decided on fitness, licenses, and carrying a maximum of four passengers on motorcycle rickshaws, but this decision could not be implemented.
In 2022, students from GC University Faisalabad conducted a survey in which more than 60 per cent of the city's residents considered motorcycle rickshaws as the primary means of travel, and they deemed public transport services an essential requirement for the city.
The Punjab government announced the launch of the Metro Bus Service in Faisalabad in 2013, but even after ten years, there has been no progress in this regard.
Also Read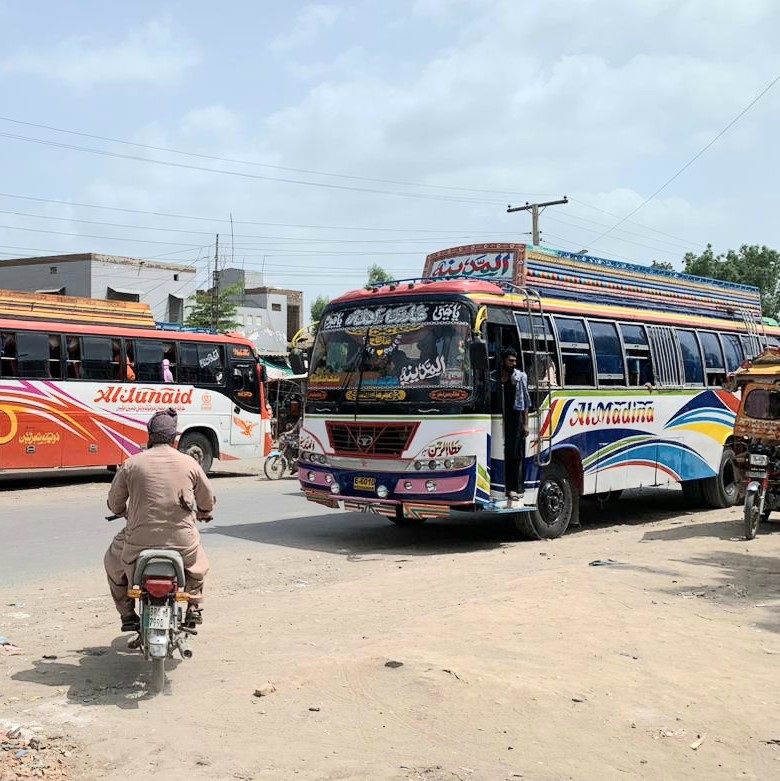 Dumping ground for dirt and waste: Liaquatpur's general bus stand struggles to meet passenger needs
Commissioner Faisalabad, Salahat Saeed, acknowledges the severe shortage of public transport. He mentions the city's need for at least 250 buses and 1,000 high-capacity vans. In this context, proposals have been sought from transporters.
He mentions that a committee was formed to determine routes and related matters. Proposals for operating pink buses or vans for women are also under consideration.
According to a World Bank report, in 1997, Faisalabad city required 744 buses to meet the population's transportation needs of 2.1 million. In 2023, with a population of over 3.7 million, the city needs approximately 1,300 buses for public transport.
According to Rahat Ali, the administrator of Faisalabad Urban Transport Society, there are currently 573 vans operating on 11 different routes in the city. These vans provide transportation facilities to more than 25,000 citizens daily.
He mentions that a five-year contract proposal has been made to increase the number of vehicles. In this regard, 35 new routes have been established, and transporters have also been mandated to monitor the operation of motorcycle rickshaws on these routes.
Abdul Jabbar, the Secretary of the Regional Transport Authority, states that eight private transport companies have submitted proposals to operate 380 buses with 40 seats each for public transport. However, a program to run 100 coasters on ten new routes has not been finalised yet, and no specific date has been announced.