Yar Mohammad, a farmer from the outskirts of Dhalian near Attock, owns an agricultural land of 50 acres. He has cultivated peanuts on 18 acres; the remaining 32 are fallow.
According to Yar Muhammad, since this area is rain-fed (agricultural land whose cultivation depends on rain), he only cultivates a crop that aligns with the amount of rainfall. This ensures that he can avoid significant losses during unfavourable weather conditions.
Last year, he cultivated peanuts on 25 acres, but this time, he has reduced the cultivated area. He explains that this decision was influenced by the inadequate rainfall during the previous season and the lack of suitable prices when his crop reached the market.
Yar Muhammad states that while human beings cannot control the weather, he firmly believes that if reasonable prices are available for the crops, he could also cultivate peanuts on 35 acres.
However, he won't plant peanuts on the remaining 15 acres. He explains that this area has rocky terrain where rainwater accumulates, making it unsuitable for peanut cultivation.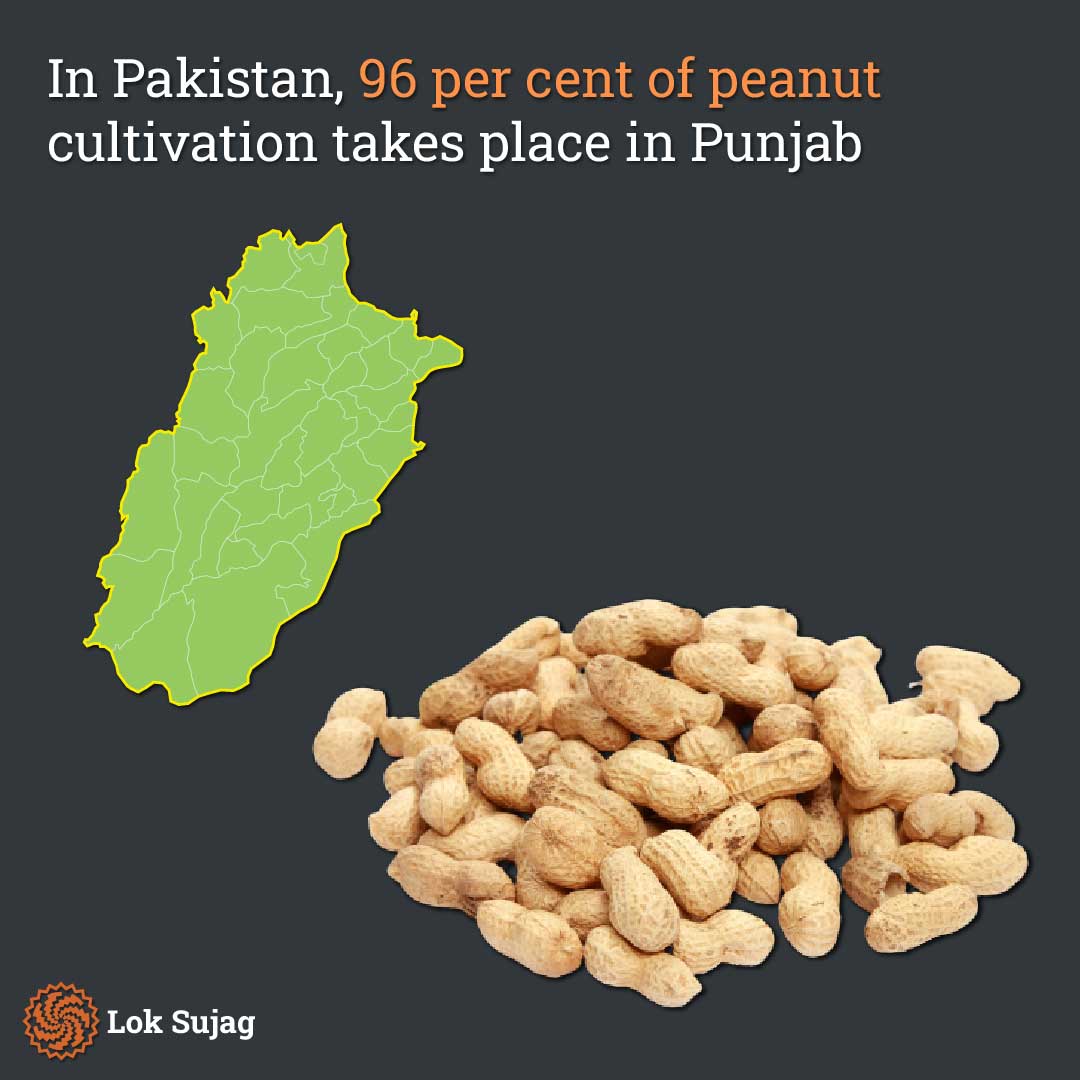 According to the provincial agriculture department, sandy or loamy soil is suitable for peanut cultivation. During the growth period of the crop, consistent and timely rainfall contributes to better yields. These factors are present in rainy regions, making peanut cultivation more prevalent.
The agriculture department states this season's hot and humid weather is highly suitable. The temperature should remain between 20 to 30 degrees Celsius during the sowing of seeds, as seed germination is hindered at temperatures around 33 degrees Celsius.
In Pakistan, 96 per cent of peanut cultivation takes place in Punjab. Within the province, the Pothohar region, including the Rawalpindi Division (Attock, Chakwal, Jhelum, and Rawalpindi), accounts for 80 per cent of the sown crop.
Even within the Rawalpindi Division, Chakwal and Attock districts see the highest peanut cultivation. In 2021, Chakwal saw this crop being cultivated on 147,997 acres and Attock on 110,338 acres. In the following year, 2022, peanuts were grown on 161,158 acres in Chakwal and 110,121 acres in Attock. Currently, peanuts are planted on 110,000 acres in Attock.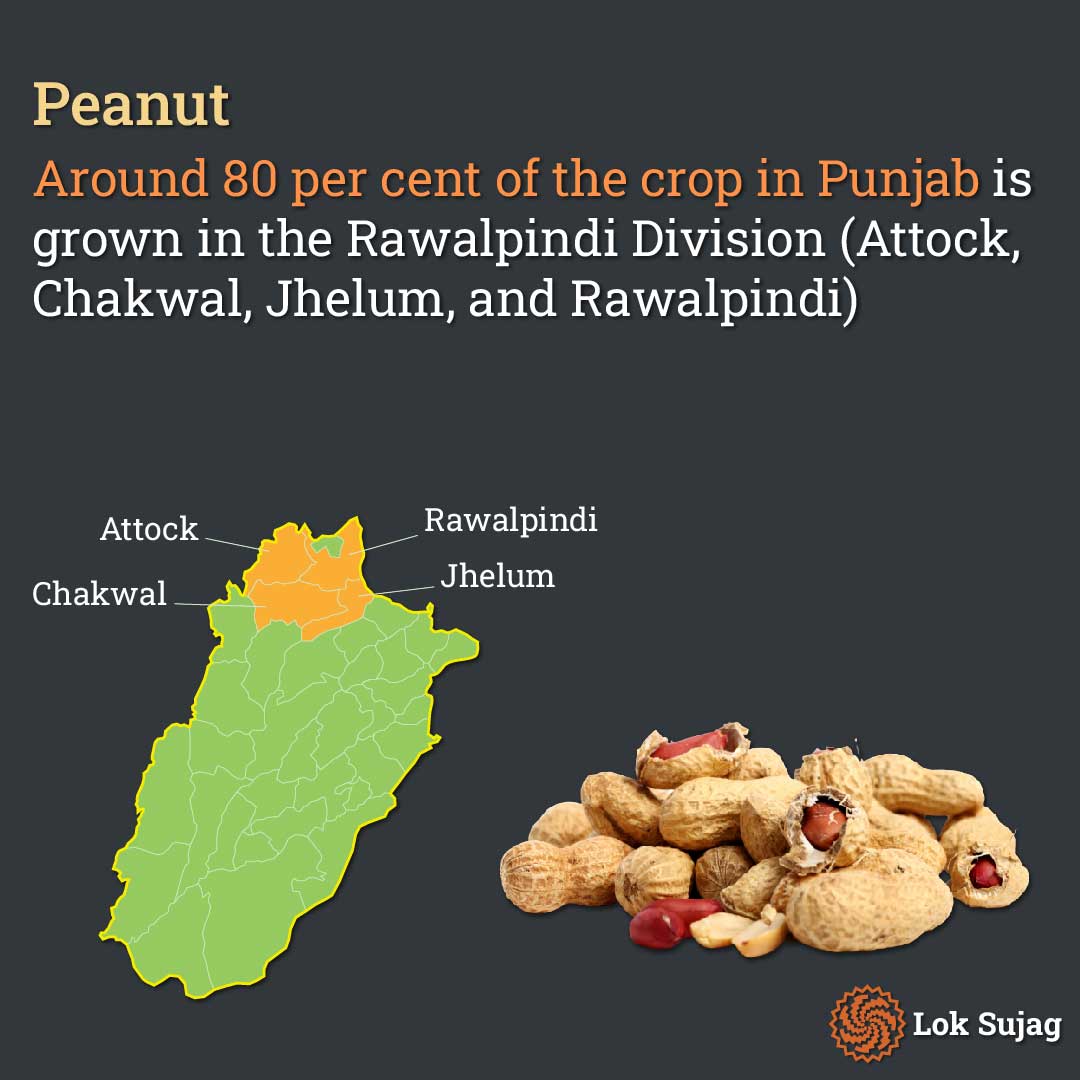 If we talk about the entire country, peanut cultivation occurs yearly on approximately three to three and a half million acres of land, yielding nearly a hundred thousand tons.
In 2021, across Pakistan, peanut cultivation on three hundred and thirty-six thousand seven hundred and sixty-seven acres of land yielded around a hundred and twenty-one thousand six hundred and ninety-three metric tons. This year, Pakistan's average yield per acre was approximately nine maunds.
Yar Muhammad, now 55, has been involved in peanut cultivation since he came of age. Although he has been cultivating peanuts, the area under his cultivation has ranged from 18 to 25 acres.
Malik Azhar Mahmood, a prominent landowner in the village Doumial in the Panjgran Tehsil of Attock district, is also involved in peanut cultivation. His family owns agricultural land measuring 875 acres (seven thousand kanals), of which he has cultivated peanuts on 125 acres this time.
Malik Azhar states that he had discontinued cultivating peanuts for three years. According to him, there were changes in the rainfall patterns during this period. Additionally, the labour costs for harvesting peanut crops had escalated so much that his profits had significantly decreased.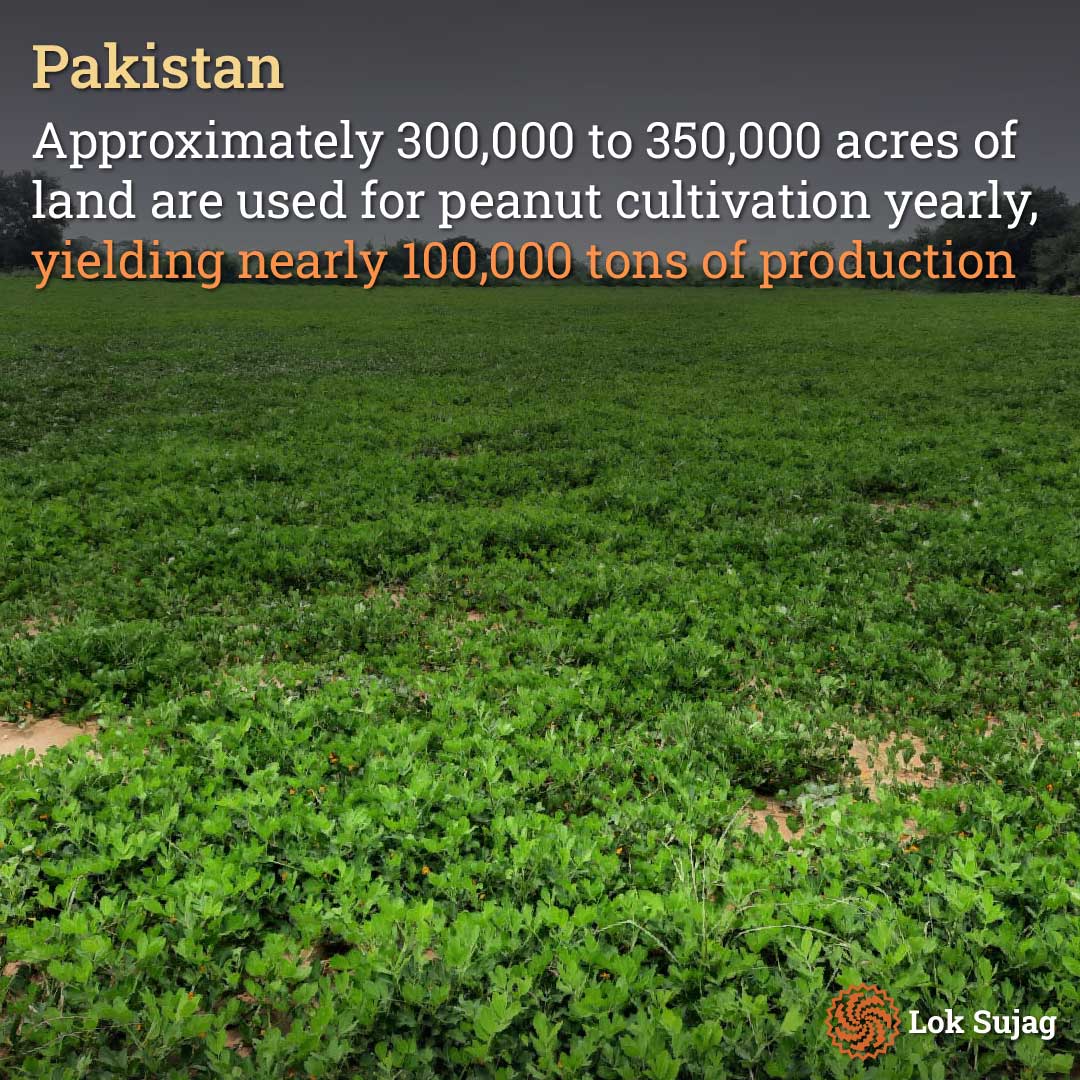 According to the National Statistics Agency, the total area under cultivation in the Attock district is 789,307 acres, out of which the entire area, except for 60,000 acres, is rain-fed. The farmers here cultivate mainly two crops yearly, including wheat and peanuts.
Yar Muhammad and Malik Azhar believe that an additional 50 to 60 per cent of the area in the Attock district is suitable for peanut cultivation.
Peanut: The Golden Pod
Peanut, cultivated in Pakistan's rainy regions, is the most important cash crop of the autumn season. Especially in the Pothohar region, no other crop generates more revenue than peanuts.
Farmers in Attock say that the income derived from peanut cultivation plays a crucial role in improving the economic conditions of cultivators in their district and the surrounding areas of Pothohar, contributing to enhancing their quality of life. This is the reason why peanut is often referred to as the "golden pod."
Yar Muhammad has been in the peanut business for 22 years. He mentions 58 threshing mills for peanuts currently in Attock, with 15 to 20 labourers working on each mill.
He believes that a significant portion, around 30 to 40 per cent, of Attock's population is somehow connected to peanut cultivation for livelihood. During the harvesting season, hundreds of labourers earn their livelihood from here, along with those involved in the drying process of peanuts and the transporters who take the produce to different parts of the country, all of whom manage to achieve good income during the season.
According to the National Labour Force Survey 2020-21, Attock district has 752,200 labourers, of which 3,55,795 individuals, making up 47.3 per cent, are linked to the agriculture sector. Among the labourers working in the agricultural sector, 78 per cent are women.
However, Malik Azhar and Yar Muhammad view these statistics sceptically. They believe that the numbers are even higher than reported and that the economic conditions of all these labourers are deteriorating due to governmental negligence.
Malik Azhar says peanut cultivation is possible on around 330,000 acres of land in the Attock district. However, only 100,000 acres are used for cultivating this crop. The reason behind this is that over time, the inflation rate and labour costs have significantly increased while the prices and yields of the crop remain unchanged.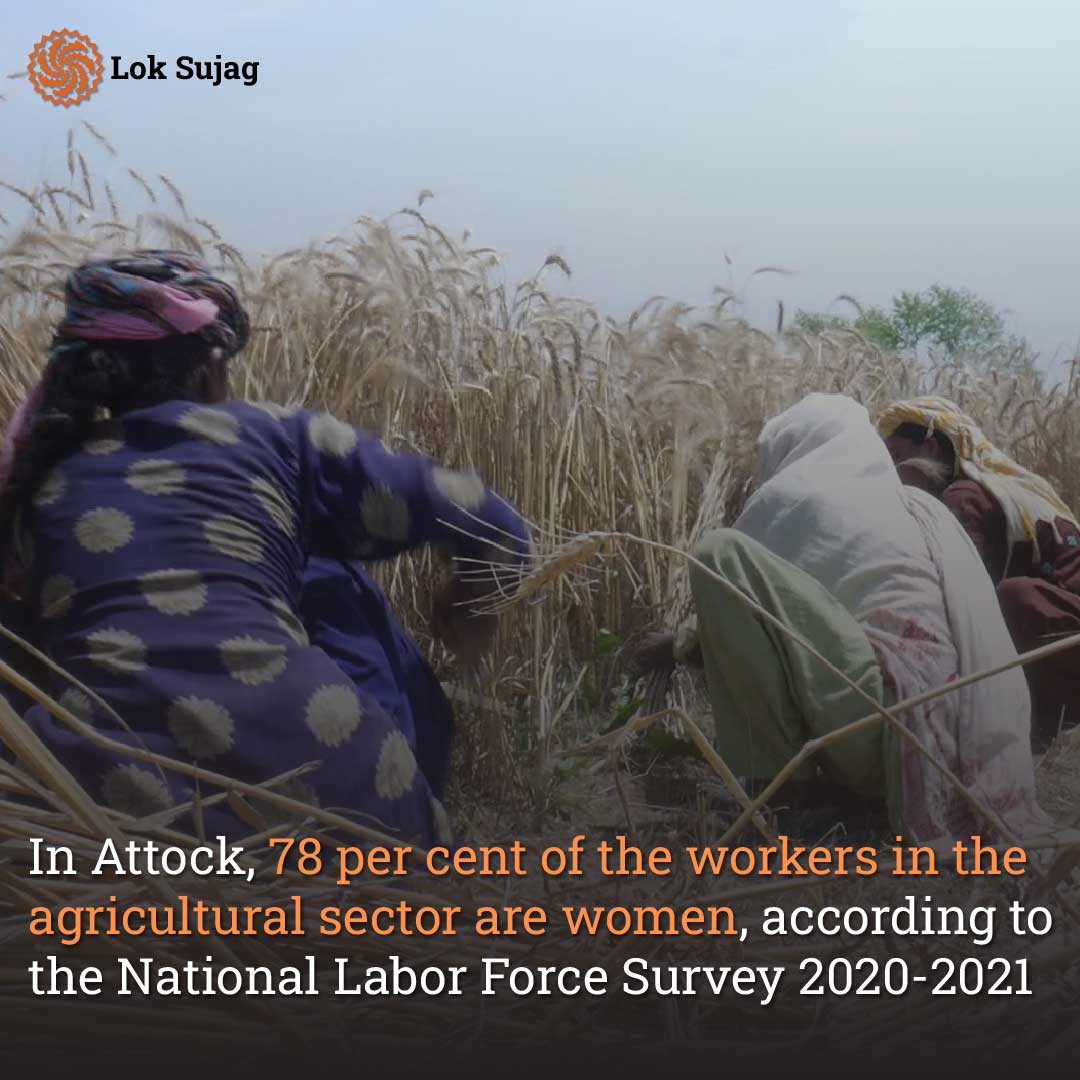 He explains that most farmers in his area still rely on traditional cultivation methods. They save seeds from their own harvest and use them for several years, resulting in a decline in their yields instead of an increase. They receive no guidance or assistance from the agriculture department.
Yar Muhammad mentions a government research centre for peanuts established in their area, which he learned about just a few months ago. However, he has never heard of this institution providing any guidance to farmers. As a result, they carry out all their work based on estimations.
However, Attock's Deputy Director of Agriculture, Shakil Ahmed, disagrees. He states that agricultural experts systematically organise annual awareness camps and seminars across the district. The agriculture department holds more than a hundred training camps every year, and up until now, 142 training camps have been conducted, where farmers are provided with valuable advice.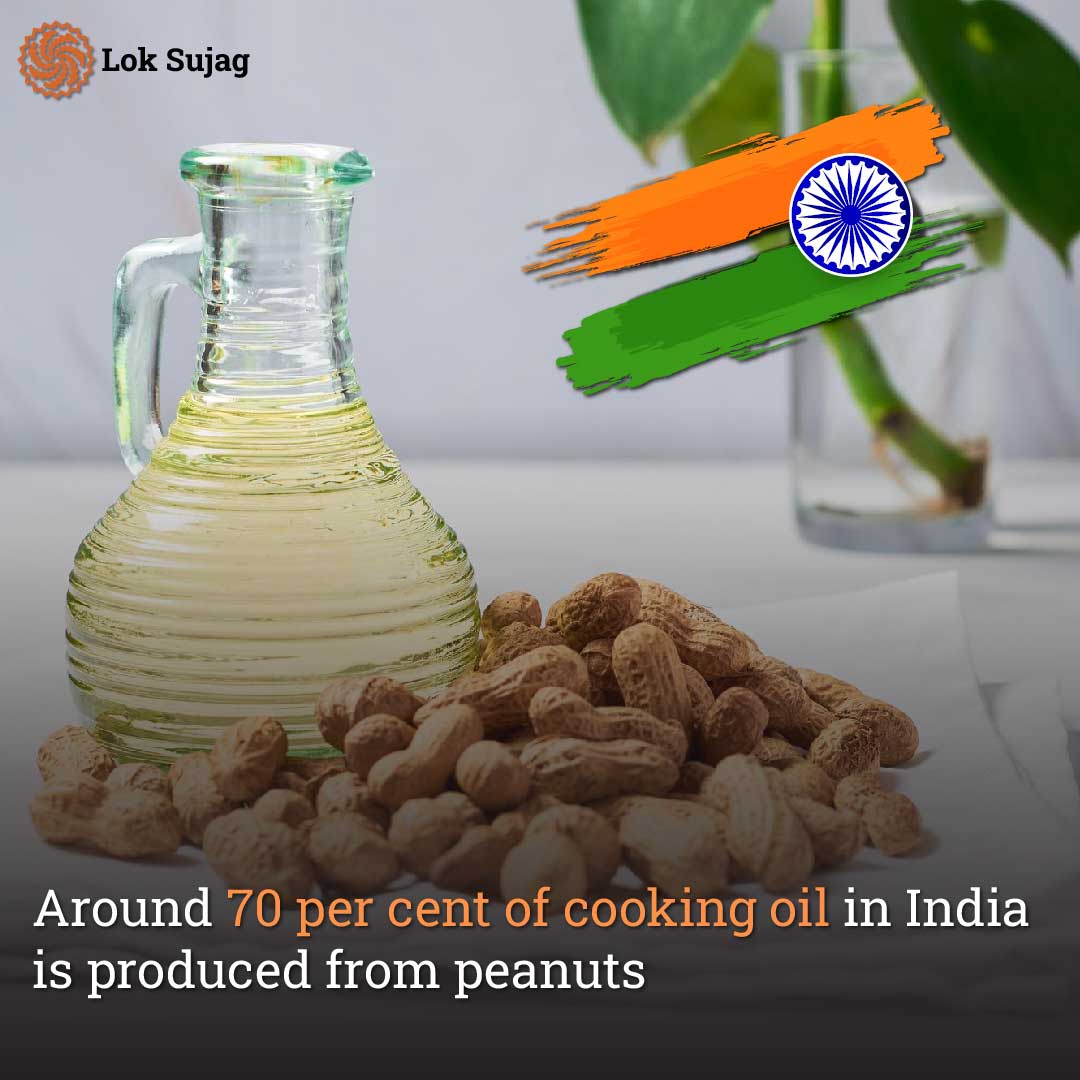 Manzoor Hussain, a scientist at the Peanut Research Center of Ayub Agricultural Research Institute in Attock, says the centre has been operational for 22 years. It employs five researchers and scientists who have successfully introduced the Attock 2019 and Fakhar Attock varieties of peanut seeds through their dedicated efforts.
They consider their work on developing these varieties a significant achievement, as, according to them, creating a new peanut seed takes between eight to ten years.
He says the indigenous peanut variety yields 8 to 12 maunds per acre. In contrast, the yield capacity of the developed types from the centre is between 30 to 40 maunds per acre.
However, the facts contradict their claims. In the last five years, the average yield of peanuts per acre in Pakistan has never exceeded around 10 to 12 maunds, and even in Attock, the average yield per acre has remained at most 15 maunds.
Benefits of Peanut Cultivation
A global report by the United States Department of Agriculture highlights that 70 per cent of cooking oil in India is derived from peanuts. In contrast, peanuts have a negligible presence in the cooking oil sector in Pakistan. They are mostly consumed after roasting and used in bakery products.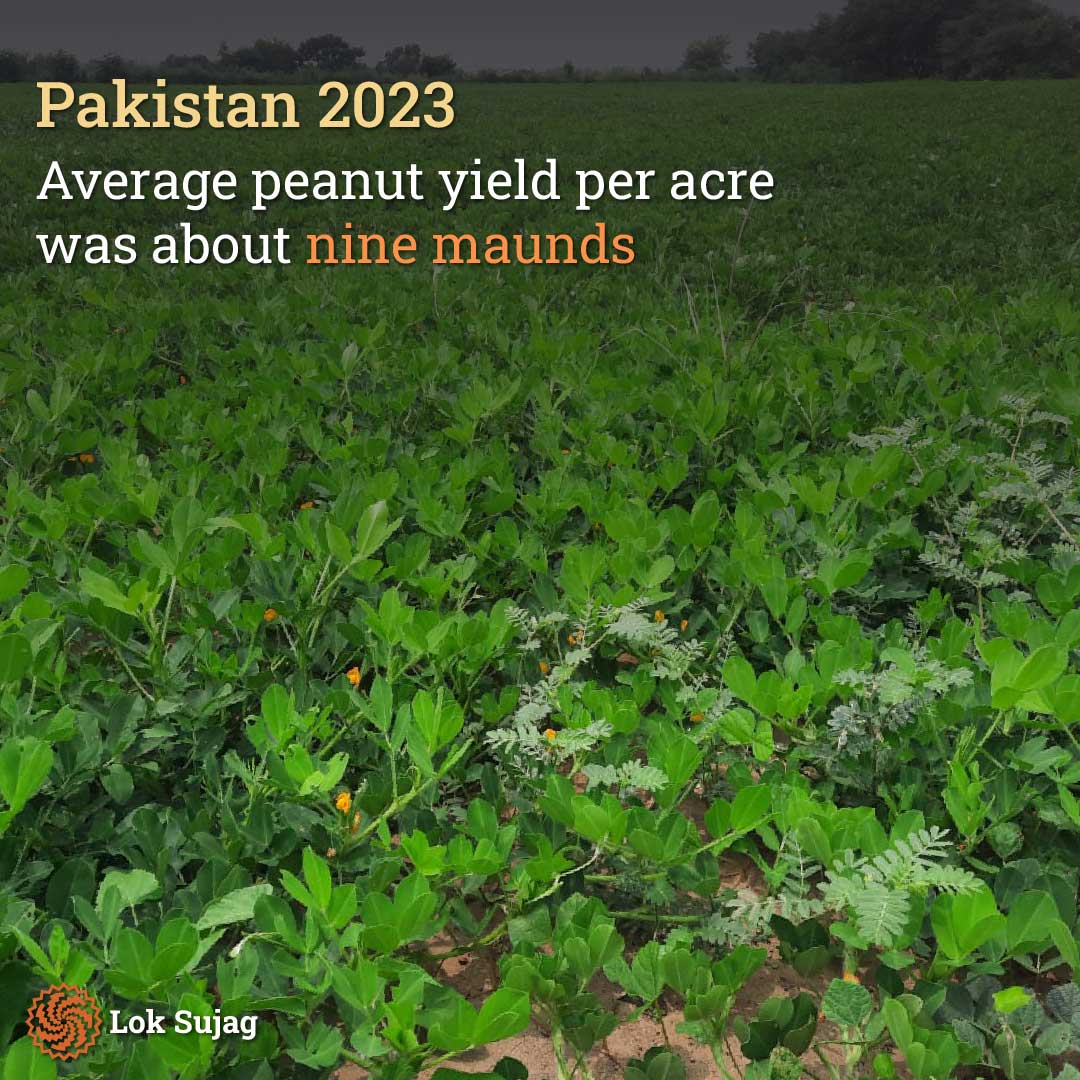 In Pakistan, the average yield of peanuts per acre is ten maunds, half of that in India. The Arid Agricultural Research Institute acknowledges that a significant reason for lower results in Pakistan is the scarcity of high-yielding varieties, lack of quality seeds, and insufficient implementation of factors that boost productivity.
Malik Azhar asserts that a locally-made thresher is available for peanut harvesting. Furthermore, even today, many farmers manually harvest the crop because there is no specialised machinery for harvesting. The existing machinery that is operational is also adapted from local artisans.
Also Read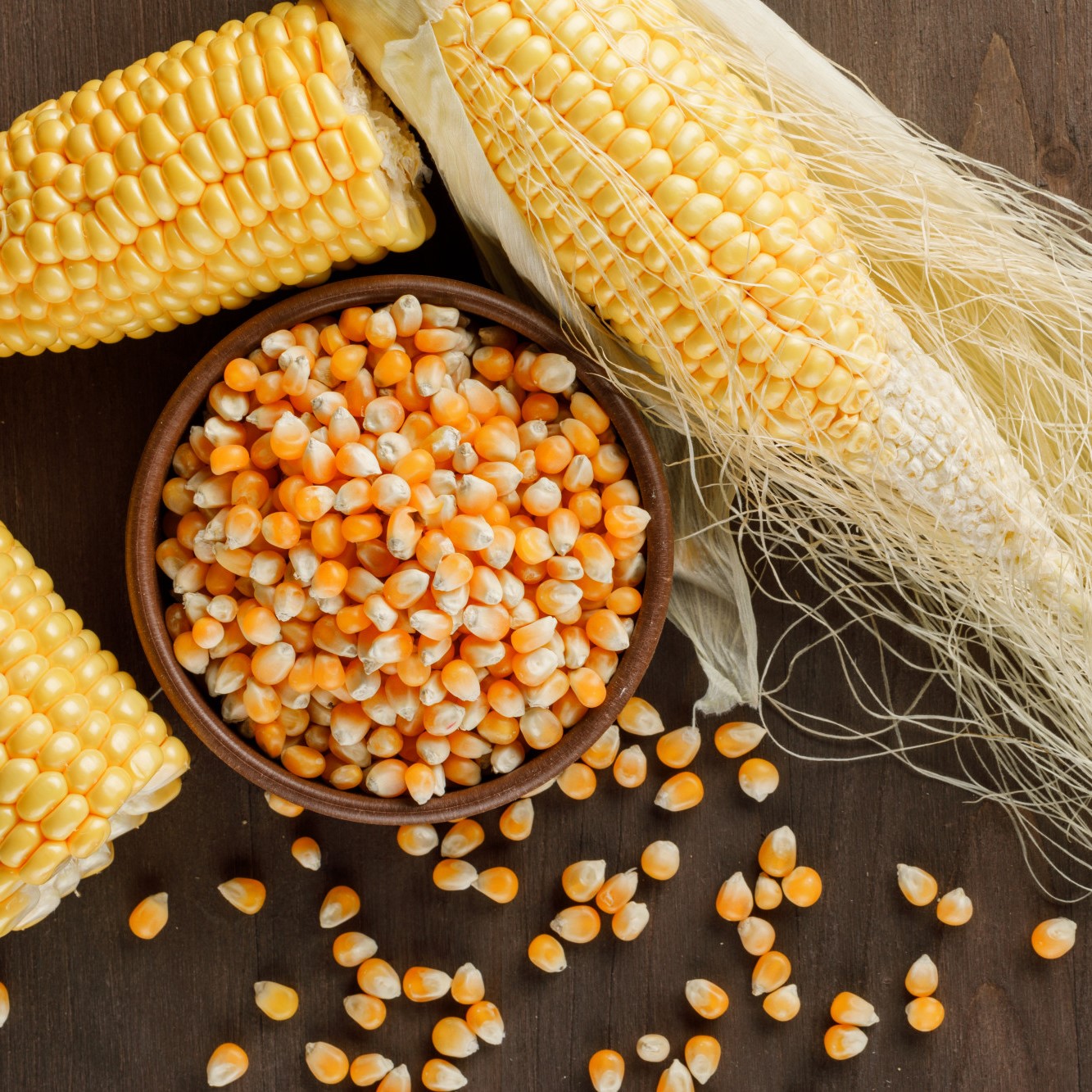 Cultivating change: The shifting landscape of Vehari's agriculture, from cotton to maize
According to Mahmood Al-Hassan, Assistant Professor of Peer Mehr Ali Shah University of Arid Agriculture, Rawalpindi, Pakistan spends billions of rupees annually on importing edible oil and soybeans to meet domestic demand. If peanut production is increased and it is also utilised as edible oil, it would greatly benefit the national economy.
Mahmood Al-Hassan mentions that farmers sell peanuts in the local market because they lack the means and awareness to process them further. This lack of resources and knowledge deprives them of better deals.
They mentioned that Barani University has assisted farmers in various regions and is taking steps to make farmers capable of producing peanut oil on a commercial scale. Additionally, peanut butter can also contribute to farmers' income.
Both Yar Muhammad and Malik Azhar, who are involved in the peanut business, also believe that if the government provides facilities to processors and establishes peanut processing plants according to modern methods, peanut products could not only be self-sufficient but could also be exported.