Melons cultivated in Mankira are renowned throughout Pakistan for their aroma, taste, and sweetness. However, this year, Mankira farmers are astonished, wondering who has cast an evil eye on their melon crops.
In Punjab, Mankira Tehsil in Bhakkar is the second largest Tehsil in terms of land area, following closely after Kot Addu Tehsil in Muzaffargarh District.
Mankira is located entirely within the Thal desert region. It is primarily known for chickpea cultivation. During the summer season, watermelons and melons are also grown in certain areas of the region.
However, melons are the real offering of this region. This year, not only has the sweetness of the melons disappeared, but the yield has also decreased.
Malik Ehsanullah Chheena, a melon farmer in Mankira, shares that just like in previous years, he planted melon crops on his 20-acre flat land this time as well. But the yield was not even half of the last year. The melons lacked the same sweetness as before, and to make matters worse, the market prices for the crop were significantly lower.
Cheena explains that due to ongoing rainfall, he was compelled to apply insecticides on his crops after every instance of rain to control pests. Typically, he would only need to spray insecticides on the crops four to five times during a regular season. However, this year he needed to do so approximately twelve times due to the exceptional circumstances caused by the excessive rainfall.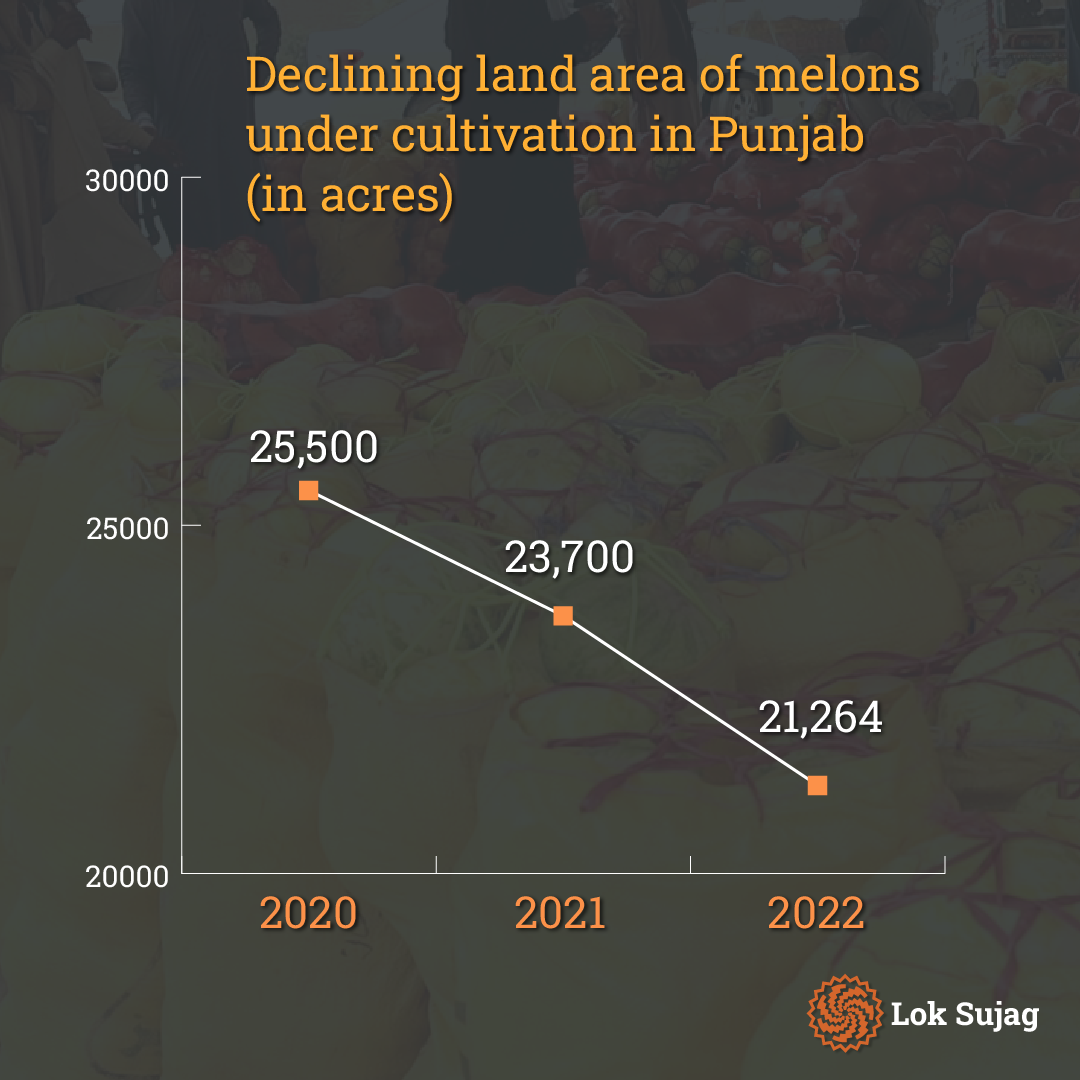 He explains that melons were initially sold at prices ranging from Rs1,500 to Rs1,800 per maund when they entered the market last year. As the season progressed, the price never fell below Rs600 per maund. However, this year, from the beginning, melon prices were fixed at Rs600 per maund, which has now declined to Rs200 per maund.
Melons are cultivated in this region on the level plains nestled amidst the expansive sand dunes. These areas are predominantly found in Rakh Mankira, Rakh Dagar Kotli, Rakh Karlowala, and Rakh Koriya. During the summer season, certain regions within these areas also receive water supply from the Greater Thal Canal.
According to the Department of Agriculture, field areas in Punjab, characterised by scarce rainfall and sandy soil with efficient drainage, are highly suitable for this crop.
Melons thrive best in temperatures ranging from 21 to 35 degrees Celsius, but local varieties grown in Punjab can withstand temperatures as high as 40 degrees Celsius due to their adaptation to the yearly cultivation cycle.
According to agricultural experts, desert soil contains numerous nutrients and minerals that aid in the cultivation of various crops, especially melons and watermelons.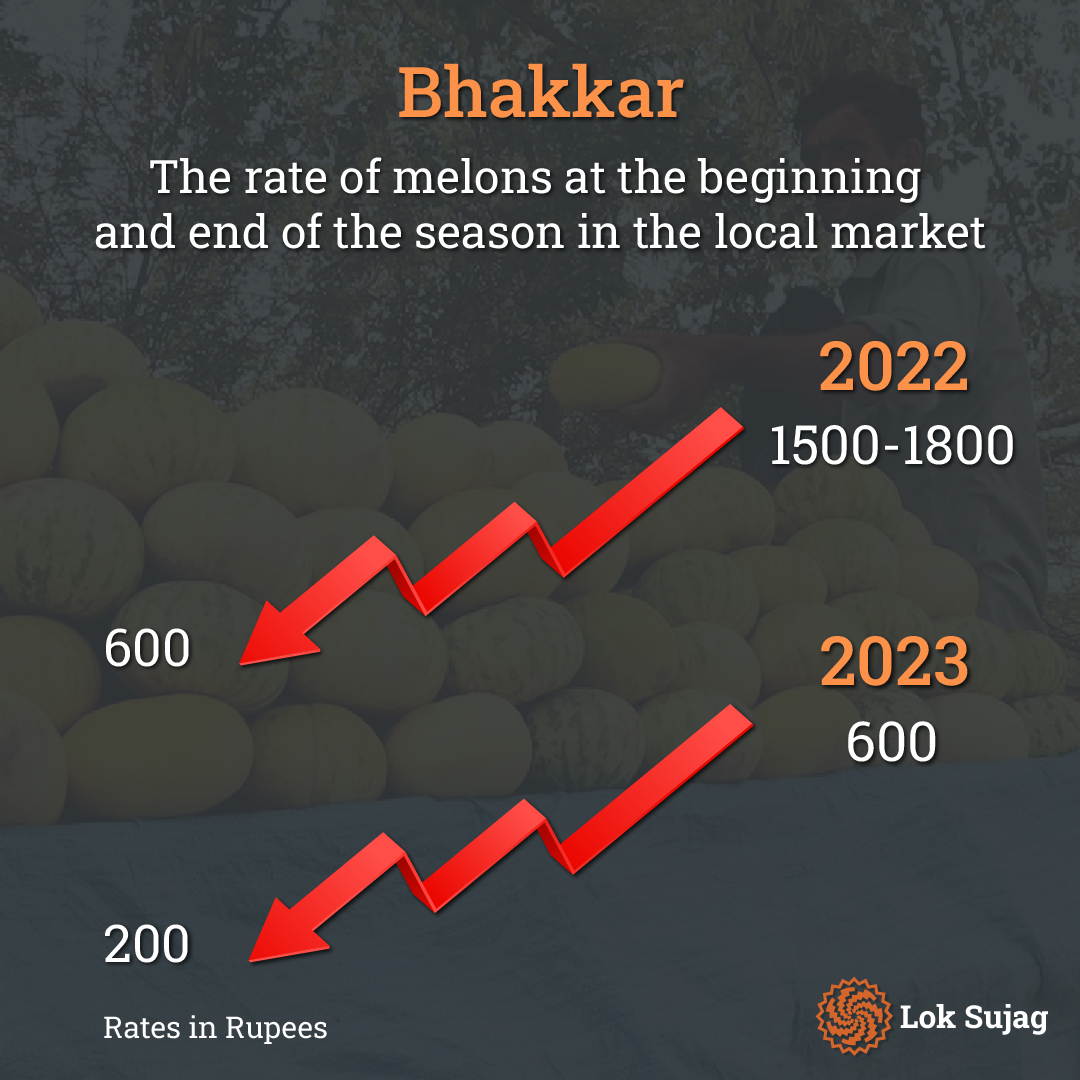 Malik Muhammad Ashfaq, who cultivated a melon crop on five acres this time, is concerned about not receiving a fair price for his produce.
He says that he has not been able to fully recover the expenses incurred on fertilisers and agricultural medicines, despite his efforts. Meanwhile, water, seeds, and the hard work that needs to be put in are separate factors.
Ashfaq says that he used to hire labourers for melon picking at the rate of Rs600 per day, but this year, even the daily wages of labourers increased to as much as Rs1,000. Due to this, he says, he decided to personally undertake the melon-picking task along with his wife and children.
Chaudhry Aftab is one of the prominent farmers in Mankira, cultivating a variety of crops, vegetables, and fruits on over 350 acres of land. He grows melons on approximately 60 acres of his land. He also harbours the concern that Mankira may eventually lose its distinct identity.
Other farmers agree with Chaudhry Aftab, pointing out the consistent decline in melon production in Mankira.
According to Allah Yar, the Assistant Director of the Agriculture Department in Mankira, melon cultivation has decreased by 500 acres in Mankira compared to the previous year.
He says that melon cultivation last year covered an area of 2,100 acres, whereas this year, the cultivated area has decreased to 1,600 acres.
Munir Abbas, a scientific officer at the Ayub Agricultural Arid Zone Research Institute in Bhakkar, also states that, like chickpeas, melon cultivation is also decreasing in the Mankira tehsil.
According to him, this is happening due to climate change. "Farmers in this area are planting Safaidah (white mulberry), oranges, and other similar trees that are more resilient to the harsh weather conditions."
The statistics from the Punjab Agriculture Department indicate that the decline in the cultivated area for melons is not limited to Mankira alone, but it is a trend observed throughout the entire province year after year.
In Punjab, melons were cultivated on 25,500 acres in 2020. However, the following year, in 2021, it decreased to 23,770 acres. In 2022, the melon cultivation was further reduced to 21,264 acres.
Ehsanullah Cheenah attributes the decline in melon cultivation to inadequate prices for the produce. He says there is no official market in Mankira, so middlemen at private places fix the rates for melons. He accuses these middlemen of buying goods from their own people at low prices by bidding low rates and then selling them at high prices in other cities.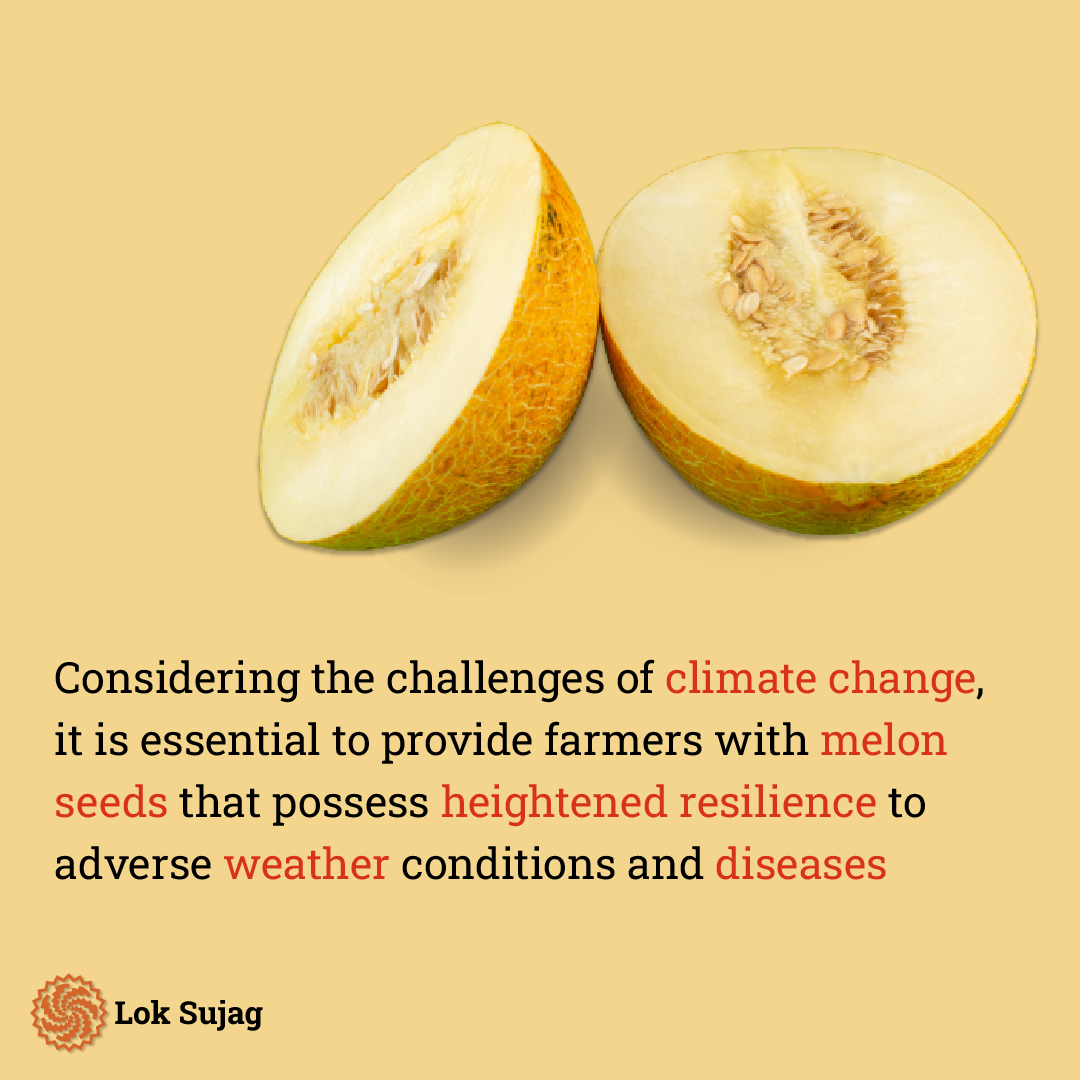 This year, the maximum price was Rs80 per kg. In the middle of the season, the price of melons ranged from Rs50 to Rs55 per kg. By the end of the season, the price had dropped to Rs20 per kg. Whereas this year, agricultural inputs and labour and transportation costs were higher than before.
Other farmers in Mankira hold government organisations responsible for the whole situation. They say that the relevant institutions have never provided them with any assistance in melon cultivation.
Chaudhry Aftab asserts that globally, there are seeds available that can produce improved crop yields while preserving the traditional taste of melons. However, farmers in Mankira continue to rely on outdated seeds.
Also Read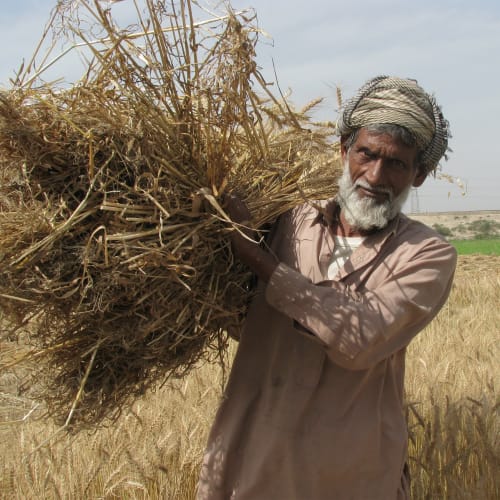 Manipulating the wheat market: 'Private traders are buying the crop for holding and smuggling'.
Despite the impact of climate change, which calls for more resilient seeds against adverse weather conditions and diseases, such provisions have not been made available to them.
Allah Yar disagrees with this claim. He argues that the Department of Agriculture is providing comprehensive awareness to farmers about the cultivation of all crops, vegetables, and fruits. He further says that heavy rains make melon crops susceptible to a variety of diseases, the most harmful of which is the fruit fly disease.
"We consistently remind farmers not to rely solely on chemicals to control fruit fly, but also to adopt biological methods," Allah Yar says.
Chaudhry Aftab believes that the Mankira melon's unique identity would be lost if hybrid melon seeds were given to farmers. He also claims that farmers prefer old seeds.