Multan district has been deprived of a provincial seat with the new constituency delimitations. While this is not a big issue for the prominent politicians in the area, the changes have distressed many candidates.
In the last census, the population of Multan district was 4,746,166. At that time, six seats in the National Assembly (NA) and thirteen in the Provincial Assembly (PA) were allocated to the district. Now, the population of this district has increased to 5,362,305.
Six national constituencies have been retained here in the new delimitation. However, the provincial constituencies have been reduced to 12. According to the initial report of the Election Commission of Pakistan (ECP), Multan district was entitled to 12.47 provincial seats based on the population. However, by disregarding the decimal point 0.47 one constituency has been reduced.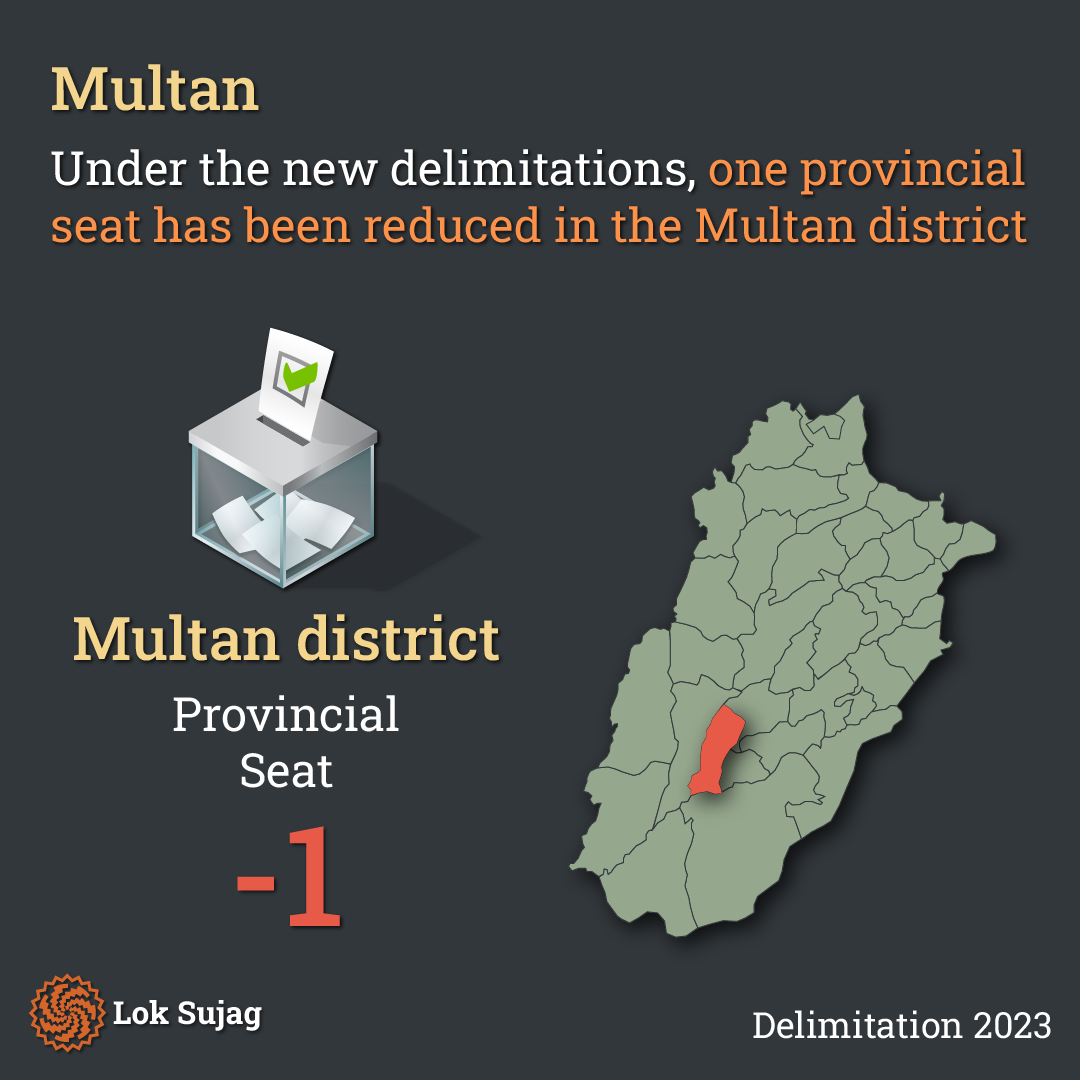 In the previous elections, Multan's national constituencies were from NA-154 to NA-159, which have now changed to NA-148 to NA-153. Similarly, the provincial constituencies were from PP-211 to PP-223. With one seat reduced, the serial numbers of these constituencies have also changed, and they are now designated as PP-213 to PP-224.
The new delimitation has dissolved the former provincial constituency PP-212, and its population has been incorporated into the new constituencies PP-213 and PP-214. These are all significant changes.
Ali Hyder Gillani represented the former constituency PP-211. This constituency covered the Tehsil Multan Saddar's Qanungoi constituencies of Bosan and Nawabpur, along with some populations of Qadirpur Qanoongoi and rural areas of Tehsil City, including Tajpur Sandila, Drana Langana, and Piran Ghayab.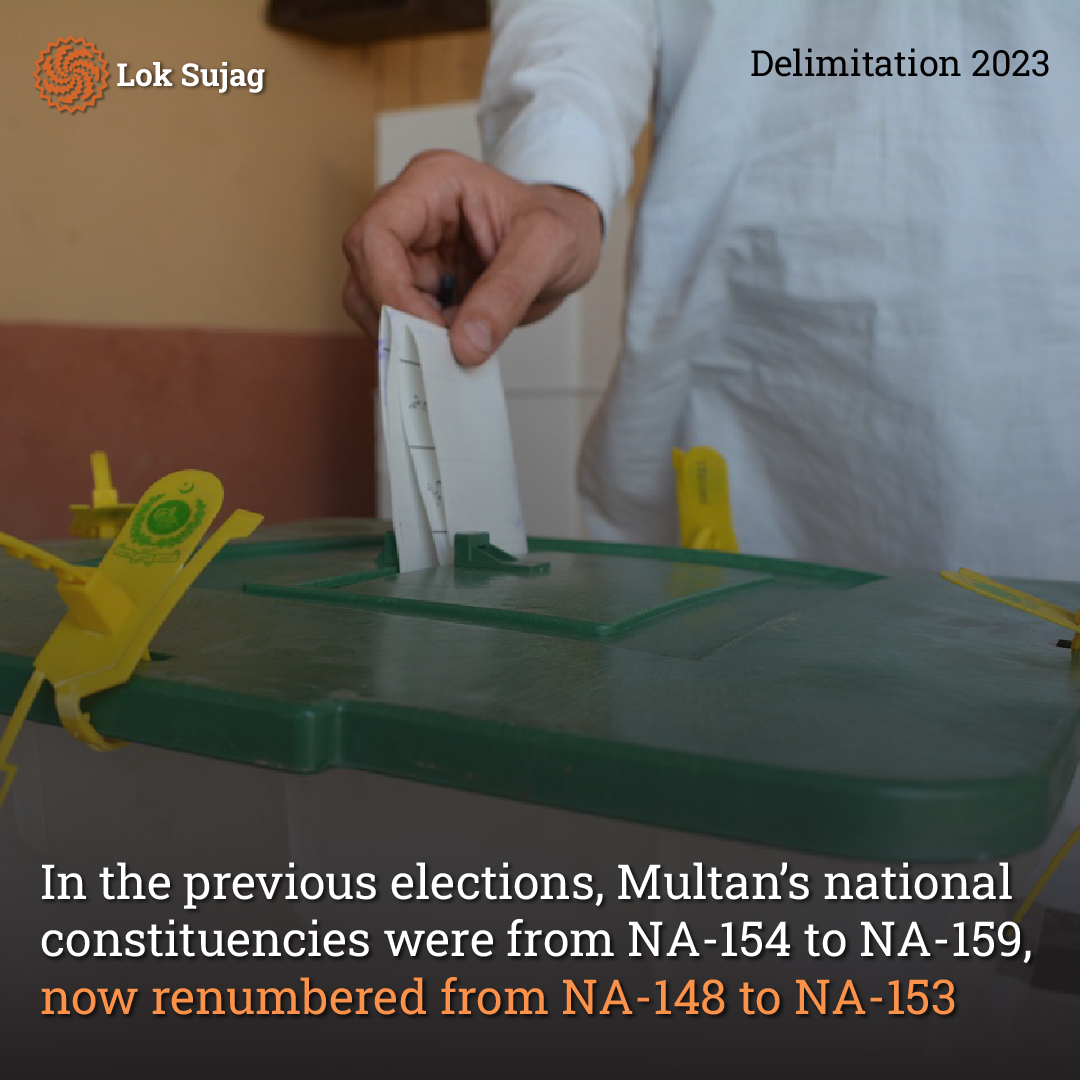 PP-213 (formerly PP-211) now excludes the rural areas of Multan City and includes urban areas, including circles 7 and 8, along with some circles in Tehsil Sadar and the town committee Qadirpur Ran. However, Qanungoi Bosan, Nawabpur, and Qanungoi Qadirpurran remain integral parts of this constituency.
The dissolved constituency, former PP-212, consisted of Muzaffarabad Qanungoi and Sher Shah Qanungoi (excluding Tajpur Sandhila Patwar Circle). From this area, Salim Akhtar Labar of Pakistan Tehreek-e-Insaf (PTI) won, while Nazim Shah lost the election.
In the new PP-214, Qanungoi Sher Shah (excluding Patwar Circles Sultanpur Mamr, Bach, Khokharan, Ferozepur, Labar, and Kotla Kamboha) and Muzaffarabad Qanungoi (excluding Patwar Circle Bahawalpur Sikha) are included. Additionally, some populations from Multan Cantt and Multan Cantt Qanungoi with Municipal Corporation charges numbers 5 and 6 are also part of this constituency.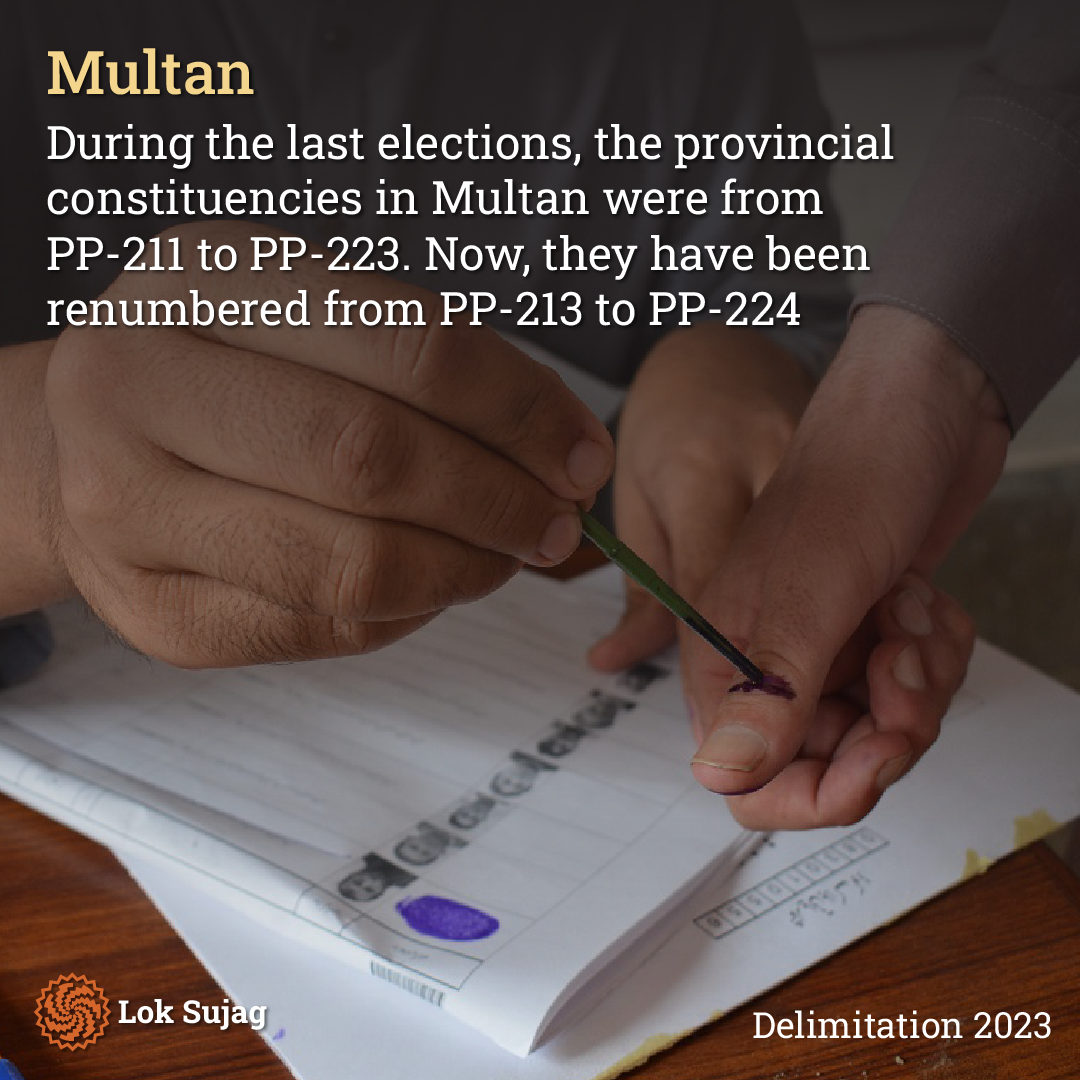 There have been no significant changes in the six provincial constituencies ranging from PP-215 to PP-221. PP-222, PP-223, and PP-224 cover the populations of Tehsil Shujaabad and Tehsil Jalalpur Pirwala. Some minor adjustments have also been made in these constituencies.
Which candidate will suffer from the lack of a provincial seat will be assessed after the issuance of tickets and political alignment.
The district president of Pakistan Muslim League-Nawaz (PML-N), Muhammad Bilal Butt, tells Lok Sujag that many candidates and workers are distressed due to the new delimitations. He expresses concern that as the population in Multan has increased, the reduction in the number of constituencies raises questions. "There should have been consultation with public representatives in the delimitation process".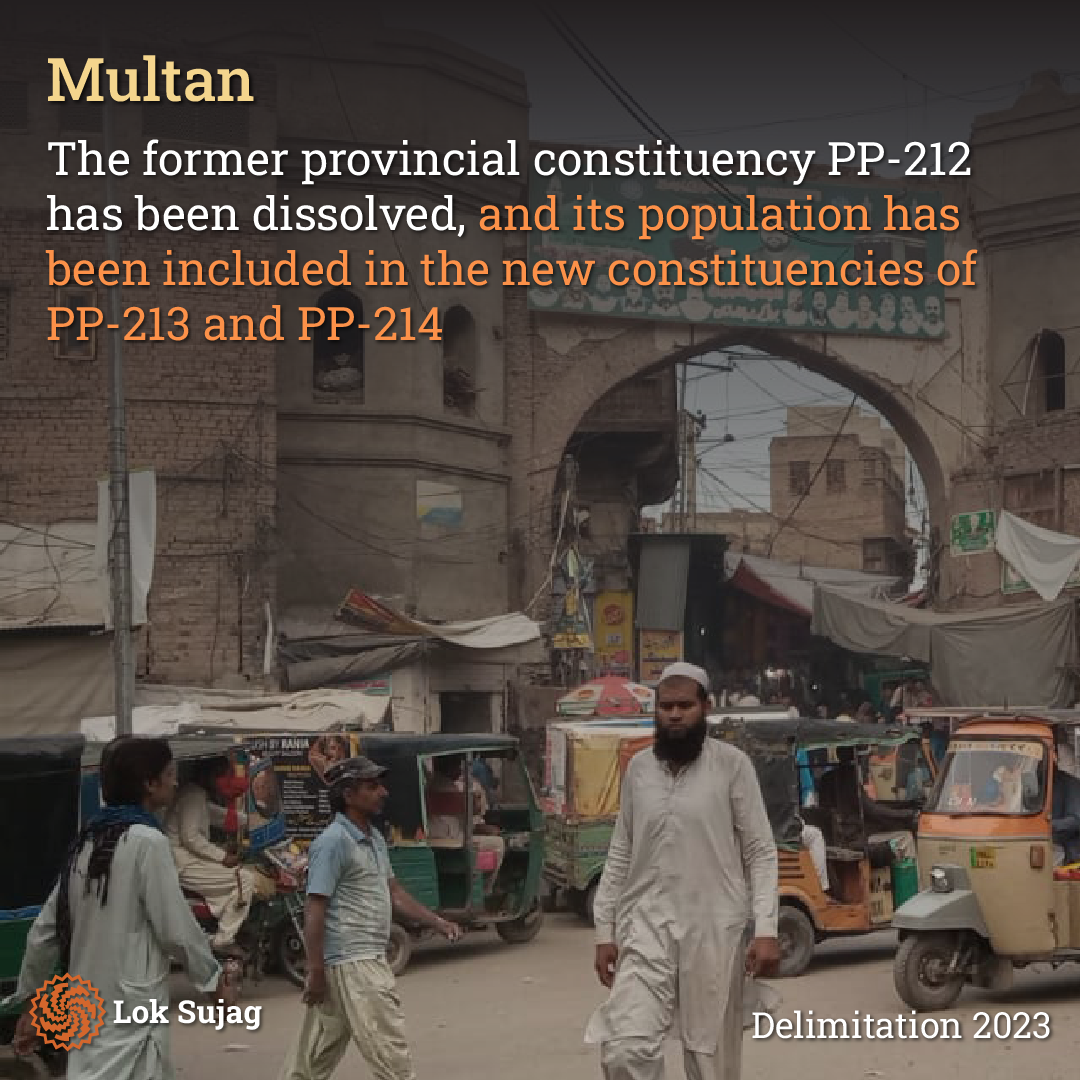 Insaf Lawyers Forum Punjab's Vice President, Sarah Ali Syed, states that efforts are being made through delimitations to benefit specific individuals. She further says that while the population has increased, constituencies in Multan should also have been increased, but Multan's constituency has been eliminated.
Sarah mentions that, according to the rules, the ECP carries out delimitations after consulting with all parties. However, she expresses strong reservations as the consultation did not include the PTI.
Qadir Puraan Town Committee has also been included in NA-148 during the new delimitation of national constituencies. This constituency encompasses various circles from Multan Cantt, Qanungoi Multan Cantonment, Bosan, Nawabpur, Sher Shah, and different circles from Urban Charge number 5 to Urban Charge 8.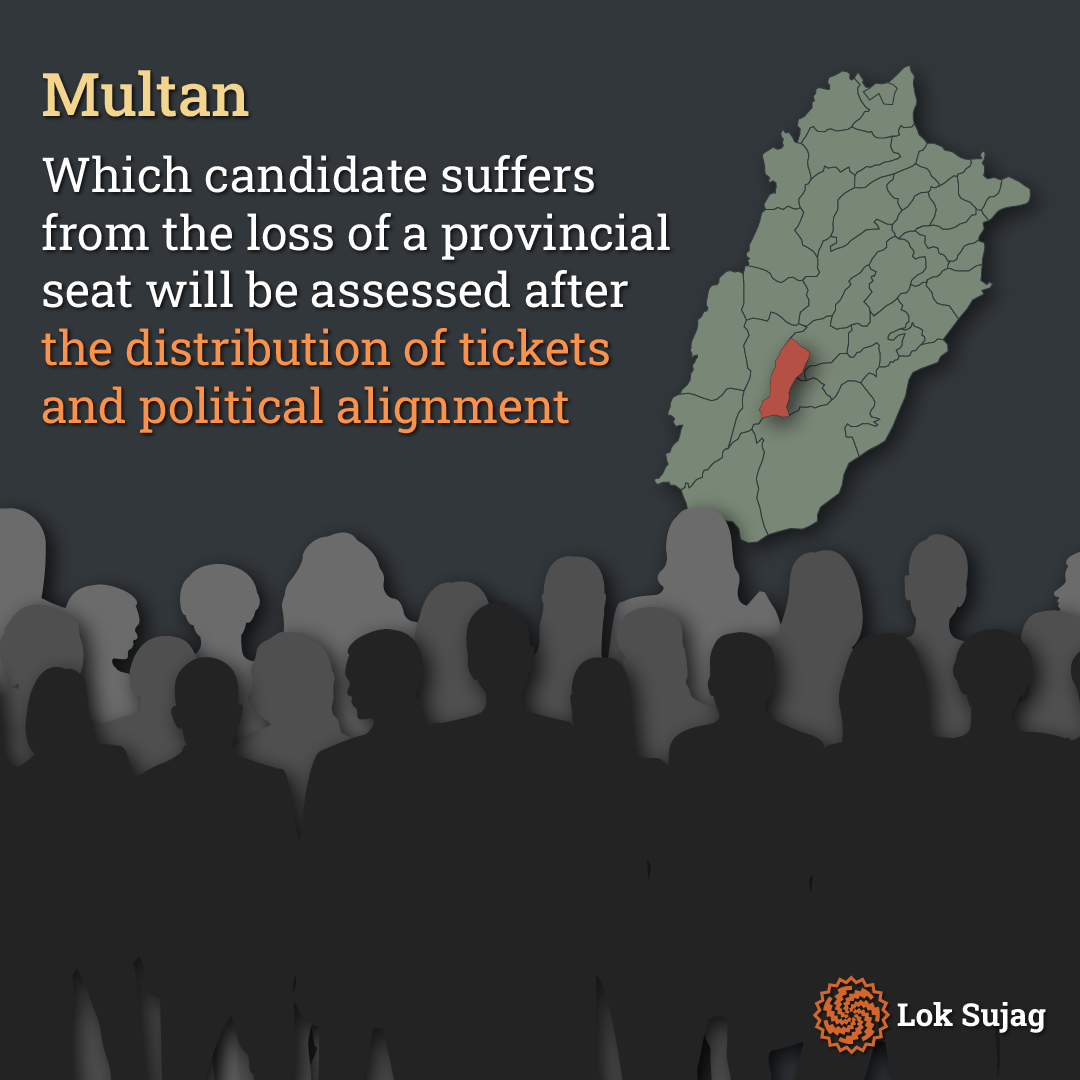 Including the Qadir Puraan Town Committee in NA-148 has sparked objections from rival political factions, namely the Gilani Group and the Bosan Group. Both groups believe there is no justification for including the Qadir Puraan Town Committee in this constituency.
A total of 42 objections have been filed from the district of Multan regarding the new constituency delimitation. Shaukat Hayat Bosan says he has no concerns about the new constituency boundaries. However, former NA member Sikandar Hayat Bosan has objected to the constituency delimitation.
He has adopted the stance that Qadir Puraan Town Committee and Census Circle's Charge Number 8 (Circles 8, 10, 11, and 13) have been included in NA-148. The populations of these areas are not associated with this constituency. These areas lie between NA-149 and NA-150, so they should be included in the adjacent constituencies.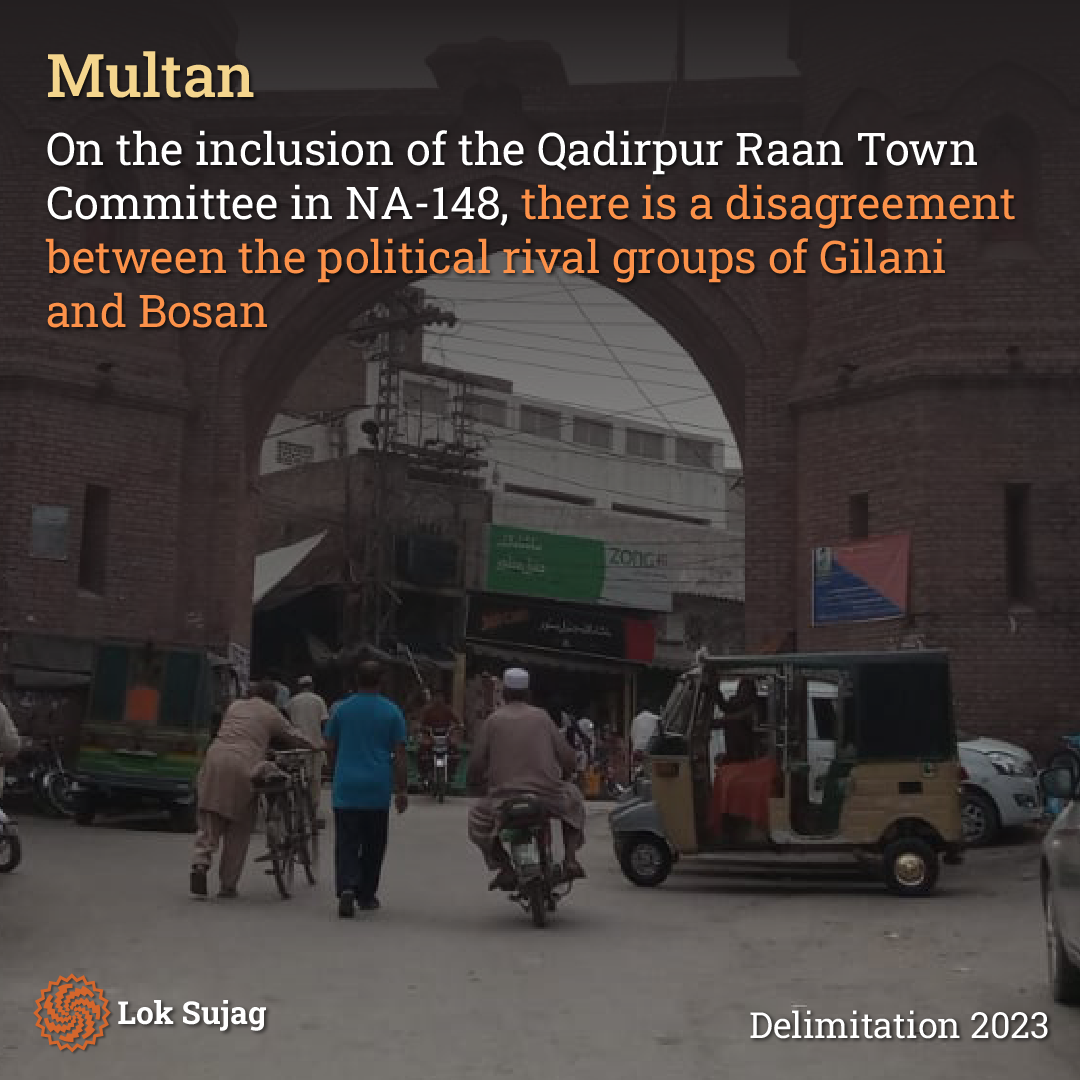 The Pakistan People's Party (PPP) candidate from PP-213, Ali Haider Gilani, also expresses the same objection. He states that the Qadir Pur Raan Town area is 'landlocked' in other constituencies. The ECP has also acknowledged this fact.
He states that efforts have been made in the delimitation process to benefit the PML-N. However, he does not have significant objections to this delimitation because his family is contesting elections in many constituencies, so there won't be a particular impact on him.
Also Read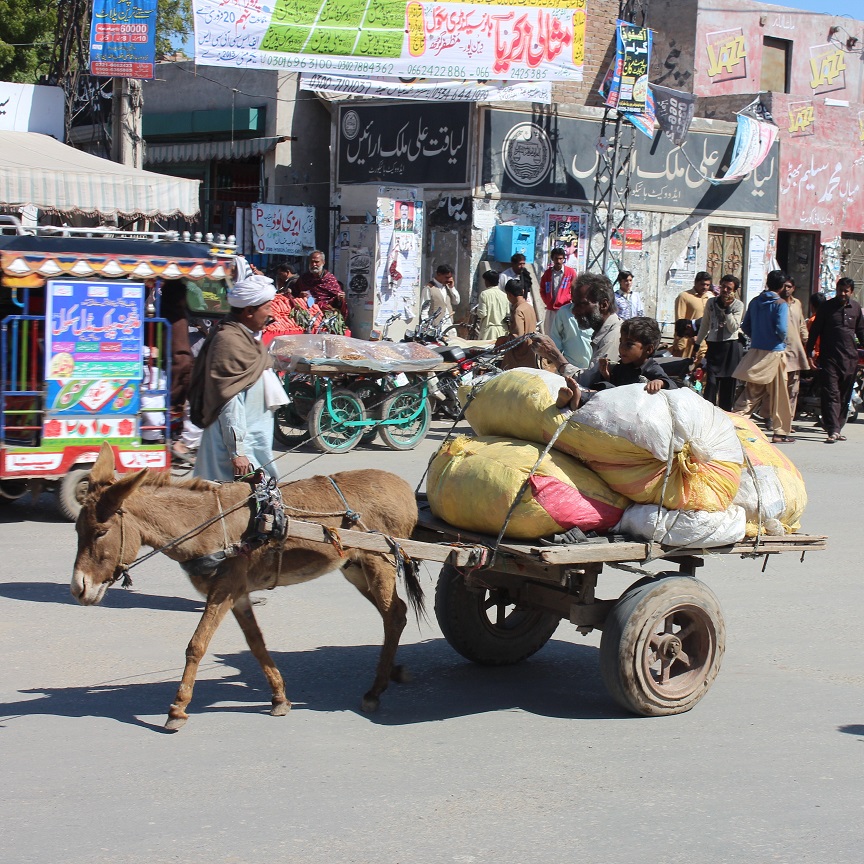 Dissolution of shared provincial seats in Muzaffargarh and Kot Addu: Anticipating impacts and dynamics
However, former prime minister Yousaf Raza Gilani's son, Ali Musa Gilani, has objected to including Hameedpur Kanora in NA-148. He has requested the inclusion of the area in NA-152.
In addition, there is significant objection from urban areas regarding the inclusion of the Metropolitan Corporation and the urban populations of Cantonment in PP-214.
These requests propose the inclusion of the populations of Patwar Circle Tajpur Sandila and Akbarpur in PP-213. They also suggest that the total populations of Charge Numbers 7 and 10 should be excluded from PP-213 and included in PP-214.
Javed Akhtar Ansari, a former Member of the Provincial Assembly (MPA) from the PTI, has also raised objections. He has proposed including the populations of Circle Numbers 8, 10, and 13 from Charge Number 8 in NA-149 and excluding the areas of Circle Numbers 15 from Charge Number 8 and 16 from Charge Number 7 from NA-149.