Hafiz Muhammad Naveed resides in the village of Musa Khel, located 20 kilometres from Tehsil Talagang Road in Mianwali. He scored 950 out of 1100 marks in the recent examination conducted by the Sargodha Board, securing the second position in his class. Muhammad Naveed had aspirations to enter the F.Sc. Pre-Medical program. However, in his area, the Government Higher Secondary School in Musa Khel does not offer the entry test for F.Sc. or I.C.S. because there are no teachers available for science subjects there.
Muhammad Naveed's father passed away in 2014, and he completed his matriculation education on a Hafiz-e-Quran and orphan student scholarship. He mentions that after his father's demise, his mother struggles to make ends meet by working in other people's houses, which makes it impossible for him to pursue education at a college outside the region. Out of his class, 30 students have passed the matriculation examination, and most of them aspire to enrol in F.Sc. and I.C.S. programs at their local higher secondary schools. However, these classes are not offered there, and there are no other government or private educational institutions in the area that provide education in these subjects.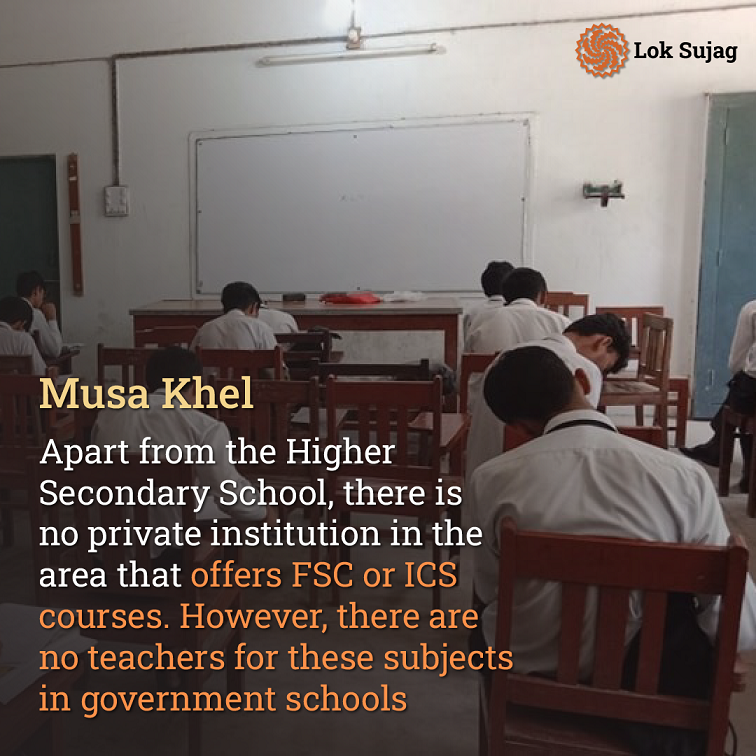 A resident of Musa Khel, Fazlur Rahman, is an electrician, and his son Shamsur Rahman has passed the matriculation examination with 926 marks. His wish is for his son to enrol in F.S.C so that he can appear for the Army Commission Officer's examination in the future. However, when he contacted the higher secondary school in Musa Khel for admission after matriculation, he learned that the school only offers admissions for the F.A. program.
Fazlur Rahman says that in Musa Khel, there are no teachers for F.Sc. or ICS in the higher secondary school. Mianwali is far away, where there are good colleges, but the expenses are beyond their means. He says that apart from the fees, there are additional costs associated with renting accommodations in Mianwali, which is why many parents do not send their children for further education.
Ahmed, also a resident of Musa Khel, has enrolled in a private college in Mianwali after completing his matriculation. He is troubled by the college's commuting expenses, which are three times higher than the tuition fees.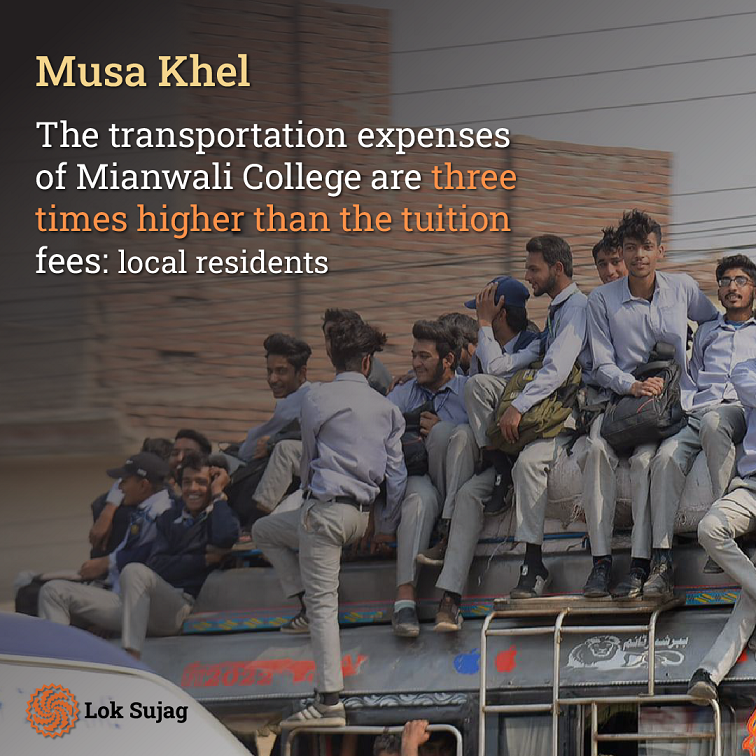 Additionally, travelling to and from Mianwali consumes a significant amount of his time. Many students who passed the matriculation examination with him have also discontinued their education due to these difficulties and a lack of resources.
Musa Khel's only high school was upgraded to a high secondary school in January 2004, introducing classes for both Arts (F.A) and Science (F.S.C) streams. However, in 2014, the high secondary section was relocated to an old building within Musa Khel city. At present, there is only one subject specialist teacher in the high secondary section, while the rest of the teachers have been transferred elsewhere.
The school's principal, Muhammad Sajid Saeed, explains that in such circumstances, he had two options: either completely discontinue higher classes or continue F.A classes with limited resources. Currently, there are 560 students studying in the high secondary section's building. Due to this, they have repurposed staff rooms and a storage room as classrooms for the First Year and Second Year classes.
He says that neither they have rooms nor staff to start F.A and ICS classes.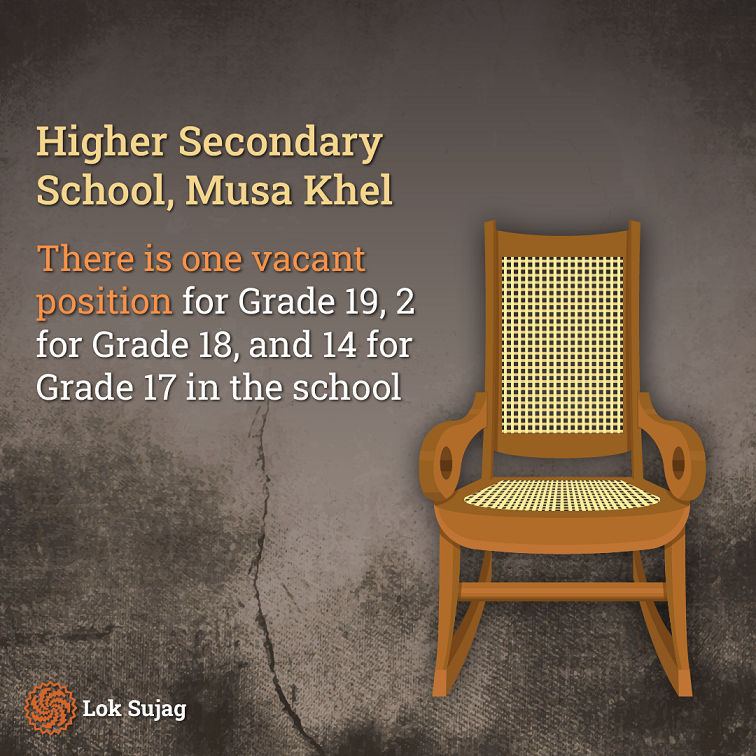 Subject specialist Muhammad Kaleemullah says that until 2019, the school continued to have F.A and F.S.C classes, but after the Pakistan Tehreek-e-Insaf (PTI) government came to power in Punjab, some young people in the area initiated a movement to upgrade the school to a college.
"Although this movement was limited to social media, it created concerns among the school's teachers that if it were upgraded to a college, their transfers might be made to distant areas. That's why all other subject specialists here exchanged their positions at nearby centres. This is the reason that in 2020, we had to discontinue FA classes."
Also Read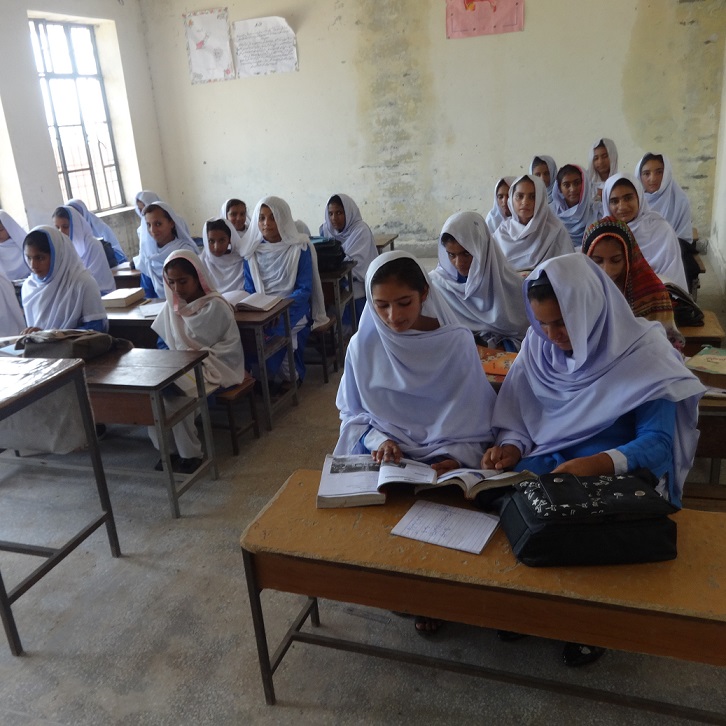 The Khatak Belt of Mianwali: Rotating primary school teachers every month
In the academic year P-22-2021, teachers were hired to fill the shortage of teachers in schools, but in Higher Secondary School Musa Khel, only one physics teacher was appointed. Currently, the school has one seat for Grade 19, two seats for Grade 18, and fourteen seats for Grade 17 vacant.
The District Education Officer (DEO) for Secondary Schools, Muhammad Khalid Khan, explains that after the initiation of online transfers, he no longer has the authority to transfer any teacher there. Currently, the process of transfers has also been suspended by the Punjab government. He further mentions that they have sent records of vacant teaching positions to the department based on the available data. However, until the government conducts new hirings or promotes SST teachers, schools will continue to face such challenges.