Nadeem Awan, a 50-year-old resident of Quetta, was a senior journalist until a few months ago. However, nowadays, he is unemployed and trying to set up a shop to sustain his household.
He began his journalism career in 1998 as a photographer in Quetta's local newspaper. He recalls that a journalist's salary was nowhere near the minimum government-mandated wage at that time, and it still isn't today. In 2004, he transitioned into electronic media as a camera person. In 2007, he joined Geo News, and in 2016, he became an associate reporter at Bol News channel.
He explains that the media industry is the only sector where employees' salaries do not increase over the years. Instead, there are often wage cuts in the name of crises and financial difficulties.
He says, "First, my salary was reduced by 20 per cent, then another 30 per cent cut, and finally, two months ago, I was laid off without any notice."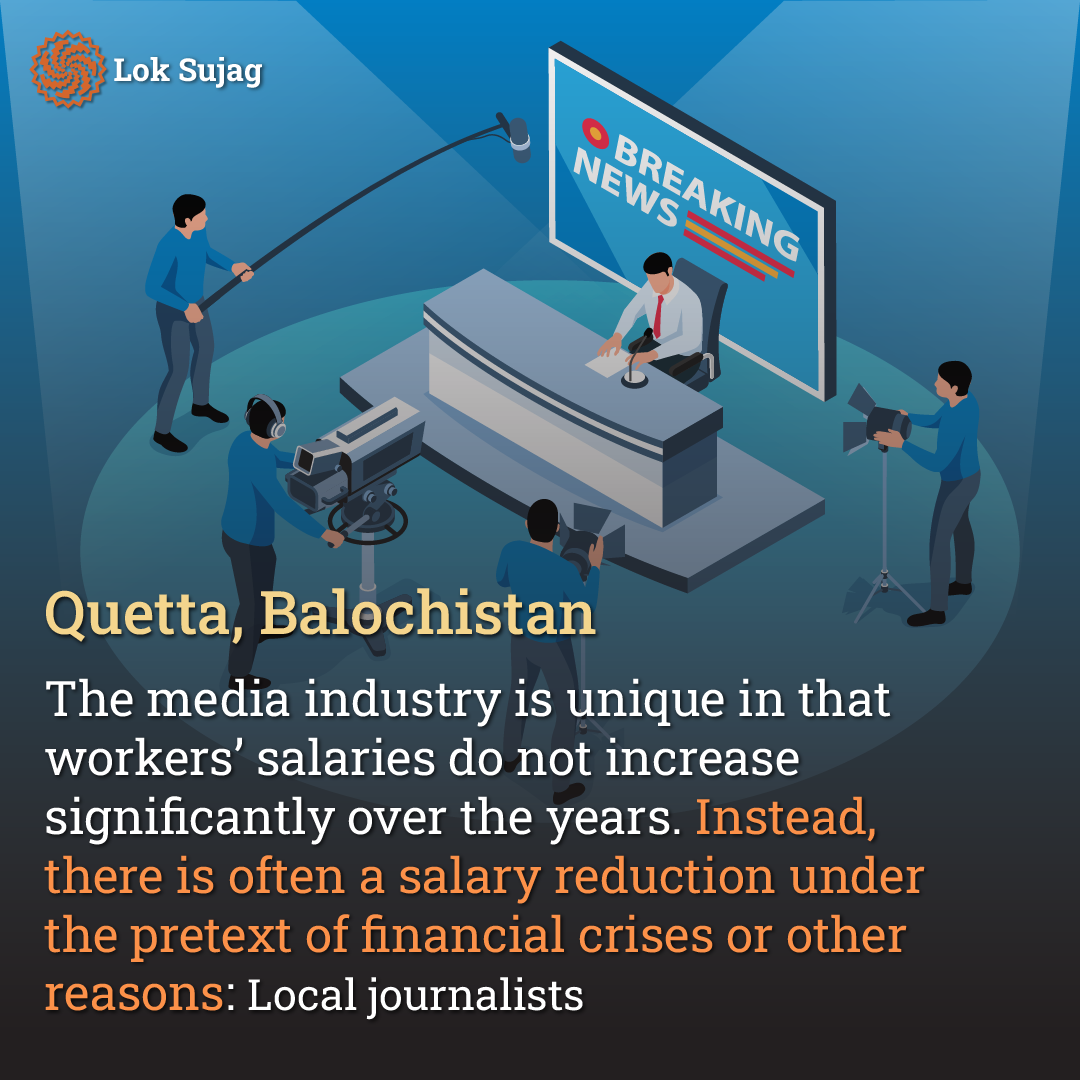 He mentions that he dedicated 25 years to journalism. However, today, he is compelled to borrow money from friends to provide for his three children's education and livelihood. Despite his always advocating for the rights of others, there is no one to speak up for him.
Photographer Adnan has been associated with the news agency INP since 2010. He mentions that his salary was fixed at seven thousand rupees 13 years ago, and he continues to work for the same salary. It is not possible to support a family of five on this income.
"Media owners often criticise others but do not consider themselves bound by laws or ethical standards. Even though workers receive extremely low wages, it does not seem to make a difference to media owners. They have forced us to ask others for financial help."
According to the Balochistan Union of Journalists (BUJ), more than 2,000 journalists are affiliated with print and electronic media in the province. However, private media organisations have often not implemented the decisions of wage boards or media laws. Even the minimum wage laws have not been enforced in the print media.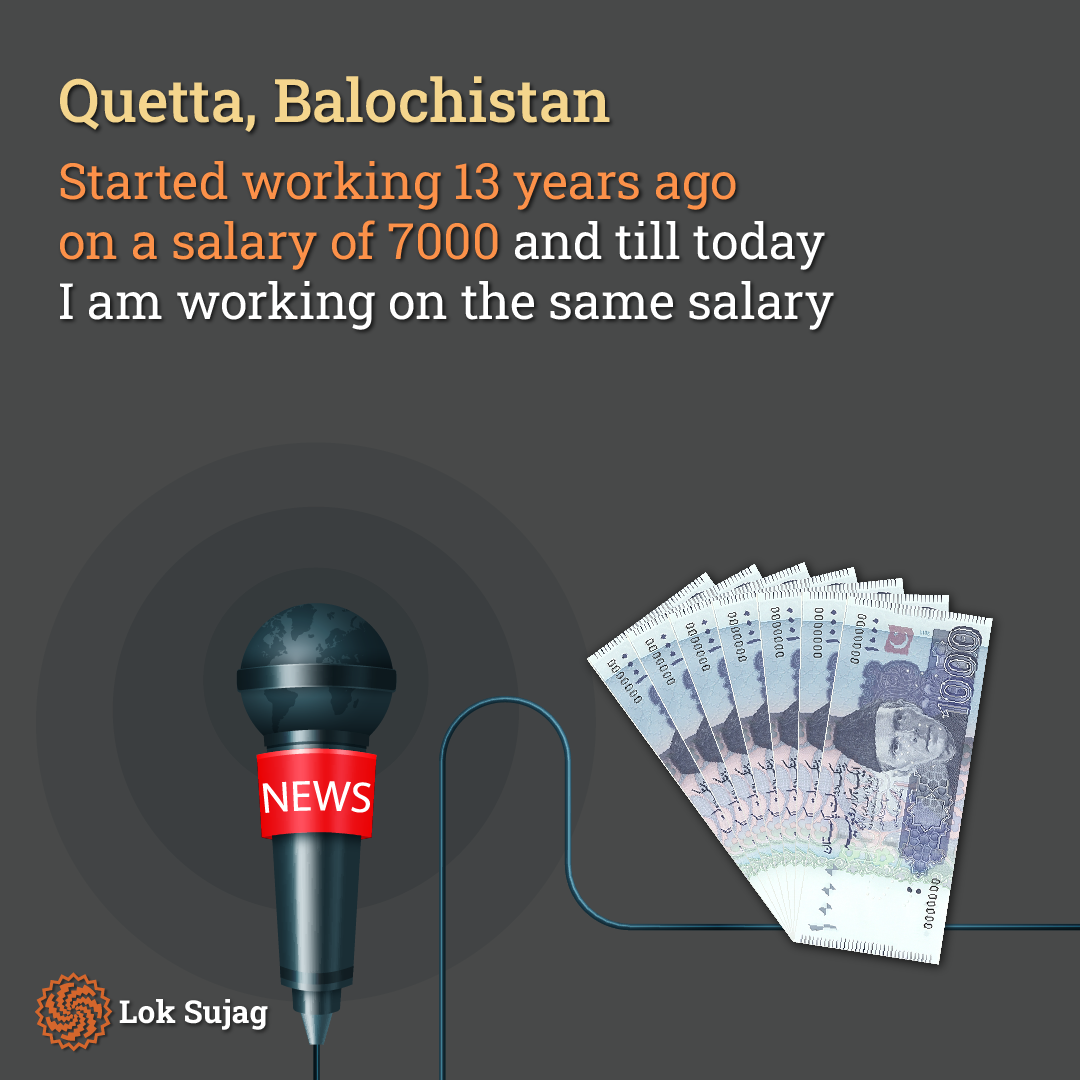 According to senior journalist Ishtiaq Mustafa Bukhari, junior newspaper reporters, sub-editors, and photographers should receive a minimum wage of 38,000 to 40,000 rupees. As per the wage board's regulations, journalists with ten years of experience in these three fields should earn a minimum of 50,000 to 55,000 rupees.
Fatah Shakir, the former General Secretary of BUJ, mentions that journalists have long complained about the unjust demands of media owners, working overtime without compensation, and not receiving the promised facilities. However, the current situation has worsened significantly. Journalists are now forced to work for months without receiving their salaries.
He states that in Balochistan, numerous employees have been laid off from media outlets. Due to the lack of industry and private advertisements, four news bureau offices associated with news channels have closed down, leading to the unemployment of another thirty journalists.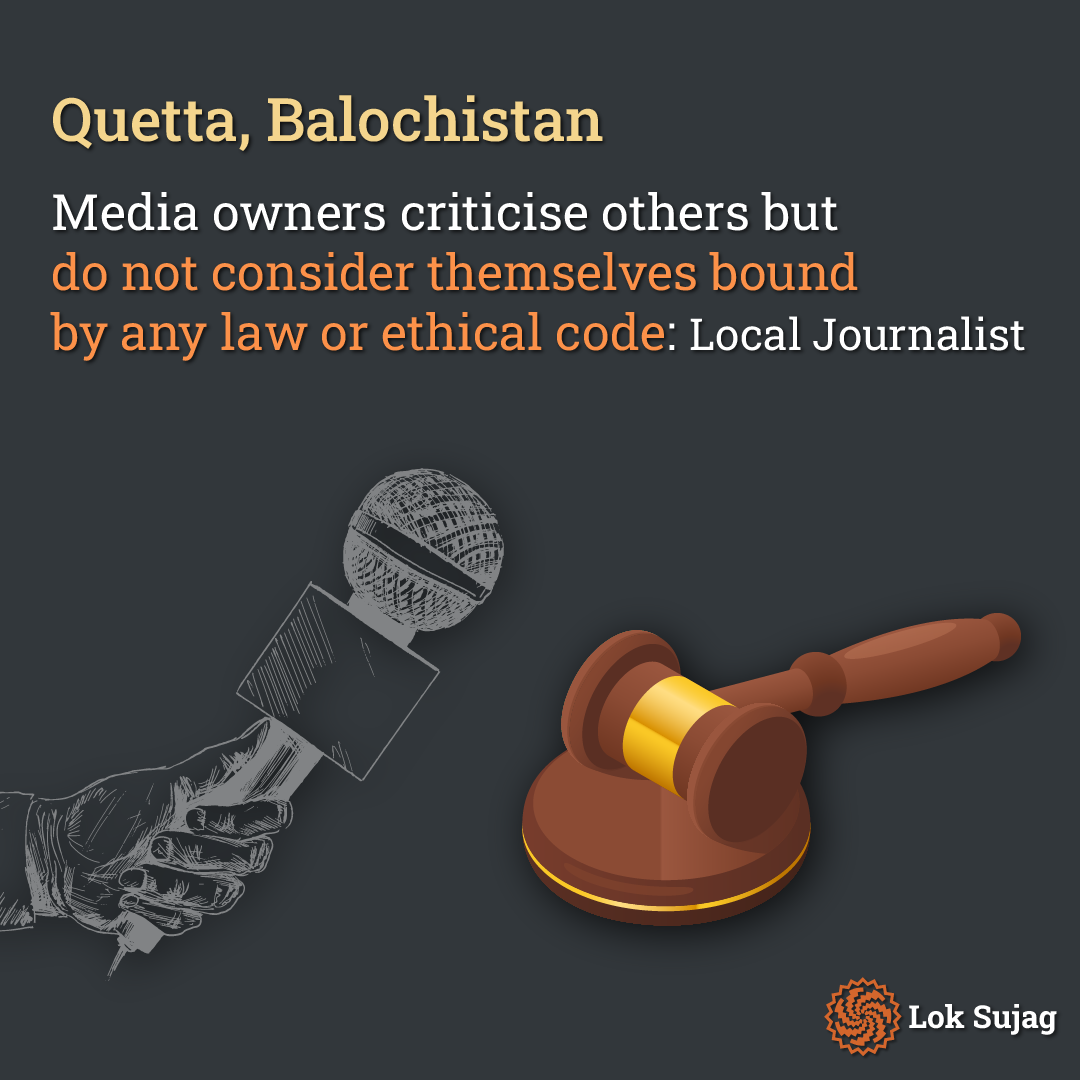 Fatah Shakir began his journalism career as a cameraperson in 2006. At that time, his salary was 30,000 rupees, which never increased. He highlights that inflation has steadily risen, making it impossible to cover the expenses of rent, groceries, children's education, healthcare, and other costs with a salary of thirty thousand rupees. He expresses his frustration, saying, "Only I know how I manage to get by."
According to him, bureau chiefs of media organisations and representatives of journalists' associations are only concerned about their own perks. When workers raise issues or discuss salaries, the response is often, "The owners have a tight budget," and the bureaus fear that speaking up for workers' rights might reduce their facilities.
He mentions that in 2021, when he served as the General Secretary of BUJ and conducted a survey on journalists' economic issues, it was revealed that 80 per cent of journalists were living below the poverty line in the province. In 33 districts, most correspondents were working without compensation.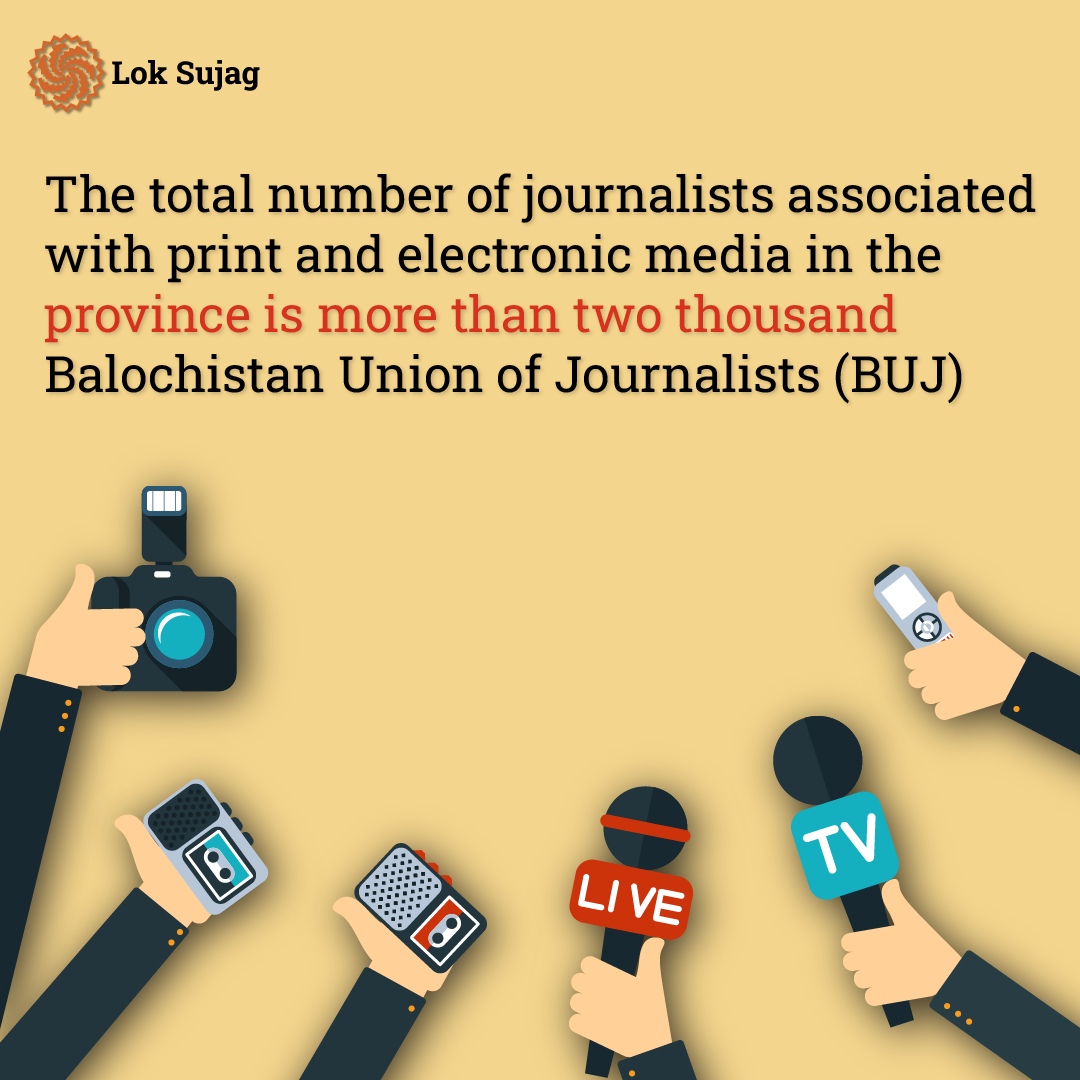 Muhammad Iqbal Mengal, the General Secretary of the Khuzdar Press Club, states that there are 22 members in the club, and only three journalists affiliated with major national media houses receive salaries. The remaining 19 are not provided any support by media organisations, and even if someone faces an accident or passes away while on duty, no one inquires or provides assistance. These individuals are often forced to seek financial help from others to sustain their households.
Abdul Khaliq Rind, the President of the Quetta Press Club, says, "We are not living life; life is living us. Printing news puts our lives at risk. There is no concept of job security in journalism anymore. Salaries are not only meagre but in most organisations, they are also not paid on time." He mentions that when they talk to media owners about salaries, they often receive the response, "Business is not profitable in Balochistan." This statement is inaccurate because media owners in Balochistan receive a significant amount in the form of government advertisements in both local and national publications every year.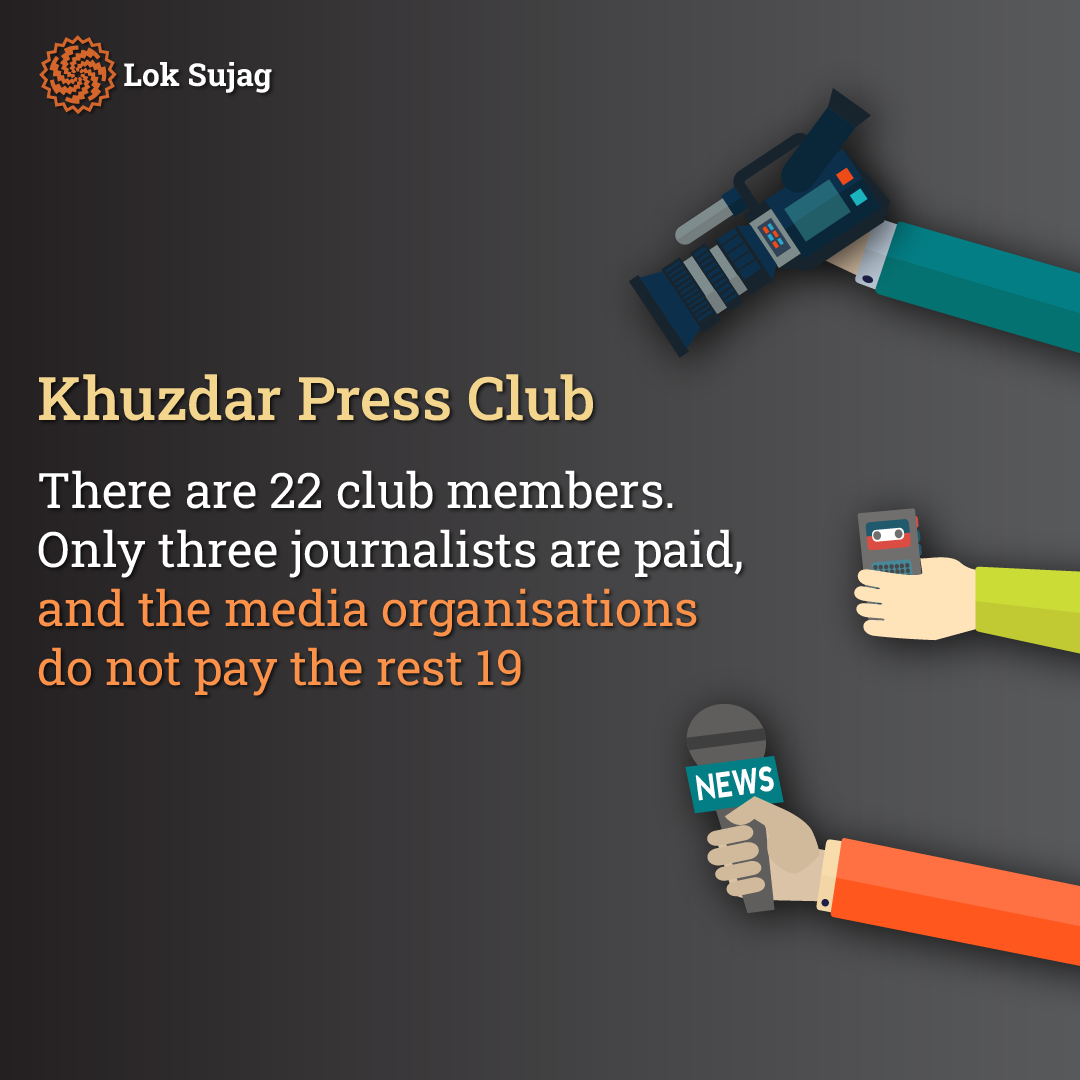 The Quetta-based newspaper's owner and editor, "Roznama Azadi," Asif Baloch, attributes the situation to both the federal and provincial governments. He argues that the newspaper industry is not receiving adequate attention, and the provincial government's advertisements are insufficient.
"The printing media industry relies on paper import, and the dollar price keeps increasing daily. A newspaper that costs 20 rupees to print costs us two hundred rupees. Private advertisements alone do not cover our expenses, and it takes around six months to receive payments for government advertisements. This is why journalists do not receive their salaries on time."
He suggests that the government should save this industry because the print media cannot be ignored altogether. Therefore, he recommends allocating additional funds to support this industry to preserve its importance.
Local newspapers like "Nawai Zhwand," "Ilan," and "Roznama Sadaqat" are among the 130 local newspapers in the province. However, provincial and federal governments allocate advertisements to national newspapers. Political parties also focus their campaigns on national media. "It's important for political parties to realise that their voters read local newspapers.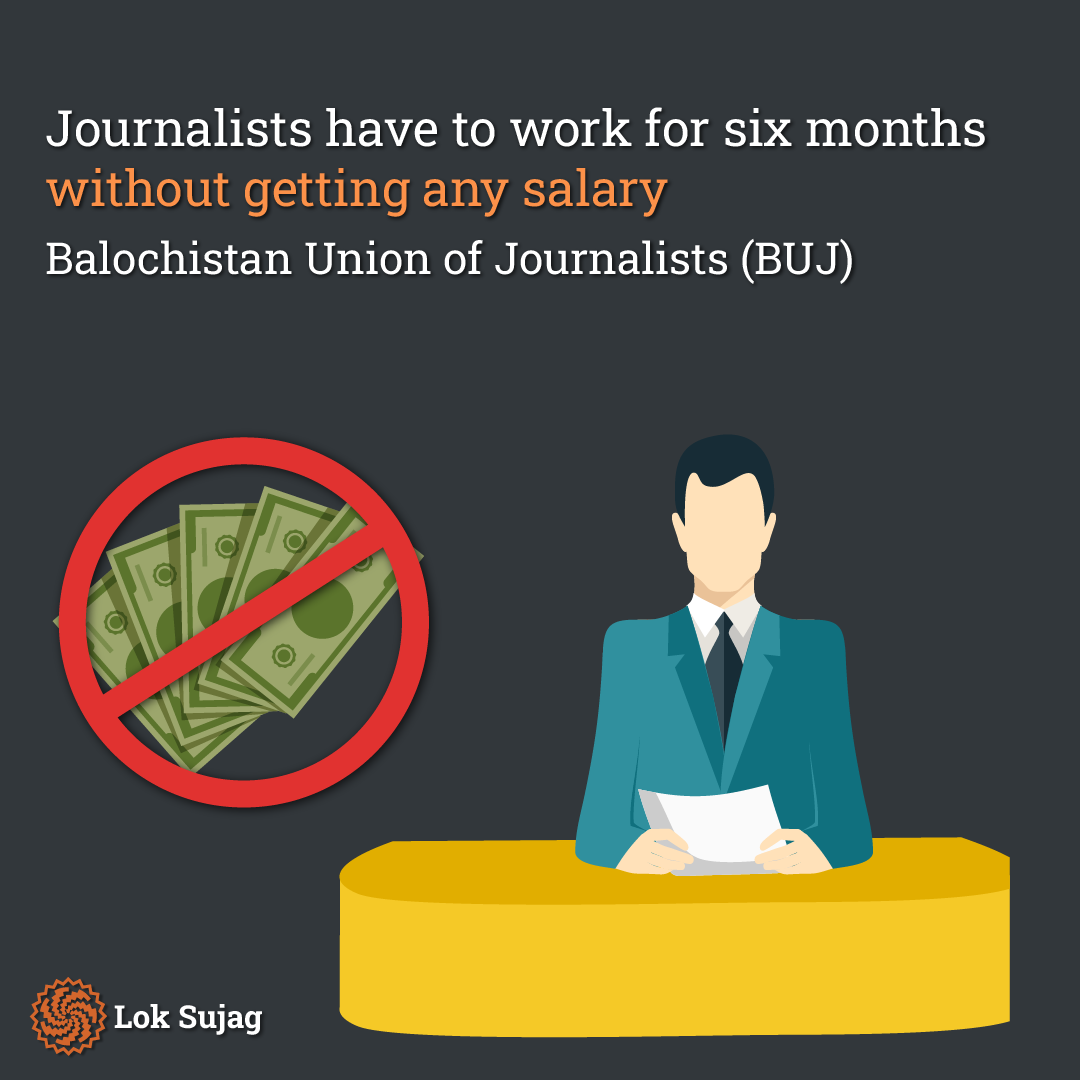 Only local newspapers are available in remote areas, and national newspapers may not reach there. However, the advertising budget is allocated only to national media. Therefore, influential political parties should also legislate for Balochistan, considering the province's unique circumstances, just like in other provinces."
The Caretaker Minister of Information for the province, Jan Muhammad Achakzai, mentions that there is no revenue for the media due to the lack of industry in Balochistan. When the government discusses increasing journalists' salaries with media owners, the response is often, "What help is the government providing?"
He points out that when compared to other provinces, the advertising budget for Balochistan is significantly lower. For example, Sindh has a provincial advertising budget of 12 billion rupees, Punjab has 18 billion rupees, and Balochistan's budget is only 550 million rupees, which is insufficient to sustain the media industry. Media owners often negotiate with the government as a business deal.
Also Read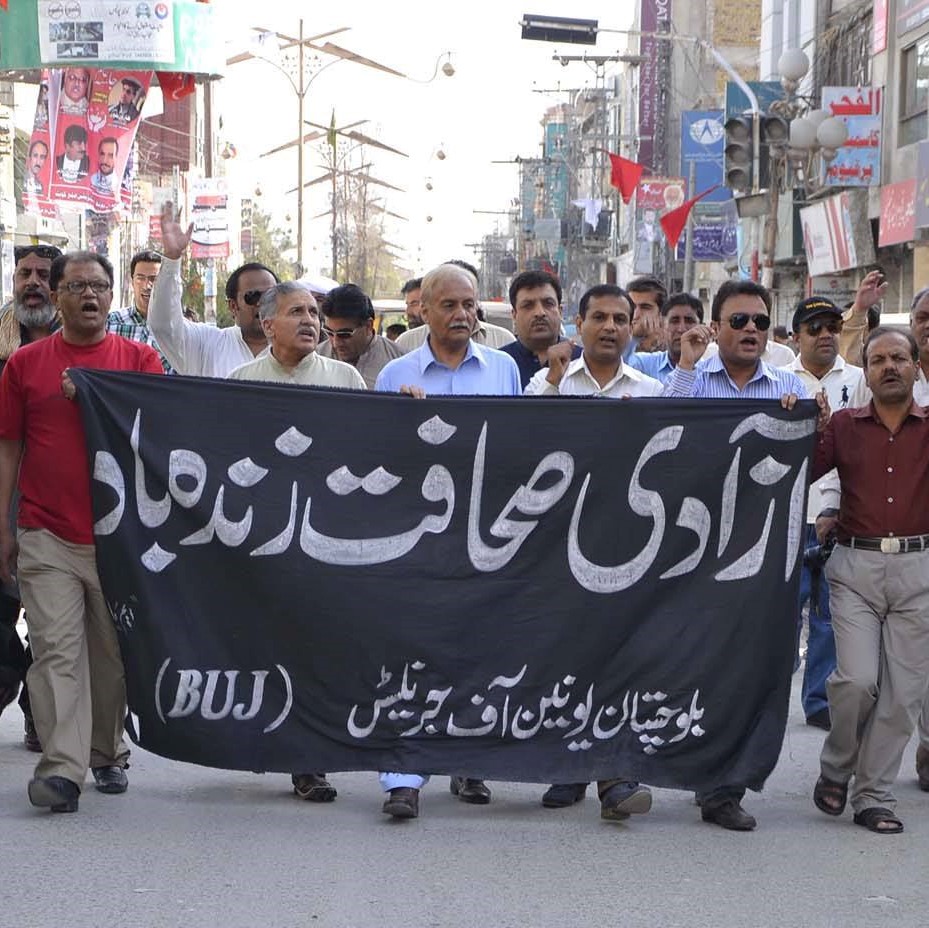 Rising toll of journalist deaths in Balochistan raises concerns: A look at the troubled landscape
The Balochistan Bar Council Chairman, Rahib Baledi, says that every government and private organisation must legally adhere to the minimum wage laws. If they fail, the government or journalist organisations can seek redress from labour courts. Relevant organisations can also be fined, and penalties can be imposed if they do not comply.
Similarly, under new media laws, journalists cannot be delayed more than two months in salary payments. This highlights the importance of enforcing labour laws and media regulations to ensure fair compensation and timely payments for journalists.
General Secretary of the Balochistan Union of Journalists (BUJ), Manzoor Rind, points out that with the advent of social media, competition for journalists has increased, affecting both print and electronic media. BUJ has established a welfare fund to provide support for unemployed journalists. He also mentions that the organisation is actively protesting on behalf of journalists regarding current issues, and they hope to see success in implementing laws that ensure fair compensation for journalists soon. This demonstrates the efforts made by journalist organisations like BUJ to address the challenges journalists face in Balochistan face.