Ayesha Bibi became a widow at a young age, burdened with supporting her four children. She fulfilled this duty by performing household cleaning for others and providing for her three sons' education up to matric despite facing severe resource constraints.
However, as her sons transitioned into their youth, they succumbed to drug addiction. But the story doesn't end there. Due to their addiction, two of her sons tragically lost their lives, and there are several legal cases against the third resulting in him being under arrest for much of the time.
Ayesha Bibi hails from the Pakpora area of North Sialkot district in Punjab. Despite reaching 56, she continues to battle for her livelihood.
Reflecting on her life journey, Ayesha states that the grief of losing her husband marred her youth. Now, in her old age, she is burdened with the sorrow of losing her sons. "I haven't experienced a single moment of peace in my life," she says.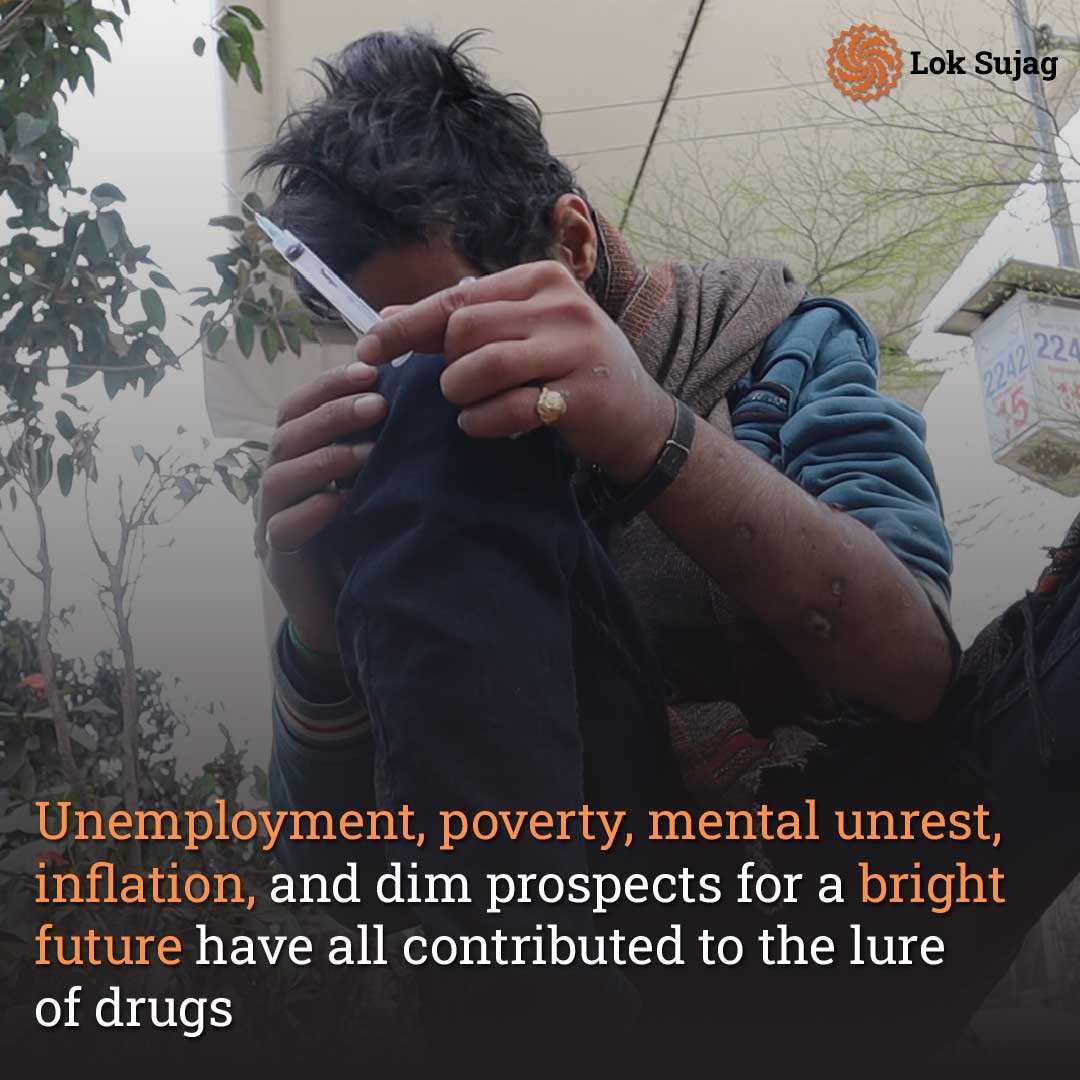 She says her two elder sons, Ahmed and Amir, were intelligent and hardworking. However, the younger son, Ali, fell into the wrong company, leading to frequent complaints from the community. Initially, his older siblings tried to counsel him, but to no avail. Eventually, his situation deteriorated, and as he reached 19, Ayesha Bibi learned that he had started using drugs.
She said he started with hashish and opium, progressing to more dangerous substances like ice. Soon, he became involved in the buying and selling of drugs. The police eventually heard about his activities, leading to raids on their home.
Ayesha Bibi shares that while she accepted this as a stroke of fate, her world crumbled when she discovered that her two elder sons, the family's breadwinners, had also fallen into drug abuse. Worse yet, Ahmed developed lung cancer due to his addiction, and Amir contracted tuberculosis.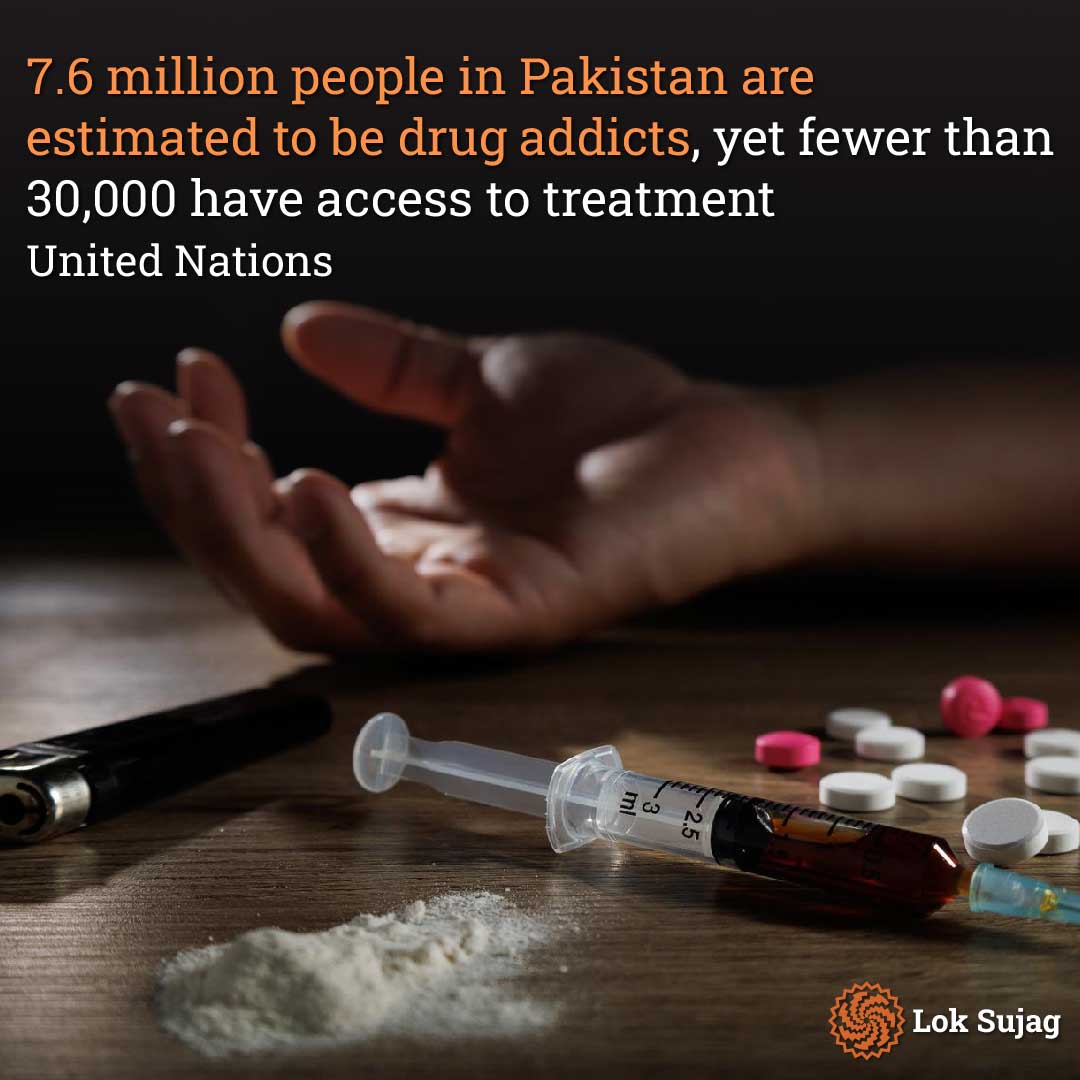 Amir passed away in 2015 at the age of 24, as recounted by Ayesha.
As time passed, her younger son's drug involvement attracted legal consequences, and Ahmed's health deteriorated further.
"Then came the day when he was diagnosed with advanced-stage cancer. In 2018, Ahmed also passed away."
A resident of Sialkot, Ayesha Bibi is not alone in experiencing her home and family being destroyed by the menace of drugs.
35-year-old Bushra Bibi's life also mirrors a similar story.
Bushra's family relocated to Sialkot from Kot Momin, a town in Sargodha, 11 years ago in search of a better future. She has five children. Her husband, who is a tailor, has been addicted for some time now, which has forced Bushra to work in people's homes to support the upbringing of her children.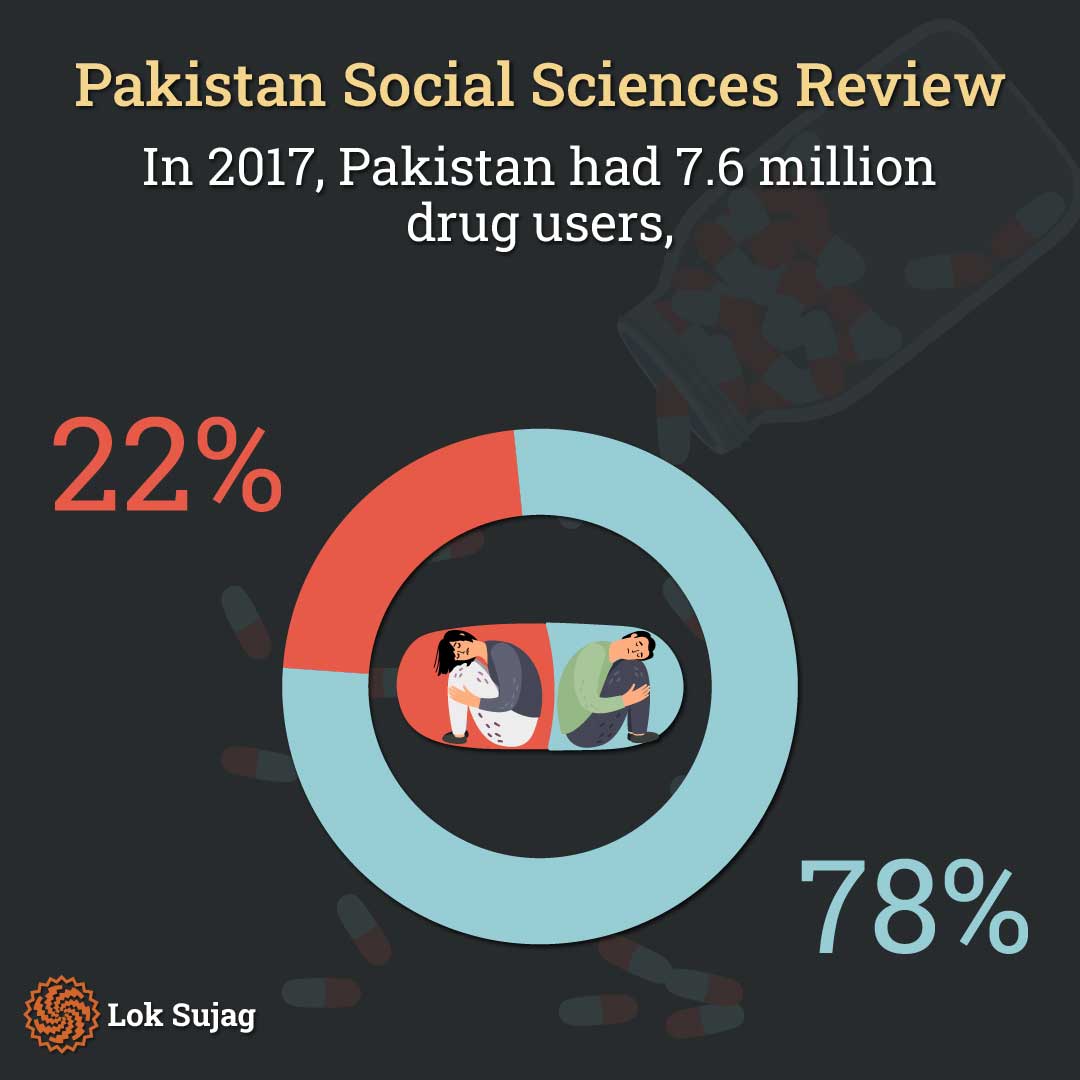 Bushra shares that her husband earned enough to sustain their family comfortably.
"Then he fell into bad company and started using drugs. As his health began to deteriorate, his work also started getting affected. He would spend the whole day getting high and sleeping at home, neglecting his responsibilities."
She explains that as the situation worsened, she started working at other people's houses alongside the domestic worker who used to work at her house.
Bushra admits that there came a time when she had reached the brink of despair, but then she summoned the courage for the sake of her children and informed her father-in-law about the entire situation.
He immediately came to Sialkot and admitted his son to a health recovery centre for three months of treatment. Her husband's condition improved significantly, and he returned home. However, just a few days later, he started meeting the same friends who had introduced him to addiction again.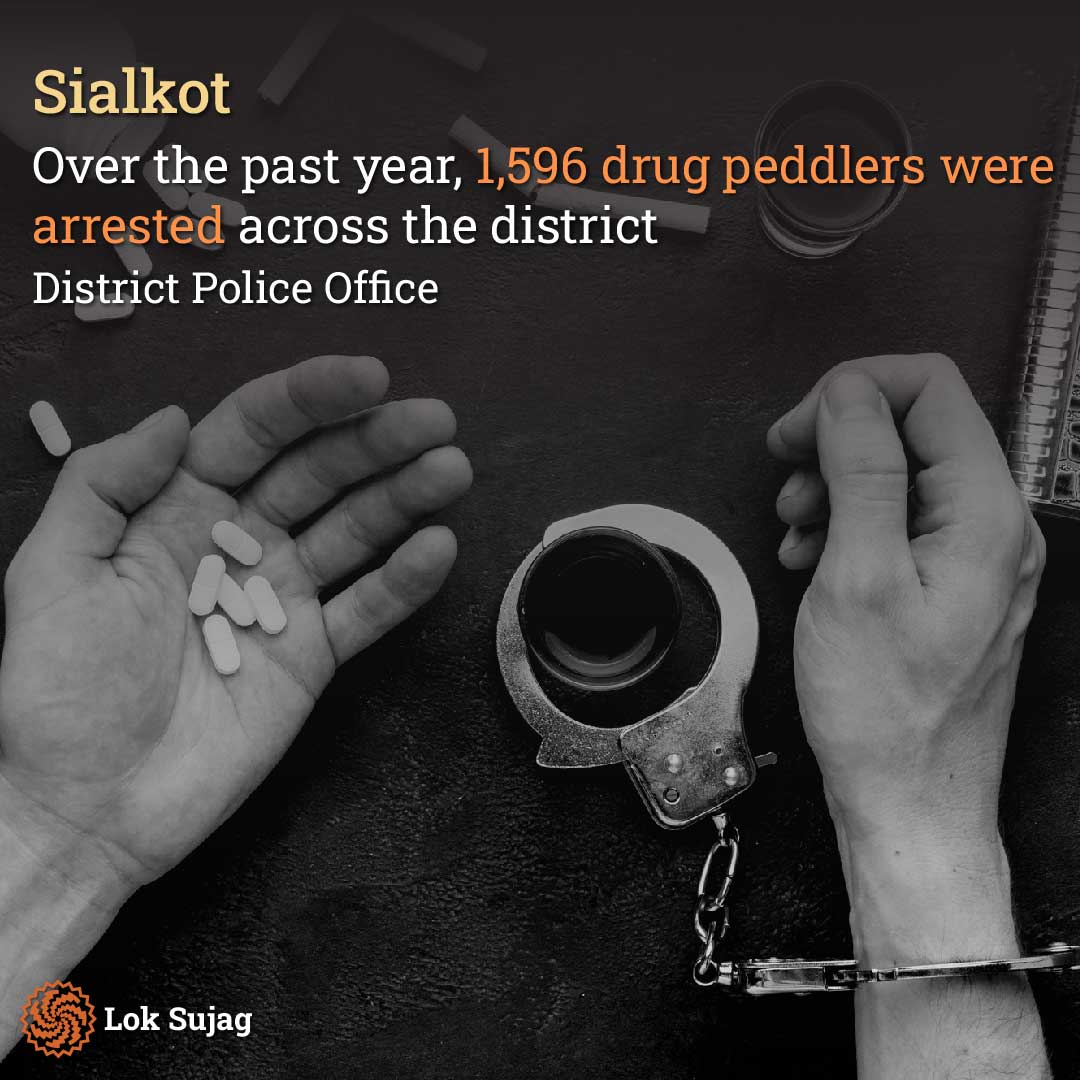 Bushra Bibi acknowledges that, as a woman, she cannot forcibly detain her husband at home. So she once again turned to her father-in-law, who ultimately moved the entire family back to Kot Momin.
Samia Ali, a psychologist in Sialkot, shares that unemployment, poverty, mental unrest, inflation, and dim prospects for a bright future have all contributed to the lure of drugs. She says people often turn to drugs to escape problems and challenges, although this approach only increases their difficulties.
She emphasises that counselling is just as crucial as medical treatment for individuals struggling with addiction. Hence, health rehabilitation centres should prioritise this aspect.
Since the family of Bushra Bibi has moved from Sialkot to their ancestral home, she is now hopeful that her husband will finally break free from this habit. The reason behind this hope is her belief that there are many drug addicts in Sialkot.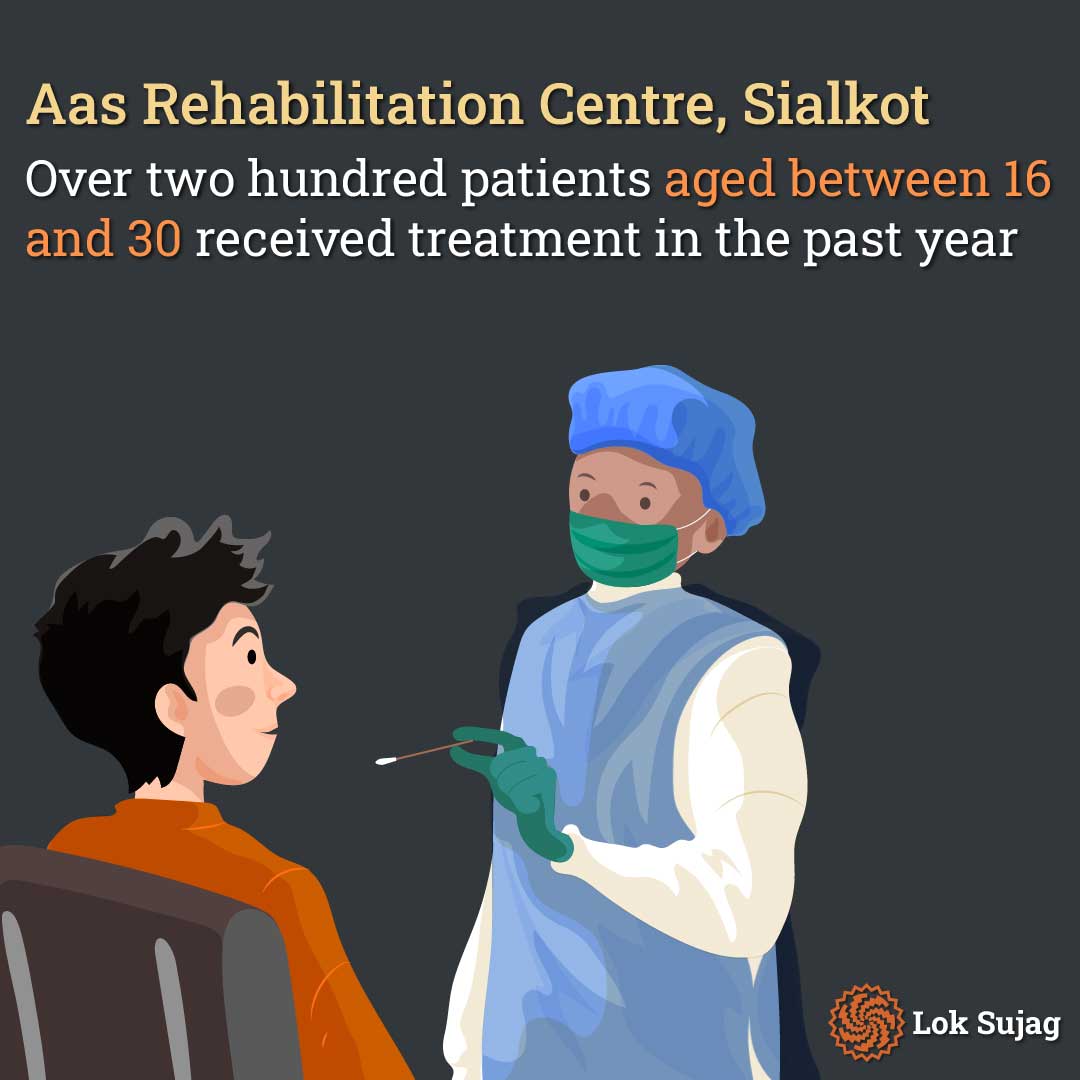 Similarly to Bushra Bibi, Ayesha Bibi believes that her sons fell into the trap of drug addiction due to their associations with people already involved in drug abuse or the drug trade.
In Sialkot, groups of drug addicts are visible at numerous intersections, beneath bridges, and around railway tracks.
Khurram Shahzad, the Public Relations Officer of the district police office in Sialkot, reports that over the past year, 1,596 drug dealers were apprehended district-wide, resulting in the seizure of ten kilogrammes (kg) of heroin, two kg of ice, 11,500 litres of alcohol, and 464 grams of hashish. He notes that legal proceedings are underway for all these cases.
In Sialkot, a centre known as 'Aas Rehabilitation Center' provides treatment for people struggling with drug addiction. As per the centre's management, over the past year, more than two hundred patients, primarily young people aged between 16 and 30, have undergone treatment here.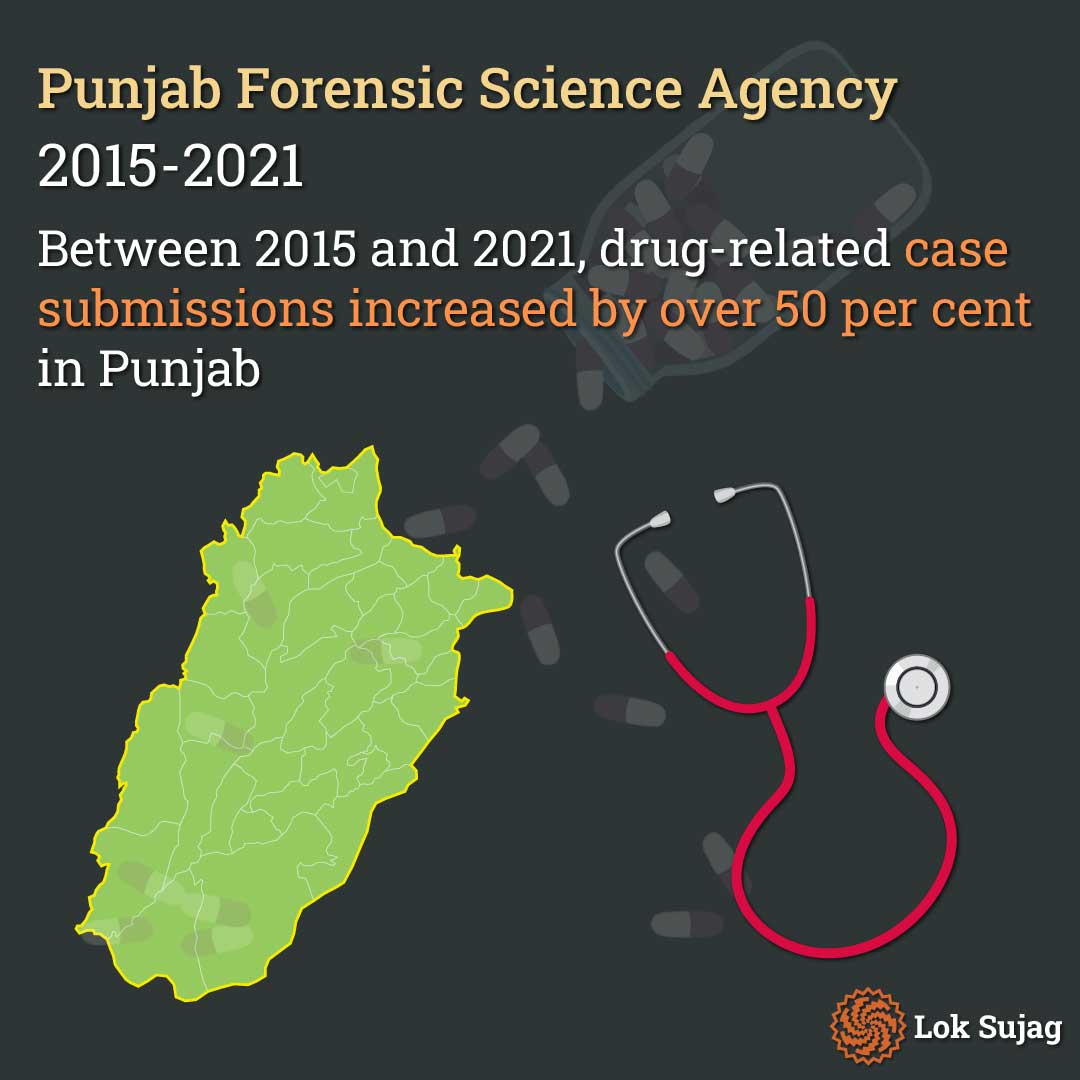 Muhammad Bilal, an employee of the centre, states that besides administering treatment, the centre also offers religious and worldly training and counselling. The goal is to prevent patients from relapsing into addiction. Still, not every patient who seeks treatment here manages to break free from addiction permanently, as many individuals experience relapses even after treatment.
Reports from the Lahore-based Punjab Forensic Science Agency reveal a consistent yearly rise in drug-related cases submitted for investigation from all over the province.
Reports of cases received from 2015 to 2021 have been provided on the institution's website, according to which there has been an increase of more than 50 per cent in the number of such cases in Punjab over these eight years.
In 2015 the laboratory received 23,326 cases, 21,930 in 2016, 23,493 in 2017, and 20,615 in 2018. However, a marked increase occurred in 2019, with 42,412 cases reported. In 2020, the count reached 50,521, and 46,971 cases were reported to the laboratory in 2021.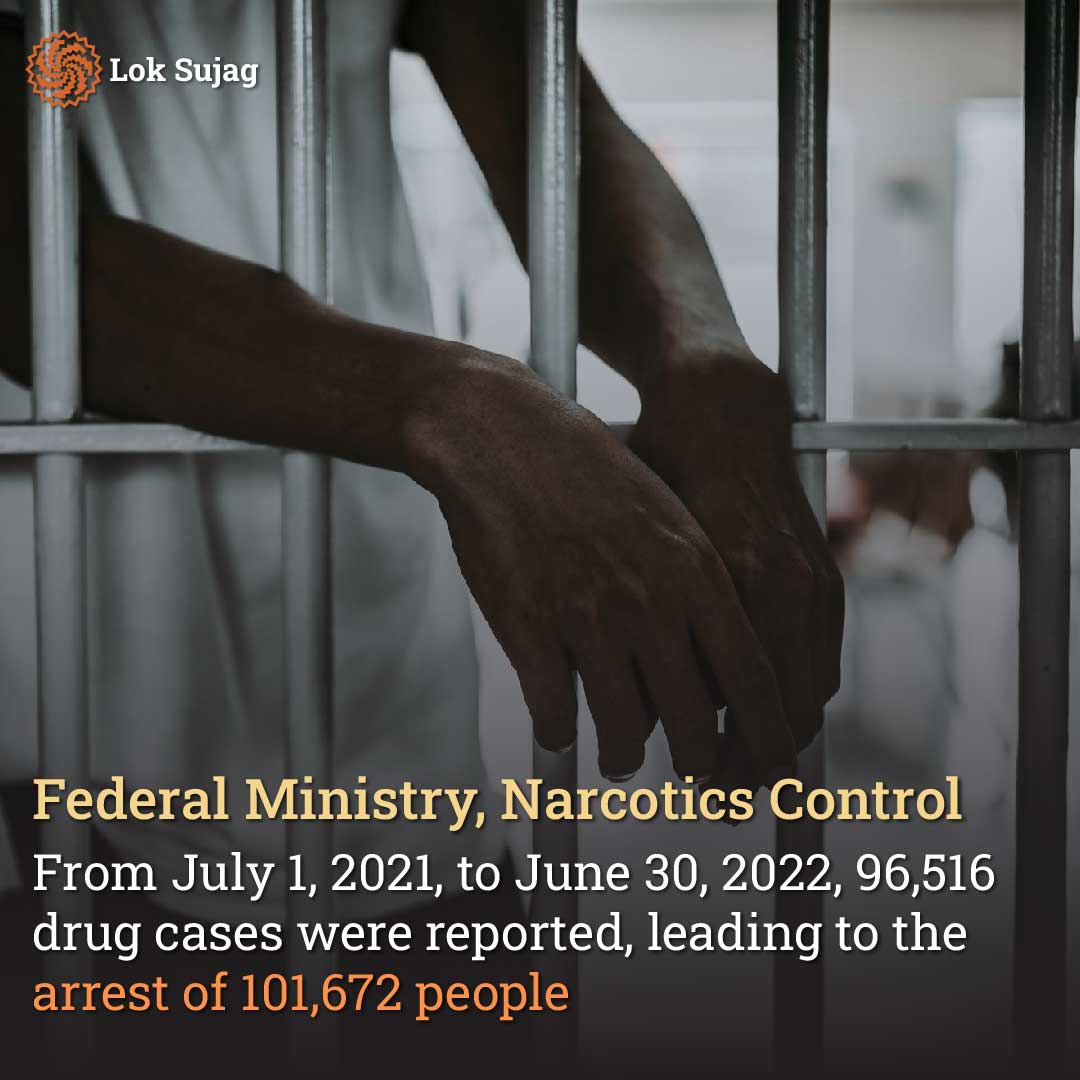 Reviewing data from the Federal Ministry of Narcotics Control, it becomes evident that the rise in drug-related cases is not restricted to Punjab but's a nationwide phenomenon.
The ministry's annual report for 2021 and 2022 indicates that from July 1, 2021, to June 30, 2022, 96,516 drug cases were reported, leading to the arrest of 101,672 individuals accused of drug-related offences. Two years prior, in 2019 and 2020, the registered cases numbered 69,141, resulting in the arrest of 74,820 suspects.
According to the United Nations Office on Drugs and Crime, the number of drug addicts in Pakistan exceeds 4.2 million, but less than 30,000 of them have access to treatment and medical facilities. Moreover, free treatment options are scarce for these individuals.
A research paper published on March 31, 2020, by the Pakistan Social Sciences Review reveals that in 2017, the total number of drug users in Pakistan amounted to 7.6 million, with 78 per cent being men and 22 per cent women. The paper suggests that the number of drug users in Pakistan is growing alarmingly.
Also Read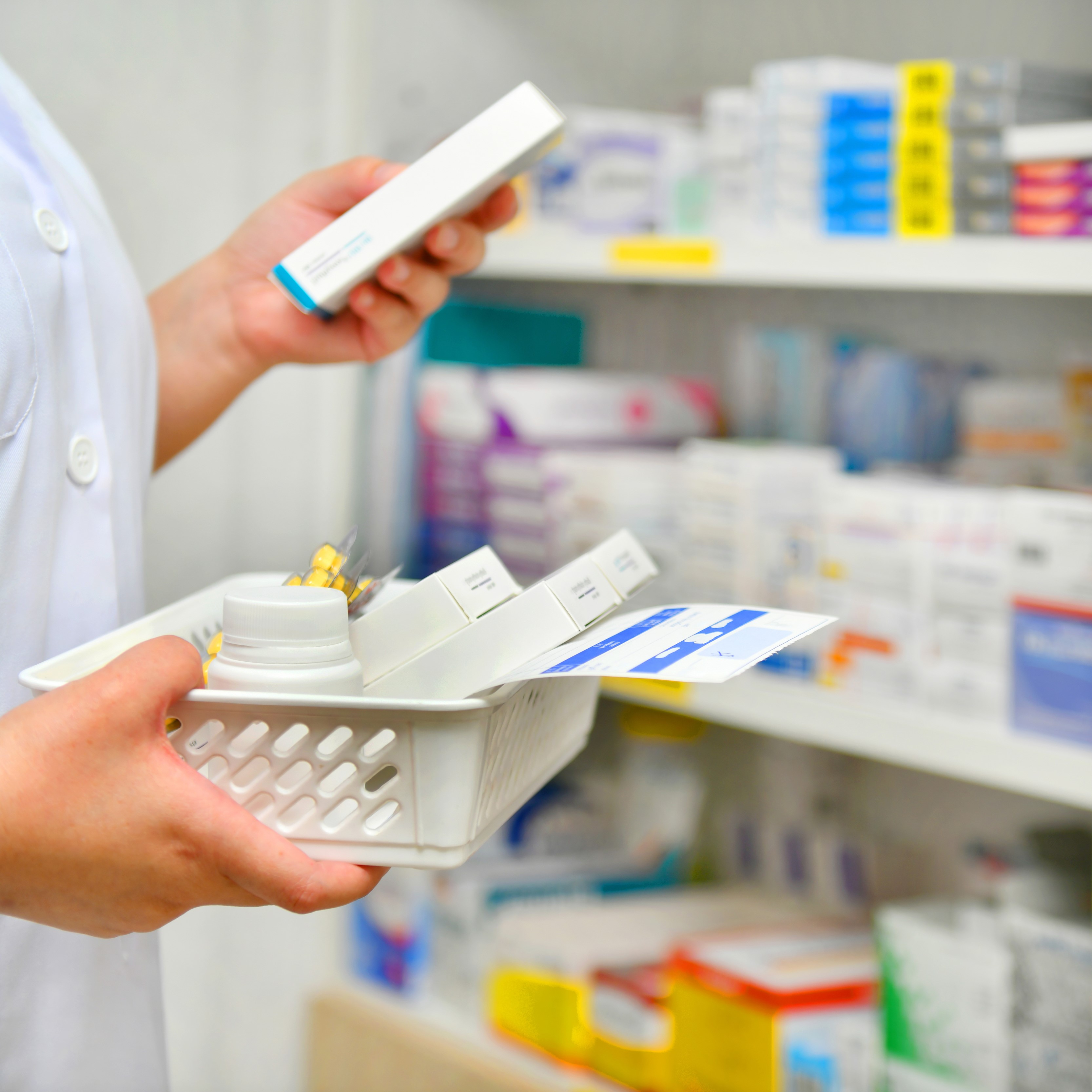 Rising drug scarcity in Pakistan: Families struggle to afford vital medications amid black market exploitation
High Court lawyer Shehryar Ahmed says that despite effective legislation in the country, the number of drug addicts continues to rise steadily. He points out that although the legal framework mandates death or life imprisonment for crimes connected to illegal drugs, the problem remains pervasive.
Section 8 of the Anti-Narcotic Substances Act 1997 outlines penalties for various quantities of drug possession. A person found with 100 grams or less could face up to two years of imprisonment. The sentence extends to seven years, along with a fine for quantities up to one kg. Amounts exceeding one kg can result in death, life imprisonment, or 14 years of imprisonment, coupled with a fine of up to one million rupees. Should the quantity exceed ten kg, the minimum sentence is life imprisonment.
Shahryar Ahmed states that it is often observed that cases against drug dealers are pursued in court for a while, but then they are acquitted with dignity, which is because drug dealers operate with proper planning and do not leave any evidence behind.
According to them, in some incidents, due to police negligence and insufficient evidence, cases are closed, and drug dealers are set free.