Torghar, formerly Kala Dhaka, in the Hazara Division of Khyber Pakhtunkhwa, comprises a two lakh population district. It was originally considered part of the tribal areas. In 2011, it was reclassified as a settled district. However, this reclassification did not bring significant improvements, and the area still lacks basic amenities and services for its population.
Torghar shares its district borders with Shangla, Haripur, Battagram, Mansehra, and the district of Buner. The district comprises three tehsils: Judba, Mera Mada Khel, and Dorra Maira. It has a population of over two hundred thousand people. Most of the population resides in the mountainous regions, and the majority are Pashtuns from various tribal communities, including Busi Khil, Mada Khel, Akazai, Hassan zai Khel, and Nusrat zai.
Farmanullah, a resident of the district headquarters in Jadba, highlights the significant lack of healthcare facilities in Torghar.
While these issues affect everyone, they pose particular challenges in women's healthcare. No female doctors in any of the district's hospitals can provide initial medical care to pregnant women during their pregnancies.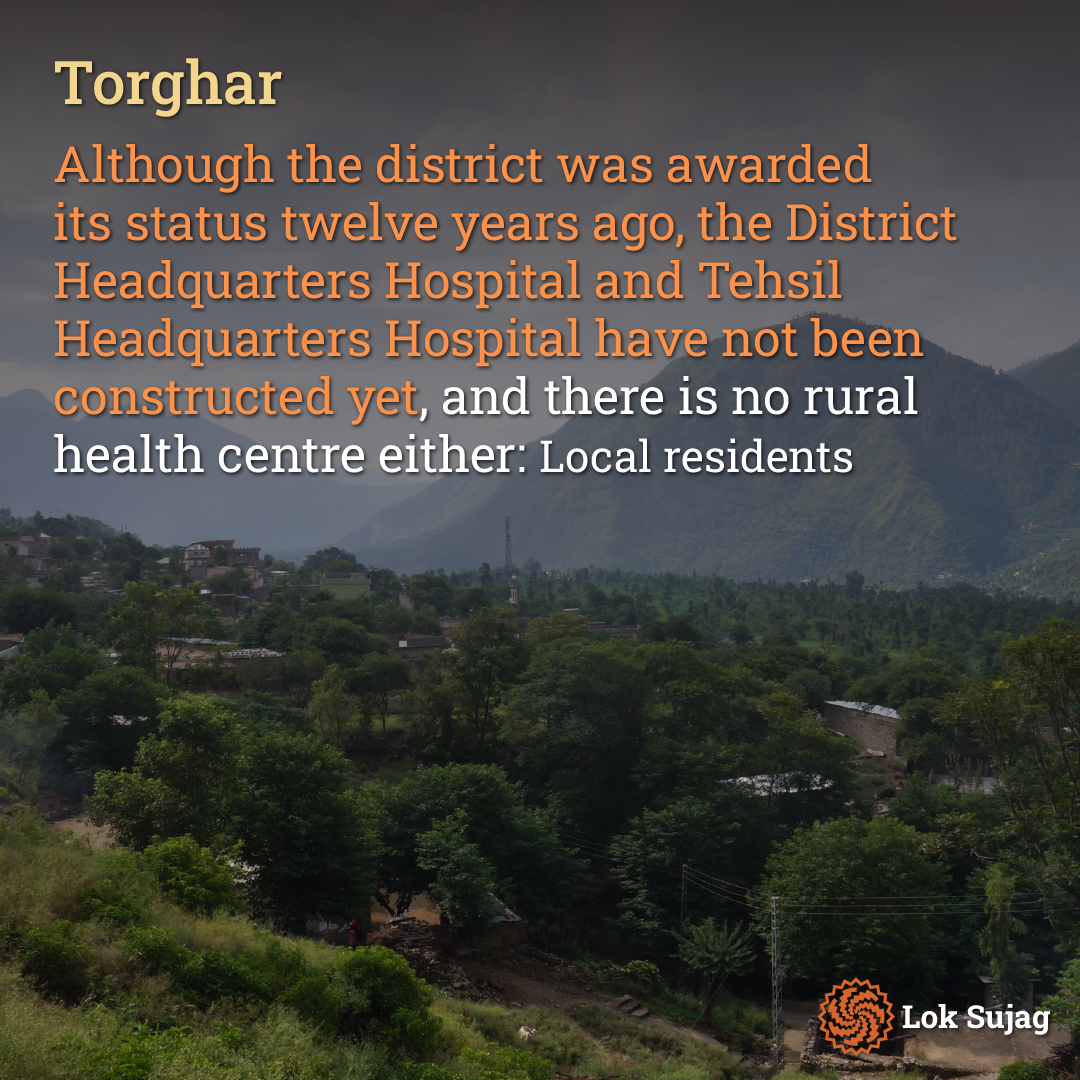 "Those with the means often hire an ambulance to take their patients to nearby districts such as Bannu, Mansehra, or Abbottabad. However, for those with fewer resources, contributions are collected in their villages so that the ailing women can be timely taken to another district and shown to a female doctor to save their lives."
Ehsan Khan from Basi Khel narrates that last week, a car in Jat Kool village fell into a ditch; as a result, seven men and women were severely injured. However, due to the lack of first aid facilities in Torghar, the injured were transferred to hospitals in Bannu and Mansehra. During this time, four people, including a woman, lost their lives on the way, while the remaining three are still under treatment.
From the same area, Mohammad Zahid states that people in the Torghar district still live in primitive conditions. There are no labour rooms and maternity homes in the hospitals. There are no lady doctors available for the treatment of women. Due to the lack of facilities during deliveries, women lose their lives, and people often lose their lives due to the unavailability of timely medical care during accidents.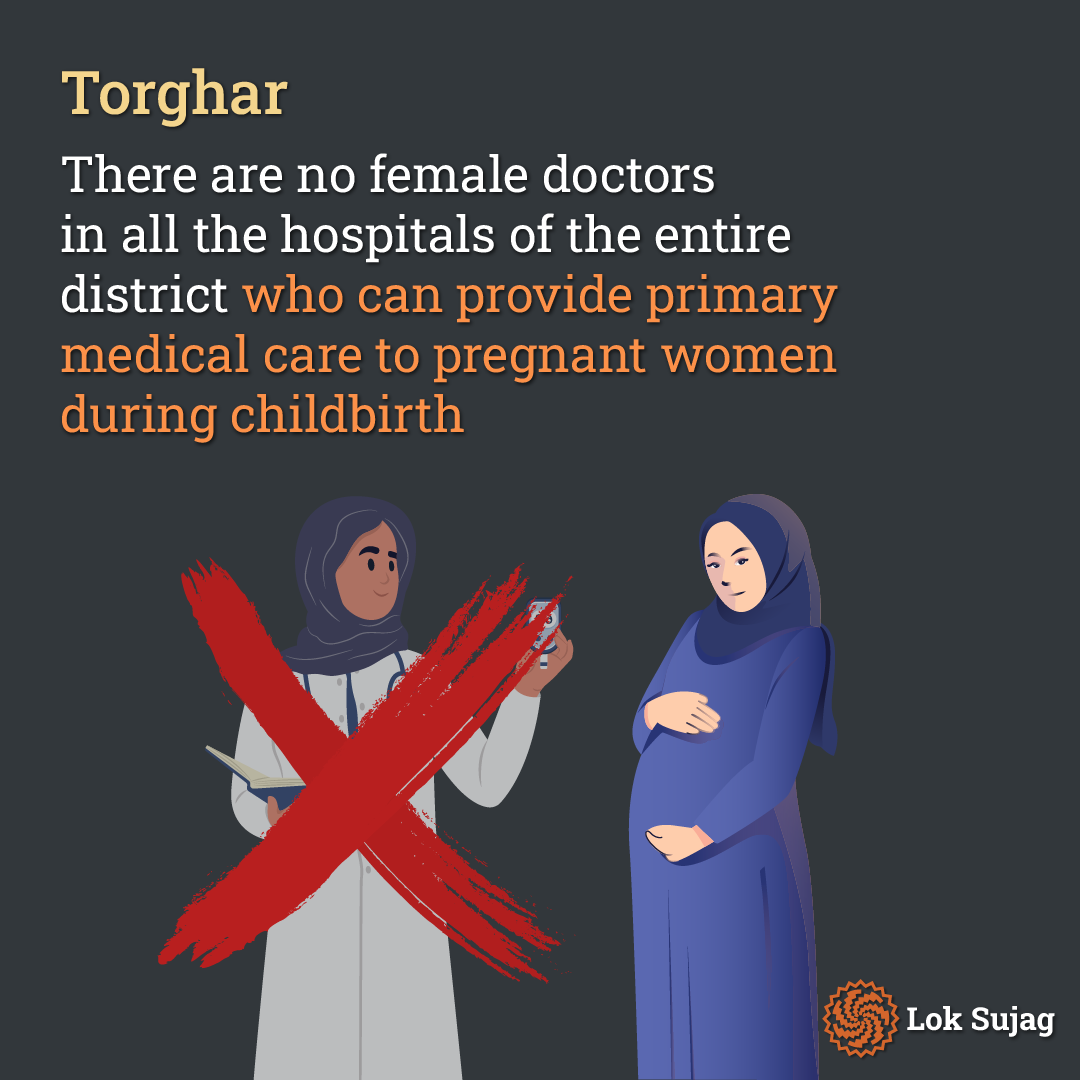 Expressing deep disappointment, he mentions that twelve years have passed since Torghar was granted the status of a district. However, no district headquarters hospital or tehsil headquarters hospital is still constructed.
Additionally, no rural health centres have been established in the entire district.
"Due to these reasons, there is no government position for lady doctors in the Torghar district, and no LHVs or nurses have been appointed."
Mohammad Zahid mentioned that the hospital in the Bannu district is located 60 kilometres away from Torghar, where women go for first aid. If the issue is more severe, they have to go to Manshera or Abbottabad hospitals, incurring expenses of thousands of rupees for transportation.
In Jandaba, Ahmed Khan, the owner of a medical store at the tehsil headquarters, said that due to the increased number of mosquitoes in stagnant water near the Tarbela Dam on the Indus River in Torghar, an outbreak of malaria has occurred for the past two months. During this time, hundreds of people fell ill with malaria fever, but there is no government hospital in the entire district that has a government laboratory where malaria tests can be conducted.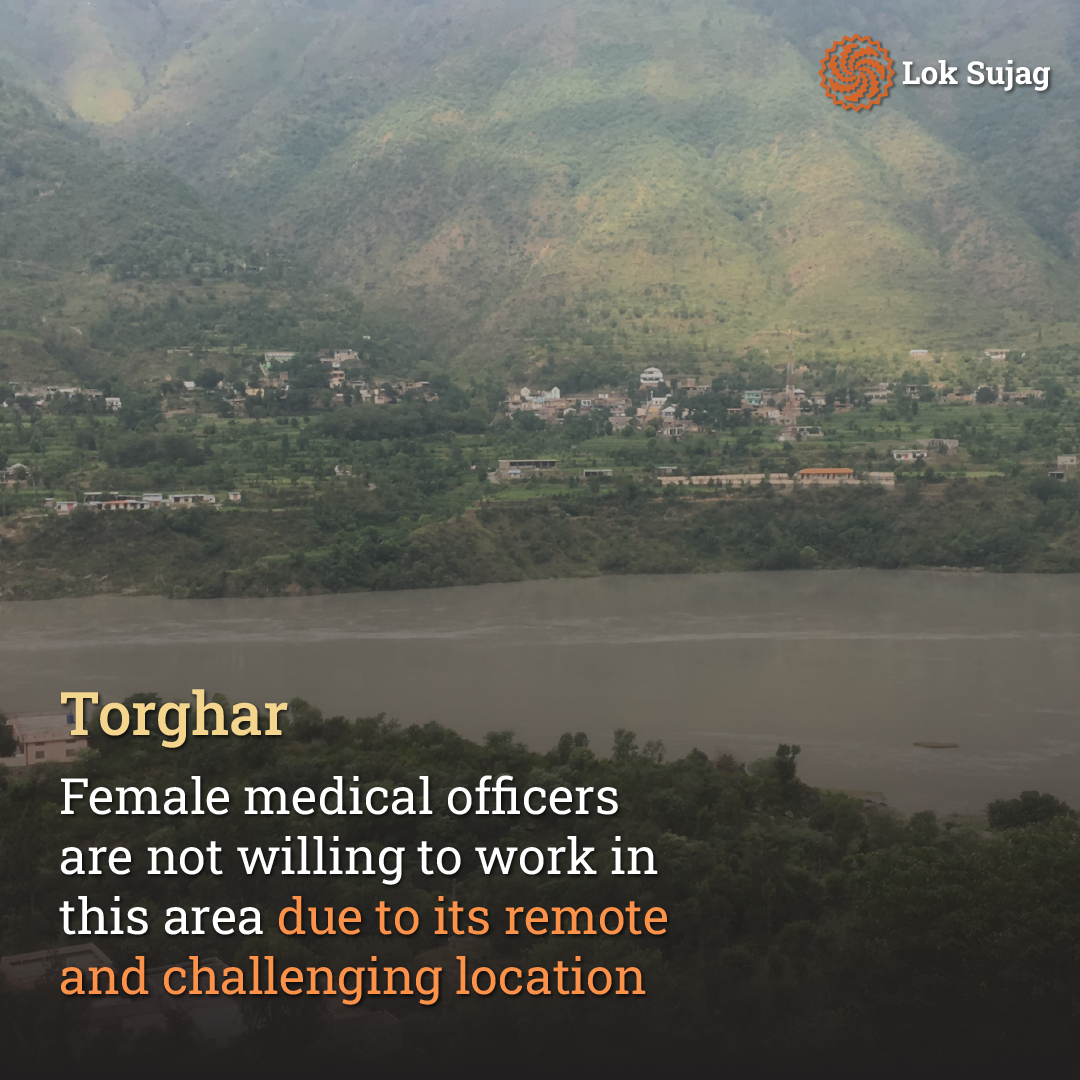 When this matter was discussed with Deputy District Health Officer Dr Mudassir Iqbal Khan, he stated that the construction of the District Headquarters Hospital in Torghar has not been completed yet.
"In the area, there are ten Basic Health Units (BHUs), which are functional, but they have been upgraded to Rural Health Centers (RHCs) like Mera Mera BHU and Dora Mada Khel BHU. However, no progress has been made. The buildings are ready, but there is no equipment or staff. The district has ten Medical Officer positions, and at the moment, only four MBBS doctors are working, while the rest are medical technicians. There are six Lady Health Visitors (LHVs) positions in the entire district, and they are also vacant with recruitment in progress."
Regarding the absence of lady doctors in the Torghar district, Dr Muddassir explained that more than fifty per cent of the medical officer positions in the district are vacant. However, the doctors are not interested in coming to these remote areas, and after receiving transfer orders, they try to relocate from here.
Also Read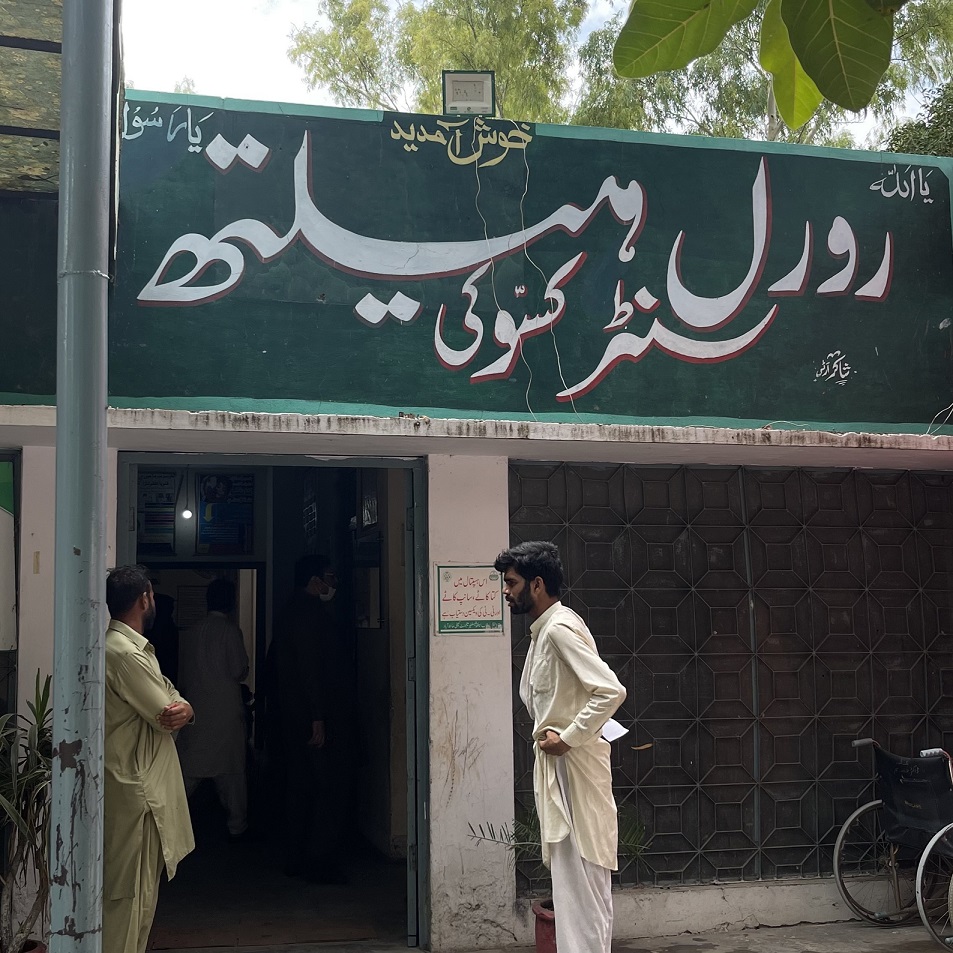 Inadequate healthcare facilities and shortages plague Hafizabad district: A grim reality unveiled
He explained that when interviews were conducted for doctors in Torghar, the female medical officers were not interested in working in this area because it is challenging in terms of accessibility and income.
The Deputy District Health Officer of Torghar believes that female medical officers will also be more likely to come to the area once the District Headquarters Hospital is established because the DHQ hospital usually offers better facilities.
Deputy Commissioner Ziaur Rehman Marwat mentioned that development work in the district started only after obtaining the district status, including construction work on the District Headquarters Hospitals.
He explained that ten Basic Health Units (BHUs) have been upgraded to BHU Plus, and two BHU Plus facilities have been further upgraded to Rural Health Centers (RHCs). With the addition of staff to these health facilities, many health sector issues will be resolved significantly.
He recalls that after the district was formed, the then Chief Minister Amir Haider Khan Hoti visited the area and announced a development package of 2 billion rupees for various developmental projects, including 20 crore rupees allocated for the District Headquarters Hospital. However, even after 12 years, the DHQ Hospital or any other such project has not been completed yet.
Former Prime Minister Shahbaz Sharif also visited Torghar last year in July and announced the construction of a bridge over the Indus River, two girls' colleges, a boys' college, and a high school in the district. However, there were no announcements or progress reports related to improving healthcare facilities or visible advancements in the previously approved projects.