"One, the river water arrived late, causing a delay in rice sowing by a month. Then, August passed without rainfall in lower Sindh, and a fertiliser crisis emerged. This year, a 10 to 15 maund per acre decrease is evident in rice production."
These were the concerns of the farmer Jakhru Nohani of Golaarchi, who resides in the rural village of Dhadharco and cultivates rice on a 40-acre irrigated land there.
The 54-year-old Jakhran Nohani is also a local leader of the Abadgar Association, a small farmers' organisation. He reveals that urea fertiliser has been unavailable for several days. The black market is also not providing any relief. The lack of timely fertiliser for rice cultivation will hinder the plant's growth.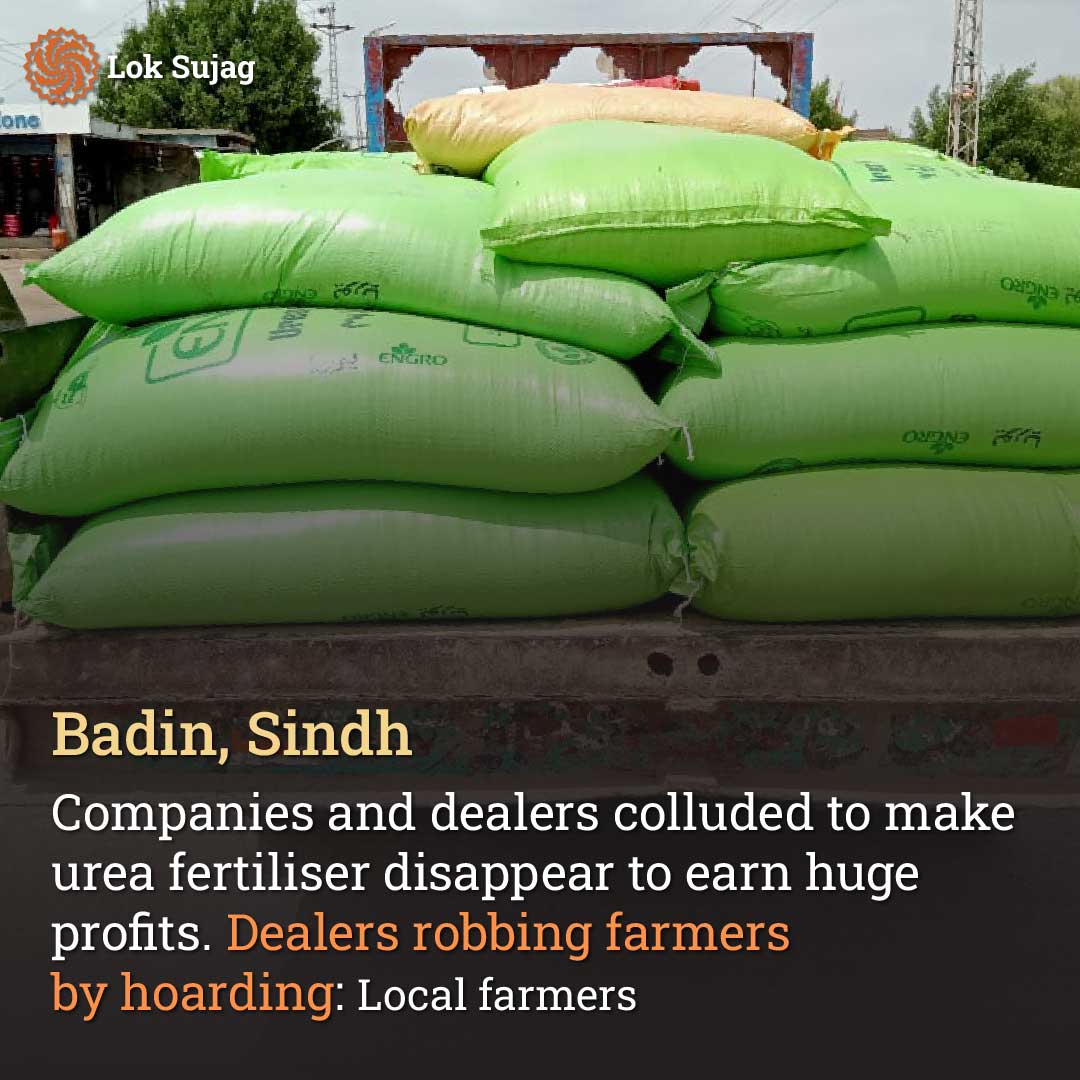 The area below the Sindh Barrage is known as the 'Lar Region' of rice cultivation. In this region, in the Badin district, urea fertiliser availability has become scarce due to the completion of the crop season, causing distress among farmers.
Farmers from Badin, Thatta, Sujawal, and Keti Bandar staged a protest in front of the District Headquarters on August 22, 2023, for two hours. Farmers Kareem Sumro and Iqbal Abro were also present in this protest demonstration.
Karim Soomro alleges that companies and dealers colluded to make fertiliser disappear to earn huge profits. Dealers are robbing farmers by hoarding.
He says the official rate of a bag of urea is Rs 3,500. But these people secretly sell to the big landowners for 4,500 rupees per sack. Small farmers are not being sold fertilisers, even in black.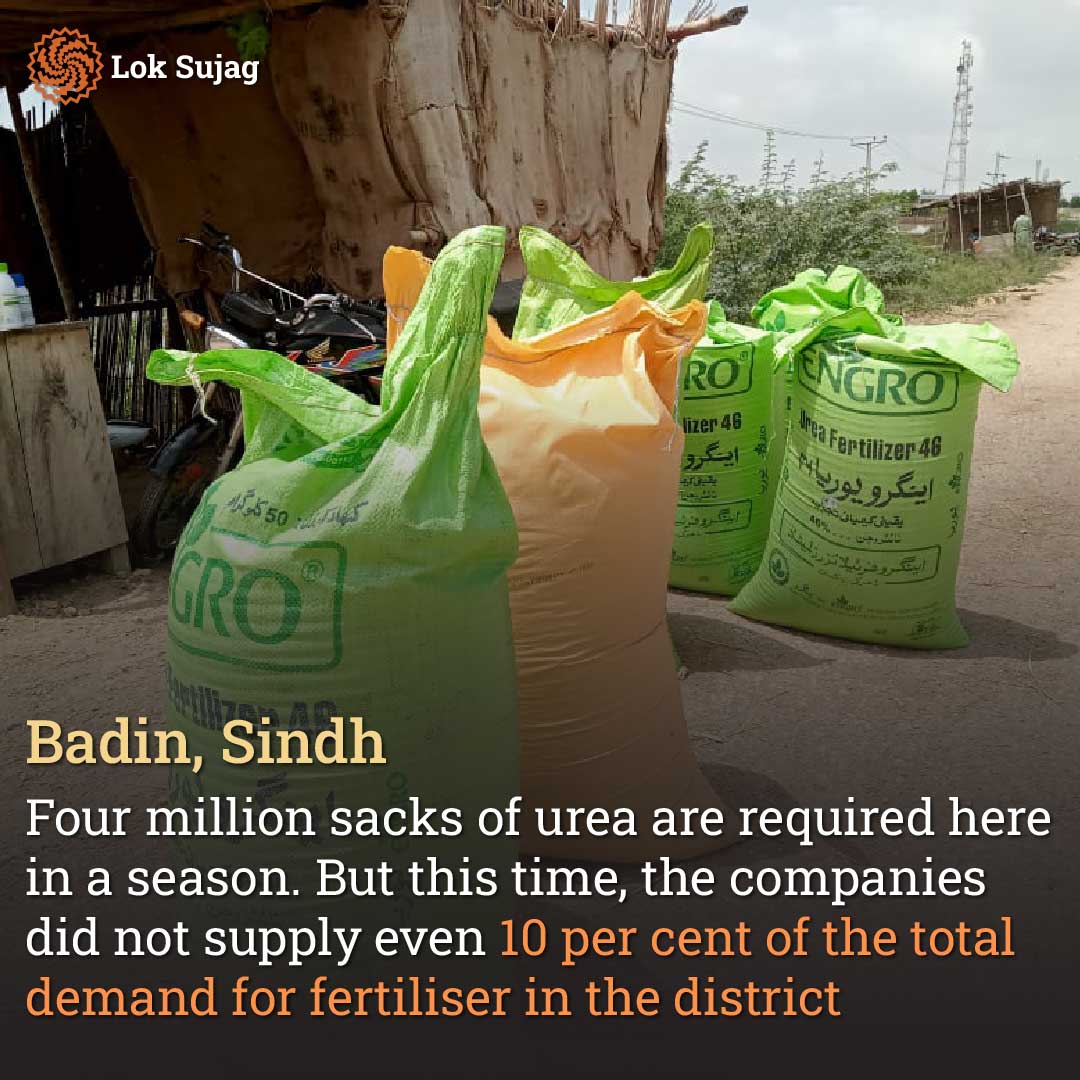 District Commissioner Badin took notice of the protest and called a meeting of the Agriculture Department, police, dealers, company representatives and all assistant district commissioners.
DC Badin made it mandatory for dealers and representatives of companies to supply fertiliser immediately at the official rate. At the same time, the Agriculture Department also ordered police and revenue officers to take action against hoarders.
The next day, Assistant Commissioner Golarchi Hashim Masood and Deputy Director Agriculture Imtiaz Bhutto, along with the local police, raided and seized seven hundred sacks of urea from four shops in Golarchi, Kadio Ghanoor and Tando Bago.
Later, this fertiliser was distributed to the farmers at a controlled rate on the spot. Shopkeepers were fined Rs 20,000 to Rs 50,000, but no FIR or arrest was made.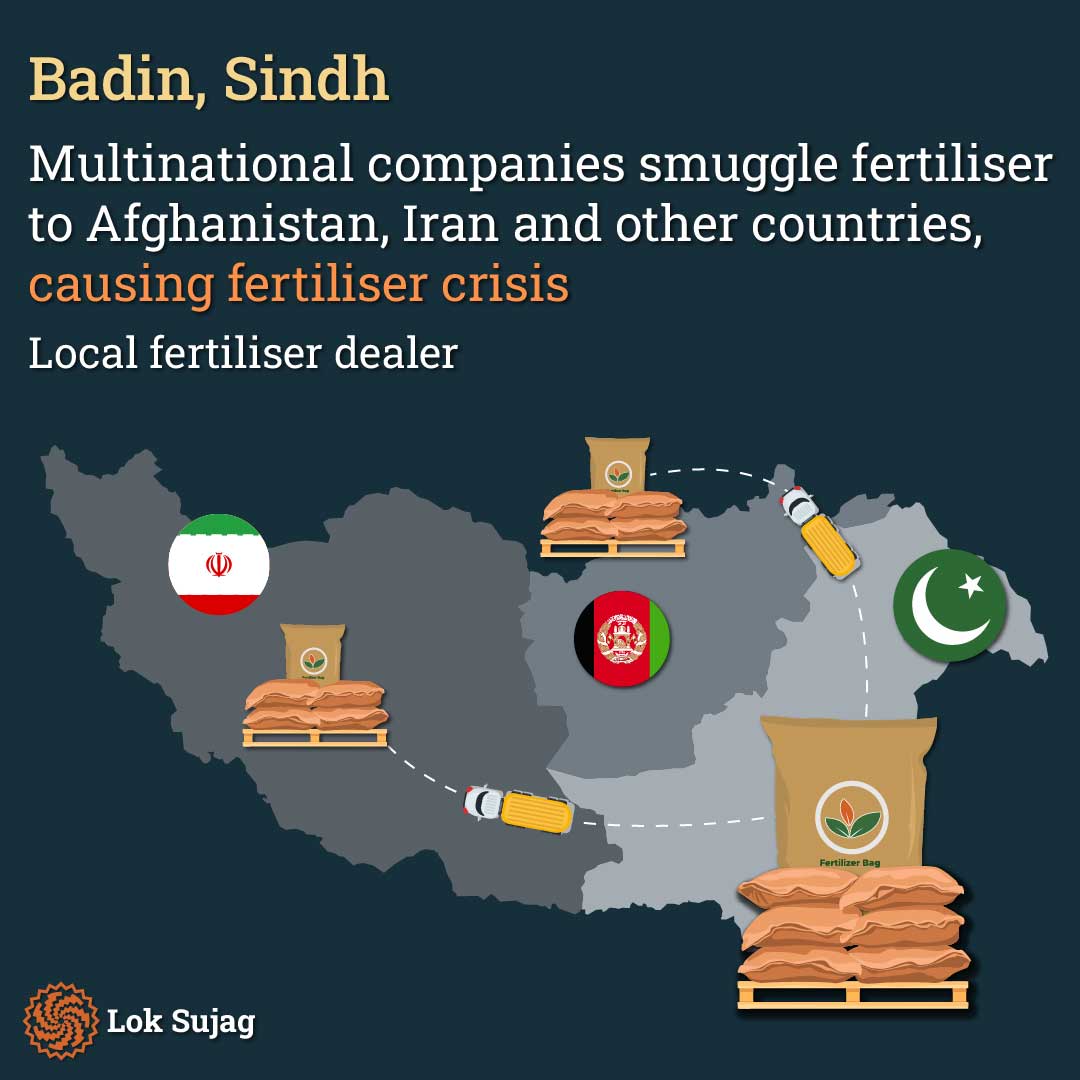 Eight hundred thousand acres of paddy is cultivated in the five tehsils of Golarchi, Badin, Tandubagu, Talhar, and Matli of Badin district. Thus, 4 million sacks of urea are required here in the season. But this time, the companies did not provide even 10 per cent of the total demand for fertiliser in the district.
Kashumal Akrani, the representative of the dealers, has alleged that multinational companies have smuggled the fertiliser to Afghanistan, Iran and other countries, which has created a fertiliser crisis.
He says that earlier in Badin, every dealer was supplied with 50,000 sacks of urea. But this year, 400 to 800 sacks of fertiliser have been given, which is insufficient even for a farmer's crop.
"Companies are selling a bag of fertiliser worth Rs 3,500 for Rs 4,400 in black. We are forced to buy high-priced fertiliser from this mafia and give it to our regular customers."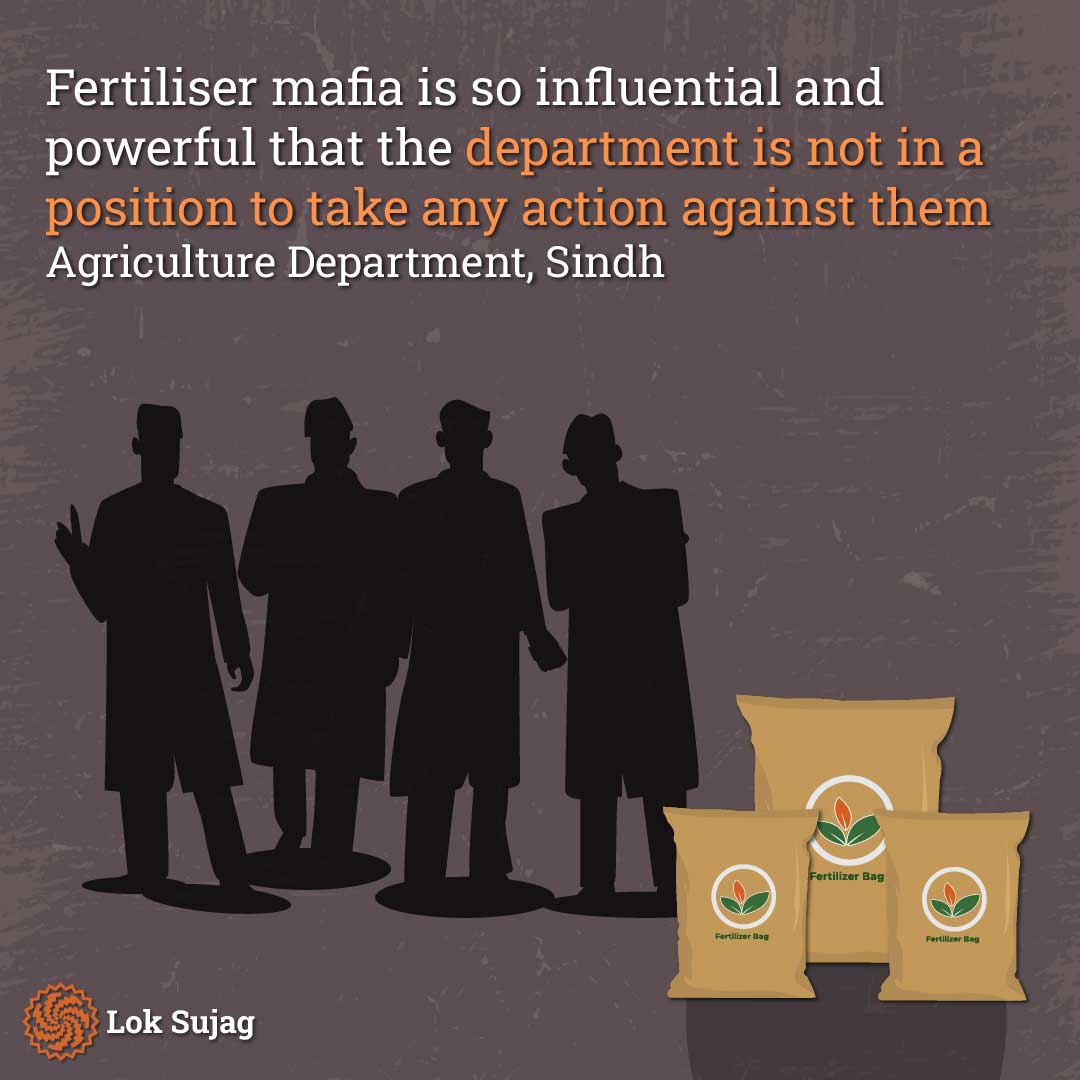 Shiraz Sheikh, the representative of the multinational company Engro Chemicals, denies the accusations of the dealers. He says that his company has supplied the dealers with 3,500 sacks of urea, more than the fixed quota of 13,000 sacks for the Badin district.
The agriculture department has also held companies responsible for black marketing and fertiliser crises across the district. However, they have also confessed that they cannot take action against them. Imtiaz Bhutto says that the annual quota of fertiliser in the district is fixed at 27 lakh sacks. But this year, the companies have supplied only seven and a half lakh sacks of urea, which is much less than the requirement.
Also Read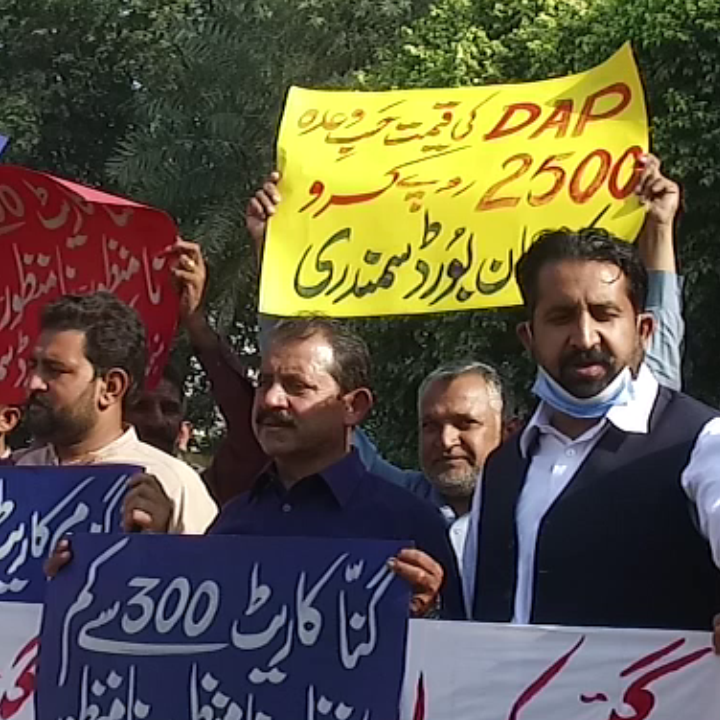 Corporate profit vs farmers' plight: Why DAP fertilizer price has risen sharply over the last one year
He admits that a cartel of companies created the fertiliser crisis in Badin and its black marketing. But these people are so influential and powerful that the department cannot act against them.
Deputy Commissioner Agha Shah Nawaz says that he has ordered the representatives of the fertiliser companies and all the dealers to provide fertiliser at the official rate, and the farmers will get the fertiliser at the fixed rates only.
He says orders have also been issued to all revenue officers and agriculture department officials. Strict legal action will be taken against those who indulge in black marketing. He hopes that the situation will be brought under control soon.