A resident of Nawa Shehr, Kabirwala District, Muhammad Nasir Dhano, has been charged with an FIR for burning the remains of his crops. He cultivates on two-and-a-half-acre land. His registration in the Nawan Shahar police station was based on a request from the Agriculture Department's field assistant. Muhammad Nasir says that he cannot afford to buy machinery worth lakhs of rupees to save him from burning the crop remains.
The President of the Pakistan Kisan Committee, Malik Iqbal, says that the Agriculture Department has been registering cases and imposing heavy fines against farmers who burn the remains of crops. However, the farmers are deprived of the machinery that would eliminate the need to burn the remains, even though not burning them could potentially affect their next crop's yield.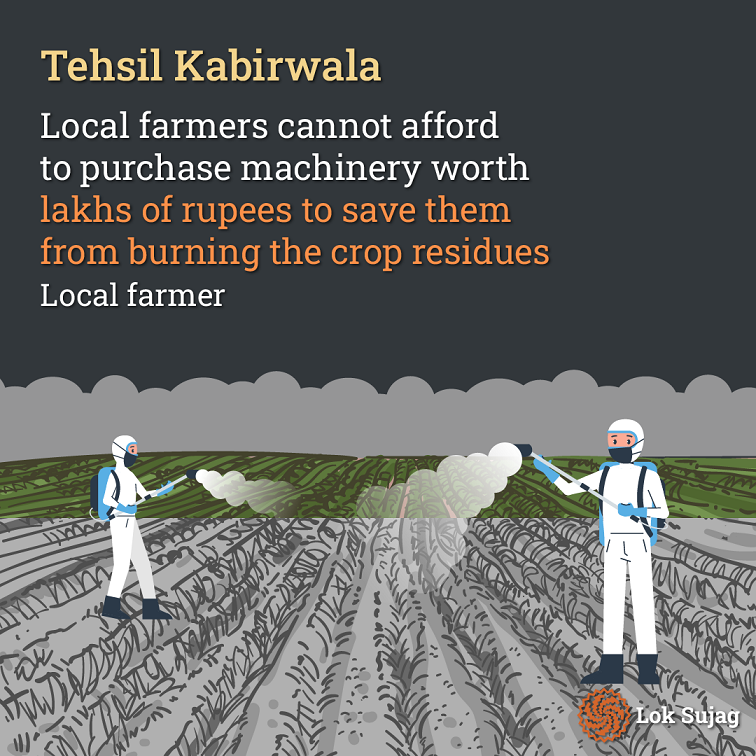 According to Malik Iqbal, the government had promised to provide all farmers with non-subsidised, high-yielding seed varieties, such as Happy Seeder and Pak Seeder, at a discounted price of 50 per cent to 80 per cent. However, at least in Multan and other districts of Southern Punjab, this facility was not extended to small-scale farmers.
In 2020, the Punjab Agriculture Department initiated a limited program to provide Rice Straw Shredders and Happy Seeders at subsidised rates. With the help of these machines, instead of burning the rice straw residues, they can be processed for effective use.
A technical officer in the field of agricultural engineering in Vehari revealed on the condition of anonymity that this project was specifically designed for farmers in the rice-growing districts of Punjab. These districts include Gujranwala, Sheikhupura, Kasur, Okara, Hafizabad, Sialkot, Nankana Sahib, Bahawalnagar, Jhang, Narowal, Kasur, Mandi Bahauddin, Chiniot, Gujrat, and Lahore.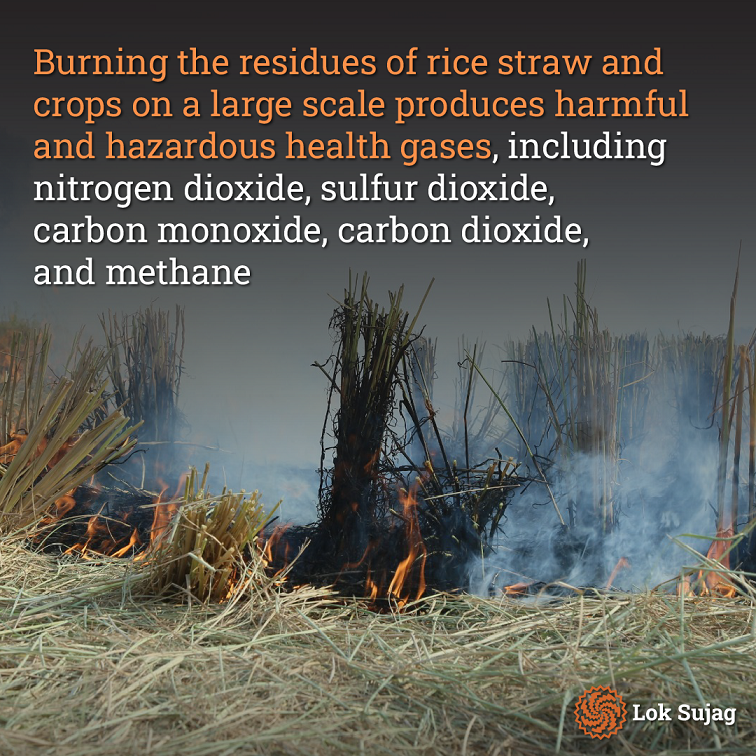 According to Professor Dr Najm-ul-Haq, a professor in the Chemistry department at Bahauddin Zakariya University, rice straw and crop residues are burned on a large scale, leading to the release of harmful and toxic gases like nitrogen dioxide, sulfur dioxide, carbon monoxide, carbon dioxide, and methane. The increased presence of nitrogen dioxide in the air can lead to various health issues, including mild irritation in the upper respiratory tract, coughing, sore throat, eye irritation, headache, dizziness, nausea, nasal inflammation, chest tightness, and fatigue. Carbon monoxide can affect the heart rate, potentially leading to serious cardiac issues. Particles released during burning can penetrate deep into the lungs, potentially causing respiratory and cardiac diseases and allergies.
According to Naveed Ismat Kahlon, a senior officer at the Directorate of Agriculture Information Punjab, the aerial pollution resulting from burning rice straw in the fields affects humans and raises concerns about negative impacts on crops, orchards, and vegetables. The burning of rice straw causes damage to the soil's fertility and harms the beneficial microorganisms on the soil's surface.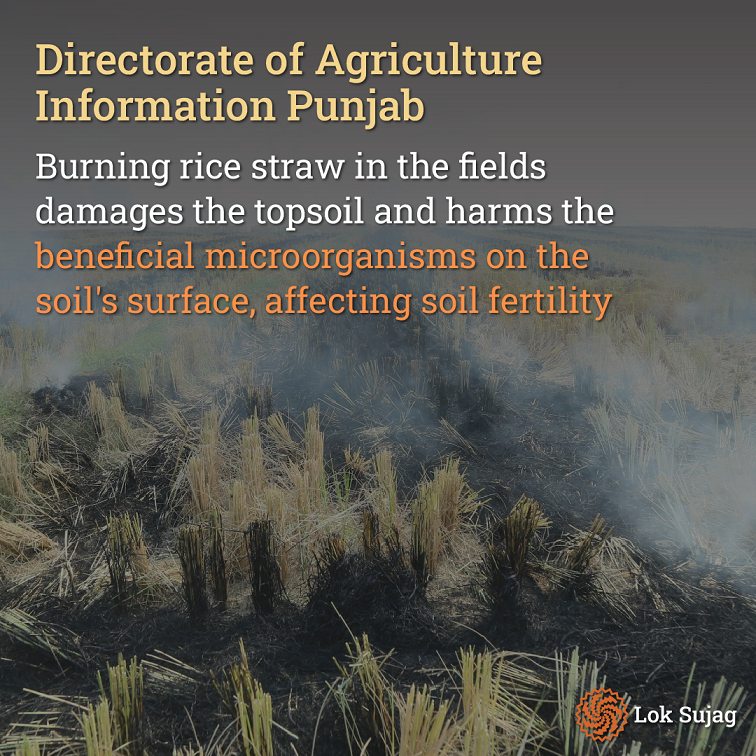 According to the research institution Consortium for Development Policy Research, in 2019, the Punjab government implemented a complete ban on burning crop residues every October under a policy. District governments were given the authority under this policy to impose fines of 50,000 rupees per violation with the cooperation of the Agriculture Department. However, the policy could not be effectively enforced due to the absence of viable alternatives. According to the institution, the practice of burning crops may continue without affordable alternatives.
Experts in the field of transportation consider vehicle emissions as a significant contributor to smog. Deputy Director Meher Shamshad of the Punjab Environmental Protection Department in Multan states that there is an ongoing extensive campaign against smog.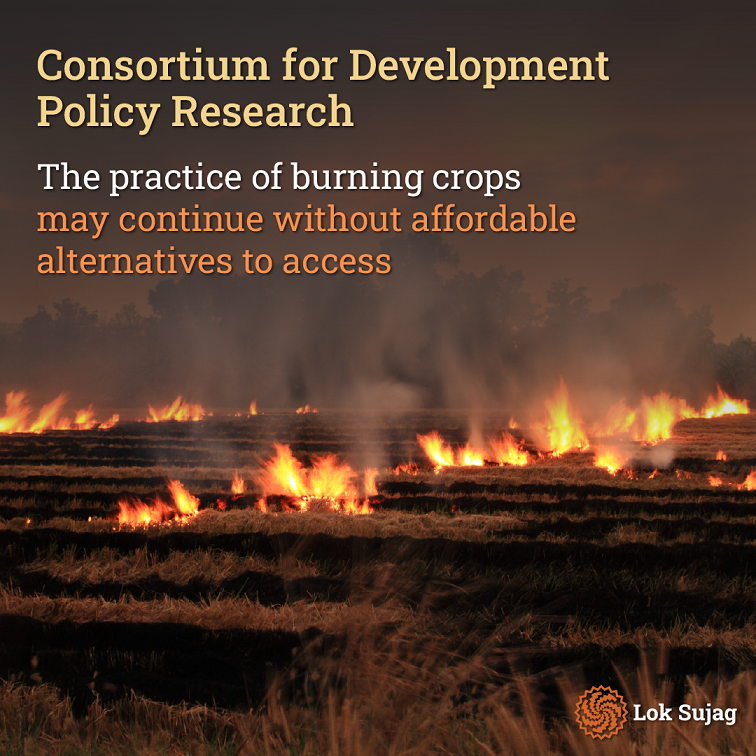 According to the department, 125 vehicles in the Multan division were identified as sources of smoke pollution or smog during the campaign initiated in September last month.
Of these, 29 vehicles were fined, and four were impounded at the police stations. The owners of the remaining 92 vehicles were given warnings and asked to pay a fine of several thousand rupees before they were released. No FIRs were registered against the owners of these vehicles, in contrast to the farmers facing legal action for crop residue burning.
Also Read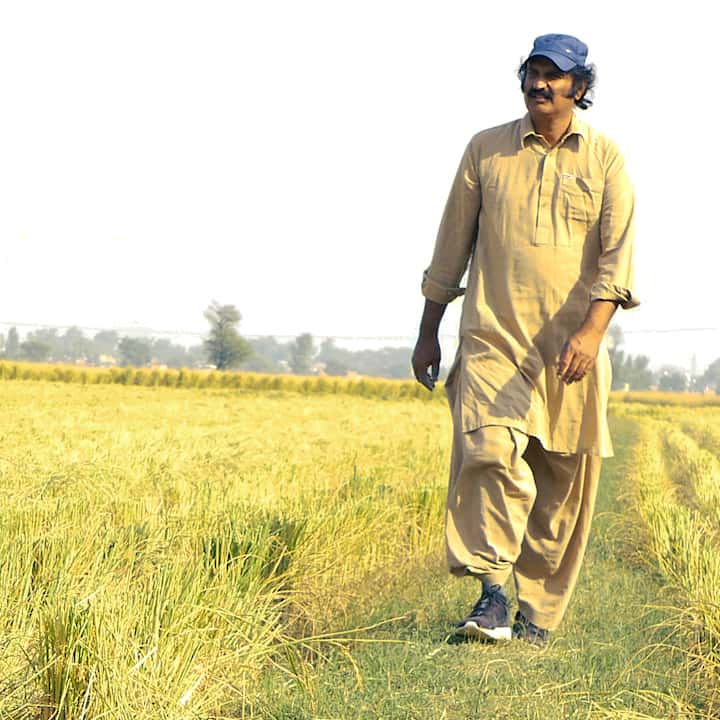 How to handle rice residue in central Punjab: A farmer's self-devised method to avoid farm fires
In Khanewal district, 43 vehicles were identified, out of which eight vehicles were fined, and four vehicles were impounded at the police stations. A total fine of 14,500 rupees was imposed on the remaining 31 vehicles. In Vehari district, out of 31 vehicles, three vehicles were fined, while the others were subjected to fines.
In the ongoing campaign, teams from the Punjab Environmental Protection Department sealed nine out of 48 brick kilns in the Multan division, issued notices to three, and collected fines totalling two lakh rupees.
They conducted visits to nine industrial units in the Multan division. Out of these units, notices were issued to five for environmental law violations, one industrial unit had an FIR filed against it, and no fine was imposed on any industrial unit. In the Multan district, notices were issued to four industrial units; one was sealed, and an FIR was filed against one. In the Vehari district, a notice was issued to one industrial unit. These actions were taken as part of their efforts to address smog-related concerns and violations of environmental regulations in the region.