Abdul Rashid Sadiqi, who sells vegetables and fruits, faced a complaint from his five-year-old son Farhan, who complained of severe abdominal pain a year ago. His wife took the child to a local doctor who administered an injection to the child, which worsened his condition and he passed away shortly afterward.
Abdul Rashid filed a complaint against this doctor with the Health Department and the Deputy Commissioner of Narowal for legal action, but no action was taken on it.
Shameem Akhtar, a 55-year-old housewife from the village of Domala in Narowal, had been complaining of body pain and constant fatigue eight months ago. She went to a clinic run by a doctor in her area. This doctor prescribed her some pills and capsules and gave her an injection in the buttocks. Two to three days later, she began to experience severe pain in her buttocks, and she also developed a fever.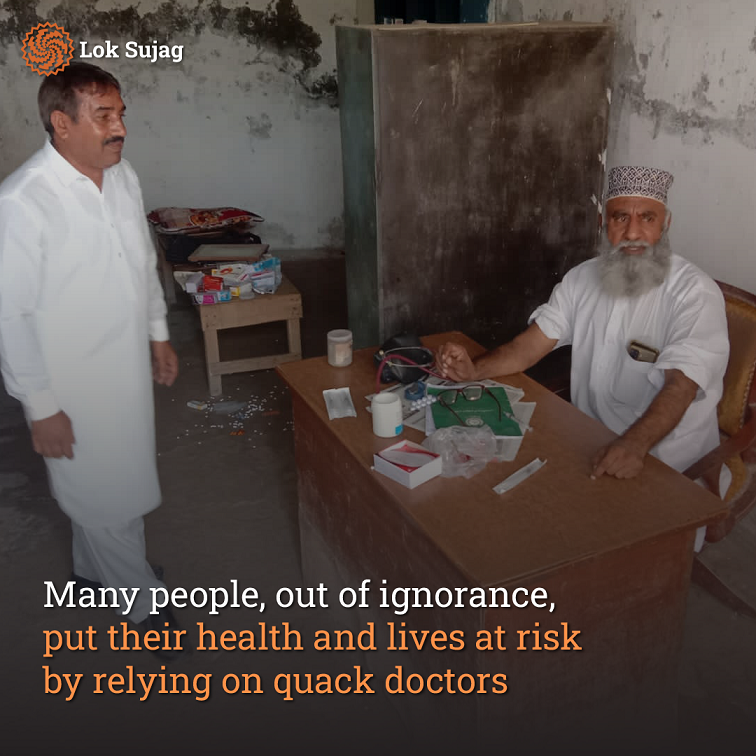 Shameem recounts that after a few more days, an abscess developed at the site where the injection had been administered. Upon undergoing an examination at the District Headquarters Hospital, it was revealed that she had been given the wrong injection, which led to an infection.
Shameem had to endure severe pain for three months and spent thousands of rupees on her treatment.
Abdul Rashid and Shameem sought help from some local 'doctors' who were not educated and trained professionals but quacks. In the area, many people, due to their ignorance, are putting their health and lives at risk by turning to such quacks.
School teacher Faheem Ahmed from Sankharta village explains that there has been a quack practising medicine in their village for the past ten years. This quack receives many patients not only from the surrounding villages but also from distant areas. Faheem emphasises that this quack does not have medical knowledge and provides patients with incorrect and substandard medications.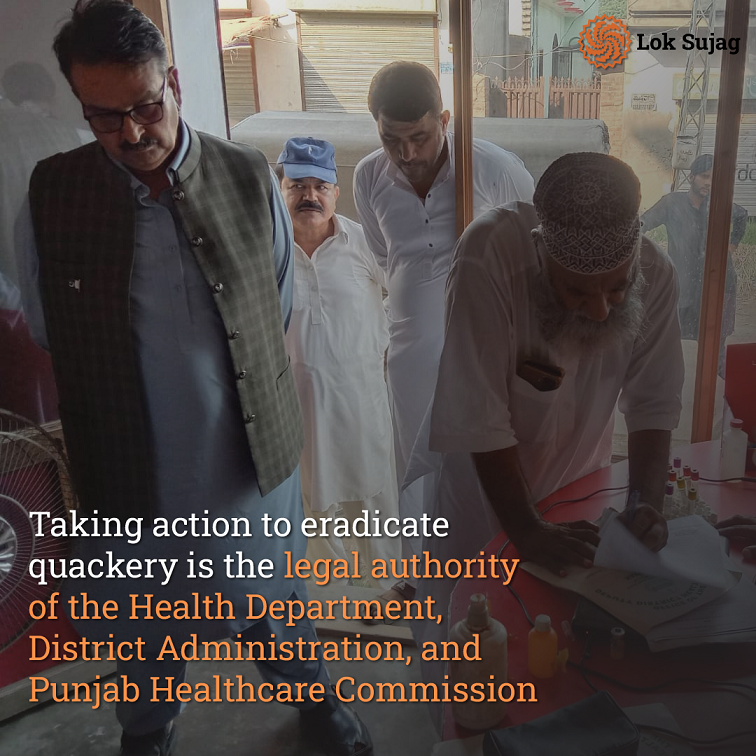 The health department and district administration have received multiple complaints about this. Action has been taken three times based on the complaints, and the clinic has been sealed. However, on all three occasions, he managed to bribe the health department and district administration, and after recommendations, he resumed his practice.
Sheikh Abdul Rauf practices law in Narowal. He says that taking action to eliminate quackery is the legal responsibility of the Health Department, district administration, and the Punjab Health Care Commission.
The Health Department's drug inspectors can seal medical stores and hospitals for stocking or selling unlicensed homoeopathic or substandard medicines without a license.
Deputy District Officer Health, District Officer Health, Chief Executive Officer Health, Assistant Commissioner, and Deputy Commissioner have the authority to seal their clinics and file FIRs for playing with the patient's life, deception, and fraud and for not having medical educational documents and PMDC registration.
He says that these departments can easily eliminate quackery if they want to.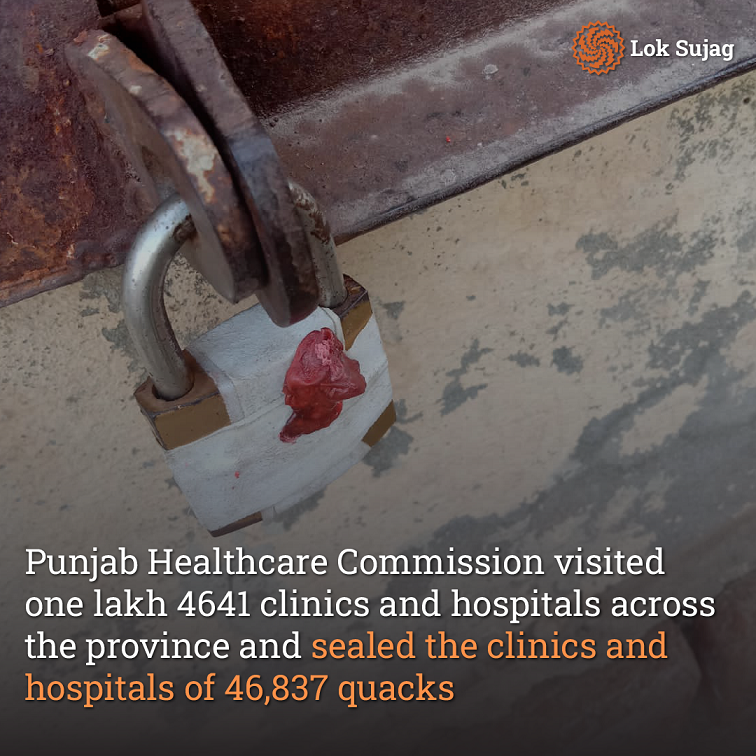 According to the Punjab Health Care Commission's website, the Punjab government passed a bill in 2010 to establish this institution to eradicate quackery, which was approved by the provincial assembly.
The Punjab Healthcare Commission registers government and private hospitals and clinics operating throughout Punjab and issues guidelines or Standard Operating Procedures (SOPs) for patient check-ups and medical treatment under its principles.
According to the commission's rules and regulations, MBBS doctors must first obtain a license from the PMDC (Pakistan Medical and Dental Council) before practising. Afterwards, they must register their clinic or hospital with the Punjab Healthcare Commission according to its SOPs (Standard Operating Procedures).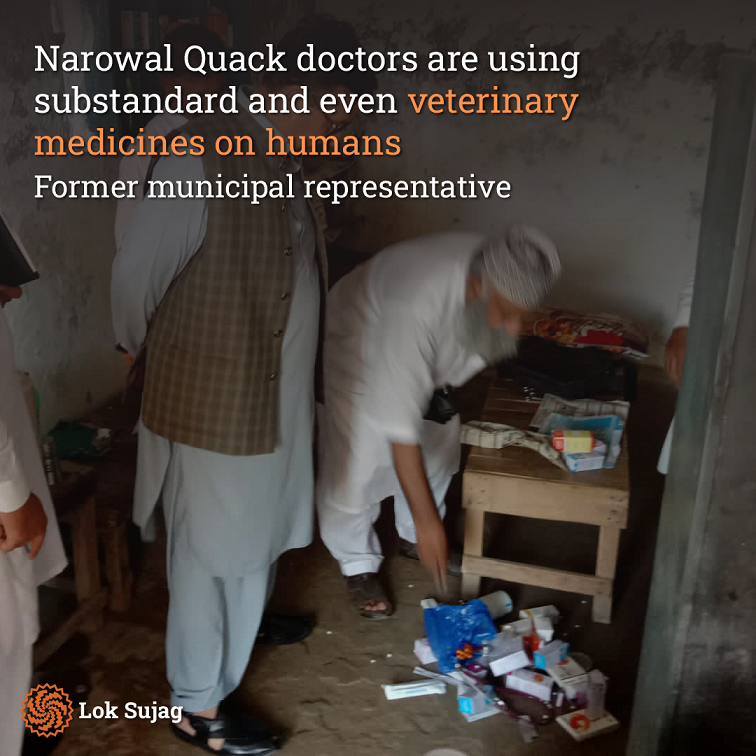 Similarly, homoeopathic doctors and practitioners must register with the National Council for Homeopathy/Alternative Medicine. Then, they need to follow the instructions and SOPs of the Punjab Healthcare Commission to establish their clinic in accordance with the commission's regulations.
Clinics and hospitals not registering themselves with the Punjab Healthcare Commission are illegal. According to the commission's statistics, it has visited 4641 clinics and hospitals across the province after its establishment, and 46,837 clinics and hospitals run by quacks have been sealed.
Also Read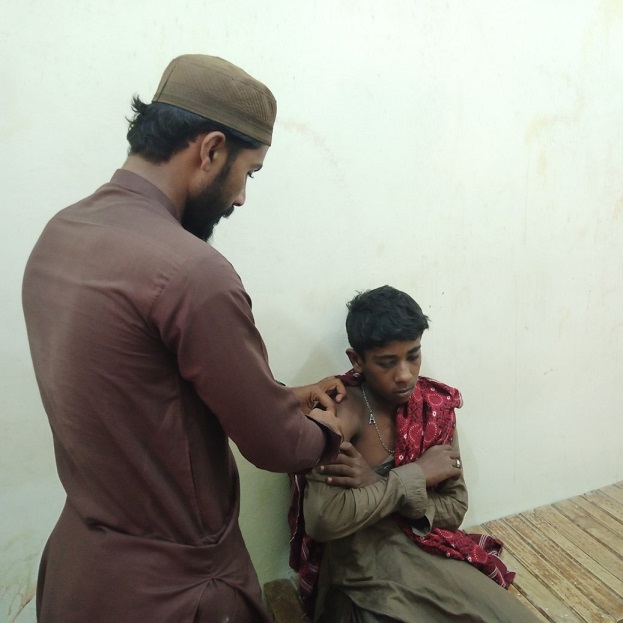 Cholera outbreak in Khuzdar leaves bedridden patients clinging to traditional remedies
Former municipal representative Amjad Farooq claims that the District Administration and the Punjab Healthcare Commission have completely failed to control quackery in Narowal district.
According to him, in the hundreds of villages in Narowal district, thousands of quack "doctors" are playing with human lives, and there is no one to question them. This includes not only substandard treatments but also the use of medicines for animals being administered to humans.
He alleged that officials responsible for eradicating quackery in government institutions receive monthly bribes from quacks and private hospitals.
District Health Officer Dr. Zahid Randhawa stated that a significant mafia is involved in quackery. Whenever the teams from the Health Department seal the clinic or private hospital of any quack or take legal action against them, immediate political interference begins in their favour.
In such circumstances, Deputy Commissioner Narowal Muhammad Ashraf is determined to eliminate quackery. He stated that clinics and hospitals operating on the approved SOPs of the Punjab Health Care Commission will be allowed to function.