In Faisalabad's General Hospital, in Gulam Mohammadabad, Zareena Bibi, aged 35, is waiting in the outdoor patients' ward for her 5-year-old son, Ali Raza, and 3-year-old daughter, Zainab, to be examined by a doctor. She lives in a makeshift settlement just a few meters from Seem Ford in the north-western area of the city, near Qadirabad.
She mentions that her children have been complaining of diarrhoea and stomach pain for the past week.
At first, I attempted to treat them with home remedies. However, as their condition worsened due to the illness, I had to bring them to the hospital.
Zareena's husband works at a power loom factory in Qadirabad on a daily wage. He comes from a village called Samundari in the Faisalabad tehsil."
She mentions that her husband used to work as a farm labourer in the village. He relocated to Faisalabad city three years ago, seeking better employment opportunities.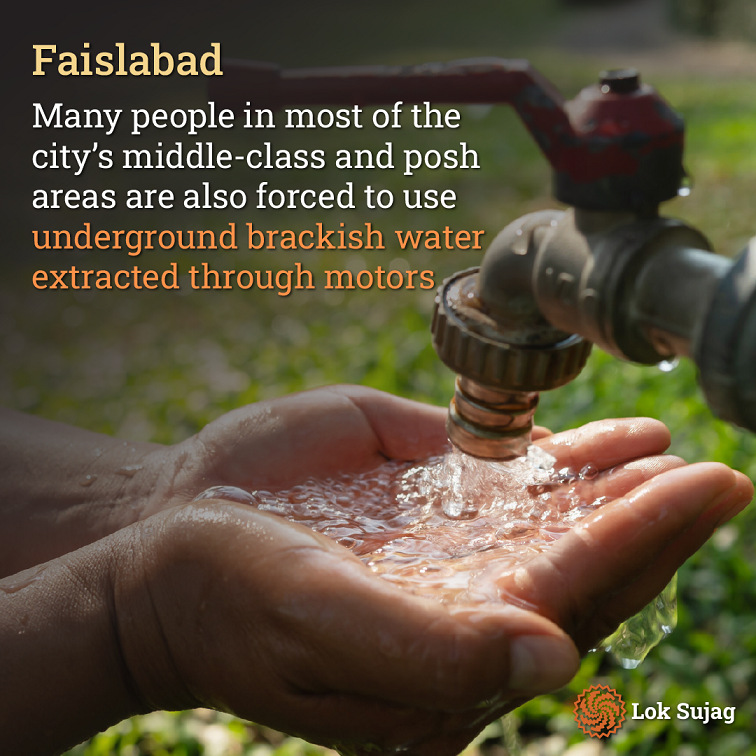 "Although coming here resolved the employment issue, Faisalabad's water supply remains a problem for us. Someone in the household is often ill."
Zareena Bibi says there is no government water access in their area. Most people extract water from the ground using motors, which is not suitable for cooking or drinking.
"After his duty, my husband brings water in cans from a water filtration plant set up by an agricultural organisation. However, it often remains closed, causing us a lot of inconvenience."
Similar to the residents of Zareena Bibi's makeshift settlement, many people from the middle-class and affluent areas of the city are compelled to use brackish underground water extracted through motors.
Nevertheless, the underground brackish water level has also declined, prompting people to drill even deeper to access water.
The severity of the situation is evident from the fact that the underground water level in an affluent area like Sarfraz Colony, approximately five hundred meters from the city's central canal Rakh Branch, has plummeted to as much as 300 feet below the surface.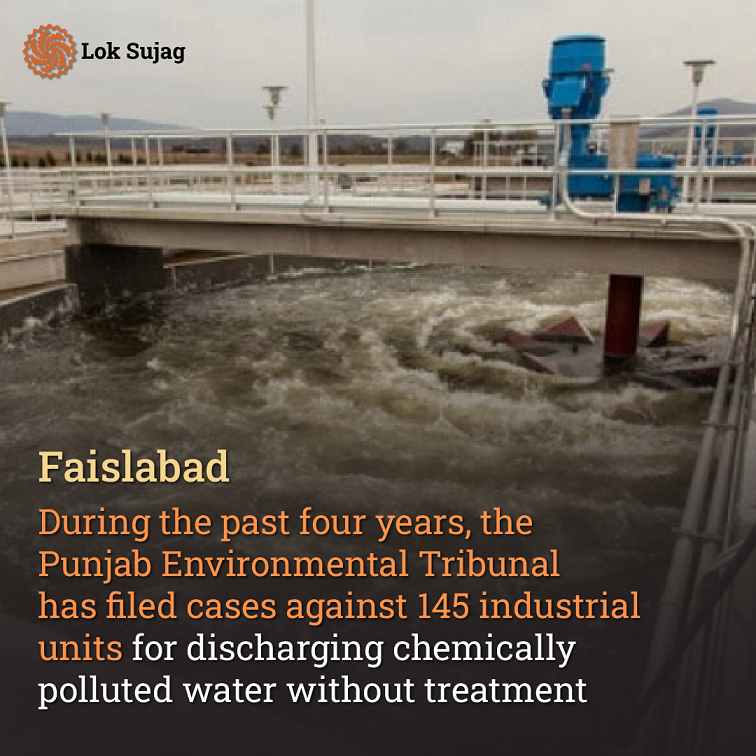 A resident of this area, Muhammad Jameel, says that a few months ago, he dug a well an additional 50 feet deeper to enhance groundwater quality.
"Sediment began appearing in the borehole water, and it had a yellowish tint with a slight, unpleasant odour."
He says that despite the canal's proximity to their area, the quality of underground water in their region has further deteriorated due to numerous dyeing factories on Maqbool Road, between the canal and their colony. These factories pump chemically contaminated water into the ground using underground pumps.
The journey from clean to polluted water
According to information obtained under the Right to Information Act from the Environmental Protection Department, it has been revealed that there are water treatment plants installed in 120 factories in the city. However, the Punjab Environmental Tribunal has filed cases against 145 industrial units for discharging chemical-contaminated water without treatment over the past four years. Among them, three factories were fined one hundred thirty-five thousand rupees, while the rest of the cases are under consideration.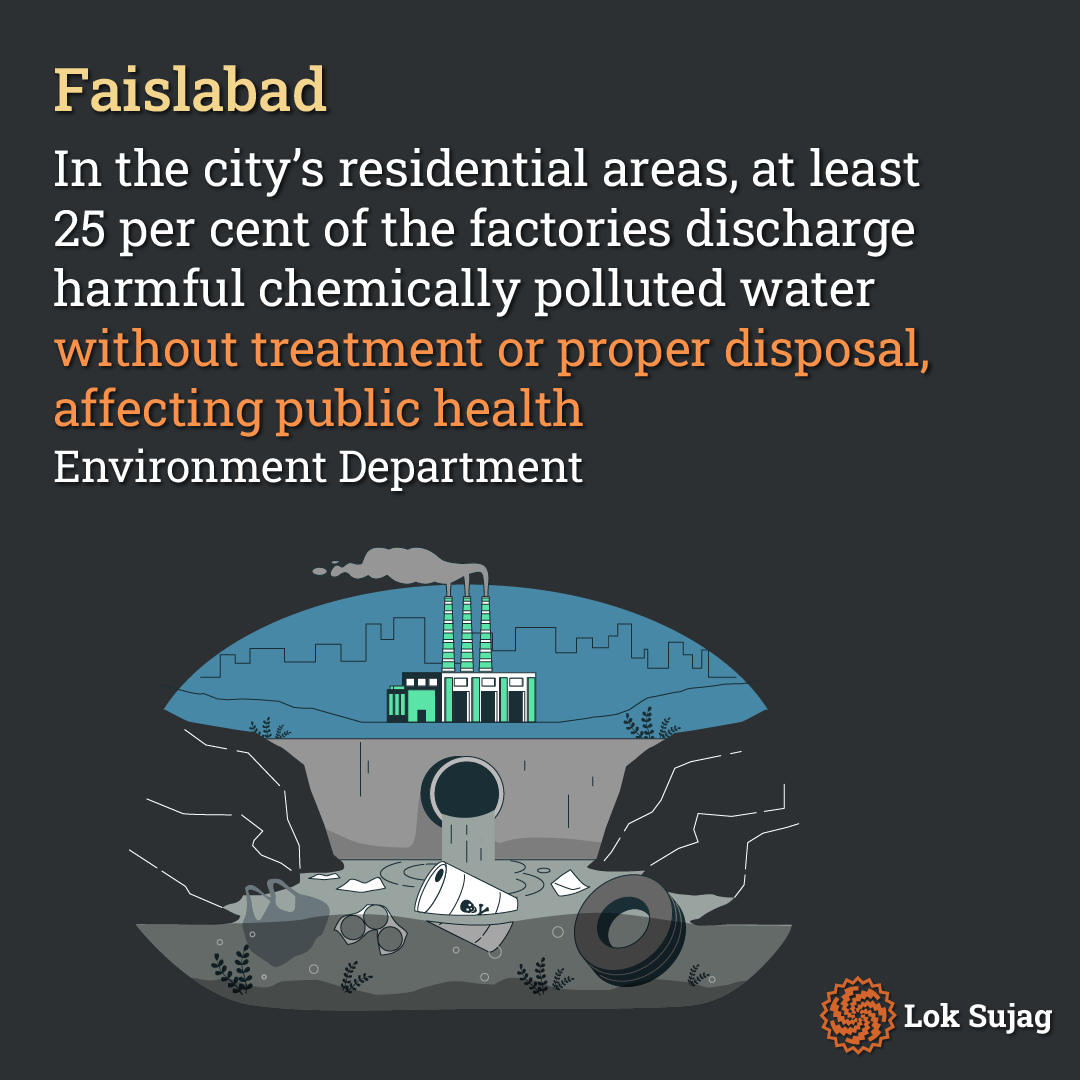 Deputy Director of Environmental Protection in Faisalabad, Muhammad Nawaz Khan, mentions that, according to an estimate, at least 25 per cent of the factories in the city's residential areas discharge harmful chemically contaminated water without treatment.
Conversely, Muhammad Asghar, Vice Chairman of the All Pakistan Textile Processing Mills Association, has affirmed that most large industrial establishments have set up water treatment plants to adhere to environmental regulations.
Nevertheless, the purified water treated by these plants is reintroduced into contaminated drains by the Wasa department, rendering their efforts and expenses on water treatment futile.
"There are more than 150 industrial units situated within the city, each equipped with wastewater treatment plants capable of treating over 1 million gallons of water daily."
Although the Environmental Protection Department has not verified these figures, even if considered accurate, the amount remains negligible compared to Faisalabad's daily discharge of 51.7 crore gallons of wastewater from its industries.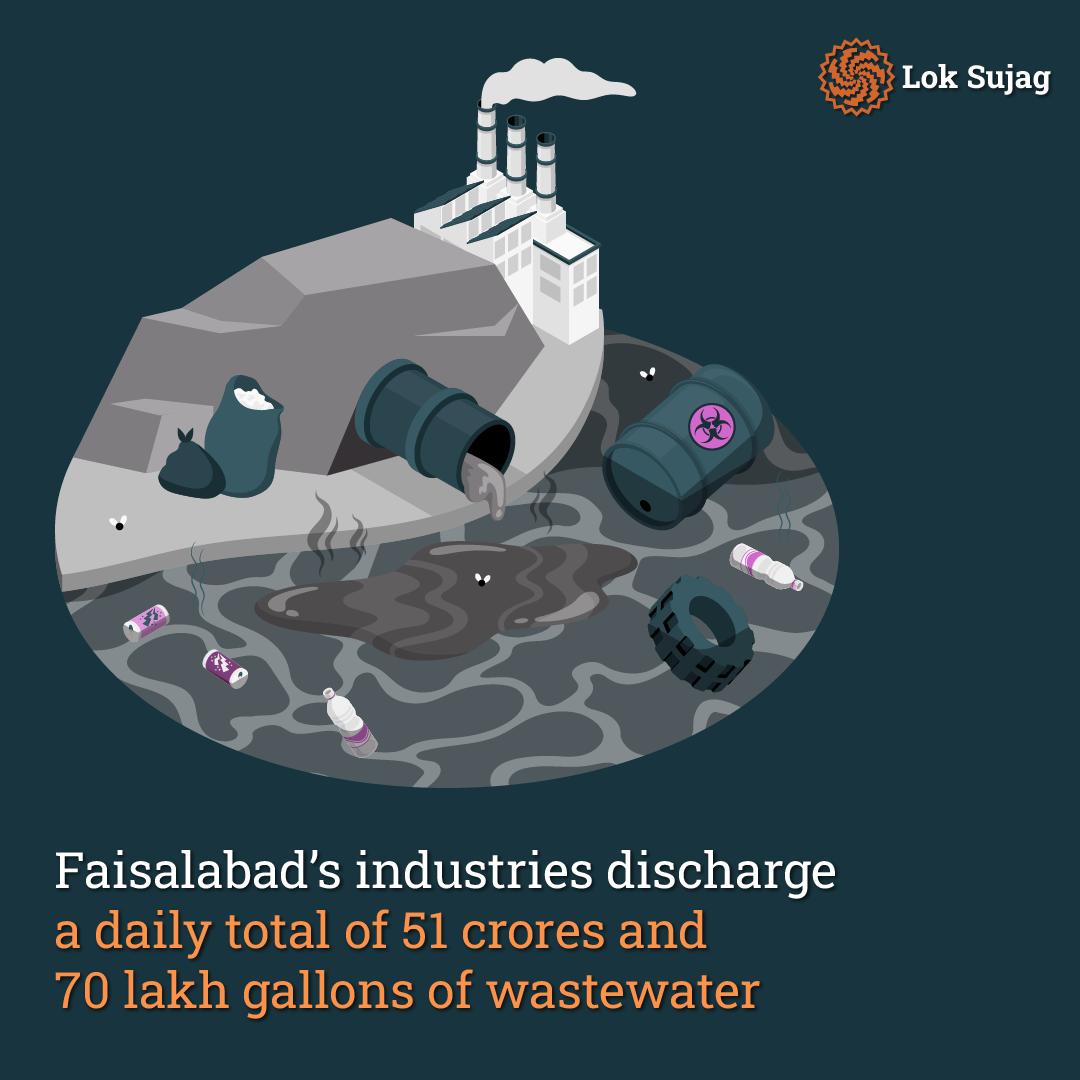 The British government's decision to establish a new city, Layalpur (present-day Faisalabad), in the Sandalpur area primarily relied on abundant sweet underground water suitable for agricultural and human use. However, Faisalabad has been deprived of its sweet underground water reserves a century later.
According to a report prepared by the Asian Development Bank in 2006 regarding the quality of underground water in Faisalabad, more than 90 per cent of the city's areas have groundwater that is harmful to health.
According to a report published in 2021 by the Pakistan Council of Research in Water Resources, at least 59 per cent of the underground water reserves of Faisalabad have become contaminated. The contamination includes TDS, iron, and chloride levels exceeding the prescribed standards by 23 per cent, nitrate by 18 per cent, hardness and bacterial pollution by 14 per cent and fluoride levels higher by nine per cent.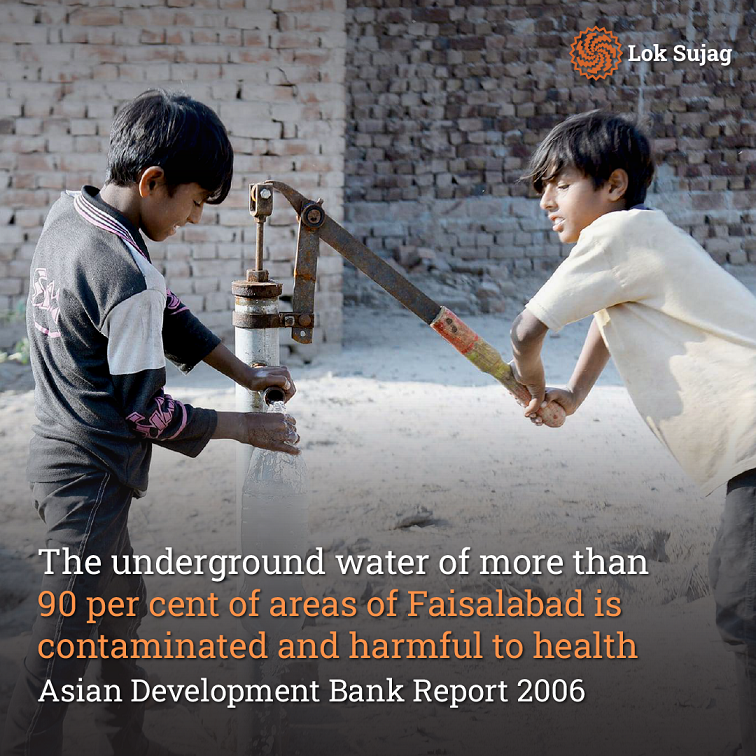 It is clear that according to the Ministry of Environment, the prescribed National Standards for Drinking Water call for clean water to be colourless, tasteless, and odourless. According to these standards, in one litre of clean drinking water, the levels should be as follows: chloride 250 milligrams, fluoride 1.5 milligrams, hardness 500 milligrams, iron 0.3 milligrams, and nitrate 10 milligrams, while the TDS level should not exceed 1,000 milligrams.
The growing city requires more water
On the other hand, the department of WASA, established in 1978 to provide clean water to the city's residents, has not yet achieved its target of providing clean water to 100 per cent of the city's population.
According to information obtained under the Right to Information Act, WASA Faisalabad provides more than 11 crore gallons of water daily to over 1,13,000 registered users.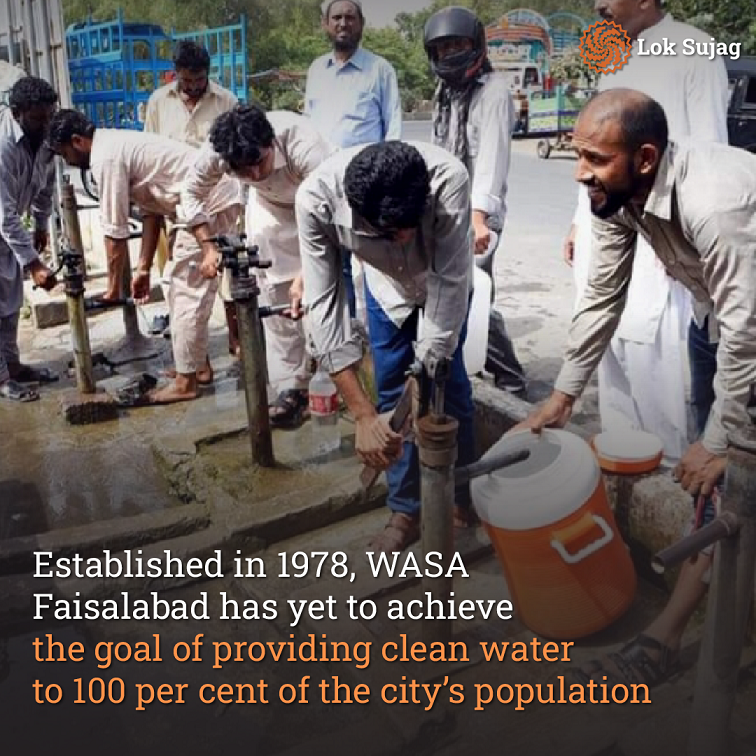 Out of this, five crores of 60 lakh gallons of water are obtained from the Chenab River, two crore gallons from the Jhang Branch Canal, one crore 80 lakh gallons from the Rakh Branch Canal, one crore 35 lakh gallons from the Jhal Khannoana Water Works, 10 lakh gallons from the Multan Town Water Works, and 15 lakh gallons from the Gulfishan Colony Water Works.
Out of the water provided by WASA, it serves 1,13,000 domestic users, 2,348 commercial users, and 92 industrial users. Additionally, 443 industrial users have been issued separate aquifer connections by WASA through which they are using underground water.
According to WASA's Managing Director, Aamir Aziz, WASA Faisalabad's overall service area covers 225 square kilometres and provides clean drinking water to approximately 70 per cent of this area.
However, according to the 2021 Master Plan prepared by the Faisalabad Development Authority, the city will require more than 16 crores 10 lakh gallons of clean water daily for the next 20 years, which is five crores 10 lakh gallons higher than the current capacity of WASA.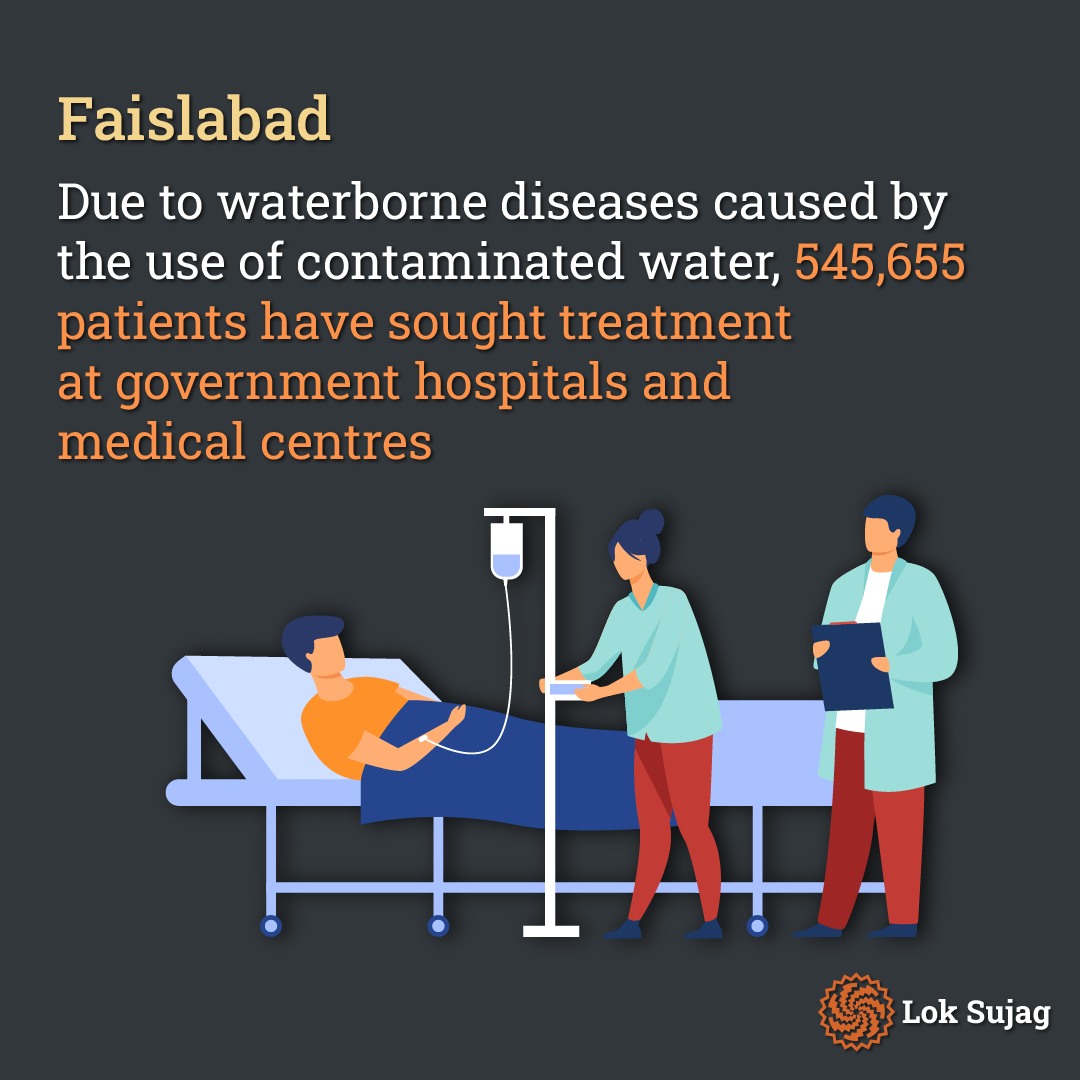 Furthermore, many residents who use WASA's water are not satisfied with its quality and time span of water supply.
According to Fozia Khalid, a resident of People's Colony, she has had a WASA water connection in their home for the past four decades, but she has never used this water for drinking or cooking purposes.
WASA provides water for about four to six hours daily, and its quality is slightly better than underground water.
She says this water often has a sewage-like odour and sometimes even a muddy appearance.
"In most parts of the city, people prefer to buy water for drinking. The affluent class uses water from multinational companies, while the average and poor classes fetch water from filtration plants and pumps installed on canals or wells, but there is no system to check the quality of this water."
Patients created by polluted water
Using contaminated water has led to the constant influx of patients into Faisalabad's public hospitals due to waterborne diseases.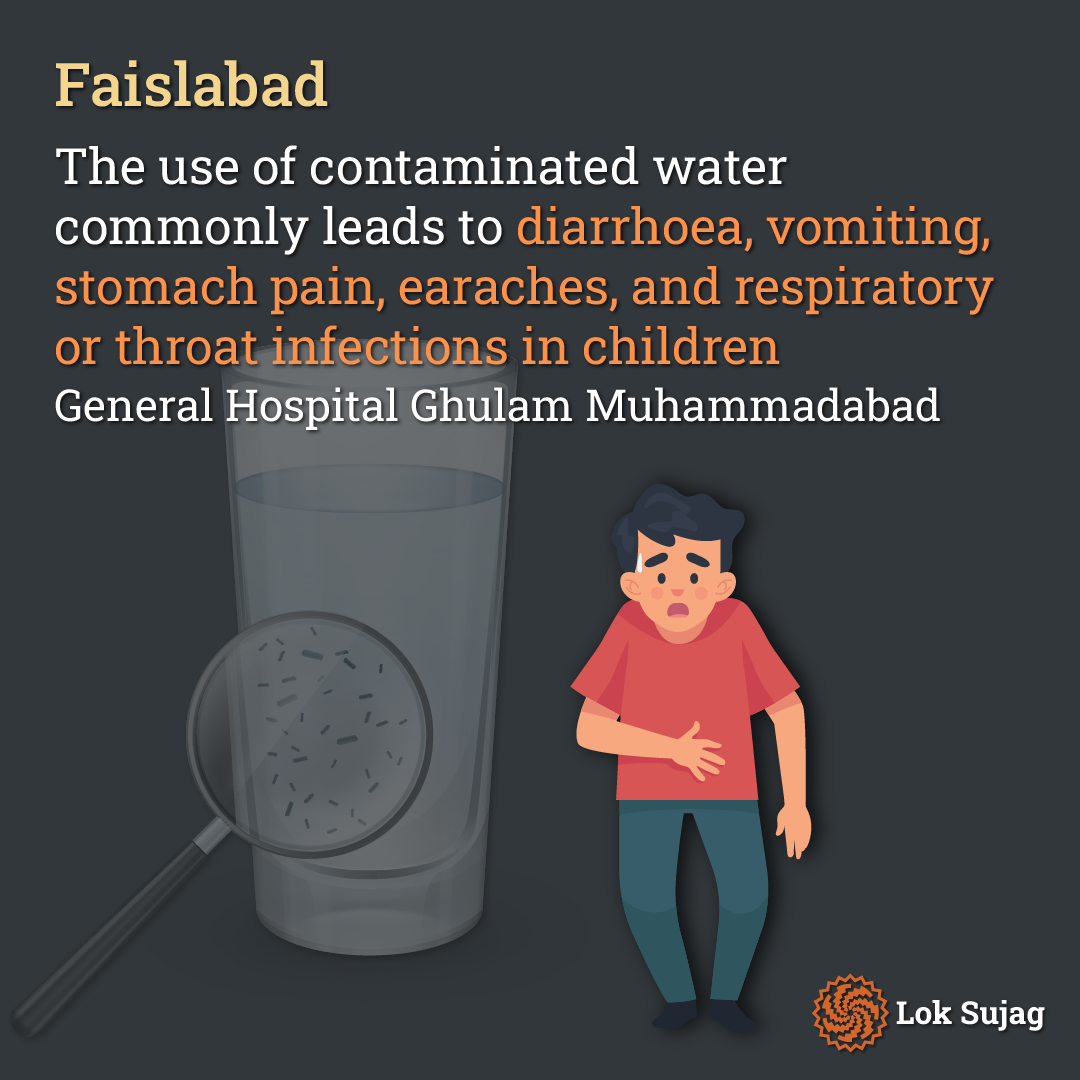 According to the information obtained under the Right to Information Act from the District Health Authority Faisalabad, in 2022, 5,40,655 patients sought treatment in government hospitals and medical centres due to diseases caused by contaminated water. In the first six months of the current year, 2,71,866 patients have already received treatment for such illnesses.
In this way, in 2022, medicines costing more than 292.1 million rupees were used to treat diseases caused by contaminated water. While in the current year, an estimated expenditure of around 294.7 million rupees has been incurred in this regard.
General Hospital Ghulam Muhammadabad's Medical Officer, Dr Irum Rashid, has stated that using contaminated water commonly leads to diarrhoea, vomiting, stomach pain, earaches, and respiratory or throat infections in children.
"Continuous usage of contaminated water in Faisalabad is causing an increase in various health issues among the elderly, including hepatitis, kidney problems, cancer, typhoid, and neurological diseases, along with skin disorders."
WASA Faisalabad has been unable to initiate the implementation of two major projects for providing clean water to the citizens and treating industrial wastewater over the past five years.
Also Read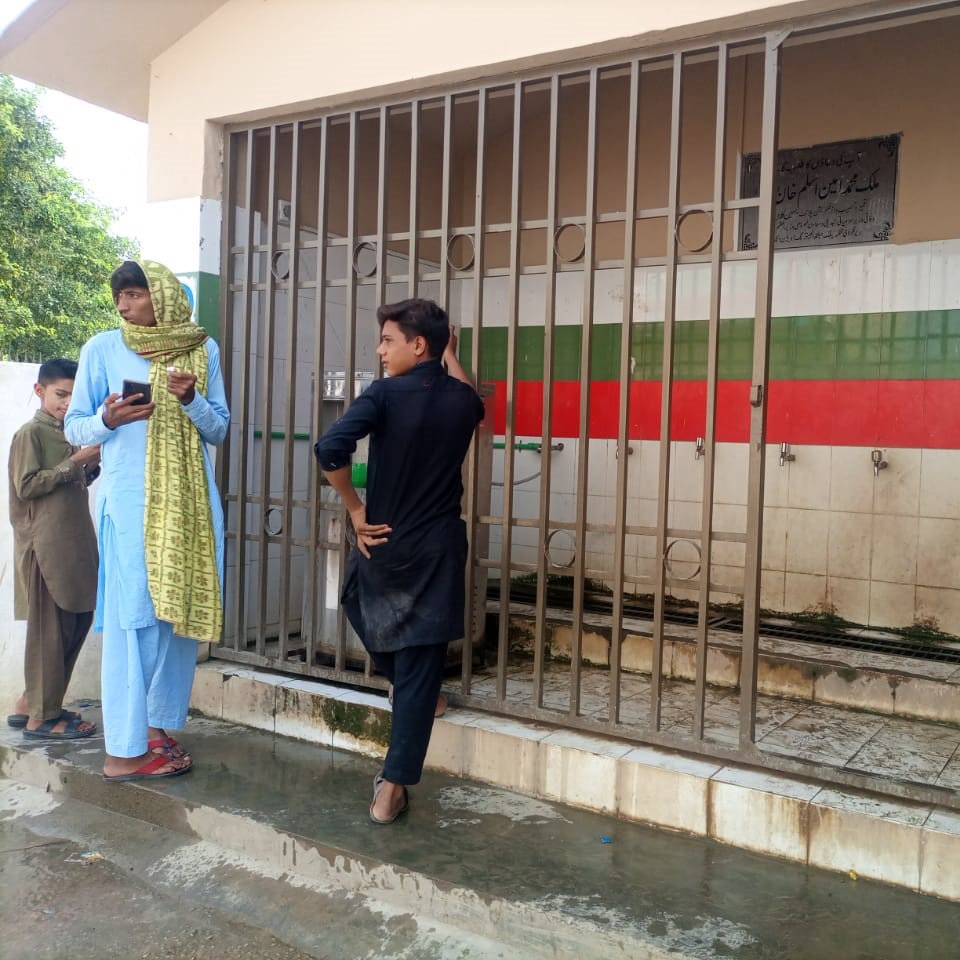 Government's water filtration plants: A costly mirage for rural residents in Attock
To make clean water accessible to 100 per cent of the city's population, the Punjab government, with the cooperation of France, approved the "French Project Phase II" in April 2017.
The estimated cost of the project was over 14.63 billion rupees. Of this, 2.84 billion rupees were to be provided by the Punjab government, and the French government promised assistance of over 11.79 billion rupees.
Under this project, a water treatment plant was planned to be built at the Lower Gogaira branch to provide over three crore gallons of clean water daily to the population of the northeastern areas of the city, which has a population of more than seven lakhs. However, the change in government led to the project's suspension, and now the project cost has exceeded 20 billion rupees.
According to WASA's spokesperson, 90 acres of land have been acquired for the "French Project Phase II" initiative to kickstart the project, and consultants have also been hired. It is expected that work on this project will commence soon.
Similarly, in 2019, WASA had prepared a project to install a wastewater treatment plant in the eastern part of the city for 19 billion rupees, which was scheduled to be completed in 2021.
The completion of this project was intended to provide clean water to farmers in the Khardianwala region by treating four crore 40 lakh gallons of wastewater daily sourced from the industrial sector. However, this project has not yet been initiated.
The project's director, Adnan Nisar, has revealed that a consultant has been selected to initiate the project, and there is hope that work on it will commence in January 2024.
According to the project director, this initiative will be completed in two phases. The first phase will be fully financed with 19 billion rupees through financial cooperation with Denmark, while work is ongoing to secure 19 billion rupees in funding from the Asian Development Bank for the second phase.