Muhammad Azam Bhatti owns five acres of land in the village of Khairpur Khani, near Nankana Sahib. This land is the sole means of livelihood for him and his five family members. While he spent his youth working in the fields, he wishes for his children to receive education and lead better lives.
Azam Bhatti's daughter and two sons attend primary school, but he knows he will have to send his children to the city for education in a few years. Therefore, he has already decided to move to Nankana Sahib city along with his extended family.
To achieve this goal, he pooled his savings, borrowed money from some friends, and purchased a plot in Nankana Sahib.
He started construction on the plot, but the local Waqf (endowment) Board officials intervened.
Officials told them he could not "build a house on this land. If you do, we will demolish the construction, seize the property, and take legal action against you."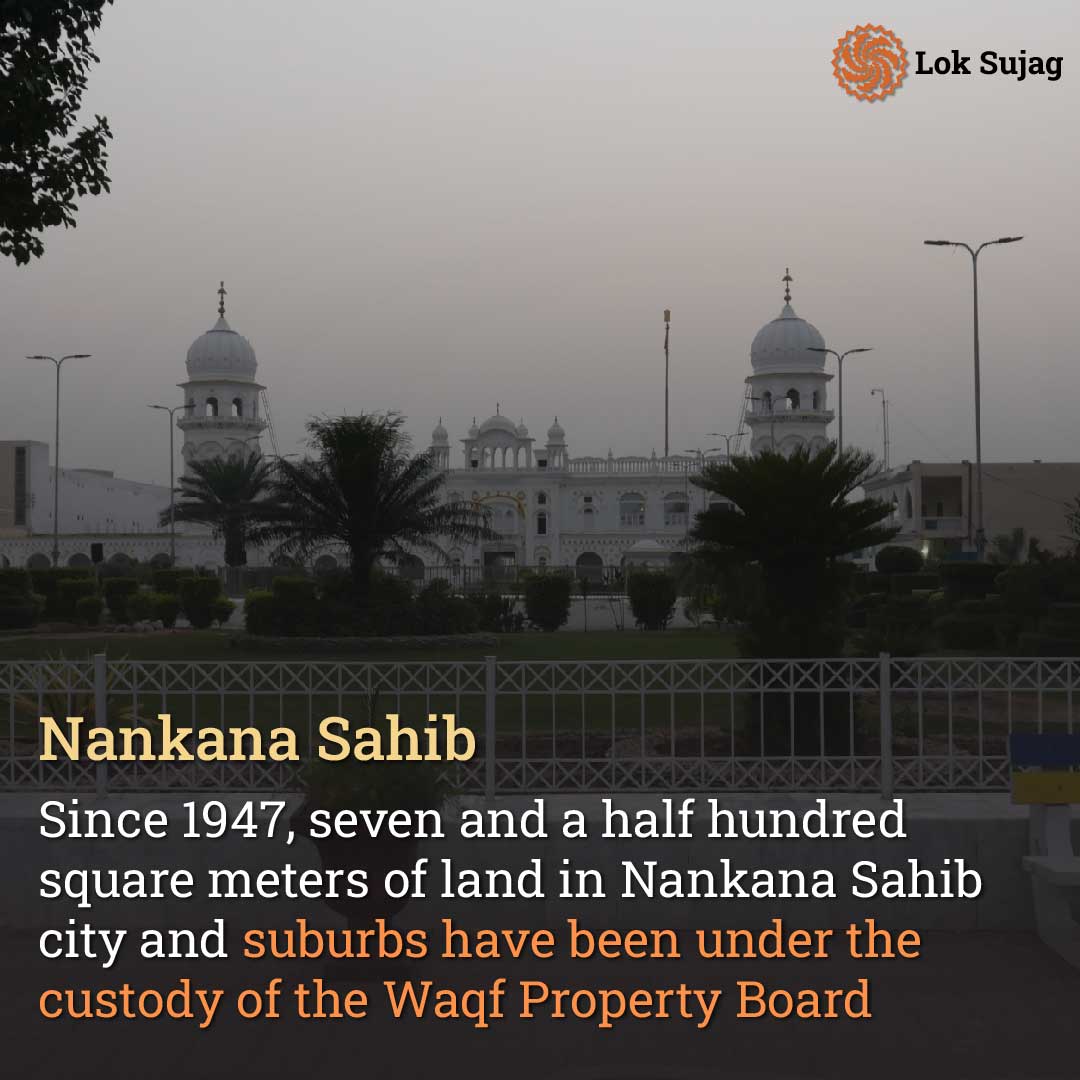 Azam Bhatti was distressed by this. He approached local political allies and met with the responsible officials of the Waqf Board through them. During this process, he learned the "procedure" for the construction on the plot, but he did not want to get entangled in more difficulties.
He rented a place in Nankana Sahib and moved there. During this time, he sold his plot at a throwaway price.
This suffering is not unique to Azam alone but is shared by many in Nankana Sahib.
Nankana Sahib is the birthplace of Guru Nanak, the founder of Sikhism, who was born here on April 15, 1469.
The old name of this city was "Rai Bhoi Di Talwandi."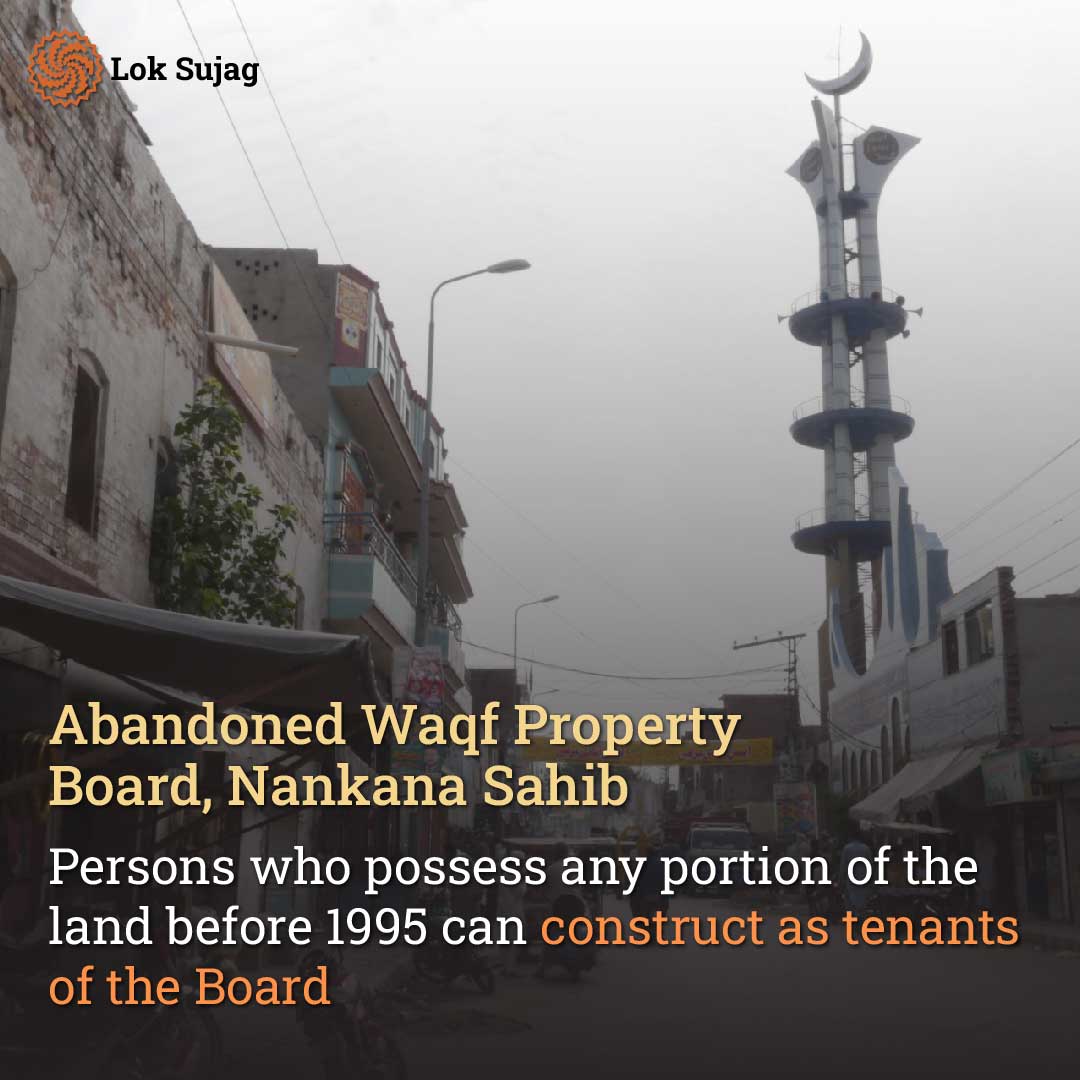 It is said that the father of Guru Nanak, Kalian, managed the land of the local landlord, Rai Balaar Bhatti. Rai Balaar Bhatti, according to traditions, was deeply influenced by the preaching of Baba Guru Nanak and donated half of his 1500 square miles (approximately 370,000 acres) of land to Baba Guru Nanak.
Since 1947, Nankana Sahib city and its surroundings, covering a vast area of 187,500 acres, have been under the control of the Waqf (endowment) Board. District Deputy Administrator Board, Omar Javaid Awan, confirms that these lands fall under his department's jurisdiction.
According to the Board's rules, individuals possessing any part of this land before 1995 can become tenants and build on it. Beyond that, no construction is allowed.
As a result, Nankana Sahib has become a "city of tenants." Deputy Administrator Awan says that any construction not done through an approved procedure is considered "unlawful," and the department is entitled to take immediate action against it.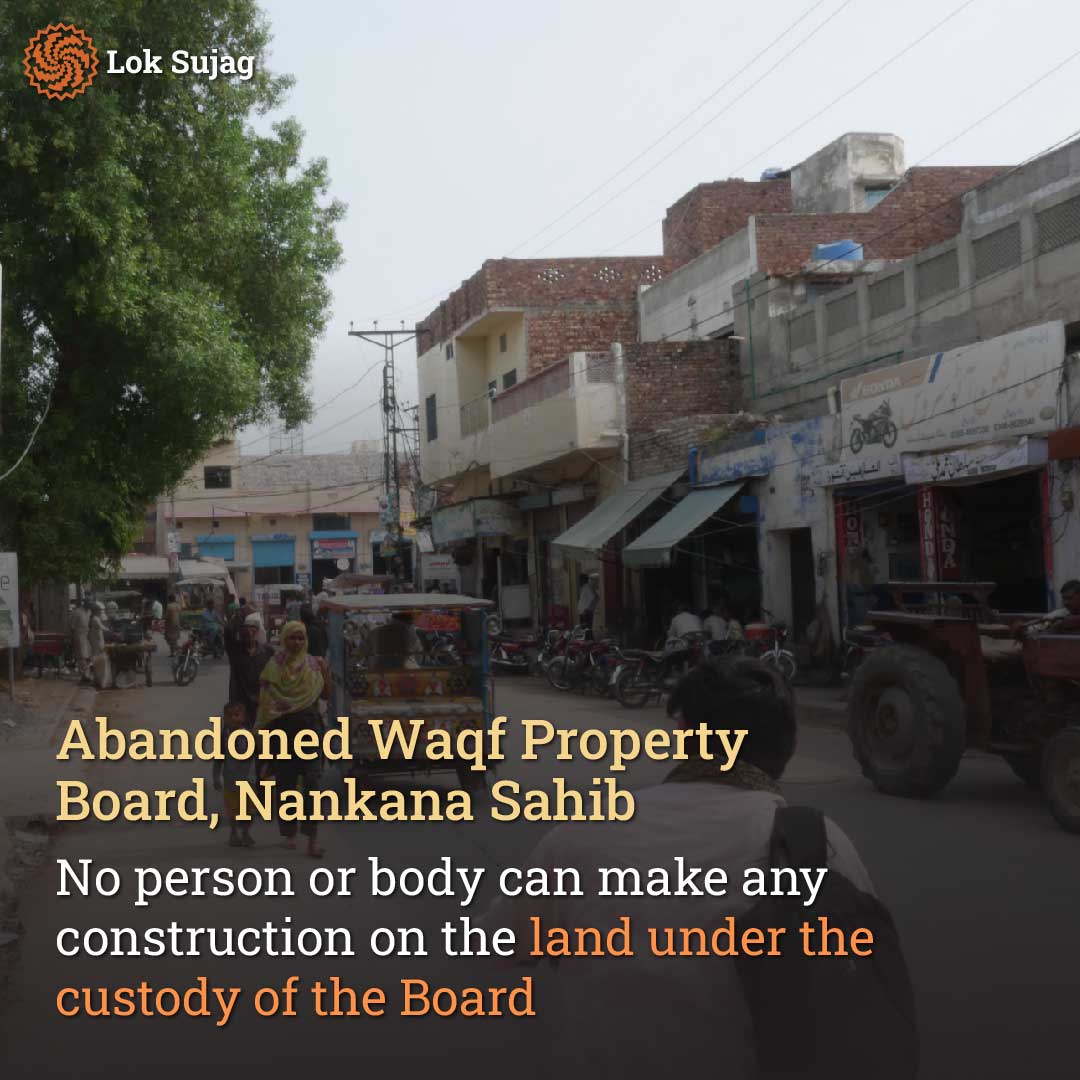 "The department collects market value rent from the tenants. The rent for residential land ranges from three to five hundred rupees per marla (approximately 272.25 square feet), while commercial land is set between five and twenty thousand rupees. Rent is collected every two months, and for agricultural land, plots are auctioned for a specified period. Until 2018, the rent per acre was one thousand four hundred and sixty rupees; after that, it was increased to four thousand rupees per acre."
According to him, all this income is collected at the Waqf Board's Lahore office. It is spent nationwide on the upkeep of Gurdwaras (Sikh temples), development projects, and the welfare of the Sikh community, following the approval of the Waqf Board members.
With this income, several schools, hospitals, dispensaries, and other agricultural institutions are running, benefiting people of all religions.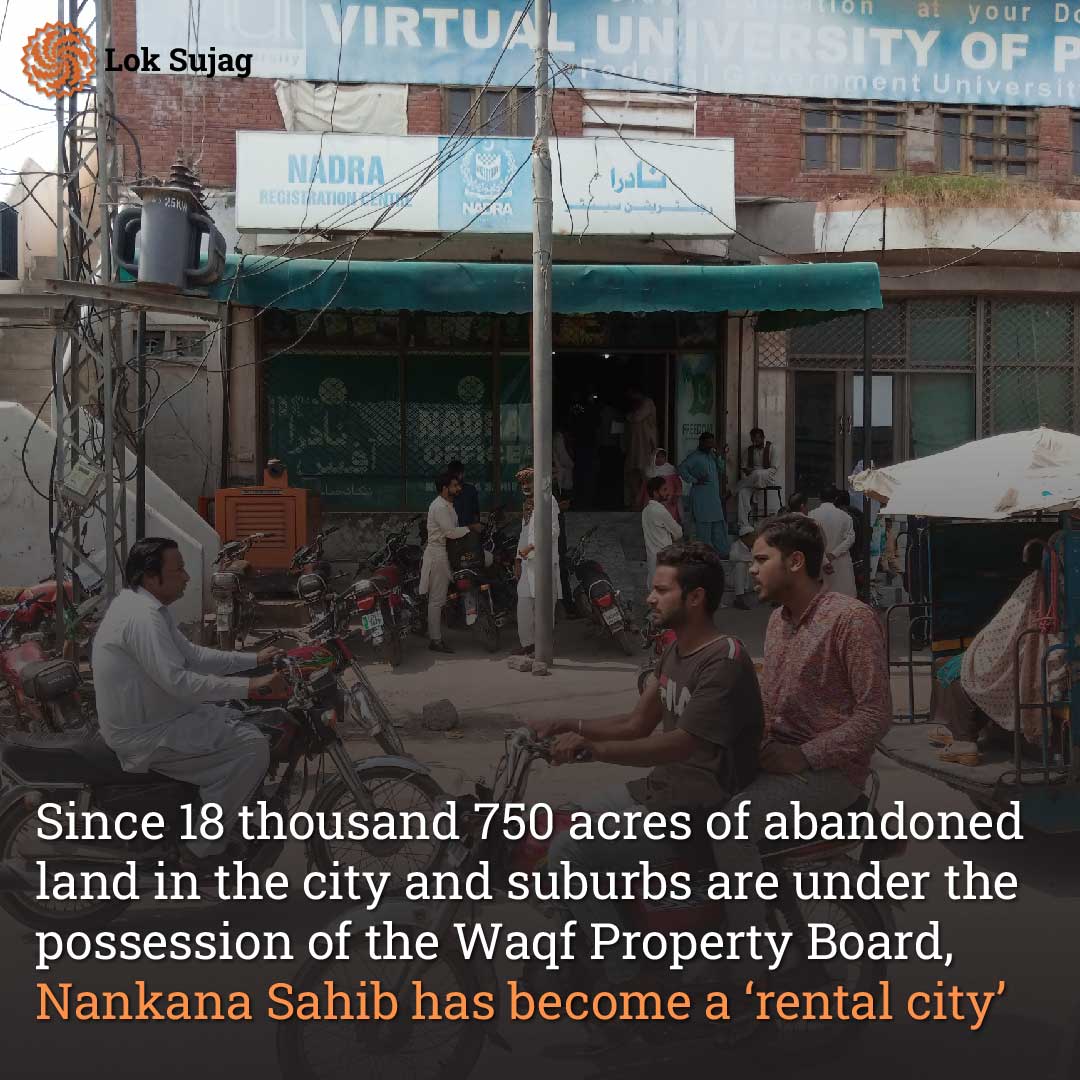 However, local residents protest that the Waqf Board of Nankana Sahib accumulates a significant amount of money, but instead of investing it in the city's development, it is being used in other cities. It is estimated that the condition of the Nankana Sahib District Headquarters is worse than a neglected remote area.
Even the shops in front of Baba Guru Nanak Gurdwara's market are in a deplorable state. The city's healthcare and education systems need to be better, too.
A local young man who wishes not to disclose his name says that thousands of pilgrims come here on Baba Guru Nanak's birthday, but there are no decent hotels for their accommodation, except a few.
"There is no proper shop for shopping or a good restaurant for eating in this city."
He explains that a Muslim friend visited the Gurdwara from another city a year ago. He had to stay overnight in Nankana Sahib, but there was only one relatively better hotel, which was fully booked. So, he had to stay in the Gurdwara.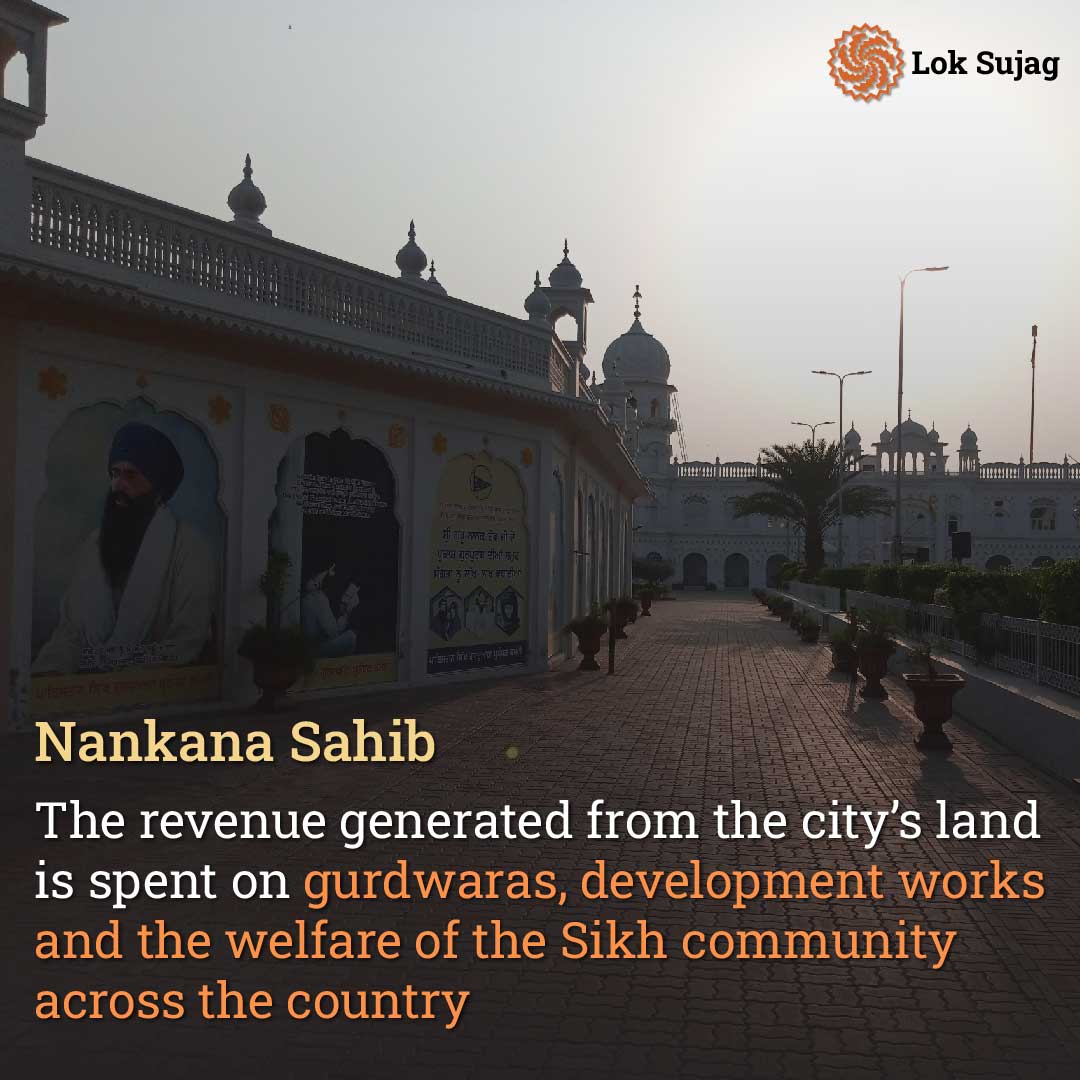 He says, "Well-off People go to Lahore, Faisalabad, or Sheikhupura for shopping. Due to the inadequate facilities for healthcare and education here, many people from the city or nearby villages send their children to other cities for schooling and medical treatment."
Most of the houses in the city are old. Local people are reluctant to invest in "rented places" because they fear the authorities might someday take back these properties.
Gurdwara Janam Asthan Nankana Sahib's Granthi, Giani Balwant Singh, says that ideally, all the income from this land should be spent on Gurdwaras and human welfare. He says, "If this income is honestly spent here, Nankana Sahib can become the most beautiful city in the world in a few years, but unfortunately, no one has ever thought of that."
He says that it's a matter of concern that construction occurs on Baba Guru Nanak Ji's land during the night, but during the day, no one, including Sikhs, can legally build homes there.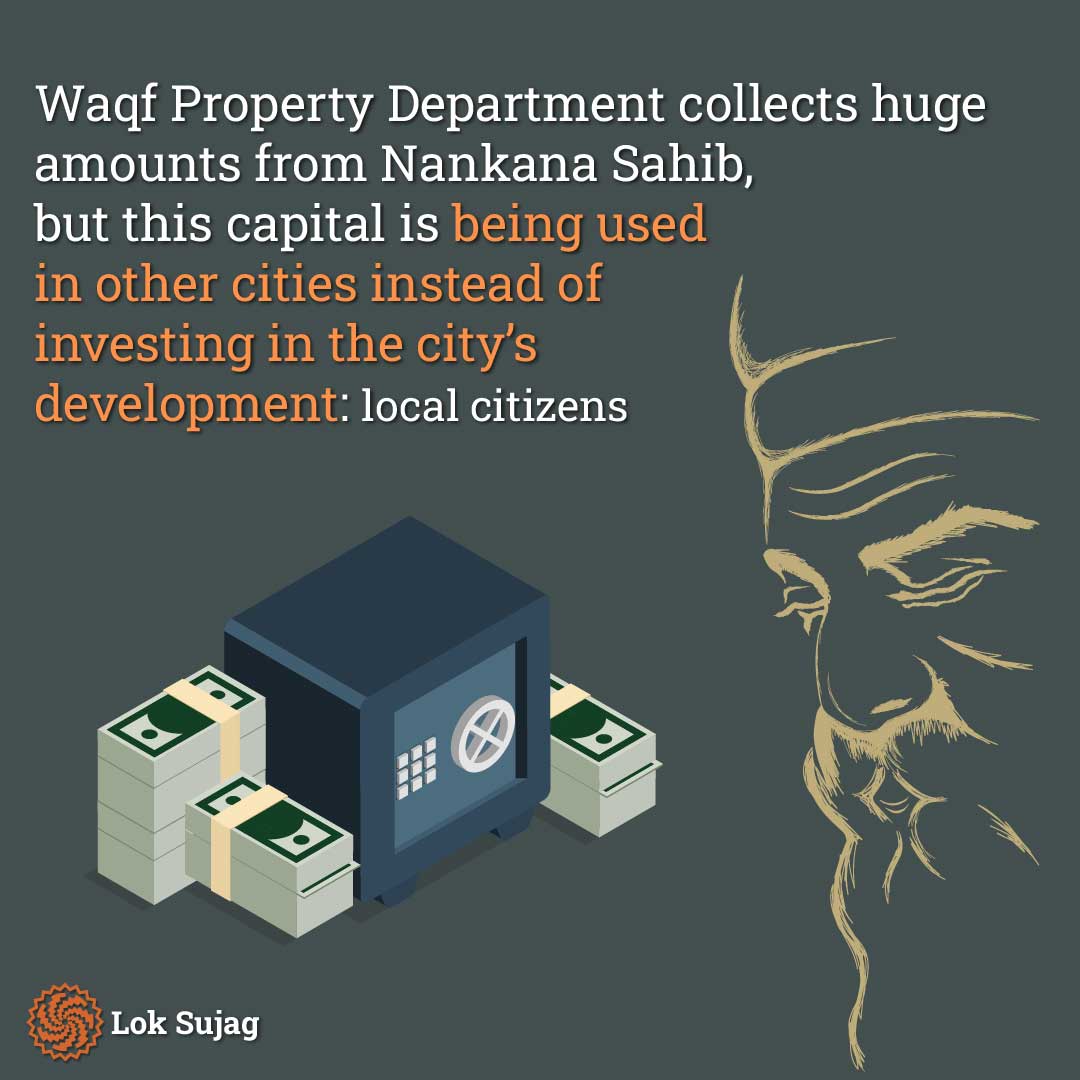 He believes everyone faces difficulties building their own homes in Nankana Sahib. People with global significance in this city want to invest in hotels, colleges, universities, and various brands, but there is no legal way.
In his view, due to the lack of businesses and investment opportunities in Nankana Sahib, people have no option other than agricultural labour for employment. Poverty in the district and unauthorised construction in the city are both on the rise.
He suggests that it would be better to establish new colonies through legal means in Nankana Sahib, where parks, mosques, temples, hospitals, schools, and all essential amenities are readily available. This way, the government will provide those who are compelled to move out of the city with reasonable alternative accommodations.
Giani Balwant Singh says that all the seven Gurdwaras, including the Janamasthan, should be in one compound so Sikh pilgrims or tourists can easily visit these Gurdwaras. By doing this, the government should provide suitable housing as an alternative for those moving out.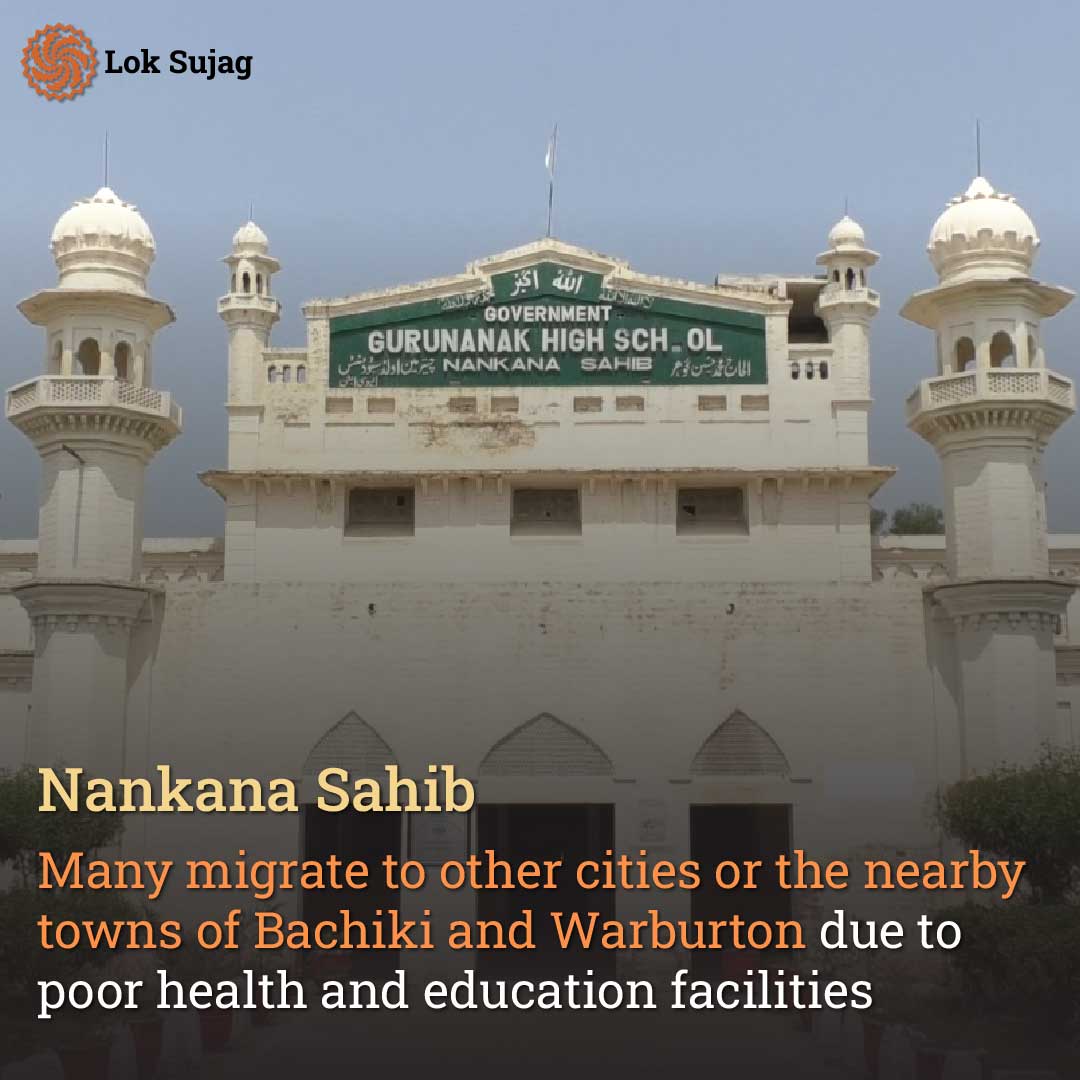 Sardar Gopal Singh, Chairman of the Punjab Sikh Sangat Pakistan, also believes this can be made possible through the funds of the Construction Board employees. He suggests that an easy policy for construction on Baba Guru Nanak's land should be formulated to boost income and development in the area.
He says that most of the work in gurdwaras is carried out through donations from around the world. There is a need to improve the management of abandoned endowment properties' income to allocate resources better. In this regard, consulting with the Sikh community is particularly important.
Social worker Dr Abid Ali Abid mentions that a construction policy should have been formulated when Nankana Sahib was made a district in 2005. The city needed buildings, offices, and residences, but no attention was given.
He says that in 1998, Nankana Sahib's population was around 68,000, but by 2017, it had only reached 80,000 because people were constantly moving out. In contrast, Warburton and Bhai Pheru's population is multiplying because of more development opportunities than Nankana Sahib.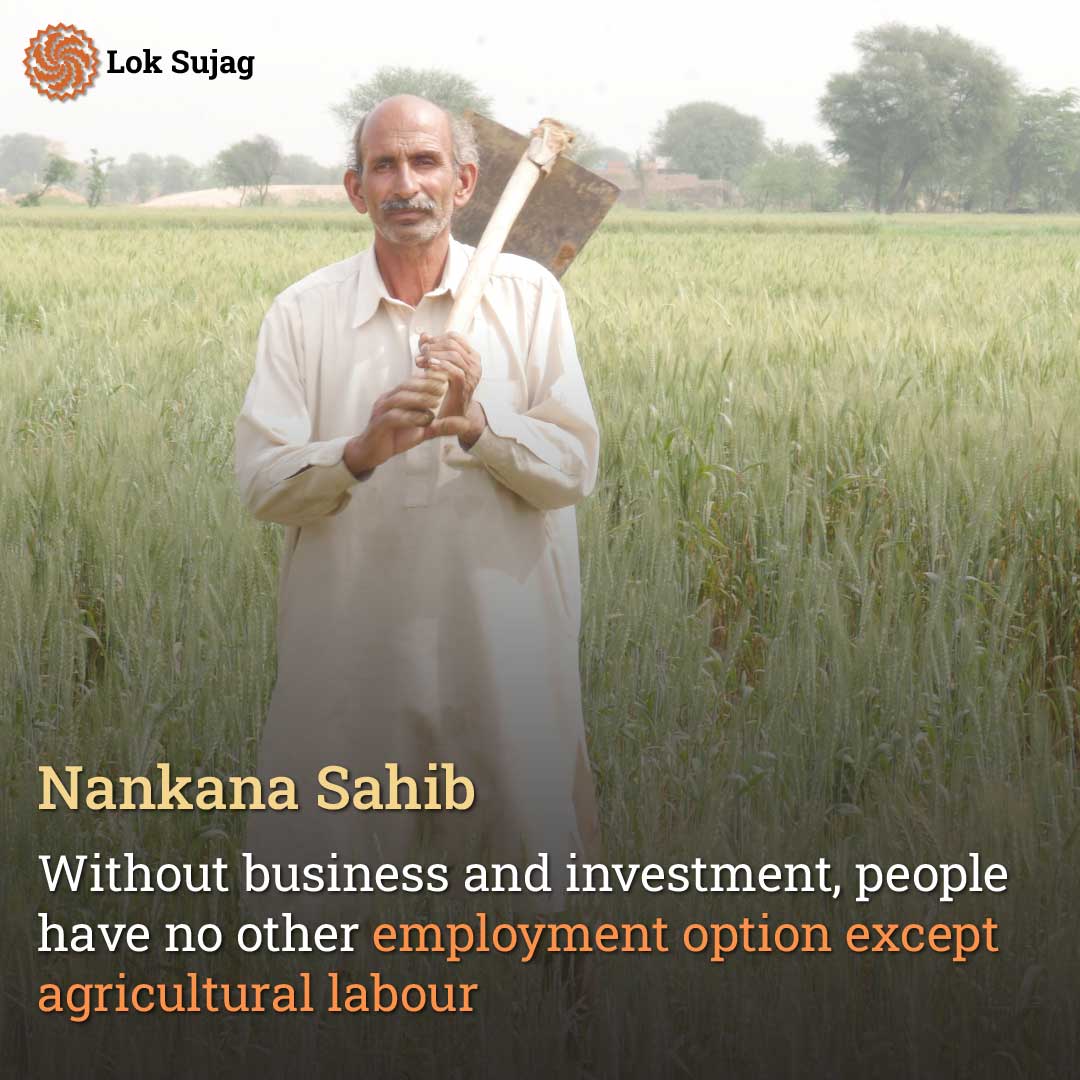 Dr Abid notes that the city has no legal residential colony or housing society.
Some influential individuals have sold land from the Board's clear assets and named its colonies, but they lack facilities such as parks or schools.
Local residents also believe that under the control of abandoned Waqf properties, this land is deteriorating the city's atmosphere of religious harmony.
Dilawar Singh and other educated young individuals share this belief. They argue that since this property belongs to the Gurdwara Sahib, whenever there is a rent-related issue or an attempt by the government to vacate occupants, people tend to think it's due to the involvement of the Sikh community.
Senior journalist Aabid Hameed Farooqi also agrees with this perspective. He mentions that in 2016, when the government attempted to retrieve land from illegal occupants, protests erupted, and the office of the Waqf properties in front of the Gurdwara was set on fire.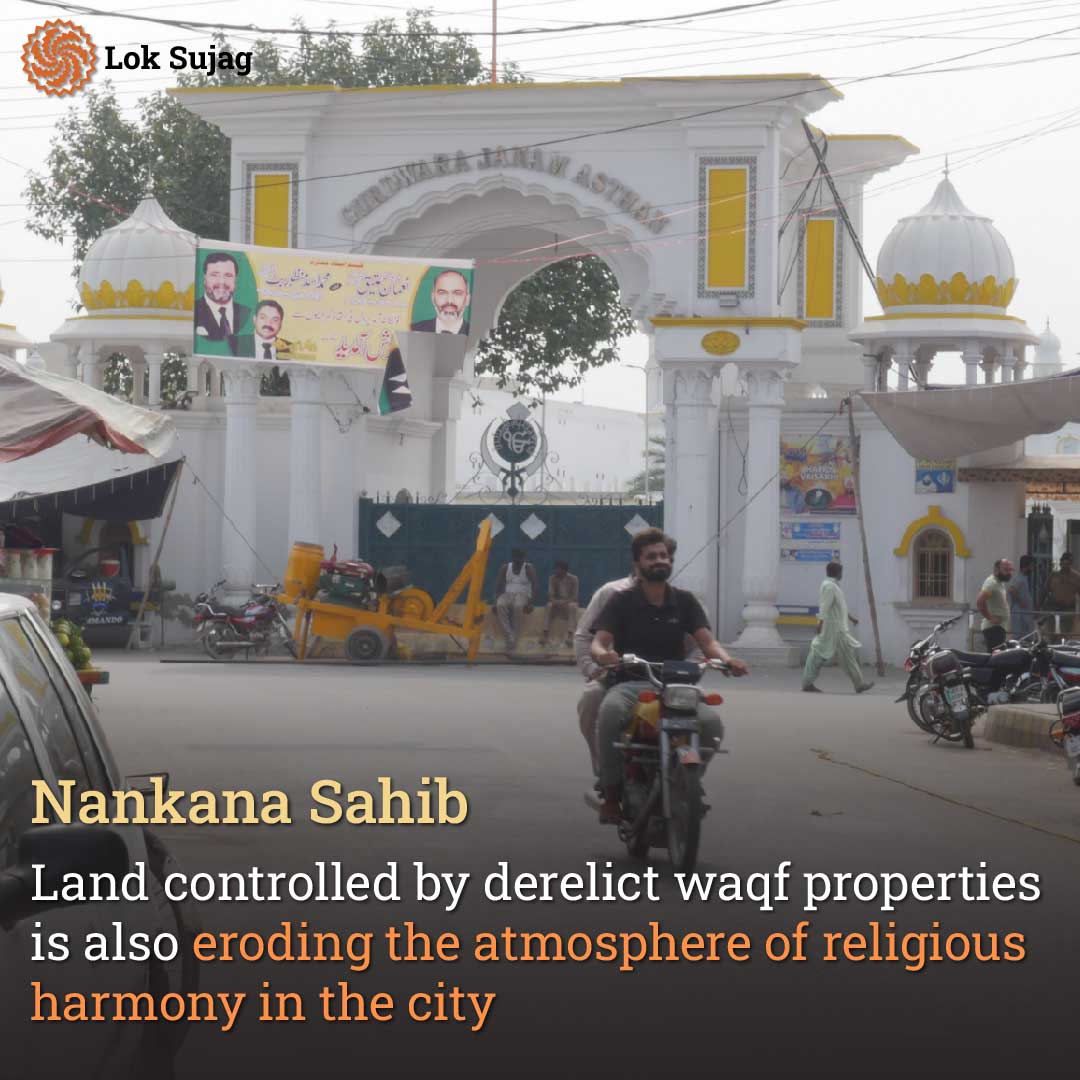 He points out that when the office was right in front of the Gurdwara Sahib, it had a global impact, making people think that an attack had occurred on this sacred Sikh site.
He believes that establishing a proper construction policy for the Waqf land will increase the city's beauty, government revenue, and amenities for the people and promote religious harmony.
Even the district administration appears helpless and confused due to the Waqf properties. According to spokesperson Saqib Shahzad, the laws related to construction on Waqf properties are the biggest obstacle to the development of Nankana Sahib.
Also Read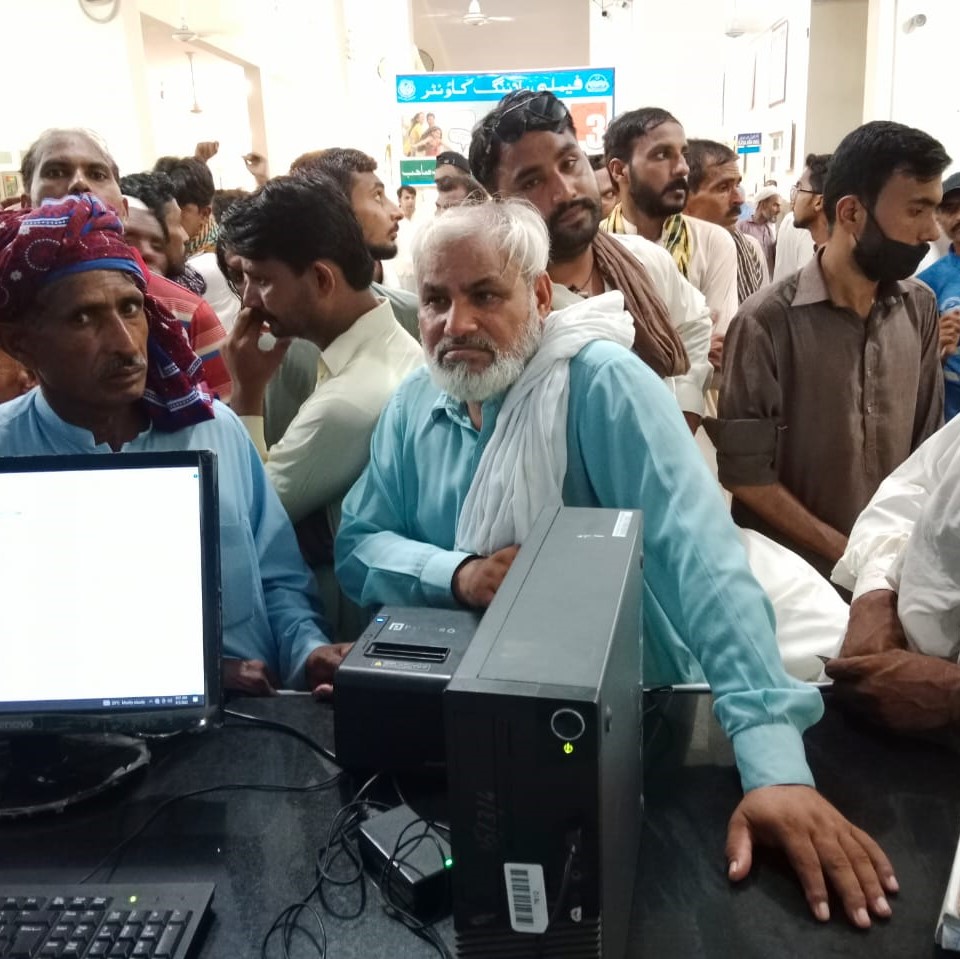 Healthcare crisis in Nankana Sahib: Shortage of vital medicines and equipment puts patients in distress
He mentions that the delay in constructing the Modern Trauma Center is due to the land issue. Now, this centre has been built within the DHQ Hospital. The land issue has led to countless problems. Due to the Waqf board, several education, health and sports projects could not be started.
The spokesman says there is no space for the offices of various institutions. Many offices are in rented space. Even the Deputy Commissioner complex was constructed by separating half of the building of the Boys' College. Due to this, the college is also facing a need for more space.
He says that the Waqf properties are under federal authority, and the Deputy Commissioner's office has repeatedly requested senior officials of the Waqf Board to formulate clear and accessible policies for construction on this land. If this issue is addressed, many of the city's problems can be solved.