Sixty-year-old Muhammad Rafiq has dedicated his entire life to working as a labourer and continues to do so daily. Despite his age, he has no alternative employment option that doesn't involve physical exertion, and he finds it challenging to provide for his children.
Rafiq resides in the small village of Harsakh Rai in the Hafizabad district in a modest brick house with his wife and 19-year-old son, Ali Asghar, who is disabled. His son, with a disability in both legs, was highly enthusiastic about education and reached the 7th grade at the city's government school.
He aspired to pursue further education and secure a government job through the disabled quota. However, he had to discontinue his studies due to the family's financial constraints. He now stays home since his disability prevents him from engaging in physical work.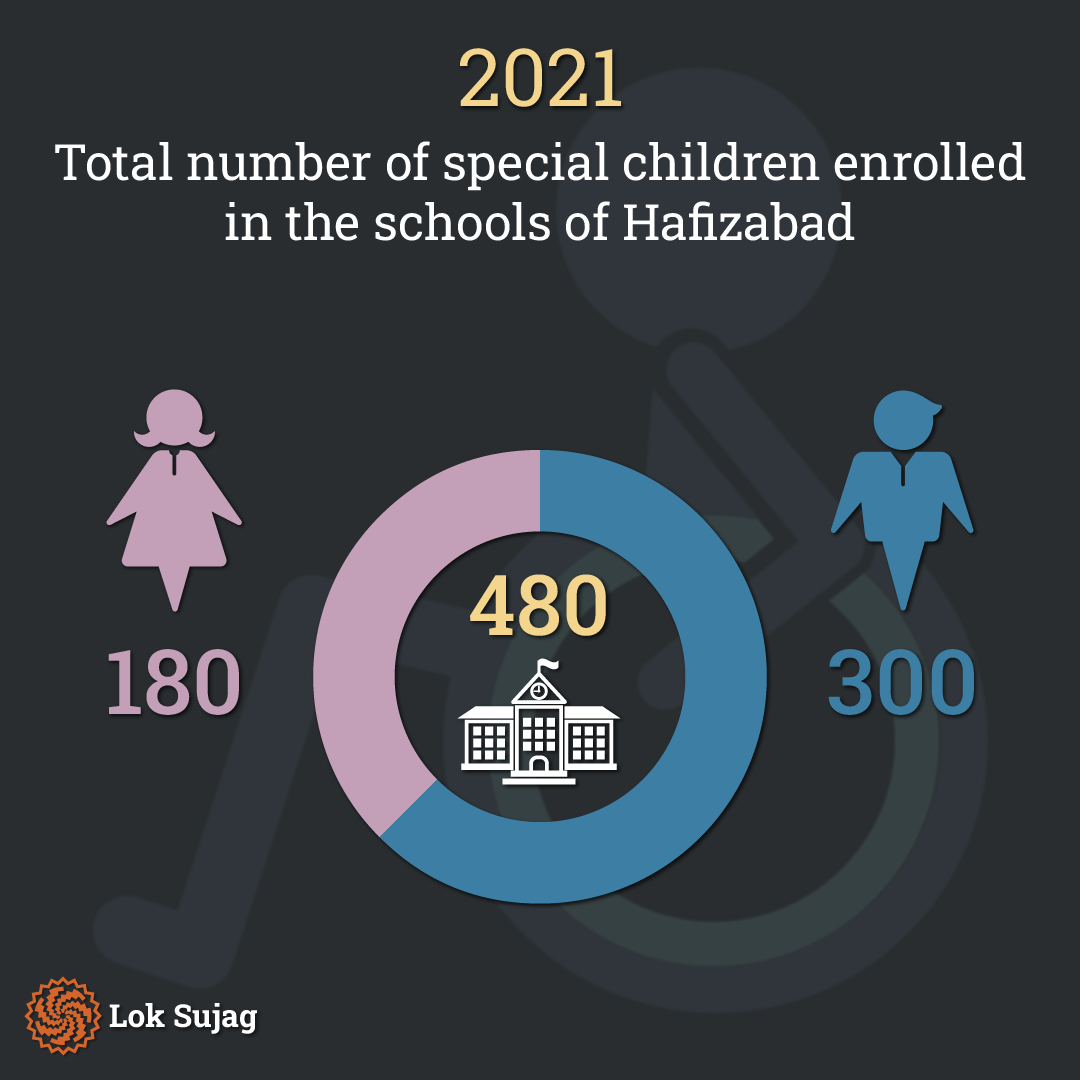 Rafiq expresses that his life has been devoid of peace. Despite his own health issues, he cannot afford to cease working as he is the sole provider for his household.
Amidst various challenges, a fleeting moment of relief arrived in the form of his daughter's marriage last year, but he remains haunted by the fact that he couldn't educate his children. He holds the government accountable for this, asserting that he never received any official assistance. He believes that had his children received an education, their family's quality of life would have been significantly better.
According to a 2012 report on gender equality, Hafizabad has only three educational institutions for individuals with special needs, marking the province's second-lowest count after Chiniot district. In 2021, Hafizabad had 480 special children enrolled in schools, comprising 300 boys and 180 girls.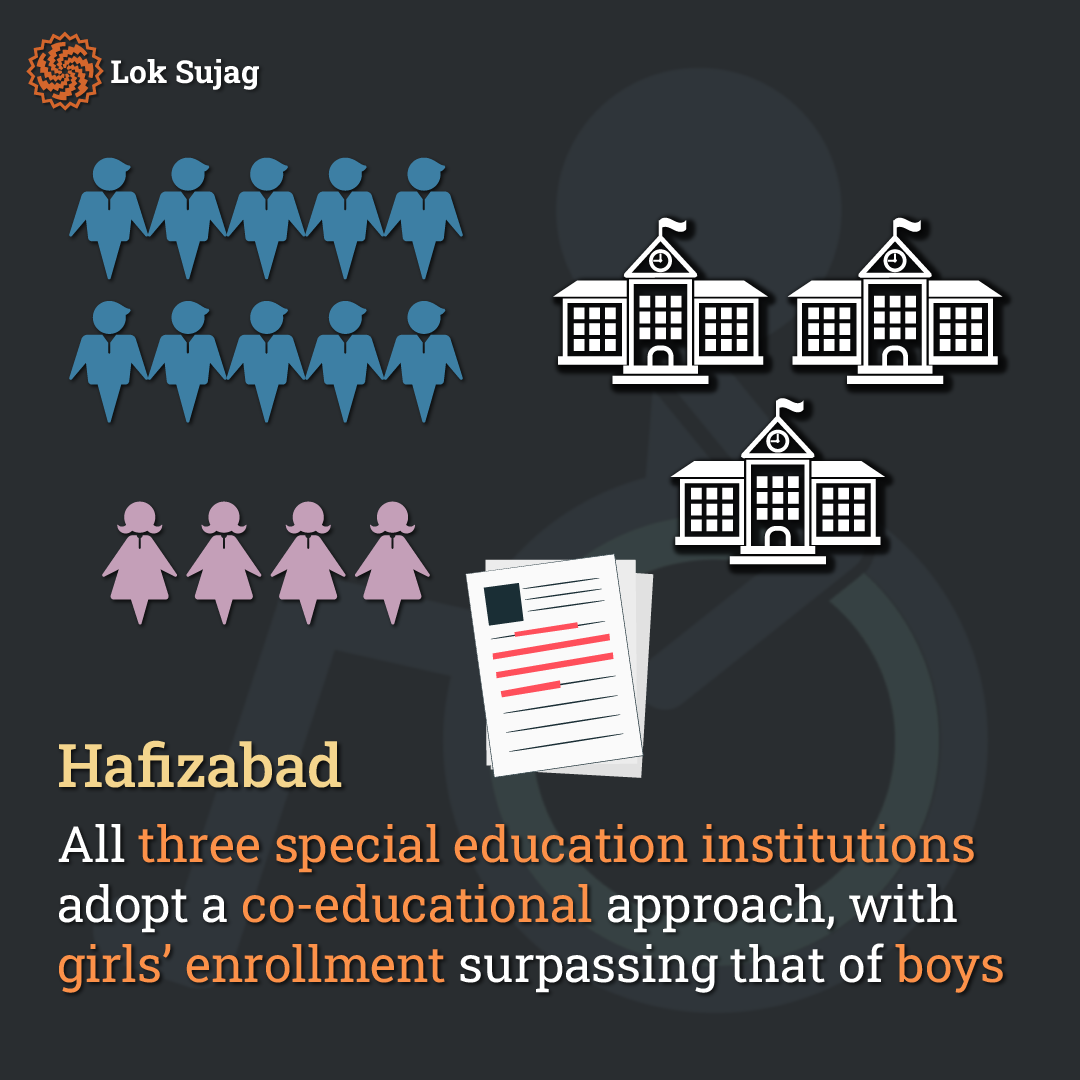 The report reveals that Punjab hosts 332 special education institutions, with 90 per cent (273 schools) offering co-education, while 16 are exclusively for girls and 14 for boys. Among these, the majority are primary level schools (194), followed by 106 middle schools, 67 high schools, seven higher secondary schools, ten graduate colleges, and three vocational institutes.
In 2021, 23,390 individuals with various physical disabilities were enrolled in these educational institutions across Punjab. Among them, the smallest segment was children with physical disabilities; within that group, only 800 were girls.
As per the Special Education Department Punjab's official website, over 38,000 students are registered in special education institutions throughout the province. The department boasts a fleet of more than 600 buses for facilitating teachers and students with pick-and-drop services. Additionally, there are 42 hostels with a collective capacity of accommodating two thousand individuals.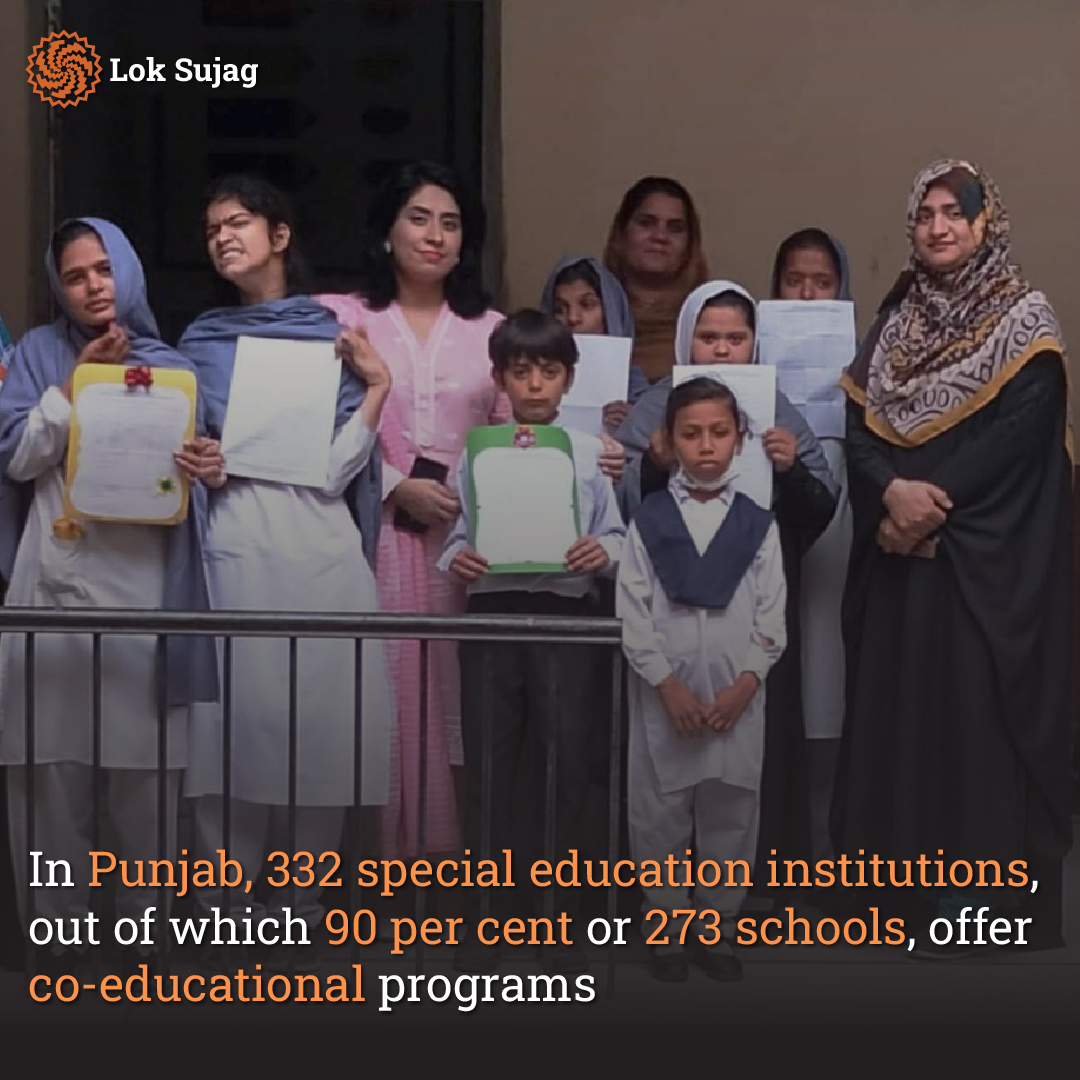 Out of Punjab's 36 districts, 25 lack separate schools for either girls or boys. The gender equality report highlights the potential consequence of this flaw in the system, suggesting that many underprivileged students might be missing out on education as a result.
This situation particularly impacts girls due to societal pressures against co-educational learning environments.
In Hafizabad, all three special education institutions follow a co-educational model, with girls' enrollment remaining below half of that of boys.
According to the Pakistan Social and Quality of Life Survey Report 2019-20, Hafizabad has a reported 3.41 individuals per 1,000 population facing some form of physical disability, amounting to a minimum of 39,452 people. However, the 2017 census reported this number as 6,047.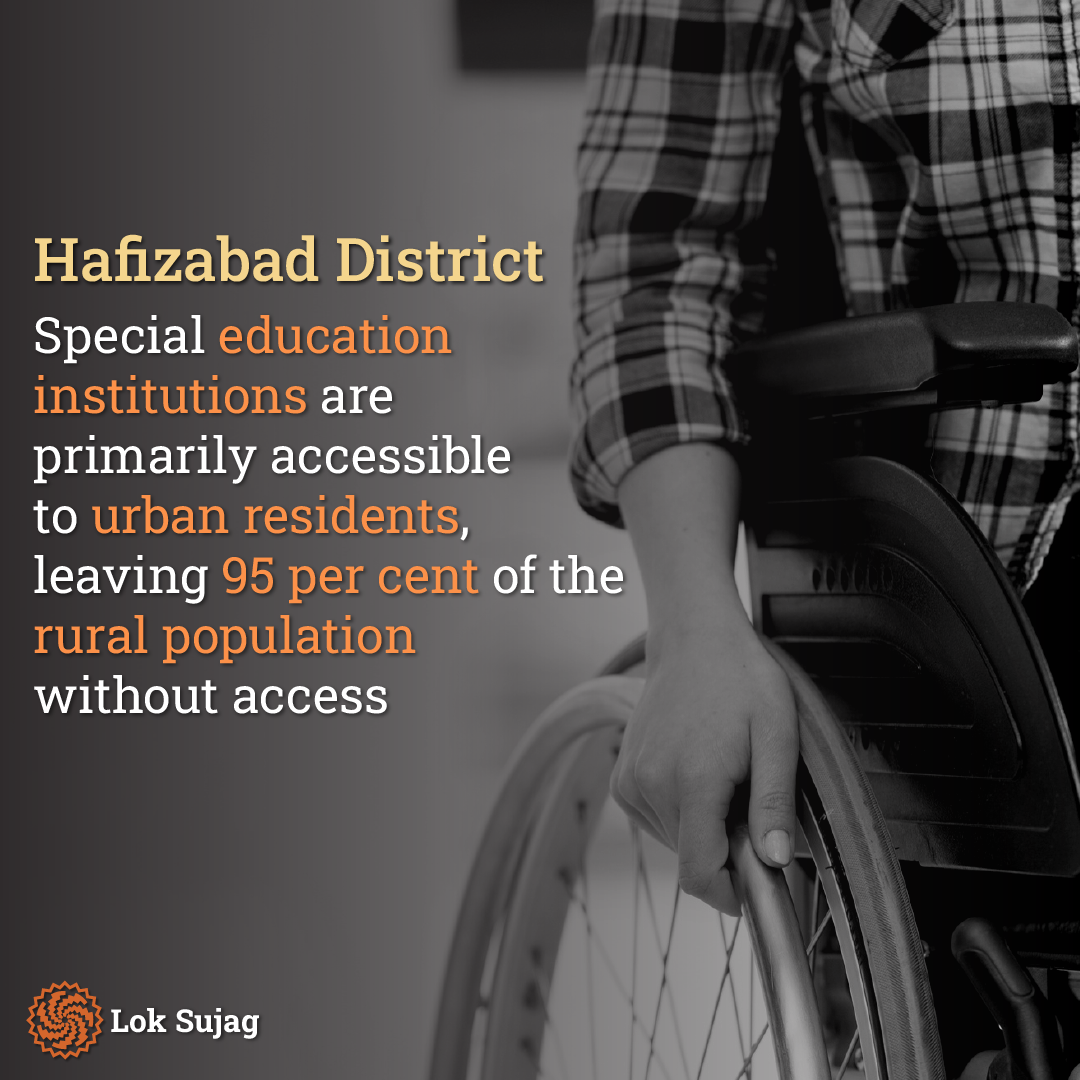 Amna Ashraf, the Deputy Director of Social Welfare in Hafizabad, reports that her organisation has registered 4,260 individuals with disabilities as of June 30, 2023. Among them, 1,832 are women, 1,001 are men, and 627 are children.
Information provided by the district's special education department reveals that 287 children attend the secondary school established in Hafizabad city. At the same time, 135 students are enrolled in the middle school located in Pindi Bhatian. Additionally, the district houses a Slow Learners Education Center with an enrollment of 115 students.
Considering the district's total population, the number of children attending these schools remains notably low. However, Hafizabad faces an additional challenge as it stands as the most underdeveloped in the province when it comes to registering legal and official identity documents. Moreover, it holds the lowest ranking in terms of registering persons with disabilities, specifically in providing them with ID cards bearing a special logo.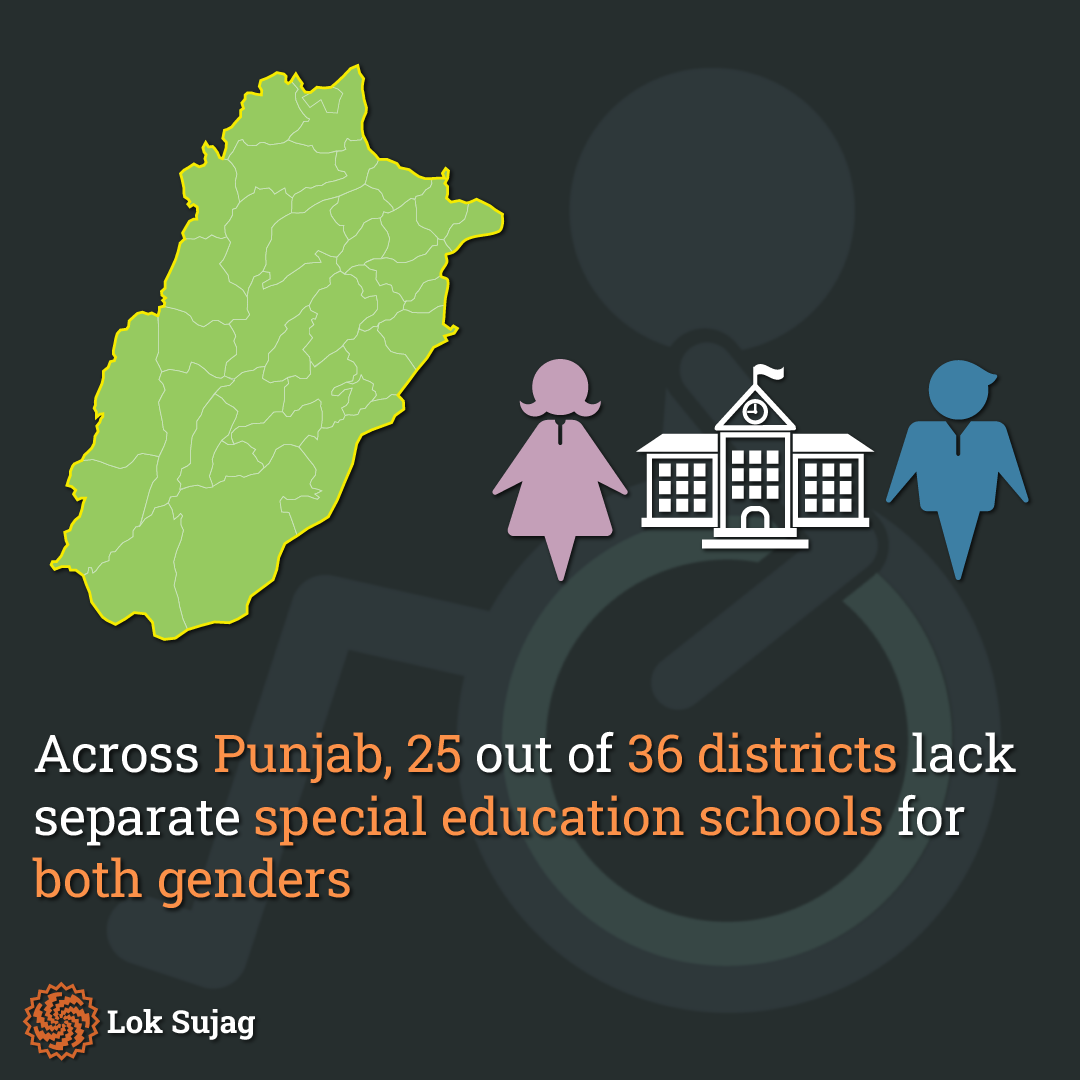 Social workers Muhammad Azizur Rehman and Sajida Fariad highlight the absence of dedicated counters for people with disabilities in government offices, hospitals, and banks. District Headquarters Hospital allocates only one day a month for issuing medical certificates of disability to these individuals. Upon completing their medical examination, they are required to travel outside the city to the Social Welfare Department office to obtain their certificates.
According to the National Census of 2017, the count of individuals with disabilities in Punjab stands at 515,815, out of which 68,000 are children aged five to nine, an age group typically attending school.
This statistic implies that half of the special children within Punjab's educational institutions are unable to access schooling.
According to Muhammad Javed, a teacher with disabilities at a public school in Hafizabad, economic disadvantages are the most significant hurdle in the education of special children. In this context, many families lack the resources necessary to send their children, particularly those with disabilities, to school.
Also Read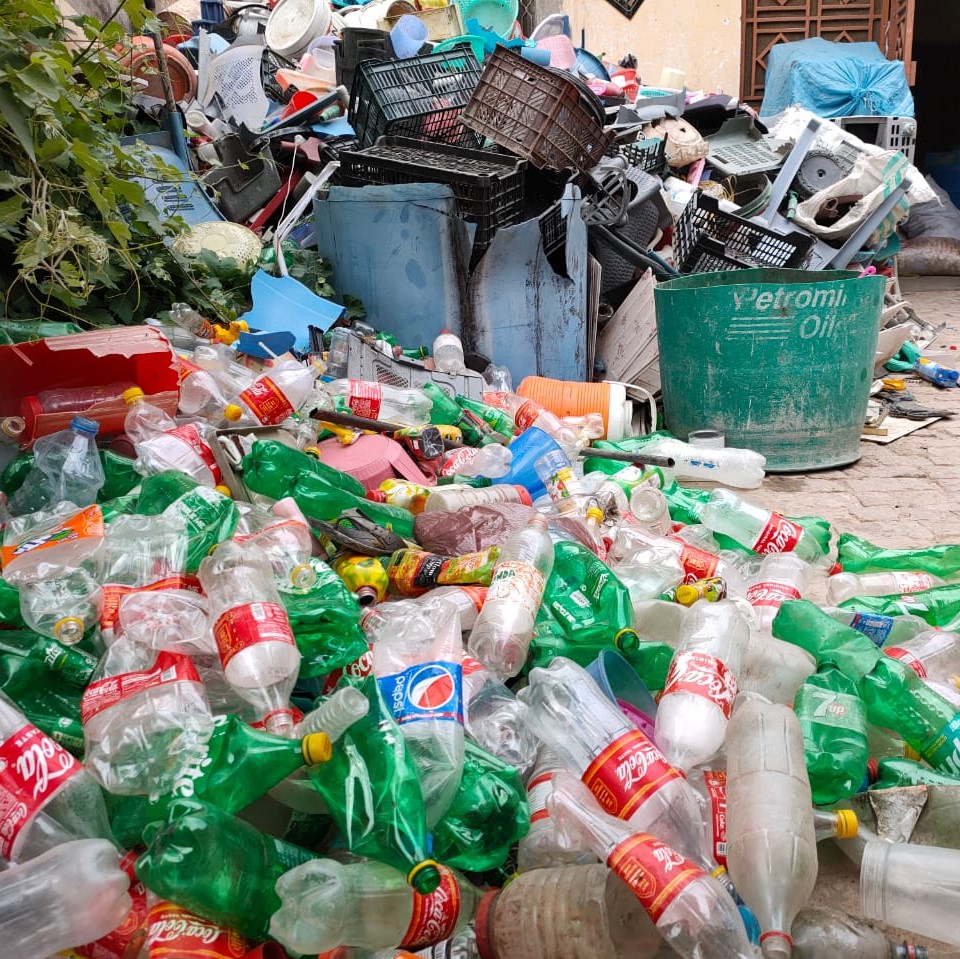 Unmasking the silent threat: Sale of medical waste in Narowal, spreading dangerous diseases to local communities
In his view, the situation in Hafizabad is exacerbated by the fact that schools catering to special children are situated in urban areas. These schools lack sufficient buses to reach villages and transport these children. It's accurate to assert that these educational institutions within the Hafizabad district are primarily accessible to the urban population, leaving around 95 per cent of the rural population deprived of this opportunity.
Seemab Ali, who has dedicated 15 years to teaching in the provincial special education department and currently instructs in a school in Rawalpindi, shares insights. She notes that during the census, families often avoid disclosing their children's disabilities due to the societal taboo attached to such conditions. However, this approach is detrimental to the children rather than beneficial. By accurately counting these children, the government could implement more effective measures for their education and overall well-being.
She proposes that integrating special children into regular schools could yield superior outcomes. The aim of sending children to school is to enable them to thrive in society, and this goal can't be achieved by excluding them from educational opportunities.