Sunny Simon was hanging precariously from the wall of a hotel near Taxali Chowk in northern Lahore's Data Darbar area on September 26th, 2019. He was screaming loudly, threatening to kill himself. A crowd had gathered below him, beseeching him not to do so. With some cajoling and convincing, he was finally taken down the wall safely.
These details are mentioned in a first information report (FIR) that Data Darbar police registered against Simon under section 325 of the Pakistan Penal Code (PPC). The section states: "Whoever attempts to commit suicide, and does any act towards the commission of such offence, shall be punished with simple imprisonment for a term which may extend to one year, or with fine, or with both".
The police also arrested Simon from the scene of his alleged crime and presented him before a senior civil judge in Lahore the next day. The judge ruled that he should "be release on bail subject to [the] furnishing [of] surety bonds to the tune of Rs 30,000".
It seems that Simon never furnished the bond and was, therefore, sent to jail. An unemployed drug addict in his thirties, he is said to be hard-pressed for money.
On December 27th, 2019, public prosecutor Sammar Abbas assessed his case and noted in a confidential assessment form: "Prosecution has ocular account in shape of the statements of eye witnesses… sufficient incriminating material [against the accused is also available] on record".
So, Abbas recommended Simon's trial for trying to kill himself.
He, however, pleaded not guilty when he was indicted in January 2020, indicating that he would contest the charges against him. Consequently, his trial started in February 2020 and continued till October 2020. The court ruled against him and stated: "In the view of [his] confessional statement… offence under section 325 PPC against the accused stands proved."
He was awarded a jail term of one year and a fine of 10,000 rupees.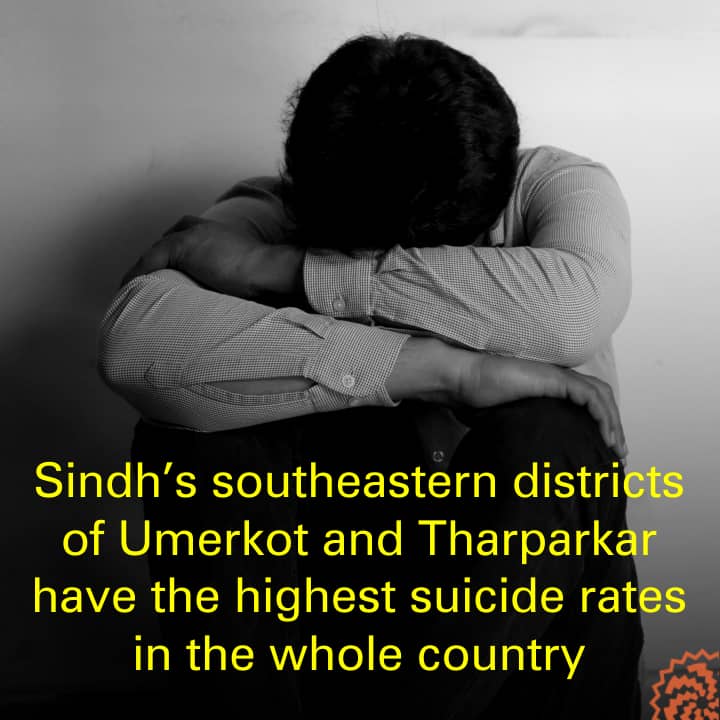 What happened to him next is anybody's guess. Data Darbar police do not know how much time did he spend behind the bars and when he was released. He no longer lives in Buddhan Shah neighborhood of Lahore's Qila Gujjar Singh area where he resided at the time of his trial. No member of his extended Christian family who still lives there – as well as any of his former neighbors -- knows where he has moved to.
Muhammad Waseem's case similarly highlights how a failed attempt at committing suicide led him into more problems than he was already in.
His troubles began when, at the age of 31, he opened a biryani shop in the last month of 2018 not far from his home in Ravi Road area of northern Lahore. He had borrowed 250,000 rupees from his relatives and friends to rent the shop and buy furniture and other fixtures for it.
His business did not succeed though. So, he had to borrow more money to keep it going and to maintain his household. This resulted in his debt soaring to 550,000 rupees.
Soon his lenders started visiting his house to demand their money back. Some of them would leave only after issuing warnings and threats to him. Simultaneously, he was "seriously weighed down" by his "inability to meet the most basic needs" of his two little sons.
It was under such circumstances that Waseem had a quarrel with his wife in March 2021. After that quarrel, she took the children with her and went to her parents' house. On the 19th of the same month, he shot himself in the belly with a pistol.
He was immediately taken to a hospital where, apart from treating his injuries, the doctors also asked him to fill in a questionnaire to ascertain if he was mentally sound and stable.
His trial began in May 2021 and he appeared before the court in five subsequent hearings. In one of those hearings, his statement was recorded in which he confessed that he had tried to kill himself.
The case against him is still going on but his brother, Nadeem Bashir, says that they have stopped following it because, according to him, it is increasing their family's debt burden. "Submitting a surety bond worth 50,000 rupees for Waseem's pre-arrest bail, hiring a lawyer for the trial and travel expense to attend one court hearing after another have already cost us more than we can afford," he says.
The living hell
Data collected by the World Bank shows that 9.1 out of every 100,000 Pakistanis committed suicide in 2017. A year later, this ratio was 8.9 for every 100,000 people. In fact, the same trend can be traced as far back as 2000 -- with some minor variations. It is also more or less in line with the trends in other low and middle-income countries like Pakistan.
Atia Naqvi, a clinical psychologist who was working in Karachi till recently, however, says the total incidents of successful and failed attempts at suicide could be much higher in the country. Their actual number, she contends, can never be known because most of them are not reported to the police or other government departments. "Due to the stigma attached to suicide, people never make it public if and when their family members try to take their own lives," she says.
There are also wide variations as far as suicide trends within Pakistan are concerned. Sindh's southeastern districts of Umerkot and Tharparkar have the highest suicide rates in the whole country. Some non-governmental counts suggest that the former district witnessed 98 suicides in 2021 and the latter as many as 79. The annual number of suicides in each of Punjab's 37 districts is certainly lower but it is far from negligible when seen collectively: According to the province's prosecution department, 457 FIRs were registered in all its districts against those who unsuccessfully attempted suicide in 2021.
Out of these FIRs, 85 have resulted in convictions and punishments. In 21 other cases, the accused have been acquitted while 351 of them are still under trial.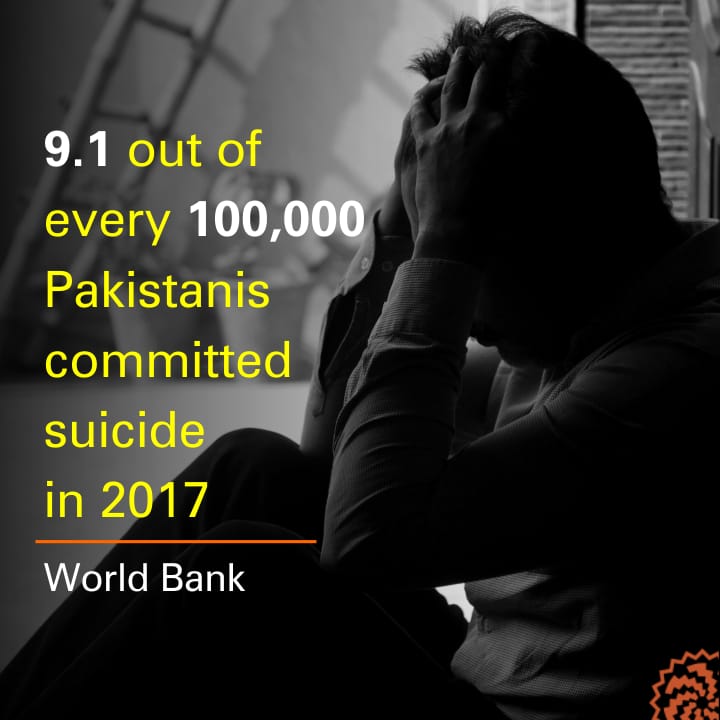 These statistics deeply displease Saroop Ijaz, a Lahore-based lawyer and the country representative of the Human Rights Watch, a global organization working for the promotion of human rights. He says it is "ridiculous" to try and punish someone who is unafraid of taking his or her life. "I fail to understand how further worsening that person's situation can discourage him or her from committing suicide," he says. "What if he or she goes to jail and attempts to commit suicide again? Who will be responsible for that then?" he asks.
Naqvi also believes that trying and punishing those who attempt to commit suicide does not discourage or dissuade others from trying to do the same. If that were the case, she argues, the incidence of suicide in Pakistan should not have stayed consistently around 9.1 per 100,000 persons.
Decriminalizing suicide
Karim Ahmed Khawaja, a senator belonging to the Pakistan People's Party (PPP) introduced a private member bill in the Senate in 2017. Here is what he stated its objective to be: "Attempt to commit suicide is the last stage of frustration. It is the duty of the welfare state to provide relief to its citizens instead of criminalizing the one who is already suffering". He also sought to "provide rehabilitation facilities" for those who try to commit suicide.
The bill was passed by the Senate in September 2017 but the National Assembly could not take it up for approval before its term expired in the summer of 2018.
In 2019, Riaz Fatyana, a legislator associated with Pakistan Tehreek-e-Insaf (PTI), presented a private member bill in the National Assembly in which he sought to omit section 325 from PPC. The bill has not been discussed or approved so far.
Its focus, though, is on how and why this section dealt unfairly with those suffering from mental illnesses. "People with mental illness often feel unsafe, unprotected, and neglected by the world at large and they…take refuge in committing suicide instead of seeking help from their closed ones," the bill's sponsor wrote in its preamble.
But Lahore-based civil rights lawyer Asad Jamal says decriminalizing suicide only for those who suffer from mental illnesses is not even needed. "Section 84 of PPC already states that a person suffering from mental health issues cannot be tried and punished for any offense, let alone suicide," he says.
When a PPP senator, Shahadat Awan, presented a bill in the Senate about the same subject on September 27th, 2021, he seemed to have this in his mind. He, therefore, sought an outright abolition of section 325 of PPC.
Also Read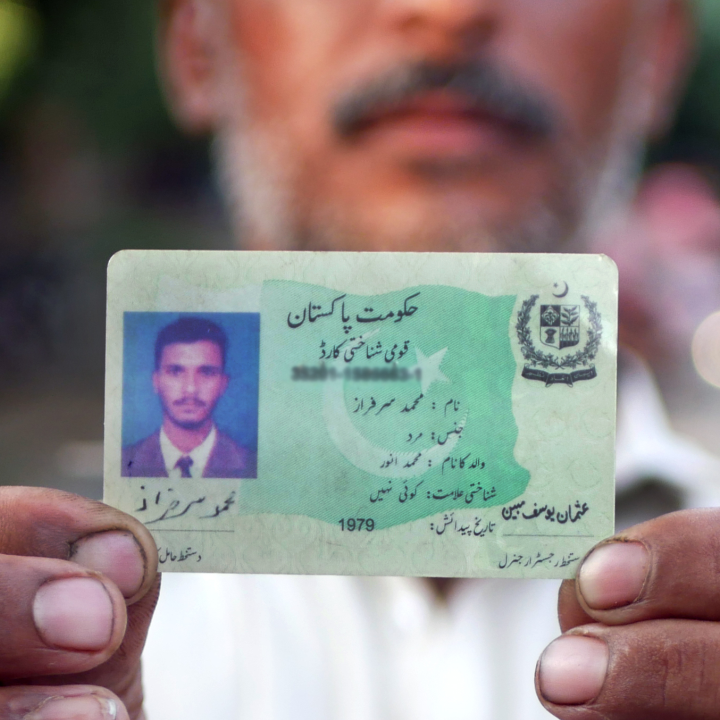 What's in a name? Many Christians find their religious identities changed in NADRA records
And that is precisely the reason why some senators urged him to withdraw it when a discussion took place on it in the Senate on December 27th, 2021. Kamran Murtaza, a senator associated with Jamiat Ulema-e-Islami Fazl (JUIF), called it "inappropriate" since, according to him, attempting suicide should always be a punishable offence as it is "prohibited in Islam."
In view of this disagreement, Senate Chairman Sadiq Sanjrani referred the bill to the Senate Standing Committee on Interior with the direction that the opinion of the Council of Islamic Ideology (CII) be also sought. The committee complied.
On January 6th, 2022, it was informed by the council through a letter that the "punishment of the commission of suicide should remain intact because suicide is a major sin in Islam and it needs to be discouraged in society… in order to maintain a deterrence". The council, however, also suggested that a condition should be added in section 325 to ensure that the accused, proven psychologically ill, are not punished.
The members of the Senate committee did not agree with this opinion because, as they argued, the mentally ill persons are already exempt from all kinds of trials and punishment. So, they recommended that the Senate should pass Shahadat Awan's bill as it is.
Ijaz of Human Rights Watch also points out that taking an Islamic approach toward suicide excludes all the non-Muslim Pakistanis from a debate on the issue. "The teachings of Islam on suicide cannot be applied to people of other religions who have a different religious view about it," he says.
Simon, for one, would have been spared his judicial troubles if non-Muslims living in Pakistan were exempted from trial under section 325.