Malik Muhammad Afsar is a farmer of the village Raqba Dad in Rajanpur's Union Council Shakar Pur. Last year, he cultivated wheat on 50 acres, yielding 50 maunds per acre. After completing the cotton-picking season, he prepares the land for wheat cultivation. This time, in the first week of October, he intends to cultivate wheat on 115 acres, requiring 115 bags of 50 kilograms of DAP fertiliser.
Malik Afsar claims that he has the money earned from cotton sales. He went to the agricultural market to buy DAP fertiliser to go along with the sowing of seeds. He did not receive DAP fertiliser at the specified rate of 11,843 rupees per bag, as he was told it wasn't available. Some shopkeepers said that the factory is not producing DAP fertiliser. However, some private agents looking for customers in the market offered him DAP fertiliser for 14,000 rupees per bag.
Buying 115 bags of DAP at 14,000 rupees per bag will cost him approximately 1.625 million, a huge amount. He wants the district administration to actively ensure that wheat farmers can access DAP at the prescribed rates and on time.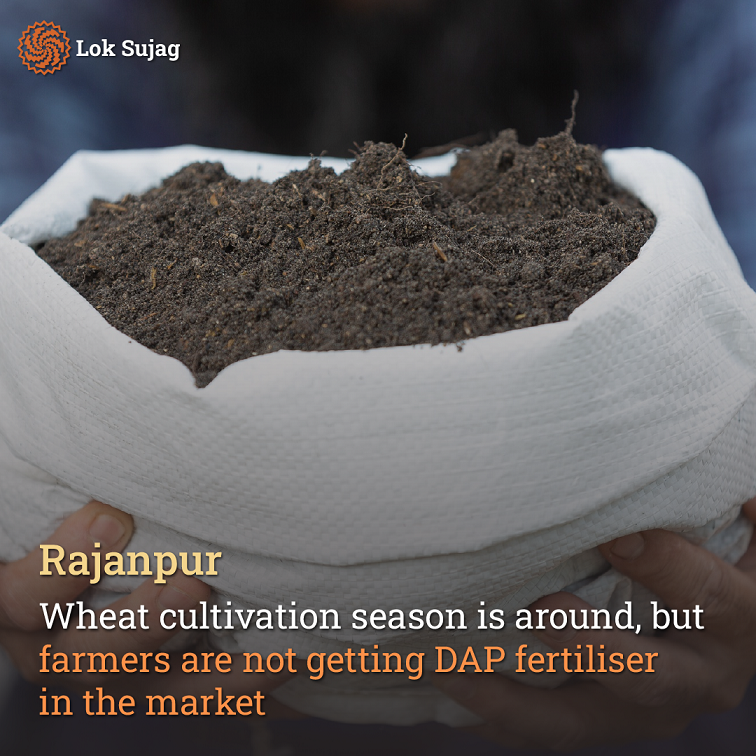 After Rajanpur, other farmers also complain about fake and substandard DAP fertiliser. Muhammad Yaqoob, a farmer from Union Council Jahanpur in Chak Jalalpur, is also included. He says that he cultivated rice on his 1.5-acre land. Due to the unavailability of DAP in the city, he bought two bags from a nearby area, Chak Shaheed, for 16,800 rupees each. This fertiliser was from an unknown company. When inquired, the seller claimed it was a new company and that the fertiliser was of excellent quality so that he may use it without any doubts.
Muhammad Yaqoob says that after getting assurance from the commission agent, he applied DAP of the same unknown company to his field, but even after a month and a half, he did not see any improvement in his crop. The farmer in the area next to him brought DAP of a well-known company from Rajanpur and his crop is green and flourishing. He says their money and crops were lost due to the wrong fertiliser.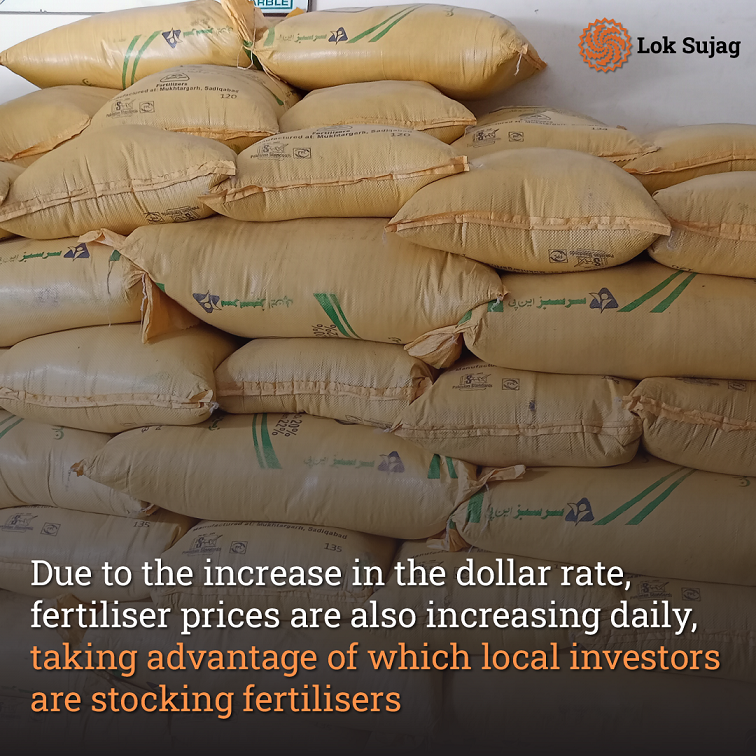 Regarding the shortage of DAP fertiliser, Aftab Khan Buzdar, president of Rajanpur's Fertiliser Dealers Market, says that the rise in the dollar rate has also led to an increase in fertiliser prices. As a result, local investors are hoarding DAP fertiliser to take advantage of higher prices. Instead of storing it in shops or warehouses, they keep stock at their homes, making it difficult for the authorities to reach them. Some unscrupulous shopkeepers are also involved in this.
Another reason for the shortage and high prices of DAP is the imbalance in supply and demand. Most of the fertiliser companies import DAP from foreign countries. Only Fauji Fertilizers Bin Qasim Limited produces DAP at its plant, meeting about 30% of the country's demand.
Concerns are rising due to the DAP shortage and rising prices. Wheat farmers may now sow two acres with one bag of DAP instead of one, potentially reducing wheat production.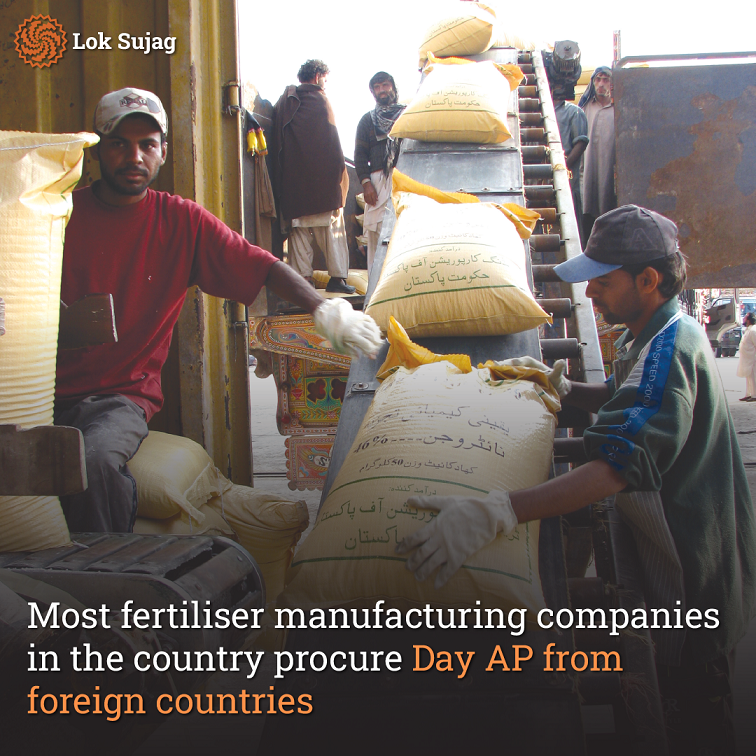 Regarding the shortage and high prices of DAP fertiliser in the market, Haji Muhammad Ashraf, President of the Rajanpur Fertilizer Suppliers Market, says that since it has not been imported in the last six months therefore, there is a shortage in the market and its black market has increased.
He says that the wheat cultivation season is around, but no DAP ship has reached any port yet, nor are the fertiliser companies taking bookings per the country's requirement. Hoarding and black marketing will be eliminated if fertiliser is made available in the market as required.
Assistant Commissioner Muhammad Aamir Khan Jalbani in Rajanpur also states that there is no shortage of DAP fertiliser in the market. Secondly, there is a delay in wheat cultivation, and private investors are currently active. Actions are being taken against private investors involved in wheat cultivation. Wheat farmers will be ensured a reliable supply of DAP.
Also Read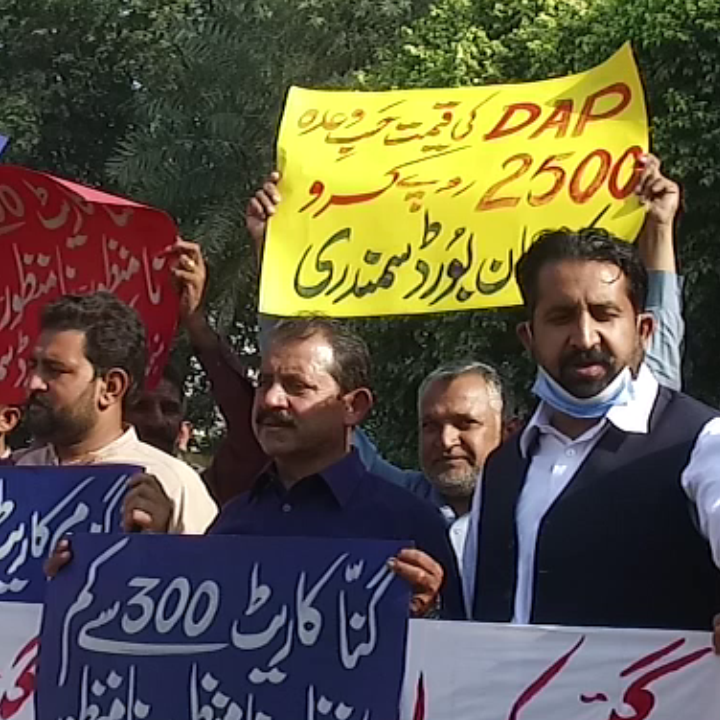 Corporate profit vs farmers' plight: Why DAP fertilizer price has risen sharply over the last one year
Addressing farmers' concerns over the sale of fake fertilisers, Deputy Director of Agriculture (Extension) Muhammad Asif emphasises that providing farmers with quality fertilisers is their top priority. They regularly collect fertiliser samples from all districts and send them to laboratories to ensure this. Legal action is taken against the dealer if a sample reports negative results.
He states that substandard and fake fertilisers are primarily supplied to farmers in remote areas. Upon receiving any information about this, immediate action is taken by conducting raids and collecting fertiliser samples from the suspect seller. During the current cotton season, he imposed fines totalling 1.4 million rupees on various shopkeepers for selling expensive fertilisers using fake price lists, while cases were registered against seven shopkeepers for selling substandard fertilisers.
He advises farmers to purchase fertiliser from approved dealers of the companies to avoid substandard and fake fertilisers. They should immediately inform the agriculture department of any such sale. Swift action will be taken against counterfeiters.