Fazal Muhammad is currently the Assistant Director for Crop Reporting. He initially joined the Department of Agriculture's Extension Branch but was later transferred to the Crop Reporting Division (Department of Agricultural Statistics).
He has been performing his duties in the districts of Awaran, Khuzdar, and now Kalat since 2007. He claims to have been reporting on crops for 15 years in these three districts but has neither been provided with an office nor transportation.
He says that he has only four crop reporters and a fuel budget of 25,000 to 30,000 rupees for the entire district is allocated, which means around 100 litres of petrol. This fuel budget is typically exhausted within a single month. Kalat district covers an area of 7,654 square kilometres.
"My team consists of ten individuals, and it's not easy to manage a household with a salary of 70,000 rupees in this inflation. I am compelled to bear the transportation expenses from my salary. When conducting crop reporting on a motorcycle, it takes about 20 days to complete an assessment for a single crop season."
Why crop reporting is significant
Director of Agricultural Research Muhammad Qasim Khan Kakar describes crop reporting as the backbone of policymaking. This division helps understand the need for different crops, their varieties, and production estimates. It also plays a vital role in determining each region's specific agricultural requirements, subsidies, and incentives.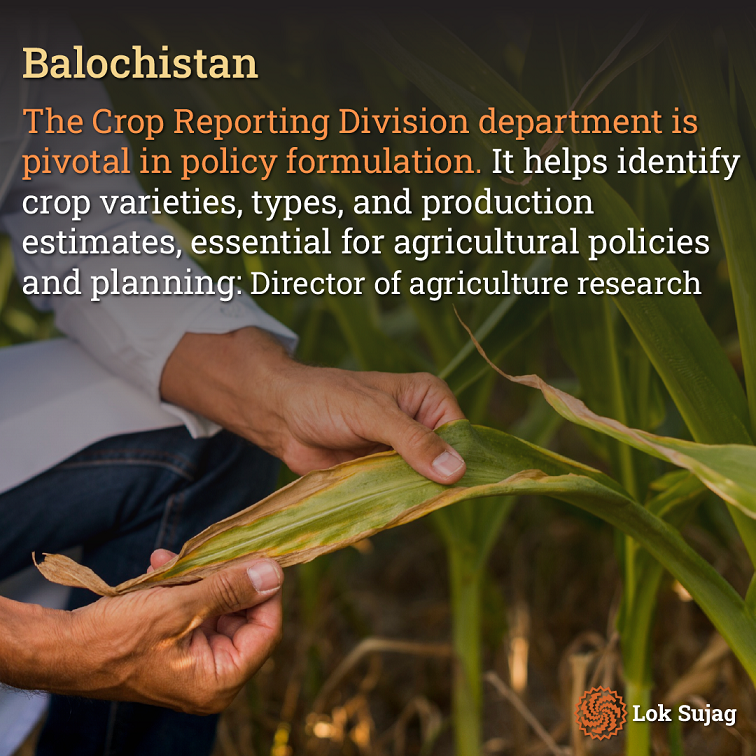 He says that accurate crop data makes the foundation for market regulation. These statistics and agricultural supply figures help plan for stakeholders in the agricultural supply chain, including farmers, processors, traders, and consumers.
According to Muhammad Qasim Khan, crop reporting is highly significant for agricultural policy formulation and assessing and distributing agricultural resources, food security, and market planning (demand and supply). Crop data is also indispensable in disaster management, agricultural research, international trade, economic planning, and environmental conservation.
According to Balochistan's Crop Reporting Department, 397 crop reporters and 36 senior crop reporters work there. This department's annual salary budget is 40 crore rupees, and the operational budget, including fuel expenses, amounts to eight lakh rupees.
According to the Department of Agriculture statistics, during the last Rabi season in Balochistan, fruit production amounted to 78,247 tons, while during the Kharif season, production reached 1,712,576 tons. These fruit orchards cover an area of 185,928 hectares.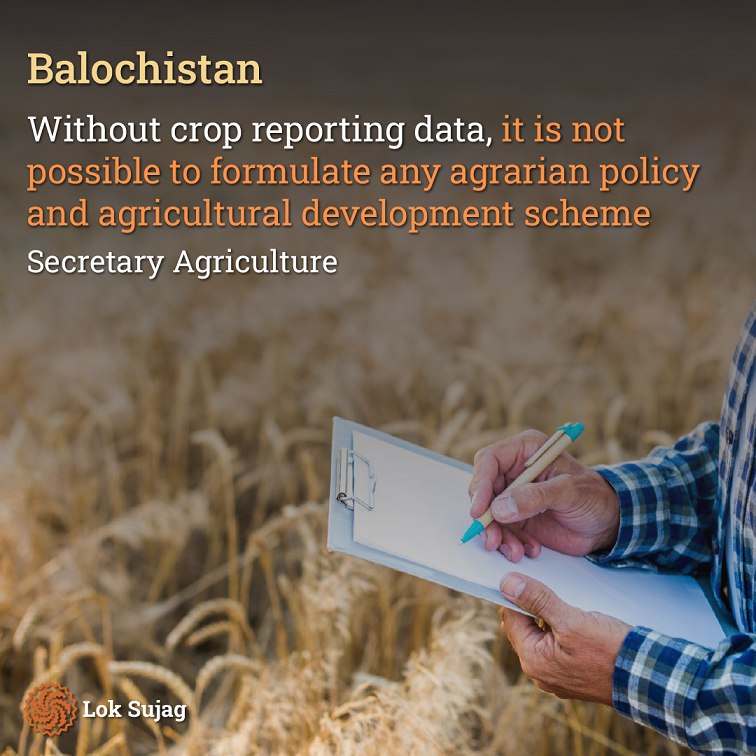 According to the Agricultural Statistics Report 2010 of the National Statistical Institute, the total area of the province is 8Crore and 58lakhs, of which 2.8 million acres land is cultivated annually, whereas the forest cover area in Balochistan is 3.3 million acres.
Kazim Khan Achakzai, a leader of the Action Committee for Farmers and Landowners in the Gwadar district of Balochistan, states that the Crop Reporting Division in this region is ineffective. He points out a significant discrepancy between the data provided by the Agricultural Statistics Department and the actual cultivation area of crops and orchards in this area.
He explains that according to the Department of Agriculture, cherry cultivation is on 300 acres in Qilla Abdullah, whereas in reality, cherry cultivation is very limited in this area. However, the Secretary of Agriculture disagrees with this discrepancy. His stance is that agricultural data is not available outside of crop reporting, which can be used for a comparative analysis.
Fazal Muhammad mentions that crop reporters often have to rely on the information provided by the farmers. However, sometimes landowners refuse to provide detailed information, claiming that "What Department of Agriculture has done nothing for us?"
Director of Crop Reporting Akhtar Buzdar explains that crop reporters traditionally collect data using conventional methods. The landowners usually provide the land area, crops, and production details. Some farmers might not accurately report the land area, while others are apprehensive about potential new taxes and may underreport their land area.
Director of Crop Reporting Akhtar Buzdar explains that crop reporters traditionally collect data using conventional methods. The landowners usually provide the land area, crops, and production details. Some farmers might not accurately report the land area, while others are apprehensive about potential new taxes and may underreport their land area.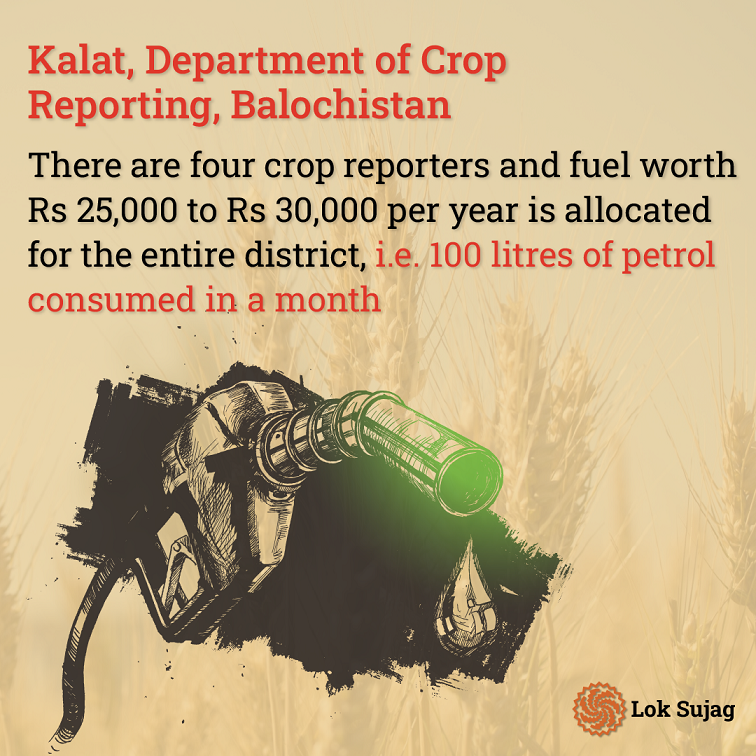 He mentions that having the necessary resources is also crucial for accurate reporting. Several complaints have been lodged with authorities, stating that the budget allocated for petrol in crop reporting is insufficient, yet no hearing has taken place. The headquarters has an annual fuel budget of 8 lakh rupees, while only five old vehicles are available for fieldwork, each consuming up to four litres of petrol per kilometre.
Akhtar Buzdar and others in the Crop Reporting Department believe that remote sensing (using satellites) is essential for crop reporting and saves time. He expresses the need for adopting remote sensing technology because, so far, they have had to rely on the data provided by crop reporters.
In contrast, remote sensing allows for location verification and yields results with up to 95 per cent accuracy.
He explains that satellite images are captured for each district in remote sensing. These images are processed to differentiate crops by assigning distinct colours. This method makes it easier and more accurate to determine the areas under various crops like wheat, rice, and others using colours as identifiers.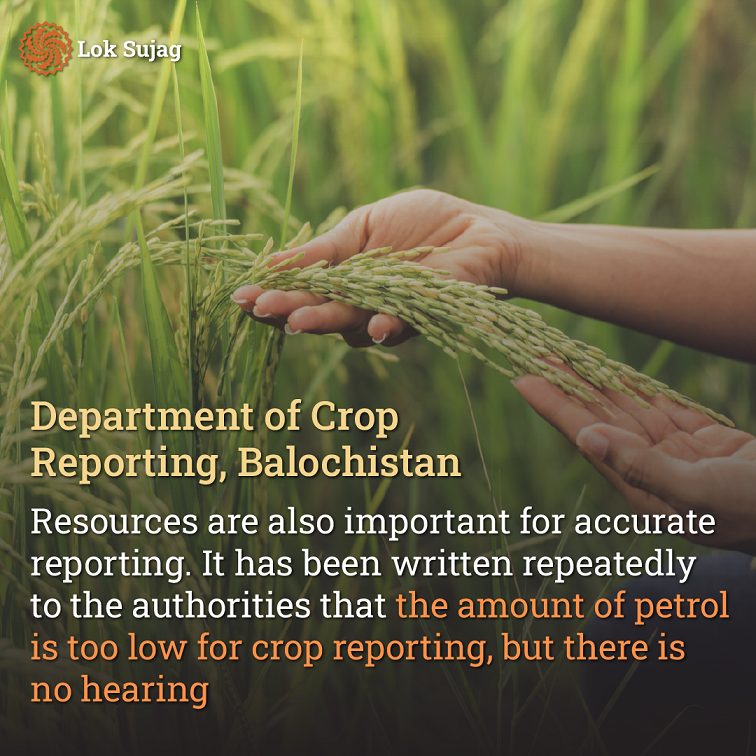 Director Crop Reporting mentions that he proposed using remote sensing in 2020, estimating the cost to be one billion rupees. The Planning Department had also approved this proposal but did not receive approval from the cabinet.
He mentions that a nuclear lab will be established in Quetta under the remote sensing project, equipped with modern software and applications.
In Balochistan, discussions and collaborations have been ongoing between the Food and Agriculture Organization (FAO) and SPARCO regarding the use of remote sensing technology. Additionally, the Director-General of Crop Reporting in Punjab mentions that remote sensing has been utilised alongside on-ground crop reporting in the province for the past two years.
Muhammad Taib Lari, the Secretary of Agriculture in Balochistan, acknowledges that without crop reporting data, it is not possible to formulate agricultural policies and development schemes effectively. However, he also believes that excluding crop reporting from preparing the Provincial Agricultural Policy for 2020-2021 was not a good decision, as it could make it challenging to achieve agricultural goals.
Also Read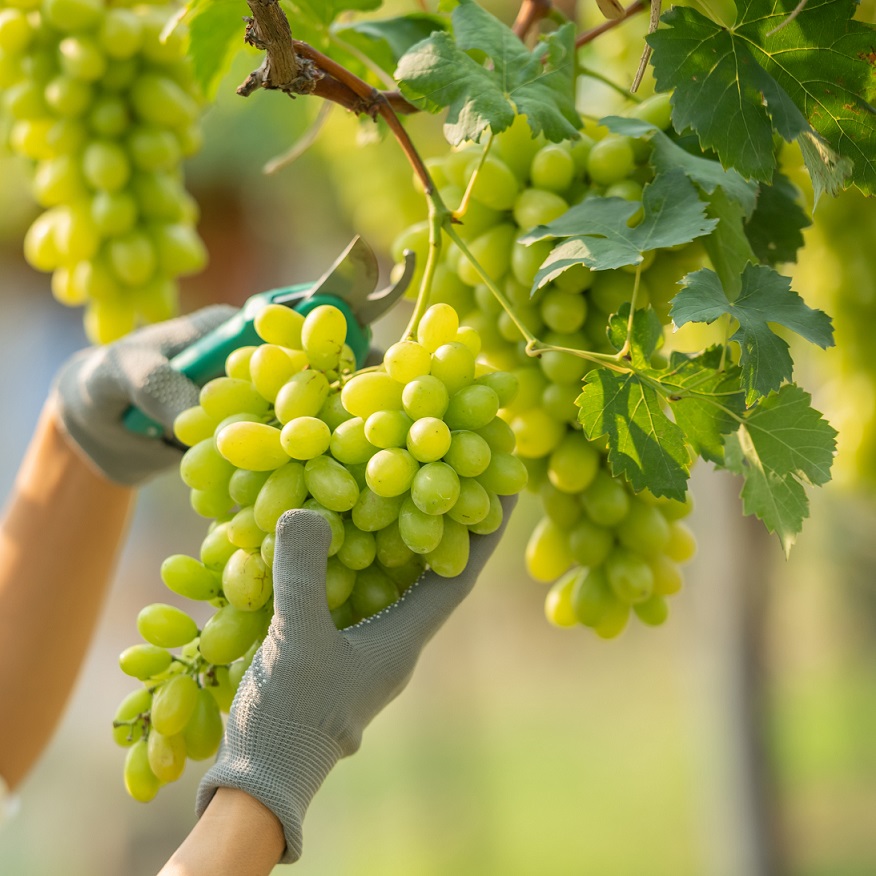 Chaman's grapes: A rising industry in Balochistan amidst challenges
The last agrarian policy of Balochistan was formulated under the leadership of Kambar Dashti, who was the Secretary of Agriculture at the time. The primary objectives of this policy included promoting water conservation and increasing agricultural productivity.
This policy included objectives to improve product quality and enhance market supply. It also aimed to create new and sustainable marketing opportunities, including handling, storage, transportation, and processing.
Additionally, it sought to enhance the efficiency and functionality of the department. Considering environmental and weather-related risks, improving governance and services, enhancing farmers' market access, building their capacity, and promoting private sector investment were all critical elements of this policy.
The Secretary of Agriculture acknowledges that crop reporting services were neglected in the past, but in the last three years, there has been an increase in their capabilities. In the last Rabi season, crop reporting obtained new data for ten districts through the GIS (Geographic Information System) method.
He mentions that data for an additional ten districts will be obtained through new methods in the current Kharif season. There hasn't been an approved project for crop reporting services in the past five years, so the approval of the remote sensing project is now crucial.