Waterborne diseases have become prevalent in Muzaffarabad city, where hundreds of children are brought to hospitals monthly. The largest hospital in the city, Abbas Institute of Medical Sciences (AIMS), sees most children admitted for treatment suffering from diarrhoea, jaundice, and typhoid.
A similar situation prevails in another major hospital, Sheikh Khalifa bin Zayed Al Nahyan Hospital, where the outdoor patient department (OPD) receives children with complaints of these diseases every day. According to the hospital administration, among these children, 35 per cent have diarrhoea, 5 per cent have jaundice, 4 per cent have dysentery, and 3 per cent have typhoid.
Dr Waqar Ashraf, a pediatric specialist at AIMS, has explained that the primary reason for the rise in these diseases is water contamination in the city. Almost every other child brought to the hospital presents these complaints. Dr Naeem Ahmad, a specialist in children's diseases at Sheikh Zayed Hospital, also confirms this trend.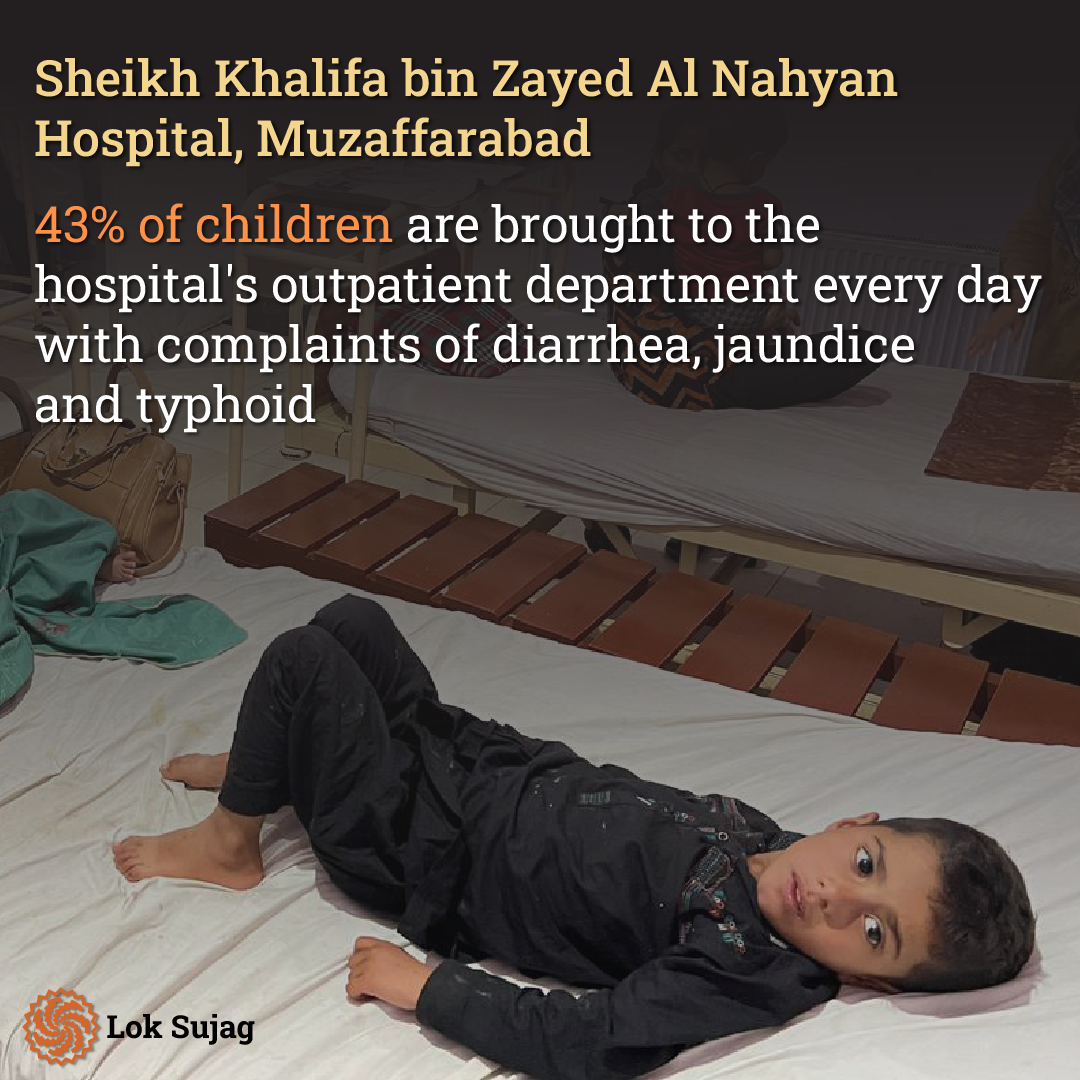 In a written response to a Senate query in February 2022, the Department of Science and Technology revealed that 70 per cent of the water samples taken for testing purposes in Muzaffarabad were unsafe for consumption.
According to research conducted by the Pakistan Council of Research in Water Resources (PCRWR) in 2015, natural springs and the water supplied through the Public Health Engineering Department's distribution system in Muzaffarabad were 40 per cent contaminated. However, surveys conducted from 2020 to 2021 showed that this contamination had increased to 70 per cent.
Akram Aziz, a representative of PCRWR, points out that the reasons behind water contamination in springs include open defecation by people in nearby areas, the presence of septic tankers around springs, and inadequate cleaning of dirty water (less than 1 per cent is cleaned).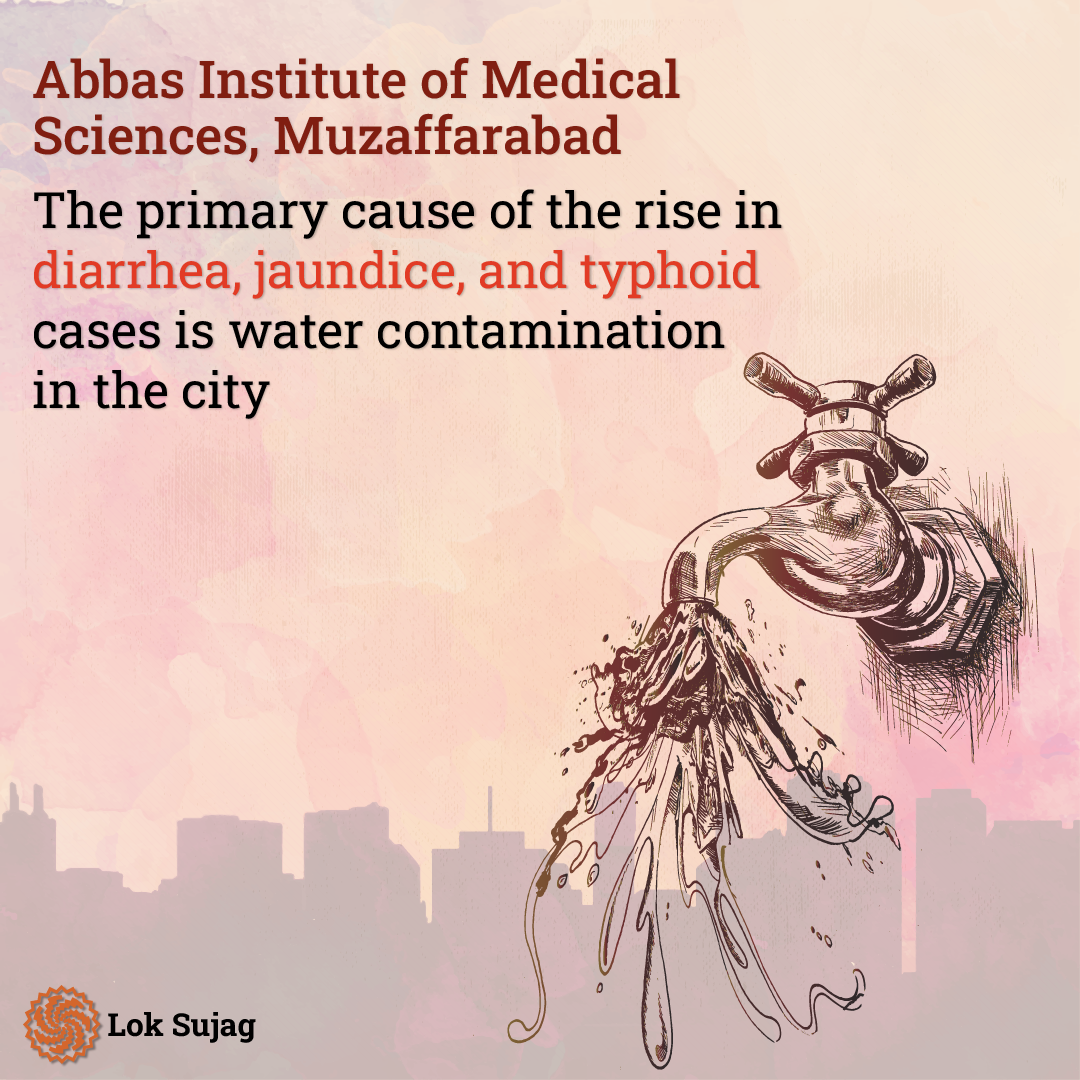 It has been found through analysis that Muzaffarabad's water sources contain 60 per cent total coliforms (waste microbes), 20 per cent turbidity, 41 per cent bacteria, 14 per cent total dissolved solids (TDS), 14 per cent iron, 10 per cent hardness, 9 per cent turbidity, 8 per cent chloride, 5 per cent arsenic, 4 per cent nitrates, 4 per cent fluoride, and 1 per cent high pH.
Akram Aziz further explains that 43 per cent of Muzaffarabad city's population relies on spring water, while 90 to 95 per cent of these springs are contaminated and not fit for drinking.
Saima Fareed is a housewife who fetches water from a nearby spring for household use. She is unaware of any government directive labelling the spring's water as contaminated.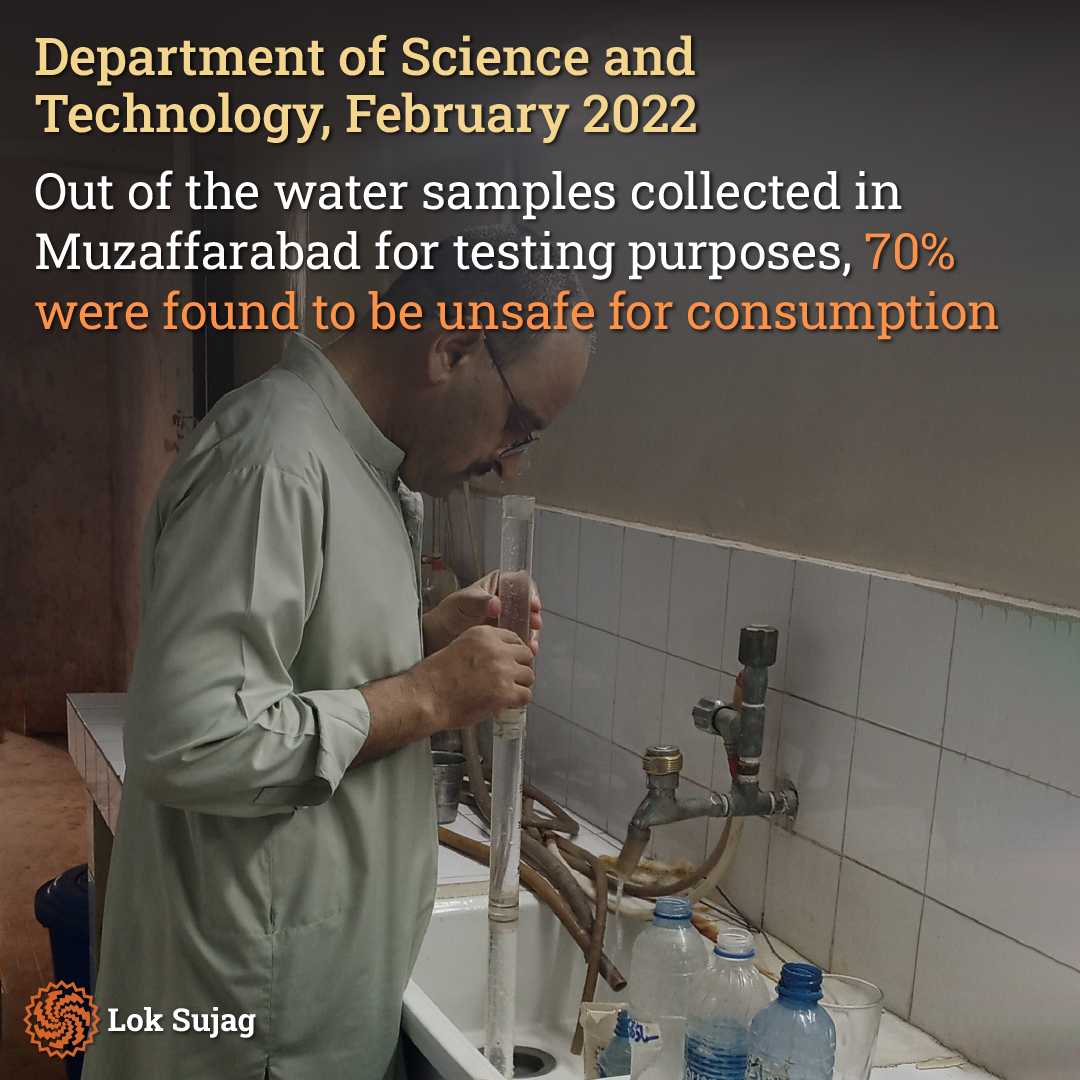 "We've heard from people that the water from this spring has been tested in a lab and found safe for consumption. We haven't faced any issues due to this water yet. However, there is a foul smell in the water that comes through pipelines from the government, so we avoid using that,"
Regarding this issue, Akram Aziz says that the Public Health Engineering (PHE) department provides clean water, but it is not ensured whether it reaches the people due to leakage in broken pipes; clean water mixes with sewage water, contributing to 70% of water pollution.
PHE officer Imran Mukhtar claims that the water supplied by them is clean. He says that people are repeatedly urged to use only water supplied by the department and avoid using spring water.
"There are also signboards near the springs that say to avoid using water from these springs."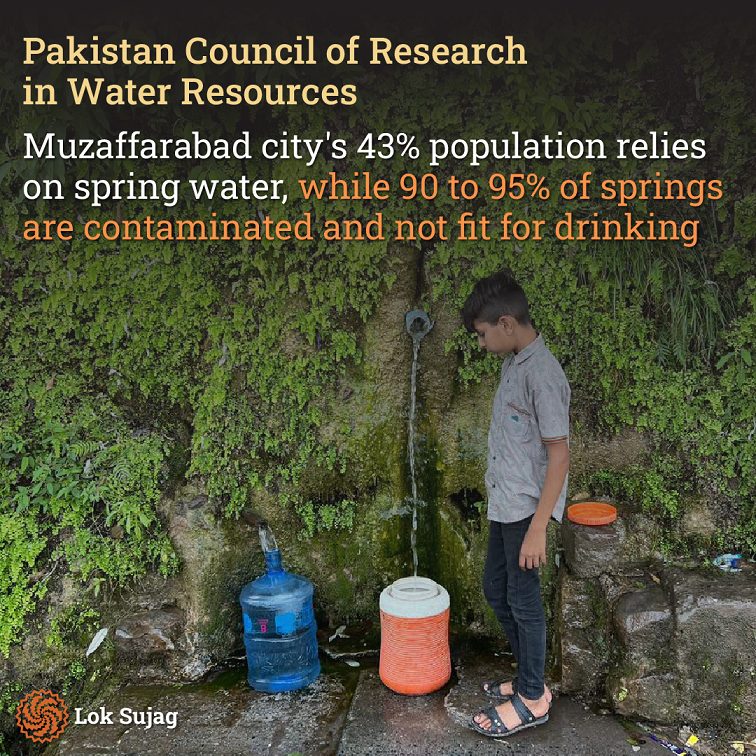 In response to concerns about the foul odour in the water supplied through pipelines in Nalkoo, he explained that chlorine and other chemicals are added to the water for purification purposes, which slightly alter its taste. As a result, people prefer to use spring water over this treated water.
Umar Mukhtar stated that Muzaffarabad city consumes significant water in schools, colleges, government offices, and military barracks. The city has approximately 450 to 500 kilometres of water pipelines, and 19,000 legal connections have been provided, which amounts to hundreds of thousands of gallons of water being distributed daily, often exceeding the actual demand.
Also Read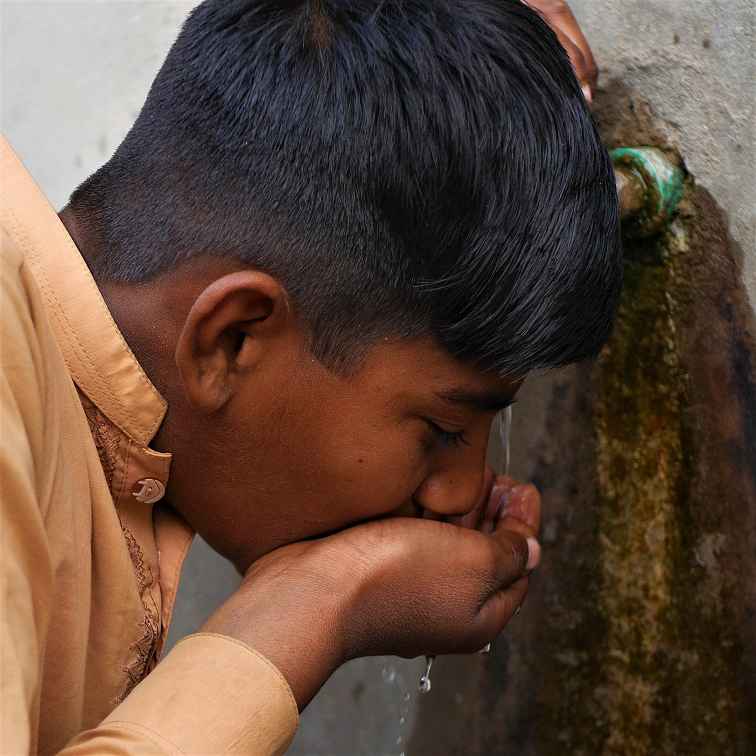 Emitting poison: How foundries in northern Lahore are polluting ground water and making people sick
The first water supply scheme in the city was completed in 1986. However, it was destroyed during the devastating earthquake of 2005. Initially, with the support of UNICEF, it was rehabilitated. After several years, under the Muzaffarabad City Development Project (MCDP), IRADO, an organization for reconstruction and rehabilitation, initiated a new water supply scheme for Muzaffarabad city at over 4 billion rupees. However, this scheme could not be relieved of corruption allegations.
Imran Mukhtar further mentions that in 2020, a project costing 540 million rupees was initiated to improve, rehabilitate, and maintain the water supply, which is still in the completion phases. After the completion of this project, the situation is expected to improve significantly.
However, Akram Aziz expressed scepticism about significant improvements in the situation and suggested that instead of self-testing the water supplied by the Public Health Engineering (PHE) department, it should be tested by a third party to ensure better water quality.