The debate on new constituency delimitations will continue in political circles after the elections. However, these changes have benefited districts like Ziarat, Duki, and Jhal Magsi in Balochistan. But the area that suffered the most loss here is the new district of Chaman.
After the last census, the population of Qila Abdullah district, including Chaman, was 7,58,354. For the 2018 elections, one National Assembly Constituency NA 263 and three Balochistan Assembly Constituencies were formed in this district. Among them were PB21, PB22, and PB23.
Engineer Zamrik Khan Achakzai and Asghar Khan Achakzai of Awami National Party (ANP) won two of these provincial constituencies in the previous elections. One seat was won by Haji Nawaz Kakar of Jamiat Ulema-e-Islam (JUI).
In 2010, Chaman Tehsil of Qila Abdullah District was separated and made into a new district.
In the recent census, the recorded population of District Qila Abdullah and District Chaman were 3,61,971 and 466,218, respectively. Thus, together, the population of these two districts becomes 8,28,189.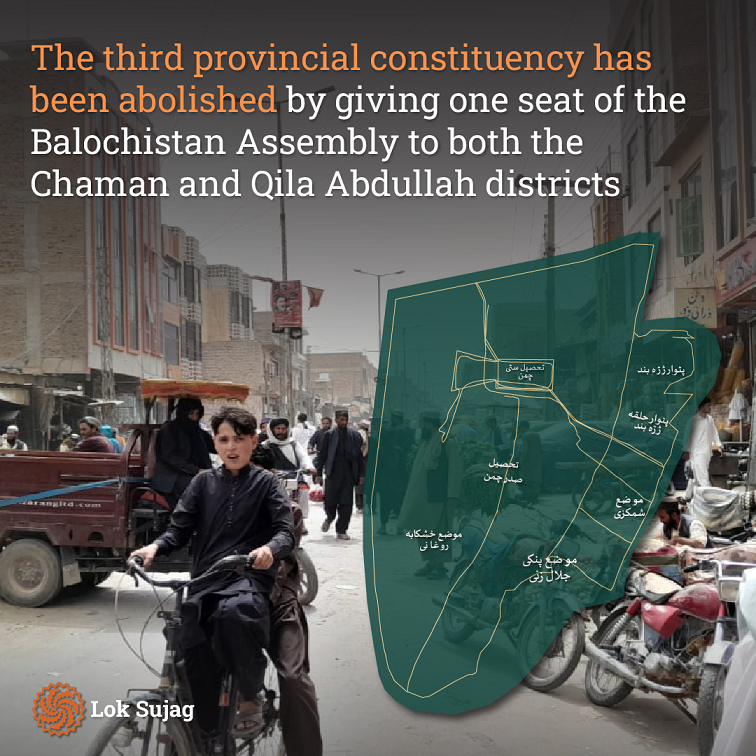 In the new delimitation, the Election Commission of Pakistan (ECP) has not made any changes in the areas of District Chaman and Qila Abdullah's joint national seat. The only change is that the serial number of this constituency has now become NA 265. This constituency will continue to consist of both Chaman and Qila Abdullah districts.
However, the third constituency has been removed by giving both districts one seat of the Balochistan Assembly. Thus, Chaman has been made the largest provincial constituency of Balochistan, with a population of 466,218.
PB-50 consists of district Qila Abdullah, including Tehsil Qila Abdullah, Tehsil Dobandi and Tehsil Gulistan.
Similarly, PB-51 now consists of District Chaman, which includes Tehsil Sadar and Tehsil City Chaman.
According to the report of the ECP, the provincial constituency of Balochistan has an average population of 29,247. In district Chaman's share, the total number of provincial seats is 1.64.
Similarly, there are 1.24 seats in Qilla Abdullah, combining the population of both the districts makes up 2.84 seats.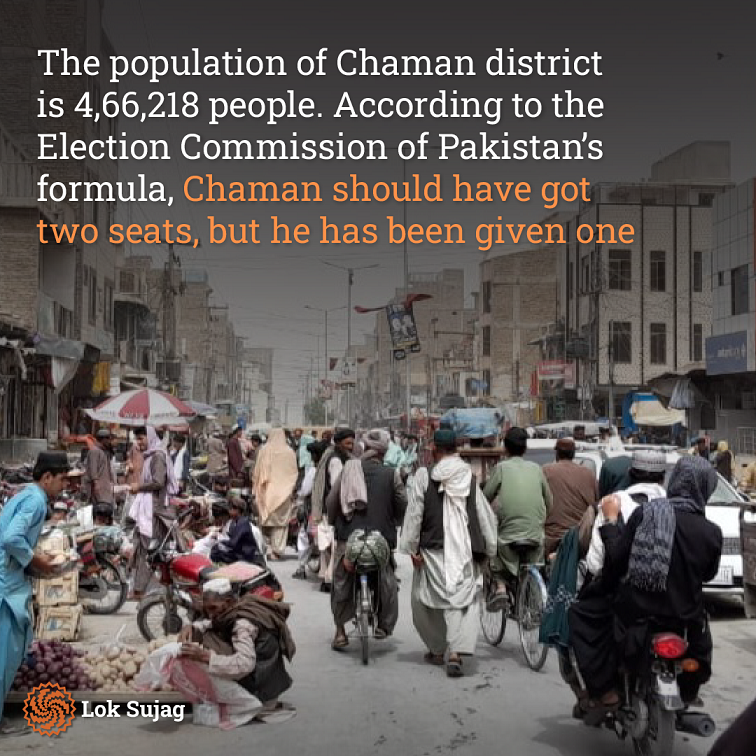 According to the ECP's formula, Chaman should have got two seats but was given one.
Political parties say that a national constituency of two districts can be formed, and a joint provincial constituency could also be formed in this area.
Journalist Waheedullah says that the representation of the people here has decreased due to removing one seat; therefore, the people have suffered a major loss. Regarding the candidates or political parties, ANP won two seats last time, and JUI won one seat from the Qilla Abdullah district, so these parties are not happy either.
He says there has been no loss to ANP on Chaman's seat. But now there will be a contest between Pashtunkhwa Milli Awami Party (MAP), ANP and JUI in both districts. However, the success or failure of the candidates will be determined after the political alignment is revealed since alliances make things different.
Several objections have been raised on the termination of the provincial constituency from Qila and Chaman.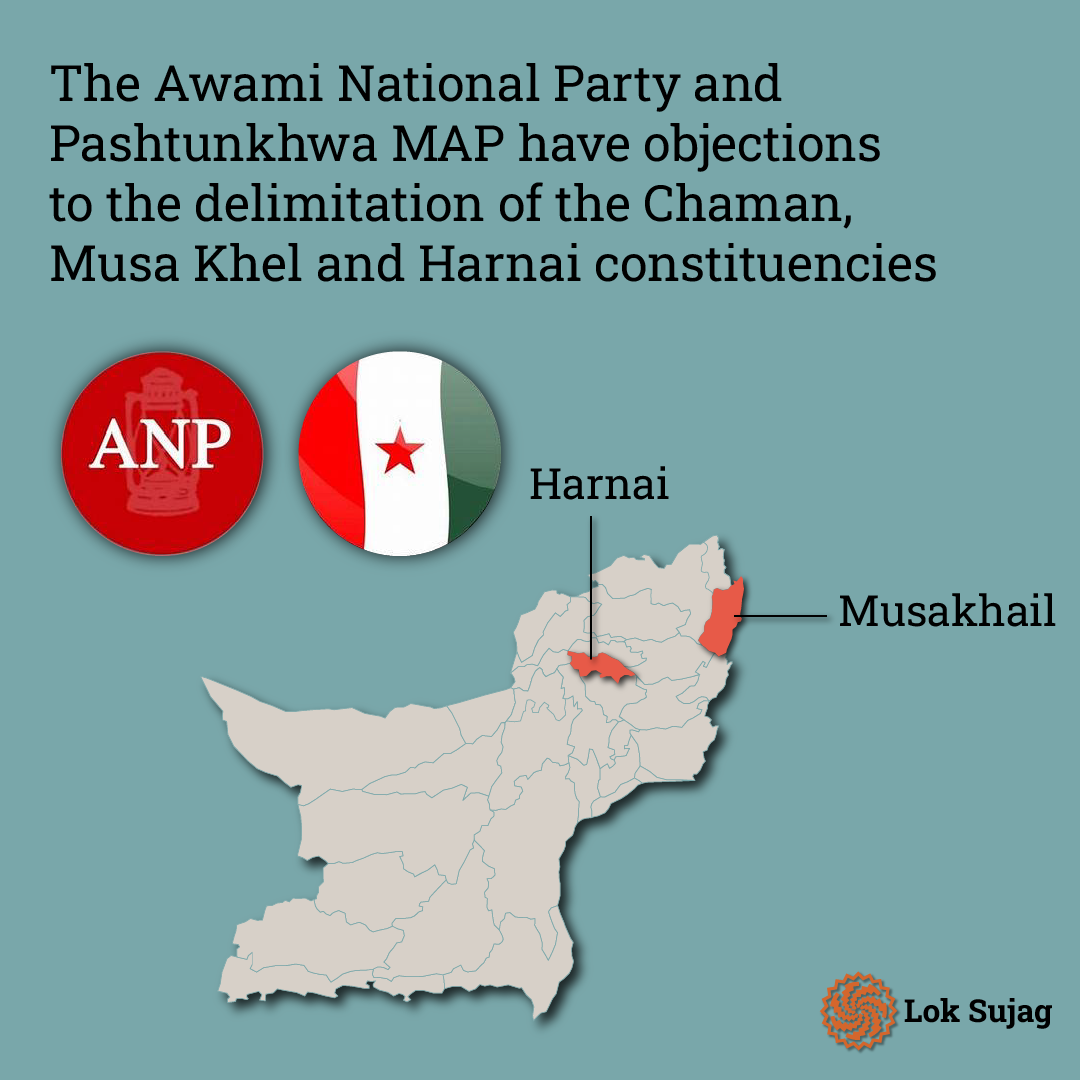 According to the press release of the ECP, objections have been submitted on the constituencies of Khuzdar, Pashin, Awaran, Hub, Lasbela and Musa Khel from Balochistan.
ANP and Pashtunkhwa MAP have objections to the delimitation of constituencies of Chaman, Musa Khel and Harnai, while Balochistan National Party (BNP) and National Party have complaints about the delimitation of constituencies of Quetta and Khuzdar.
ANP Provincial General Secretary Mohabbat Kaka says the ECP has created unfair constituencies. "One seat in a population of more than 466,000 is an abuse of the people."
Hazrat Umar Achakzai, Secretary of PashtunkhwaMAP for Parliamentary Affairs, says he will approach the High Court if he does not get justice.
JUI's Provincial Amir, Maulana Abdul Wasi, says new constituencies are a legal requirement. His party has objections in the Musakhel, Barkhan, Ziarat, Harnai and Chaman constituencies.
Also Read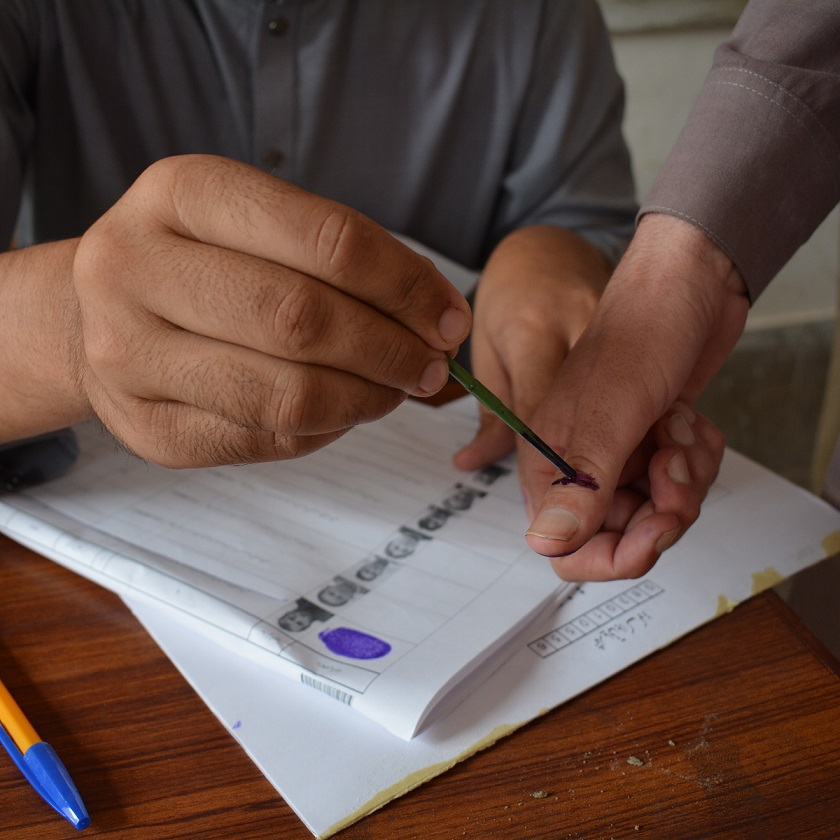 New constituencies in Bhakkar district: Impact on the local political dynasty
BNP Quetta district president Ghulam Nabi Marri is unhappy with the constituencies of Quetta and Khuzdar. He has submitted objections to the ECP.
National Party's provincial spokesperson, Ali Ahmad Lango, says that the Baloch constituencies in Quetta have been deformed as part of the plan. A provincial seat of Lasbela has also been reduced. These things cannot be ignored.
Pakistan Tehreek-e-Insaf has no objection to any constituency. Alam Khan Kakar, Provincial Additional General Secretary of the party, says, "Our only demand is that the elections be held as soon as possible".
Pakistan Muslim League-Nawaz leader Humayun Khan Al-Quzai says that such constituencies will have adverse effects and will spread hatred.
"Instead of dividing nations, constituencies should be given to people on the basis of their population."
On the other hand, the ECP has said in a press release that if any errors repugnant to the law are found in the newly formed constituencies, then those errors will be corrected during the hearing of complaints on newly formed constituencies.