An increase of more than 300,000 people has been seen in the population of Bhakkar district over six years. The Election Commission has added one provincial assembly seat in Bhakkar based on the new population.
The population of this district was about 1.6 lakh, so there were two seats in the National Assembly and four seats in the Provincial Assembly. Among them were PP 89 Bhakkar One Kallur Kot, PP 90 Bhakkar Two Darya Khan, PP 91 Bhakkar Three Mankera and PP 92 Bhakkar Four.
Now that the population has reached close to two million, only the numbers of the National Assembly constituencies have changed, which from NA 97 and NA 98 have now become NA 91 and NA 92.
In the new constituencies, the provincial constituencies of this district have become five, out of which the numbers of four old constituencies have been retained. However, a new constituency, PP 93 Bhakkar Five, has been added.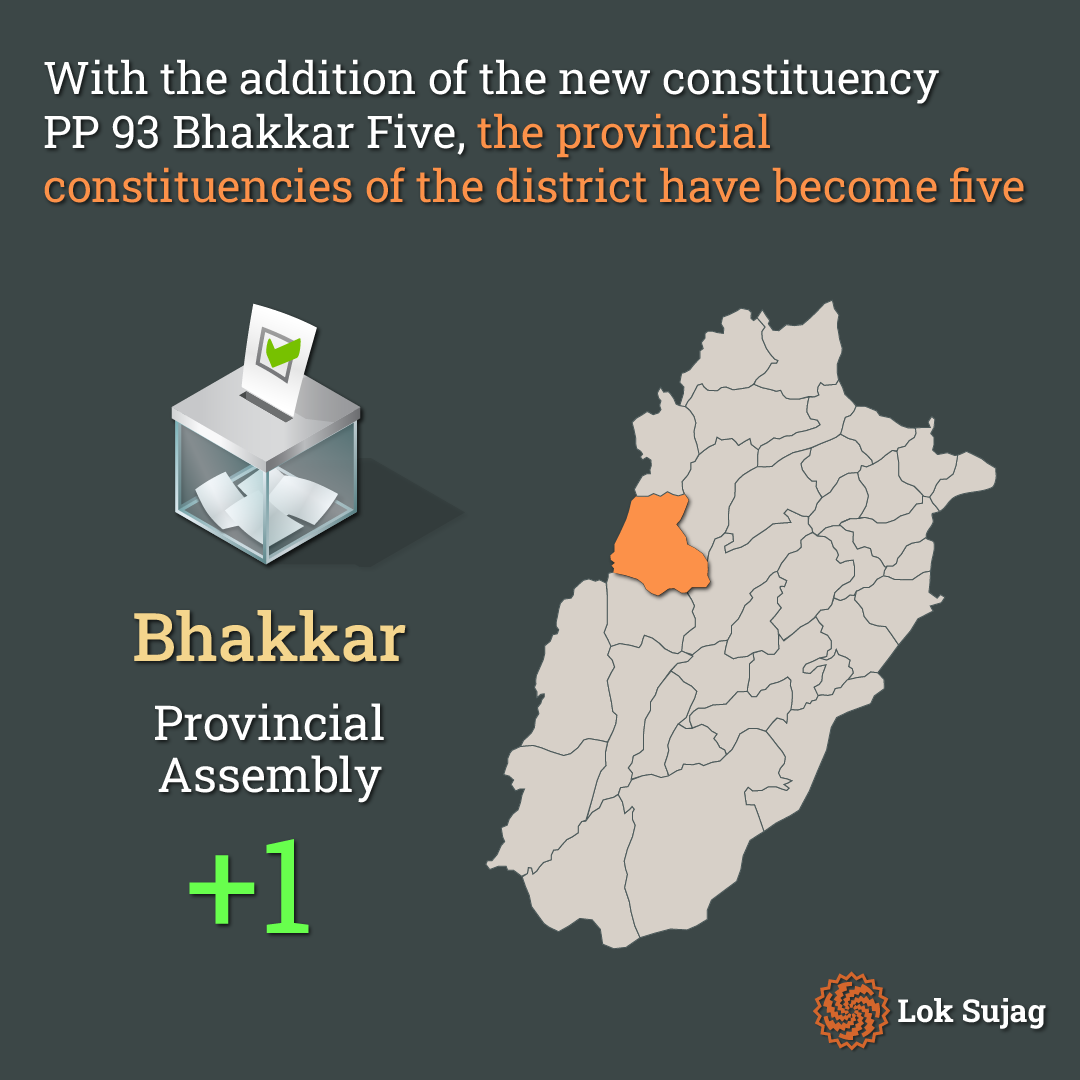 Most of the areas to be included in the new Provincial Assembly Constituency PP 93 are from the old Constituency PP 92 of Tehsil Bhakkar.
In PP-91, the area of Mankera has been incorporated into the new constituency, which was previously part of the Bhakkar tehsil in the past constituency demarcation."
The addition of new provincial constituencies will not have much impact on NA 97, PP 89 Kallur Kot and PP 90 Darya Khan as they have undergone minor changes.
However, in Constituency PP 91 Mankira, the entire Mankera Tehsil and, along with it, Patwar circle of legislation Khanpur of Bhakkar Tehsil, Khanpur North, Chak No. 209 TDA, and legislative constituency Muslim (Karadi) Kot were included.
Similarly, Constituency PP 92 Bhakkar Four includes Municipal Committee Bhakkar Charge No. 11 and 12, Town Committee Kotla Jam Dagar Charge No. 3, Legislative Constituency 26 TDA, Khansar and Bhakkar Nashib.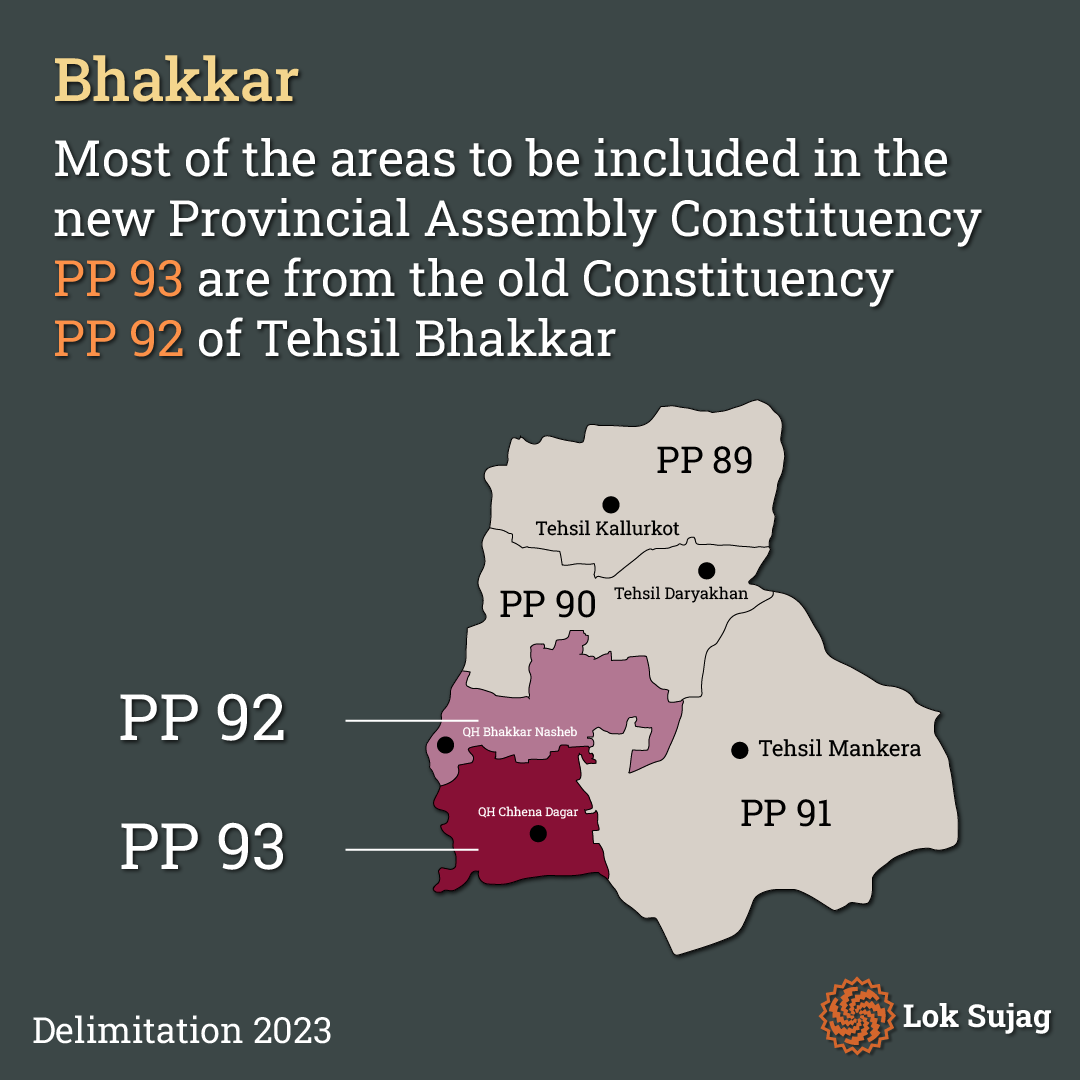 Except for Darya Khan Tehsil's legislation, Darya Khan's Patwar Circle Rakh Dagran Wali and Darya Khan Dagar, the rest of the area is included in the same constitution.
Constituency PP 93 Bhakkar Five, i.e. the new constituency consists of legislative constituencies Bhakkar Dagar One, Bhakkar Dagar Two, Chena Dagar, Chena Nashib, Bahal Nashib, and Bahal Dagar.
Apart from this, Patwar Circles Khanpur North and Chak No. 209 TDA have been removed, and Khanpur Legislative Constituency has also been included in this new constituency.
Why is Shahani worried?
Two political families (Nawani and Dhandla) of Tehsil Bhakkar are happy with the change of constituencies and the addition of one seat. At the same time, this change may cause trouble for Amir Inayat Shahani, who was elected Member of the Punjab Assembly twice from the same constituency. It is thought that his electorate is divided.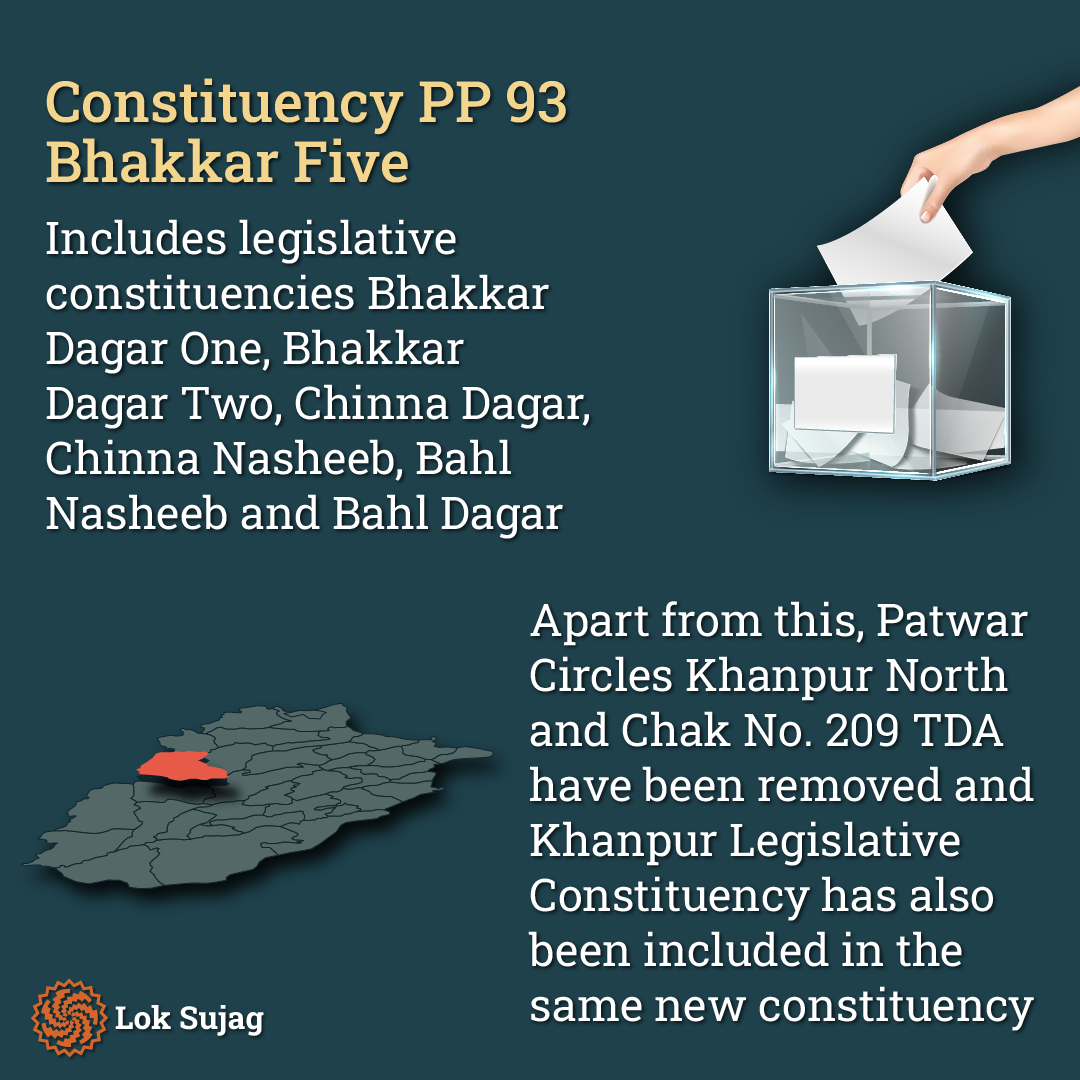 Aamir Shahani was an ally of the Dhandla group in the last two general elections. Both times, Dr. Afzal Dhandla succeeded with NA 98, while Aamir Shahani succeeded with PP 92. Both had participated in the Azad ticket in 2013 and the Tehreek-e-Insaf ticket in 2018. The Nawani group faced defeat against them.
In 2013, Rashid Akbar Nawani submitted his nomination papers against Dr Afzal on the PML-N ticket, but he was disqualified a few days before the election. After this, the covering candidate and young politician Ahmed Nawaz Nawani contested the independent election.
In 2018, Dr Afzal Dhandla won NA-98 from independent candidate Rashid Akbar Nawani by nearly five thousand votes. Aamir Shahani defeated Malik Zaheer Ahmad Utra on PP 92 Bhakkar Four. Whereas Ghazanfar Abbas Chheena of Tehreek-e-Insaf won from independent candidate Saeed Akbar Nawani on PP-91 Bhakkar-three Mankera.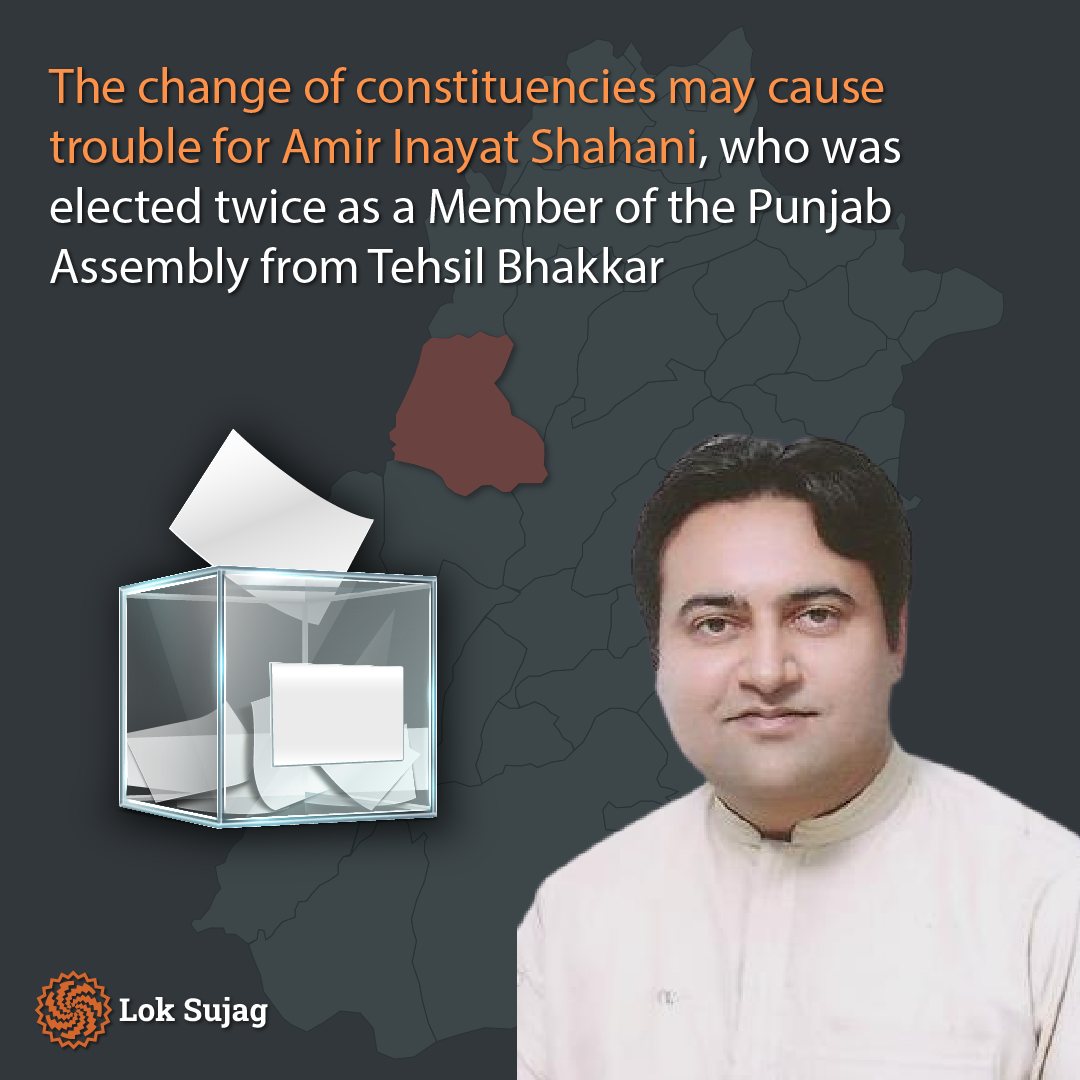 In the last election, candidates supported by the Nawani group won from NA-97, PP-89, and PP-90. Independent candidate Sanaullah Masti Khel became MNA. Amir Muhammad Hasan Kheli of Nawani Group won from PP 89 Kallur Kot and Azad Saeed Akbar Khan Nawani from PP 90 Darya Khan.
Senior journalist Idris Imran Rana says that Aamir Inayat Shahani of the new constituency has suffered a loss. Their native union councils of Mulanwali, Pir Ashab (Chhinah Nasheeb) and Badiani have been expelled from PP 92. On the other hand, opposition candidate Malik Zaheer Utra's native Union Council Gadola and other areas have been included in PP 90 Darya Khan to PP 92 Bhakkar.
He said that Aamir Inayat Shahani has objected to the constituency through his supporters in which a request is made to include Mulanwali, Pir Ashab, and Badiani in PP 92 and Khansar, Daggar Aulak Gadola back in PP 90 Darya Khan.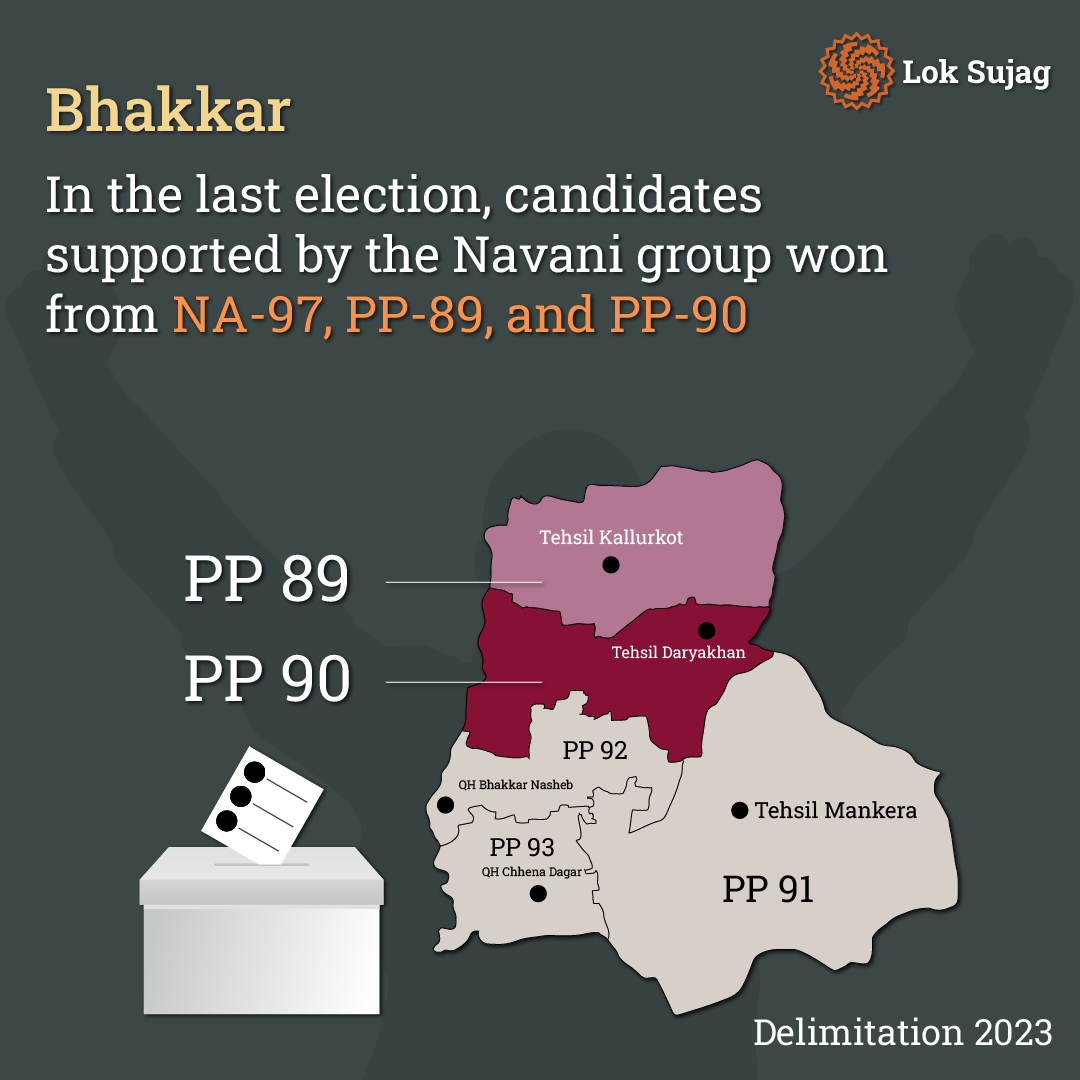 Supporters of Malik Ghazanfar Chheena have demanded to remove legislative Constituency Muslim (Karadi) Kot from PP 91 Mankera and add it to PP 92. No objection was raised from any side except these two candidates.
Former MPA and Provincial Minister Naeem Ullah Shahani, while talking to Lok Sujag, said that the Election Commission has adopted the best strategy to create a new constituency. Even in the new constituency, no political faction can succeed alone.
Benefit to Nawani family and strength of Dhandla family
Professor Abdul Aziz Anjam of Government College Bhakkar says that the biggest benefit of the new constituencies can reach the Nawani family. In previous constituencies, union councils of Nawani group supporters were scattered in four provincial constituencies. Now, they have joined PP 92 Bhakkar and PP 91.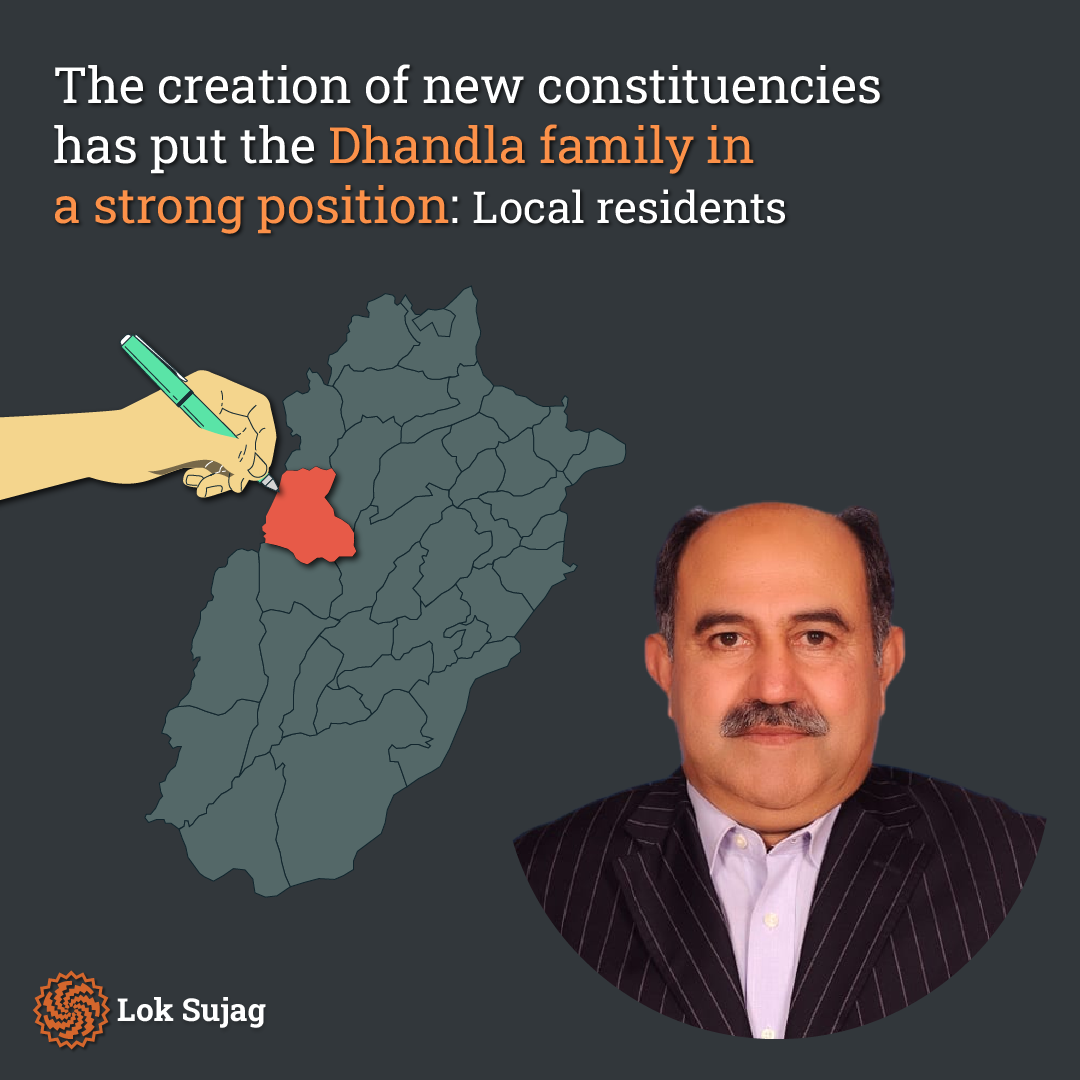 Former NA 98, former and current 92 legislations added in 2018 to former constituency NA 97 current NA 91 have now returned to NA-92, including UC Khansar, UC Daggar Aulak, and UC Gadola, among others. After this, the vote balance of the Nawani family has become almost equal in all constituencies. It seems like they have a good chance of winning in NA92.
Abdul Aziz Anjum believes that the formation of the new constituency has put the Dhandla family in a strong position and this family will not let this seat go away.
Also Read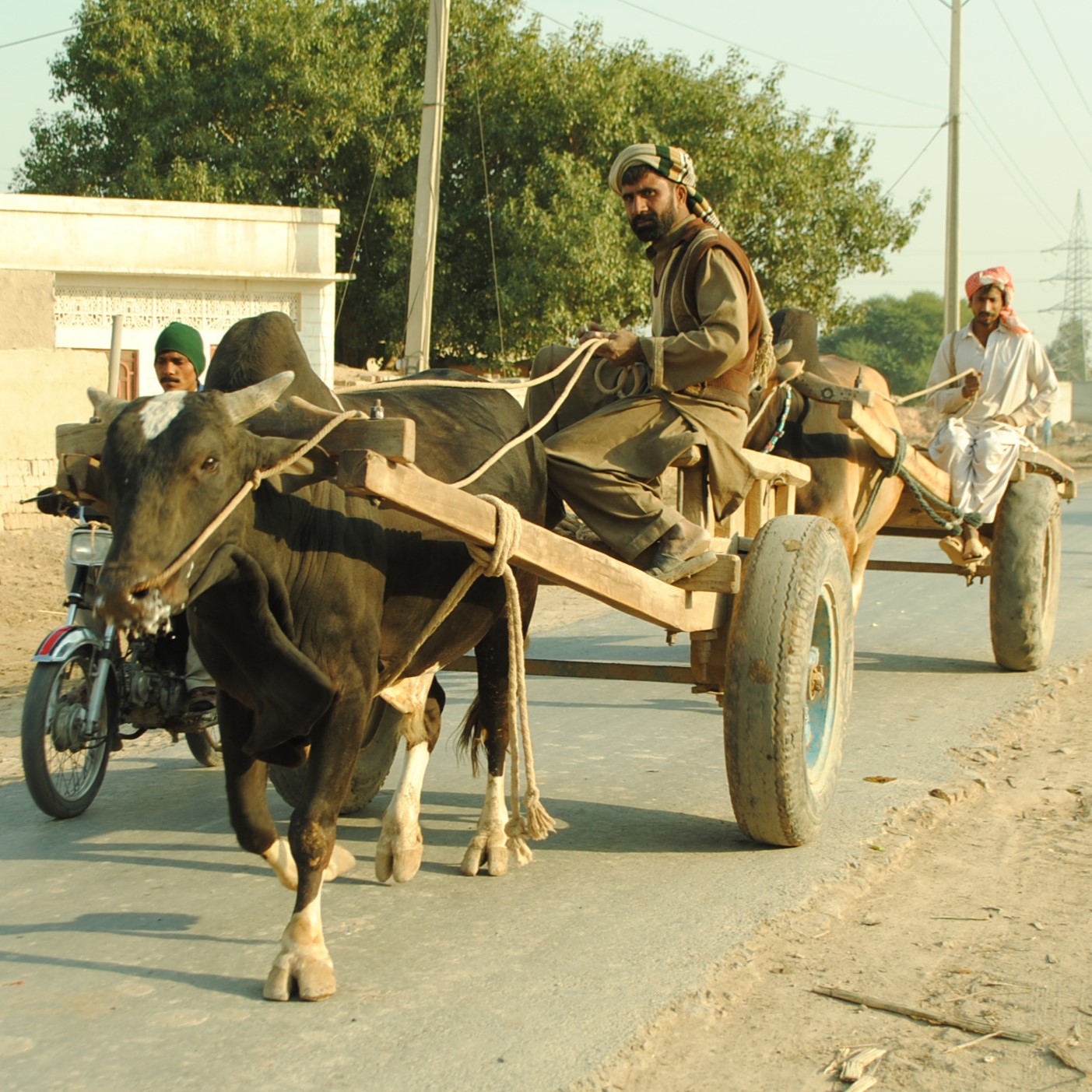 Insights into District Bahawalpur: The impact of changes on four national and eight provincial constituencies
The new constituencies include three union councils with the personal influence of the Dhandla family: UC Dhandla, UC Hamun Wali, and UC Yusuf Shah. Due to their local residence, the surrounding UCIs, Notak, Bahl, and Mulanwali, are also under their influence.
Along with this, the immigrants who migrated from India to Pakistan, the majority of whom have been voting only for the Muslim League, are also leaning towards the Dhandla family because the Dhandla family has mostly been associated with the Muslim League-N.
Thus, almost half of the population of 51 Chakkoke constituencies can influence the election results powerfully.
Bhakkar's old political analyst, Tariq Hameed Malik, says the new constituencies did not harm any political group except Amir Inayat Shahani and Ghazanfar Chheena. However, the local factions will decide whether to win or lose.