Nasir Awan has been residing in the Awan Sharif neighbourhood of Attock City for the past 30 years. In January of this year, the only tube well in his area, supplying underground water, stopped working due to a significant drop in the water level. As a result, more than 10,000 residents were deprived of drinking water. Sand and gravel started entering this tube well along with water, which raised concerns about blocked supply lines. Therefore, municipal authorities decided to shut down the tube well as a precaution.
Subsequently, the main pipes of other tube wells were connected to the supply lines in the area, allowing the people of Awan Sharif to have limited access to water several months later.
Wazir Khan has been residing in Awan Sharif for the past 13 years. He mentions that their tube well remained shut for six months.
The municipal authorities sent a water tanker twice a week to the area, which was parked in some alley, and people would collect water from there. However, due to the contamination of tanker water, numerous individuals suffered from various digestive illnesses.
Consequently, several families residing in rental accommodations in Awan Sharif moved to other areas.
He says that when people requested the authorities to address their problem, the district officials and political leaders responded that no developmental work could be done under the caretaker government.
In the tehsils of the Attock district, municipal committees provide clean drinking water to urban households. In rural areas, most people obtain water through hand pumps and electricity-operated pumps and wells.
Additionally, tube wells are available under the Public Health Department's schemes. However, the municipal committees in Attock cannot adequately fulfil the water needs of certain locations. If any of these tube wells break down, it exacerbates the problems for the residents.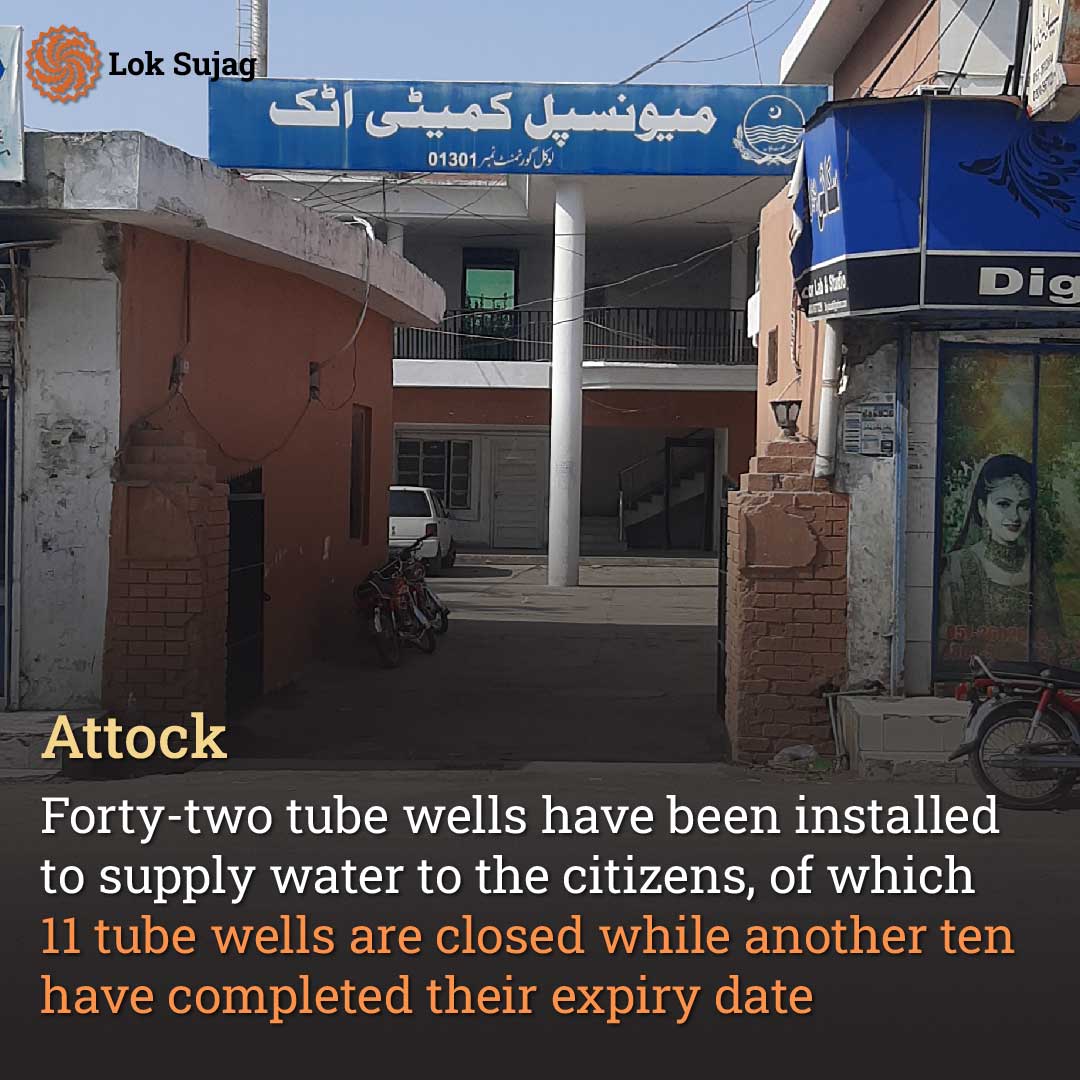 The village of Jassian, consisting of around five thousand residents, is located five kilometres from Attock city. The tube well, which malfunctioned here last October, has still not been repaired.
Abid Qureshi, a resident of Jassian, explains that the municipal committee is situated outside the village's jurisdiction. The underground water here is 400 to 500 feet deep and is unfit for consumption due to its salinity and foul odour. Some years ago, the Public Health Department installed a tube well near Jinnah Park in Attock through funds provided by former MNA Sheikh Aftab Ahmad. The well was connected to the homes of the village residents through pipeline networks, providing them with clean water.
"In the village, more than five hundred connections were given. Initially, the monthly water bill was set at four hundred rupees per household, eventually increasing to seven hundred. Last year, due to the malfunctioning of this tube well, people were left without water," Abid Qureshi says.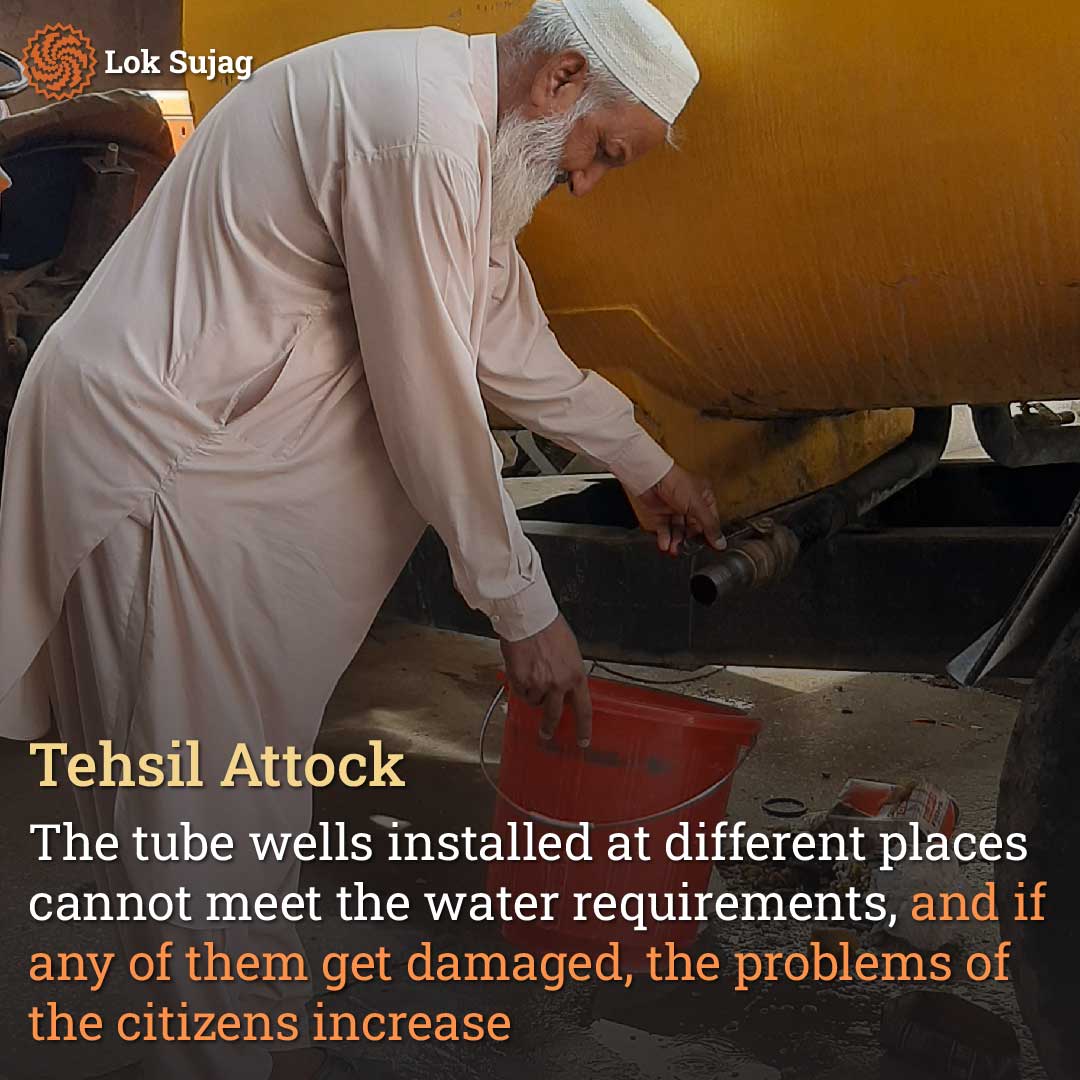 He further says that some households have boreholes and motors. During specific hours, people collect one or two buckets of water from these sources, but most of this water is brackish.
Sajjad, another resident of the same village, states that the Public Health Department installed two tube wells in the area a few years ago. One broke down just a couple of weeks after installation, while the water from the other tube well is foul-smelling.
He says that a few years ago, former MPA Malik Shahzad Hakmeen initiated the project of bringing water from natural springs (locally known as "chowwa") near the Haro River to the village using motor pumps. This water was suitable for consumption, but everything was washed away in the recent floods, and the project stopped.
Imtiaz, an electrician who is a resident of this village, says that economically disadvantaged individuals cannot afford to buy private water tanks for 2,200 rupees. If forced to do so, they pool their resources with two or three neighbours, which still affects their monthly budget. The cost of drilling a borehole at home exceeds four lakhs, and the extracted water is not guaranteed to be usable.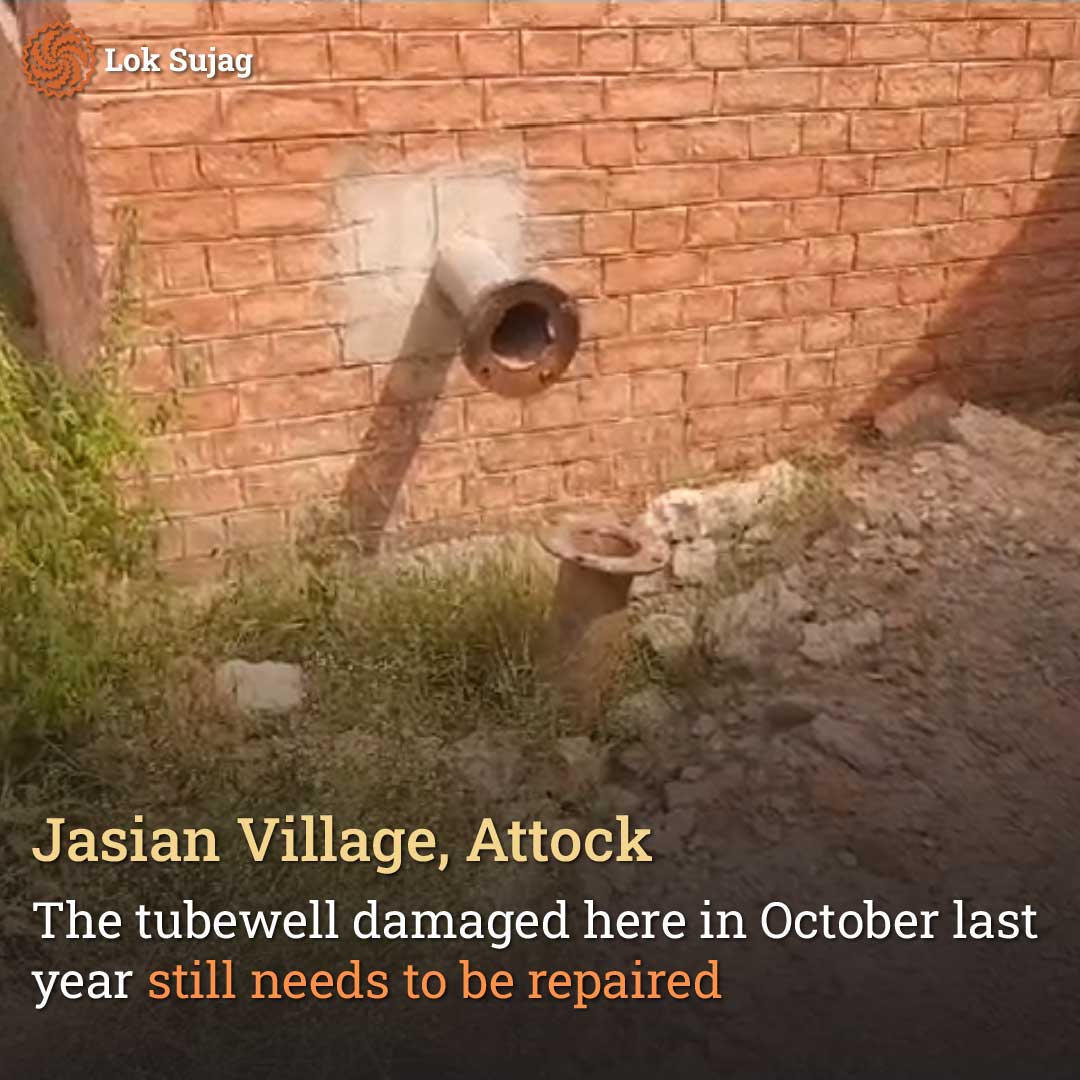 Zafar Iqbal, the Chief Officer of Attock Municipal Committee, has served 40 years and is responsible for water supply. He mentions that 42 tube wells are installed in various locations across Attock city to provide clean water to the residents. Due to the declining water level, 11 tube wells have been shut down, and an additional ten have met their designated lifespan and can be shut down at any time.
"When I joined the Attock Municipal Committee, the underground water level was around 45 to 50 feet deep. The Ghazi Barotha Canal project began in 1995, and this concrete canal was completed in 2003. Subsequently, the water level gradually dropped to more than 150 feet," he says.
According to him, the underground water from the River Indus does not reach Attock city, which has caused the underground water level to drop dangerously.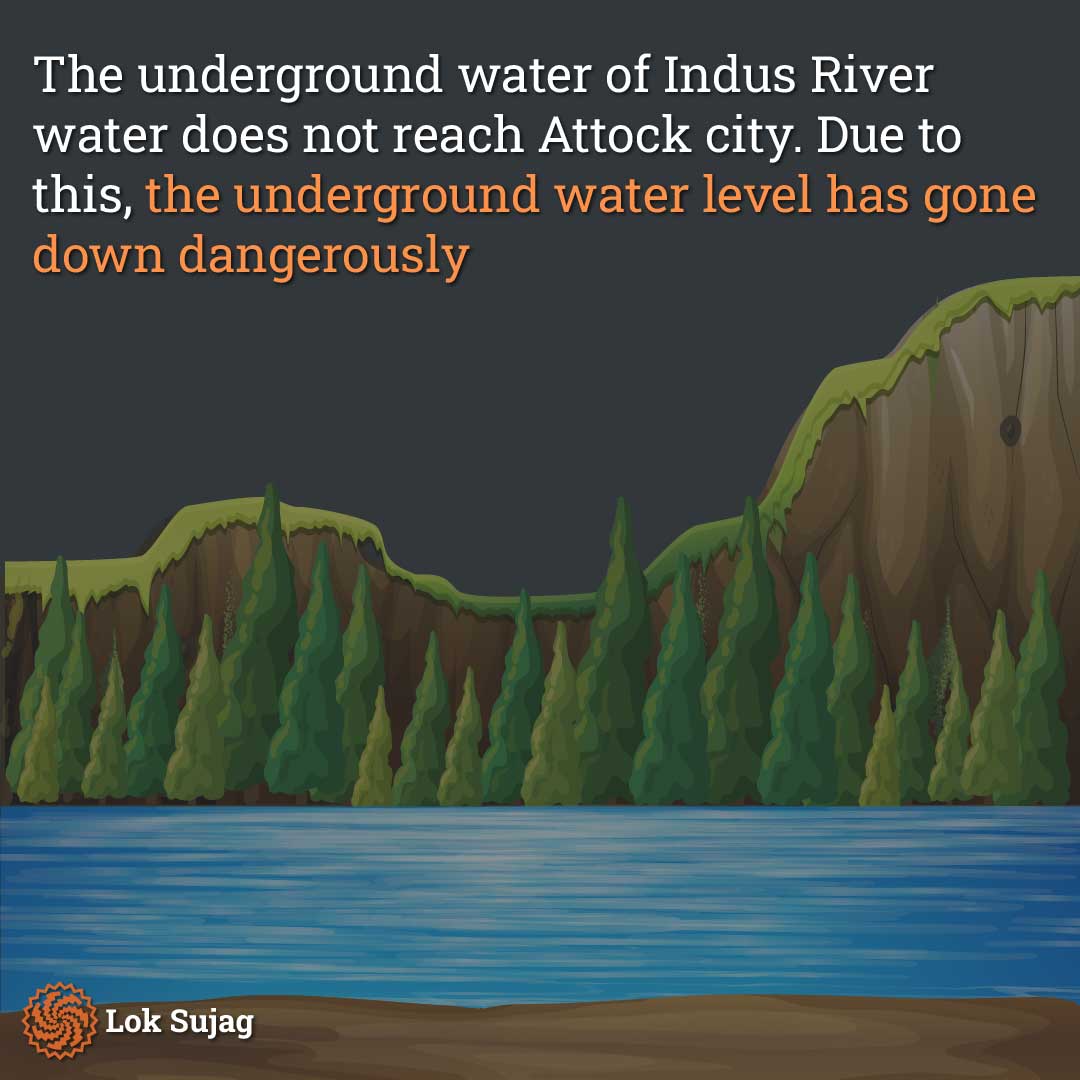 Heavy motors have been installed at intervals of every two hundred feet in the Ghazi Barotha Canal, continuously pumping underground water and releasing it into the canal. This further contributes to the decline in the city's water level and surrounding areas. The scarcity of underground water has resulted in a severe water shortage in Dhok Fateh, Samundar Abad, Amin Abad, Shah Abad, J Block, Awan Sharif, and other urban areas. The Municipal Committee supplies water to these areas from tube wells located in distant regions.
In tube wells, 30 horsepower motors fill the water tanks. These motors operate continuously during the summer months when the demand for water increases. The monthly cost of electricity used solely for tube wells is more than 1.5 million rupees. The Municipal Committee has issued 14,000 water connections to consumers throughout the city, charging them three hundred rupees per household. The municipality collects approximately 4.2 million rupees per month from water bills.
Also Read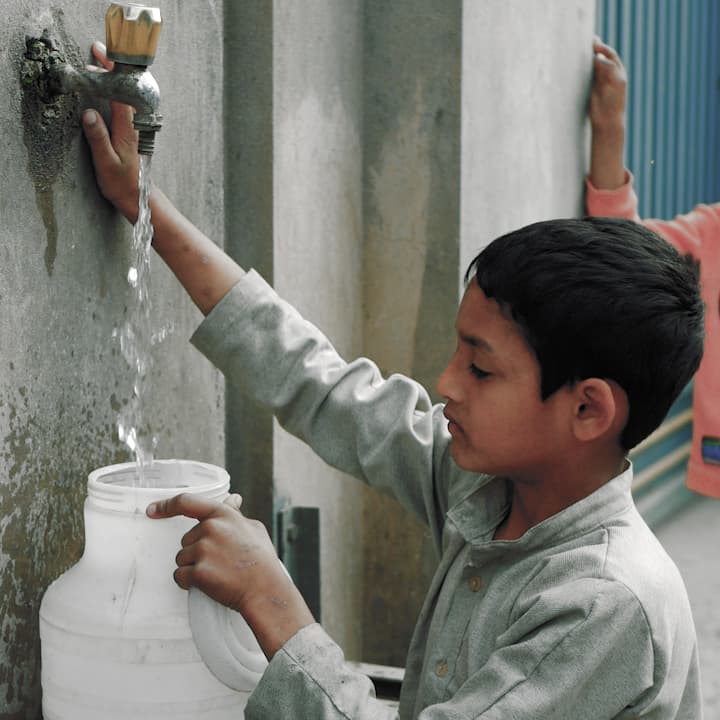 Insufficient water supply project worth crores fails to provide clean drinking water to Nankana Sahib residents
He says that the water level of the River Haro is high in the area, and the underground water is available at a depth of 70 to 80 feet. By installing fewer tube wells there, water can be supplied to the town.
Mubarak Ali, Chief Officer of Attock Municipal Committee, mentions that the Attock district includes the municipalities of Hazro, Jand, and Pindi Gheeb, where 42 tube wells are responsible for providing clean drinking water to urban populations.
However, in Hassan Abdal Tehsil, water is supplied to residents from natural springs, and in Fatehjang Tehsil, the Shahpur Dam provides water to the city.
He says that the expenses of Attock Municipality amount to 180 million rupees annually. If water bills are increased, and consumers are charged 150 rupees per month, similar to electricity and gas charges, the system can be somewhat sustained.