Azad Kashmir, with its beautiful landscapes, picturesque views and rich cultural heritage, is a destination for many tourists. According to the tourism department of Azad Kashmir, the number of tourists coming here till September this year has impressively reached 11 lakh 25 thousand.
This number is 360,000 more than last year. After 2018, Azad Kashmir saw the highest number of tourists this year.1.4 million tourists came to Azad Kashmir. After that, it was greatly reduced due to the outbreak of Coronavirus and tension on the Line of Control. But, since February 2021, tourists have gradually increased due to peace on the Line of Control. Most tourists visit places like Neelam Valley, Shounter Lake, Leepa Valley and Ratti Gali. Their growing number has increased the income of local transporters, shopkeepers, showrooms, petrol pumps, hotel and guest house owners, and even horse breeders.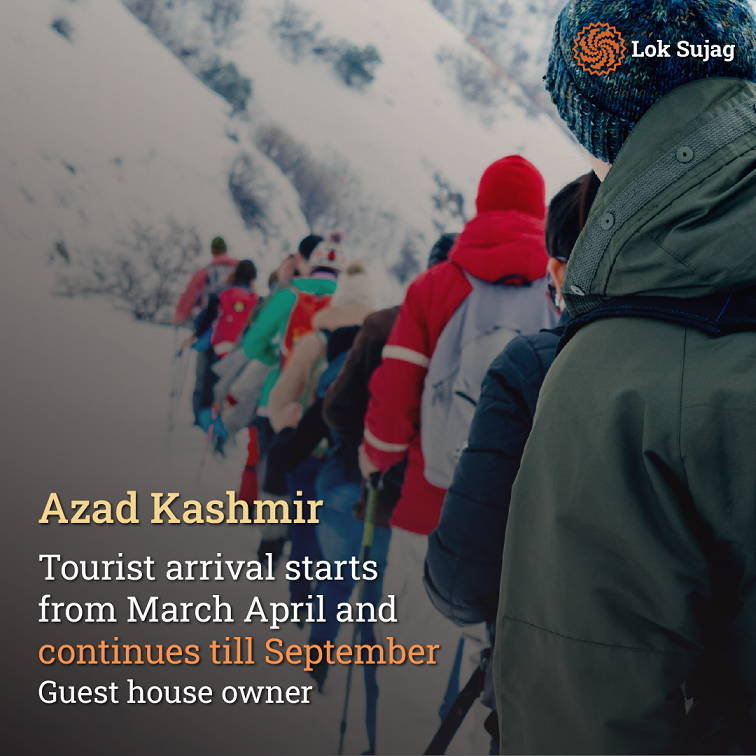 In Azad Kashmir, where there are no special job opportunities except government jobs, the influx of tourists has led to jobs in hotels and guesthouses, apart from tourist guides; although they get this benefit only during the tourist season, it is nevertheless an important source of their income.
Khawaja Bilal, a guest house owner from Neelum Valley, converts his four-room house into a guest house in summer and rents out the rooms.
He says: "The influx of tourists starts from March-April and continues till September. From May to August, I earn an average of three to four thousand rupees daily. By the way, tourists also come during snowfalls, but their numbers are very few."
Recalling the past, Khawaja Bilal says that in the nineties, when the armed freedom movement started in Indian-administered Kashmir and on the Line of Control, clashes between the Indian and Pakistani forces continued in the Neelam Valley, so this valley was cut off from the world until the November 2003 ceasefire agreement between the two countries.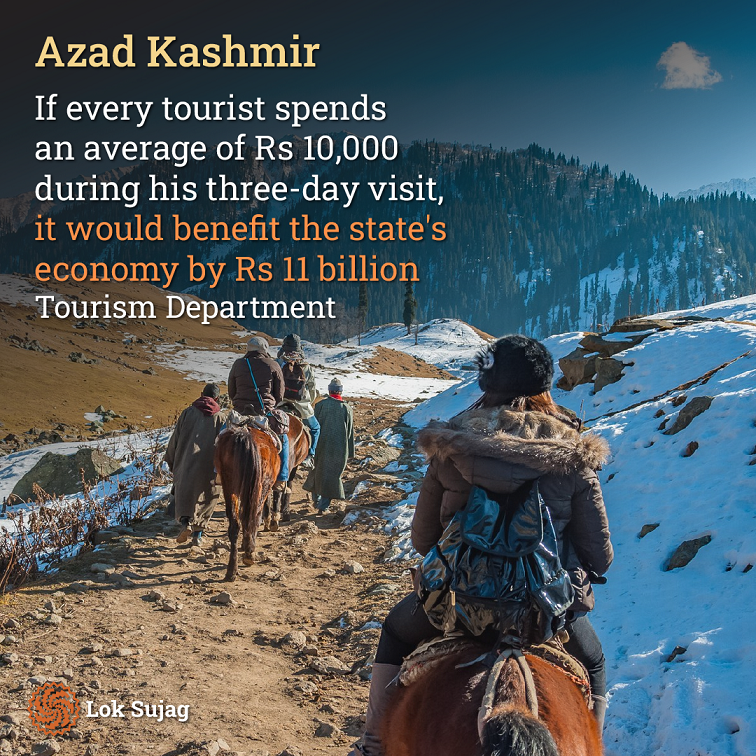 "People used to live in bunkers. The employment was over. After the ceasefire, tourists started coming here, and their number gradually increased."
He says that bilateral firing started again on the Line of control after a few years, due to which tourism was again affected. However, after Pakistan and India agreed to abide by the 2003 ceasefire agreement in February 2021, there is calm now and tourists are also coming.
Azad Kashmir's assistant director of tourism Raees Khawaja estimates that if each tourist spends an average of Rs 10,000 during their visit, which lasts at least three days, it would benefit the state's economy by Rs 11 billion.
"The government's policy is not to build new guest houses, but to develop the tourist destination and encourage private sector investment to increase government revenue."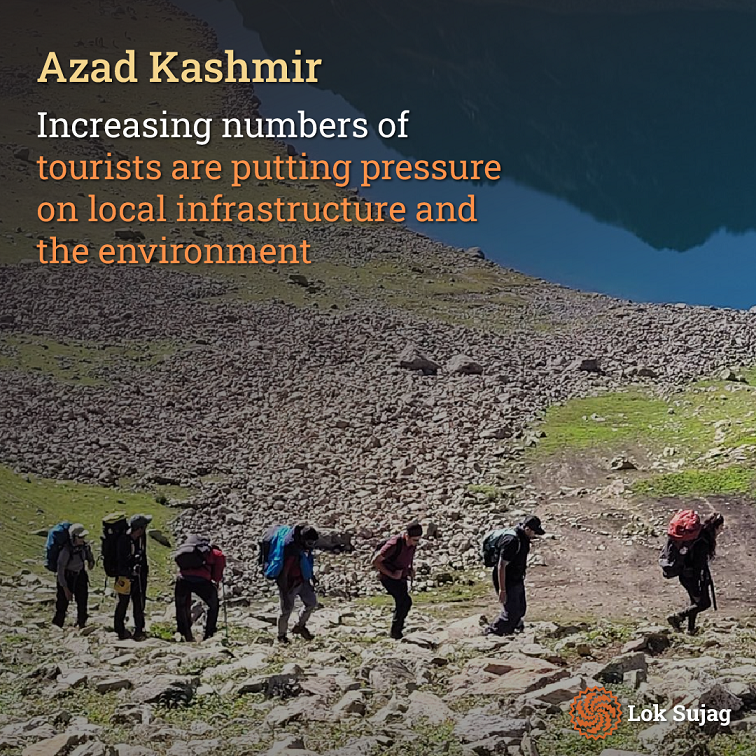 Raees Khawaja says that the tourism department got two and a half crore rupees from guest houses this year, while earlier in the same period, it was getting one to one and a half crores of income.
According to the Department of Tourism, Azad Kashmir has 619 guest houses and hotels with 3,422 rooms, including 60 government guest houses, of which the Department of Tourism manages 30 guest houses.
The Neelum Development Board collects a tax of Rs 10 to 20 per vehicle from vehicles, which generates an annual revenue of Rs 20 to 25 lakh.
Besides that, the Azad Kashmir government has no income from tourism.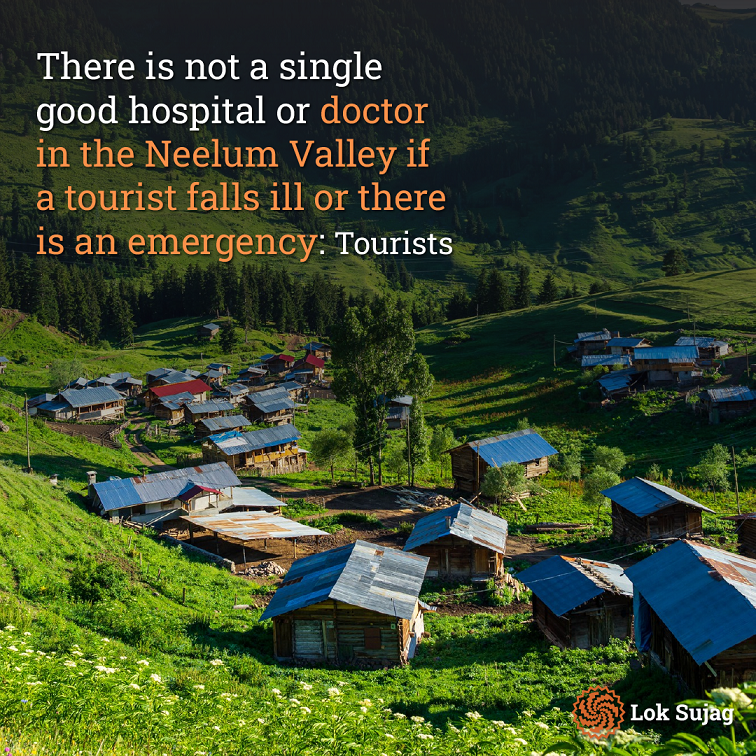 Munir Ahmed, the head of a family visiting the Neelum Valley from Lahore, appreciates the beauty of the place and is keen to visit again and again but complains that there is a severe lack of amenities in the region.
He says that the road condition is bad in most places; there is no mobile phone signal on the way. In some areas, the mobile phone of the army's communication department, Special Communication Organisation (SCO), works, for which a separate SIM has to be taken.
"The internet works only somewhere; instead of local organic food, you get ordinary market food, which is distasteful. There are very few health facilities and there is no sanitation."
Also Read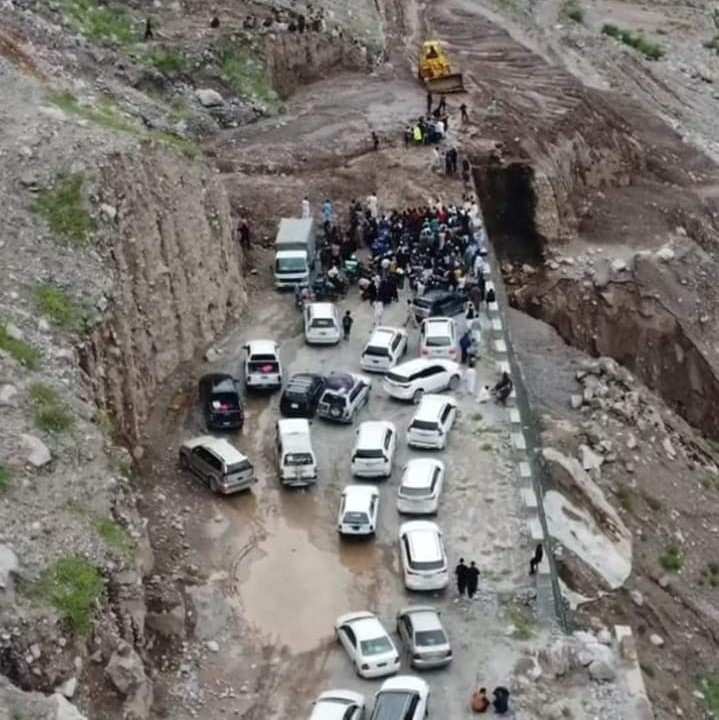 From Tourist Haven to Changing Landscape: Gilgit-Baltistan's Struggle with Tourism, Infrastructure, and Environment
Another tourist, Farhad Butt, complains that tourists are being taxed (Chungi) from place to place. People who go to Neelum Valley, especially Arang Kel, have to park their vehicles in the Kel and are charged a huge amount of parking fee.
"The biggest problem is the dilapidated condition of the road and the lack of barriers on its sides; secondly, if a tourist falls ill or there is an emergency, there is not a single good hospital or good doctor in Neelum Valley. "
The growing number of tourists also brings with it problems, as the unabated construction of new guesthouses has raised concerns about the shrinking of open spaces in recreational areas and pressure on the local environment.
egarding these concerns, the Chairman of the Tourism Department Raees Khwaja says that efforts are being made to ensure the protection of natural beauty and sustainable tourism.
He says that the tourism department has written to the state government to make rules to obtain permission before constructing guest houses and to improve the roads to access the tourist destination.
"Strict enforcement of traffic rules and creating awareness among tourists about responsible travel practices is essential to control the rampant increase in the number of guesthouses."