"We pay government taxes and are registered with the Food Authority. Yet we are harassed. Every day, the police and other agencies raid our shops and blackmail us."
This is what Abdul Wahid, an Afghan migrant and the owner of an Afghani restaurant in Quetta, has to say. According to him, his family has been living in Quetta for four decades and he was born in the same city.
Aminullah, an Afghan migrant who runs a retail business in Quetta, has a similar complaint.
"We are fully cooperating with the government of Pakistan. Paying tax on the shop, house, and car. Gas and electricity bills are also being submitted. Despite having a NADRA registration card, I don't know why the police and other agencies harass us. Despite doing legitimate business, bribes are demanded from us.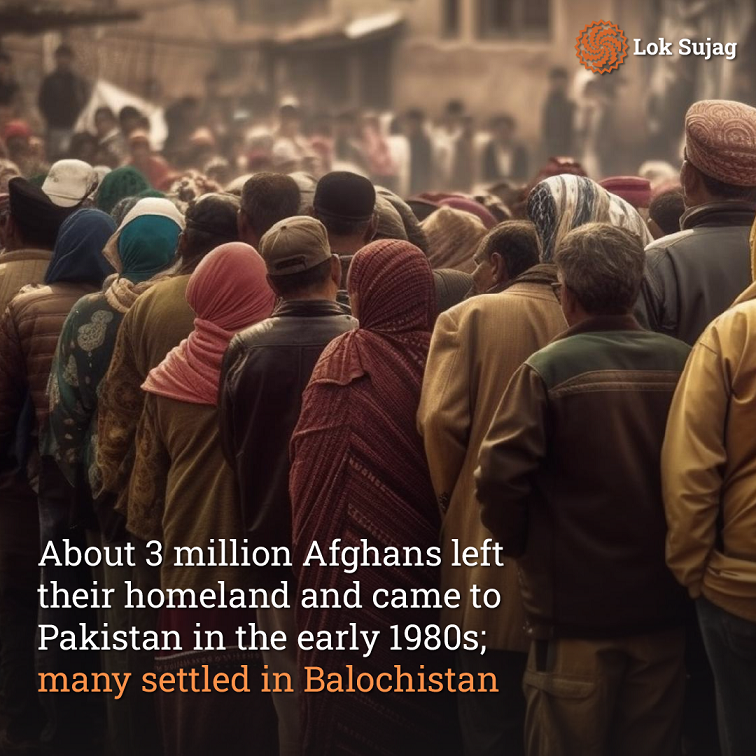 Rahimullah, an Afghan refugee involved in the wholesale business, says that he has not seen Afghanistan to date; the graves of his father, mother, grandfather, brother, and other family members are in Quetta. He says that the government of Pakistan should give him some time.
These operations started after the federal government orders, in which illegal immigrants or refugees were asked to return to their homeland by October 31, 2023.
Commissioner Quetta Hamza Shafqat says that the first phase of action has been initiated against those who illegally entered Pakistan through secret routes to settle here.
SSP Operations Quetta Jawad Tariq said that the administration and police of all districts in Balochistan have started operations against illegal residents.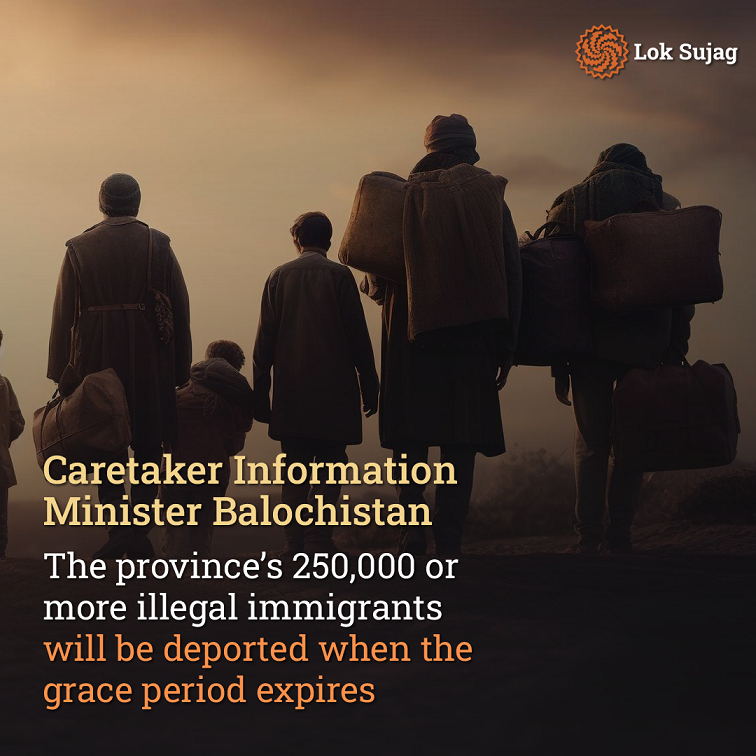 According to him, Quetta Police has arrested more than 122 Afghan citizens living illegally, while 52 cases have been registered under the Foreign Act.
He said over 10,000 Afghan citizens have returned to their homeland from October 1 to 20 this year through Chaman Bab Dosti.
It should be noted that many refugees who did not have POR cards were given Afghan citizenship cards by NADRA so that they could legally stay in Pakistan.
Caretaker Information Minister Balochistan Jan Muhammad Achakzai told Lok Sajag that in light of the Home Department statistics, all 250,000 or more illegal immigrants in the province will be deported when the deadline expires. For this, NADRA has created a special software.
"Fingerprints will be taken of the deportees. Even if someone comes back tomorrow, they will have fingerprints and can be easily identified. This system is foolproof."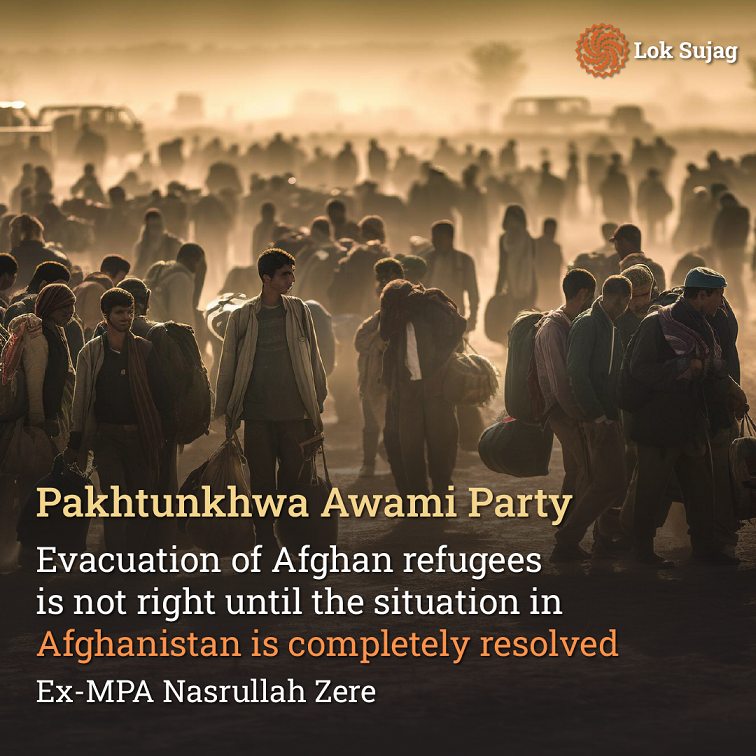 According to him, illegal immigrants, regardless of their nationality or country, must leave the country before November 1; otherwise, they will be forcibly deported.
In a press conference held on October 4, the Caretaker Information Minister said that no action would be taken against those having Afghan Citizens Cards and Proof of Registration Cards.
According to the data he gave on this occasion, the number of people with POR is 3,13,643, while the number of registered Afghan citizens (ACC) is 2,74,246.
Arbab Talib, the commissioner of the Afghan Refugees Commissionerate, a government institution, says that the number of registered refugees may be more than the number of unregistered refugees. They live in both urban and rural areas and many have small and large properties.
According to an estimate, after the Russian intervention in Afghanistan, around 3 million Afghans left their homeland and came to Pakistan in the early 1980s; many settled in Balochistan.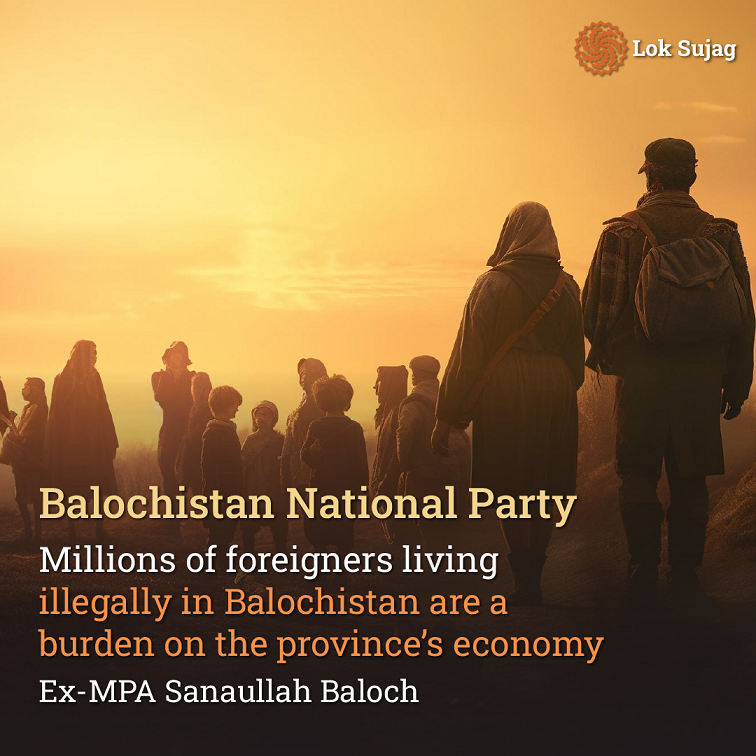 Baloch and Pashtun nationalist political parties of the province have different positions on the return of Afghan refugees.
A senior leader of Pashtunkhawa Awami Party and former MPA Nasrullah Zere says, "The evacuation of Afghan refugees is not right until the situation in Afghanistan is completely fixed. I think these people will go back to their homes whenever the situation improves."
He says that these days, Afghan refugees registered with NADRA are being harassed in the name of illegal Afghan citizens, which is completely unfair. Registered Afghan refugees who contribute to the province's economy should be allowed to do their work with dignity, but it is the responsibility of the state to arrest and punish terrorists.
Senior leader of Balochistan National Party and former MPA Sanaullah Baloch says that the government of Pakistan should play a key role in enabling the dignified return of Afghan refugees. The government should decide this matter by taking all the parties and stakeholders into confidence.
Also Read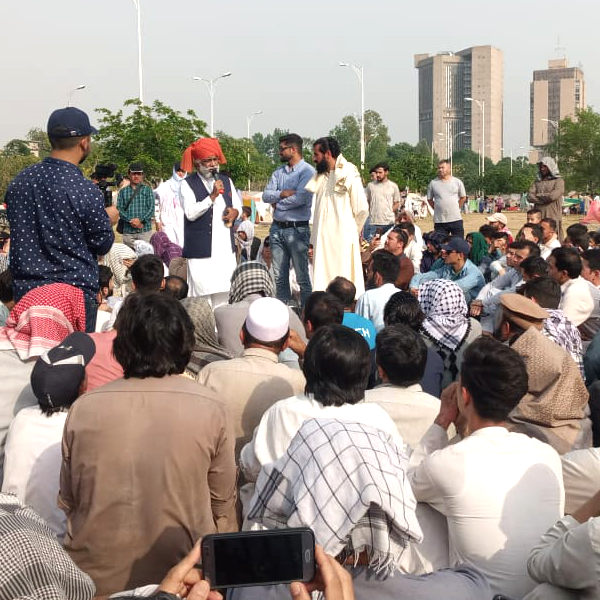 'Save us or kill us': Afghans stranded in Pakistan protest to secure migration to the West
He says, "Millions of foreigners living illegally in Balochistan are not only a burden on the province's economy, but the socio-economic system of the province has been badly affected."
Humaira Karim, spokesperson of UNHCR Balochistan, an organisation that works for refugees, says that in September last month, six thousand registered Afghan refugees with POR cards went back to their country Afghanistan from Pakistan through Chaman.
He says that registered Afghan refugees going to Afghanistan return their POR cards to two UNHCR centres in Pakistan, after which their status as refugees ends. One of these centres is at Baleli Airport Road in Quetta and the other is at Peshawar Centre in Khyber Pakhtunkhwa.
"UNHCR pays $375 to registered Afghan refugees returning to Afghanistan. They will collect this amount from the encashment centre upon reaching Kandahar. They are given $700 to stay in their country for three months so that they can settle there."