In Sindh, Qasim Thaimoor, a 60-year-old resident of district Sajawal, is a trained hunter with 15 years of experience serving as an agent to the wealthy Arabs. This is his profession and means of livelihood.
He explains that hunting is his livelihood, and when luck is on his side, he can capture two to four falcons during the season, earning around ten to twenty lakhs. However, there are times when he doesn't catch a single falcon, and all the expenses, including the camp costs for three months, go to waste.
Peregrine falcons are found in almost all continents except Antarctica. They appear in the hilly and riverine areas of the coastal districts of Pakistan at the onset of winter and are relatively easy to hunt because of the thickets.
Here, a pit is dug in the field between the bushes for the hunter to hunt, in which the hunter stays. The hunter and the pit are camouflaged with branches. A "badur" (Shikra like local bird) is tied with a string and a chick attached to its claws to lure the falcon. When the peregrine falcon descends to snatch the bait from the "badur," the hunters seize it.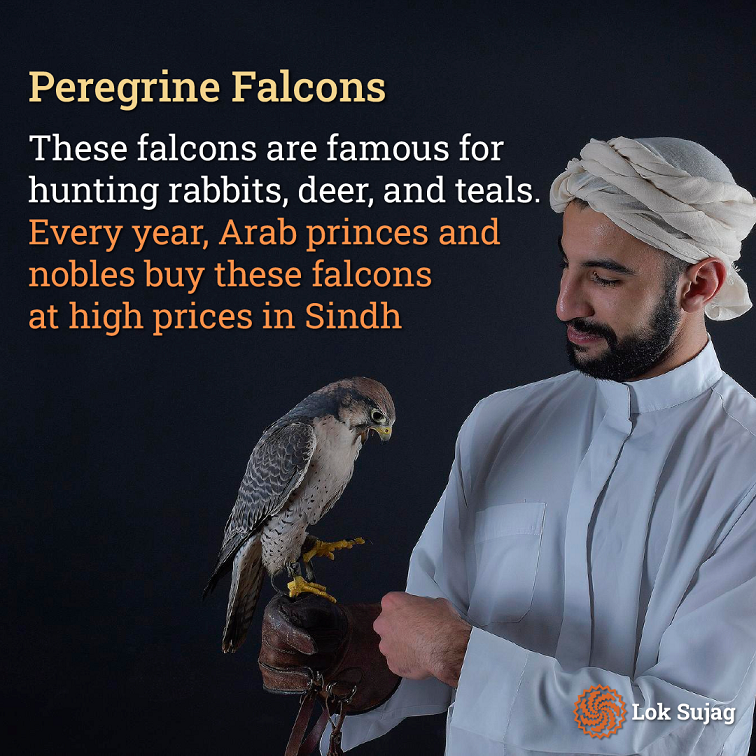 This rare peregrine falcon species is well-known for hunting hares, deer, and partridges. Because of this, Arab princes and nobles purchase these falcons at high prices when they are captured in Sindh every year. They then train and use them for hunting.
In Sindh, bird researcher Khadim Rind explains that the peregrine falcon is also known as the 'chargh' falcon here. The male peregrine falcon serves no practical purpose, while the female is valuable for hunting. Female peregrine falcons are sold for hundreds of thousands of rupees. An adult falcon typically measures 47 to 55 centimetres, with a wingspan of 105 to 130 centimetres.
He says the average peregrine falcon weighs between 730 grams and 1,300 grams, and its maximum age is 25 years. Its sharp talons and pointed beak are used to capture prey effectively. When it swoops down for an attack, its speed can reach up to 322 kilometres per hour.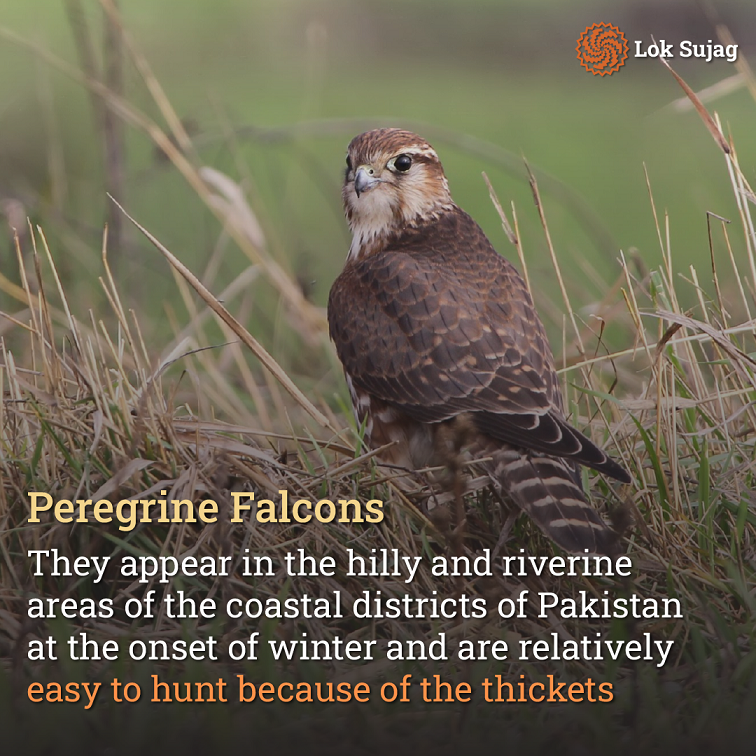 Khadim Rind mentioned that peregrine falcon breeding takes place in April and May. They don't build their own nests but rather settle in pre-existing nests on cliffs or tall trees. The female lays three to four eggs, and the egg incubation period, known as hatching, lasts a maximum of 32 days. The chicks become capable of flying within 48 to 50 days.
The peregrine falcon was removed from the US endangered species list in 1999. However, Khadim Rind mentioned a decrease in the peregrine falcon population. It breeds in all the mountainous regions of Pakistan along with Keerthar, but exact information about their population in this region is not available.
Many "Mari" (local name for hunters) in the Sajawal district have connections to the coastal areas of "Jati City." Among them is Musa Mallah of village Ramazan Mallah, who has been hunting peregrine falcons for seven years. His father was also an expert hunter.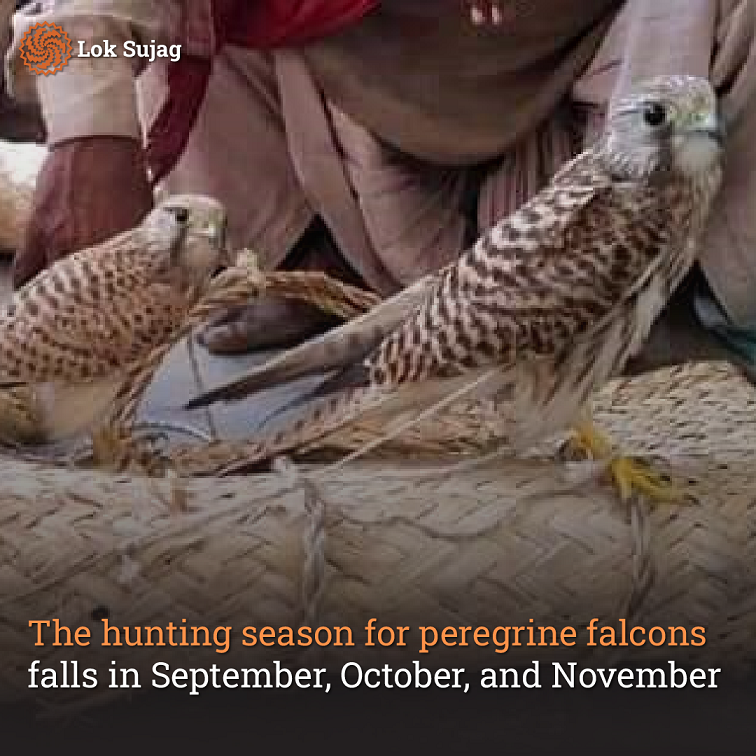 He mentions that hunters only receive labour wages, while the real earnings go to middlemen (agents) who bear the camp expenses. For peregrine falcon hunting, an entire season camp is set up in the jungles, including one expert hunter and three to four other individuals.
He says it's not an easy job. Staying alert day and night for three months in the camp is challenging. People become ill due to the cold and sleepless nights, but they stay there.
Journalist and resident Zahid Ishaq, who monitors illegal hunting in Sindh, explains that the hunting season for peregrine falcons is in September, October, and November. Although hunting of all birds is prohibited, the Wildlife Department often turns a blind eye in exchange for hefty bribes.
He says that this year, over 200 illegal camps for hunting peregrine falcons have been established in Thatta, Badin, and Sajawal. These people not only have protection from the Wildlife Department but also local police and influential landowners.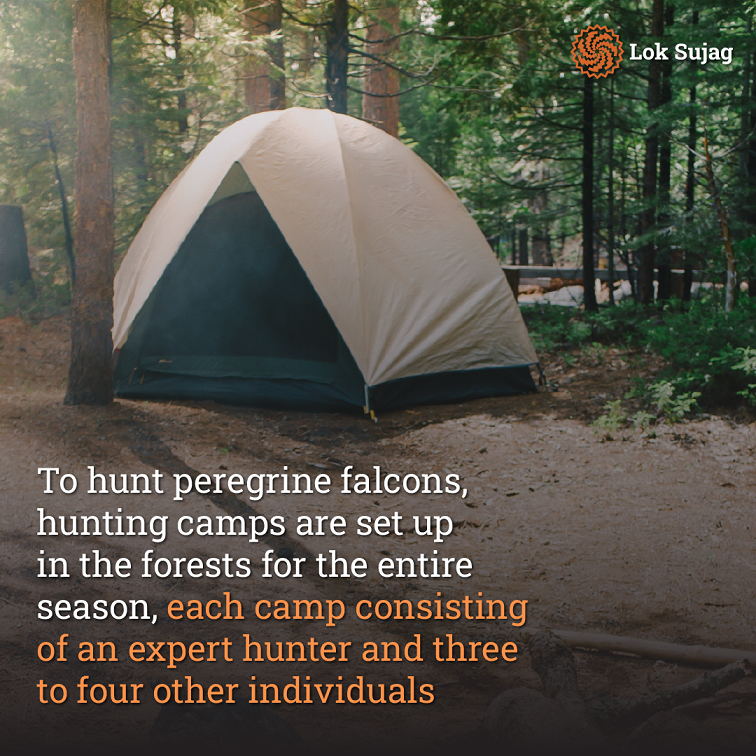 Zahid Ishaq revealed that these hunting camps are established in various locations, including Bhanbhore, Kaiti Bandar, Hajamoro Creek, Mirpur Sakro, Garho, Rahrro, Wadi, Lakhamal, Kalkan Chhani, Sheikh Karhiyo Bhandari, as well as Rakhial, Maro, Ali Bandar, Zero Point, Narei, Rahmaki Bazaar, Jhark, Tando Hafiz, Jhampir, Sari, Mal Madi and among many other places.
He mentioned that "Arab princes and dignitaries' multimillionaire agents are present in all four cities, Karachi, Badin, Thatta, and Sajawal. They establish these hunting camps, and every camp involves expenses of more than two hundred thousand rupees for the agents. After the hunt, the Peregrine Falcons are handed over to the agents (the camp owners)."
Also Read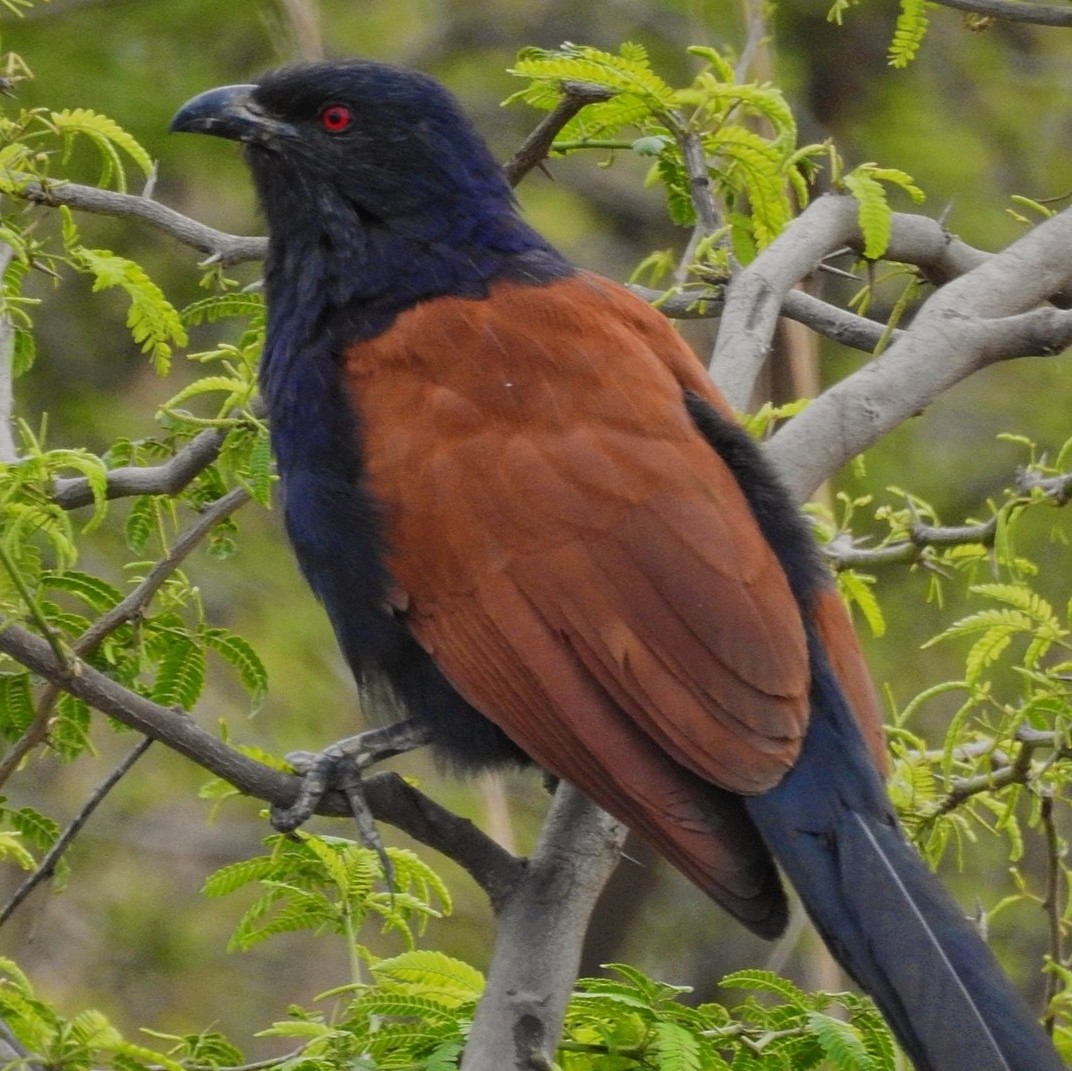 Decline of urban wildlife in Lahore: Causes and solutions for bird population restoration
According to Zahid Ishaq, these agents sell one Peregrine Falcon to Arab buyers for 20 to 50 lakhs (2-5 million) rupees and divide this amount into five shares. One share goes to the expert falconer, another is given to the fellow hunters, and the agents take the remaining three shares.
He claimed that so far, ten Peregrine Falcons have been caught in the current season, while every year, approximately 40 to 60 falcons are hunted in the coastal areas.
Game Inspector Ali Shah, part of the Department of Wildlife, is stationed in Thatta district. He did not deny the camping site or the existence of illegal hunting of Peregrine Falcons. However, he points out that falcon hunting primarily occurs in mountainous regions, coastal islands, and remote areas, making it difficult to reach these locations timely.
He says that despite the challenges, he managed to destroy twelve hunting camps in the mountainous and coastal areas of Thatta in the past month. However, the hunters manage to escape somehow. Their teams patrol the entire region, making every possible effort to stop hunting.
Game Inspector of Badin and Sajawal regions, Saufan Shah, repeatedly refused to comment despite multiple attempts to contact him.