Article 34 of the Constitution of Pakistan states: "Steps shall be taken to ensure full participation of women in all spheres of national life". The patriarchal structure of Pakistani politics, by contrast, offers only a restricted scope to women to take up prominent political positions.
Given this context, 1988 was a momentous year in Pakistan's history because a woman, Benazir Bhutto, was elected as the prime minister of the country then. Not only did she become the first Muslim woman to have ruled in modern history, she also emerged as the symbol of a popular revolt against regressive social and political order. In the same vein, her political success was a challenge to the rigid Islamization of General Ziaul Haq's military regime that preceded her and that wanted to restrict women's mobility under the pretext of protecting chadar aur chaar divaari (purdah and the family).
Women rights activists, however, criticized Benazir Bhutto for giving out comparatively fewer electoral nominations to women candidates in the then general election. They also resented the fact that she did not appoint any woman as a minister in her cabinet.
It was due to this criticism that, in 1989, Benazir Bhutto included four women as state ministers in her cabinet when she expanded it to 43 members. These women were: Begum Shahnaz Wazir Ali (state minister for education), Begum Rehana Sarwar (state minister for women division and then for women development), Dr Mahmooda Shah (state minister for special education and social welfare) and Begum Nadira Khakwani (state minister for population welfare). It was the first time after the creation of Pakistan that women were given so much representation in the central cabinet.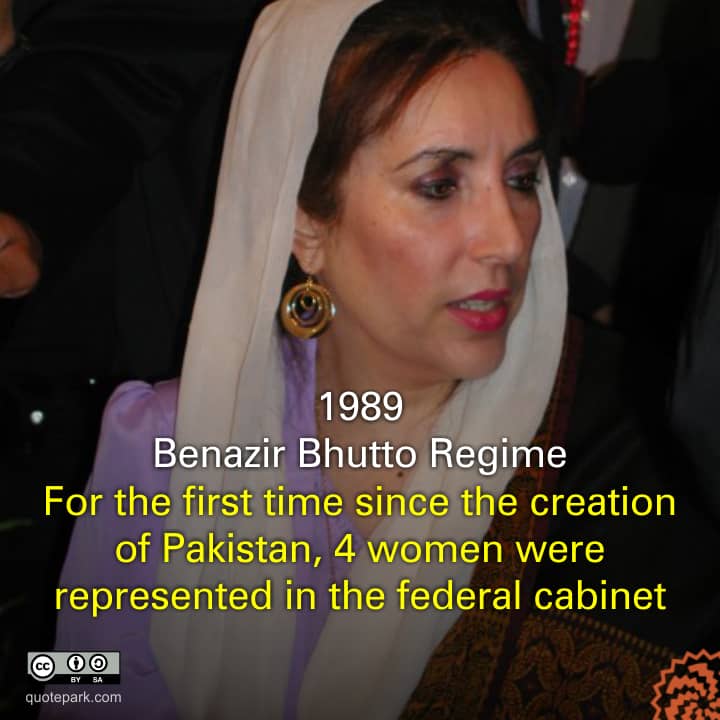 None of them, however, had reached the National Assembly by contesting the election on a general seat. Instead, they were all elected on the seats reserved for women.
This is not to suggest that no women were elected on general seats in 1988. In fact, as many as 16 of them contested those seats and three of them also won. These were
Benazir Bhutto and Nusrat Bhutto of Pakistan People's Party (PPP) and Syeda Abida Hussain, an independent candidate.
The same situation persisted in the next three general elections. In 1990, two out of 12 women candidates -- Benazir Bhutto and Nusrat Bhutto -- won on National Assembly's general seats. In 1993, four out of 14 women candidates were successful in winning general seats. Three of them (Benazir Bhutto, Nusrat Bhutto, and Shahnaz Javed) were associated with PPP while the fourth, Tehmina Daultana, belonged to Pakistan Mulsim League-Nawaz (PMLN).
Though the number of women running for general seats rose to 35 in the 1997 election, only six of them managed to reach the National Assembly. Among them were Benazir Bhutto, Nusrat Bhutto and Dr Fehmida Mirza from PPP and Tehmina Daultana, Abida Hussain and Majida Wyne from PMLN.
Reservations galore
When democracy was once again toppled by a military dictator, General Pervez Musharraf, in 1999, the Supreme Court of Pakistan gave him three years to "restore" it. During this period, he undertook a number of political and electoral initiatives. In the pursuit of 'modernizing' Pakistan and fulfilling the United Nations' mandated target of 30 per cent women representation in the parliament, he increased the number of reserved seats for women in the National Assembly just before 2002 general election. Their representation rose to 21.6 per cent in the subsequently formed National Assembly and, for the first time in Pakistan's history, more than 70 women became its members. Out of these, 13 had reached the legislative house after winning general seats.
This, however, was not essentially an effect of inclusivity but rather due to the legal compulsion imposed by Musharraf that only bachelor's degree holders could contest general elections. Consequently, several established politicians were disqualified from taking part in polls but, then, in order to retain their political influence in their constituencies, they nominated their degree-holding daughters, wives and sisters to contest elections in their place. The number of women candidates for the National Assembly's general seats, thus, reached 57.
Prominent among these candidates was one Sumera Malik. She contested election from NA-69, a constituency in Kushab district, where her in-laws live. She is the grand-daughter of Malik Amir Mohammad Khan, the Nawab of Kala Bagh, who worked as the government of West Pakistan under the military government of Ayub Khan. Her father, Malik Allahyar Khan remained a legislator while her maternal uncle, Farooq Leghari, served as Pakistan's 8th president from 1993 to 1997. Her husband's maternal uncle, Malik Naeem Khan, also won many elections and worked as a federal minister.
Rubina Shaheen Wattoo, who contested the election in the place of her father Mian Manzoor Ahmed Wattoo, similarly came from an eminent political family. Her father was elected as the speaker of Punjab Assembly Punjab in 1985, 1988 and 1990. He also worked as chief minister of Punjab from 1993 to 1996.
Hina Rabbani Khar became a member of the National Assembly in the same manner. Her paternal uncle Ghulam Mustafa Khar worked as Punjab's chief minister and governor in the 1970s. He later served as a federal minister in the 1990s. She contested the election from NA-177 Muzaffargarh-II which also sent her father, Ghulam Noor Rabbani Khar, to the National Assembly in 1990 and 1997. He, indeed, also ran her election campaign in 2002.
Sitara Ayaz, a former senator representing the Awami National Party, remarks that women thus elected to the National Assembly were merely keeping the seat warm for men in their families. "They were allowed to contest general elections only because their male relatives could not do so due to legal and political restrictions," she says.
Such women parliamentarians, according to her, are not taken seriously -- until they prove their mettle just as Malik and Khar have done by joining federal cabinets and earning as much name for themselves as men in their families have.
Sympathy vote
The degree restriction was removed before the 2008 election yet many elected politicians faced court cases on the allegation of having lied in their election nomination papers about their academic qualifications. Many of them were later disqualified for not being honest and truthful.
But, before these judicial disqualifications, a large number of those politicians who had pitched their daughters, wives and sisters in 2002 election reentered the electoral arena. Even then a surprisingly high number of women, 64 to be exact, contested the election on general seats from 60 National Assembly constituencies.
Out of these, 16 women also won – a record in Pakistan's electoral history that has not been paralleled or broken since then. Out of the winners, 10 women (Raheela Parveen Baloch, Dr Firdous Ashiq Awan, Samina Khalid Gharki, Natasha Daultana, Hina Rabbani Khar, Khadija Ahmad Yar Malik, Faryal Talpur, Azra Fazal Pechuho, Shamshad Sattar Bachani and Fehmida Mirza) belonged to PPP; three women (Saira Afzal Tarar, Samira Yasir Rashid and Tehmina Daultana) won on PMLN tickets; two women (Ghulam Bibi Bharwana and Farkhunda Amjad) were candidates of Pakistan Muslim League-Quaid-e-Azam; while Khushbakht Shujaat represented the Muttahida Qaumi Movement and Saima Akhtar Bharwana ran independently.
That most of these winners belonged to PPP owed to the fact that the party's election campaign led by Benazir Bhutto particularly focused on women's rights. She had also nominated more women than before as PPP candidates for general seats.
Another factor working in PPP's favour was Benazir Bhutto's own tragic assassination on December 27th, 2007 -- only weeks before the election. This created a sympathy wave for PPP candidates in general and its women candidates in particular.
One step forward, two steps back
In 2013 election, however, the number of women winners on general seats deceased. Although 135 women candidates contested these seats in the election that year, only five of them could win. Three of them (Faryal Talpur, Azra Fazal Pechuho and Fehmida Mirza) belonged to PPP while the other two (Ghulam Bibi Bharwana and Saira Afzal Tarar) belonged to PMLN.
In the subsequent by-elections, three more women from PMLN (Kulsoom Nawaz, Shazra Mansab and Shazia Mubashir) and another from PPP (Shamsul Nisa) were elected to the seats vacated by their male relatives who either died or were disqualified.
To improve this situation for the better, Election Act of 2017 was passed by the Parliament with the intention to "amend, consolidate and unify" the conduct of elections and the laws pertaining to them. Section 206 of this Act says: "A political party shall make the selection of candidates for elective offices… [and] while making the selection of candidates on general seats shall ensure at least five per cent representation of women candidates."
In other words, every party was required by law to have at least five per cent women among its election nominees. Consequently, even Islamic conservative parties such as Allah-o-Akbar Tehreek, Jamaat-e-Islami, Jamiat Ulema-e-Islam and Tehreek-e-Labeek Pakistan had to grant tickets to women – even though these parties otherwise oppose women's participation in public life in general and politics in particular.
This legal requirement resulted in 183 women contesting the National Assembly polls on general seats -- the highest number of female candidates in Pakistan thus far. At the end of the day, though, only eight of them could win.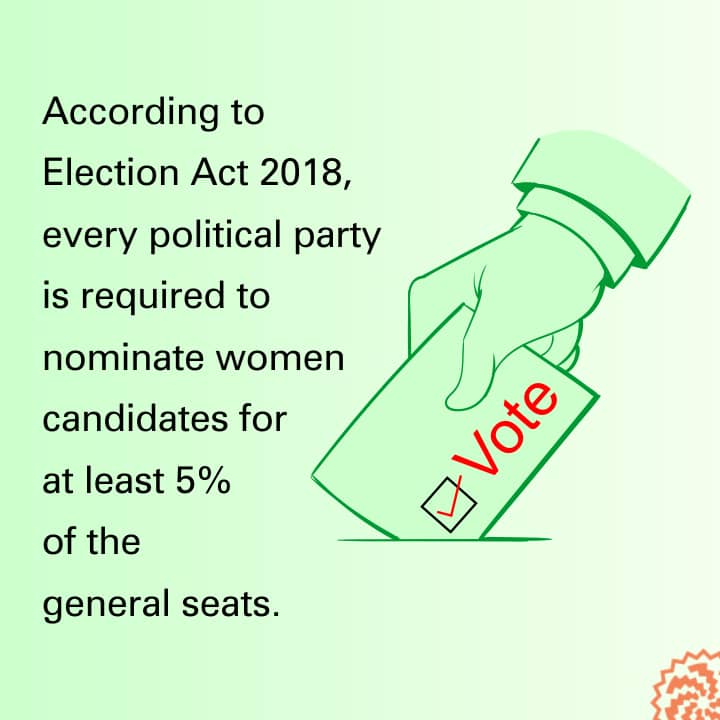 Three of them (Nafisa Shah, Shazia Murree and Shamsul Nisa) belong to PPP, two (Ghulam Bibi Bharwana and Zartaj Gul) are from Pakistan Tehreek-e-Insaf (PTI), one (Mehnaz Akbar Aziz) is associated with PMLN; two other winner women (Zubeida Jalal and Fehmida Mirza) are members of smaller parties that subsequently joined the PTI-led ruling coalition Pakistan.
Analysts believe the primary reason for women's poor performance in 2013 general election, despite a historic increase in their number as candidates, was the fact that most political parties pitched them in constituencies where they had a very slim chance of winning. So, in order to avoid being found in the violation of the Election Act, the parties once again used women candidates only as a formality.
Commenting on these results, Sitara Ayaz says the process of women's participation in the general election can only be meaningful if political parties do not pitch them in weak constituencies but rather nominate them in constituencies where the chances of their success are higher. "This can happen only if women are trained to take part in elections and are allowed to participate in their party's decision-making processes," she says.
In her opinion, however, no political party is taking any steps to ensure that. Instead, she says, men are still more prominent in the internal decision-making of political parties than women. "And when these men make decision, they do not do so on the basis of any gender-related considerations but on the basis of several other factors," she adds.