Liaqat Ali Chattha is sowing cotton on his farm in a village on the outskirts of Vehari city - as he does every year. His fields, however, are not as bustling as they would in previous years. This is because the land under his cotton cultivation is shrinking every year, he says. Four years ago, he planted the crop on about 250 acres but now he is sowing it only on 125 acres.
The same trend can be seen all over Vehari district. According to the Punjab government's Crop Reporting Service, cotton was planted on 381,000 acres in the entire district in 2018 but area under it decreased to 318,000 acres in 2019-20. This year, it is expected to go down even further.
Talking about the effects of this change, Chattha says: ''By the end of the 1980s, this district alone was producing as much cotton as 80 per cent of what the whole of Sindh province produced. Over the last few years, there has been a significant decline in cotton yield.''
Big landowners like him are now cultivating cotton "just as a hobby", he says, while ''the farmers who own 10 to 12 acres of land have completely given it up''.
He believes a continuous decline in the income of cotton growers is the main reason behind this change. Cultivating cotton on one acre costs 50,000 rupees but the profit from it is much less than the profit earned by spending the same amount of money on one acre of maize, he says. That is why the area under maize cultivation in Vehari has increased from 240,000 acres to 309,000 acres in the last two years.
''There is a perception among farmers that their cotton crop may not have a good yield because the pesticides used for protecting it from insects are mostly counterfeit and, thus, harm the crop rather than benefiting it,'' says Abdul Hameed Awan, another landowner in Vehiari, as he explains the reasons for decline in cotton cultivation.
A research report, titled 'The Effects of Pesticides on the Cotton Crop' and published in the Pakistan Journal of Agricultural Sciences in 2011, supports this view. ''Some pesticides remain in the soil for years … so their frequent use contaminates the groundwater,'' it says.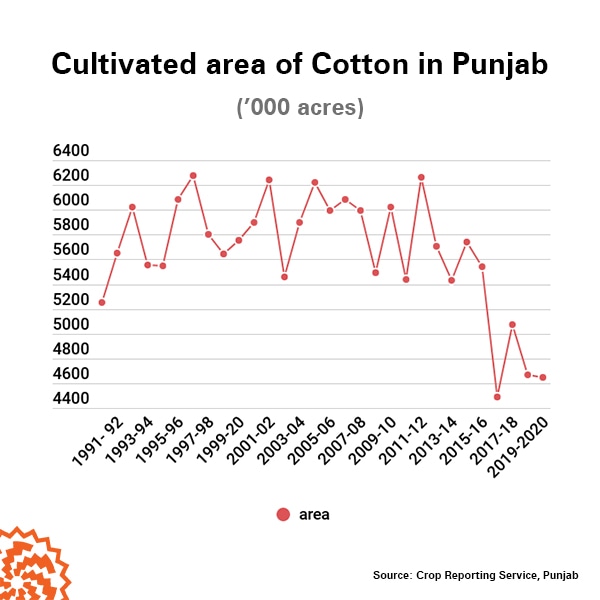 The same journal has also reviewed the negative effects of pesticides in Punjab's cotton belt. "The excessive use of these pesticides has created resistance among pests which is causing large-scale crop losses," this review reads.
Substandard seeds, according to Awan, are the second main reason for cotton's decline in Vehari. "We neither have good seeds nor does the government provide any assistance to farmers in finding good seeds,'' he says.
He also blames climate change for the decrease in cotton production. This makes sense since Pakistan ranks fifth among the countries most affected by this change. The nature and severity of the damage caused to agriculture by adverse variations in climatic patterns is, therefore, more serious than in many other countries. As a consequence of these variations, unseasonal rains are destroying the crop unsuitable weather conditions are increasing the number of pests that are harmful to it.
''We are all observing how these changes are happening all over the world, including in Pakistan, but still our research institutes are neither inventing new seeds nor devising new methods of cultivation which can adapt to the changing climate and also increase the crop yields,'' says Awan.
Pakistan Cotton Ginners Association, a private organization working to promote the crop, say: ''Fifteen years ago, Pakistan produced 14 million bales of cotton, more than what India produced at that time.'' (In India and Pakistan, a bale contains 170 kilogram of cotton.)
In recent years, though, cotton yield has fallen sharply. The annual report of the Pakistan Cotton Ginners Association released last week states: ''in 2018-19, only 8.8 million bales of cotton were produced in our country. In 2019-20, this fell further to 8 million bales''.
The association believes that the lack of government focus on modern research in agriculture is one of the main reasons for the decline. Similarly, the official failure to supply new varieties of high quality seeds to farmers and their inability to access modern machinery are also among the major reasons behind this situation, the association says.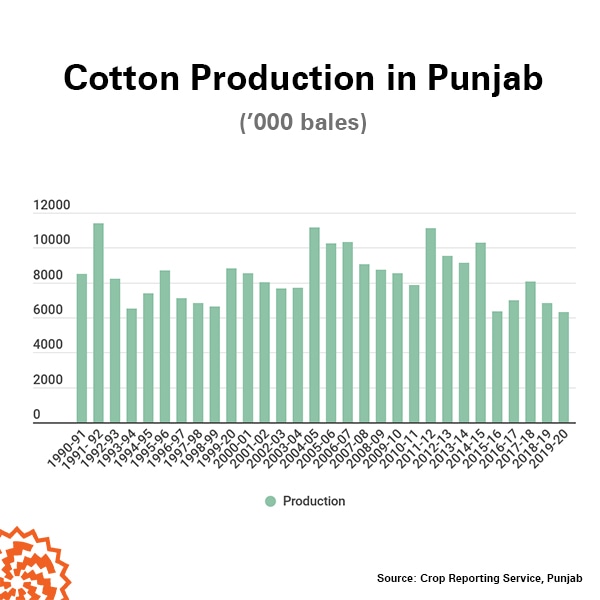 Muhammad Anjum Ali Buttar, director general of the Punjab Department of Agriculture (Extension), responds to this criticism by saying that, "this year, the government has developed 18 varieties of cotton seeds that are compatible with climate change''.
Landowners like Liaquat Ali Chattha, on the other hand, allege that "the seeds produced by the government are so bad that farmers do not use them at all and, instead, prefer the seed produced by private companies''.
The failure of the government departments to implement agricultural policies has also been responsible for declining in cotton production.
Farmers complain that these departments have never been able to control the supply and sale of counterfeit pesticides which not only cause financial losses to farmers but also affects the fertility of their land.
A major government failure in this regard is the lackadaisical implementation of a law crop zoning in Punjab. The main purpose to introduce this law was to discourage sugarcane cultivation in areas suitable for cotton but it has never been fully and effectively implemented. Sugarcane and maize, therefore, are now being cultivated in those areas of Punjab and Sindh which are reserved only for cotton.
To Awan, this failure shows that the government is not serious in increasing cotton production. ''If, even in the presence of this law, other crops are being grown in the cotton belt, the government needs to seriously ponder over it. Otherwise, cotton crop will be completely wiped out from Pakistan.''
Buttar acknowledges that the law has failed to improve cotton production but he believes that farmers do not prefer to grow cotton because it is no longer profitable for them. "Even in the presence of legal restrictions, farmers are cultivating maize, rice and sugarcane instead of cotton because these crops are profitable for them,'' he says.
When asked why the government does not make cotton a profitable crop, he says it is not the job of his department but the responsibility of the federal government.
This report was first published by Lok Sujag on 31 Mar 2021, on its old website.