Saima, a resident of Karachi, had her first menses when she was 14. Her mother and two sisters were living with her at that time but none of them told her in advance how to cope with this situation.
She, nevertheless, had already heard about Always menstrual pads in television adverts. So, without consulting anyone, she started using them to protect her body and clothes from menstrual bleeding.
This proved to be a costly medical mistake.
These menstrual pads, she says, caused inflammation between her legs, making it difficult for her to move around. Whenever her thighs rubbed against each other, pain would get so unbearable for her that she would have to "apply Vaseline to avoid that".
Her pain turned chronic gradually so she began to fear menstruation itself but even then she was hesitant to share her suffering with anyone. Now, at 27 years of age, however, Saima knows a number of women who are facing similar problems related to their menstrual hygiene and who all hold Always pads responsible for those.
Alia, 24, a resident of Sialkot, is similarly allergic to Always pads. She has been using these pads since she attained puberty because owing to all the secrecy around menstruation, that was the only brand she had ever heard about. The use of these pads, though, caused inflammation in her thighs, making it difficult for her to sit with her legs folded. Also, sometimes, her menstrual bleeding would not end even when she used heavy medication to stop it.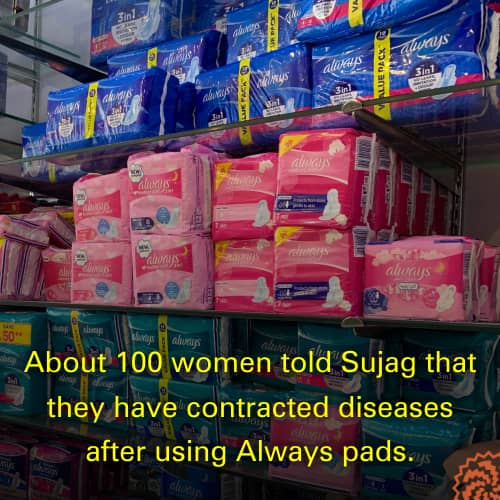 Initially she thought she would be rid of these problems with the passage of time but they kept getting worse. After facing them for several years, she found out in November last year that her inflamed skin has developed blue, purple and red patches. A month later, she decided to replace Always pads with some other brand. That, too, did not work. Instead, her skin started to crack. "I was in such a miserable condition that even my daily routine was disturbed. I could not so much as eat and sleep properly," she says.
After her condition turned from bad to worse, she finally consulted a physician who prescribed for her some injections and creams to apply on the affected parts of the body. Only after using the medicine, which cost her 8,000 rupees, and visiting the doctor multiple times over a month could she overcome her problems.
Islamabad-based 22-year-old Ramsha, too, faced the same problem. "Whenever I used Always pads, I would have a lot of trouble," she says. "I have a sensitive skin which is prone to allergies or inflammation but I am particularly allergic to flower-scented Always pads. I suffer from both allergy and inflammation when I use these pads."
Ramsha is also suffering from a skin disease called eczema which causes inflammation and skin rupture in different parts of her body. The use of Always pads only aggravates this ailment, she says.
Apart from Saima, Alia and Ramsha, around 100 other women of different age groups, coming from different social and economic backgrounds and belonging to different parts of Pakistan contacted Sujag recently through social media. All of them complained that they contracted several diseases, including those pertaining to skin, after having used Always menstrual pads.
Ignorance is no bliss
A research paper published in a California-based American medical journal, The Cures, cites a survey conducted in Karachi between October 2019 and January 2020. It involved as many as 353 women and girls -- 177 out of them being health workers and the rest being ordinary females. They were all asked about their perceptions and levels of awareness about mensuration.
When they were asked what hygiene products they used for protecting their bodies and clothes from mensuration bleeding, their responses were as follows.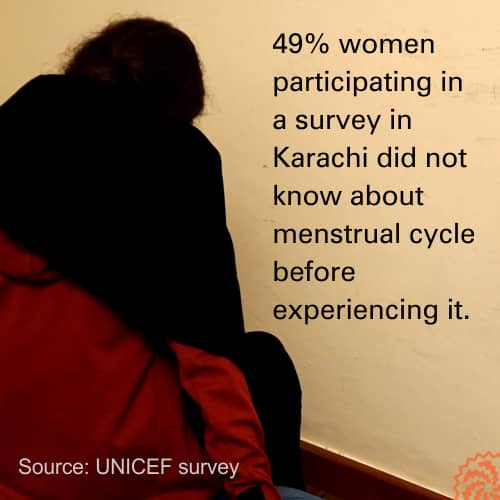 Asked about problems resulting from the use of pads, 23.3 per cent of ordinary women said these caused inflammation in their reproductive system; similarly, 36.9 per cent of ordinary women said that these triggered inflammation in their thighs.
Dr Rabia Asif, a gynaecologist at Rehmat Rehman Memorial Hospital, a private healthcare facility in Multan, says she examines a number of women every day who are suffering from menstrual problems. "Over the last three years, I have witnessed a remarkable surge in the cases of inflammation between thighs in women who visit me for the treatment of menses-related problems," she says.
She alleges that a lot of women develop these problems after using Always pads. So, after prescribing a number of other treatments to them, "I finally suggested that they start using pads of some other brand." She claims that this change resolved all their medical and menstrual hygiene issues.
Dr Rubina Ataullah, who runs a private clinic in the posh locality of Defence in Lahore, concurs.
She has treated a number of women suffering from inflammation and other diseases caused by the use of either Always or some other menstrual pads. In recent years, she says, female patients with urinary tract infections have registered a three-fold increase. She believes that the main reason for this is the use of menstrual pads made of materials that are hazardous for human health.
"As women mostly do not have an easy and ready access to the products needed for maintaining menstrual hygiene, they start using whatever they can find quickly and easily -- no matter how detrimental that could be for their skin," she says.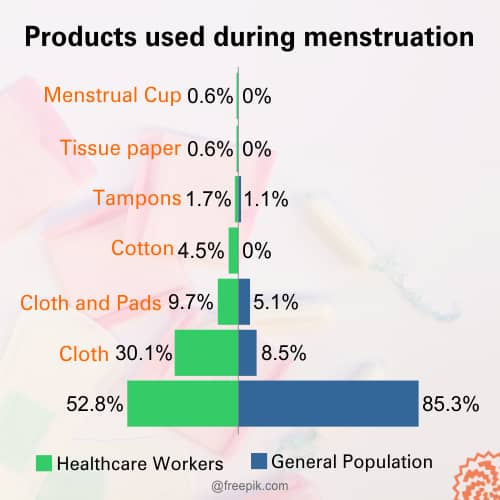 Talking about the availability and suitability of personal hygiene products, Ramsha says young girls in Pakistan do not have adequate knowledge about menstruation because "none of the older women around them wants to talk openly about it."
A public opinion survey conducted through a short messaging service (SMS) by the United Nations Children's Fund (Unicef) on March 9th, 2017 substantiates what Ramsha says.
The survey — in which 710 girls and women aged between 10 years and 35 years participated — showed that 49 per cent of them did not know anything about mensuration before their first period.
Because of this lack of awareness, most girls do not know what menstrual hygiene products can help them keep their body and clothes clean besides not being injurious to their skin and general health.
Ramsha, as well as many other women, say most girls start using Always pads because they do not have proper information about the alternatives and because they have heard about Always through television advertisements. Its manufacturer, Procter & Gamble, is a leading multi-national business house which also makes women believe that the quality of its products must be better than that of any other manufacturer.
What's in a pad?
Women's Voices for the Earth (WVE) is an international organisation that raises voice for the elimination of toxic chemicals used in menstrual pads. It conducted a detailed chemical analysis of Always pads a few years ago and revealed that they have styrene, chloromethane, chloroethane, chloroform and acetone in them.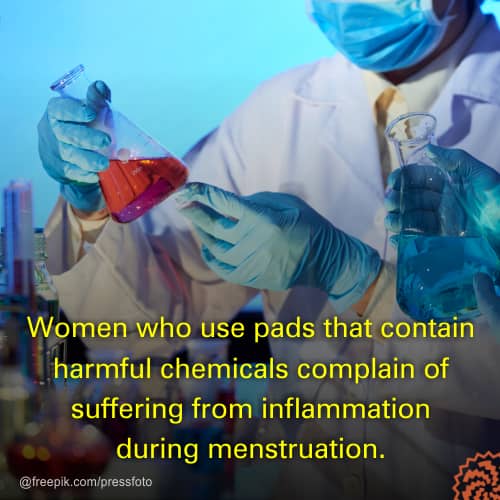 The first three of these ingredients, it said, not only spread toxins in the reproductive system but they also cause cancer. The fourth one causes irritation in human body.
WVE, simultaneously, clarified that the results of its analysis did not specifically determine what kind of negative effects these ingredients have on women's health. It, therefore, said its findings needed to be further examined to better understand the impact of Always pads.
Over the past few years, however, people in different countries have been protesting against the use of hazardous materials in the preparation of these pads. One such protest was held in October 2015 outside the head office of Procter & Gamble in Cincinnati city of Ohio state in the United States. The protestors complained that they had been trying to meet the representatives of the company since long but they seemed totally disinterested in listening to them.
Also Read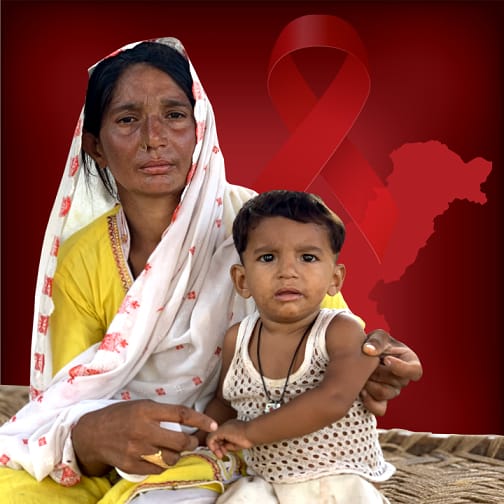 A fate worse than death: The tragic life and times of children born with HIV
Indirectly responding to their complaints, Procter & Gamble spokesman Damon Jones told the New York Times that the harmful ingredients which WVE has found in Always pads also exist in nature.
But he hesitated to say anything specific about the type and quantity of ingredients being used in Always pads and whether those ingredients are suitable for women's menstrual and bodily health. "It is a balancing act – sharing enough to be helpful, but not too much that it is confusing," he said.
Note: Names of women, except doctors, have been changed in this report to avoid the likelihood of any negative impacts on their lives.